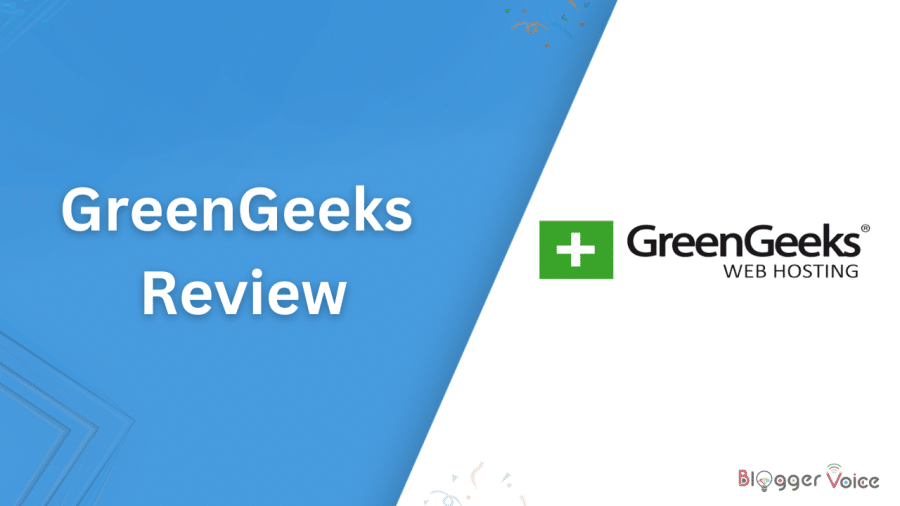 Looking for the best and most detailed GreenGeeks Review? In this post, I have shared the Greengeeks web hosting review with pros and cons.
Web hosting is a must-have for any business with even a small online presence. The GreenGeeks are ready to assist you.
Here's a thorough GreenGeeks review to help you learn more about their fantastic hosting service. Plus, our GreenGeeks Coupons will be a great pick for some savings.
What Is GreenGeeks?
GreenGeeks is a well-known name in the WordPress hosting industry thanks to its blazing-fast website performance, round-the-clock U.S.-based support, and environmentally friendly platform.
They offer managed updates, improved security, simple 1-click WordPress installation, free site migration, free CDN, and access to more than 5 different data center locations.
Over 600,000 websites are run by GreenGeeks, which is adored by customers.
Trey Gardner, an American entrepreneur, was worried in 2008 about how much energy the web hosting sector consumed each year. By 2020, it was even thought that the carbon footprint of the web hosting business would be the same as that of the aviation business.
GreenGeeks is on a mission to become the world's most environmentally friendly web host.
So far, GreekGeeks has hosted more than 500,000 websites. I figure they must be doing something right because they've been ranked in the Inc. 5000 Fastest Growing Companies in America for four years in a row.
GreenGeeks Review: Pros & Cons
MySQL databases with no limits.

Scanning for security in real time.

Encrypt Wildcard SSL is free to use.

SSL isn't automatically enabled.
GreenGeeks Review: Key Features
Robust Features
GreenGeeks is different from most other web hosting companies because it lets you help make the world a cleaner, greener place. But on the other hand, when deciding whether or not to host a website with GreenGeeks, most people would look at things like reliability, customer service, pricing, and the range of hosting options.
cPanel Control Panel
As is the case with most Linux-based web hosting companies, GreenGeeks' web hosting control panel is cPanel.
Both Fantastico and Softaculous are script installers that come with cPanel. With these tools, you can install popular CMSs and blogging platforms like WordPress, Joomla, and Drupal that are made by third parties.
Use their free services to move your site: If you have a website, remember that GreenGeeks will help you move it for free. This free site transfer is a great service for people who aren't tech-savvy enough to switch web hosts on their own.
The best part is that the transfer is handled professionally by GreenGeeks, so you don't need to worry about any primary downtime.
Extras and bonuses from GreenGeeks: There's no doubt that GreenGeeks gets a lot of business from people who care about the environment. But this company also advertises its services with free features that can be just as appealing to small businesses as their green web hosting solutions.
The free domain name(For one year): For the 1st year of an annual subscription with GreenGeeks, there is no fee to register a new domain name or transfer an already one from another registrar. It's free for the first year, but thereafter you have to pay to keep your domain.
Easy site migration: GreenGeeks promises that this service will move your website to its servers at no extra cost and with as little downtime as possible. So, the small business owner can focus on running the business instead of worrying about the technical details.
Use the free Website Builder to make a new website: GreenGeeks has a free website builder that is easy to use but also very powerful. This is good news for people who are just starting out. You can choose from hundreds of templates that can be changed in any way you want. There are also responsive themes made for mobile devices and SEO tools that will make it easy for Google Search to find your site.
GreenGeeks Review: Pricing Plans
You can choose from a number of different hosting plans offered by GreenGeeks to meet your needs.
So that you know what to expect when you sign up for GreenGeek's hosting service, I will examine their pricing for WordPress hosting and shared hosting plans.
Shared Hosting Plans
The shared hosting scenario has shifted dramatically. Many consumers in the past just desired reliable web hosting at a low cost. You have your large, medium, and small plans, as well as cPanel, installed on a server, at this point you are done.
Customers today expect seamless workflow, uptime, speed, and scalability in a visually appealing package.
GreenGeeks has changed the Eco web Starter hosting plan over the years to include all of the functionalities that 99.9% of hosting customers want. Because of this, they give customers a direct link on the webpage to log in for it.
They've made an effort to cut the fat and give customers a more straightforward hosting experience as opposed to charging more for a plan that includes advanced features the average person won't ever use.
Their goal as hosting providers is to let their customers focus on content creation, management, and development rather than technical details.
Earlier this year, they added a scalable hosting option, which allows customers to increase their computing capabilities like RAM, CPU, and I/O on a pay-as-you-go basis rather than upgrading to a Virtual Private Server.
Also Read: GreenGeeks free trial
GreenGeeks plans include characteristics such as:
MySQL databases are limitless
Subdomains and parked domains are not limited
cPanel dashboard is simple to use
Softaculous, which includes one-click installations of over 250 scripts
Resources that are scalable
The opportunity to select the location of your data center
Caching solution PowerCacher
Integration of a free CDN
SSL certificates and shopping cart installation are examples of eCommerce capabilities
SSH and FTP accounts that are free and secure
Perl and Python are supported
You'll also get free domain registration, free website migration, and access to GreenGeeks' patented drag-and-drop page builder for speedy website creation
The monthly cost associated with the shared pricing plan is $2.95. If not, you must pay $9.95 per month for this package.
In addition, they offer Eco Pro and Eco Premium upgrades for hosting customers who demand higher-performance servers with fewer clients per server, Redis, and more CPU, memory, and resources.
WordPress Hosting Plans
GreenGeeks also provides WordPress hosting, though it looks like it has the same features as the shared hosting plan except for a few, and there is 30-day money back guarantee.
GreenGeeks Managed VPS Hosting Plans
A Virtual Private Server (VPS) is a dedicated server segment. You can start, stop, reinstall, and customize your virtual private server without affecting other virtual private servers on the host.
A virtual private server (VPS) is the ideal option for installing custom applications, email messages without sending limits, webcasting media, custom setups, and so on.
GreenGeeks Reseller Hosting Plans
You can purchase Greengeeks' hosting space, services, and bandwidth for the sole purpose of reselling them to other clients, or you can use it to build your own websites.
This gives you the flexibility to meet the needs of both your business and your customers. Greengeeks offers a massive discount to its user. Now check out our article, to avail latest GreenGeeks discount coupon.

Who Is GreenGeeks For?
GreenGeeks offers low-cost website hosting plans for small businesses in their area that work well with shared server environments and meet all of their needs.
GreenGeeks' Reseller Hosting, flexible and scalable solutions, and aided migration make it an ideal choice for business owners who are just getting their companies off the ground and searching for ways to save time and money.
GreenGeeks is an excellent choice for the construction of personal websites due to the fact that its solutions are quick, effective, and inexpensive.
Website owners who are conscientious about the environment: GreenGeeks is the obvious choice if you or your company are truly concerned about the environment
GreenGeeks Customer Support
GreenGeeks offers numerous methods for approaching their customer support, including 24/7 live chat help and phone assistance between Monday to Friday from 9 a.m. to 12 a.m. EST and on Saturdays and Sundays from 9 a.m. to 8 p.m. EST.
Many other providers only give support during regional business hours; thus, the additional time helps GreenGeeks stand out.
In addition to that, they provide support through an email ticket system. They report that the average amount of time needed to resolve support tickets is between 15 and 20 minutes.
GreenGeeks Alternatives
Are you unsure whether or not GreenGeeks is the appropriate fit for you? Here are 3 additional recommendations for hosts that are high on our list of favorites.
1. GreenGeeks vs InMotion Hosting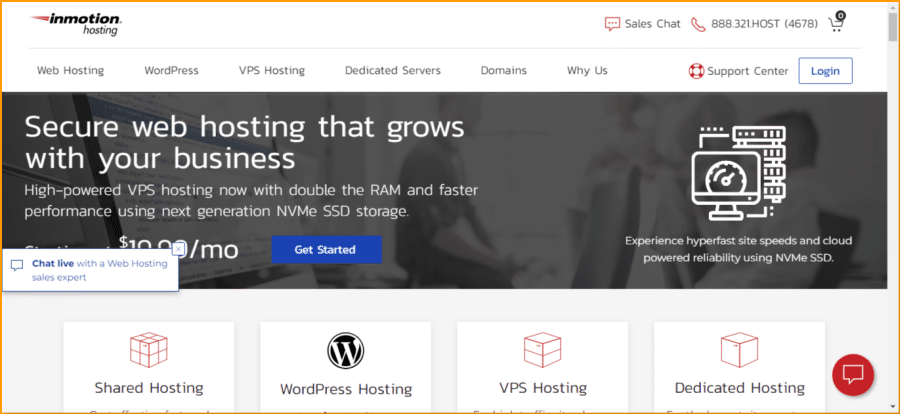 InMotion Hosting is a web hosting service that is situated in the United States. They do not offer to host that is environmentally friendly; nevertheless, they do provide a few tools for developers.
GreenGeeks does not like support for PostgreSQL and Ruby on Rails. (Note that GreenGeeks' shared and reseller plans only provide a rudimentary level of support for you.
They recommend that people who utilize RoR look into VPS or dedicated hosting so that they may receive more advanced options and complete RoR support.
In addition, InMotion offers to host services that are completely managed for WordPress websites.
2. GreenGeeks vs Dreamhost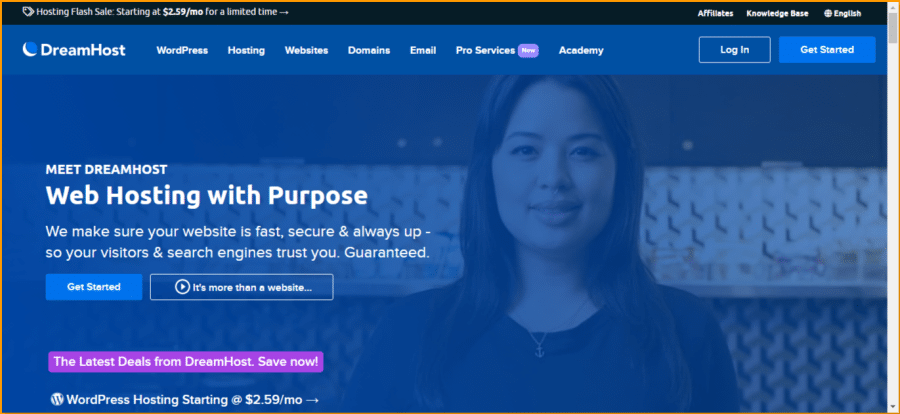 Customers that are worried about their carbon impact have another carbon-neutral hosting option in the form of DreamHost. Additionally, they have specialized programs for customers who use WordPress and WooCommerce.
They are fairly competitive with GreenGeeks in terms of pricing, while the cost of email service is an additional fee.
Greengeeks vs Bluehost
Bluehost is the most user-friendly web hosting service available, making it the ideal choice for those who run WordPress websites. GreenGeeks is the finest supplier for people who are concerned about the environment as well as websites that have a large number of email accounts.
Conclusion: Is GreenGeeks Hosting a Good Hosting Provider?
I admire that GreenGeeks has a wider mission than just offering web hosting.
GreenGeeks is a reliable and reasonable hosting service that is suitable for the majority of brands and organizations. GreenGeeks is an excellent choice for you if lowering your carbon footprint is a priority for you but you don't want to sacrifice performance in the process.
No matter how big or how small your site is, you will benefit from their around-the-clock service, their high-tech servers, and their quick speeds.
On the other hand, if you depend heavily on your host for assistance with WordPress, you could be better off with a host that is more focused on WordPress specifically. WordPress is not GreenGeeks' primary focus, but they are able to provide help for it.
Otherwise, GreenGeeks is well worth looking into. Visit GreenGeeks right away if you think it would be a good fit for you so that you can begin your exploration as soon as possible.
They aren't the finest I've seen, but they do offer reliable speed, uptime, and customer service. For those reasons, you should have a look at them.
Remember that committing for the long term will get you the best price. That "free domain" and "money-back promise" might not be worth much if you end up asking for a refund.
Frequently Asked Questions (FAQs)
How much does GreenGeeks cost?
Shared hosting with GreenGeeks costs $2.95 per month when purchased for a period of three years.
Is GreenGeeks com legit?
Yes, GreenGeeks com is real. The service provider has been in the industry for more than 14 years and presently serves over 55,000 clients.
Is GreenGeeks com reliable?
GreenGeeks hosting is among the greatest web hosting solutions if you are seeking an eco-friendly service for your small business. New users will like the intuitive interface, 99.9% uptime guarantee, professional support team, and extensive online documentation.
Is GreenGeeks fast?
Their speed, at 478 ms, is above par for the business sector. GreenGeeks has generally steady loading times, thus we've decided to use them as our primary host.
Is GreenGeeks affiliate good?
Signing up for the GreenGeek affiliate program is a no-brainer, as it's among the top hosting affiliate programs out there. Affiliates get $100 for each new customer they bring in, and that number rises with each additional transaction they make.