In this article, I'll go through each GrooveFunnels pricing in detail to help you decide which Groovefunnels pricing option is ideal for you or delivers the most value for your money.
In the last decade, billions of sales funnels have been built, all with the purpose of increasing online sales. GrooveFunnels is one such platform, and in this article, I'll go over GrooveFunnels pricing structure.
This tool will engage people who are interested in what you have to offer automatically. You provide your new leads the option to become regular clients through automated email campaigns that can include content and landing pages that they can walk through before becoming a customer, just as if you were selling them directly.
However, among billions of tools on the market, finding the correct sales funnel builder or software to help you design a digital marketing strategy that works for your company's target audience isn't always easy.
Those who have used GrooveFunnels, on the other hand, have found it to be quite useful for their business, as well as one of the top sales funnel builders out there that is also very economical.
GrooveFunnels pricing: Is GrooveFunnels really free of cost?
Groove Funnels began as a for-profit service aimed at small enterprises. During the COVID-19 outbreak, when more businesses closed than opened, the owners of Groove Funnels agreed to make their product available free of charge to affected businesses all over the world,
and they offered Groove Base Plan as a free product so budding entrepreneurs could start their own online stores without spending a fortune. GroovePages, Groove Kart, and Groove Funnels are all available for free with the Groove Base Plan.
Even if you don't have a credit card, you can use grooveFunnel's features if you log in with your email. If you're interested in learning more about what the tool has to offer, this is a wonderful way to get started.
You'll be able to use all of the features for free, with some limitations on how you can use them. You can also have access to all of the tools without paying anything upfront.
Groovefunnels Pricing Plans
Groovefunnels has four different pricing tiers viz. The Free plan, the Silver plan, the Gold plan, and the Platinum plan, are each of the GrooveFunnels pricing plans discussed below.
GrooveFunnels Pricing: The Free Plan, what does it offer?
GrooveFunnels' free plan is jam-packed with fantastic features and tools that are invaluable to anyone interested in content development or e-commerce sales.
If you're just getting started as an entrepreneur, the GrooveFunnels Free Plan is undoubtedly worth a look because it's packed with so much value.
The benefits of the GrooveFunnels free plan are outlined below:
GroovePages: GroovePages' free plan gives you access to a page builder that allows you to create three full websites with three custom domains and 15 pages, as well as provides a free SSL certificate.
GrooveMail: GrooveMail is an email marketing platform for small firms that want to increase their marketing results without spending a lot of money on setup. The free plan allows you to send up to 5000 emails each month and has a limit of 500 contacts.
GrooveSell: By integrating with platforms like GroovePay, Paypal, and others, GrooveSell allows you to sell an endless number of tangible products to clients, giving you the power to govern your own profit margins and revenue. The selling of digital products does not incur any transaction fees or charges.
GrooveKart: Groovekart is now available to make your eCommerce life a little easier. It allows you to effortlessly upload inventory, selling print-on-demand products, and easily start a dropshipping business in Groovekart. You will be charged a modest transaction fee if you use the free plan.
GrooveAffiliates: groove affiliate offers a simple, easy-to-use, full-service affiliate software that allows you to manage, track, and engage with your affiliates online in order to develop your business and acquire more targeted visitors. You have full access to this tool with the free plan.
GrooveMember: You can now offer content, as well as free and paid tiers of access to your communities and memberships, using the GrooveFunnels membership site generator. You get a monthly allotment of specific funnels, depending on whatever membership package you choose, that you can utilize based on your needs. You can create one membership site with 100 members on the free plan.
GrooveVideo: GrooveVideo is a video player that allows you to enhance any user's typical viewing experience by simply overlaying an interactive overlay on top of a video. It's simple to customize and automate the viewer experience with this application. Starting with the free plan, you get 15 limitless video uploads with a maximum of 5GB per video.
GrooveBlogs: Grooveblogs is a fantastic platform that enables business owners like you to start a blog, promote their products and services, and raise brand awareness. It contains a number of features that will dramatically improve the appearance of your blogs, such as social media sharing buttons and custom banners, which will help you develop brand awareness while viewing your blog through the eyes of your customers.
GrooveFunnels Pricing: The Silver Plan, what does it offer?
If you choose the GrooveFunnels Silver Plan, you will be charged $99 per month. The Silver plan removes the limitations of the free plan, such as the ability to create unlimited pages and domains with Groovepages,
to have unlimited sales with Groovesell, to have unlimited access to Grooveaffiliate, to have 10000 contacts and send unlimited emails with Groovemail, and many more.
GrooveFunnels Pricing: The Gold Plan, what does it offer?
If you choose the Groovefunnel Gold plan, you will be charged $199 per month. This plan includes everything in the Silver plan plus additional features such as access to the helpdesk known as Groovedesk,
GrooveCalender which allows you to schedule meetings or appointments, Groovesurveys, and GrooveQuiz which allows you to create surveys and quizzes within your funnels respectively.
GrooveFunnels Pricing: The Platinum Plan, what does it offer?
The Platinum package from GrooveFunnels costs $299 per month and is ideal for coaches and teachers. Everything in the Gold Plan is included in the Platinum Plan, plus additional features including access to Groovewebinars, which allows you to hold live webinars.
GrooveEvergreen can also be used to create automated webinars so that your prospects/customers don't have to wait for you to arrange another session because this option is always open.
Last but not least, GrooveStream, allows you to stream live on famous websites such as Youtube with a single click.
Which GrooveFunnels Pricing plan should you choose?
Now that you've gone over all of GrooveFunnels' pricing plans and have a good understanding of each tier, I'll explain which plan is best for your business:
The free plan is ideal for budding entrepreneurs who are just getting started and have a limited budget,
so if you are a beginner, you can start with the free plan to see what Groovefunnel has to offer and then upgrade after a month or two when you have a better understanding of the tool and have made some sales.
The silver plan is similar to the free plan, except it removes GrooveFunnels' free price plan's limits. So, if you're a newbie or have a small to mid-sized business, the Groovefunnels Silver pricing plan is perfect for you.
The Gold plan includes everything in the Silver level plus a lot more, such as the ability to conduct surveys and quizzes. This plan is perfect for large entrepreneurs and business owners who want to invest in their company and take it to the next level.
The platinum plan gives you access to all GrooveFunnels has to offer, allowing you to take advantage of the tool to its full potential. I recommend this plan to existing gold plan users or entrepreneurs with extra funds because this ultimate plan can make a huge difference in your business.
Tools Included in All Groovefunnels Plans
Design unlimited high-converting sales funnels and landing pages (GroovePages)
Sell Unlimited Products (GrooveSell)
Custom Domains (GroovePages)
Automated Email Marketing Platform (GrooveMail)
Membership Site Platform (Groovemember)
Video Marketing with GrooveVideo
Shopping cart functionality (GrooveKart)
Powerful affiliate program (GrooveAffiliate)
What is GrooveFunnels?
Groove Funnels is a comprehensive suite of marketing tools designed to assist productive organizations in the digital age in effectively communicating their message.
It bridged the gap between traditional business techniques and new technologies, allowing enterprises to reach a far larger audience.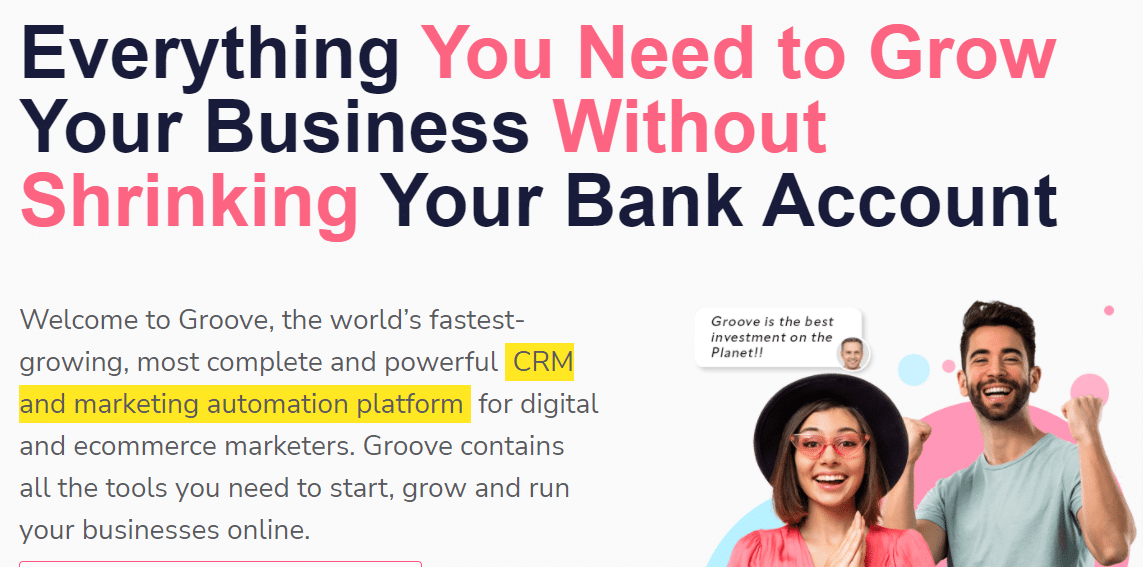 GrooveFunnels is an online marketing solution that includes everything from email marketing automation to hosting, shopping carts, and sales funnel builders, as well as additional features like webinars, affiliate marketing, and other services to help you operate your business efficiently.
Key Features of GrooveFunnels
No fees every month
All GrooveFunnels apps can be used.
Tools for making advertisements and upsells
Use of a strong affiliate program
Email marketing tools that go in-depth
User-friendly
Offer both free and paid items
Option to drip content
Tools for making pretty web pages
Make it easy for customers to share on social media
Create beautiful quizzes and surveys
Groovefunnels Pricing: Pros And Cons
Pros
This software will take care of all the needs of an online business.
The GrooveFunnels Free Plan doesn't need a credit card.
You can use almost 20 marketing and automation tools.
Easy for business founders who aren't tech-savvy to use.
Helps you save a lot of money.
Cons
As a newer firm, their customer service team is still developing processes.
Some people may find it confusing to have access to so many tools.
Is Groovefunnels Pricing Legit?
Yes, GrooveFunnels is legit. They make software that is used every day by thousands of people to build businesses. Mike Filsaime came up with the idea for GrooveFunnels.
Mike has been a mainstay in internet marketing for over a decade, and he is also one of the founders of Kartra and WebinarJam. Kartra, in particular, is a big fish in the world of business software, making millions of dollars every year.
GrooveFunnels is used by more than 550,000 business owners, including myself. For paid plans, they also offer a 30-day money-back guarantee.
Conclusion: GrooveFunnels Pricing
To sum up, for every Groovefunnel pricing plan I discussed, I would recommend you choose the silver plan because at its price point it provides great value for your money.
You can also opt for the gold plan, it will cost you a few more bucks but with the gold plan you have access to almost every feature Groovefunnel has to offer.
Choosing GrooveFunnels is a great idea for a number of good reasons. At the end of the day, there's no denying that Grovefunnels is a great product for building out an effective sales funnel for your business as It provides you with an easy-to-set-up yet powerful way for converting website traffic into leads and further converting those leads into sales.
You will have access to all sorts of templates, and the software is not only affordable but feature-loaded so that you can make the most out of everything it has to offer, which makes it the perfect solution for building a solid business foundation through your funnel system.
So, this was all about GrooveFunnels pricing structure, I hope that through this article I have helped you choosing the best plan for your business.
FAQs
Is GrooveFunnels free?
GrooveFunnels offers a free package that includes some of the most basic functions. However, if you want to use the majority of the features indicated above, you'll need to upgrade to their Silver or Gold subscription. GrooveSell, GrooveAffiliate, and GroovePages LITE are all included in the free package.
What is a Groove affiliate?
GrooveFunnels Affiliate Program is a very high-paying affiliate program to promote in 2022, with affiliate commissions of up to 40% ($798) per sale. A review is for you if you want to generate money with this all-in-one marketing platform.
What is the cost of GrooveFunnels?
The following are the prices for lifetime access to Groove.cm: A one-time payment of $1,997 is required. $399 divided into three payments of $699 each. 2 x $999 monthly payments.
Is GrooveFunnels better than ClickFunnels?
 GrooveFunnels is slightly better than Clickfunnels, as you could expect because its editor is considerably superior in terms of design and usability.
Is grooveFunnels worth the money?
The platform has a lot of potentials, even if it's not ideal right now. It gives advertisers a lot of bang for their buck in terms of improving their online brand. Subscribing to the GrooveFunnels lifetime deal, rather than the free plan, will provide you with greater value in the long run and help you save a lot of money.
Is groovemail free?
If you have a GrooveFunnels free account, you can use GrooveMail for free to generate an email list of up to 500 contacts.
Is grooveFunnels still in beta?
This feature is still under development because GrooveFunnels is still in beta, but it has powerful capabilities to help you build and profit from your email list.
What is Groove CRM?
Groove is the top sales engagement platform for Salesforce-enabled organizations. Groove, which was designed to meet the demands of relationship-based sellers, boosts rep productivity, encourages Salesforce adoption, and offers revenue management with crucial insights into what's driving their business.
How do I set up groove flow?
Here's how you can begin: Navigate to this page and select 'New Flow.' Name the Flow and specify whether you want to eliminate emails that bounce or users who respond to any email in the Flow. Click the 'Save & Next button. Create your Flow (campaign) I would consider automating the first step in this Flow (auto-send an email) More to come…