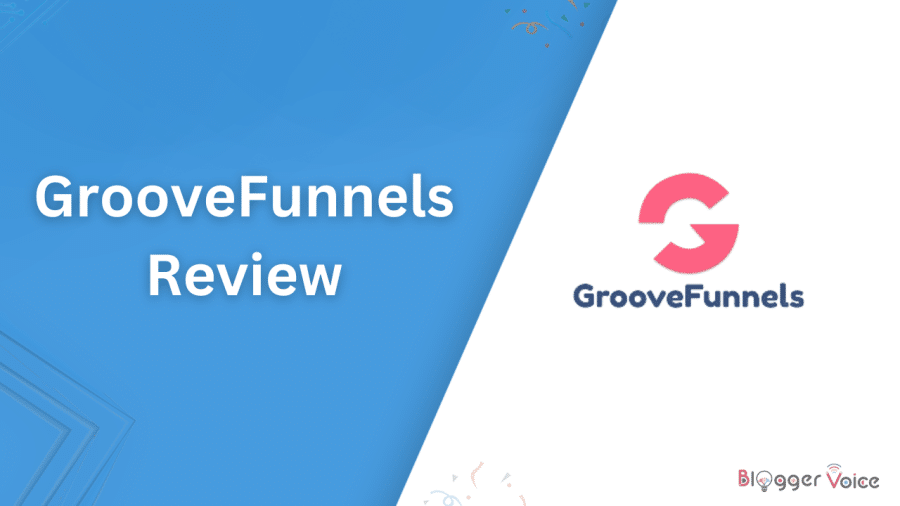 According to a new survey by MarketingSignals, 90% of online businesses fail after 120 days or almost four months of launching.
If you're having trouble setting up and automating your online business, you need a revolutionary, all-in-one platform that puts all your marketing and sales tools in one place and makes them easier to use.
This will let you build and keep up a strong online presence without having to worry about and pay for integrating different tools.
I have researched every component of this online business tool. Hence, in this GrooveFunnels Review, I intend to provide an in-depth analysis of this dynamic platform.
So let's get started!
What is GrooveFunnels?
Groovefunnels is an advanced, flexible, and complete SaaS solution for all of your digital marketing needs and wants. GrooveFunnels helps you stay ahead of the race and have an advantage over your competitors.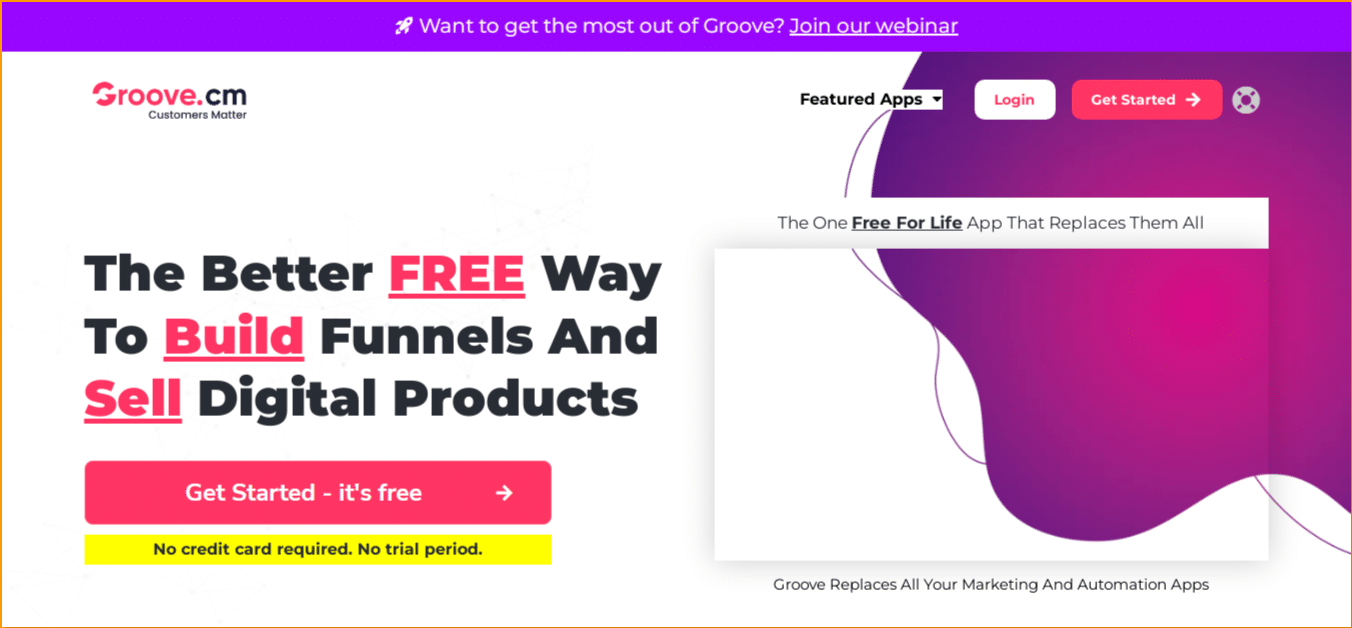 As Groovefunnels is the complete solution you need, it helps you save the time and money that you would otherwise spend finding, trying, and buying different tools for different purposes.
When it comes to digital marketing and staying ahead in the online race, consider GrooveFunnels as your collection of weapons (tools and apps) that can help you scale your company and improve your branding in the market.
According to GrooveDigital, they witnessed over 43,000 new members switching to this platform.
Groovefunnels takes care of everything that you need, from the page builder to the webinar management platform, quiz, membership management, blogging, autoresponders, funnel builders, scheduling, video, business desk, affiliate management, shopping cart management, ad and campaign management, survey, mailing list, and everything in between.
You can sign up for the GrooveFunnels basic version, which was recently released, or you can get free plan access with no credit card required.
Not to forget, I have covered the amazing GrooveFunnels lifetime deal for you if you wish to keep GrooveFunnels forever.
So, no matter what kind of business you are running online, GrooveFunnels has all the solutions that you need to manage and scale it!
What are funnels?
In the digital landscape, the biggest hurdle is interaction with your clients, visitors to your website, or a customer.
Your product or service can be the best in the world, but if you are not able to communicate that to your client, then you are losing the game.
Every visitor on your website is a potential customer who will pay for your product. And Funnels help you to convert your website visitor into a customer by guiding them through the whole purchase procedure, basically, it helps you to improve the customer journey on your website.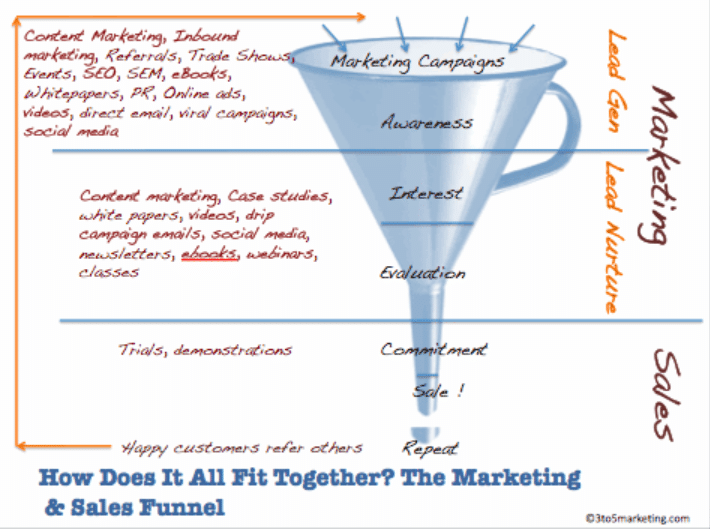 The funnels help you inform your customers about your products, upsell other products, display suggestions, give a personalized experience to your visitors on the website, and make their purchase and check-out a pleasant experience.
Funnels help you in many ways like relationship building, increasing conversion rates, increasing lifetime customer value, and making better sales volume.
But before I start with my GrooveFunnels review, here is a lifetime deal on GrooveFunnels that you would not want to miss.
Who Should Use GrooveFunnels?
GrooveFunnels is a complete marketing and customer-experience tool built for your business be it of any shape, size, and in any industry.
It provides a strong funnel builder and many more features and tools that I will discuss with you in the article ahead.
Here is what I would recommend Groovefunnels to:
eCommerce Stores
Content Creators
Digital Marketing Agencies
Affiliate Marketers
1. eCommerce Stores
GrooveFunnels is an all-in-one eCommerce platform that makes managing your online business a snap. If a business wishes to sell tangible things, marketers can set up an endless number of outlets using a single online sales system.
2. Content Creators
Groovefunnels is a goldmine for content creators, authors, coaches, and consultants.
If you want to grow your audience for your business online then you need to use the right tools that will help reach out the prospective clients.
What makes it a more viable choice for the creators is the complete suite of tools that Groovefunnels offer. For example, you might need a membership site, or email marketing tool. page builder, lead generation, and affiliate management portals.
Well, Groove digital offers you everything at a price half of what all these would cost.
3. Digital Marketing Agencies
These tools may be useful for clients of digital marketing agencies. You can employ digital marketing tools like sales funnel builders, landing page builders, software, website builders, shopping cart, membership site, and email marketing software, among others.
What else does this offer? It gives custom landing page templates and web templates for custom web design.
4. Affiliate Marketers
GrooveFunnels can assist you in creating and managing your own affiliate program.
You can quickly and easily swap between vendor and affiliate marketing roles in order to generate additional income.
Product promotion, data acquisition, and the use of supplementary, ready-to-use promotional materials are just a few examples.
GrooveFunnels review: Pros & Cons
Groovefunnels provides lifetime account.

There is more than19 amazing tools to set up business online.

It is super-easy to use and navigate through all the apps of GrooveFunnels

Groovefunnels 14-day free trial to try out all their features.

The customer support provided by the GrooveFunnel is excellent and they support you at every point in time

For the lifetime deal, you can also pay in installments.

It is very accurate when it comes to analytics and research support

GrooveFunnels can help you to increase the conversion rates of your website

GrooveFunnels can help you derive the maximum value from your online business

It provides a clean and decluttered view of your business activity, hence says goodbye to too many tabs and apps.

Sometimes, it can be overwhelming while using so many apps under one suite

Though the apps and software is easy to use, however, you need to have a specific set of analytical skillset while going through them
GrooveFunnels review: Pricing Plans
Groovefunnels has only two pricing options now- Base (free plan) or lifetime plan.
GrooveFunnels Free Plan ($0)
The free plan of Groovefunnels gives access to GrooveSell, GroovePages, and GrooveAffiliate.
When you are first getting your firm off the ground, it is essential to begin by creating a free business plan. This way, you may test out some of these incredible services without having to pay any transaction fees to determine whether they're appropriate for you.
The free funnel plan gives access to three domains. Moreover, you can advertise your pages using their sales funnel builder. The most encouraging aspect is that you can sign up for the service without having to submit any of your credit card information.
Here are the quick features of the Groofunnels free plan:
Unlimited Product upsells
Free hosting
3 custom domains
Downsells and order bumps
GrooveFunnels Platinum Plan ($299/month)
Groovefunnels will soon be offering a monthly platinum plan.
For now, the platinum plan is only available as a lifetime offer. Groovefunnels lifetime plan costs $1,997. The Groovefunnels lifetime deal gives access to:
GroovePages
GrooveSell
GrooveAffiliate
GrooveMail
GrooveMember
Groovevideo
GrooveKart
GrooveProof
GrooveKart
GrooveBlog
GrooveDesk
GrooveWebinar
GrooveStreaming
GrooveSurvey and others.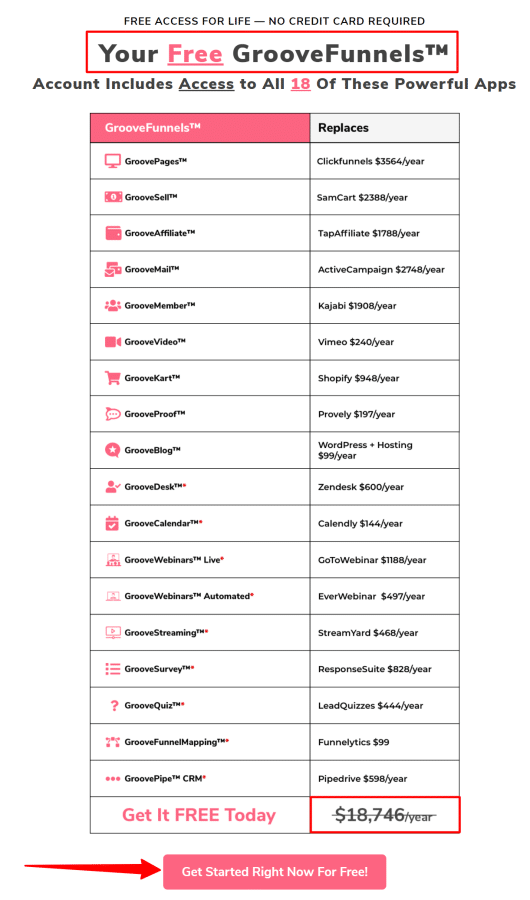 GrooveFunnels Lifetime Deal ($,1997/month)
GrooveFunnels is providing a Lifetime deal as a GrooveFunnels platinum plan.
In the Groovefunnels lifetime package, you have lifelong access to all GrooveFunnels apps.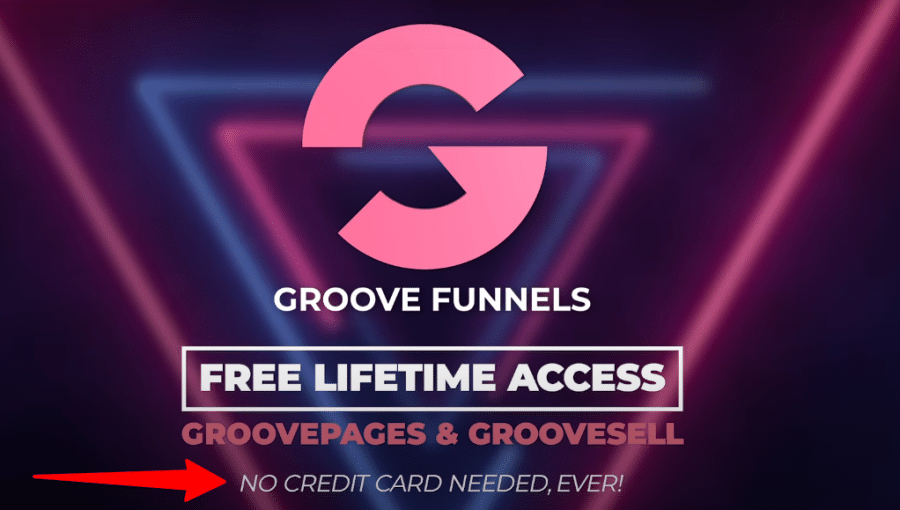 YES, YOU HEARD THAT RIGHT GROOVEFUNNELS IS OFFERING THEIR COMPLETE SUITE FOR FREE FOR A LIFETIME WITH ALL THE FUTURE UPDATES.
P.S. IT IS A LIMITED-TIME OFFER.
GrooveFunnels Review: Key Features
GrooveFunnels is entering a crowded marketplace. ClickFunnels and Kartra, two well-known competitors, have a large number of happy clients.
But, GrooveFunnels has impressed me a lot since they have launched various tools while some of them are in beta.
All-In-One Platform
Groovefunnels offers every tool under one roof. You don't need to look anywhere when you are here. And, the best part is that these tools have amazing functionalities.
That said, GrooveFunnels will replace 98% of your business tools and software.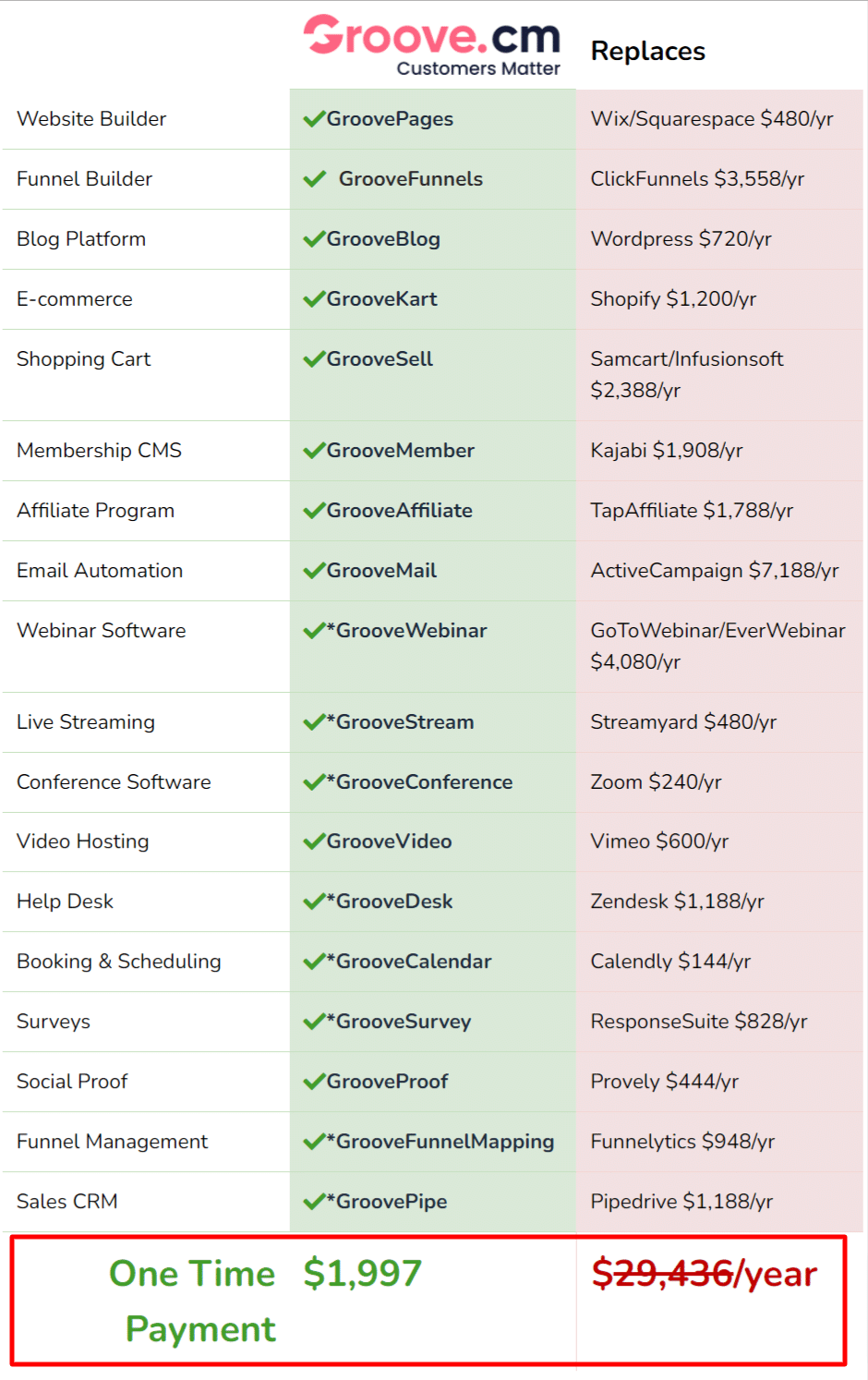 With these software products accessible through a single platform, you can automate repetitive operations while increasing productivity across departments or team workflows.
Easy to use
One of the major USPs of Groovefunnels is that it simple to set up and get started. Furthermore, the GrooveFunnels dashboard is among the most robust.
Using GrooveFunnels requires no specialized knowledge or coding ability because of its intuitive drag-and-drop editor.
To further simplify matters, dozens of high-quality, pre-designed layouts and building components are available for selection. That way, anyone, not just designers, can make beautiful landing pages, sales funnels, domains, and more.
Pick a design you like, fill it in with your own text and photographs, and publish it online in minutes.
GrooveFunnels Dashboard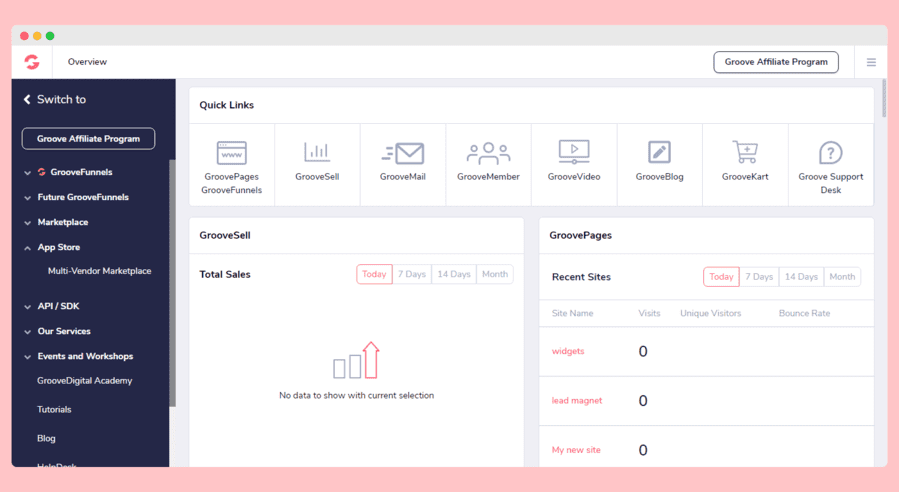 When you log into the GrooveFunnels dashboard, you can quickly navigate to these tabs and all the tools that you would want to use. You can find the instructions for setting up a funnel and using all these tools from a single place.
Also, notifications would appear about your ongoing campaigns and you can also get insight into the campaigns.
Compatible with other Third-party apps
GrooveFunnels integration works with over 3000 different apps and devices, allowing customers to immediately get up to speed on their first campaigns without having to pay anything.
Besides this, you can use Zapier to integrate GrooveFunnels into 3000+ different apps.
Creates an SEO-focused campaign
Google's ranking algorithms take into account the fact that search engine optimization (SEO) is always changing.
It's critical to have the finest user experience possible if you want to rank on Google. One way to do this is to use SEO techniques such as refining UX. It covers anything from page load time to loading faults, which can have a significant influence when someone views their website.
GrooveFunnels ensures that your website's visitors enjoy a nice online experience. GroovePages, for example, lets you change things like headlines, site layouts, color schemes, and graphics on a landing page.
You may also modify each page depending on the device for which you wish to optimize the content, without altering the page's appearance on other devices.
Multi-Templates
GrooveFunnels offers tons of pre-made templates that are perfect to use as it is and get started. You can also use their customized template to make changes to landing pages and create unique content.
These pre-built designs have elements that allow them to be modified to your brand image and needs with little work on the part of the user.
Huge Online Community
GrooveFunnels is trusted by a large number is social media users. That's why they have over 140,800 members on their Facebook group. When you are stuck, you can turn to their Facebook online community to raise a query.
Or, you never know, you might meet some amazing prospects.
What did I like About GrooveFunnels?
GrooveFunnels is jumping into a very competitive space. ClickFunnels and Kartra, two of its main competitors, already have a sizable customer base. As a result, it's unclear why they'd want to start using a program that's still in the testing phase.
Several features of GrooveFunnels immediately drew me in.
1. Use-Friendly
You may open an account in a matter of minutes. In addition, the GrooveFunnels control panel is intuitive and simple to use.
Due to its intuitive drag-and-drop editor, using GrooveFunnels requires no specialized knowledge or coding ability. Plus, you have your pick of dozens of professionally designed, pre-made layouts and building blocks. Consequently, it's not necessary to be a designer to make a stunning landing page, domain, sales funnel, etc.
In addition, regardless of the type of business you run, whether it's a gym, travel agency, real estate agency, restaurant, eCom website, or something else, you may construct expert digital marketing campaigns in your chosen area.
Just pick a design you like, fill in the blanks with your own text and photographs, rearrange things as you see fit with the handy drag-and-drop function, and you're good to go.
2. Platform for email marketing
Email marketing has evolved into a crucial part of online advertising strategies.
I highly recommend downloading GrooveMail. It's a very effective platform for email marketing and marketing automation, which works together to bring in more high-quality leads and close more deals.
3. Platform That Does It All
When everything is ready to go, businesses will be able to replace 97% of their software with just one.
Explore the ways in which Groove can eventually help you replace different tools and improve your business operations.
4. One-Time Charge
Pay just $1,397 once and get access to all the equipment I'll ever need.
You can generate more leads and catapult your business to new heights with the help of Butterfly Marketing and GrooveFunnels.
5. reduces costs
If all the features I need are included in GrooveFunnels, there's no reason for me to pay for any additional services.
To sum up, the GrooveFunnels lifetime plan is all I need instead of purchasing individual programs for marketing, membership sites, webinars, shopping carts, website builders, sales funnels, etc.
From where I sit, this is a fantastic chance for you to save approximately $20,000 each year. In fact, if you made me an offer like this, I'd take it in a heartbeat.
If I keep up this savings rate, I should have a hundred thousand dollars in five or six years. Think of what I could do with that kind of money for my company and my future!
6. Offers Multiple Templates
If you're looking for a head start, GrooveFunnels has you covered with its library of premade funnel templates. However, it may be tailored to your specific needs in order to produce one-of-a-kind material that is consistent with your brand's aesthetic. For those just starting out in the online world, this is a great help.
7. Well Compatible with Any Apps
Because it works well with so many other programs, GrooveFunnels can get you up and running quickly. Furthermore, over 3,000 other apps can be connected to GrooveFunnels with Zapier.
Customers and product activity data may now be imported directly into Groove.
8. Enhances Your Seo Strategies
When deciding which websites to prioritize in search results, Google considers a wide variety of signals.
Google takes into account a variety of factors when determining a site's ranking, including how user-friendly it is, how fast it loads, how secure it is, and how mobile-friendly it is.
These are all facets of UX that have been folded into modern SEO best practices. Google keeps tabs on how many people visit your site, how long they remain, how many leave right away (bounce), and so on, therefore it's important to get UX right.
9. GrooveFunnels Affiliate Earnings
Have you ever wished that you could earn money while you slept? In fact, affiliate marketing was designed for just such a purpose. Selling the goods or services of another business for a commission is possible if you become an affiliate.
The good news is that by creating a free account with GrooveFunnels, you automatically become an affiliate. Make a little extra cash on the side by participating in the GrooveFunnels affiliate program.
How does this work?
Tier 1 conversions are earned whenever an individual you sent to GrooveFunnels through your affiliate link ultimately becomes a paying customer. You'll earn a second tier of payment if the individual you referred is successful in bringing in new customers for GrooveFunnels.
There are two levels of commission for GrooveFunnels' free users: the first pay 20%, and the second pays 5%. However, if you purchase the lifetime membership, you can increase your affiliate earnings by a factor of two.
Now you can earn 40% on Tier 1 commissions and 10% on Tier 2 commissions when selling GrooveFunnels accounts.
To my ears, it's a win-win scenario.
10. major digital community
It's great to be a member of a group that's constantly doing things. And the bigger the better in the digital realm. Groove has almost 140,800 active members on Facebook alone. And that figure keeps rising.
You can tap into this sizable user community for answers to any issues you may have or inspiration for new ways to put existing resources to work.
So many other things fascinate me as well, but I must press on with this evaluation of GrooveFunnels.
Best Groovefunnels Alternatives & Competitors
There are a few good alternatives to GrooveFunnels but only when it comes to Funnel Builder and page builders, in my opinion, there is no other solution that is as good and robust as GrooveFunnels.
Let's check out who is better, here I have compared all the popular sales funnels and landing page builders, like Clickfunnels, Kartra, Kajabi, and WordPress.
1. Funnelytics
Funnelytics is software that allows businesses and marketers to track and map their funnels and other marketing strategies.
It has strong analytics and research support and helps you to make the right decision and create effective strategies.
Funnelytics provides you with everything in one place and you can monitor every activity happening on your website right on your Funnelytics Dashboard.
2. GrooveFunnels vs Clickfunnels
ClickFunnels is the biggest competitor of GrooveFunnels. ClickFunnels allows businesses, entrepreneurs, and marketers to create beautiful sales funnels and increase the conversion rates on their websites.
It helps you to capture data from the customer journey and improve it in a way that is a good experience for consumers and also increases your revenues. It completely automates your sales process on your eCommerce website.
3. Kartra
Kartra is one of the closest to GrooveFunnels when it comes to providing a complete solution for your online business wherein you need not add too many apps for all the different purposes.
The main USP of the Kartra is that it is a complete Cloud software, hence, you can access your business insights and monitor it from anywhere in the world, at any time and from any device, all you need is internet connectivity.
Further reading: Kartra vs ClickFunnels
Is Groovefunnels worth it?
Well, GrooveFunnels is worth it! There is no second thought regarding that. And with free lifetime access, GrooveFunnel is disrupting the whole market.
GrooveFunnel is far ahead of all its competitors when it comes to technology, pricing, and providing a complete e-business marketing solution.
Also, it is always good to have all the apps in one suite, as it gives you seamless connectivity and it is easy to pass on information from one app to another, which helps you make quicker decisions and frame a good strategy.
Lastly, if you look at the pricing, GrooveFunnels is worth it. When you buy too many apps and software for different purposes, you tend to incur more costs and expenses.
If you buy a separate software or a plugin for all the different functions that GrooveFunnels offer in a single suite, it can cost you around $10,000 a year while GrooveFunnels is currently providing everything for free and otherwise GrooveFunnels costs just around $1400 a year.
Conclusion
In my opinion, GrooveFunnels is worth investing your money in.
GrooveFunnels is built by a team of people with a vision to disrupt the way the world carries out business on the internet.
It is on a mission to build to most robust technologies and software that can help businesses and marketers of every shape, size, and kind run successful marketing campaigns and increase their revenue.
My own experience has completely changed the way I used to carry out my business. It is definitely worth every penny that you spend.
After using GrooveFunnels I realized how much money I was leaving on the table, it has definitely helped me to reach out to my customers, increase the conversion rates, develop strategy, and change according to the time.
Groovefunnels is an investment that will give you very high returns if you use it well, The sky is the limit with Groovefunnels.
That's all from my side on the GrooveFunnels review.
Frequently Asked Questions (FAQs)
Is GrooveFunnels any good?
Things considered, GrooveFunnel is an outstanding piece of software that provides a wealth of fantastic, highly effective features, the majority of which are available at no cost. Since I now have an easy-to-use platform for my creative endeavors, GrooveFunnels has been helpful in my growth as a digital marketer. The software's ease of use and setup are two major pluses.
Is GrooveFunnels better than ClickFunnels?
GrooveFunnels is favored over ClickFunnels' funnel builder due to the fact that GrooveFunnels provides numerous marketing elements that ClickFunnels does not.
Is Groove a good brand?
Since the year 2020, Groove has been one of the Inc. 5000 fastest-growing privately owned firms in the United States, and it has also been ranked number one in enterprise customer satisfaction on G2. Go to https://groove.co/ for additional info.
Who is behind Groove funnels?
GrooveFunnels breaks new ground as the first truly integrated marketing solution. Mike Filsaime, an early adopter in the field of digital advertising, created it. He created the company GrooveDigital, which created all of these programs, so he can lay claim to being a software engineer as well.
Is GrooveFunnels a pyramid scheme?
Many people have been asking whether or not GrooveFunnels is a pyramid scam, so I thought I'd clear that up "and the answer is NO". They do, in fact, provide a respectable affiliate program. However, their portal also features unmatched free offers and services.
Does GrooveFunnels provide free hosting?
The correct answer is "yes." If you sign up for the free GrooveFunnels account, you'll get access to free hosting. Therefore, you should not hesitate to host your websites absolutely free.
Does GrooveFunnels offer free SSL?
When you successfully connect your custom domain, Free SSL will be instantly installed for you.
Groove supports which payment gateways?
Users with a free account will only have the ability to combine PayPal and Stripe. Paid customers will have the ability to interface with other payment gateways such as Braintree, GroovePay, NMI, Autorize.net, and PayPal, among others.