GrooveFunnels vs Builderall are both powerful online marketing tools that claim to help users build a business online. This GrooveFunnels vs Builderall blog will look at the two tools and try to help you decide which is better.
It will look at different aspects of the two tools, how they differ and how they can help you build an online business.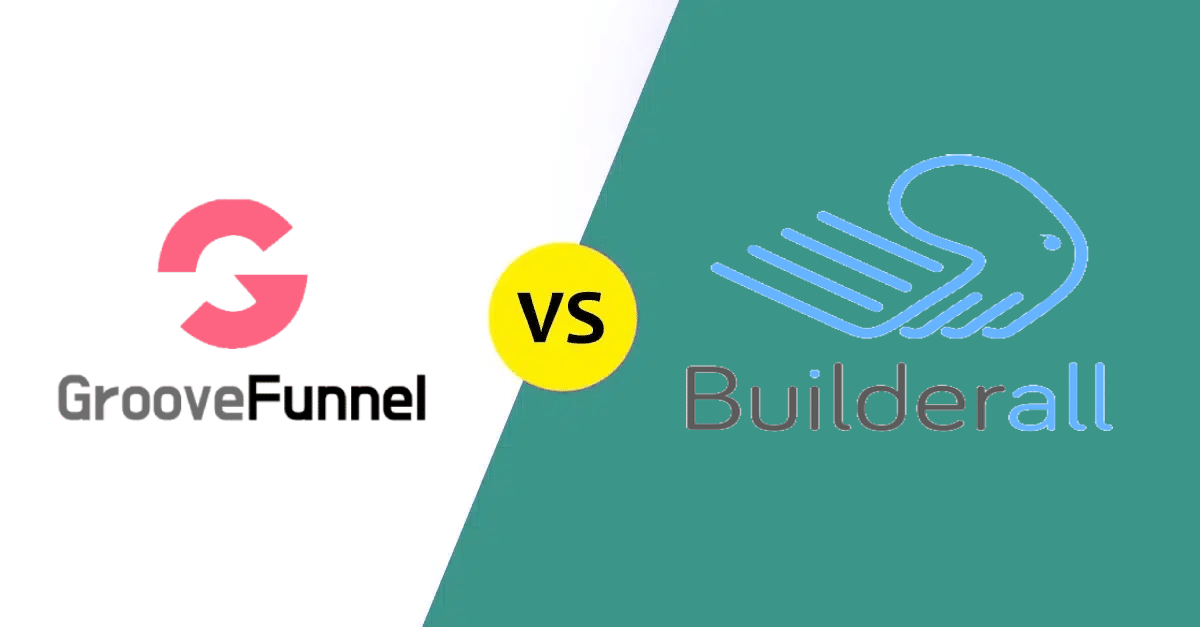 When you have a business on today's date it is almost necessary for you to have a website. But not every website is the same. Every business is different and you need the right website to help you get the most out of your business.
Before we get started let's get familiar with the term marketing funnel or sales funnel.
GrooveFunnels is a one-stop shop for creating sales funnels, landing pages, and websites to sell products online. It's a new tool that's getting a lot of attention.
Builderall is a website builder and digital marketing platform in one. It's ideal for entrepreneurs and those starting their first online business. It has more than 30 features, including a drag-and-drop website builder and a sales funnel builder.
The platform is simple to use and does not require any technical knowledge. Page builder has great templates and makes it simple to create pages.
All marketing tools in one location; welcoming low prices; user-friendly interface; high deliverability with their mailing boss.
Don't forget about GrooveFunnels' one-time fee for the entire suite of products. Use SMS, voice, text, and email in your marketing automation. Annual pricing saves you 20% – switch plans easily – cancel at any time
Builderall has pricing plans to suit every need and budget. It offers a free 14-day trial on any of its plans.
GrooveFunnels Provides Live Chat Customer Support. Mike Filsaime, the creator of Groove, established Groove Funnels software as an all-in-one platform.
To assist you with any Builderall questions, the support team is available 24/7 via tickets and live chat during business hours.
What is a Sales Funnel?
The sales funnel is one of the most crucial aspects of any business. It has several phases which are crucial for the progress of the business. The primary objective of a sales funnel is to convert prospects into customers.
An online sales funnel is basically a series of steps that you guide your visitors through, which ultimately leads them to either buy or opt into your product/services. This is the core of any good marketing campaign or business strategy.
GrooveFunnels and Builderall are two tools that will help you create such marketing funnels. Now let's know about each one of them.
What is GrooveFunnels?
GrooveFunnels is a unique sales funnel builder that helps you create high-converting sales funnels in a matter of minutes. It is an easy-to-use sales funnel builder that helps anyone create powerful and stunning sales funnels with no coding skills required.
Check our GrooveFunnels Review to get in-depth information about its features.
GrooveFunnels is a tool that automates your email marketing, helping you to leverage your email list and automating your follow-ups to help you grow your business. Think of GrooveFunnels as a tool to speed up the customer conversion cycle. It takes care of the grunt work for your funnel and keeps you from having to stay on top of it, saving you time and energy.
What is Builderall?
Builderall is a lead generation platform that helps you build your business by using social media and using email marketing. This is great for businesses that have little to no money to spend on advertising and marketing.
Builderall is a platform that makes it easy to build and maintain a website. It also allows you to market your business through the website. You can even use Builderall to promote your business online.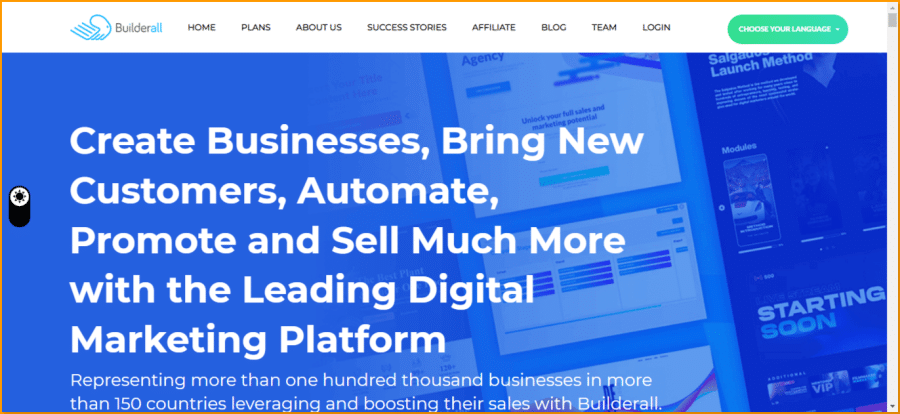 GrooveFunnels vs Builderall: Similarities
Both GrooveFunnels and Builderall has:
1. The ability to create landing pages that will grow your business.
2. The ability to create websites and promote your websites to get new business.
3. The ability to market your business and your website to get new clients.
4. The ability to build an email market with an email builder that will get your customers to trust you and your company.
5. The ability to create and develop your ideas into a success with the robust live chat feature that is included in the platform.
6. The ability to manage and run your whole business no matter how big or small.
7. The ability to integrate Facebook or Instagram with the platform.
8. The ability to perform A/B split testing on your created funnels to see which will work out the best.
GrooveFunnels vs Builderall: Differences
Now let's see where these two tools differ. I will compare GrooveFunnels vs Builderall in the following 9 criteria that should be known by every user.
GrooveFunnels vs Builderall: Who has the better Drag and Drop Editor?
GrooveFunnels
GrooveFunnels is a part of the Groove community tools that comes as a pack of 18 tools made to create the best marketing funnels and capture leads.
They utilize a very intuitive and good drag-and-drop editor to make catchy funnels using their GroovePages or GrooveFunnels tools. They hand 100+ elements to choose from to customize and the tool can be used to make landing pages, pop-ups, and websites as well.
Builderall
Builderall gives its users the Cheetah Funnel or Website Builder known for its fast speed which is also a drag-and-drop builder that helps you make landing pages, pop-ups, marketing funnels, and websites. Although the drag-and-drop editor is fast it does not have as many elements of customization as the Groove Funnel Builder.
Verdict
In this criterion of GrooveFunnels vs Builderall, GrooveFunnels definitely takes a step forward because of more robust customizations and a more user-friendly drag-and-drop editor interface. Builderall tried to make the editor more professional but it made it a little tougher to be understood the beginner.
GrooveFunnels vs Builderall: Who is Easier to Use?
GrooveFunnels
With a dedicated set of tools for each part of your marketing process like GroovePages, GrooveFunnels, GrooveMail, GrooveSell, GrooveKart, GrooveAffiliate, and so on.
The builders of Groove.cm have made it very easy for their users to use the tool and have essentially replaced the need for having many tools to perform each of the specific functions. It is beginner-friendly and easy to use as well.
Builderall
Builderall is also a complete set of tools that can make every part of your sales funnel by itself; however, it is seen to be a little more difficult to use in comparison to the GrooveFunnels Builder. It has a slightly steeper learning curve and one has to learn to use it before making use of it completely.
Verdict
Due to the simplicity of its user interface, GrooveFunnels has been the first choice of beginners and professionals alike and that is why it wins in this GrooveFunnels vs Builderall category.
GrooveFunnels vs Builderall: Marketing Automation
GrooveFunnels
GrooveFunnels is a champion in email automation. It has a tool dedicated to it which is the GrooveMail. It actively replaces any other Email service provider like Active Campaign or MailChimp.
The best part of the tool is that it automates the emails to be sent and replied to. You can also set schedules for your emails and send specific emails to the target audience as well.
Builderall
Builderall has the MailingBoss to do the same that GrooveMail does. Email automation is also handled by Builderall like a breeze. However, you need to be a subscribed member to access this feature. In GrooveFunnels this feature is a part of their free account as well.
Verdict
Although both the tools provide the same feature in Builderall you have to pay for this feature whereas it is free in GrooveFunnels that is GrooveFunnels wins in this GrooveFunnels vs Builderall category.
GrooveFunnels vs Builderall: Videos and Webinars Creation
GrooveFunnels
With GrooveFunnels you can create videos and host them using their GrooveVideo feature. You have a variety of customization options like tagging, editing, and so on, and also split testing. You can also create and schedule Webinars with GrooveWebinar Automated which replaces the need for using Webinar integrated tools like EverWebinar and so on.
Builderall
In Builderall you get both of these features included but only in premium memberships which can be expensive for small businesses also you have few customization options in comparison to GrooveFunnels which makes them stand out in the Video hosting category.
Verdict
GrooveFunnels clearly wins in this category of comparison to GrooveFunnels vs Builderall due to more advanced customizations and free-of-charge usage of these essential features for websites that regularly upload videos and conduct webinars to interact with their viewers.
GrooveFunnels vs Builderall: Who can handle Ecommerce better?
GrooveFunnels
GrooveFunnels has a set of tools like the GrooveSell, and GrooveKart that replaces the need for having external plug-ins and makes it an all-in-one website for selling your products, effectively showcasing them, and also having a regularly updated page and checkout corners and independent shopping carts of your visitors.
It is automated as well and once you run the program you need not worry about anything further. If you own a business website then GrooveFunnels will make online marketing a breeze. For premium members, advanced tools like GrooveCalender, GrooveDesk, and so on are also available.
Builderall
Builderall also has an inbuilt Ecommerce management system ranging from SEO optimization to creating an entire shopping website, Builderall has all the features that will make your business flourish however as with most of its features. They are not available in their base plans and need to be updated to premium subscriptions to gain access.
Verdict
As you can already guess, Builderall slightly lags behind GrooveFunnels because of their cost. They are not very pocket-friendly and almost always require a premium subscription to make use of important features. So, in this GrooveFunnels vs Builderall comparison GrooveFunnels wins the title although it also has many tools that need to be paid for.
GrooveFunnels vs Builderall: Who has better Affiliate Programs?
GrooveFunnels
With GrooveFunnels you can easily set up an affiliate program and earn commission from sales and referrals. In the free version, you earn up to 20% from referrals while in the paid versions you earn up to 40% from referrals. With GrooveFunnels you can easily track your sales and pay your affiliate in a systematic manner.
Builderall
Builderall also allows you to track your sales, pay your affiliate, and set up affiliate programs easily with the Builderall drag-and-drop builder. It is easy to use however the rates of commission revenues are variable and not defined clearly and therefore you cannot really compare the two tools.
Verdict
Both tools offer affiliate programs to those who wish to become a part of their community but the rate is defined in GrooveFunnels however it is not clearly defined in Builderall. Therefore, GrooveFunnels wins in this category of GrooveFunnels vs Builderall.
GrooveFunnels vs Builderall: Unique Features
GrooveFunnels
GrooveFunnels has several features that are unique to it. These are:
GrooveSurvey: A tool to create survey forms to understand the likes and dislikes of your viewers.
GrooveDesk: A helpline desk creating a tool to provide customer support to your customers.
GrooveKart: A marketing automation tool.
GrooveSDK: A dedicated multi-vendor store that acts as a shopping automation tool.
Builderall
Builderall has some unique features as well like:
Heat Mapping: This is a feature that allows you to track the movement of your viewers on your website or webpage.
App Builder: This is a tool dedicated to those users that want to create an app linked to their website
Animated Video Tool: This tool lets you create animated videos for your website that make it more attractive to your viewers.
Verdict
Both these tools have their own unique set of features that can be useful to a different target audience. I will not pick out a winner in this category of GrooveFunnels vs Builderall as these unique features may be useful to some or may not.
GrooveFunnels vs Builderall: Website Building
GrooveFunnels
It comes with special features like gamification, video hosting, quizzes, and drip content broadcasts that will engage and entertain your members and attract new ones. Membership sites are made much easier with GrooveMember.
Builderall
Builderall also lets you create membership sites in its premium plans but it also has some unique features like the restriction of specific content, drip content, collection of payments, and so on, Overall, it makes the creation of membership sites very easy and about any kind of website can be made with Builderall.
Verdict
This is a category in which you really can't tell them apart as they provide their users with similar opportunities to make websites and increase their members. There this GrooveFunnels vs Builderall comparison is a tie.
GrooveFunnels vs Builderall: Pricing Plans
GrooveFunnels
GrooveFunnels is completely free for those who want to create basic funnels with a little bit of professional touch, The base plan of GrooveFunnels comes free with 17 tools ready to be used by their customers.
GrooveFunnels has two different pricing criteria for its users
First, they have the Platinum Lifetime Deal which is a one-time lifetime payment of 1397$ for all the 20 tools of GrooveFunnels and lifetime access and updates. Second, they have monthly payment plans which are.
Gold Plan: GrooveFunnels Gold Plan costs 199$ per month.
Platinum Plan: GrooveFunnels Platinum Plan costs 299$ per month.
Builderall
Builderall has recently released version 5.0. Builderall Builder 5.0 has four pricing plan
Cheetah Plan: This Is The Most Basic Plan With Some Of The Features Of Builderall That Costs 14.90 $ Per Month.
Marketeer Plan: This Is An Advanced Plan With More Features Like 3 Domains And Templates That Costs 69$ Per Month.
Premium Plan: This Plan Costs 79$ Per Month.
Funnel Club Plan: This plan costs 199$ in the first payment followed by 79$ monthly for all the features of GrooveFunnels.
Now that we know the main differences between the two tools, let's have a look at the pros and cons of each tool at a glance.
GrooveFunnels vs Builderall: Who is Worth Your Time and Money?
When it comes to choosing the right tool to create converting and beautiful sales funnels can be a tough job as there are many options in the market but if you are looking for the best tools our article is a comparison between two of the best tools available in the market: GrooveFunnels and Builderall.
GrooveFunnels vs Builderall is a very popular battle as both tools provide equally exciting features and customizations and serve as an all-in-one tool that helps to replace multiple tools attached to your website that can make it slow.
However, GrooveFunnels comes as an easy free tool and is open to being used by small and big businesses alike, Builderall on the other hand does not have any free trial but has a 30-day money-back guarantee.
You can try them out yourself to decide which one will be best for you. In case you need a comparison, this GrooveFunnels vs Builderall article will definitely help you. All the best!
social media: grooveFunnels vs builderall
The term "social media" refers to websites and applications that emphasize communication, community-based input, interaction, content sharing, and collaboration. People use social media to stay in touch with friends, family, and members of various communities.
GrooveFunnels on Facebook
A Facebook page can help you connect with customers and provide important information about your company, products, services, and upcoming events. Groovefunnels has a 5-star rating, 947 likes, and 979 followers on Facebook.
Groovefunnels on Twitter

FREE GrooveFunnels lifetime membership! Designer of a website. Construct a funnel. The shopping cart on the internet. Everything you need to start selling online. No credit card is required. It has 209 Tweets and 297 followers on its Twitter page.
GrooveFunnels on Linkedin
The Better FREE Method for Creating Funnels and Selling Digital Products Online Sales System for Digital Products and Services. GrooveFunnels has 647 followers on its Linkedin page.
YouTube Videos
Builderall on Facebook
The World's Most Powerful and Comprehensive Internet Marketing Platform! Create anything from a simple web page to a complex sales funnel, and everything in between! Builderall has 4.4- stars, 8,627 likes, and 9,682 followers on its Facebook page.
Builderall on Twitter
The World's Most Powerful and Comprehensive Internet Marketing Platform! Create anything from a simple web page to a complex sales funnel, and everything in between! Builderall has 162 tweets and 2,045 followers on its Twitter page.
YouTube Videos
Customers reviews and testimonials
Here is what customers say!
GrooveFunnels

Builderall
I watched this company evolve for four years


I watched this company evolve over the last four years and let me tell you, it's freaking amazing how far they've come to be the only true All in One Digital Marketing Platform. There are some great platforms out there, however, none of them can compare to Builderall in ease of usability, GUI, training, and cost. The owner of this company really listens to his users. He's more committed to building up Entrepreneurs than he is in the hype.

Date of experience: November 19, 2020

Source: Trustpilots
Final Thoughts On GrooveFunnels vs Builderall
If you're a business owner searching for an integrated marketing platform, ClickFunnels is your best bet.
If you're an entrepreneur or an affiliate marketer searching for a low-cost platform with lots of features, GrooveFunnels is the way to go. You need to be patient while we finish adding more features and release it to the public.
ClickFunnels continues to lead the pack of similar platforms at the present time. ClickFunnels offers a free trial period of 14 days.
ClickFunnels is an excellent learning resource because of its numerous useful courses and other resources. This is an excellent system for those that want a streamlined sales process.
Sales funnels may be built and implemented with ease with this tool.
Although GrooveFunnels is currently in beta and has a ways to go before it can be considered a viable rival to ClickFunnels, its lifetime cost is attractive.
When compared to ClickFunnels, GrooveFunnels is more affordable and attempts to provide additional functionality (again, largely still under development).
GrooveFunnels vs Builderall: Frequently Asked Questions (FAQs)
What is GrooveFunnels?
Groove Funnels is an innovative funnel builder that allows you to create amazing landing pages, capture pages, sales pages, webinar pages, and more in minutes. With an intuitive drag-and-drop editor, you'll be able to create stunning pages without touching a single line of code.  In addition, you'll have the ability to create 100% unique web pages that are personalized for each visitor.
Is Builderall any good?
Builderall is software that makes your business easier, faster, and more profitable. Their tools include pages, landing page builder, web hosting, visual editor, sales funnel builder, email marketing, website builder, landing page builder, and sales funnel. It's easy to use and no technical skills are needed. You can get started within minutes.
Will GrooveFunnels integrate with autoresponders?
This is a fact that GrooveFunnels can integrate with all major autoresponders and CRMs. You can get the integrations you need to stay in touch with your customers, organize your business, and increase your sales. GrooveFunnels integrates with ConvertKit, ActiveCampaign, Ontraport, Infusionsoft, Drip, and MailChimp. GrooveFunnels also has apps for all major CRMS including HubSpot, Pipedrive, and SalesForce.
Who has better customer support GrooveFunnels or Builderall?
Both tools have an extensive video and blog resource gallery for their customers to refer to. They also have a large community of users that are very reactive and help eagerly when required. Both provide support through emails and live chats if required but customer service provided by the tool itself is better and faster in GrooveFunnels.
Can you make websites using GrooveFunnels?
GrooveFunnels is a website builder that allows you to create a website without needing any technical skills. Simply choose a template that matches your brand and go. You can create landing and sales pages to help grow your business. You don't need to worry about hosting or finding a domain, because GrooveFunnels offers it all for you.
What is Builderall's business?
Builderall is a digital marketing and internet business platform all in one. It includes all of the tools you'll need to start and operate a profitable business, saving you time and money on locating and purchasing other stand-alone goods.
Is GrooveFunnnels any good?
GrooveFunnels is a pretty straightforward product that I believe any company may benefit from. There are a number of customer care features that are both simple to use and crucial to the product's success. These are paired with other elements, such as funnels, to create a product with a lot of potential for expansion.
Is grooveFunnels free?
GrooveFunnels offers a free package that includes some of the most basic functions. However, if you want to use the majority of the features indicated above, you'll need to upgrade to their Silver or Gold subscription. GrooveSell, GrooveAffiliate, and GroovePages LITE are all included in the free package.
Is grooveFunnels pyramid scheme?
They do, in fact, have a good affiliate program. They do, however, have one of their best free deals ever. MLMs are pyramid schemes, and the information they provide to those at the top isn't really valuable until it's sold.
does builderall have email marketing?
MailingBoss Autoresponder is an email marketing program offered by Builderall. You can use this functionality to develop email marketing campaigns.
how do I Create a website with builderall?
Builderall provides resources for building websites, and blogs, automating marketing campaigns, and increase conversion rates. Builderall provides resources for building websites, and blogs, automating marketing campaigns, and increase conversion rates.