When choosing between GrooveFunnels and WordPress, there are a few crucial questions to answer. How do you know what platform is ideal for your web store? What are the costs associated with accessing these superior resources?
Well, I'll respond to all of your queries in this approach.
In this article, I'll compare and contrast GrooveFunnels Vs WordPress, covering their comparative advantages, drawbacks, pricing structures, and other relevant information to help you make an informed decision.
Okay, so let's begin.
Let's start by defining these 2 softwares platforms and outlining their key capabilities.
What is GrooveFunnels?
Groovefunnels is the best set of online marketing tools for anyone who wishes to easily create their own funnels, membership sites, and eCommerce stores.
Groovefunnels is for marketers who recognize the value of internet marketing but don't have the time to handle various platforms.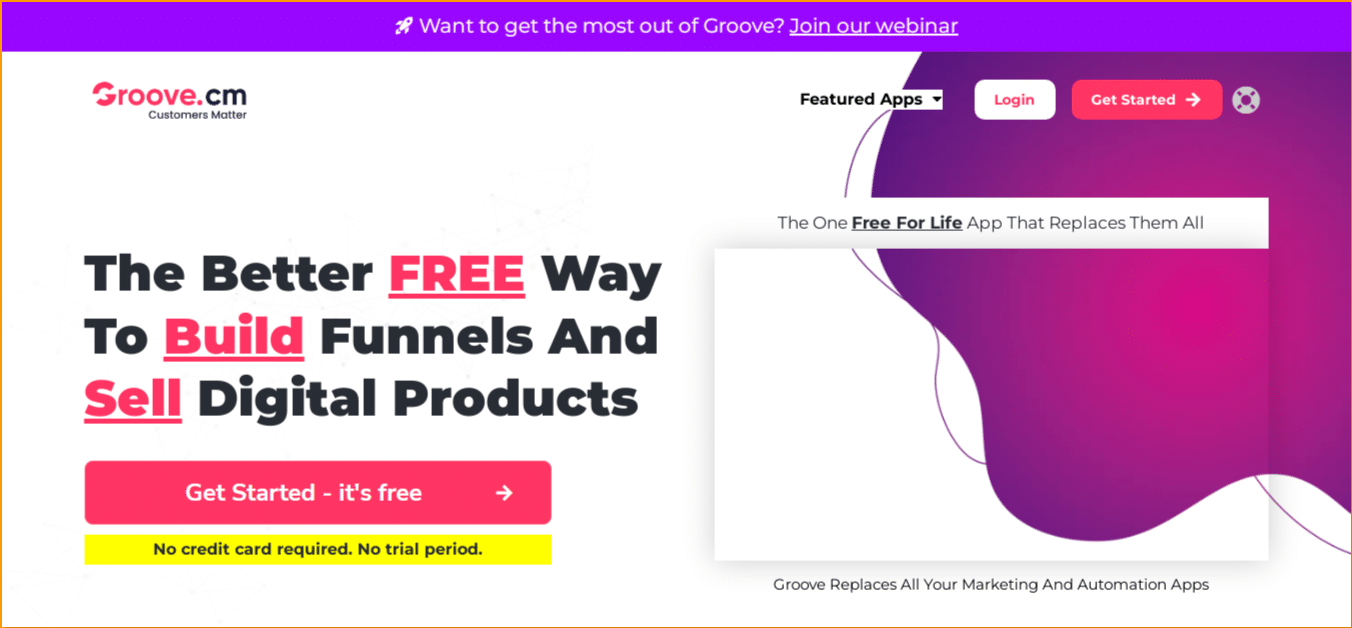 Now, I don't want to over-promise, but GrooveFunnels will still allow you to simply handle a range of marketing channels without having to hire a team of professionals.
New outstanding features have been added to the application as a result of recent software updates. Additionally, the developers have worked on plugins and brought them closer to you in order to provide you with even more growth prospects.
However, whether or not you employ these options is entirely up to your mindset.
There are a lot of different methods out there when it comes to online sales funnels, and one of the things that makes Groovefunnels so popular is the low-risk, high-reward methodology it uses.
Groovefunnels is a system that was built with one philosophy in mind: to provide an easy-to-use platform that allows you to gather all of your ideas and resources together in one location.
You don't have to pay extra fees or keep track of multiple names because everything is in one place.
If you'd like to learn more about this innovative platform, I've created a detailed review article that you can access by clicking here.
What Is WordPress?
WordPress is a content management system (CMS), whereas the GrooveFunnels platform is a sales funnel builder. In order to create a website, you must have access to a media hosting service. You can't create a website without a system like this.
WordPress is currently among the most widely used content management systems (CMS) today. About 38% of all websites run on it since it's user-friendly, simple to pick up, and very adaptable.
WordPress was originally developed as a blog-publishing platform, but the platform has subsequently expanded to handle other types of content as well, including forums, membership sites, LMSs, and e-commerce sites.
Due to its open-source nature and the flexibility afforded by its "themes" and "plugins," which together form the core of both platforms, this is possible.
Unlike GrooveFunnels, WordPress isn't really geared toward the "selling" or "marketing" side of things. WordPress's primary purpose is content administration. You may then modify your content to make it more marketing-oriented, or you may use it for whatever personal purpose you like.
The term "WordPress" can refer to two distinct software platforms. We're talking about the free WordPress.org and the paid WordPress.com here. They're sold at different prices but perform identically.
If you want to use the.org version of your domain, you'll have to sign up with a web hosting service. You don't have to worry about hosting when using the.com domain because the company will handle that for you.
In sum, WordPress's abundance of available add-ons allows you to transform your site into anything from a store to a membership site by simply changing a few settings. Everything you want to accomplish with it is possible.
GrooveFunnels Vs WordPress: Features & Benifits
GrooveFunnels Features
Listed below are the features and benifits offered by GrooveFunnels:
1. GroovePages
Groove Pages is a GrooveFunnels add-on that lets you create a number of landing page layouts, the majority of which are visually appealing.
There are options included in this GroovePages extension to make things easier for you, such as drag-and-drop capabilities and customization, so you won't have to go through the effort of hiring someone. You will also receive free website hosting.
2. GrooveVideo
Rather than employing someone to create your promotional videos, GrooveVideo allows you to create them right on the platform.
They also function as a marketing tool by giving you all the resources you need to upload your movies to different digital platforms for online distribution.
GrooveVideo allows producers from all over the world to publish and share their videos on digital platforms.
3. GrooveSell
GrooveSell is a sales funnel builder application that assists digital product producers in creating visually appealing digital marketing and sales funnels that produce results.
When you use GrooveSell to create sales funnels, you automatically get a variety of payment processing options from various payment providers.
Users that want to make free offers instead of paying for premium items or services can utilize the tool, as well as more specific markets like selling digital pdfs or coaching or training sessions.
4. GrooveCalender
GrooveCalendar will constantly keep you up-to-date on things like forthcoming product releases and upcoming events, even if they fall on the same day, after a long day of planning, attending meetings,
and ensuring that your staff is appropriately equipped with the right tools to get their work done quickly.
You'll never have to worry about missing this crucial information again with the Groove Calendars plan scheduler.
5. GrooveMail
GrooveMail is the name of the company's additional product. This is a comprehensive email marketing software which will enable you to integrate opt-in forms into your landing pages so that you can gather email addresses.
Additionally, you will be able to create email automation responses, broadcasts, and sequences, and you will have the capacity to store as many as 10,000 address book.
6. GrooveMember
GrooveMember was built with the express purpose of making your responsibilities as service providers and management officials easier. Its drag-and-drop feature allows you to work quickly and efficiently while meeting the needs of your members.
Members will be able to find everything you have to offer, which will encourage them to visit your site more frequently and engage responsibly.
The platform appeals to online business owners since it allows them to customize banners, buttons, backgrounds, and font styles free of charge.
7. GrooveAffiliate
GrooveAffiliate acts as a hub to assist you in launching your business. It allows you to track conversions, refunds, and commissions without having to rely on third-party software that could take up too much server space in the long term.
Recruit affiliates and pay them well when they help you sell your stuff. It's critical to be polite and approachable to your clients as a vendor if you want to keep their business in the long run.
This is where a well-designed message can help you develop your relationship with your audience, who will ideally suggest you to others who are looking for items that can enhance their lives in the same way that yours has improved theirs.
WordPress Features
WordPress definitely has more functionality because it provides limitless options.
1. Plug-ins
The core components that make up WordPress. The WordPress platform makes tens of thousands various plug-ins readily available, all of which may be obtained via free download (some are paid).
You can add plugins that will help with SEO, plugins that will help you add optin forms, plugins that will assist you in creating landing pages, plugins that will help your bounce rate to drop, plugins that will assist you in making tables of contents and see analytics, plugins that will help you create pop-ups, plugins that will copy-protect your posts, plugins that will image compress your images.
You are virtually limitless in the things that you are capable of doing.
2. Free Themes
The free themes give you a lot of flexibility in designing your website. Every type of firm can find a suitable WordPress theme among the hundreds available for free download.
Some of the themes have suggested add-ons, while others offer premade pages (homepages & privacy pages). This saves a tonne of time while maintaining a professional appearance.
3. Memberships
With the use of plugins, WordPress may also help you transform your site into a membership site to earn money. You have the option of making some or all of your material accessible solely to paying customers, offering free membership, or charging a monthly fee.
By gradually releasing material and offering free or paid trials, you may build a loyal subscriber base and a steady stream of cash.
4. Blogs
Naturally, you may make a full-fledged blog that is optimised for search engines (just like this one!). This is WordPress's bread and butter; all you have to do is add images, submit your content, and set up blog categories.
Just a few clicks will get you a well-structured blog site with the optimal plugin configuration, optimised for search engines and ready to start bringing in visitors right away.
5. E-Commerce
With the right plugins, you may even turn your site into an online shop. Using the WooCommerce plugin is the most typical method. Simply adding the WooCommerce plugin to your WordPress installation will transform your site into an online store.
From this one, you can add items to your online store, give them prices, add coupon codes, and set up a shopping cart and checkout process. What a wonderful adaptability!
GrooveFunnels Vs WordPress: Pricing Plans
Okay, now let's have a look at the cost for each of these software solutions.
GrooveFunnels Pricing
There are presently four unique GrooveFunnels plans available: the free Base Account, Silver, Gold, and Platinum.
1. Free Base Account
The free GrooveFunnels membership provides access to the page builder GroovePages lite, the sales funnel creation tool GrooveSell, and the affiliate marketing platform GrooveAffiliate (the affiliate dashboard and marketplace tool).
A free SSL certificate from CloudFlare and support for up to three domain integrations are also included with the GrooveFunnels Free Base Account. With GrooveFunnels, you may have up to three sites hosted on their high-quality Amazon servers at no additional cost to you.
You won't find a better deal on free software anywhere else. You can use it to construct a website, make and sell an electronic product (complete with sales pages and pricing structures), and run an affiliate marketing programme (or join one).
Everything is free, no credit card is needed, and you can have a live site for as low as a dollar a month ($12 a year for the domain name is all you need to pay, as hosting is included).
2. Silver Plan
In addition to the features included in the $29/month plan, this $99/month plan also includes GrooveVideo (a video hosting player), GrooveMember (a membership site builder), and GrooveMail (an email autoresponder with a limit of 10,000 contacts).
3. Gold Plan
To get everything in the silver plan plus GrooveBlog, a blog-building tool designed to compete with WordPress, GrooveDesk, a service desk platform, and GrooveCalendar, a calendar scheduling tool, you'll need to pay $199 a month for the gold plan.
4. Platinum Plan
Within the GrooveFunnels system, this is the more expensive premium package. At $299/month, it includes everything from the other plans plus GrooveSurvey – software for making surveys, GrooveQuiz – a quiz creator,
GroovePages for Shopify – combined page editor and shopping cart available as an in-app download, and GrooveWebinar – an online platform for creating and hosting webinars in real time.
WordPress Pricing
Before we go any further, there is one important point to make about WordPress. WordPress.org and WordPress.com are the 2 different "versions" of WordPress.
1. WordPress.com
Building a site on WordPress.com is free of charge. However, there are limitations:
Only a subdomain is available to you.
The WordPress "branding/watermark" is permanently embedded.
You can't make money blogging, customise your site with add-ons and premium themes, and so on because of your restricted capabilities.
In addition, the platform lets you upgrade to one of four hosting plans—personal, premium, business, or e-commerce—with monthly rates ranging from $8 to $52 when paid annually.
Presently, WordPress isn't recommended by anyone as a hosting service. To put it simply, that's not the most effective method.
As we've already established, WordPress excels at managing content….
But let a professional hosting service handle the hosting for us.
Because of this, you should register a domain name with a hosting service and use WordPress to power your site's content management. WordPress.org fills this void.
2. WordPress.org
Using WordPress.org, you can create a fully functional website for as low as $13–$15 a year, including the cost of registering your domain name, and $5–$15 per month, depending on the hosting plan you choose.
If you want to host your domain name, you may do so with a business like BlueHost or SiteGround after purchasing it from a place like NameCheap.
Again, this is the superior choice because you can choose a more specialised hosting service and limit WordPress's role to that of a content management and display system.
Can WordPress Integrate with GrooveFunnels?
Given that WordPress is the more widely used platform, queries about how to connect GrooveFunnels with WordPress are frequently posed.
This is a trick question; the truth is that you simply cannot accomplish what you ask (at least not right now).
As a corollary, if you own a domain name and direct it to GrooveFunnels' free hosting, you won't be able to install the WordPress framework on your site. Whether you go with WordPress or GrooveFunnels is up to you.
As of the time this post was written, there was no method to link GrooveFunnels with WordPress, but that could change in the future (the closest thing to anything like this is the GroovePages in-store app on the Shopify platform).
GrooveFunnels intends to create a blogging platform called GrooveBlog as a direct competitor to WordPress in the hopes of convincing you to switch. As a result, WordPress integration for services like GroovePages is unlikely to happen until there is a significant demand for it.
GrooveFunnels Vs WordPress: Which One To Choose & Why?
Now that we've covered the platforms' features, costs, and what you can anticipate from them, let's compare and contrast them. But which one is the better option?
It's a tricky subject because both systems are highly effective and have unique features. However, let's narrow it down to the specifics that distinguish one from the other.
GrooveFunnels is for you if…
You want to join a game-changing digital marketing platform that will shape the industry for years to come.
You need a modern, adaptable platform that is also strong, tidy, capable, and up-to-date.
and you have no problem shelling out the cash to do so.
You need powerful tools to help you sell things online and build sales funnels.
You need cutting-edge software that will keep all of your operations coordinated and centralized.
You're not very interested in keeping a blog but you'd like to keep the door open.
WordPress is for you if…
You're not put off by the prospect of studying unfamiliar concepts like "plugins," "integration," "search engine optimization," "DNS records," and so forth.
Your ideal platform would be one that has been tried and true for a long time and has passed the test of time and multiple battles.
It is clear from the start that you have no plans to build a "huge business" (although you can transition later on, easily).
You're just getting started and don't want to spend a fortune on your first weblog or website.
You despise constraints and insist on being able to personalize every facet of your site.
Conclusion
If you've used both platforms, you'll know that GrooveFunnels is superior to WordPress. WordPress is the undisputed king of free content management systems, but you'll still need to budget for things like hosting, email services, a page builder, etc.
GrooveFunnels, on the other hand, has a wide variety of tools available at a much lower price. Which tool you end up picking is ultimately up to you.
Thanks for taking the time to read our GrooveFunnels Vs WordPress comparison. If you have any questions or comments on the content of this post, please leave them below.
Frequently Asked Questions (FAQs)
Is GrooveFunnels any good?
I built my site in just an hour because of how simple it was to use. Webinar registration sites, sales pages, and opt-in pages were all within my reach. If you want to build a website without going to learn a whole new programme, Groovefunnels is the way to go.
Is GrooveBlog good for SEO?
If you want to increase your site's organic traffic through strategies like search engine optimization and content promotion, GrooveBlog might not be the best option. When comparing SEO features, WordPress emerges on top due to the availability of plugins that aid in SEO and the versatility with which you may lay out your site architecture.
Is WordPress still the best for SEO?
The experience on a WordPress site is well received by visitors. They spend more time on the site, lowering the bounce rate. This is great news for you if you're working on optimising your site for search engines. Google has stated that it intends to boost the rankings of high-quality sites that offer a satisfying user experience.
Does Google prefer WordPress?
When people, in general, speak to "SEO," they are usually talking to how highly Google ranks your company. Website designers frequently assert that WordPress sites achieve higher Google rankings than those created with website builders. Do you really believe that? Definitely not; that is not the case.