Groovepages is a wonderful choice if you're looking for software that makes creating landing pages for your service or product simple.
In this GroovePages review, you'll learn why a growing number of digital marketers and organizations are turning to Groove Pages to build the best drag-and-drop landing pages and sales funnels for their marketing campaigns.
Although GroovePages is not the first or only page builder or funnel builder available, it is unquestionably one of the most user-friendly.
There are numerous options for getting started with a powerful and effective marketing engine that is tailored to your specific requirements.
Whatever company area you are in, you will be able to benefit from the ability to create bespoke pages and funnels with ease, resulting in better engagement and dedicated followers who want more from you after visiting your unique website.
In this Groovepages review, we'll go over all of the features, pros, and cons so that you can understand more about the product.
So, let's get started with this review. Shall we?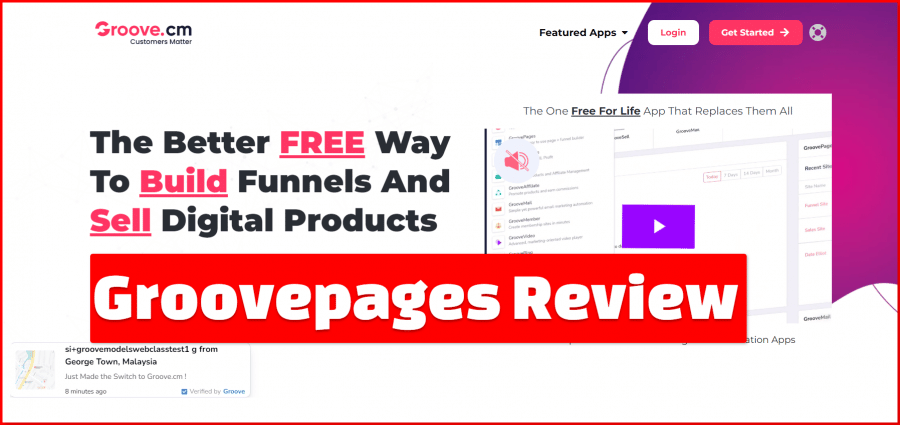 What is groovepages?
Mike Filsaime, John Cornetta, Mattijs Naus, and Matt Serralta created GroovePages. It's a powerful tool that allows businesses to quickly create landing pages and funnels without needing to be an expert.
It also adds the necessary code for you automatically, so you don't have to worry about it.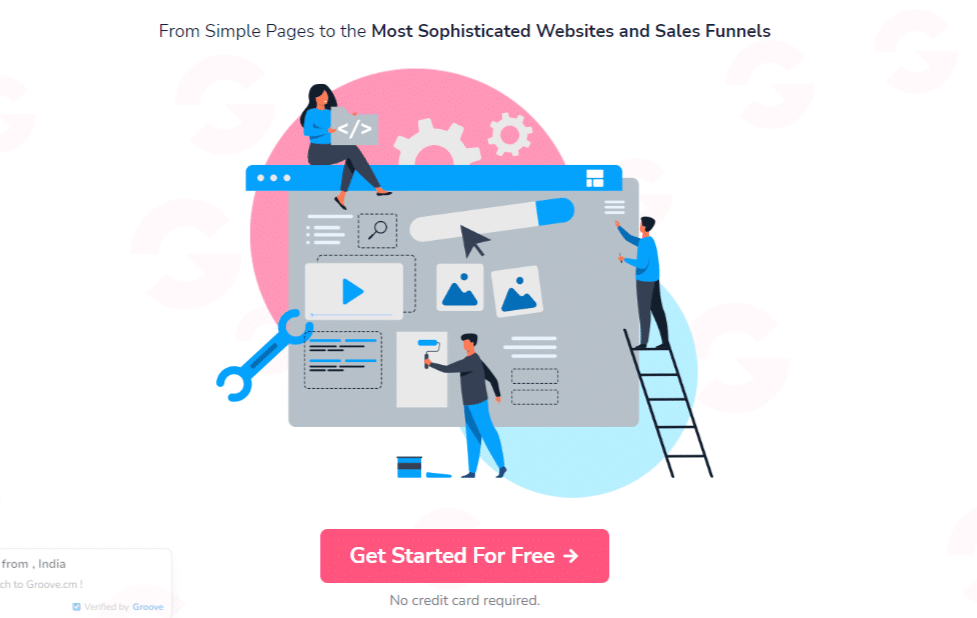 GroovePages' core premise is that with their assistance, you may pay less attention to minor issues, check out what your competitors are up to, and spend more time focusing on expanding your business.
GroovePages is an excellent tool for streamlining your online marketing efforts. It makes use of the most up-to-date technology, so you won't have to spend hours upon hours learning how to utilize it.
You will be able to create professional-looking websites in no time, regardless of your ability level.
How Do I Get GroovePages?
GroovePages Lite is currently only available by signing up for a GrooveFunnels lifetime free account. If you desire more features or functions, you can purchase our platinum lifetime offer or one of our monthly options.
I felt it was wonderful that you could acquire Groove Pages Lite for free since it provided me the opportunity to discover what they had to offer.
A recent update to the GroovePages platform has pioneered a means for you to manually integrate your existing website and then customize it for your own membership site or digital product.
That means members and customers won't have to go through the hassle of redesigning their pages in between projects or whenever they have time because everything is now centralized for them on one main page.
This translates to better time management (more time building, growing, and selling) for entrepreneurs who are overwhelmed with unstructured websites that never get done.
Features offered by Groovepages
Now that we have a basic understanding of groovepages, it's time to move on to the next section of our review, so let's take a look at some of the features that groovepages has to offer:
Groovepages' drag-and-drop editor allows you to quickly change your pages, allowing you to quickly add any critical details or photos. To update a picture, simply click it, drag it to a new area on the page, and drop it in place. Simply save your work when you're done.
Groovepages eliminates the need to pay a hosting charge by allowing you to have your own custom domain and even hosting your domains for free. Domains are free with GroovePages and come pre-configured, so you can start working on your site right away.
Whether you think pop-ups on websites are unpleasant or not, there's no denying that, when utilized appropriately, they can be quite effective in generating more purchases.
You can create a popup when someone clicks a button, navigates to a new page, or closes the current page. Although they are the only three conceivable triggers for a popup window, you could technically arrange it to open at any time.
Countdown Timers & Progress Bars
Groovepages' countdown timers and progress bars will make your visitors feel like there's a real-time urgency for your product or service, as well as assist them to feel like they're progressing.

Consider this: even if a visitor is forced to leave your site before the timer expires, they may return and purchase at a later time.
Device-Based Customizations
You may adjust how your sales funnel or website appears based on the device it is being viewed on, just like you can with most page editors.
You can customize the appearance of your banners, advertisements, and sign-up forms depending on the device they're using! This is a useful feature that improves the usability and effectiveness of your sales funnel.
A SSL certificate verifies the safety and security of a website. In reality, Google uses this algorithm to rank websites in its search results.
Because people prefer their information to be sent over a secure connection, any website that uses a non-secure certificate will be considered less popular than unsecured websites.
GroovePages provides SSL integration as a free service to all of our customers.
The ability to have an SSL certificate on your landing page guarantees that your website can connect securely with your visitor's browser while also having visibility in search engine results since Google has increasingly begun to prefer secure websites in recent years.
My views on the features provided by Groovepages:
These are some of the best things that groovepages has to offer; for many users, including myself, these handy tools have proven to have a significant impact on sales growth.
So, in my opinion, groovepages is the best solution if you need an all-in-one tool to streamline your business or an easy-to-use platform to design the best sales funnels.
Groovepages Review Pros and Cons
GroovePages, like any other software, has both positive and negative aspects. So, let's get right in and look at the pros and cons of this fantastic program that allows you to create high-quality landing pages with a simple drag-and-drop interface.
Ease of use: Groovepages provides a clean and easy-to-navigate interface with a drag-and-drop feature.

Customization: Groovepages offers you a lot of tools with which you can easily customize your page.

No Limits: it offers you tools to create as many websites and pages you want without any limit.

Pop-Ups : you can easily create pop-ups with groovepages.

SSL certificate: Groovepages offers you free SSL certificates.

Split testing: in order to analyze the performance of your pages groovepages allows you to perform split testing.

Custom Domains: you can add unlimited custom domains.

SEO friendly: groovepages also takes care of the SEO of your pages and your pages are always optimized to come at the top of the search results.

Bugs: though the interface is easy to use it can be quite buggy sometimes.

For Beginners: though it has an easy drag and drops feature still it can take a bit of time for new users to get familiarized.
My views on the Pros and Cons of Groovepages:
In my experience, if I put the pros and cons of groovepages on a scale, definitely the pros weigh much more than the cons. With the number of pros the tool has, the cons can easily be ignored.
Is groovepages worth the investment?
GroovePages, in my opinion, is a really appealing and valuable landing page builder that allows you to develop high-quality funnels and professional-looking websites.
GroovePages is part of the Groovefunnels ecosystem, which includes all of the resources you'll need to get your business off the ground running,
such as Search engine optimizations, social media marketing, and advertising, corporate branding and communication tools, customer interaction tools, and lead generation tools.
It will help you increase your efforts with top-tier support from professionals who are dedicated to helping you succeed online, whether you're establishing the basis for your business or pushing it to its full potential.
Groove Pages is an essential feature of the Groove platform, giving you all the tools you need to create beautiful landing pages quickly and effectively.
It works with all Groove platforms, including Groove Sell & Affiliate, as well as all Groove apps.
This improves the overall performance of your website in terms of speed and SEO. Furthermore, publishing your site in HTML allows for speedier page loading times for your visitors, ensuring that they do not become frustrated while waiting for the page to load.
Therefore, if your business is in need of more added edge and you want a cost-effective option for competitive marketing, it's time to consider investing in sales-ready professionally designed landing pages at GroovePages.
Once you have created your free account you will be able to start creating fantastic-looking responsive landing page templates with ease.
Who can use Groovepages?
I've been using GroovePages for the past two years, and in my opinion, it's an easy-to-use drag-and-drop page builder that's ideal for online business owners, bloggers, collectives, and anyone who wants to create landing pages, sales funnels, and fully-functional websites to showcase their products and services.
For bloggers
It's critical for bloggers to incorporate lead-generating funnels into their blogging strategy and marketing activities, such as creating digital product funnels.
Groovepages templates are an excellent method to accomplish this. You may effortlessly market your classes or products using these.
For Freelancers
A freelancer has numerous options for creating a sales funnel that will help them enhance their productivity.
One of the strategies is to provide a lot of value upfront, which may be done through podcasts, social media influencer networking, and viral blog posts, among other things.
For brands, agencies, and businesses
As a business owner, you're always trying to wring out as much profit as possible.
When we need to market our items to new clients over and over again, it might be difficult. You can make this easier by using a tool like groovepages, which costs nothing more than the cost of a one-time product.
This one-time price, of course, will provide you with a tool that you can use to create your own sales funnels without having to pay further fees month after month or year after year.
For Coaches Mentors and teachers
You assist and coach others in their efforts to grow and thrive.
Groovepages is the easiest method to design automatic sales funnels that work like a charm for coaches and mentors that need a powerful sales funnel that gives value first before guiding your chosen audience to sign up for your coaching services.
When should you choose groovepages
After using groovepages for two years, I can confidently say that it is the best funnel builder tool available.
However, because needs and demands differ from person to person and business to business,
I recommend this tool to you if you want to create stunning sales funnels and landing pages to promote your content, products, services, or courses online, or if you are an online marketer with a message to share with your target audience.
My personal thoughts about Groovepages
To be honest, when I first started using groovepages I was a complete beginner and I haven't ever created a funnel on the platform before, and it wasn't the easiest thing for me to understand at first.
In fact, I can't be sure of why it didn't make sense to me because I was so new to the platform. However, I did have some difficulties using the templates on offer and also using a variety of features that came with it like popups, headlines, etc.
If you've ever built or even interacted with funnels, and you're familiar with the concept of creating one through software applications then it can be easier for you to grasp the concept and easy to understand how each tool works.
On my part I saw a lot of online tutorials and thought, "how simple!" but in the beginning, it was not that simple.
One cool thing about these tools is that most offer step-by-step videos and articles to help anyone who might be struggling with certain parts of the funneling process.
Not only did I learn how to use funnels but they actually can make your life easier when it comes time to build them again by providing a multitude of resources to look over.
Therefore, if building funnels seems hopelessly intimidating at first, don't lose hope! Take your time going through any materials available to you until you fully understand each page and how things work.
Conclusion: Groovepages Review
That's all there is to it. It's quite thrilling to see such a large-scale product with so many amazing capabilities hit the market. GroovePages, congrats! I'd want to express my gratitude for taking the time to read this material.
Sales funnels will continue to exist as long as there is a need to convert and persuade consumers that your products or services are worthwhile to purchase. Consider sales funnels to be the best salespeople in the company.
They are constantly working on small bonuses and incentives to entice additional leads, but their job is fundamentally simple: produce leads and close sales.
This is especially difficult if you're just getting started and don't have any salespeople on staff to help you spread the word about your service or product offerings – which is where GrooveFunnels comes in.
Because they offer everything a business needs, including the ability to design great landing pages, squeeze pages, forms, email marketing campaigns, autoresponders, and sign-up forms for events, webinars, and more.
Entrepreneurs may use GroovePages to create high-converting landing pages, funnels, and websites.
With their drag-and-drop editor, you can visually construct useful pieces for your project without having to deal with intricate code or go through additional debugging procedures. You can utilize their interface to access pre-built blocks, wireframes, and other resources.
Consider how many more sales you'll be able to earn with your funnels if you use groovepages to construct your landing page and never have to pay for an online store again.
This is possible with GroovePages, the world's easiest landing page service that allows anyone to create beautiful, customizable lead capture sites and conversion funnel pages from scratch in seconds.
Customer Reviews and Testimonials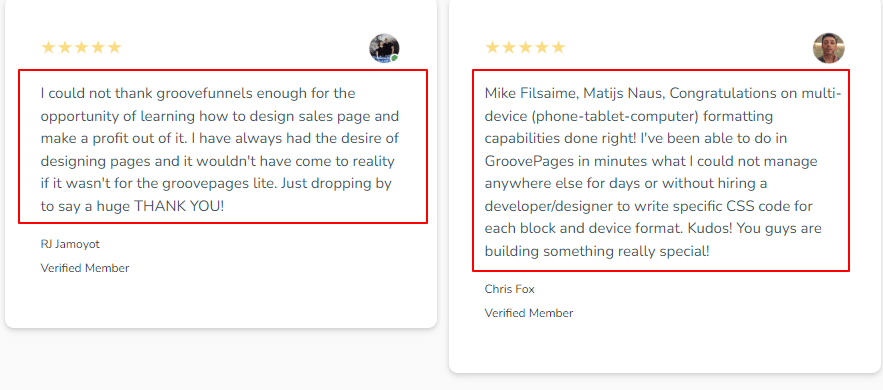 FAQs: Groovepages Review
Is groovepages legit?
Yes, groovepages is completely legit as it is a part of a well-known company.
Is Groovepages free of cost? 
Absolutely, right now groovepages is totally free of cost, you can avail it simply by signing up for a free account in groovefunnels.
Will I get traffic if I build websites with groovepages?
Absolutely, you will get high-quality traffic because groovepages allows adding keywords that make your websites rank higher in search results.
Do groovepages include free SSL certificates?
Yes, you will get a free SSL certificate. 
Is coding knowledge necessary for using groovepages?
No, you can easily use groovepages without any coding knowledge. 
GroovePages Social Profile
Social profiles are descriptions of people's social characteristics that allow them to be identified on social media sites like LinkedIn and Facebook.
Facebook Profile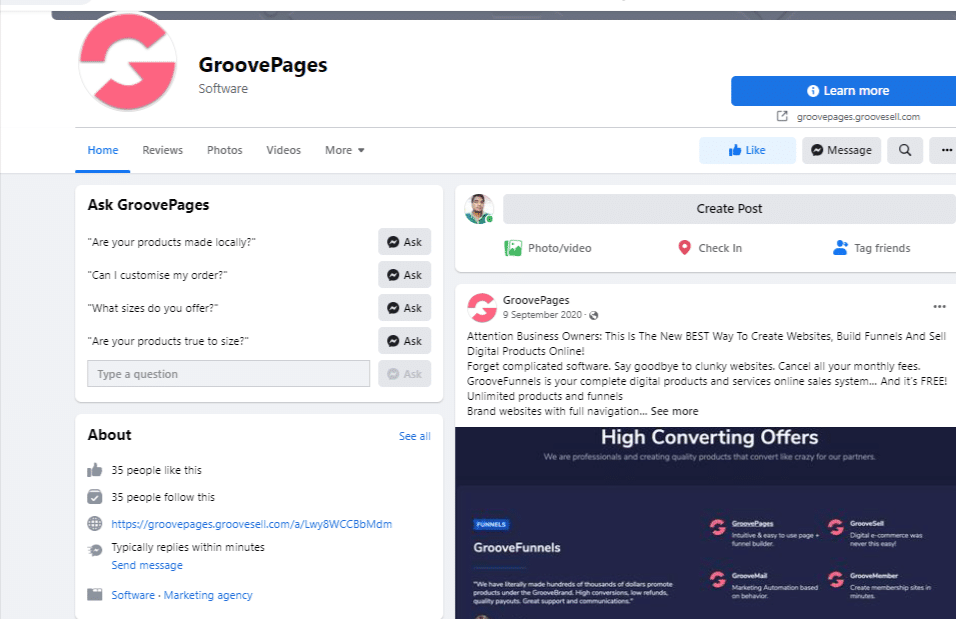 Twitter Profile
Linkedin Profile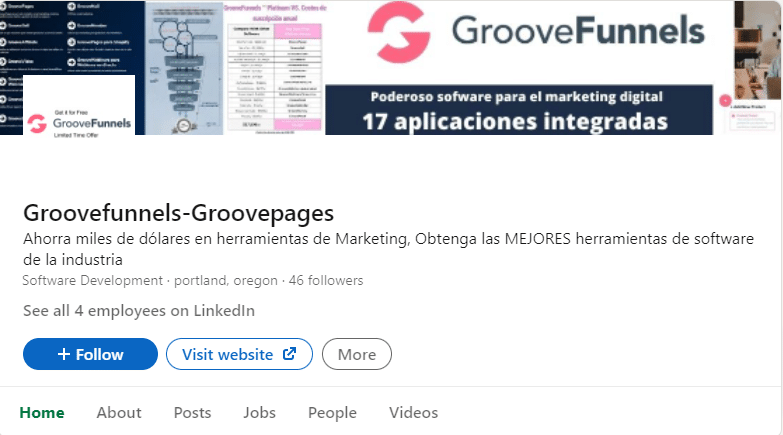 YouYoube Videos