Helium 10 Cerebro is a reverse ASIN research tool that lets you look up the Amazon Standard Identification Number (ASIN) of a product and then look at the keywords that are used to describe it.
You can learn a lot about your competitors' products and the keywords they use by using this tool.
When you know what keywords your competitors are using, you can make a plan to make your product compete with theirs or find opportunities in keywords they aren't using.
Benefits of using Helium 10 Cerebro
Helium 10 Cerebro is a useful tool for transforming your Amazon business, increasing sales, and revenue. You can use it as an Amazon seller to:
Examine Your Competitors' Keyword Rankings to Improve Your Product Listing
Identify High-Converting Keywords for Your Amazon and Walmart Product
Plan Your Product Launches
Price Competition
Features of Helium 10 Cerebro
Helium 10 Cerebro combines the best of both worlds by acting as a strategic Amazon or Walmart keyword research tool as well as a reverse ASIN research tool.
This is possible thanks to the tool's feature set, which can be combined to great effect depending on your specific needs.
Total Keywords: Helium 10 Cerebro goes a step further by segmenting that total into three separate metrics: Sponsored Keywords, Organic Keywords, and Amazon — all of which are summarised under the heading Keyword Distribution in search results.
Word Frequency: This feature summarises how frequently each word associated with the product ASIN you searched for was used. Because each word is assigned a number, the summary indicates which associated keywords are used more frequently than others.-
New Cerebro Data Columns: This tells you if a certain keyword is an Organic Keyword (letter O), a Sponsored Keyword (letter S), or an Amazon Recommended Keyword (letter A).
Frequently Bought: To find out what additional products are usually purchased with the ASIN you searched, utilize the Frequently Bought Together tool. When you click the View Things Frequently Bought Together link, Helium 10 Cerebro will take you to a list of all frequently purchased items, which is merely the top three products by default.
How to use Helium 10 Cerebro?
Conduct a keyword research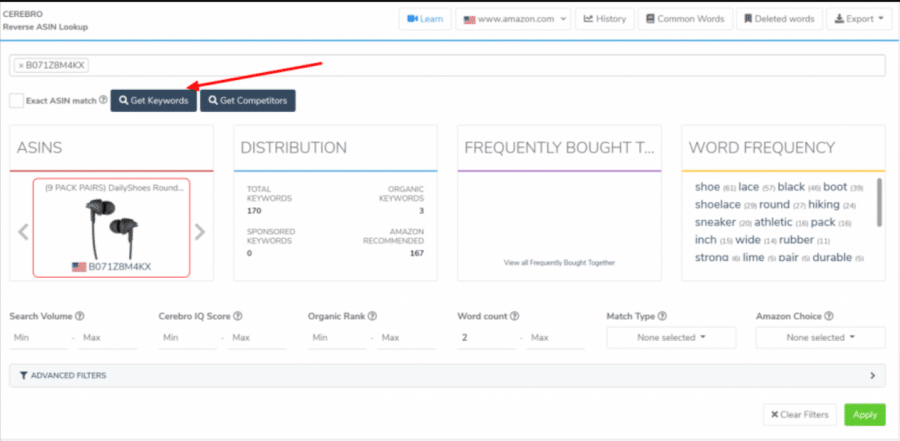 In the dashboard, click on the Helium 10 Cerebro tool. Next, search for the product that you want to do keyword research for. Copy the product ASIN.
As a reverse ASIN research tool, Helium 10 Cerebro enables you to look up a product's linked keywords and run an Amazon or Walmart keyword search by entering its ASIN.
However, you can utilize another Helium 10 tool, the Magnet, to conduct a standard Amazon or Walmart keyword search without utilizing a product's ASIN.
Find Product ASIN
Paste the ASIN in the search box and click on 'Get Keywords' to get keyword ideas or if you want to get competitor ideas, click on 'Get Competitors'.
High search volume and low competition = High Cerebro IQ Score
Low search volume and high competition = Low Cerebro IQ Score
Paste ASIN in Search bar
Verify that you copied the correct ASIN. Just below the text that says, "Enter up to 10 product identifiers to identify their top-performing keywords," paste it into the search field.
Distribution of Keywords
The Keyword Distribution section is one of the first results displayed. This includes, first and foremost, your search's Total Keywords value.
Check keyword frequency
The Word Frequency information area should be to the right of the Keyword Distribution data.
This lists every other term connected to your product's ASIN search. Be aware that each word has a unique numerical value to indicate its frequency.
Save your Data
Click on 'Export' to generate CSV or Excel file.
What do these Cerebro Columns say?
Individual columns provide information about the characteristics of the keywords generated in your list.
Search volume: The more popular a keyword is among customers, the higher the search volume.
Cerebral IQ Score: It indicates how good a product's opportunity is, and is calculated as the ratio of search volume to competing products'
Organic Rank: Refers to the ASIN's position on Amazon during a specific time period.
Type of Match: Keywords are classified as Organic, Sponsored, or Amazon Recommended Amazon Choice.
How Much Does Helium 10 Cerebro Cost?

Free Plan
● 2 uses daily of Cerebro
● 2 uses daily of Cerebro for Walmart
Starter Plan at $39 Monthly
● 2 uses daily of Cerebro
● 2 uses daily of Cerebro for Walmart
Platinum Plan at $99 Monthly
● Unlimited use of Cerebro
● 2 uses daily of Cerebro for Walmart
Diamond Plan at $249 Monthly
● Unlimited use of Cerebro
● Unlimited use of Cerebro for Walmart
Elite Plan at $399 Monthly
● Unlimited use of Cerebro
● Unlimited use of Cerebro for Walmart
Check out Helium 10 pricing plans.
Conclusion: Is Helium 10 Cerebro Worth It?
A helpful reverse ASIN research tool for examining the product listing category of your competitors is Helium 10 Cerebro.
You may use Cerebro to find out which keywords your competitors are using by using features like Cerebro IQ Score, Total Keywords, Word Frequency, Frequently Bought Together, and many more.
Make adjustments to your product listing approach based on that information.
You can outsmart the competition by spotting keyword opportunities that they might have overlooked.
FAQs
What Is the Cerebro IQ Score?
In reverse ASIN searches, the ratio between the number of searches and the number of competing products is the Cerebro IQ Score. A high Cerebro IQ Score means that a lot of people search for those keywords on Amazon, but there aren't that many competing products.
Does Helium 10 look at backend features?
Yes, Helium 10 Cerebro does look at keywords on the backend. It doesn't matter if the keyword is on the front or back of your listing. This keyword will be easy for the Helium 10 Cerebro algorithm to find.
What is Helium 10 cerebro ranking filter?
The Advanced Rank Filter is a tool in Cerebro that lets you find keywords that aren't as popular. Some of these keywords may be ones that some of your competitors use, but not all of them. You can only take advantage of the opportunities those keywords offer with the help of Cerebro's Advanced Rank Filter.