We have often heard Helium 10 Magnet tool as one of the most important tools for finding the relevant Amazon keywords. This article will show you how to find relevant keywords for your Amazon business by using Helium 10 Magnet.
Helium 10 Magnet is a tool for finding high-volume keywords that help with keyword research. Then, you can use these to improve the position of your product listing in Amazon's search results.
Through Magnet, Amazon sellers can get to Helium 10's huge list of search terms. You'll also have access to long-tail keywords that real Amazon customers from all over the world use.
Helium 10 Magnet helps you find the most relevant and least competitive Amazon keywords for your listing.
What is Helium 10 Magnet?
Helium 10 Magnet is a high-end Amazon Keyword Research and Planner application. It is intended to find high-volume keywords for your company. You can use these keywords to improve the visibility of your product listings in search results.
The Magnet tool allows you to enter up to 200 keywords and analyze them all at once. You can also use advanced filters to get a detailed breakdown of keyword phrases. In addition to Amazon, the Magnet tool discovers high-volume keywords and information for the Walmart Marketplace.
An unending list of keywords linked to your primary term is now displayed to you by Helium 10 Magnet. All of these keywords can be used to improve your Amazon listing or to obtain a general notion of what sort of products potential shoppers are looking for there.
Naturally, you should review the list and remove any keywords you can't use.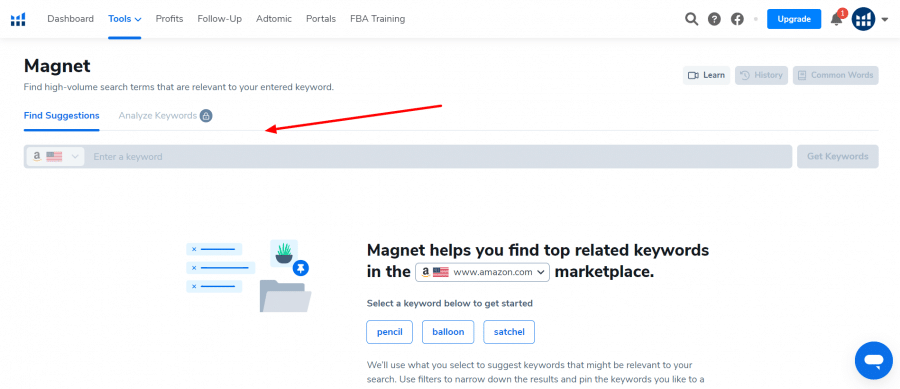 The potential of particular keywords is assessed using the Magnet IQ Score. A low Magnet IQ score indicates that a keyword should be avoided.
How many things you must give away in eight days according to CPR 8-Day Giveaways in order to rank on the first page of Amazon search results.
However, Helium 10 also provides additional options to filter away irrelevant keywords.
How Does Helium 10 Magnet Help You as an Amazon Seller?
Helium 10 Magnet provides immense benefits for its keyword research:
Accuracy
Magnet from Helium 10 is a good tool for Amazon sellers to use to find keywords.
It also lets them fine-tune their SEO strategies for listing products.
Magnet's many features, metrics, and filters let you find keywords that are popular in certain Amazon markets. This will help your business find new ways to make money.
Largest Database
The Helium 10 Magnet allows sellers to access a large database of search terms and keywords. Customers use these in all Amazon marketplaces around the world.
If you want to expand into markets other than the United States (for example, the United Kingdom), you can use Magnet's international marketplace keyword data.
You can use a keyword research tool and a large search term database to improve the visibility of your product.
Reverse ASIN Search
The Amazon Product Identifier Number (ASIN) is a unique number that is used to keep track of the Amazon product catalogue. Most of the time, when doing keyword research, ASINs come up in a random order.
If you click on the Sponsored ASINs, you can change the order of your search results. This will help you find the keywords that have the most ASINs. It is a smart move to try to figure out how your competitors do things.
Reverse ASIN Search
A reverse ASIN search is a good way to figure out how a competitor's strategy works.
ASIN stands for Amazon Standard Identification Number if you don't know what it means.
Most Amazon websites have a unique ASIN for every product they sell. So how do you do an ASIN search backwards?
It just means the process of putting the ASIN of a product into Helium 10 Magnet.
This type of search gives you the keywords that are ranking for that product.
How to use Helium 10 Magnet tool?
Helium 10 Magnet is an amazing keyword research tool for finding Amazon keywords based on various filters. Here is how to use Helium 10 to find profitable keywords:
Step 1: Start with the search
Sign up with Helium 10 and log in. The Tools dropdown menu at the top of the website will take you to the list of all Helium 10 tools. After that, choose the Magnet option under "Keyword Research."
In the Search field, you can enter up to 200 keywords.
Step 2: Choose the country
Click the button that says "Select market" to see the choices. By default, this button has a small picture of the American flag, Amazon's logo (the version with the small letter A), and the text "www.amazon.com.
Click the button Get Keywords. After a while, as you scroll down the page, you should see data and search results.
Step 3: Narrow down the results
To see the available markets, click the market selection button. This button's default design includes a little image of the American flag, the Amazon logo (small letter A version), and the phrase "www.amazon.com."
Select "Get Keywords" from the menu. As you scroll down the page, data and search results should appear shortly.
Step 4: Analyze your results
One of the benefits of using Helium 10 Magnet is that it already does some basic analysis and data collection on the searches it does.
How much does Helium 10 Magnet cost?
Magnet comes with the free version of Helium 10. However, you are only permitted to use the keyword search described in these instructions twice per day. However, in the following offers, you can use the tool indefinitely:
Platinum Plan costs $99 per month.
Diamond Plan costs $249 per month.
Elite Plan costs $399 per month.
If you want to save money on Helium 10, we have a tip for you: use our Helium 10 coupon code to save 50% on the first month.
Conclusion
The Magnet tool on Helium 10 gives sellers an unfair edge. It can save you a lot of time and effort when you're trying to find the right keywords for your product listings and PPC campaigns. Now, you can also use the Magnet tool at Walmart.
That was the tutorial for Helium 10 magnet, which will help you find the best keywords for your Amazon listing.
FAQs
What Is a High Magnet IQ Score?
Since the Magnet IQ Score compares a keyword's Search Volume to its Competing Products score, a high score means that Amazon shoppers like the product more. At the same time, there isn't much competition.
It's an important metric for people who sell on Amazon. It helps sellers figure out which keywords have low competition to use for their products.
What is Helium 10 Magnet IQ?
It is a metric that depicts the relationship between a specific keyword's Search Volume and the number of Competing Products.
Here's how it works: Magnet IQ Score = Search Volume number ÷ Competing Products number
What is Smart Complete in Magnet?
With the Helium 10 Magnet tool, you can choose whether or not a certain keyword or set of keywords is Smart Complete. Smart Complete means that Amazon's index has a keyword or set of keywords that match your chosen keyword.