The Jungle Scout Training Academy is your one-stop shop for learning how to sell on Amazon using Jungle Scout. You can learn the fundamentals at your own speed with bite-sized lessons.
Many of the Amazon FBA experts recommend Jungle Scout Academy to keep up with the competitive landscape in Amazon FBA. In this Jungle Scout Academy review, we will share the features, benefits and pricing for the course. Plus, the exciting Jungle Scout coupons would save you some money on this academy.
Jungle Scout Academy Review 2022: Should you join it?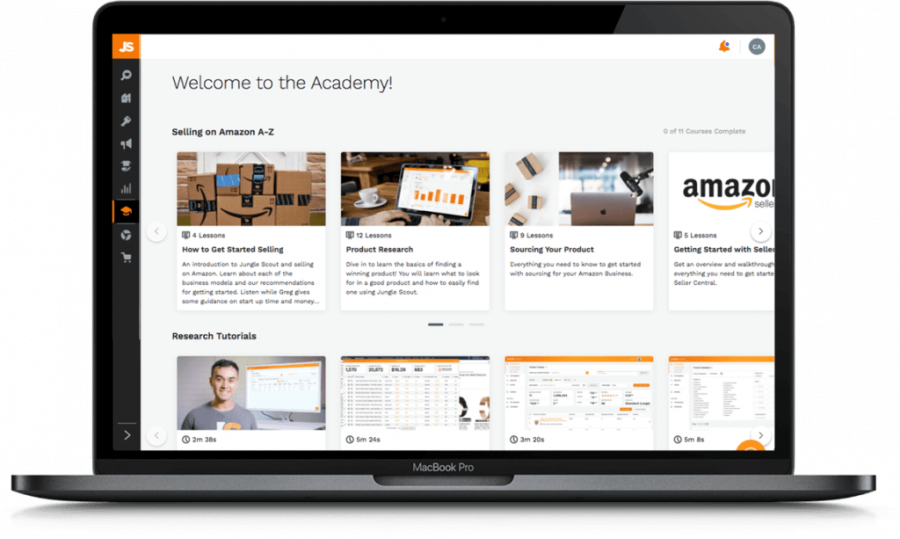 The Jungle Scout Academy is an all-around training program that you can go through at your own speed. The on-demand content at Academy breaks down the basics into short tutorials.
The Jungle Scout Academy course started in 2019 to help people who use the Jungle Scout web app get the most out of it by showing them how to use each tool.
It's made up of a series of short videos, so you can start and stop learning whenever you want. Read the Jungle Scout review and decide yourself if this Amazon tool is for you.
What does Jungle Scout Academy include?
You can get all of these videos for free if you subscribe to Jungle Scout once a month. The course also includes live Q&A sessions with top Jungle Scout experts. They can help you understand sales data and use the sales estimator, track your inventory, and get a high keywords score.
Here is what Jungle Scout Academy consists of:
On-demand videos that walk you through each stage of the Amazon selling process.
Greg Mercer and other Amazon specialists provide over 130 videos.
Learn how to utilize Jungle Scout to your advantage with these tool lessons.
Amazon professionals provide recorded live training sessions.
Seller stories and webinars
The training comes included in German and Chinese language.
The Jungle Scout training courses include free step-by-step case studies of how some of the most successful Amazon sellers operate. The best part is that you don't need to switch tabs or watch YouTube videos to get complete training. All the training videos are right embedded into the web app.
Jungle Scout Academy Course Modules
The academy has wide course modules with short and long videos for the sellers. Below, we have listed the Jungle Scout academy course modules.
#1: Getting Started Selling on Amazon
If you're new to Amazon selling, start by learning with Jungle Scout Academy. This 4-episode module will teach you the basics of selling on Amazon. You'll learn how to navigate the Amazon seller platform so you can start making money from your products.
#2: Product Research
This one is a 12-episode module for the new sellers that tell them every nitty-gritty of the product research.
You will learn how to come up with product ideas, how to find products that will be popular, how to do keyword research and how to get data about the quality, price and customer base for your product.
#3: Listing Optimization
Once you have researched your product and listed it on Amazon, you will want to learn how to optimize your listing to get a lot of demand and make a lot of money each month.
It has 6 episodes that tell you the list optimization. It covers tips for improving visibility on the search results, how to best describe the products and how to improve product prominence on Amazon.
#4: Launching the Product
The product that had the most amazing sales, amazing trust and most importantly higher visibility were the ones that had a perfect product launch.
This 5-part series will teach you exactly what you need to accomplish, including all of the e-commerce tools and critical data points you'll need to launch your product and bring it to the top of search results and maximize product sales.
#5: How to use Jungle Scout?
Jungle Scout has tools and applications that have helped 400,000 people sell on Amazon. In this series, the JS team will show you how to use all the Jungle Scout goodies you get with your subscription.
It is a 12-episode series that shows every tool of Jungle Scout, its uses, benefits and features like keyword scout, supplier database, sales analytics, product tracker, product database and research tool.
#6: Launch tools
This is a 4-episode series that will tell you how to use Jungle Scout launch tools for product launch. Jungle Scout tools can be groundbreaking for product launch.
How much does Jungle Scout Academy cost?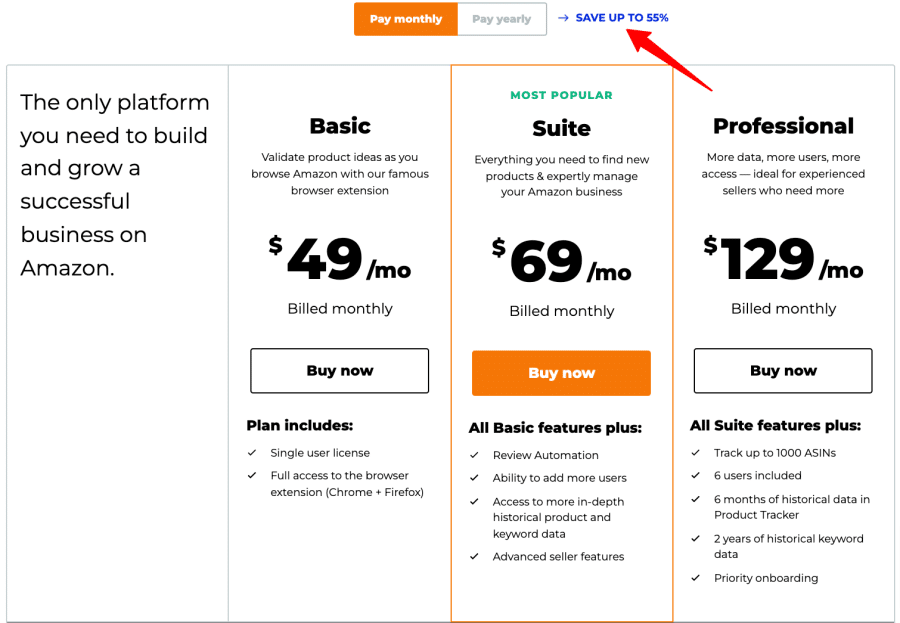 Jungle Scout Academy comes included with all your Jungle Scout subscription plans. Whether you choose the standard pricing plans or go for the packages plan, you get the benefits of JS academy with all.
If you choose the package plan, you get to learn about Jungle Scout further with its Freedom Builder BootCamp. The Academy has a Freedom builder BootCamp course personally designed and taught by Jungle CEO Greg Mercer. Greg has a vast experience in Amazon FBA and he has sold over $10 million on the platform. The CEO talks about such experiences and ways to make money out of Amazon FBA.
Check out Jungle Scout pricing plans to know about more features and specs.
Conclusion: Is Jungle Scout Academy Worth It?
Jungle Scout academy is a nice place to kickstart your learning for Amazon. If you're willing to sell on Amazon successfully, this course is worth it.
For $29/month as a Basic plan, you get so much learning and videos plus the Jungle Scout features.