Are you looking for the best Jungle Scout alternatives? Well, read on as we discuss the best alternatives and some top-notch Amazon advertising tools.
Amazon is a vast marketplace where every product sells like a hot cake. You must know the art of advertising and marketing on Amazon marketplace.
If selling is an art on Amazon, the Amazon FBA tools are the Picasso of this art. There are scores of Amazon FBA tools, and each one of them has specific needs. Jungle Scout is a leader in the Amazon FBA tools.
This tool is loaded with features that make the advertising a breeze. However, there are a number of Jungle Scout alternatives that I feel can give this tool a run for money.
What is Jungle Scout?
Jungle Scout is an effective Amazon advertising tool that is not just limited to advertising but also works well for finding product niches, keyword research, and keeping your product ahead of others.
Jungle Scout is available as a desktop app and offers a Chrome extension and mobile app for the users. The tool offers a plethora of features, including:
Profitable product research
Keyword research
Trending products
Reviews research
Competition-level analysis
Historical data
Listing builder and analyzer
Price history
Sales rank
Sales estimates
Reverse ASIN lookup and whatnot!
It also tells sellers how competitive a niche is so they don't lose their shirts in a market that isn't yet generating enough cash flow. We have also shared the in-depth Review of Jungle Scout that highlights all its features, pros, and cons in detail.
best 8 Jungle Scout Alternatives
Here is my quick list of the best alternatives to Jungle Scout. If you want to read about a specific tool, click and jump to that tool.
I have expanded these Jungle Scout alternatives with the features and pricing of each.
1. Helium 10 – (Best Jungle Scout Alternative)
Helium 10 is the best JungleScout alternative right now. Helium 10 offers many features and tools for selling on Amazon.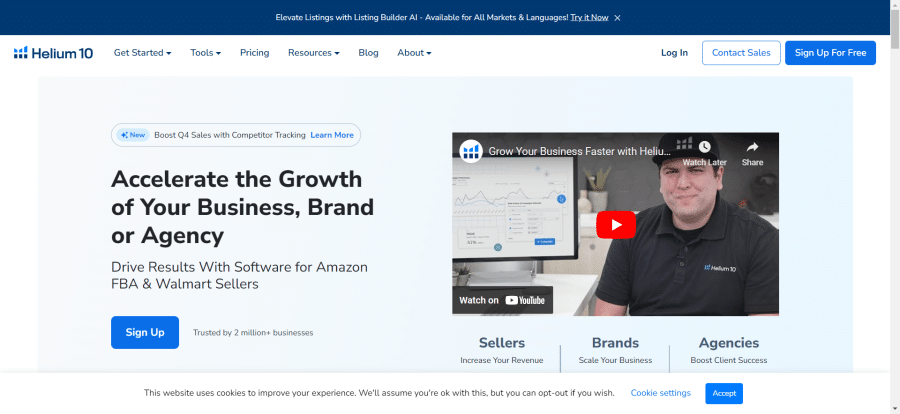 Helium 10 is a perfect tool for product research and helps discover the Amazon niche. Right from the time you think of launching your Amazon FBA store till the time you have made your first sale, Helium 10 can be used in every step.
One feature of Helium 10 is Black Box. It assists you in exploring the best product type or niche.
Similar to Black Box, Helium 10 X-Ray is a Chrome extension feature that helps with product and market research. Both Black Box and X-Ray are available for the Amazon marketplaces such as:
Canada
Denmark
France
Italy
Spain
United Kingdom
United States
Helium 10's Review Velocity feature is another incredible feature that gives an idea of how many reviews were received and gauges how popular an item is.
Helium 10 Pricing Plans
You have several plan options if you think Helium 10 is the right choice for your product research. They have a free plan with basic search features, which you can start with to see if you like it and then upgrade to a paid plan.
Helium 10 provides various paid plan choices so you can select the best fit your requirements.
The pricing structure of Helium 10 is discussed below:
Helium 10 offers three pricing options:
Starter Plan: It costs $29/month when billed annually.
Platinum Plan: This plan costs $79/month when billed annually.
Diamond Plan: The costliest plan is $229/month when billed annually.
Though, you can start a 14-day free trial to test out all the features of Helium 10.
2. Zonbase (Best Jungle Scout Alternative For Product Research)
Zonbase is a new entrant in the Amazon FBA tool industry. It is owned by the Amazon guru Kevin David. It is a good alternative to Jungle Scout because of the features, but yes, it is not a great pick for the large sellers.
After Jungle Scout, Zonbase is the most accurate Amazon seller tool, offering an incredible accuracy of over 81%.
ZonBase provides a comprehensive set of tools to assist sellers in effortlessly launching and expanding their businesses. For instance, ZonResearch gives access to 400 million products to identify the most profitable products.
ZonBase Pricing
ZonBase offers three monthly pricing options ranging from $30/month to $200/month.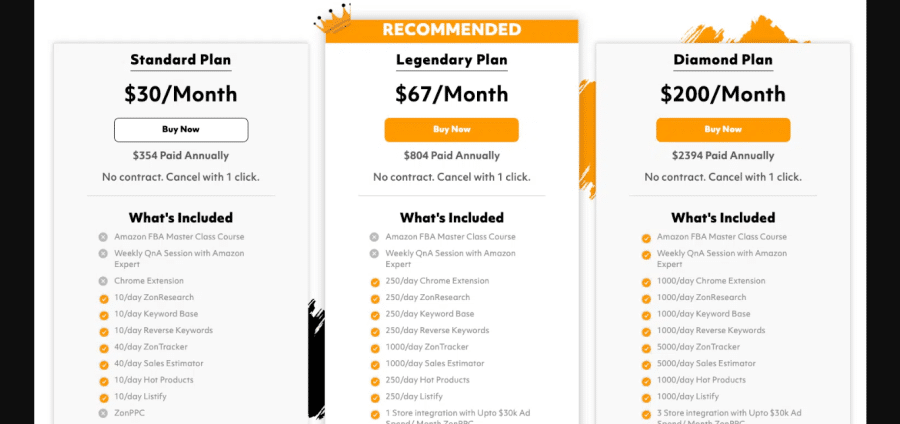 3. AMZScout (Best Jungle Scout Alternative for Niche Ideas)
AMZ Scout is an affordable Jungle Scout alternative that allows you to identify profitable niche ideas, spot trends, win market opportunities, and verify your niche potential. AMZ Scout is one of the top tools to find what your competitors are doing and predict future competition.
The best part about AMZ Scout is that you don't need to depend on the guesswork since most of the data is available to analyze. AMZ Scout gives you all the relevant data to back up the results, including trends, past information, and in-depth analysis.
One of the biggest perks of AMZ Scout is the sales estimate feature. The sales estimator tells whether the particular product holds the potential profit and if it is good to include it in the stock.
With AMZScout, you can access handy tools like the keyword tracker, product database, and competitor analysis. These tools help you research products and determine the most effective way to promote your product while showing what others are doing to market similar products.
The good part is that the AMZ Scout extension is available in various marketplaces, including:
Canada
France
Germany
India
Italy
Mexico
Spain
AMZ Scout Pricing
AMZ Scout gives various payment cycle options, such as monthly, yearly, and lifetime deals. The monthly plan costs $49/month, whereas the yearly plan offers a Pro extension and seller's bundle.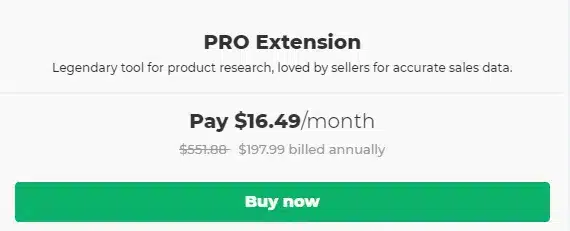 4. Viral Launch (Best Jungle Scout Alternative Runner-Up)
Viral Launch is another great alternative to Jungle Scout that provides a mix of Helium 10, and Jungle Scout features.
Its product discovery is the most popular among many features. This allows you to tap into the potential market and look for ways to outbeat the competitors.
Viral Launch offers various search options, like keyword search, brand search, category search, and category scan. You will get more ways to explore and find marketing opportunities for your products, making them more popular.
You can also use the listing builder and listing analyzer to build a list for Amazon sellers and become an established Amazon seller to quickly sell inventory.
Viral Launch Pricing
Viral Launch provides three pricing options. The first begins at $58 per month for the Essentials level, while the highest one is $166 per month for the Pro Plus Ads package. You can also try it out for 14 days with no risk.

5. AmaSuite (Jungle Scout Alternative for Product Research)
AmaSuite is one of the largest arsenal of Amazon seller tools that makes selling easier because of its ability to identify the product easily and penetrate the target market.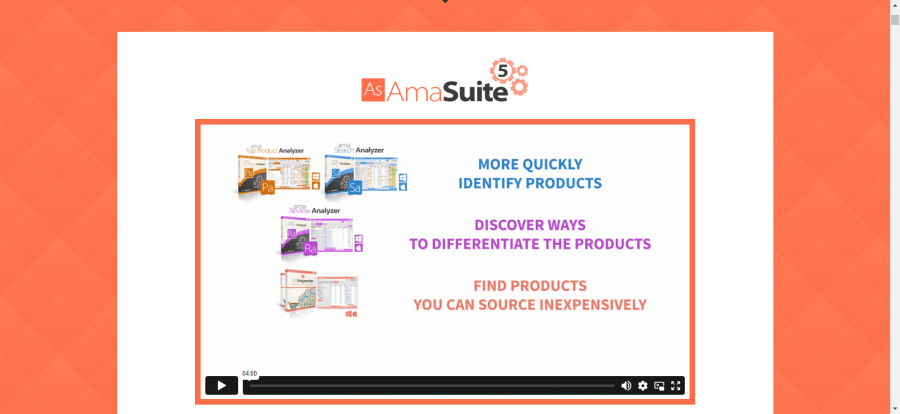 When it comes to selling, AmaSuite offers incredible features that help find the products with ease, understand the market differences, and find the best products to source. The tool has a vast database of over 67,200 categories. The tool sorts and finds the product using filters like Best Sellers, Top Rated, Hot New Releases, Movers & Shakers, Most Gifted, and Most Wished For.
AMAsuite gives the acute prediction of the actual cost and the product's selling price to analyze future profits. AMA Suite's keyword generator gives accurate predictions on what keywords buyers are searching and hence, the most profitable keywords.
There is also the AMA Search analyzer, which gives deeper insights into the products' data and how they perform in recent times. For instance, you can select the column cell and see the summation, average, minimum, and maximum values of these cells.
AMASuite Pricing
AMASuite costs $67 for the lifetime license. The license gives you:
All the Amazon Software Tools
Review Analyzer
Product Opportunities finder.
6. Keepa (Jungle Scout Alternative Chrome Extension)
Keepa is an incredible Amazon seller tool and an underrated Jungle Scout alternative that offers both a web app and a Chrome extension.
You can filter the results to find the specific product details you need for your upcoming sales.
Keepa also helps you keep track of the product that matches your fit and offers information on available products. Keep collects and gives you access to the following Amazon marketplaces:
Australia
Brazil
Canada
China
France
Germany
India
Italy
Japan
Mexico
Spain
United Kingdom
Keepa Pricing
Keepa offers two plans; Basic and Standard. The Basic plan costs $99 per month, whereas the standard plan costs $199 per month. You can also try some features of Keepa for free.
7. ASINspector (SixLeaf)
ASINspector or SixLeaf is a powerful Jungle Scout alternative that uses product searchers to get every detail about the product.
The product searcher feature works with Amazon, Shopify, eBay, and all other marketplaces. You only need to scan the product through Android and iPhone, and the tool will generate all the product details.
SixLeaf uncovers details such as price history, sales rank, and sales trend data. Even after uploading the ASIN code, you can generate various product details.
Once you've identified the products your Amazon store will specialize in, you can turn to SixLeaf for researching products on Alibaba and AliExpress. This tool helps you discover which items are on offer and how much they cost from different product suppliers.
SixLeaf Pricing
SixLeaf has three pricing plans, each of which gives unique feature. Though, you can also start with a 7-day free trial.
The three plans are:
8. AmazeOWL (Free Jungle Scout Alternative)
AmazeOWL is a free alternative to Jungle Scout that gives access to over 600 million products and 11 marketplaces. AmazeOWL is a comprehensive Amazon product research tool and one of the best free alternatives to Jungle Scout.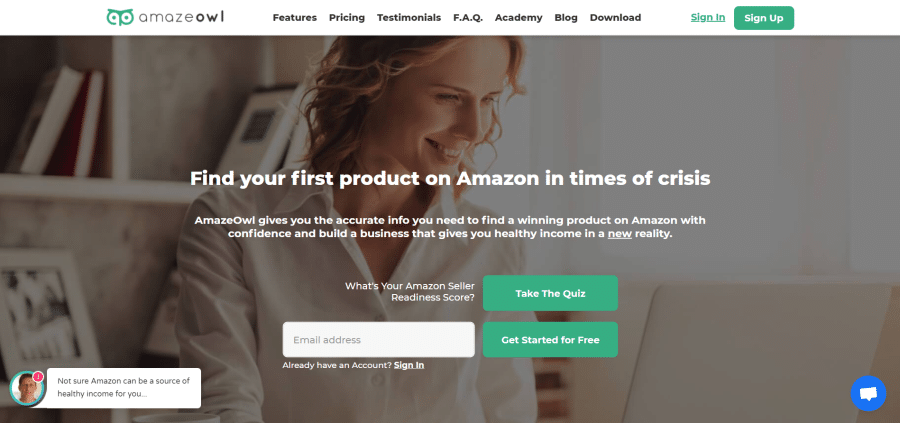 The tool ranges around six million items across 11 marketplaces, including:
Canada
France
Germany
India
Italy
Japan
Mexico
New Zealand
Spain
United Kingdom
United States.
AmazeOWL gives access to various information such as best-sellers, upcoming top sellers, low shipping cost products, and high competition products.
You can also check out what your competitors are selling and how well they do in sales. With all this info, you can pick products for your Amazon store that are likely to sell really well.
AmazeOWL Pricing:
AmazeOwl offers a free Starter plan. If you want a more detailed experience, you can go for the Growth plan at $12.99 per month or the Established plan at $19.99 per month. Remember, these plans are billed annually.
Conclusion:
What is the best Jungle Scout alternative for me? Helium 10 is the right pick for me. This Jungle Scout alternative has more features than Jungle Scout, and the pricing plans are more structured here.
You can always explore other Jungle Scout alternatives as well.
Frequently Asked Questions
Is There a Free Jungle Scout Alternative?
AmazeOWL is a free Jungle Scout alternative that comprises of all the features needed for product discovery, keyword research and market analysis. It also focuses on finding the profitable products to sell on Amazon.
Is Jungle Scout the best tool for Amazon FBA?
Jungle Scout is an excellent pick for Amazon sellers because it helps with every features including product reserach, keyword research, inventory management, review requests and product discovery.
Is there a Jungle Scout Free Trial?
No, Jungle Scout does not give any free trial. It gives a 14-day money back guarantee.