Is the Jungle Scout chrome extension worth it?
In this post, we are going to show you the nitty-gritty of the Jungle Scout extension and its major features.
Plus, you get the 30% off Jungle Scout coupon code.
Bonus, you can also compare Helium 10 vs Jungle Scout and find better browser extensions.
What Is Jungle Scout Chrome Extension?
Jungle Scout chrome extension is one of the most feature-rich Amazon browser extensions that offers various features like product database and tracking, opportunity finder, sales estimator, and review request features.
The Jungle Scout Chrome extension is exactly what it sounds like: a Chrome and Firefox extension that allows you to perform product research while browsing Amazon.
You may acquire real-time sales forecasts, see historical data, and determine the demand and competition for any given product on Amazon using Extension.
Main Features of Jungle Scout Extension
Jungle Scout chrome extension has the following features and data:
Historical Data
If you wish to launch a product on Amazon, you should check to see if the sales are consistent throughout the year. As a result, you must examine past sales data.
The JungleScout Extension will provide a chart with historical sales data if you click on the number of sales of a specific product.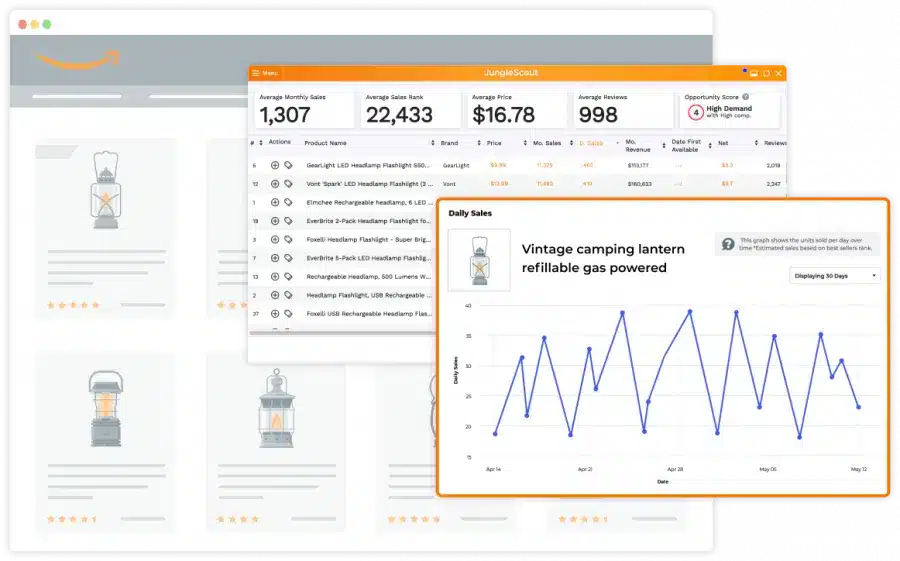 This feature gives you variations in sales data over a period of time.
Listing Quality Score
As the name says, the Listing Quality Score gives your listing a score.
Here is what it takes into account:
Number of images
Resolution of images
Length and keyword richness in the title and other listing elements.
The Listing Quality Score range between 1 and 10.
A score of 3 or lower indicates that the listing's quality is VERY poor. Listings with a score of 7 or higher are usually excellent, containing high-quality photos, bullet points, and other features.
So, if a niche has a lot of high-quality listings, you can expect a lot of sellers in that niche to be active and strive to remain ahead of the competition.
Request Reviews
With Review Automation, Jungle Scout now provides Amazon sellers with a completely automated review request experience. Jungle Scout users can send review requests for all eligible orders with just one click.
This tool allows sellers to skip the time-consuming process of manually soliciting customer feedback on Seller Central, allowing them to focus on growing their companies and earning more reviews.
Opportunity Score
Opportunity Score provides a metric on whether the product is worth researching or not.
By combining demand, competition, and LQS, Jungle Scout's exclusive algorithm estimates the sales potential.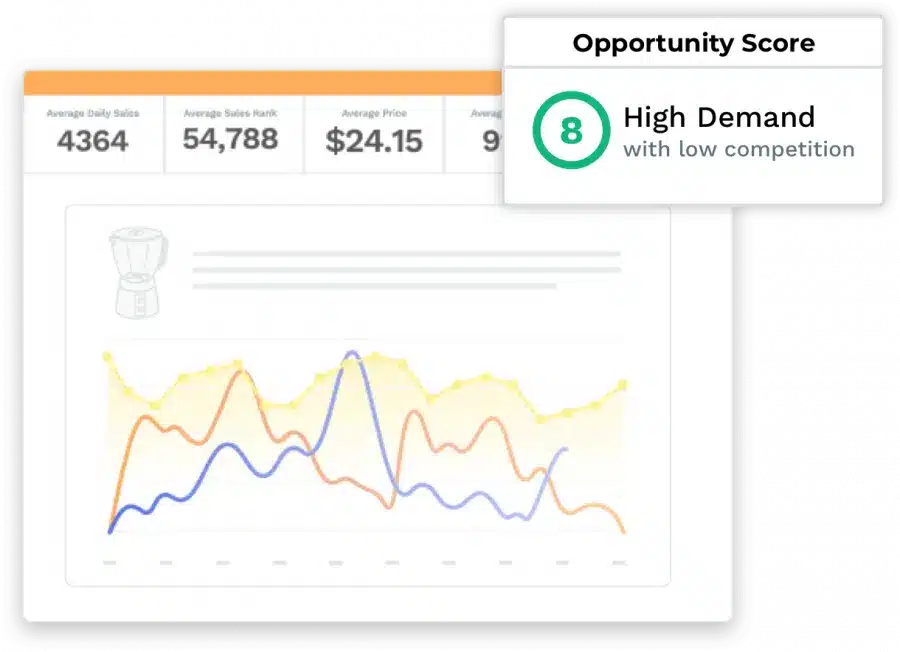 The Opportunity Score takes into account the following things:
Units sold
Number of reviews
Title
Keywords
Number of photos
Quality of the listing
High demand and low competition = High Opportunity Score
Low demand and high competition = Low Opportunity Score
Find Sponsored Products
The latest update of Jungle Scout Chrome Extension now gives the data on the sponsored products. This means that you can now find the keywords that you can use with PPC ad campaigns.
The sponsored products have a high bid and consequently, a higher chance of getting purchased.
How to use Jungle Scout Chrome Extension?
The direct Amazon link is a crucial benefit of Jungle Scout's Extension. With a single click, you may obtain all of the sales-related data you require.
To use the Jungle Scout chrome extension, follow these steps:
Install Jungle Scout chrome extension here.
Next, head to Amazon.com
Click on the Chrome-Plug-In next to the URL entry
Sign in with Jungle Scout
Use the chrome extension for database and supplier lookup.
Watch this video further to find out how the Jungle Scout extension works:
Benefits of Jungle Scout Chrome Extension:
Here are the major benefits of the Jungle Scout extension:
Examine the relevant sales data.
Request multiple reviews at once.
Get Opportunity score measurement.

Another helpful metric is the Listing Quality Score.

You can now see sponsored advertising with the new Chrome Extension.
Keyword Scouting tool.
Google Trends Data is a good place to start.
Change and customize the view.
How much does the Jungle Scout extension cost?
The best thing about the Jungle Scout chrome extension is that it is available with all the subscription plans.
Even if you choose the monthly subscription, you would get to use the chrome extension of Jungle Scout.
Additionally, you can get up to 55% on all the JungleScout pricing plans.
Final Thoughts On Jungle Scout Chrome Extension
Jungle Scout chrome extension is an amazing and user-friendly Amazon FBA tool that is accustomed for medium-sized businesses to enterprises. We have shared further about the chrome extension in our Jungle Scout Review.
True, the software might be a bit pricey and require you to learn a bit about the same. However, if you are serious about growing your Amazon business, it is 100% worth it.
Frequently Asked Questions
How do I install the Jungle Scout extension?
Simply head to the chrome web store and search for the Jungle Scout and click on the 'Add to chrome' button. Once installed, you can set up your Jungle Scout extension from any web page.
what is LQS in Jungle Scout?
The LQS, or Listing Quality Score, is a proprietary system that determines a listing's quality. When shopping for possibly good products, this might be useful because simply boosting the quality of your listing can provide you with an advantage over your competition.
Is there a Jungle Scout Extension for Firefox?
The recent update of the Jungle Scout extension has made it available for the Firefox browser.