In this article, we have come up with an in-depth explanation of two major online course providers Kajabi Vs Teachable.
Online learning is the most recent and widely used method of remote education today. It has had a significant influence on postsecondary education during the previous decade, and this tendency is expected to continue.
Like cupcakes and drinks, Kajabi and Teachable complement each other. They may appear to be the same, yet they perform differently.
So, let's find out how in this article.
Kajabi vs Teachable: An in-depth comparison
Here is the breakdown of Kajabi and Teachable.
Teachable: A quick overview
Teachable is both a course creator and a marketing platform. Thousands of businesses are using this platform to market themselves and their products.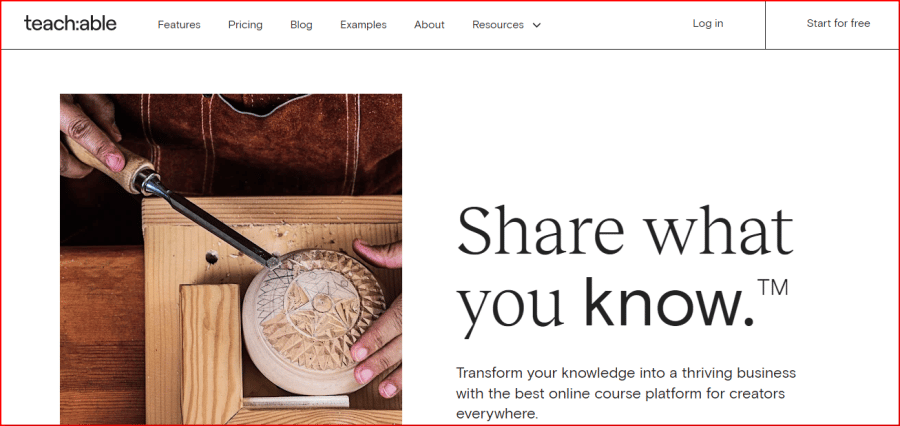 Teachable also enables entrepreneurs, innovators, and organizations of all sizes to develop and offer online courses that include video lectures, quizzes, and a variety of other features.
Teachable has been operating since 2013, according to their website, which means they have had three years to polish the experience of both those who create online courses and those who consume them.
Consumers enjoy the UI and UX on both sides since it's easy to navigate and they can readily find what they're searching for.
It's also been noted that the UI is straightforward and well-designed, with a clean layout that provides people with a lot of freedom.
Teachable highlights the notion of "sharing what you know" through online courses and coaching on their website and on review sites.
While both Kajabi and Teachable emphasize the "all-in-one" component of their reasonably priced platforms, Teachable appears to be slightly more focused on the concept of "sharing your expertise," whilst Kajabi appears to be more focused on bringing your business together under one roof.
Aside from being entertaining and interesting for students and artists, many consumers have commented on how simple it is to use.
That's fantastic news for those of us who aren't tech-savvy! Reviewers have stated things such as Teachable's strongest feature is unquestionably its ease of use.
There is no need for any additional coding skills everything is pretty much drag & drop.
Read our in-depth Teachable Review to find out why is it the best online course-creating platform.
Teachable Key Features:
Advanced Customizations with Power Editor
Free Teachable domain or use your own domain
Course Completion Certificates
Integrations via Zapier
Student list Segmentation
Multimedia Lectures
Website Builder
Fully Responsive Pages
Course Compliance
Student Feedback
Coupons and Promotions
Advanced Pricing Options
Affiliate Program
Reporting and Analytics
SSL Certificate
Quizzes
Kajabi: A quick overview
Kajabi is one of eight platforms available to artists who want to sell themselves and provide courses, memberships, and coaching.
According to publicly available website data, this firm was founded over ten years ago and currently has over 40,000 people globally.
Using a platform like Kajabi can help entrepreneurs create, customize, and launch their own marketing campaigns more easily.
While Kajabi has powerful features such as customizable templates that businesses can use to create websites that are tailored to their customers.
With the stroke of a mouse, you may give your company the professional appearance and feel it deserves.
In addition, Kajabi includes analytics and marketing automation solutions that can help you acquire insight into what your clients want while ensuring that every email they send out has high-quality content.
Kajabi's all-in-one strategy should serve as a starting point for any company owner wishing to develop their online presence, whether they are operating an ebook program or selling monthly subscriptions as part of their business plan.
People like the fact that Kajabi is always developing. It's a satisfying sight to behold! Many of their clients remarked on how devoted they are to ensuring that everything they do, no matter how tiny, is enhanced in some manner.
Kajabi key features
Email Marketing Platform
Marketing Automation Platform
Pipelines
Websites
Design and sell courses
Sell Subscriptions
Sell Digital Products
Communities
Lead Tracking and Tagging
Payments
Analytics and Reports
Mobile App
Webinars and Events
Template Library
Quizzes and Surveys
Affiliate Program
0% Transaction Fees
Kajabi vs Teachable: What's the Difference?
1. Creating an Online Course
The simplicity of course creation is a primary consideration in selecting a course tool.
Teachable
Teachable outperforms Kajabi in terms of features. You do not need to manage course development from the dashboard in this situation. Furthermore, Teachable offers flexibility and significantly lowers registration time.
Teachable makes it easy for users to create a user-friendly interface, and it's done in no time and without the usage of code.
The SEO properties are pre-built within the dashboard with all of your data, as well as other resources such as course names and sub-titles, so you can focus on being an educator rather than worrying over troublesome code.
This is extremely useful for individuals who want to publish their own personal courses without knowing how to code.
Teachable allows you to include clips and other multimedia in your lectures, but you cannot integrate them. Rather, you will only be able to provide them to your learners as downloaded files.
Kajabi
Kajabi has an outstanding dashboard that makes it simple to design company websites for yourself.
By completing a few questions about your products, services, or market type, you may let the Kajabi editing tools assist you in creating the website of your dreams.
Kajabi also allows you to include PDF files, movies, photographs, and other media.
Its six layouts include one that is blank, allowing you to populate it with whatever media makes sense for your course while maintaining control over your material.
Another great aspect of Kajabi is the number of different ways you can arrange each course.
As seen above, on the home page connected with each lesson, you may access specific information about student engagement, such as who saw it and when they saw it. This allows you to monitor their progress.
It also allows you to incorporate a wide range of material, instructional modules, blogs, and other types of content, course quizzes, and links to interesting articles or publications.
Winner?
Teachable is a powerful instructional platform that offers a slew of instructor-friendly tools to assist instructors to expedite course design and maintenance.
Because you may input several types of data into a single module, you have more flexibility in the materials presented in your courses.
2. Data Analytics
Teachable
Teachable provide a wealth of knowledge and great depth. The quickest method to view all they have to offer is to navigate to the left side and choose Reports.
You may then segment your report based on variables such as paying students, discounted students, free students, client lifetimes, and so on.
Teachable also works well with Google Analytics, making it easy to collect and analyze crucial data connected to your courses.
They also connect through Facebook Pixels and Facebook Ad Center once you are on one of their paying plans. and the ad campaign will allow you to measure sales page traffic as well as platform ad performance.
Kajabi
The Kajabi platform supports analytics, which is critical for firms in tracking KPIs (key performance indicators). You may use this data to track your development and identify particular issue areas.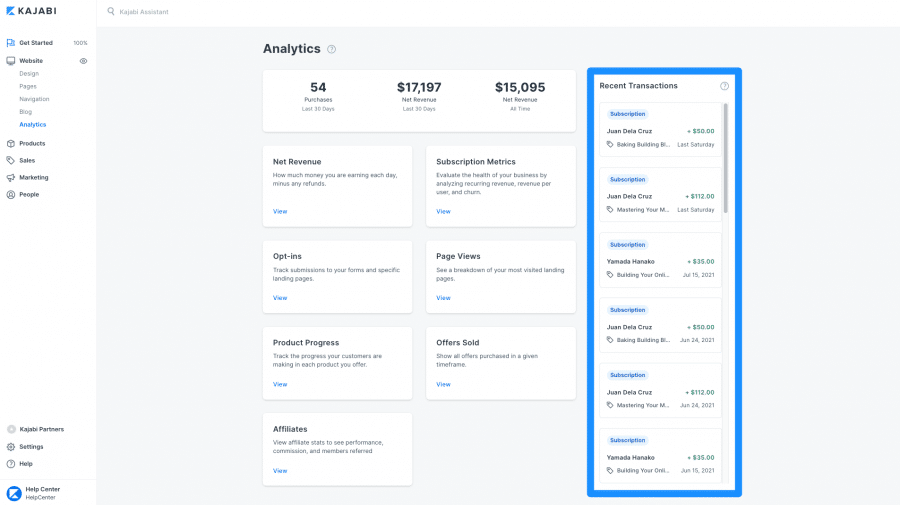 The mobile app is also a significant benefit; you can use it from anywhere, allowing you to set and measure your own KPIs for overall business productivity!
Winner?
Teachable offers built-in connectors that allow internet marketers to link the product with Google Analytics / Facebook Pixels, which provide expanded capabilities over Kajabi, making Teachable the superior alternative.
3. Discussions and forums among students
Whether you're an instructor or a student, having an easy-to-navigate discussion board is critical since teacher-student interactions and peer-to-peer talks are essential to the learning process.
If digital learning is to achieve great results at scale, it must provide the same level of experience as conventional classroom instruction.
Teachable
Teachable is an educational platform that allows students to post questions and comments on course subjects, fostering a secure and collaborative learning environment.
Using the commenting tool, instructors may allow people to remark on their lectures and provide their own explanations or opinions about the topic.
They can also activate comment moderation, which means that if a student attempts to submit anything unsuitable or irrelevant, the remark will be erased without informing the student.
Attachments to comments are also permitted, which means that students can include a document within their remarks.
Comments are also sorted into threads, allowing teachers to readily link similar topics between various students based on the topic covered in the group classes they choose.
Kajabi
Kajabi includes a community component where students may label themselves as experts and fields of study in the subject area of your product, which provides them with incentives in terms of how they get new students on their customer acquisition strategy.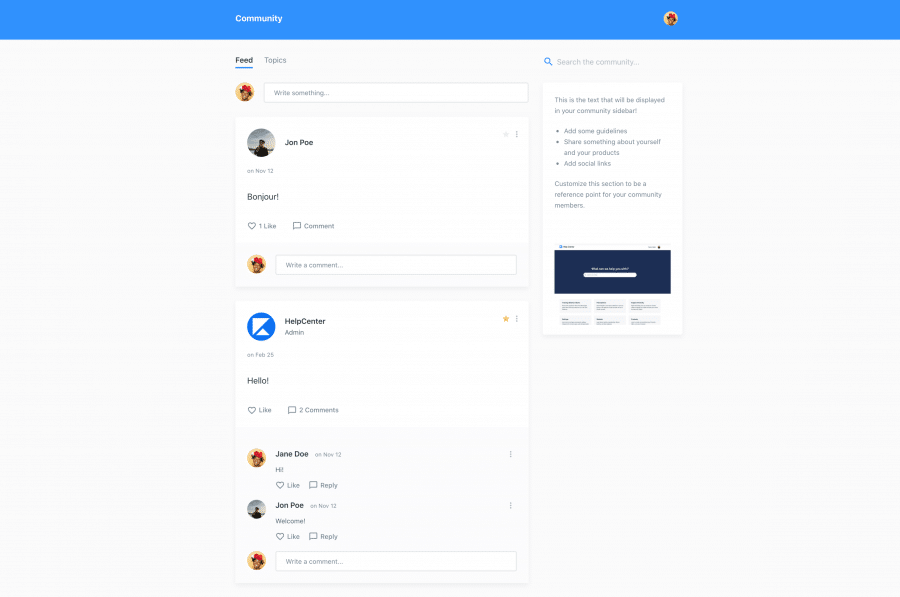 This allows future and presents students to speak about ideas and challenges for your development plan.
The page administrator has the ability to organize and prioritize these feeds so that both customer acquisition strategies can be used without becoming overburdened.
Winner?
The result is a tie between Kajabi and teachable.
4. Course Completion Certificates
Teachable offers ready-to-use certificate templates that may be accessed directly from the platform's dashboard.
Three built-in templates are included, as well as the opportunity to construct your own using custom scripts.
Despite the fact that all of the templates are professional, you can still customize them to your liking.
Kajabi, on the other hand, does not allow you to make and share completion certificates natively. However, you may make certificates and share them with your students using Zapier connectors and any third-party tool.
Winner?
Teachable is the winner.
kajabi vs teachable pricing
Kajabi Pricing
Basic plan
Growth plan
Pro plan
Kajabi offers three distinct monthly options from which to pick. If purchased once a year:
Basic Plan
For $119, Kajabi's basic bundle includes three products, three sales pages, an infinite amount of landing page builder choices, and a large number of marketing emails to send.
10,000 contacts as well as 1k active members to help you expand your subscriber base. It also provides one website platform and one admin user to handle account administration chores.
Growth Plan
Kajabi's membership plan starts at $159 a month, is invoiced annually, and is an excellent choice for those who primarily provide workshops or one-time items.
This bundle includes 15 goods, infinite landing pages, 15 funnels, limitless marketing emails to non-members, 10k users, and 25k contacts. The major attraction of Kajabi is how configurable it is.
If you enjoy the way Kajabi looks but want more/less automation and control over your own brand than the basic package provides, you may upgrade at any moment.
In addition, if you want to market a distinct service or product line, you may always remove their trademark from your items.
Pro Plan
Kajabi Pro is $319 for a single month, paid yearly making it a rather competitively priced service.
It includes hundreds of commodities and pipelines, infinite landing pages, 2 million marketing emails, twenty thousand active members, powerful automation tools, three websites, and a hundred thousand contacts.
It also gives you the option of deleting the Kajabi logo from your products.
Kajabi does not provide any free plans. They do, however, provide a two-week trial period during which you may test out their platform and engage with all of their advanced features while using the Kajabi link for your business without having to pay anything.
Explore the platform's capabilities and see how simple it is to create account pages on Kajabi and begin selling digital goods right away.
You may also read Podia vs Teachable.
Teachable Pricing
Free plan
Basic plan
Pro plan
Business plan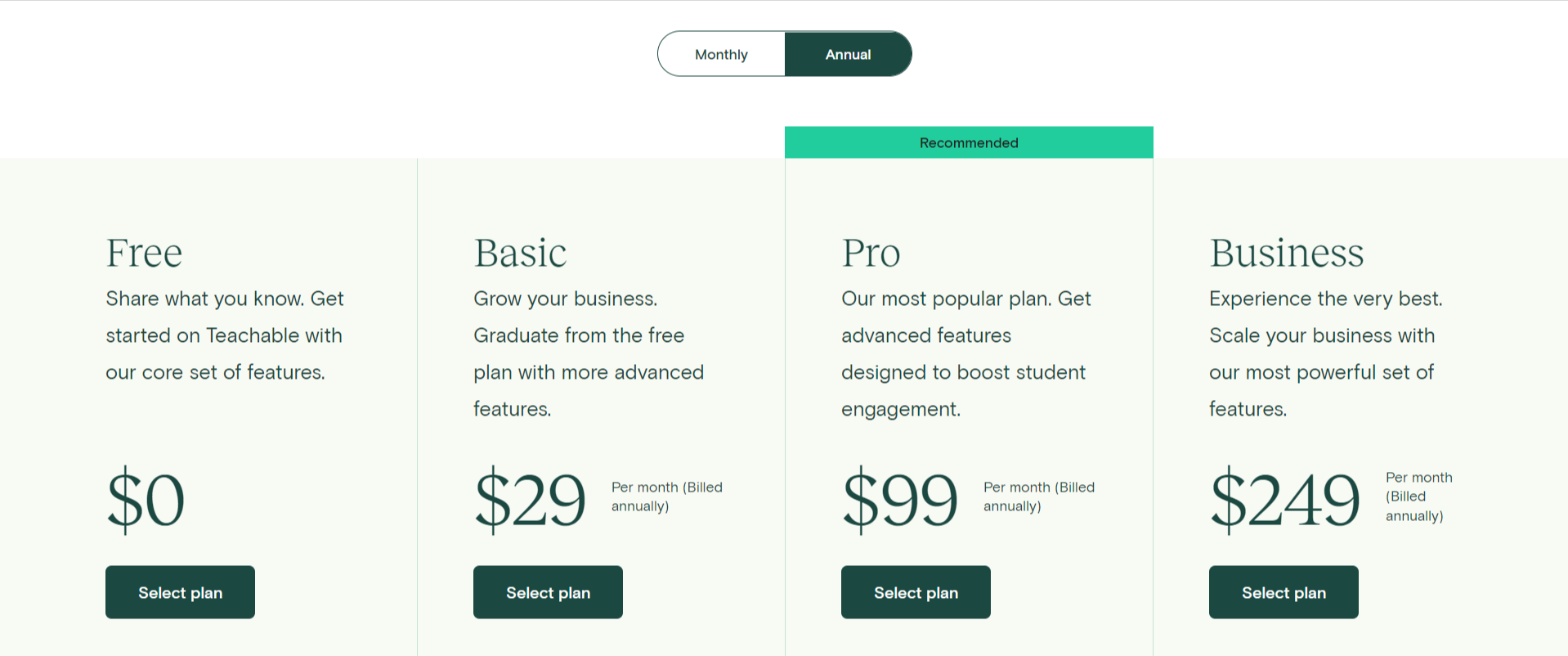 Teachable has various excellent solutions for you to consider. All four options provide the same set of features, but you may pay a cheaper price based on how frequently your clients wish to engage with your course content. Also, By subscribing to an annual plan of Teachable, you can immediately secure a 25% discount on the prices.
Free Plan
Teachable has a free plan that allows you to have up to ten students in your courses as well as one administrator-level user. This plan charges $1 plus a 10% transaction fee on all courses bought (there is nothing to pay for your free courses).
Basic Plan
You get your own custom domain name, limitless students, and promo codes for just $29 per month.
You can also send automatic student emails, build targeted marketing campaigns, interact with third-party technologies, and do a variety of other things.
Furthermore, you may train up to two other instructors on your plan who will have the same benefits as you – plus they will not be charged a 5% fee on courses they teach!
Pro Plan
Teachable's Pro plan is $99 per month, payable yearly. That's a significant increase from their Basic membership, which costs $29 per month, but you get what you pay for.
This package includes live chat customer assistance, assessments to help students measure their progress, and grade-specific course completion certificates.
It also provides your users with access to an unbranded website where they may share courses with workers and colleagues in a professional environment – all of which are great for work-related training such as team building! On this platform, you can have up to 5 admin-level users.
Business Plan
At $249 a month with yearly billing, the Teachable business plan is excellent for online educational sites that require all of the bells and whistles of its other plans, such as custom user roles, bulk importing, and up to 100 admin-level users, as well as no fees on premium courses.
Read our in-depth guide on Teachable pricing plans.
Pros and Cons of Kajabi
| | |
| --- | --- |
| Pros | Cons |
| Kajabi has software that lets you create customizable emails and automated designer campaigns because it's built to do so. | Starting a course on Kajabi is all about how much time, sweat, and hard work you're willing to put in. The beginning charge alone is $149, which is much more than its competitors, who offer prices as low as $39 per month or start your membership for free (like Teachable). |
| You can make notes on a customer's profile, tag leads and when customers browse through your offerings so that you will know the next time they visit your e-shop, they are most likely looking for what you have to offer. You can take advantage of Kajabi's page builder to build landing page templates perfect for promoting your products. | With exception of Teachable, which is more adaptable and provides more opportunities to teach and sell courses, Kajabi has restrictions on the number of courses that can be developed for learning platforms or for building a membership site. When it comes to scaling your own business, it might be difficult at times. |
| You may take higher education to the next level by providing your students with an online learning environment that includes quizzes and assessments, as well as the option of paying a fee to gain access to the information, which will be sent to them in stages as they go through each module. | |
| Easily create websites, pages, and marketing funnels using the huge template collection, which is all built to match your identity. On your course or product sales, you will never have to pay transaction fees. | |
Pros and cons of Teachable
| | |
| --- | --- |
| Pros | Cons |
| This means you won't have to worry about paying the 5% transaction fee or having access to your customer's email addresses since teachable will handle everything for you. | There is no accessibility to live chat help unless you have a Professional or Business subscription. |
| One of the most notable differences between Kajabi and Teachable is that Kajabi does not include built-in course compliance tools you'd have to use a third-party tool. | Logging in is difficult for students who are enrolled in more than one Teachable course. |
| Payouts are processed immediately (if using Teachable Payments or a custom payment gateway) | |
| Kajabi's "Basic" plan is fairly costly at $149/month (almost $2,000 per year), but Teachable's "Basic" plan is significantly cheaper at $39/month ($468/year), making the latter a far more wallet-friendly and accessible choice. | |
| One of the most significant differences between Kajabi and Teachable is that Kajabi restricts the number of items, customers, and so on, whereas Teachable gives "unlimited everything," including premium hosting. | |
| | |
Kajabi Vs Teachable: Customer Support
On the left-hand side of the Teachable home page, there is a 'help' button.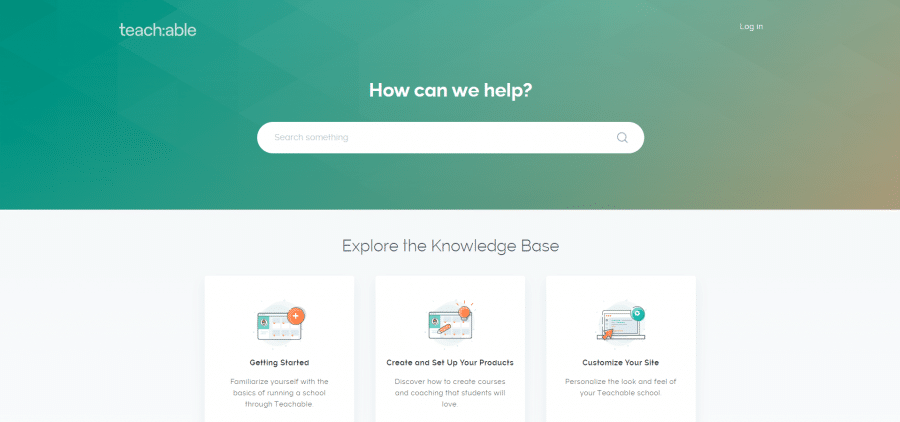 It provides customer service through the following channels:
Email
Live chat
Build-in knowledge repository and tutorials
The Knowledge Base is a one-of-a-kind repository of information that includes documents and articles that outline answers to some of the most common issues you'll encounter. You'll find answers to questions about your account and billing, selling your course, integrations, student policies, and modifications.
You can send targeted problem-solving tickets to obtain more personalized help. Teachable experts address and close the tickets in the fastest time feasible.
Live chat is available for individuals who require immediate assistance.
Email answers are available seven days a week from 8 a.m. to 8 p.m. ET. Only Professional Plan or higher members have access to live chat on weekdays from 10 a.m. to 5 p.m. ET.
When it comes to Kajabi, visiting the Help Center is the most effective approach to seeking help while using Kajabi.
It has a lot of how-to articles that cover a lot of the most prevalent issues. They also allow customers to watch live training that can help them overcome problems in real-time.
Customers benefit from the customer support team's quick responses, which allows them to tackle important business problems on the go.
Kajabi offers 24/7 live chat for Growth and Pro plan members, which is a good distinction.
In addition, Kajabi makes it easier to reach out to freelancers if you require further assistance. It does not, however, take responsibility for the service provided.
Also, check out our in-depth article on Teachable vs Udemy.
Kajabi Customer Reviews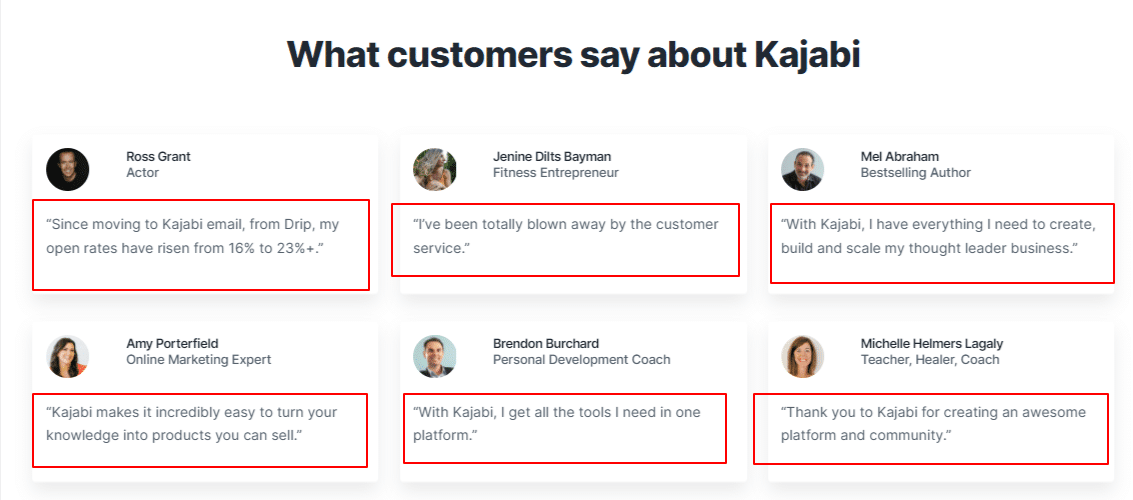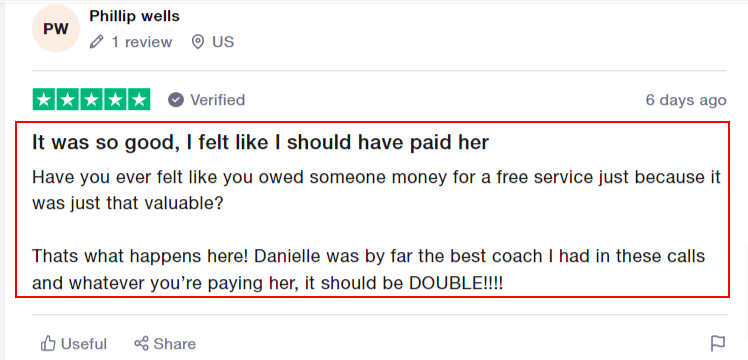 Teachable Customer Reviews


Teachable Social Profiles
Let's check out how social they are and how active they are on different social media accounts like Facebook, Twitter, and Instagram to see how well they use them.
Facebook Page
Good things about online learning and Teachable's podcast are shared on Facebook by the company with more than 52,000 fans.
Instagram Profile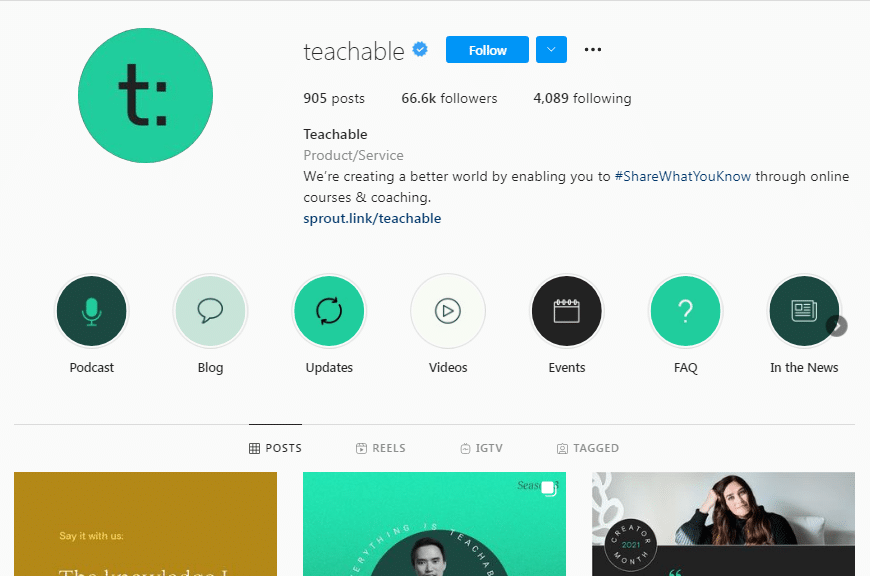 Teachable is also on Instagram, and it has a lot of followers. It's full of great information about their platform and online class that they post here.
Twitter Profile
There are more than 33,000 people who follow Teachable on Twitter. Teachable has joined Twitter in 2013, and now they share information about online courses and coaching.
Pinterest Profile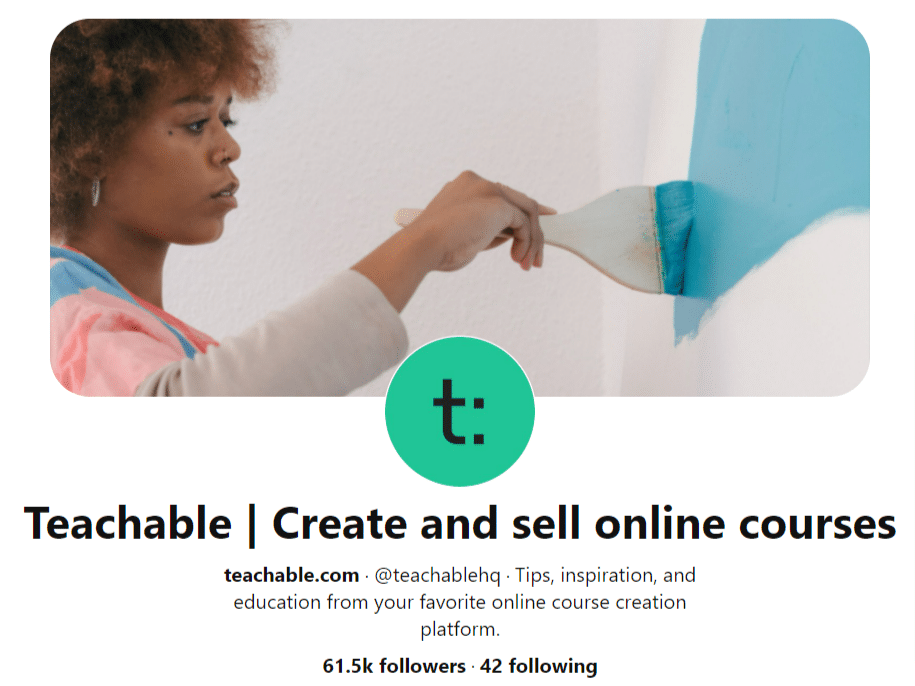 Teachable has more than 61,000 followers on Pinterest, where they post interesting infographics and tips about how to make and sell online lessons.
LinkedIn Profile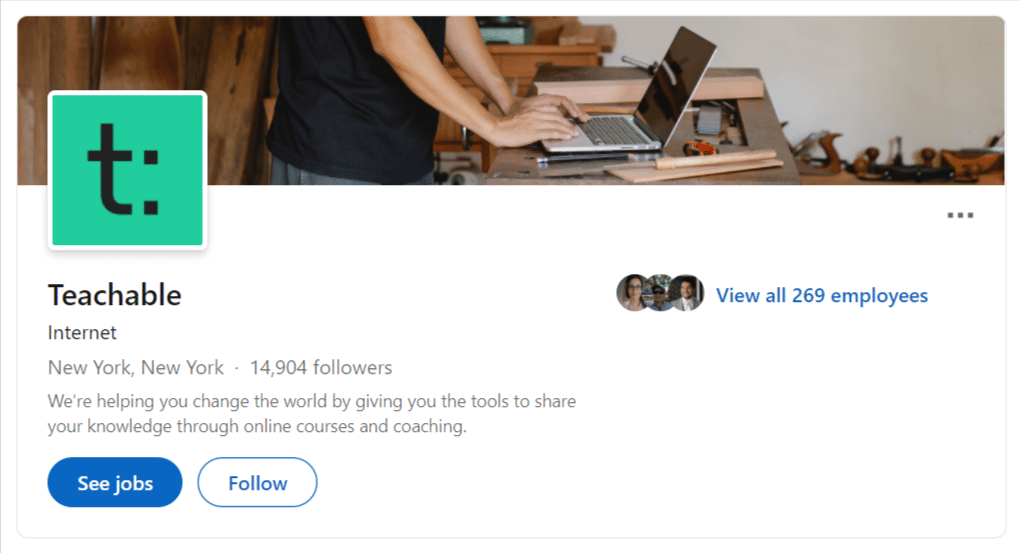 The teachable LinkedIn profile has a 14k active following. They share knowledge related to online courses and coaching.
Youtube Channel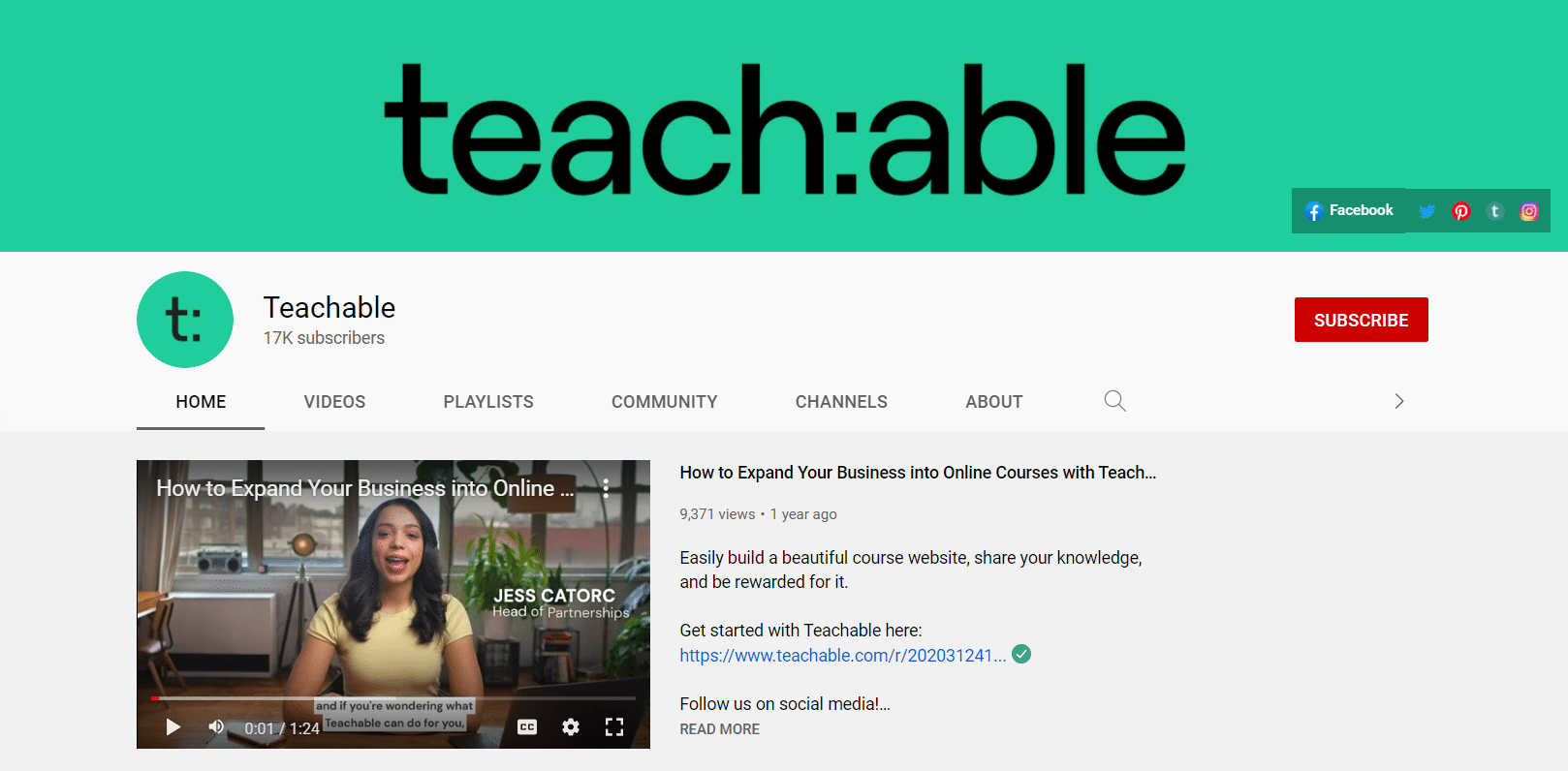 Teachable has a YouTube channel where they post great tutorials about how to use their platform and make online courses.
Kajabi Social Profiles
Let's find out the social profiles of Kajabi
Facebook
Kajabi's Facebook page has over 59,834 followers.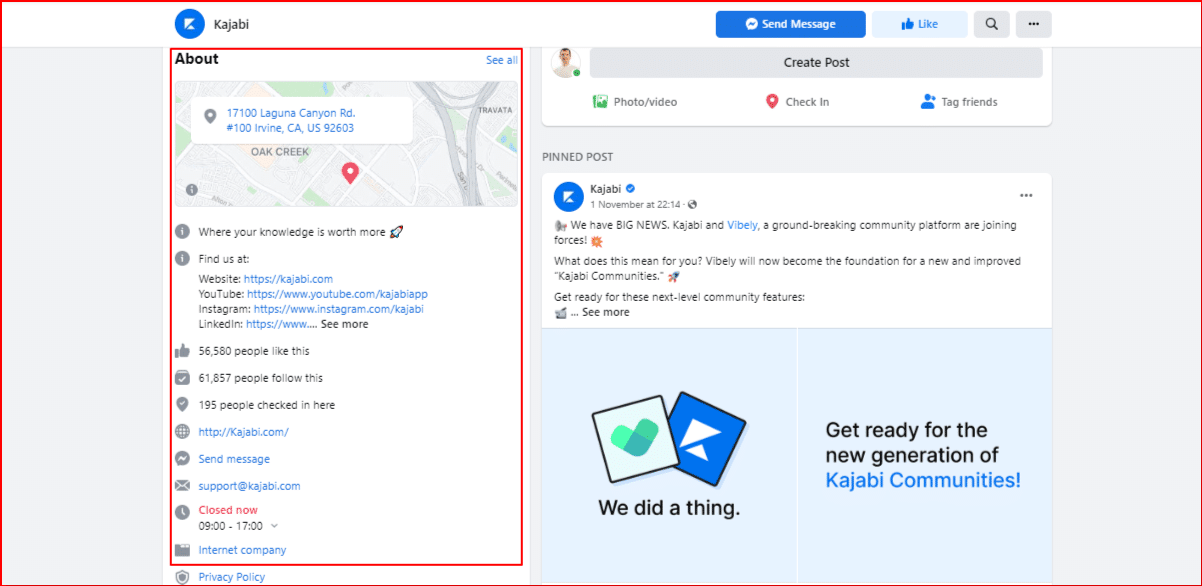 Twitter
Kajabi has a Twitter account with over 7,634 followers and 7,732 tweets.
Instagram
Kajabi's Instagram profile has over 46.5k followers where they post images about their platform.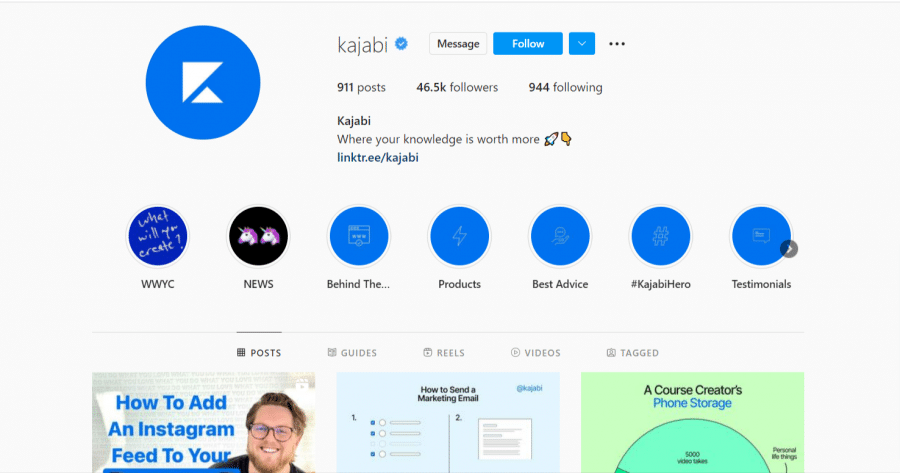 YouTube
Kajabi has a YouTube channel with over 12.9k subscribers where they share tutorials on their platform.
LinkedIn
On Kajabi's LinkedIn profile, there are over 8,784 followers and 330 employees listed.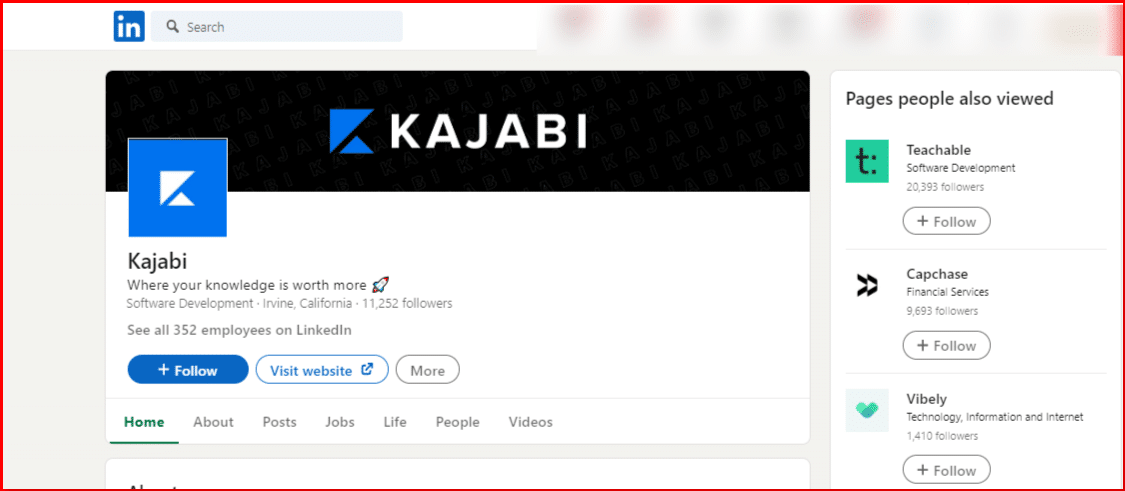 Final Thoughts On Kajabi vs Teachable
When it comes to Kajabi vs Teachable, both are wonderful tools for developing your business by selling online courses, but which is the better option?
With so many variables to consider, it's clear that making a decision is tough.
But, in my opinion, it is simply because, after weighing all of the features, benefits, downsides, and costs, as an LMS user myself, I would always choose Teachable between Kajabi vs teachable since it provides you with all of the current tools to build your website.
Teachable is a platform that allows users to create online education courses and teaching materials.
Frequently Asked Questions
Is Kajabi better than WordPress?
If you want to start a successful digital product business and have everything you need in one location, Kajabi is the correct solution for you. If you have a set of marketing and sales tools that you simply adore and don't mind gluing them all together, WordPress is a terrific alternative for you.
Can Kajabi be used with WordPress?
Fortunately, Kajabi is simple to integrate with your existing WordPress website. You can use Kajabi's digital marketing features alongside WordPress or gradually move away from it with this integration. To get started with the integration, you'll need a Kajabi account.
Why is Kajabi better?
Kajabi also provides lead generation and product launch tools, as well as webinar funnels using Blueprints, to help you run a more effective course-selling company. Effective automation, this removes the guesswork from your marketing initiatives.
Is Teachable or Kajabi better?
Kajabi is a powerful platform and one of the top Teachable alternatives if you want to make a great impact on your clients and have the freedom to serve your audience in a variety of methods. Kajabi is a one-stop shop for all of your internet business needs.
Who is Kajabi best for?
Although Kajabi can seem pricey, there are special discounts available. Kajabi is one of the best-regarded creator platforms accessible; Kajabi is fantastic for building and promoting online courses, coaching enterprises, and membership sites.
What are the best Teachable alternatives?
If you're looking for an alternative to Teachable, I'd suggest checking out LearnWorlds, Podia, and Thinkific.
Can you build membership sites with Teachable?
 However, subscriptions are the only thing you can really sell. If you already have a website or membership site, Teachable is the way to go. Teachable is most effective when used as the portal to an existing educational system. The finest platform for creating educational membership sites is Kajabi.
Is Teachable good for mobile phones?
Yes, all student interactions and online learning on Teachable can be done on a phone. Course administration is best done on a larger device like a laptop or desktop.
Why do people use Kajabi?
Kajabi is an online marketplace for those with expertise to share. Kajabi simplifies the process of creating, marketing, and selling digital products like online courses, membership sites, coaching programs, and more. The best aspect is that there will be no need to learn to code or troubleshoot incompatible plugins or integrations.
Does Kajabi own your content?
You, the creator, are the sole owner of all of the content contained on your Kajabi Portal. At any point in time, you are free to export the content you have stored.
Are Teachable courses worth it?
The online course creation and promotion platform Teachable is a reliable and strong contender. Because of its compatibility with a wide range of additional programs, it represents one of the most flexible and extensible choices for developing and delivering courses to your students.
Do I need a website if I have Teachable?
You don't need a website to get started with Teachable if this is your first time opening an online store. You can save money by not subscribing to any other web-hosting platforms because your Teachable homepage can serve as your primary site.
How much money do you make on Teachable?
Most affiliate sellers earn a few hundred dollars each month, although this varies depending on the creator, partner, and platform.