In a world where technology is constantly evolving, it's no surprise that the realm of audio editing is also experiencing a transformative wave.
Lalal.ai, a cutting-edge AI-powered audio editing tool, has emerged as a game-changer in the industry.
This article explores the capabilities and benefits of Lalal.ai, shedding light on how it is revolutionizing audio editing.
What Is Lalal.aI?
Lalal.ai is a cloud-based audio editing platform that harnesses the power of artificial intelligence to enhance and modify audio content.
Unlike traditional audio editing software, which often requires extensive manual work and a steep learning curve, Lalal.ai automates many of the labor-intensive processes, making audio editing more accessible to everyone.
Seamless Audio Restoration
One of the standout features of Lalal.ai is its ability to restore audio quality effortlessly. Background noise, hisses, crackles, and other unwanted artifacts that often plague audio recordings can be a thing of the past.
With Lalal.ai, you can simply upload your audio file, select the desired restoration options, and let the AI work its magic.
The results are often astonishing, with crystal-clear audio emerging from even the noisiest recordings.
Voice Separation and Isolation
Lalal.ai has mastered the art of separating voices from background music or noise in audio recordings.
This is particularly valuable for content creators, podcasters, and musicians. You can isolate vocals or instrumental tracks, making it easy to remix songs, remove unwanted elements, or enhance individual audio components.
The precision of Lalal.ai in this regard is nothing short of remarkable.
Pitch Correction and Vocal Tuning
Musicians and vocalists often spend hours fine-tuning their performances in the studio. Lalal.ai streamlines this process with its pitch correction and vocal tuning capabilities.
Whether you need to correct slight imperfections in a vocal track or achieve pitch-perfect harmony, Lalal.ai provides intuitive tools to achieve professional results without the need for extensive manual adjustments.
Audio Separation
Lalal.ai is not limited to vocals and instruments; it can also separate audio into individual sound sources.
This means you can dissect a complex audio recording into its constituent elements, such as dialogue, background music, and ambient sounds. This feature is a boon for filmmakers and content creators who want to have precise control over their audio tracks during post-production.
Speed and Efficiency
Traditional audio editing can be a time-consuming endeavor, especially for those who are not well-versed in complex editing software. Lalal.ai changes the game by automating many of the processes that used to require painstaking manual work.
With Lalal.ai, you can achieve professional-quality audio edits in a fraction of the time it would take using traditional methods.
User-Friendly Interface
One of the standout features of Lalal.ai is its user-friendly interface. The platform is designed with both beginners and professionals in mind, offering a straightforward and intuitive experience.
You don't need to be an audio engineering expert to achieve impressive results with Lalal.ai.
The interface allows you to upload audio files easily, select the specific editing tasks you want to perform, and preview the changes in real time.
Lalal.ai's user-friendly design ensures that you can navigate the platform with ease, making audio editing accessible to a broader audience.
Customizable Editing Options
While Lalal.ai excels in automating audio editing processes, it also provides users with a range of customizable options.
This ensures that you have control over the final outcome and can fine-tune edits to meet your specific requirements.
For example, when using the noise reduction feature, Lalal.ai allows you to adjust the intensity of noise reduction, strike a balance between noise removal and audio clarity, and even preserve certain frequency ranges to maintain the character of the original audio.
Similarly, in pitch correction and vocal tuning, you can control the degree of correction applied to the audio.
This flexibility ensures that Lalal.ai adapts to your creative needs rather than imposing rigid, one-size-fits-all solutions.
Integration with Existing Workflows
Lalal.ai recognizes that audio editing is often part of a larger creative process.
To accommodate this, it offers seamless integration with other software and platforms commonly used in the industry.
Whether you're working with digital audio workstations (DAWs) like Pro Tools or editing video in Adobe Premiere Pro, Lalal.ai can be easily incorporated into your workflow.
This integration simplifies the editing process and allows you to leverage Lalal.ai's AI-powered tools within your existing projects.
This level of compatibility is invaluable for professionals who rely on specific software suites for their work.
AI-Powered Accuracy
The heart of Lalal.ai's power lies in its advanced AI algorithms.
These algorithms are continually trained on vast datasets, enabling them to recognize and process audio with remarkable accuracy.
Whether you're working with music, podcasts, voice recordings, or any other audio content, Lalal.ai's AI algorithms can analyze and manipulate it with precision.
One of the key advantages of AI-driven audio editing is its ability to learn and improve over time.
As Lalal.ai continues to process audio data, it becomes more adept at handling a wide range of audio challenges. This means that the tool's performance will only get better as it evolves.
What Are The Applications of Lalal.ai?
Lalal.ai's capabilities extend far beyond casual audio editing.
Its potential applications are vast and diverse, making it a valuable asset across various industries and creative endeavors.
1. Music Production
Musicians and producers can use Lalal.ai to enhance their music production process. From pitch correction to isolating instrument tracks, Lalal.ai can help artists achieve the desired sound with ease.
2. Podcast Editing
Podcasters can benefit from Lalal.ai's noise reduction and voice isolation features. It simplifies the editing process, allowing creators to produce high-quality content with minimal effort.
3. Film and Video Production
In the world of film and video production, audio quality is paramount. Lalal.ai's ability to separate audio sources and remove unwanted noise makes it an invaluable tool for post-production work.
4. Content Creation
Content creators on platforms like YouTube can use Lalal.ai to improve audio quality and remove background noise from their videos, resulting in a more professional and engaging viewer experience.
5. Voiceover and Dubbing
Lalal.ai can assist in voiceover and dubbing tasks by separating dialogue from background sounds and making it easier to match voice recordings with video content.
Lalal.ai Pricing and Accessibility
Lalal.ai offers a range of pricing options to suit different needs and budgets.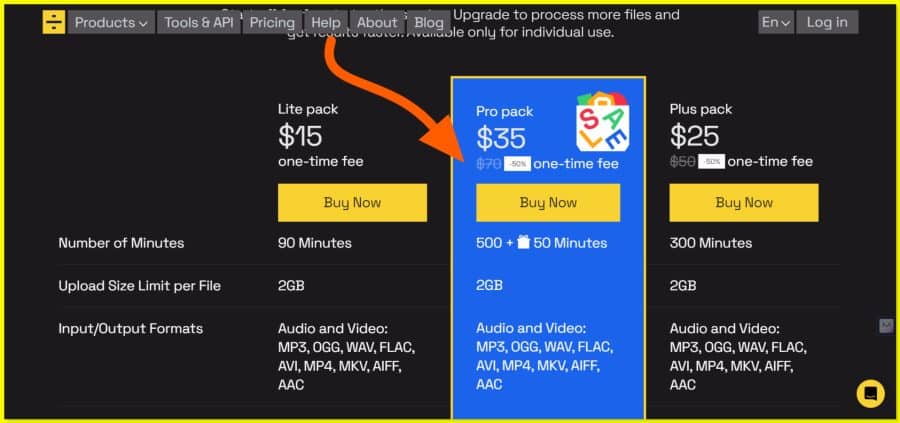 They offer both pay-as-you-go plans and subscription packages, allowing users to choose the most suitable pricing model.
Additionally, Lalal.ai offers a free trial that lets users experience the platform's capabilities before committing to a paid plan.
This trial provides a limited number of free processing minutes, giving users the opportunity to explore the tool's features and performance.
Lalal.ai's commitment to accessibility is commendable, as it ensures that both professionals and hobbyists can access its AI-powered audio editing tools.
Final Thoughts On Lalal.ai
Lalal.ai has emerged as a groundbreaking solution in the world of audio editing.
Its AI-powered capabilities, user-friendly interface, and compatibility with existing workflows make it a versatile tool for a wide range of applications.
Whether you're a musician striving for pitch-perfect recordings, a filmmaker in need of pristine audio, or a podcaster looking to improve content quality, Lalal.ai