You have a beautiful website. Your online business is up and ready. But you need that extra touch to make those sweet dollars. So you have decided to make a catchy landing page to intrigue and interest your viewers and turn them into customers.
You know a few software but you are confused. I agree, choosing the right software to do is very important and tricky but I've got you. There is an in-depth Leadpages vs Clickfunnels comparison, my friend, you have stumbled across the right page.
I will compare the top features of both software to help you make an informed decision but before we get into the arena let us understand what exactly this conversion software means.
we have also, done a detailed comparison between Leadpages Vs Instapage, checkout out the full article to know the conclusion
Leadpages is an online application for collecting email subscribers. That is the primary function of Leadpages, and they offer a plethora of stylish templates.
ClickFunnels Is An Entrepreneurial Website And Sales Funnel Builder. Take your visitors through the complete sales process step by step.
Leadpages simplifies the process. It's also versatile because you can customise each of your popups using the same drag-and-drop editor.
Clickfunnels is one of the world's most popular online sales funnel solutions, allowing users to design beautiful sales pages that turn visitors into leads and paying customers fast and easily. No prior knowledge of technology, design, or coding is required.
Leadpages has the most affordable price plans to help you expand your business. Risk-free 14-day free trial is also there.
ClickFunnels is a full-service marketing platform that allows you to market and sell your items virtually automatically. Save Up To $594/Year With Annual Billing!
If you're thinking about using Leadpages or need help with your account, the Tech support team will help you by chat, phone, and email.
From 8 a.m. to 8 p.m. Eastern Time, live chat is available. You can get to it by going to your ClickFunnels account and clicking on the "Help" page.
What is a landing page?
Any page on your website that a new visitor arrives on for the first time is considered to be your website's landing page.
A landing page can be anything from an email opt-in page to a sales page, your home page, a blog post, an "About Us" page, a product listing, or pretty much any other kind of page to which you would drive direct traffic.
In exchange for a promotion or discount, vital user information can be obtained through the usage of a landing page. You gather this information so that you can develop these leads at a later time.
It's just a straightforward case of giving and receiving. You provide something of value to your users, something that is appealing enough to get them to provide some of their information to you. Now that is not too difficult to understand.
What is a funnel?
A funnel is a series of steps that a customer goes through from the time they visit your website to the time they do what you want them to do.
The action can be anything from buying something to filling out a form to subscribe or just signing up. When they do what you want them to do, this is called "conversion."
The primary objective of a funnel is to assist you in optimizing your marketing efforts in accordance with the stage of the funnel that the user is currently occupying.
There are several distinct kinds of funnels that can be used for a variety of purposes, including the following:
Leadpages vs Clickfunnels: An Overview
I will make this as simple as it can get.
Leadpages
Leadpages is a landing page builder. This tool provides you with an extensive list of features so that whether you are a beginner or an advanced website builder, you can build highly converting landing pages in a wink!
Sales without the exhaustive tales!
Okay, let me make it easier for you to understand. Let's say you are browsing through the internet for the meaning of a word you have heard about. On one page you found what you had been looking for, and are about to leave when you see a pop-up that says "Get a handbook of English Vocabulary for Free", Click to Know More".
Interesting right?
So, as soon as you click it you land on a page that gives you the details of the offer and how it is valid only for the next 7 days. All you have to do is enter your email or sign up to receive the ebook.
Easy. So you enter your email. That's it!
What just happened was you essentially became their lead. The page that convinced you to submit your email id was a landing page and once your email was collected its work was done.
Clickfunnels
Clickfunnels on the other hand is a software tool specially designed to create innovative sales funnels with high converting power.
Don't worry I'll elaborate. I'm sure everyone is aware of online shopping. It's our guilty pleasure. Let me give you a very common scenario that I'm sure everyone might have at least once come across.
You want to buy a shirt. You search for shirts to buy online. You come across an ad that states 'Formal shirts on Clearance Sale" from Amazon. Just what you wanted right! So now you are interested and click the offer. You reach a page that gives you the details of the offer. 50% off for the weekend. Coupons will be dispatched by email.
So, you enter your email. In a matter of minutes, you receive an email with the coupons and a page to checkout. You choose your favorite shirts and proceed to checkout. Once you do, you also receive a thank you email.
Sweet ain't it? What just happened is called a sales funnel. The company made you go through the stages of a sales funnel: Awareness, Interest, Engagement, and Action.
Simply put it is a tool to minimize your efforts of creating all connectors and individual pages that constitute complicated sales funnels.
While both of them essentially do the same thing which is converting your visitors or clicks to customers, a landing page and a sales funnel are two very different things. Let me elaborate.
Leadpages vs Clickfunnels: Pricing
Leadpages has three plans.
A standard plan costs 49$ per month but if billed annually it will cost only 25$. This plan always has unlimited traffic on one site but does not include A/B split testing.
A pro plan costs 99$ per month but if billed annually then it will cost only 74$. This plan includes 3 domain connections and includes A/B Split testing and online sales and payments.
An advanced plan that costs 321$ monthly billed annually
Additionally, if the entire plan is bought for two years the prices slash down to half of the monthly prices.
Clickfunnels has come up with three subscription plans for its users.
A basic plan that comes at 97$ per month. This allows for only 20 funnels and a 100-page creation.
The platinum plan is $297monthly and
Two Comma ClubX at $2,497.
If you looking for discounts on your desired ClickFunnels pricing plans, Check out our article ClickFunnels coupon, where you can get exclusive offers.
Verdict
Even at its highest the plans of Leadpages memberships are less than Clickfunnels. Yes, Cliclfunnels does come with an additional set of features but still, it becomes a little difficult for everyone to pay such high prices.
So, we have our winner: Leadpages
Difference between landing pages and sales funnels
Landing Page
A landing page is a page that you land on when you click on an email or pop-up that catches your interest. This page collects information and converts you into a lead and ultimately into a customer.
Its function is to collect email or contact information and generate leads.
These leads are then converted to customers.
Sales Funnels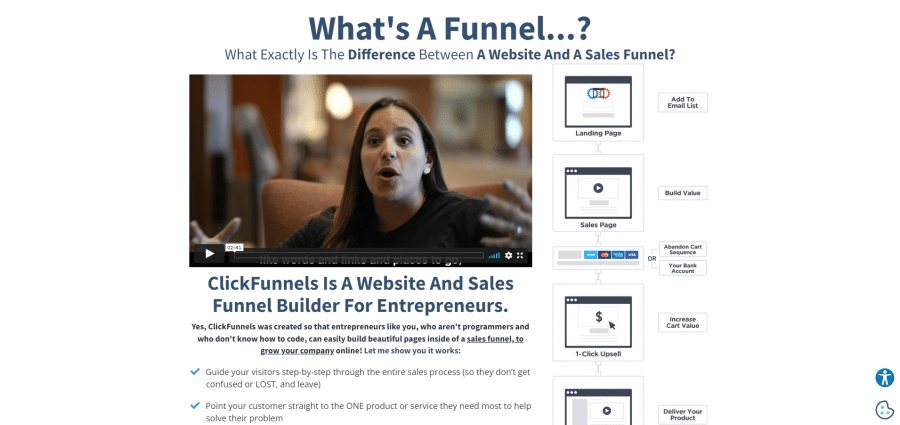 A sales funnel on the other hand is an entire array of connected pages or emails or forms that will generate interest and ultimately turn this into conversion.
The function of a sales funnel is to guide the visitor through a step-by-step process of getting to know a product to purchase it.
Now let's dive into what you came here for. Let the Leadpages vs Clickfunnels match begin (drum rolls included!)
Leadpages vs Clickfunnels: User Experience
Leadpages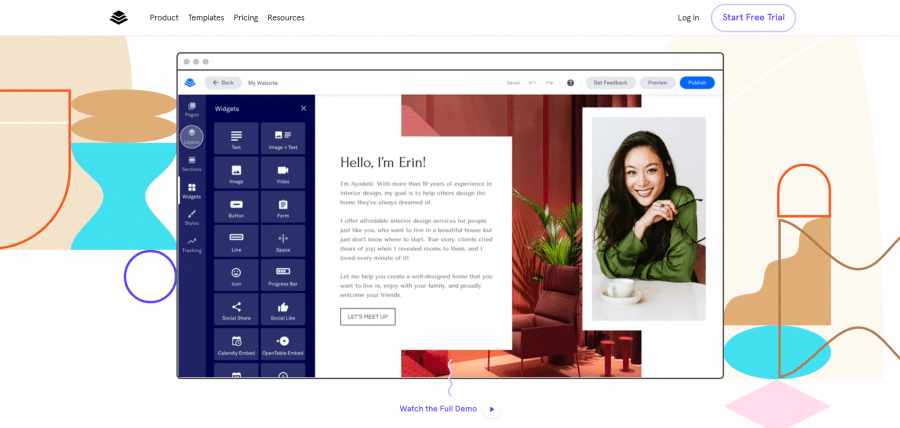 Leadpages has a very clean and simple user interface. With a very attractive and uncluttered design, Leadpages makes it very easy for the user to not only access the different features of the website but also use them very efficiently. With highly customizable templates and an easy building interface and simple integration options, the user experience of Leadpages is on point.
Clickfunnels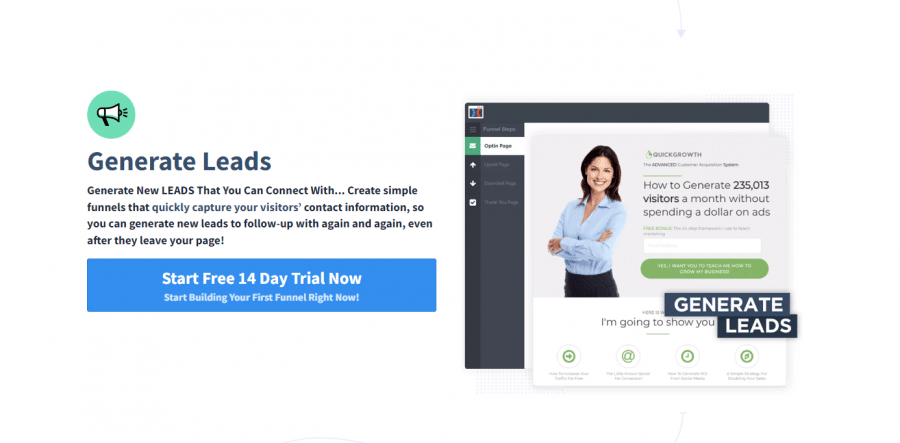 Clickfunnels also has a pretty neat design with a very simple design made so that even beginners can create high-converting marketing funnels. They also have a Drag-and-drop editor which makes entire purchase funnels feel almost like a DIY project.
Verdict
Both the tools have been created keeping in mind that they may be used even by beginners to create and publish marketing strategies. However, the user interface of Leadpages seems to have a tad bit of edge over Clickfunnels due to its user-friendly website-building approach and high customization options.
Leadpages vs Clickfunnels: Drag-and-Drop Builder
Leadpages
Leadpages has an easy-to-use drag editor in case you want to create templates on your own.
With the drag-and-drop editor which is based on the row and columns system, it becomes easy to create landing pages or entire websites in a matter of minutes. You can even customize your toolbar if you want.
For anyone with knowledge of HTML and the want to go beyond the editing options you also get the option of HTML code editing.
Clickfunnels
Clickfunnels was one of the earliest tools to introduce the drag and drop editor which made customization of templates very simple and beginner-friendly, and no code required suite but it has a standard toolbar with a limited set of tools to upload things like video, text, and so on. You also get the option of HTML editing in Clickfunnels.
Verdict
With the added toolbar customization Leadpages wins this category which makes it so popular among their users. There you go with the second round.
Leadpages vs Clickfunnels: Leadmeter
Leadpages
While Leadpages made creating landing pages look like child's play we cannot miss out on the fact that they have included the option to review your work through the Leadmeter option to see whether your page will convert. Recommendations are made by this feature to optimize your page to ensure maximum conversion (I mean that's what we are essentially looking for. Aren't we?)
Clickfunnels
While making a series of highly converting funnels may be made easier by this powerful tool, they do not provide any such tool to visualize your conversion rates. You simply have to post what you think is going to work. You do have a well-in-depth analysis page and dashboard to view how your funnel is working.
Verdict
Leadmeter is a tool exclusively found in Leadpages that not only makes it stand out in this category from Clickfunnels but also a large number of other landing site builders as well.
Leadpages vs Clickfunnels: Pop-Ups
Leadpages
Leadpages allows you to create unique popups like the exit-intent popup that will grab the attention of your visitor and in most cases make them take action. An exit intent pop-up is the one that we talked about earlier. It pops up when you make a move to leave the screen. These Leadboxes are an effective tool especially provided by Leadpages to their users as in most cases these pop-ups will catch the attention of the user.
Clickfunnels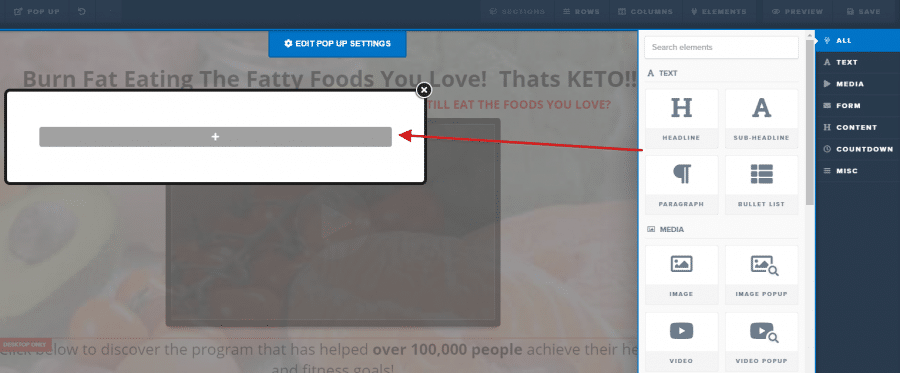 While you can create landing pages and other small conversion tools using Clickfunnels. Clickfunnels lets you create all the stages of the purchase funnel but exit-intent popups like Leadboxes and they're easy almost too easy creation and their easy creation is a unique feature of Leadpages alone.
Verdict
Leadpages enables you to create simple but effective converting Leadboxes for which you also get pre-proven quality templates. The court is gaining weight towards Leadpages.
Leadpages vs Clickfunnels: A/B Testing
Leadpages
Leadpages allows its users to perform A/B Split testing on their creations to determine what will be suitable for publishing and sales. Recommendations will be made to tweak features that will give better results. In fact, you can perform unlimited testing with the Pro or Advanced plans on Leadpages to optimize your earnings. But if you hold a base plan then unfortunately this feature will not be available for you.
Clickfunnels
Clickfunnels also provides its users the option of A/B Split testing. You can ensure to get the best results from your created landing page or funnel with click funnels, however, it is slightly more difficult to do so. The user experience is slightly tougher than Leadpages. However, these tests are available in all their plans.
Verdict
In case of use, Leadpages steals the show but if you are a standard plan user then you do not get the facility whereas in Clickfunnels you are given the option even if you are a base plan member.
Leadpages vs Clickfunnels: Integrations
Leadpages
Leadpages integrates with most major email service providers (ESPs), customer relationship management tools (CRMs), webinar platforms, and social networks such as Google Analytics, Mail Chimp, Shopify, Zapier, GoToWebinar, Hubspot, iContact, InfusionSoft, Pardot, Bing Ads, LinkedIn, Facebook, and 2000+ other apps through Zapier. The list could go on and on.
Clickfunnels
Clickfunnels also integrates with a list of 37 ESPS, CRMS, and social media like Actionetics, Active Campaign, Drip, ConvertKit, Facebook, GetResponse, GoToWebinar and so much more. It does integrate with more payment integrations, like Paypal, Stripe, EasyPayDirect, ClickBank, etc.
Verdict
You guessed it. Leadpages wins this round. With a wider range of integrating options using the app becomes easier for a wider range of customers although Clickfunnels does have more payment integrations yet it lacks in the other areas.
Leadpages vs Clickfunnels: Templates
Leadpages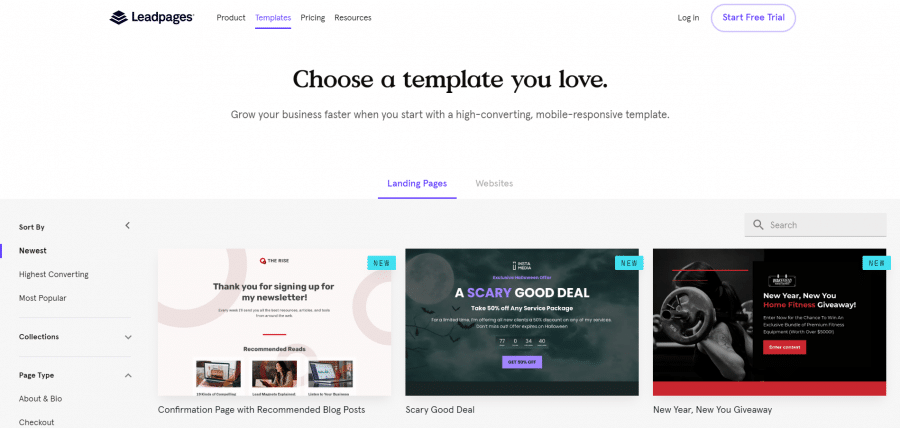 Leadpages offers us 200+ paid and unpaid templates. Even if you are not a paid member you still have access to highly converting templates with various styles and designs that are beautiful and customizable. Templates are available not only for their landing pages but also popups and alert bars.
Clickfunnels
Clickfunnels also provides a large template gallery according to type, styles, and tags, for both whole funnels or individual pages, but this is not as large as the one in Leadpages. although you do have 6 pre-designed sales funnels to choose from. The templates are also available in both paid and unpaid options.
Verdict
As a landing page builder, it is no doubt that Leadpages provides you with exactly what you are looking for. A wide gallery of templates to choose from that is unique and highly converting. Clickfunnels lack in the number of options they provide their users and hence again Leadpages take our attention.
Leadpages vs Clickfunnels: Widgets
Leadpages
Leadpages has 18 widgets like Calendy, Countdown timers, OpenTable, video, texts, multi-step forms, and countdown timers to generate more leads. Using these widgets increases the functionality of your page and thus grabs more attention from your viewers.
Clickfunnels
Clickfunnels also allows its users to add videos, text, images to their templates but advanced widgets like the countdown timers or multi-form page are not available. This reduces your ability to customize the templates as you want and the functionality is limited.
Verdict
As a page builder, Leadpages boasts a wider array of customizable options and tools in comparison to Clickfunnels.
Leadpages vs Clickfunnels: Hosting and Publishing
Leadpages offers every user a free custom Leadpages subdomain but you can also publish in your own domain that can be integrated with Leadpages with ease. You can also purchase an annual subscription to get a free domain for one year. In addition, a WordPress plugin is added to every account.
Clickfunnels
With Clickfunnel you can also publish in the domain they themselves host, add your own domain, in fact, link with your WordPress account, or even register a new one. Publishing and hosting with Clickfunnels is hassle-free and can be done with ease much like Leadpages.
Verdict
With similar options given to users, this is a tough call and, in my opinion, they both deserve a heads up.
Leadpages vs Clickfunnels: Sales Funnel
Leadpages Funnel
Specially designed to be a landing page builder, Leadpages does allow us to make sales funnels however the same can be very tedious and takes several steps. Each of the different pages or forms of the sales funnel has to be made separately and published separately which is to be true a little difficult for newbies.
Clickfunnels Funnel
Clickfunnels is specially designed to create all the aspects of a sales funnel. As the name suggests it is a sales funnel builder. You do get templates for making individual pages but the best part is you get 6 pre-designed sales-to-funnel templates to choose from which makes the hefty job of making a sales funnel much easier.
Verdict
Well, here is a category in which Clickfunnels can be considered the one true winner. Leadpages need more effort to create Sales funnels while with email autoresponders and shopping carts Clickfunnels wins the show.
Leadpages vs Clickfunnels: Affiliate Program
Leadpages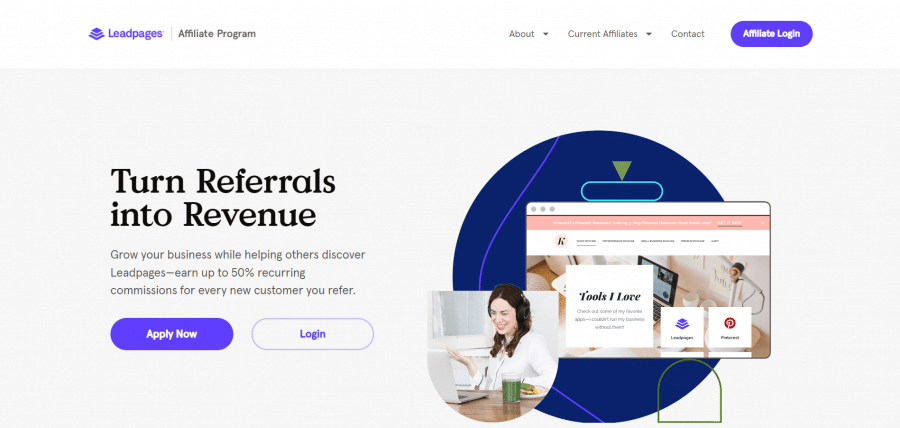 If you are also looking to be a partner with Leadpages and earn online then you can become their affiliate partner. All you have to do is promote and sell. You can easily become an affiliate partner with Leadpages if you are an active member and earn 30% commissions with every sale.
Click funnels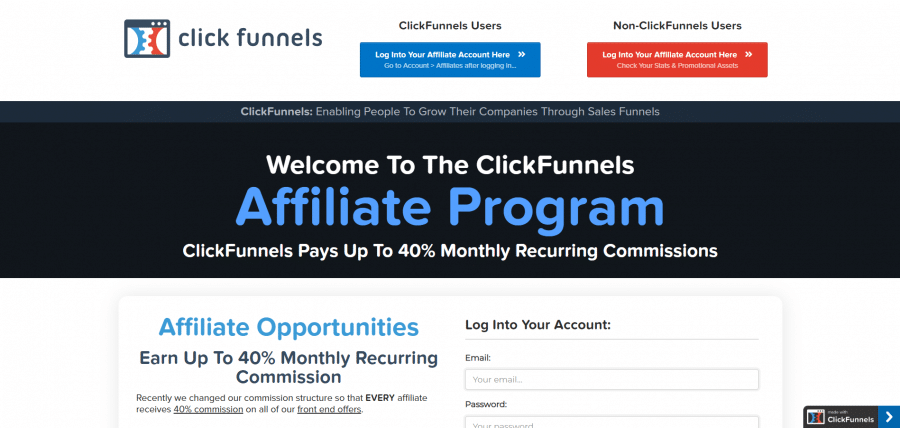 With Clickfunnels anyone can be an affiliate partner and earn a 40% commission with every sale. The backpack is their dedicated affiliate program that can easily be accessed even if you are not their active member. Definitely, this is a catch for someone who knows how to promote.
Verdict
It is evident that with Clickfunnel, the affiliate program is more lucrative than that of Leadpages.
Leadpages vs Clickfunnels: Customer Support
Leadpages
Leadpages has an excellent customer service program and a wide community of people to help new users and people who face any problem while using the tool. They have a large array of marketing resources like blogs, very informative podcasts. Chats are also available for Pro and Advanced users. They also held weekly marketing education training.
Clickfunnels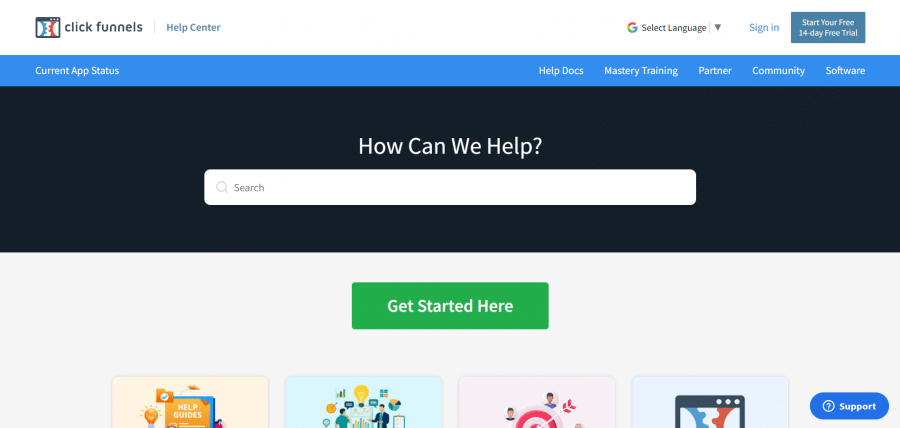 Clickfunnels has 24*7 chat options and also has a wide gallery of video resources in their help center. They have their own blogs and Facebook community to help anyone facing a problem with their product.
They also have a case study section for people to review the true experiences of people,
Verdict
Again, it's a tie. Both tools provide their users with ample support and have a large community base to assist new users or existing ones facing new problems. However, for better updates with new features, I believe the weekly marketing education training can be very useful.
Leadpages Social Profiles
Let's find out Leadpages social profiles and their followers.
Facebook
Leadpages have 85,280 followers on its Facebook page and 4.1 ratings from 160 customers.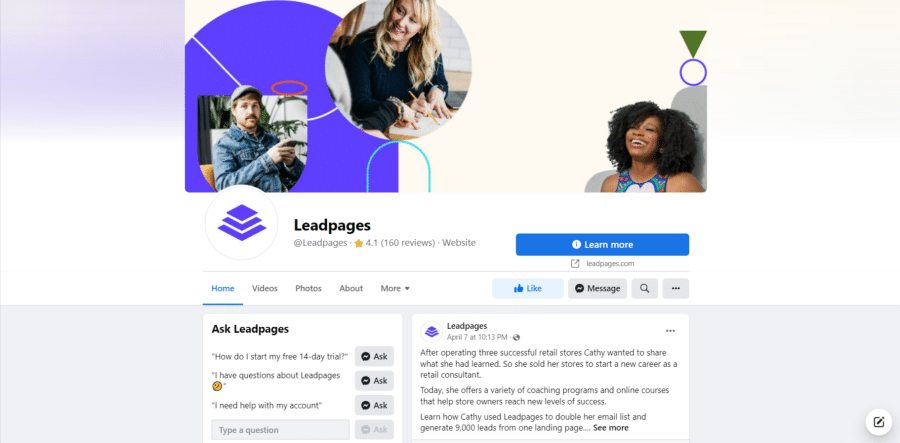 LinkedIn Profile
Leadpages have over 6,407 followers on its LinkedIn profile and 51 employees listed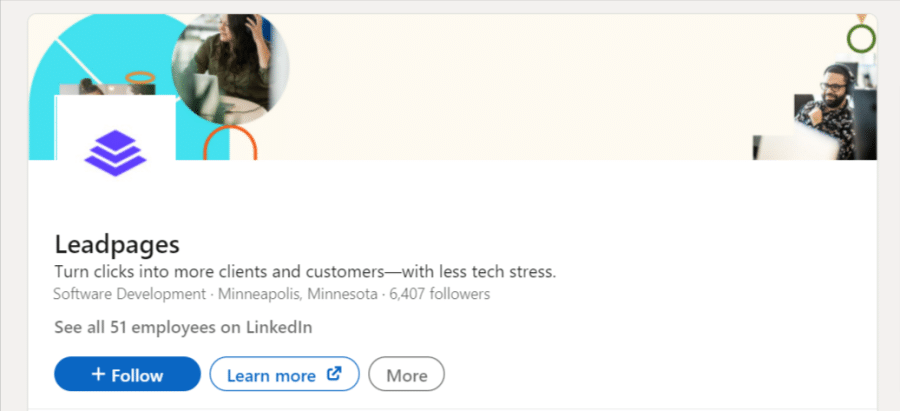 Twitter Profile
Leadpages have over 29.6k followers on their Twitter profile with over 34.2k tweets.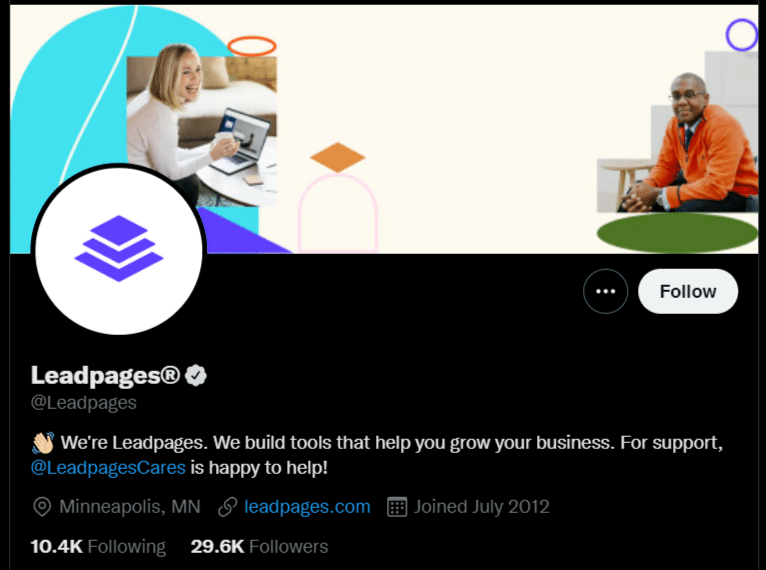 Leadpages Instagram
Leadpages have over 24.2k followers on their Instagram profile with over 487 posts.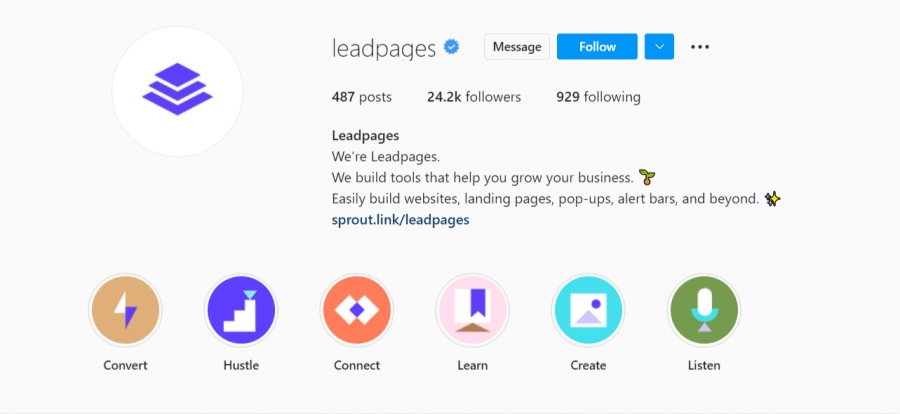 Leadpages Pinterest
Leadpages have over 5.5k followers and over 316k monthly viewers on their Pinterest profile.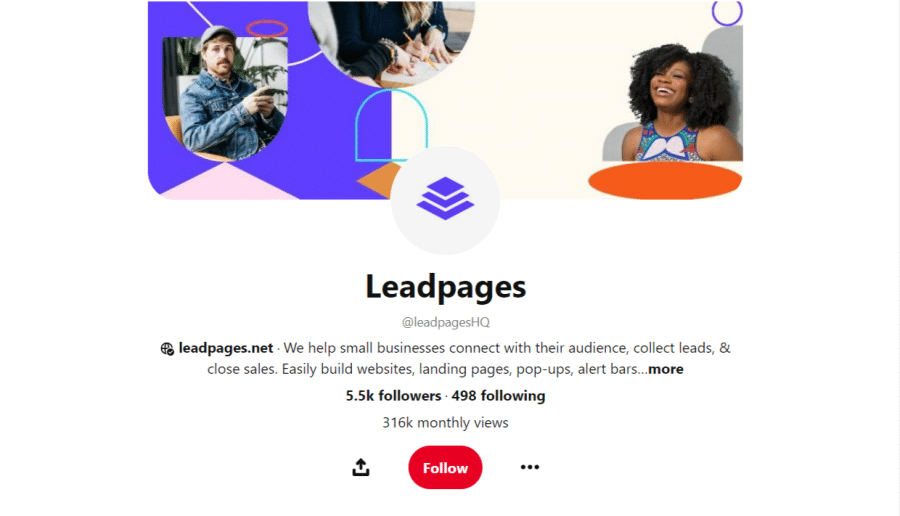 Final Thoughts
If you are looking for a landing page creator then Leadpages is the tool for you. Its simple user interface with the combination of customizable templates and a Drag-and-drop editor at this particular price level will remain unmatched.
Clickfunnels is a more advanced tool, at a higher price to create more than just a landing page however it does come with some additional features as well as complications.
Therefore, to reach a verdict it is best if you try them both out as they both offer a 14-day free trial period during which you can utilize most of its functions and determine what's best suited for your online success.
Happy creating!
Frequently Asked Questions
What is the difference between Leadpages and ClickFunnels?
The biggest difference between Leadpages and Clickfunnels lies in the fact that they are two entirely different things. Leadpages is a code-free, easily customizable landing page builder while Clickfunnels is a code-free sales funnel creator.
Is leadpages better than clickfunnels?
Clickfunnels does have a wide set of features but if you are looking for an easy-to-use landing page builder then Leadpages is the better option for you.  It provides you will pre-designed templates for making landing pages that have been proven to have high conversion rates.
Is there anything better than clickfunnels?
Clickfunnels may serve as a tool to create all aspects of a sales funnel including landing pages, forms, checkout pages, and so on. It does not essentially excel in making any of those. For having a better experience at making highly converting landing pages Leadpages is an excellent alternative.
Is Leadpages a funnel?
Leadpages allows its users to make highly converting funnels in a series of few steps that can be easily achieved. They offer six pre-built campaign funnels that anyone can use right away to optimize sales from their online business and be at par with any other sales funnel builder.
Do I need Leadpages?
A landing page builder can make it easier for you to build entire landing pages without the expert knowledge of coding or hiring a web designer. Leadpages is the best option for you if you are looking for budget-friendly software to make landing pages to turn your visitors into potential customers.
What is the best and free alternative for clickfunnel?
There are many alternative tools for clickfunnel like leadpages that can create equally intriguing and highly converting sales funnels to optimize your online marketing.
How much does Leadpages cost per month?
Leadpages pricing plans are as follows: Standard plan costs $37/month when billed monthly or $25/month when billed annually. The Pro plan costs $79/month when billed monthly or $48/month when billed annually. The Advanced plan costs $321/month when billed monthly or $199/month when billed annually.
Can you build a funnel with Leadpages?
LeadPages has developed a totally new approach that will revolutionize funnel creation, allowing anyone to design long-form, high-converting funnels that rival those made by so-called "funnel experts."
Which is better Leadpages or ClickFunnels?
In terms of functionality, features, and integrations, Leadpages outperforms ClickFunnels. Why? Leadpages has a bigger amount and variety of options than ClickFunnels.
What is Leadpages good for?
Leadpages assists small businesses in reaching out to their target audiences, collecting leads, and closing sales. Create websites, landing pages, pop-ups, alert bars, and more with ease.
Is Leadpages good for SEO?
With Drag and Drop feature in Leadpages It's simple to get online with Website Builder. It also aids in the creation of SEO-optimized pages, allowing you to rank for those crucial keywords.
Does Leadpages have an app?
You can quickly link your leads and transmit data to over 1,000 other apps using the Leadpages Zapier integration.
How do I create a quiz in Leadpages?
Step 1: Open the landing page where you want to add a quiz to your Leadpages dashboard.
Step 2: Go to "Widgets," locate the HTML block, and drag it to any location on your landing page.
Step 3: Open the box for adding the quiz embed code by clicking on the code block.
Can you build funnels with Leadpages?
Don't forget that Leadpages can help small businesses like yours ease the process of developing sales funnels by providing high-converting landing pages, pop-ups, and alert bars. You can find out more about how Leadpages can assist you by visiting their website.
How much is ClickFunnels monthly?
The monthly cost of ClickFunnels Standard is $97. Using this package, you will be able to construct 20 funnels and 100 pages. You will get access to three payment gateways, three domains, and funnel sharing with this purchase. The monthly cost for ClickFunnels Platinum is $297.
Can I use Leadpages with Wix?
Create landing pages, pop-ups, and alert bars in Leadpages and publish them to the same domain as your Wix website. After installing the straightforward Leadpages WordPress plugin, you will be able to publish any landing page or pop-up to WordPress in just a few simple steps.