Are you planning to build a landing page for your online campaign?
Are you wondering which will be the best landing page builder for your endeavor?
Look no further because I will be giving you a full detailed comparison of Leadpages vs Instapage, two prominent landing page builders to make it easier to make a decision.
Now coming to the topic let's discuss what we mean by Leadpages and Instapage.
Leadpages is a website for collecting email subscribers. It is essentially a system for creating landing pages and sales pages quickly and easily.
Instapage is a landing page builder focused on creating conversion-optimized landing pages for marketing campaigns.
Leadpages sites, designed to be the simplest and most effective online website builder, assist you in converting web traffic into leads and sales.
The page builder tool is extremely user friendly, making it incredibly simple to simply jump in and start building out your landing pages.
In comparison to Instapage, which is slightly more expensive and has limitations, Leadpages offers a slew of integrations and features, as well as unlimited traffic in extremely low-cost plans. A 14-day risk-free trial is also available.
The monthly cost of Instapage starts at $99.00. There is no free version available. Instapage provides a 14-day free trial.
If you're considering using Leadpages or need assistance with your account, the Tech support team is available via chat, phone, and email.
If you have a question for the Instapage team, please use this short form to contact any of our offices. Monday through Friday, it provides live chat support 24 hours a day. It begins at 6 a.m.
Leadpages Vs Instapage: Overview
Here is the overview of Leadpages & Instapage.
What Is Leadpages?
Leadpages is a service or a tool that helps you create landing pages for your business.
This can be a great way to convert your website's visitors into leads for your business.
You can even create a website from scratch with Leadpages since it includes hosting, email integration, and even some templates to get you started.
It's one of the most cost-effective and customizable ways to create landing pages and a website of your own.
Leadpages are exceptionally handy because they can be used by a variety of different industries and businesses.
What is Instapage?
Instapage is a platform that helps you create landing pages to attract leads and customers.
It's a great way to increase your conversion rate, and you can see metrics right away and make necessary changes.
You can use Instapage to create both one-page and multi-page landing pages, and you can use the platform to create leads and build customer lists.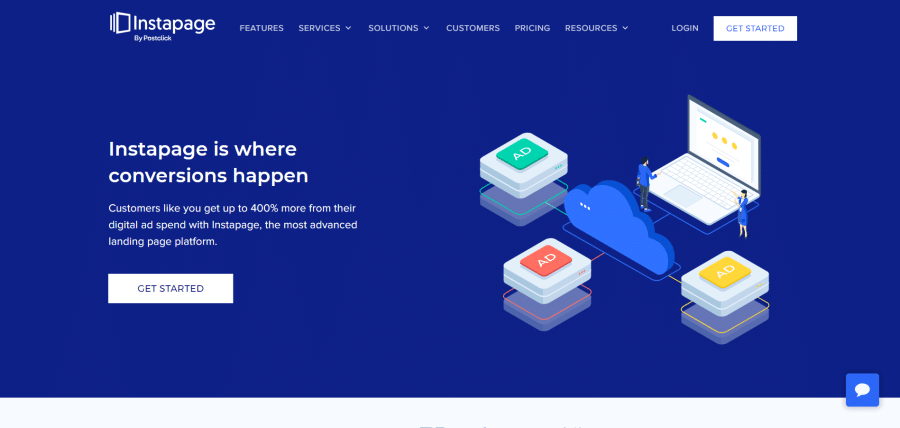 Instapage has several pre-built templates to help you get started, and you can test out your landing pages before publishing them.
Many of their features are great for you because they are designed to be easy enough for anyone to use.
Now let me get straight to the point. Here is a quick comparison table between the two:
Leadpages and Instapage both create landing pages, but their feature sets differ.

Instapage is ideal for experienced marketers who want to optimize their landing pages, whereas Leadpages is great for beginners who want something basic. Leadpages or Instapage depends on your needs and landing page builder experience.
Leadpages vs Instapage: Quick Comparison
Here is a quick comparison of Leadpages & Instapage.
| | | |
| --- | --- | --- |
| Features | Leadpages | Instapage |
| Templates | 200+ free templates as well as paid templates for landing pages. | 500+ templates for landing pages are available in Instapage. |
| Widgets | 18 widgets are supported in Leadpages. | 11 widgets are supported in Instapage. |
| Stripe Integration | Built-in | Has to be integrated via third-party integration. |
| Customization | Grid-based drag-and-drop editor | Grid free drag and drop editor |
| Heat Maps | No | Heat maps to track visitors present in their highest-tier plan. |
| A/B split testing | Yes | Yes |
| Website Building | Yes | No |
| Price | Starts at 37$ per month | Starts at 199$ per month |
Now let's elaborately discuss the features of both. I will be writing this Leadpages vs Instapage review based on the following criteria.
You can also, Checkout our detailed Comparision Between Leadpages vs Unbounce, here we compare everything like drag-and-drop builder, Integrations, Pros & Cons, and Pricing.
Read the full article to know who the winner is.
Leadpages Ease Of Use
Leadpages is a very intuitive tool with a very clutter-free and straightforward design.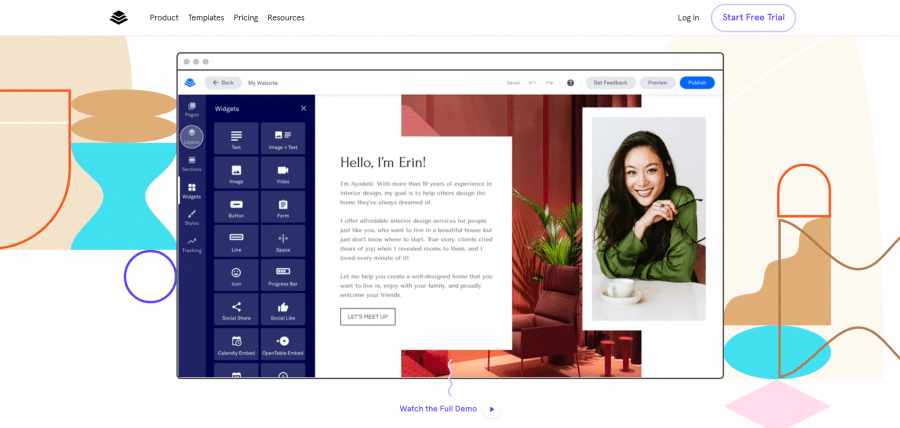 The learning curve of using this tool for building, testing, or publishing remains very low as it is very easy to use.
From the drag and drop builder to A/B split testing, everything has been made keeping in mind that the tool can be used by beginners and advanced users alike.
Instapage Ease Of Use
Instapage is another tool that can be praised for being user-friendly and having a simple user interface. Its grid-free drag-and-drop editor also makes customizations feel like a breeze.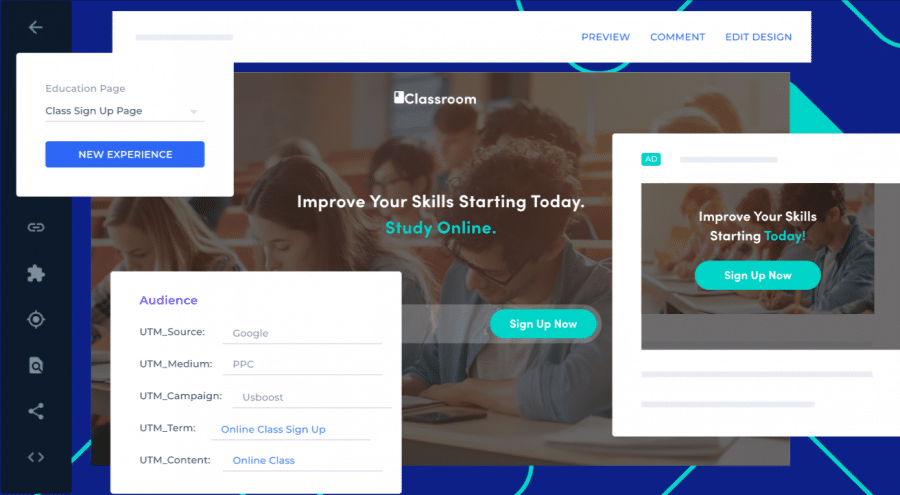 Just like Leadpages, it can integrate with a huge number of third-party tools and apps, and thus using it with the apps you are used to becomes favorable.
Winner:
Both. Both Leadpages and Instapage provide their users with the ability to make landing pages easily without any knowledge of coding and advanced Analytical knowledge.
Leadpages Drag & Drop Landing Page Builder
Leadpages allows their users to build landing pages and customize them according to their likes using a very simple building tool: a drag-and-drop builder.
The drag-and-drop builder is based on a simple row-and-column-based grid system that allows you to drop any text or widget in a pre-formed fit.
Instapage Drag & Drop Landing Page Builder
Instapage also gives its users a drag-and-drop builder with the only difference being that it is not grid-based.
This allows users a greater degree of customizability without making them feel constricted to pre-formed grids or spaces. This allows the customizations in Instapage to feel more open than Leadpages.
Winner
Customization is an important characteristic of a landing page builder.
Instapage offers its users a free experience of customization whereas Leadpages might feel constricted.
However, if you are a beginner, it is easy to mess with such an open arrangement and you should choose a tool that better suits your skills.
Leadpages Templates
Leadpages has a large gallery of templates for making landing pages.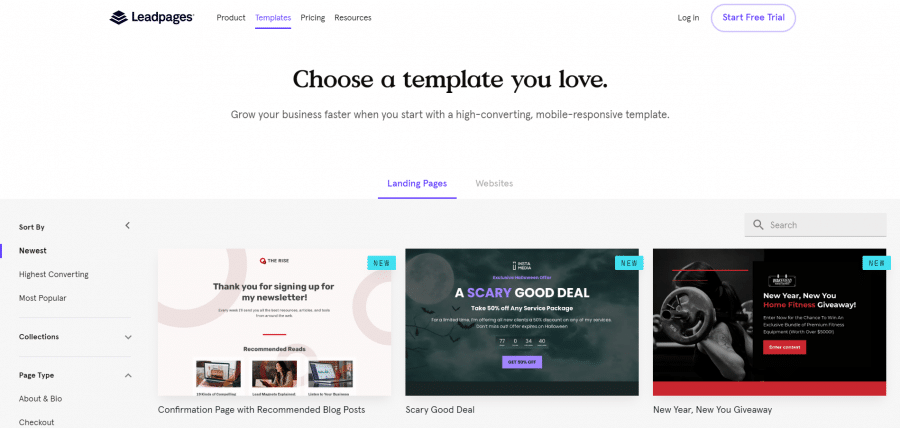 With over 200+ free templates for landing pages and the option to even pay for more, Leadpages dominates this field. The best part of the templates is that they can be arranged according to their conversion rate as well.
They are also arranged in page type, style, colors, and industry.
Instapage Templates
Instapage also has an impressive gallery of 500+ landing page templates categorized according to page type in this tool.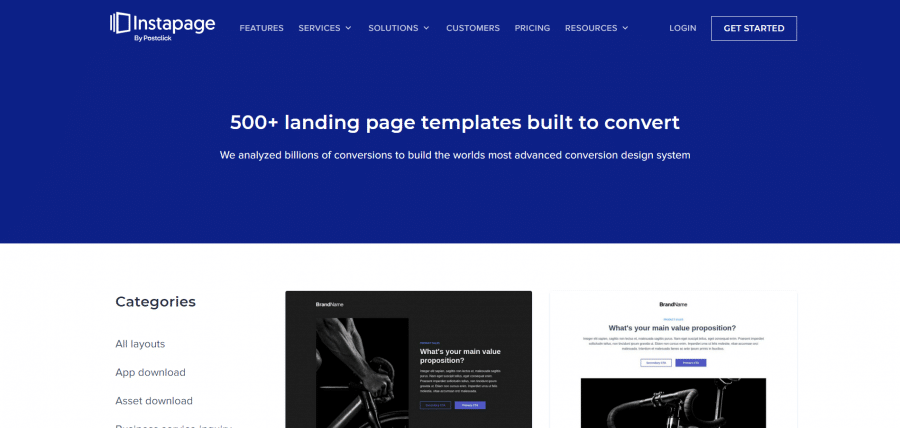 With a large number of templates, it is hard to not find what you are looking for on a landing page. Instapage thus gives you a wide variety of options in choosing the landing page template.
Winner
Leadpages does have a smaller collection of landing page templates however there is an added feature of arrangement by conversion rates which makes it easier to choose the best one for your business.
Instapage landing pages are also powered with AMP + Thor Render Engine® for extremely fast page loading speeds.
Leadpages Widgets
Leadpages has given its users the ability to use 18 widgets during the customization of their landing pages, alert bars, or even pop-ups.
Some of the advanced widgets are unique to Leadpages like icons, checkout carts, progress bars, comments, and so on. This gives you more options to customize the landing page just as you need.
Instapage Widgets
Instapage also has widgets but only 11 of them. Advanced widgets like that of Leadpages are missing and hence you do not get the opportunity to use them in your customizations even in their highest subscription plans.
Icons, checkouts, and the likes are unique to Leadpages only.
Winner:
Leadpages wins in this respect without a doubt.
Leadpages Leadmeter
Leadpages also has a special built-in tool the Leadmeter which will predict how your landing page will work before publishing. They will also suggest the changes you can make to make the page the most converting.
This tool is an added feature along with dashboard analytics that is very helpful for landing page builders.
Instapage Leadmeter
Analytics in Instapage is also simple. They also have a dashboard and allow third-party integrations necessary for analytical tracking but it has no specialized tool such as the Leadmeter.
Thus, you do not get conversion tips before the go, but that's all alright because you can still integrate third-party tools like Google Analytics to track your conversions.
Winner
Leadpages wins in this category for bringing their users a unique tool focused on conversions.
Leadpages Leadboxes And Lead Links
These are two of the features that set Leadpages apart from Unbounce.
With Leaddigits you can generate leads through SMSs by adding mobile numbers to your mailing lists making them more accessible to people who prefer text over emails.
Lead links are another clever idea to capture leads without them writing the entire details. Just one click on a link and you are automatically added to their mailing list.
Instapage Leadboxes And Lead Links
While Instapage allows you to post landing pages on various platforms it lacks extra converting tools like that of Leadpages namely Leadboxes and Lead links which could make marketers get more leads from SMSs and emails as well.
Leadpages go beyond landing pages and conversions are maximized due to this effort.
Winner
Leadpages steals the show again.
Leadpages Integrations
Leadpages offer integrations in various fields like Analytics, CRM, Payments, social media, Marketing Automation, Digital Advertising, Ecommerce, webinars, Email Marketing, Live Chat, and others.
They have 21 native integrations, 33 third-party integrations, and 36 other compatible integrations along with app integrations via Zapier.
Instapage Integrations
Instapage offers around 120 integrations in various fields specifically they have 29 native integrations, 31 third-party integrations along 38 compatible integrations.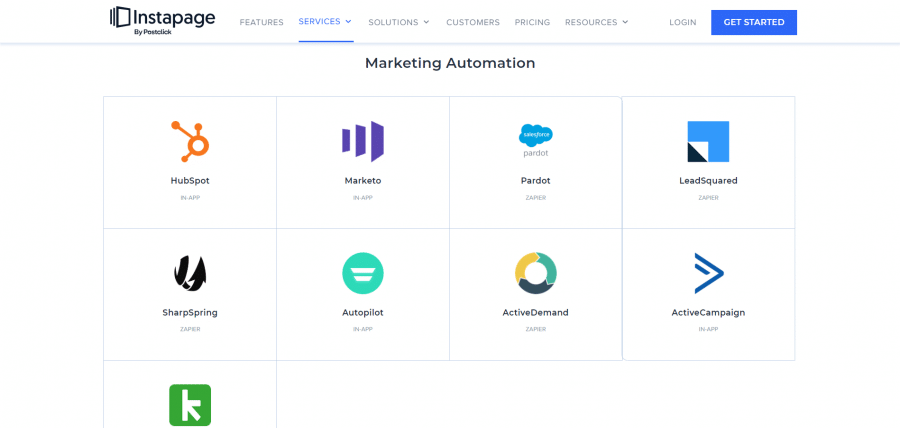 With Zapier they also support integrations with over 2000+ apps just like Leadpages and hence come at par with them. Integrations are smooth on both platforms.
Winner
There is no clear winner in this aspect as both of them offer similar integrations. Advanced tools like SalesForce, Marketo, and HubSpot integrations are available in the advanced plan of Leadpages.
Leadpages A/B Split Testing
Leadpages offers their users to perform split tests on two variables in your templates to give you an idea of which of your variety will work better and give you better results.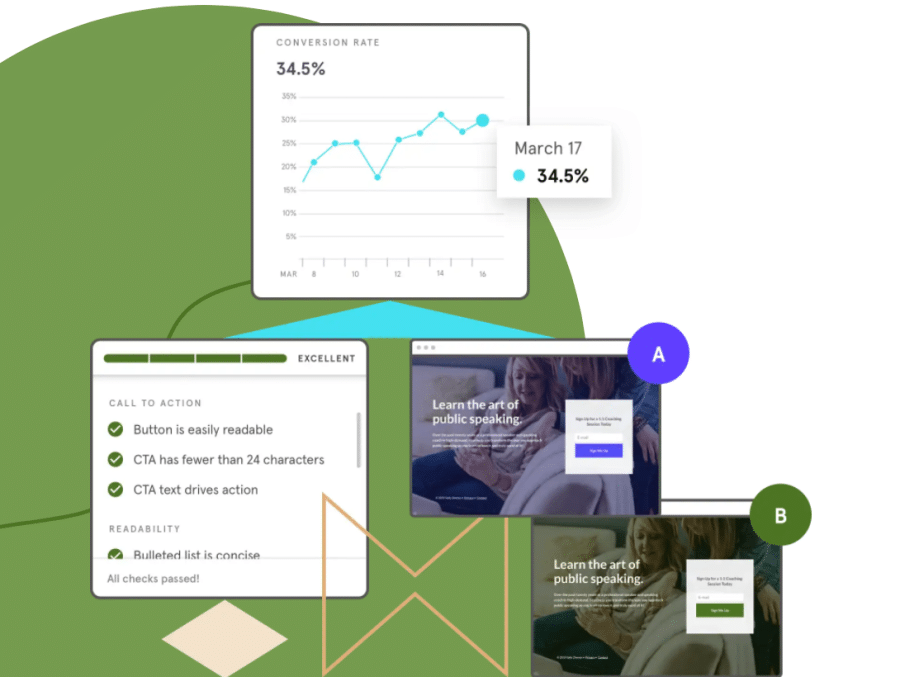 However, this advanced ability is not available in their base plan and is included in their pro and advanced plans. However, the tests are very easy to perform and real-time advice is provided for improvements.
Instapage A/B Split Testing
Instapage offers A/B split testing to their users to check out what will work best for them.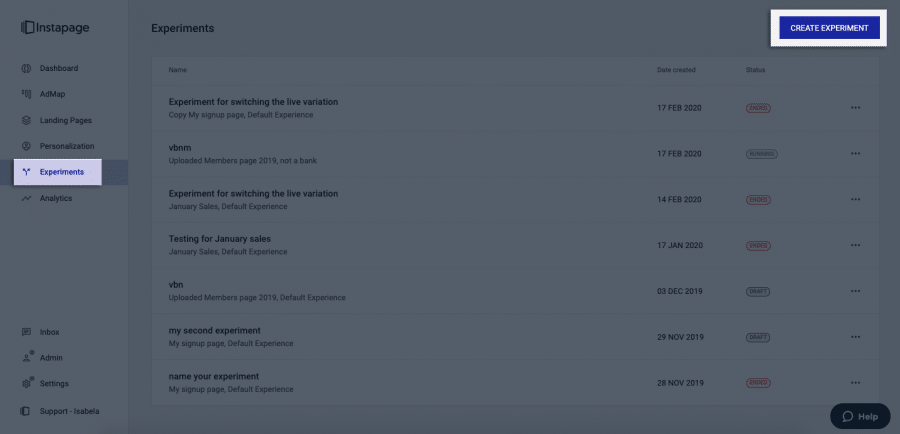 The best thing about Instapage is that this tool is available in all their plans.
(it should be considering that their plans start at 199$). Thus, both tools allow fine-tuning of your publication to maximize sales.
Winner
It's a tie as you can guess. Although Leadpages do not provide A/B split testing in their base plan but are only one step ahead in their Pro plan which is still cheaper than the Instapage's base subscription they do give this ability to their users.
Leadpages Traffic Management
Leadpages gives you a very simplified built-in analytics and dashboard. They also have an email tagging and Lead magnet delivery system and opt-in forms to attract and deliver to your desired audience.
With Leadpages you enjoy unlimited traffic and unlimited lead generation. Enjoy conversion at its best with Leadpages.
Instapage Traffic Management
Instapage also supports limited visitors and has a built-in analytical dashboard. In case you want it also allows integration with third-party integration with analytical apps like Google Analytics.
Their pages are Amp optimized and also have additional features such as heat maps to track your visitor's movement across your webpage and integration with Google Adwords.
Winner
Instapage does give us more features in this context in their Enterprise plan. However, Leadpages still gives SEO optimizations and fast load speeds on their punished content to prevent potential customers from bouncing back from their pages.
Leadpages Publishing
Leadpages gives their users the following publishing options:
Connecting your own domain
Publishing in a free domain as given with every Leadpages annual subscription
Add a simple WordPress plugin
Directly publish on your own website
Instapage Publishing
Instapage also offers its users multiple publishing options
Connecting your own domain
Publishing through Amazon cloud servers
Adding a WordPress plugin
Direct publishing to your website or even Facebook
Winner
Both the tools let their users publish in the domain as hosted by the tool itself or in a domain that they already own or plug in your WordPress. This is a very versatile system and offers the most to its customers.
Leadpages Website Building
Leadpages allows its users to build websites without the knowledge of coding or HTML. It is beginner-friendly and can be done using drag-and-drop editing using their pre-designed templates.
These websites have responsive UI which also makes these websites mobile responsive as well. They also have a large gallery of website templates for their users to choose from.
Instapage Website Building
Instapage does not give you the option of making entire websites. There are no such templates for building websites. In essence, Instapage is a landing page builder only with added features such as alert bars and pop-ups.
This is an area that Instapage somewhat lags behind its competitors and maybe should work on.
Winner
Isn't it obvious? Leadpages takes the stand in this category as well.
The ability to build entire websites is tough work in itself and also having them be customizable, pre-designed to be highly converting, and also SEO optimized, and fast loading is an added benefit with Leadpages.
Leadpages Pricing Plans
Leadpages offers its clients three pricing plans as such:
1. Standard plan gives you free hosting, templates, pop-ups, alert bars, and unlimited traffic but no A/B spilled testing or online sales and payments, or advanced tech support. Standard Plan costs 49$ per month if billed monthly or 37$ if billed annually which is pretty cheap for beginners as well.
2. Pro plan provides priority tech support, unlimited A/B split testing, and online sales and payments. Pro Plan costs 99$ per month if billed monthly or 79$ if billed yearly which is also affordable for most online businesses.
3. Advanced Plan which provides advanced integrations like HubSpot, Marketo, or even SalesForce. It also gives one-on-one onboarding calls if needed at 299$ per month if paid annually.
instapage Pricing Plans
Instapage has two pricing options for its clients.
1. Build plan that costs 199$ per month when billed annually or 299$ per month. This plan gives you the AdMap®, Instablocks®, and A/B Split testing, but no heat maps, or custom integrations.
However, this plan is limited to 30k unique visitors and only 30 landing page-building experiences.
2. Convert plan that costs according to your custom needs and usually goes up to above 400$. You get all features with this plan with a one-time payment for all the additional features.
Winner
As you can already guess, Leadpages is the tool that justifies its price, and even goes overboard to provide unique features like website building to their clients at a very affordable price for beginners and established businesses alike.
Also Read: Leadpages vs Clickfunnels
Leadpages Social Profiles
Let's find out about Leadpages social profiles and their followers.
Facebook
Leadpages have 85,280 followers on its Facebook page and 4.1 ratings from 160 customers.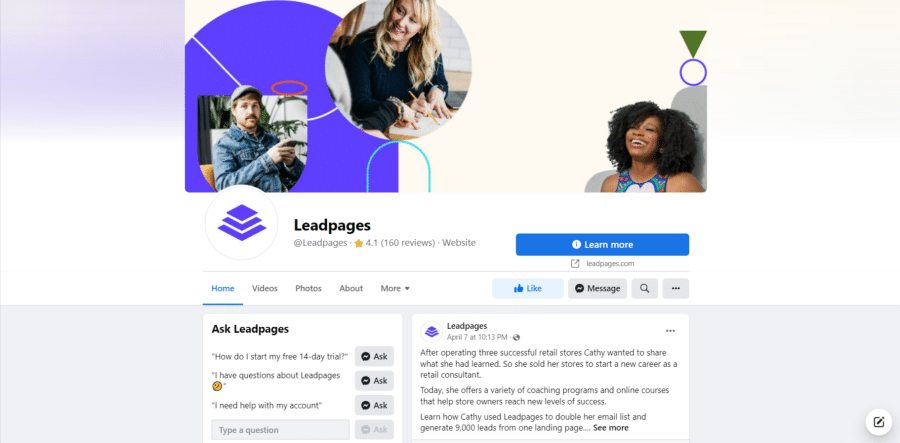 LinkedIn Profile
Leadpages have over 6,407 followers on its LinkedIn profile and 51 employees listed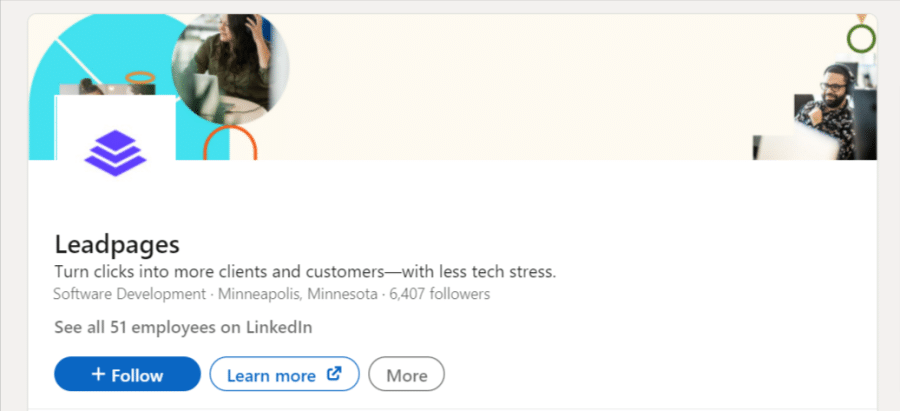 Twitter Profile
Leadpages have over 29.6k followers on its Twitter profile with over 34.2k tweets.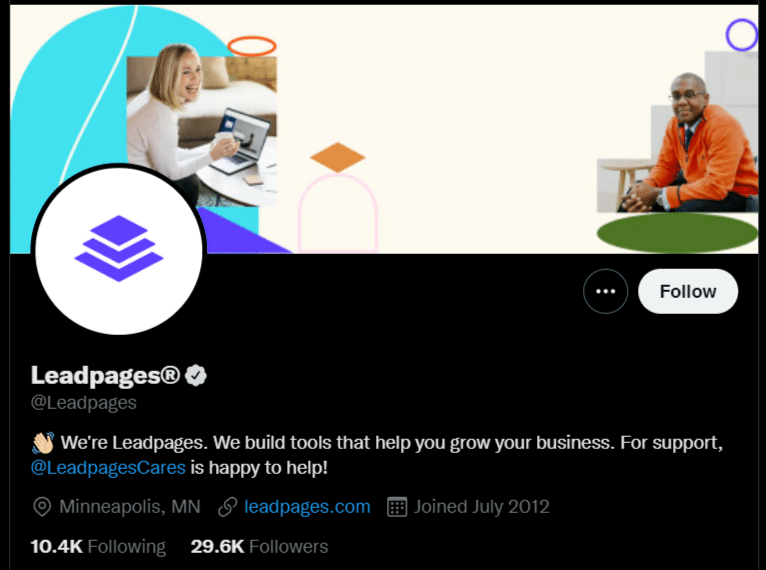 Leadpages Instagram
Leadpages have over 24.2k followers on their Instagram profiles with over 487 posts.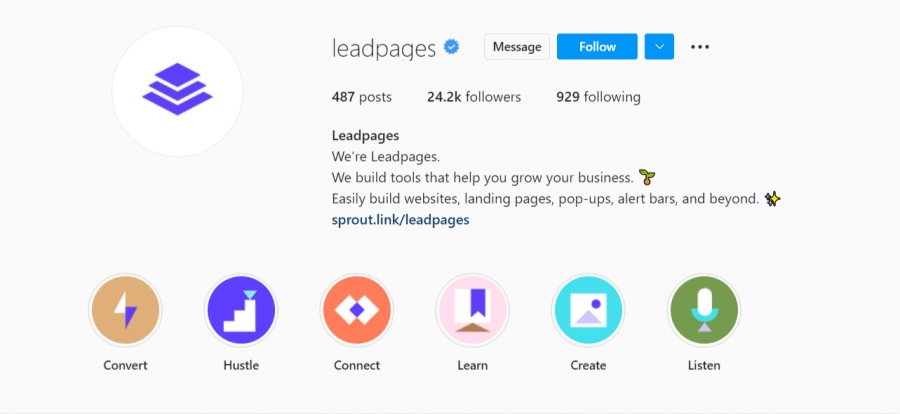 Leadpages Pinterest
Leadpages have over 5.5k followers on Pinterest and over 316k monthly viewers.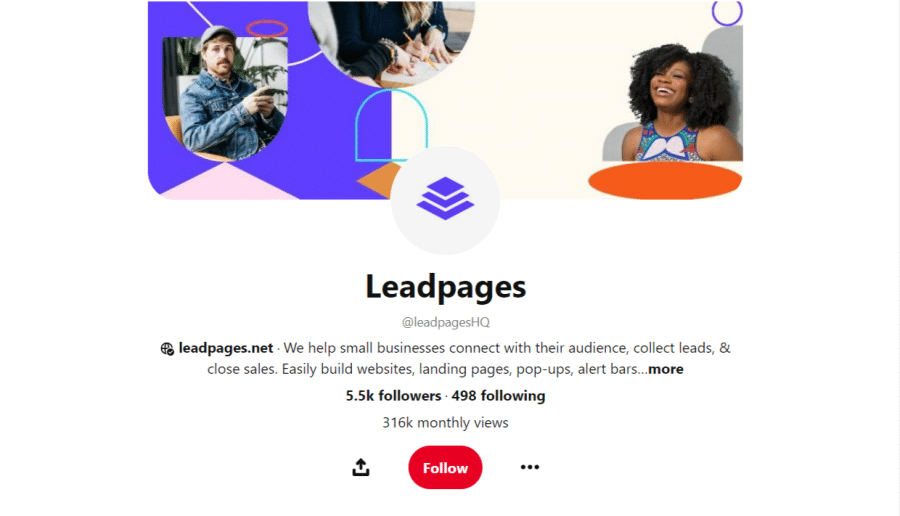 Instapage Social Profile
Let's find out the social profiles of Instapage.
Facebook
Instapage has over 49,969 followers on its Facebook page.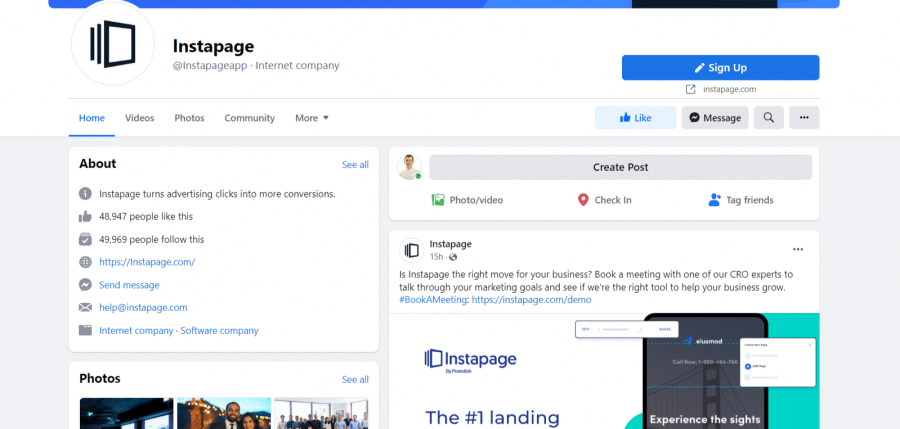 Twitter
Instapage has over 33.6k followers on its Twitter profile with over 29.4k tweets.
LinkedIn
Instapage has over 16,053 followers and 77 employees listed on its LinkedIn profile.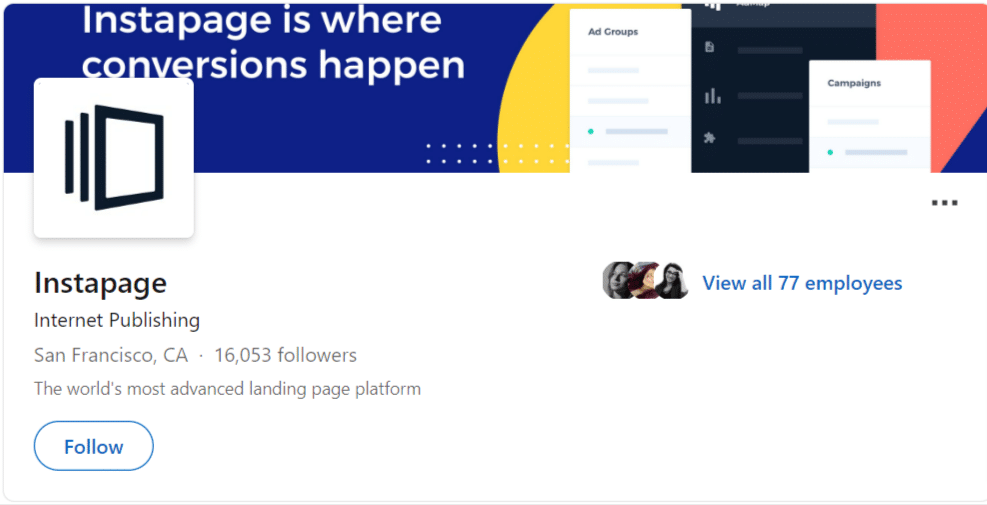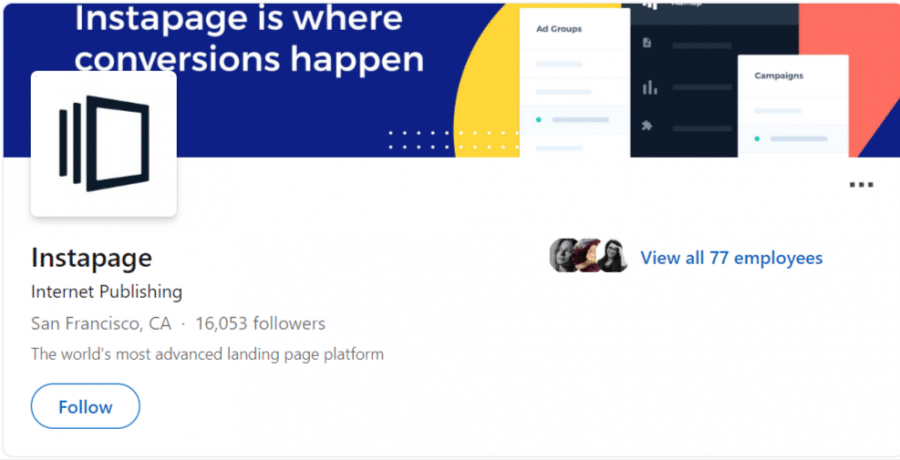 Leadpages Customer Reviews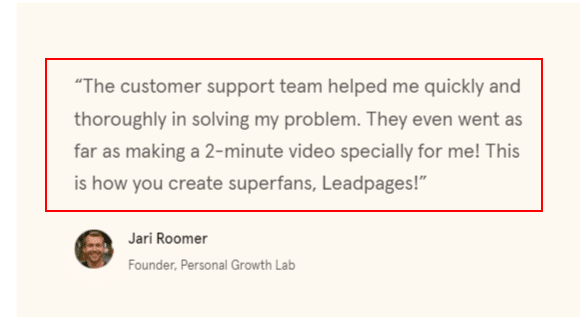 Instapage Customer Reviews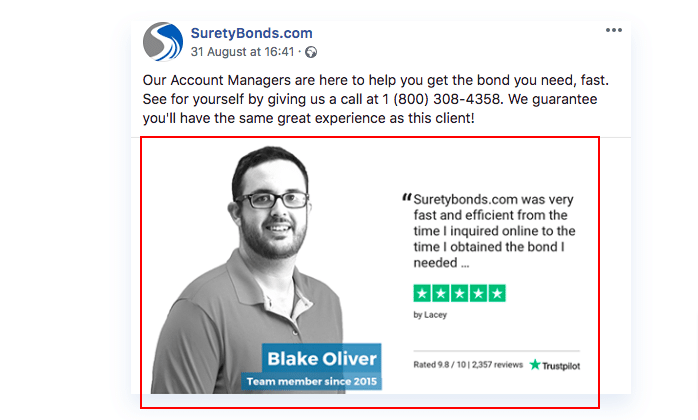 Final Thoughts
When you're trying to generate more leads or sales, but you don't know where to start, it's important to consider all your options.
There are many ways you can attract people to your websites, such as PPC marketing, email marketing, SEO, and affiliate marketing. These are all great ways to generate leads and monetize a website.
But none of these options are cost and time-effective like landing pages. if you want to start a lead generation campaign, the cost must also be very minimal, that's why it's important to compare and contrast the tools out there to see which one is the best fit for your business and online campaign.
This Leadpages vs Instapage gives you a clear view of what these tools have to offer and to try them out you can visit their website and sign in for their 14-day Leadpages free trial.
Frequently Asked Questions
Do Leadpages have dynamic text replacement?
Yes, Leadpages does have dynamic text replacement along with an array of other features such as widgets, block saving, integrations with external apps, and so on. This is a recently added feature in Leadpages.
What is the difference between a landing page and a website?
The main difference between landing pages and websites is that landing pages are used to promote a specific product or service while websites are used to convey information about your company, its history, and the
products or services it offers. This distinction is useful when you want to advertise an offer to a specific target audience. Landing pages are ideal for getting visitors to convert to your site because they are designed to convert visitors into buyers. After someone clicks on your ad, a landing page is the first thing they see.
What is Leadpages good for?
Leadpages assists small businesses in reaching out to their target audiences, collecting leads, and closing sales. Create websites, landing pages, pop-ups, alert bars, and more with ease.
Is Instapage good?
The Instapage page builder is extremely powerful. The interface is not only simple to use, but it also provides you a lot of flexibility when it comes to positioning items, while also providing helpful guidance if you want to align your page elements perfectly.