No matter how good your product is or how well you have built your website, without a good landing page it is difficult to convert visitors into customers.
A well-designed landing page is a great help to your business. In fact, it has been seen that having landing pages increases your sales by one-fourth times ie, almost 25%
Choosing between Leadpages vs OptimizePress is a big choice for you if you're in the market for e-commerce landing pages. Both have their pros and cons and both have a lot to offer. In this article, we'll compare and contrast these two landing page software to help you choose which one is best for your business.
At the very beginning, the marketer should know, what they are working with.
Leadpages is a website that allows you to collect email subscribers. It is essentially a system for quickly and easily creating landing pages and sales pages.
OptimizePress is a powerful marketing WordPress plugin for creating professional landing pages, sales pages, sales funnels, membership websites, online courses, event pages, and more.
Leadpages sites, which are designed to be the simplest and most effective online website builder, assist you in converting web traffic into leads and sales.
Using our WordPress landing page and sales page builders, you can generate more leads and increase your revenue. Create pages using our all-visual editor.
In comparison to Optimizepress, which is slightly more expensive and has limitations, Leadpages offers a slew of integrations and features, as well as unlimited traffic in extremely low-cost plans. A 14-day risk-free trial is also available.
OptimizePress is a complete marketing platform for your business. It costs a little more than Leadpages. Money-back guarantee for 30 days with no risk.
If you're considering using Leadpages or need assistance with your account, the Tech support team is available via chat, phone, and email.
Customers can contact support team via email at Ticket Raising Blogs and Articles.
What are Landing Pages?
A landing page is a web page that is designed to attract a visitor's attention and direct that person to a specific destination. They can be designed for sales, lead generation, signups, or as a call to action for any other purpose. They are also known as " squeeze pages", "lead capture pages" "opt-in pages" and so on.
A landing page is an important tool for any business. Landing pages are used to attract customers, inform them about a particular service or even sell them a product. Therefore, it must be professionally designed.
Whether you want to create a landing page to advertise your product, increase ROI, generate leads, or simply improve your website's UX and performance, you can easily build a gorgeous landing page in minutes with a tool like Leadpages and OptimizePress.
Let's get to know them better.
Leadpages Overview
Leadpages is a powerful landing page software that has many great features. You can use this tool to create high-converting landing pages without having to hire a developer. It has tons of templates that you can use to create beautiful landing pages for your business.
It's really easy to use and you can create a new landing page in less than 5 minutes with the drag-and-drop editor. With Leadpages you can create landing pages, opt-in forms, sales funnels, eBooks, videos, and webinars as well.
Before we get into the details of the features of Leadpages let's take a look at OptimizePress.
OptimizePress Overview
OptimizePress is essentially a WordPress landing page-building tool. It allows you to easily create unique landing pages, popup forms, and sales pages that allow you to collect leads and eventually sales. It is a WordPress landing page builder that comes with built-in landing pages, banners, opt-in forms, lead generation, membership sites, and more. It's a complete conversion kit that will help you sell anything.
OptimizePress like Leadpages is ultimately built for conversion rate optimization. Now you may ask what is conversion rate optimization?
Conversion rate optimization is a process of getting more people to take the desired action with the information you give them. When you optimize your site for conversion rate, it doesn't mean that you are forcing your visitors to buy from you. Instead, you want to give them information that will make it easier for them to make a decision.
So, it is clear that finding the right tool is important to make the best landing pages for your online campaigns. Let's dive into our prime comparison between Leadpages vs OptimizePress as the best landing page builder for you in 2022.
Leadpages vs OptimizePress: The Best Templates
Leadpages templates
Leadpages is known for its large template gallery. At Leadpages you can get access to 200+ free-to-use templates with each of their plans or a free trial as well for making landing pages. They also have a number of website templates for you to choose from. The best part of all is that these templates are arranged in the order of conversion.
OptimizePress templates
OptimizePress provides its users with 40+ pre-tested free landing page templates to work with or choose as landing pages for your online campaign. They also have paid templates with their plans. They are not arranged in the order of conversion but are pre-tested to assure conversion of traffic. Also, much like Leadpages, these templates are easily customizable. They have a special Marketplace with templates for sale.
Winner?
Leadpages takes this award for being the tool not only providing the highest number of free page templates but also providing a wide variety of them.
Leadpages Vs OptimizePress: Drag-and-drop builder
Leadpages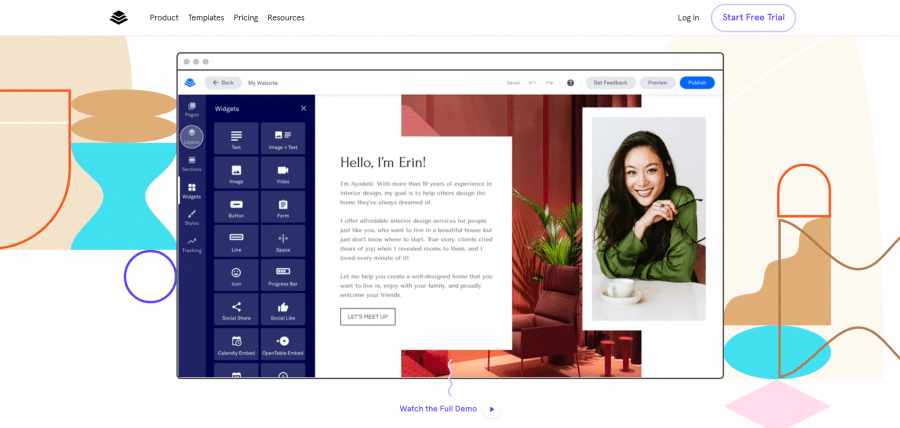 Leadpgaes sports a grid-based drag and drop landing page builder that allows you to build entire pages or websites with simple clicks and pastes. This is what makes the tool so easy to use. With this tool building, landing pages will take only 5 minutes. You can drag and paste any text, widget, or change any configuration in the design of the templates with this editor.
OptimizePress
OptimizePress also has a drag and drop editor but it has been recorded to be faster and more intuitive than the Leadpages one. Building web pages thus no longer needs the knowledge of coding or hiring web developers. However, the user interface of OptimizePress is slightly more difficult than Leadpages.
Winner?
I'll give both the tools a tie here as both the drag-and-drop editor tool provides us with the efficiency to make and edit landing pages without a hassle.
Leadpages vs OptimizePress: Sales Funnels
Leadpages
Leadpages does give you the option and guidelines to make sales funnels to attract and traffic and convert them into potential buyers. However, Leadpages does not have any pre-built sales funnels templates which can be a problem if you do not know how to create sales funnel or have a time budget.
OptimizePress
OptimizePress offers us conversion-optimized sales funnel templates as well that are 100% customizable. You can customize these templates with text, fonts, icons, video, widgets, and others to attract the attention of your viewer and entice them into your marketing campaign. However, Optimizefunnel is only available in their Suite Plan.
Winner?
OptimizePress takes home this award for making it easier even for newbies to make complicated sales funnels.
Leadpages vs OptimizePress: Mobile Optimization
Leadpages
Leadpages comes with an inbuilt responsive UI that automatically adjusts and optimizes your landing pages or alert bars or forms to be viewed on any device be it a computer, laptop, or mobile. As in today's world, 70% of the active members accessing the web are on the phone, it is necessary to make pages that are mobile responsive as well.
OptimizePress
OptimizePress also provides its users with fully mobile-optimized pages to generate the maximum amount of lead from their mobile viewers or visitors as well. A mobile preview is given before posting any landing page that can be tweaked in any way needed to get the look and feel you desire.
Winner?
I think in this category it is safe to say that both the tools understand the importance of mobile customizations as the numbers of mobile customers are far greater than computer ones.
Leadpages vs OptimizePress: Leaddigits and Leadlinks (Unique Features)
Leadpages Features
These are two factors that set Leadpages apart from Unbounce Landing Pages. With Leaddigits you can track SMS by adding mobile numbers to your email list making it easier for people to choose text over emails. Leadlinks is another clever way of generating leads without the visitor having to write down all the details. Just one click on a link and you can automatically add them to your mailing list.
optimizepress features
OptimizePress does not have any such feature as LeadLinks or Leaddigits. They mainly focus on landing page building and sales funnels only. They do provide the option to create opt-in forms and alert bars just like Leadpages but their options of lead generation are thus limited.
Winner?
Leadpages get a plus point for these two small but catchy features. They have included every platform for lead generation maximizing their traffic generation and ability to convert.
Leadpages vs OptimizePress: Tracking and Analytics
Leadpages
Leadpages has very beginner-friendly analytics which is not simplified in data but visually appealing and easy to track. Their dashboard also keeps track of every landing page you publish and your earning. Leadpages also comes with a built-in Leadmeter technology that will analyze your page content and compare it to its database to provide real-time data-driven analysis and guidance for the best results for your landing page.
OptimizePress
With OptimizePress analytics is not built-in. Tools for analytics however can be easily integrated with OptimizePress like Google Analytics, or any other platform of your choice. Being built as a WordPress theme analytics have not been inbuilt into it which can be a problem.
Winner?
Leadpages wins clearly in this category for automatic and inbuilt analytics and also the Leadmeter tool for conversion guidance.
Leadpages vs OptimizePress: A/B Split Testing
Leadpages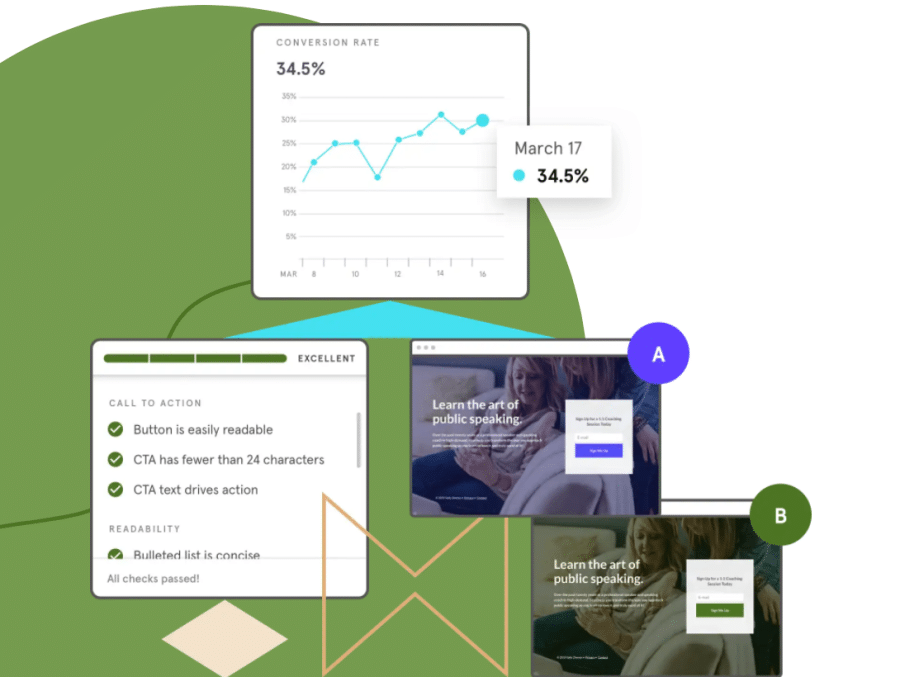 Leadpages has a very easy-to-use A/B split testing tool that lets you test two varieties of your landing page for conversion so that you post the one that will convert traffic the best. They also support multivariate tests now. With Leadpages A/B split testing cannot get wrong.
OptimizePress
OptimizePress has a tool namely OptimizePress Experiments that comes as a plug-in with a special tool called the Live Editor that lets you perform these tests and gives you real-time reports of conversion rates and improvement.
Winner?
Leadpages and OpyimizePress both let you perform A/B split testing but Leadpages stands out in allowing you to perform multivariate tests.
Leadpages vs OptimizePress: Wider Integrations
Leadpages Integrations
Leading pages include all major communication networks, customer relationship management tools (CRMs), email service providers (ESPs), and web forums. With over 90 sales tools and 2000+ app integration with Zapier, it is hard to find a platform with this many integrations. It is also paired with payment partners like Stripe and PayPal.
optimizepress integrations
This plugin is extremely handy, as it lets you connect to various integrations, but the last one it might fit best with is the Wishlist Member integration. When you combine the two, you get an easy way to have your members subscribe directly to your products and services, which means a whole lot more sales and referrals. It also integrates with Zapier which allows app integrations.
Winner?
Both the platforms allow similar integrations so you cannot set a clear winner in this category.
Leadpages vs OptimizePress: WordPress Integration
Leadpages
For every Leadpages account, the user is provided with a free domain or hosting. However, if you already have a WordPress website you can publish your arrival on your WordPress website using the WordPress plugin or on any third-party domain that you own. You can also publish pages as simple HTML pages.
OptimizePress
OptimizePress is essentially a WordPress plugin in itself. It was built as a WordPress landing page builder and it is a good one in this respect. You can however post the landing pages you create in this platform in your other domain or as HTML pages as well.
Winner?
While hosting and publishing are simple with both these tools, I will let Leadpages win this category for not being WordPress dedicated but being open for all kinds of clients and customers.
Leadpage vs OptimizePress: Customer Support?
Leadpages
Leadpages has a healthy support team to provide solutions to any problems you may encounter while using Leadpages. Apart from a very broad knowledge base, and elaborate video tutorials on their website they also provide email, live chat, and phone support. You can also raise tickets in Leadpages. However, the live chat is available in their Advanced plan.
OptimizePress
OptimizePress offers the following support to its customers:
Email Support
Ticket Raising
Blogs and Articles
The option for live video chats like that in Leadpages is missing in OptimizePress. However, support is available in all their plans.
Winner?
Intricate customer support is available in the highest-priced plan in Leadpages which is much higher than OptimizePress.
It depends on what you are looking for. I believe both the tools give ample opportunity to their clients to get the most help from the tool itself.
You may also like: Kajabi Vs Clickfunnels
Leadpages vs OptimizePress: Pricing
leadpages pricing
Leadpages offers its users three programs for their users:
The General Plan costs $ 49 per month if charged monthly or $ 37 if charged annually. This program gives you free hosting, templates, hackers, notification bars, unlimited traffic but no spilled A / B testing or online sales and payments, or advanced technology support.
The Pro plan costs $ 99 per month if charged monthly or $ 79 if charged annually. The program provides valuable technical support, unlimited testing of A / B segregation, and online sales and payments.
Advanced System that provides advanced integration such as HubSpot, Marketo, or SalesForce. It also offers per capita calls when needed for $ 299 per month if paid annually.
optimizepress pricing
Pricing plans are available for your business with the OptimizePress program. You will want to keep in mind that the pricing is based on the number of pages you want to optimize. In addition, the price will depend on the number of pages on your website. The more pages you have, the more you will save on the price of your plan.
The first plan is the most basic plan available. It has a starting price of $97 and only 25 pages to optimize. It is simple, with no frills. However, it does not support funnel-making or checkout pages, or metric dashboards.
The second is the Suite plan at 199$ per year for most of their features excluding client site management and building.
The final is the Agency Standard plan at 399$ per year for managing up to 20 client sites as well.
Overall, there are great plans to choose from, and you should check out the plan that is most appropriate for your needs.
Winner?
OptimizePress is among the cheapest tool available on the market. However, they charge annually and have page limitations. Apart from that their pricing plans are very lucrative.
Leadpages vs OptimizePress: Should you try it out?
Leadpages
Leadpages offers their users the opportunity to try the tool before subscription as well. This ensures that customers are loyal and understand the tool before getting in. Leadpages has a 14-day trial period during which you are not charged for using the tool. You will be charged only after the completion of these 14 days based on the plan you choose to subscribe for.
OptimizePress
OptimizePress does not have a trial period payment has to be done for using the tool anyways but they do offer a 30-day money-back guarantee if you are not satisfied with their services and do decide to leave, unfortunately.
Winner?
Both the tools wish the best for their clients and offer them the opportunity to use the tool in the most efficient way possible.
So… Who really wins?
That's a great question. Anyone who wants to create a website, blog, or landing page should use either one of these platforms. They are both very popular with bloggers, and they offer a lot of great features.
Both of the platforms allow you to easily create landing pages to advertise your business. They are both easy to use and have a lot of great features.
However, this is entirely up to you. It depends on what you are looking for in a builder and what is your budget.
Leadpages Social Profiles
Let's find out Leadpages social profiles and their followers.
Facebook
Leadpages have 85,280 followers on its Facebook page and 4.1 ratings from 160 customers.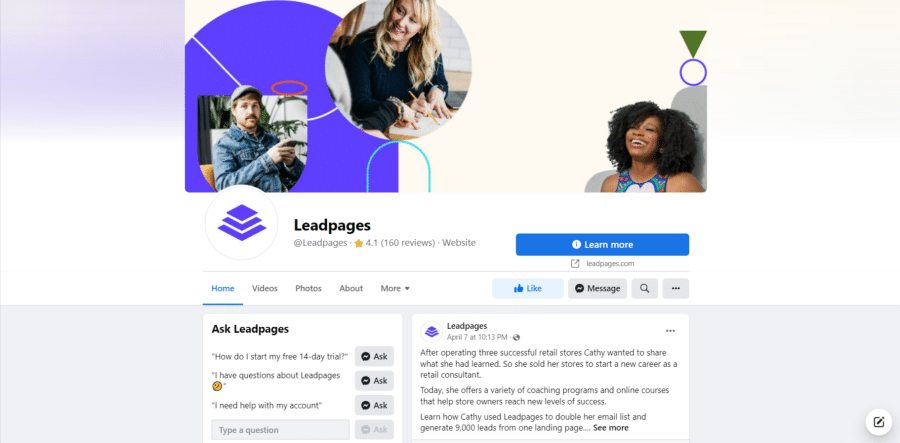 LinkedIn Profile
Leadpages have over 6,407 followers on its LinkedIn profile and 51 employees listed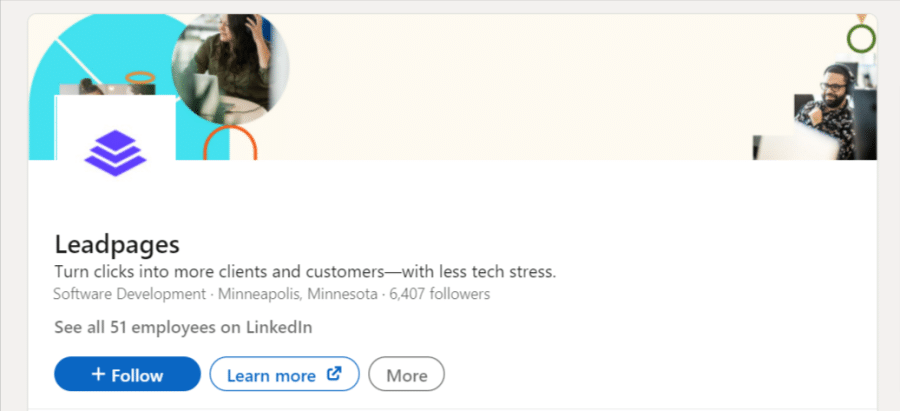 Twitter Profile
Leadpages have over 29.6k followers on their Twitter profile with over 34.2k tweets.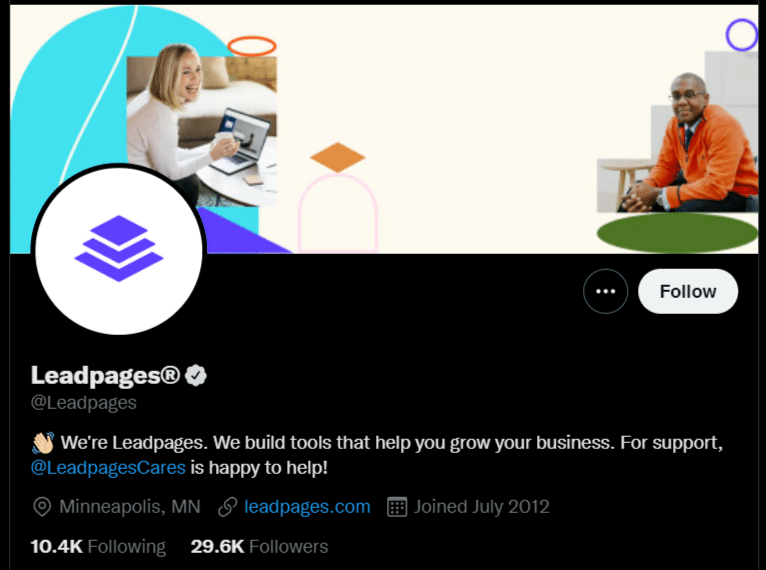 Leadpages Instagram
Leadpages have over 24.2k followers on their Instagram profile with over 487 posts.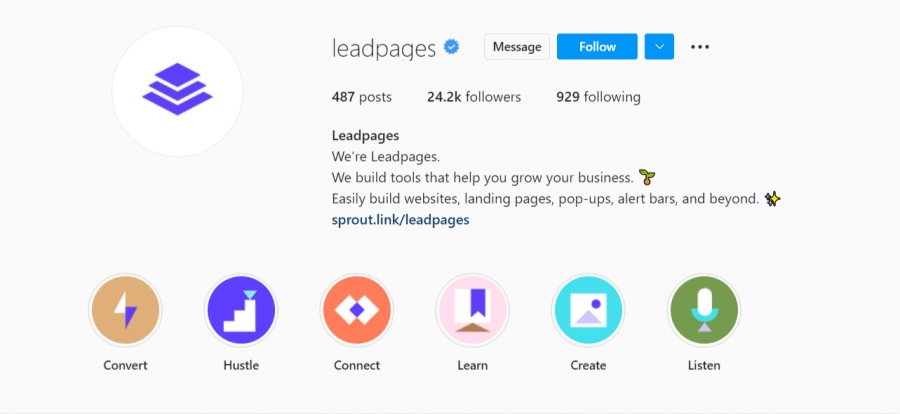 Leadpages Pinterest
Leadpages have over 5.5k followers and over 316k monthly viewers on their Pinterest profile.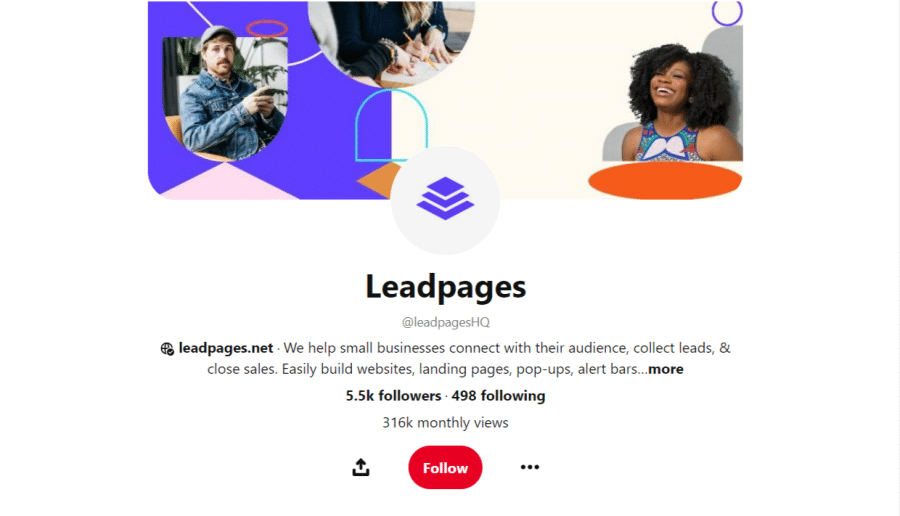 optimizepress alternative
Let's find out some of the best alternatives to Optimizepress.
1. Unbounce
Unbounce is a landing page builder that allows you to design attractive, high-converting landing pages for your marketing efforts. You can develop popups and sticky bars in addition to landing pages to capture leads from visitors to your website.
Key Features of Unbounce
Landing pages
Popups
Sticky bars
Drag and drop interface
100% mobile responsive
Publish to WordPress with 1 click when you install the plugin
Video backgrounds
A/B split testing
Real-time analytics dashboard
2. Thrive Architect
Within WordPress, Thrive Architect makes it simple to create gorgeous, high-converting pages (you may know for Thrive Theme builder). It's a fantastic tool for anyone who wants to create sales pages for their WordPress website.
Key Features of Thrive Architect
Build any pages for your WordPress website
Build high converting landing pages
Create sales pages
Format blog posts
Create webinar pages and launch pages
Drag and drop interface
Fast and easy to use
Mobile optimized
3. Clickfunnels
The biggest advantage of using ClickFunnels is that it is really simple to use. In a matter of hours, anyone can establish an automated high-converting sales funnel or website without having to perform any coding or hiring a developer. If you like, you may use ClickFunnels in conjunction with your existing website, or you can use it to develop your entire website from scratch.
Key Features of ClickFunnels
Drag and drop page builder
Shopping cart
Email automation and autoresponder
Easy to use
Mobile optimized
A/B Split testing
Create follow-up funnels
Create membership websites
Offers the option to create memberships with drip content
BackPack affiliate program
Analytics and tracking tools
List segmentation
CRM and email autoresponder
Customer reviews and testimonials
Leadpages
Optimizepress
Final Thoughts
Choosing the right digital marketing software can be a bit overwhelming these days, with so many platforms to choose from. Leadpages and OptimizePress are both great tools that you can use to create landing pages, sales funnels, or even your website.
There are plenty of options out there, but you want to choose one that is right for you. This article is an in-depth comparison of the differences between these two tools. We hope it has helped you decide which one is right for you.
Leadpages is for people who want to create landing pages and websites on a budget. It is made for beginners as well. OptimizePress is for people with a budget and who want to integrate these tools with an existing WordPress website.
As you can see, both of these products are excellent for a wide variety of small businesses. We encourage you to contact our company to see if either of these products might be ideal for your small business. Thank you for reading and we hope you have a fantastic day.
Frequently Asked Question
Is Leadpages Easy To Use?
Leadpages has a very simple tool to use. There is practically no learning curve with Leadpages as even beginners can use the tool to create highly converting landing pages using the drag and drop editor in a few minutes.
What Is OptimizePress?
OptimizePress is a landing page building and editing tool for WordPress. It was designed to create landing pages and sales funnels for your WordPress website. It can also edit photos and themes of your WordPress site.
Is OptimizePress A Cheaper Alternative To Leadpages?
Leadpages charges its customers 37$ per month in their lowest plan which costs up to 444$ per year but OptimizePress charges in comparison only 99$ per year. This makes OptimizePress a cheaper alternative to Leadpages charges one-fourth of what they charge annually.
How Do I Connect My Landing Page To My Domain?
You can connect your landing page to your domain in Leadpages by just following these steps:
1. After completion of making your landing page click on the Publish option.
2. Here you can choose to connect your landing page to a domain in the Connect options
3. Once selected you can publish the page.
How To Connect My WordPress With OptimizePress?
To connect OptimizePress to WordPress you simply have to
1. Install Optimizepress on your computer
2. Open your WordPress
3. In WordPress go to Plugins
4. Choose the OptimizePress plugin
5. Press Connect and just get going.
How much does Leadpages cost per month?
The regular version of Leadpages costs $37 a month. $79 per month for Leadpages Pro. The monthly subscription for Leadpages Advanced is $321.
What is the difference between ConvertKit and Leadpages?
What's the difference between Convertkit and Leadpages? Leadpages is a landing page builder with a few lead generation features thrown in for good measure. ConvertKit is a comprehensive email marketing and automation platform.
What is Leadpages good for?
Leadpages assists small businesses in reaching out to their target audiences, collecting leads, and closing sales. Create websites, landing pages, pop-ups, alert bars, and more with ease.
Why is ClickFunnels better than Leadpages?
You can build a whole sales funnel using Clickfunnels. Leadpages does not have a large selection of pre-built sales funnels. Leadpages does not have a built-in email responder to assist leads through the sales funnel. Having the ability to create an affiliate program that allows people to advertise your items.
Is it easy to use Leadpages?
Leadpages make the method simple to implement. You can make unique designs for each and every one of your popups by utilizing the same drag and drop editor, which further contributes to the system's flexibility.
When should I use Leadpages?
Leadpages makes it easier for you to acquire more subscribers, but the platform does not enable you to send out regular emails to the subscribers on your list. Therefore, you can utilize Leadpages to expand the size of your email list, and then switch to another provider if you want to engage with the subscribers on that list.