Do you want to sell your online courses through a recognized online course marketplace? then you are on the right page.
You are probably aware of a variety of choices with various types, core features, and functionalities. In this essay, I examine and contrast the top three, LearnWorlds vs Thinkific vs Teachable.
Learnworlds overview
If you wish to create and sell online courses, LearnWorlds is undoubtedly one of them.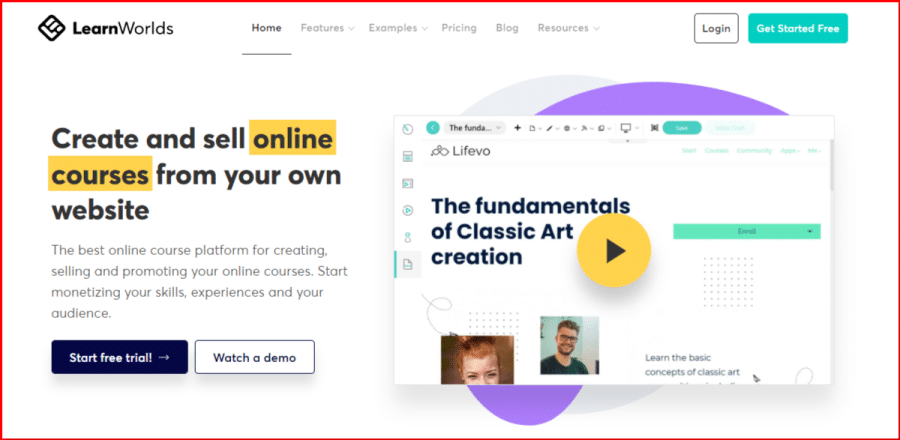 It gives people a successful marketing platform, deep insights, and branding services to create extra cash, as well as the ability to build courses with maximum student engagement and involvement from your competition.
The platform has been designed for all small to medium-sized business owners and executives who wish to improve their students' learning and teaching experiences.
With its revolutionary features, you may effortlessly access the LearnWorlds platform to modify your videos and eBooks.
Adding text or quizzes to movies while editing is a breeze with LearnWorlds, and it saves you a lot of time.
Thinkific overview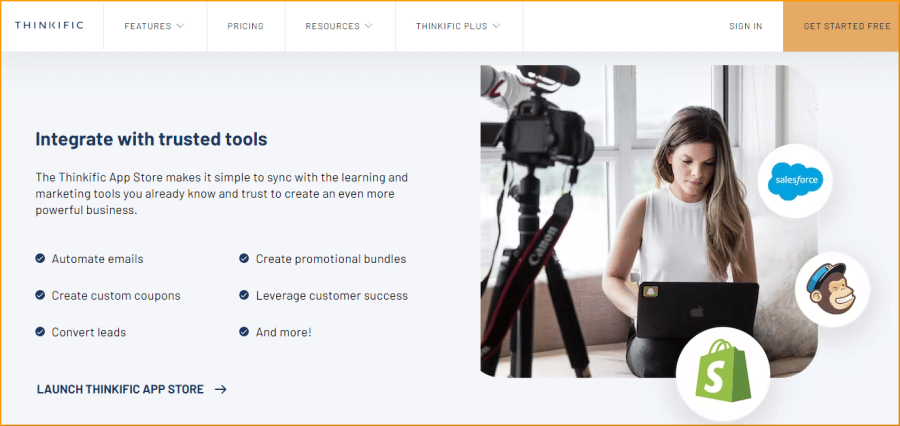 Thinkific is our #1 suggestion for independent instructors and small businesses that provide courses online.
It is also a very good option for big businesses without a lot of certification or ongoing learning management needs.
The range of features you get with Thinkific's free version is astonishing, and it gets even more so with the premium plans.
Thinkific is a platform that hundreds of content producers use to monetize their online courses.
It includes lots of customization choices as well as the resources you require to build and market your online course.
Additionally, the Thinkific platform makes it simple to manage your students effectively while facilitating marketing and promotional operations through the use of well-designed automated processes know more detailed information about Thinkific, read our article Thinkific Review.
Teachable Overview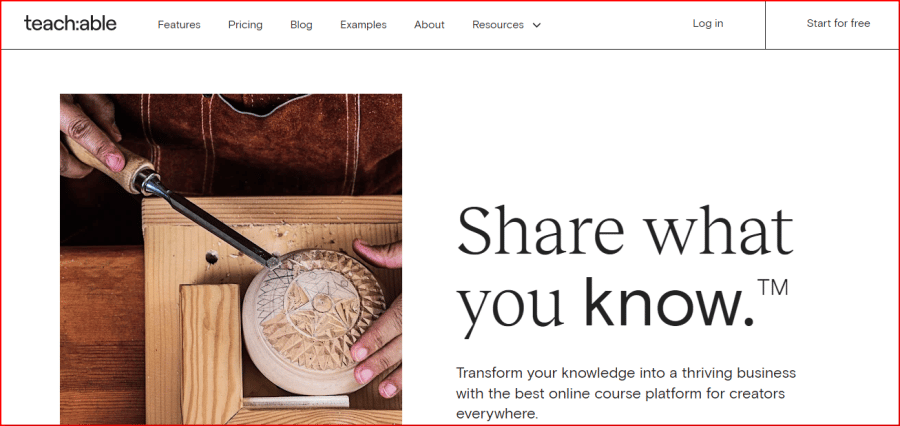 Teachable is the greatest option for authors, businesspeople, and proprietors of small websites who wish to make money by teaching others through online courses and coaching.
Additionally, it's a fantastic tool for educational institutions and big businesses wishing to teach staff more conveniently.
The opportunity to create, market, and sell courses and coaching services on their platform is provided to course makers. Teachable also has other features like memberships and a marketplace for courses.
LearnWorlds Vs Thinkific vs Teachable: Features comparison
1. Ease Of Use
LearnWorlds has a user interface that may initially intimidate newcomers.
There is a lot to take in on the front page. However, once you begin to utilize your course, you will discover that it is quite simple to use.
Yes, the metrics may appear to be excellent at first glance. However, you won't have to wait long to get your hands on it.
Another thing to keep in mind is that customer support and tutorials are not available making things much more hard.
Teachable features a limited builder that is only available with premium subscriptions.
It does, however, provide an easy-to-use admin panel that makes creating your first course easier than ever. Its navigation is simple and offers numerous customization possibilities.
Thinkific is among the best course builders we've come across. The drag-and-drop functionality is appealing.
You must first upload the desired content and then use the drag-and-drop builder to position it in the appropriate locations.
You can also use Thinkific to add drip content or to design sections of your course that students must complete before moving on to the next chapter.
2. Course Creation
Which online course platform is best for you depends heavily on the tools for creating courses that a platform provides.
First of all, LearnWorlds, Teachable, and Thinkific all provide the necessary tools for creating courses.
With these platforms, you get limitless video uploads, drip-feeding, and access to all the necessary tests and quizzes.
A few contrasts should be drawn, though.
For starters, LearnWorlds includes a full range of functions for managing SCORM files.
This is crucial for safeguarding the online course materials.
For adding and making interactive videos for your classes, LearnWorlds is the best learning platform.
Students learning experiences can be enhanced using videos.
Using Teachable, you can create an online course by providing simple details.
3. Sales & Marketing
The LearnWorlds basic package includes basic integrations such as Google Analytics, Google Tag Manager, SumoMe, MailChimp, and Facebook Pixel.
Teachable and Thinkific are substantially more limited in terms of third-party integrations than LearnWorlds. Teachable significantly relies on Zapier connectivity, which is also restricted to expensive tiers.
You can use free Teachable to integrate Google Analytics and one of their marketing products, such as Sumo.
Similarly, the Thinkific basic account gives you access to email program integrations like as MailChimp, ConvertKit, Aweber, and others.
Additionally, you may utilize Zapier triggers to exchange Thinkific data with other programs.
In general, all three platforms- LearnWorlds, Teachable, and Thinkific– provide a variety of sales and marketing solutions such as numerous payment methods, subscriptions and renewals, vouchers, promotions, email tools, and content optimization.
4. Website Builder
The website builder and design should be taken into account when choosing a learning management system for building and developing a website for an online course.
You may link to your website, create a blog or landing page, change the color and font, and other basic features on all platforms.
Each platform offers a selection of website templates from which you can quickly create your own website for course production.
LearnWorlds, on the other hand, has a huge library of pre-built website templates that may be combined to construct a beautiful, functional site.
Thinkific, on the other hand, has restricted template possibilities for site modification.
5. Customer Support
LearnWorlds offers 24/7 support, and higher-level plans also include 24/7 support to quickly answer your inquiries.
Their customer care representatives are knowledgeable and interesting.
Live chat and phone assistance are two critical areas where LearnWorlds' customer care service falls short.
Teachable, on the other side, provides excellent customer service everywhere.
For instance, if you pause over a feature with a question mark, an explanation will appear.
A knowledge base of blogs that cover every aspect of creating online courses is also useful to course creators.
Most importantly, all Thinkific plans—including the free trial—include super-fast customer support.
In contrast to LearnWorlds, it offers both live chat support and phone support.
LearnWorlds vs Thinkific vs teachable: Pricing Comparision
LearnWorlds Pricing
Mainly LearnWorlds has three pricing plans.
Starter plan
Pro plan
Learning Center plan
Starter plan
This package generally costs $29 per month. If you do not want to be billed annually, you can save $60 per year by paying only $24 each month. You must pay a $5-course fee for this option.
Pro plan
The Pro plan costs $99 per month on average.
However, if you charge annually, you can save $240 each year for only $79 per month.
Learning Center plan
The Learning Cente plan costs $249 per month with a $600 savings if purchased annually.
You can also use the Learning Center plan to add Interactive Video Quizzes and watermarks to your courses.
Thinkific Pricing
Mainly Thinkifc has four pricing plans.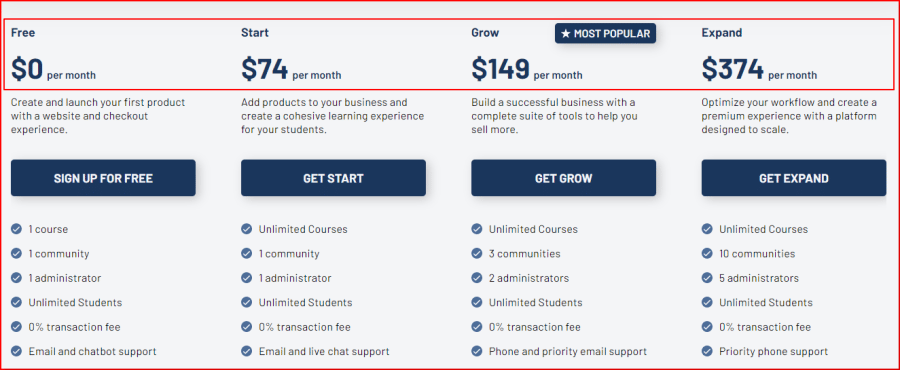 Free plan
Start plan
Grow plan
Expand plan
Free Plan
Thinkific provides a free plan for users to try out its features for a limited time. This subscription allows you to enroll in as many courses as you want.
To get more benefits on Thinkific pricing plans, check out our article Thinkific coupons.
Start Plan
The Start plan costs $39/per month.
It provides you with unlimited access to courses and students.
It also simplifies email integration and bulks emailing.
Grow Plan
The Grow plan is $149/month and includes the ability to distribute course completion certificates to your students.
This is the most popular and convenient plan.
Expand Plan
The Expand package is $374/month and gives you unlimited access to all of the primary features of providing the greatest online courses.
If you are interested to know more about each Thinkific pricing plan, read our article Thinkific pricing.
Teachable Pricing
Mainly Teachable has three pricing plans.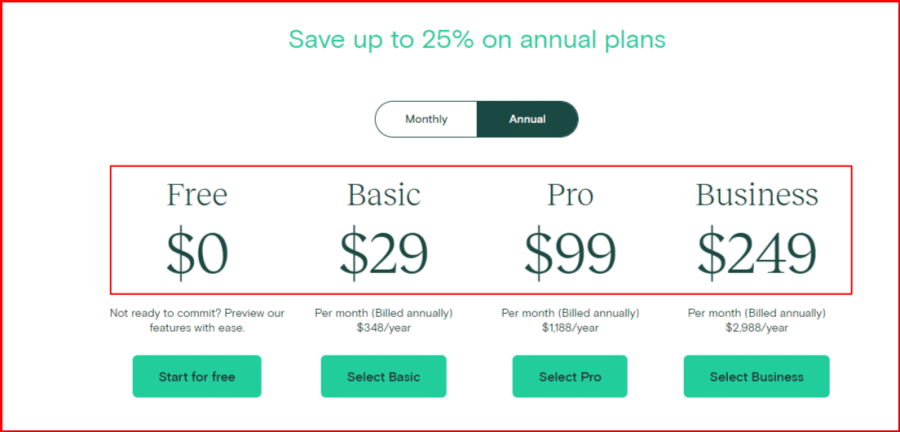 Basic plan
Pro plan
Business plan
Basic Plan
The Basic Plan costs $29 per month(if you are billed annually). As previously stated, this plan permits an infinite number of students, but it requires a $5 transaction charge every time you sell your course.
This Basic Plan includes certain essential features such as third-party integrations and integrated email marketing.
Pro Plan
The Pro plan costs $9 per month, (if you are billed annually).
It includes everything in the Basic Plan and has no transaction fees. You can also send course completion certificates to your students with the pro plan.
Business Plan
The Business Plan costs $29/month (if you are billed annually). This package includes all of the capabilities of the pro plan as well as extensive theme modification features.
Social Media Platforms
Thinkific Social Media Profiles
Thinkific will advertise your courses on various social media platforms, thereby attracting new students. Thinkific utilizes social networking sites such as Facebook, Twitter, and LinkedIn, amongst many more.
Facebook
Thinkific is followed by 33,785 users. Thinkific's Facebook page is constantly updated with marketing and sales suggestions for online courses.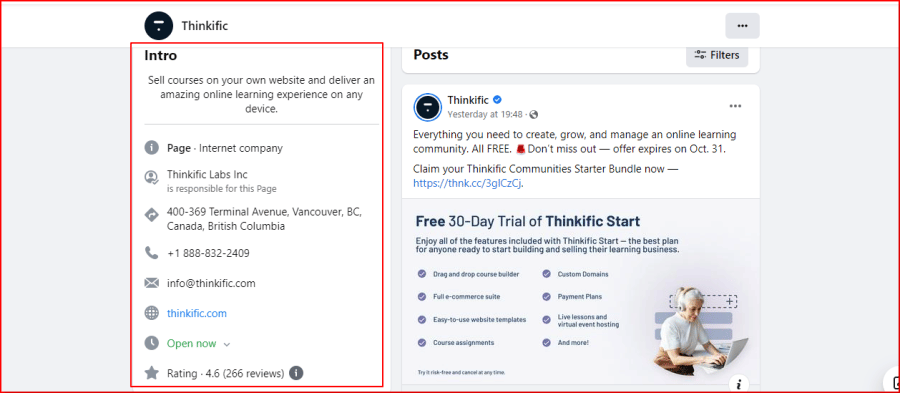 Twitter
Thinkific tweets 15.4k times and have 11.2k followers. Its Twitter profile is regularly updated with advice for improving online course creation and promotion.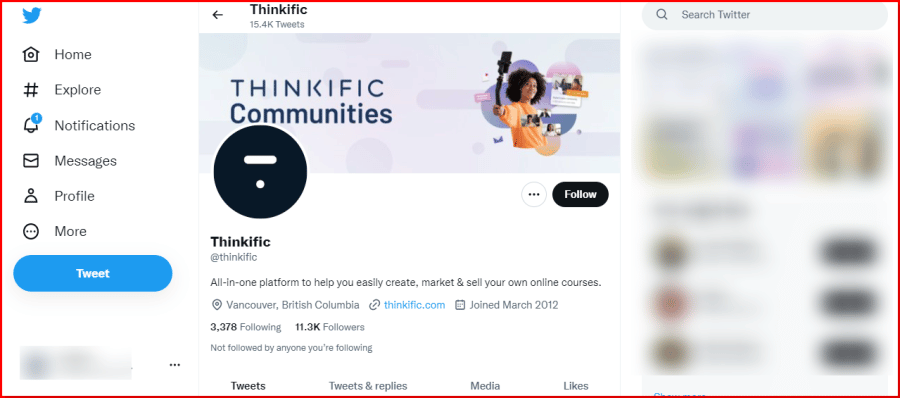 LinkedIn
A total of 33,041 people have chosen to follow Thinkific's profile on the professional networking site LinkedIn.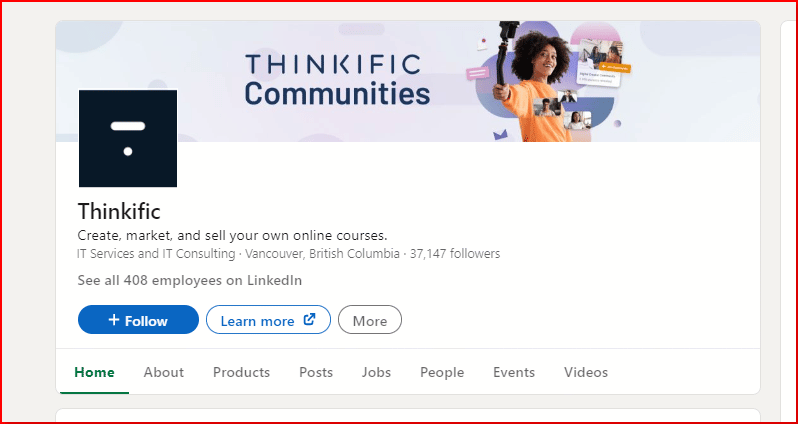 Mighty Networks Social Media Profiles
Mighty Networks will promote your classes across multiple social media sites to reach a wider audience and increase enrollment. Among the many social media platforms used by Mighty Networks are Facebook, Twitter, and LinkedIn.
Facebook
Mighty Networks has 94,974 followers and provides ideas on creating communities, offering memberships, and expanding your course revenues on its Facebook page.
Twitter
Mighty Networks has tweeted 4,006 tweets and 11.1k followers on its Twitter profile.
Instagram
Mighty Networks has posted 325 posts and has 24.7k followers on its Instagram profile.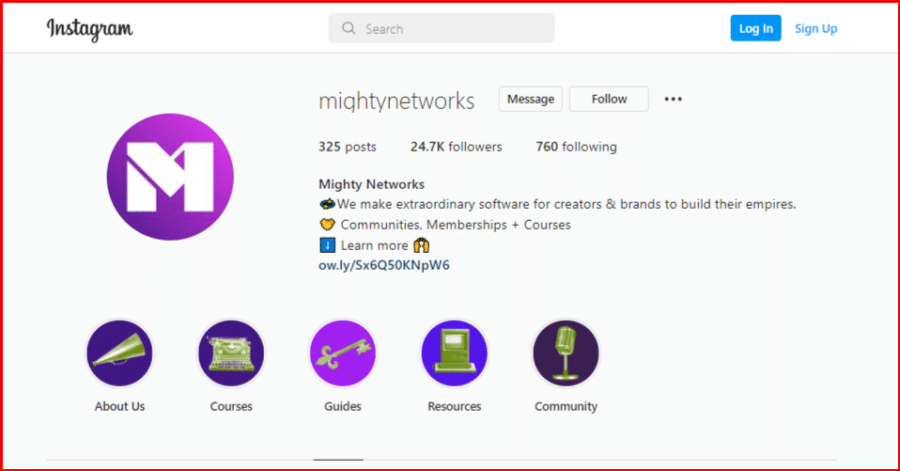 Customer reviews and testimonials
Thinkific
Easy to use
Easy to use

The tutorials are first-rate for how to put a class together, how to load it, and how to market it.

The platform is easy for your customers to navigate to find the classes, and you have all the tools to make the material engaging.

Source: Trustpilot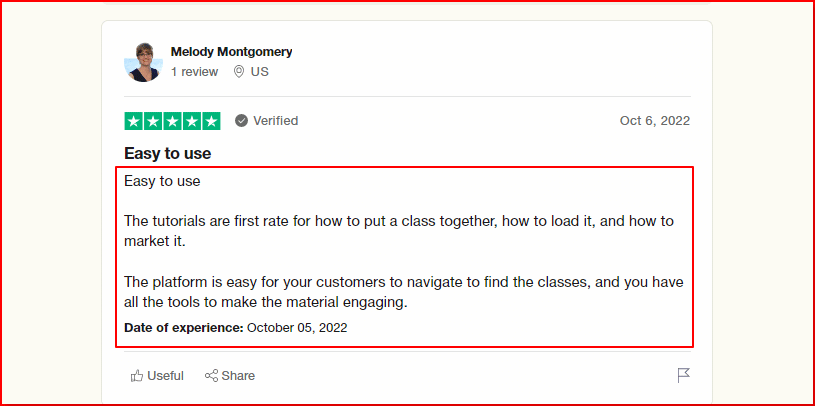 "Excellent online learning platform for associations"


What do you like best about Thinkific Plus?


Thinkific is an intuitive and easy-to-use platform. Building classes to respond in an agile manner to the learning needs in our association has been seamless. Thinkific's support team is also helpful and responsive. Registering participants and managing student needs is also easy, and the automated communication and certification offer stress-free class management options!

Source: g2


Conclusion
While Thinkific dominates other online course training platforms and LearnWorlds joins in with advanced capabilities, based on hours of study and my own use case.
Teachable is a solid recommendation for creators who do not care as much about sophisticated and superfluous course facilities.
Choose LearnWorlds if you're seeking a sizable platform for generating courses.
On the other hand, whether you are a beginner or a tiny course maker, Teachable and Thinkific are fantastic platforms to start your online course creation.
Frequently Asked Questions
Thinkific or LearnWorlds: which one is superior?
If you want to sell your first online course and don't require many sophisticated features, Thinkific is a great option. It provides the necessities at a reasonable price. Larger companies wishing to launch an online school might consider Learnworlds.
What is better teachable or Thinkific?
Thinkific excels in terms of total course website functionality, bulk sales, and content management, and quiz and testing features. Teachable excels in terms of student interaction and engagement, navigational simplicity, sales/conversion tools, and customer service.
Who is LearnWorlds?
LearnWorlds is a potent, user-friendly, and trustworthy training solution for people and businesses. a white-label solution that is completely customizable that can be used to educate consumers, train staff members, and offer online courses to a large audience.
Does LearnWorlds have a mobile app?
Future mobile education will be shaped by LearnWorlds Mobile App Builder, a white-label mobile app solution. Your very own school's unique mobile app for iOS and Android can be used to start your online courses.
Is Teachable better than Udemy?
Teachable offers you much more than Udemy. Additionally, you may incorporate your Facebook Pixel or Google Tag to track and gather even more crucial data!
Is LearnWorlds legit?
LearnWorlds has earned a well-deserved reputation as one of the top online learning communities. It's a premium platform with many tools for creating your courses, SEO tools, and outstanding possibilities for customizing and optimizing landing pages.