Do you have an interest in Linux or want to learn more about it? So, in this Linux Foundation training Review, I will discuss my experience with Linux Foundation Training and how it helped me to become a Linux Expert from just using a graphical interface for operations to the command line for coding.
The problem with the Linux operating system is that it is difficult to grasp, difficult to keep up with, and the material is complex and may just go over your head. Therefore, you might need a Linux course to help you learn everything about the Linux foundation and the concepts of how to work with Linux.
The Linux Foundation courses are meant to enable people with basic IT knowledge to get familiar with Linux. The goal of Linux Foundation Training is to promote, standardize, and support the Linux community.
To summarise, The points we discuss in our Linux Foundation Training Review:
What exactly is the Linux Foundation?
Which Linux Foundation courses and Certificates are Offered?
Details about each linux Foundation Course, as well as which one is ideal for you i.e. cloud engineer and bootcamp Promgrams available on Course.
How these certifications can help you in your career.
What are Linux Foundation Career Opportunities?
Also included are features, Pros & Cons, and cost (paid and free courses) of the Linux Foundation Training.
So, in this review, I'll go over all you need to know about Linux Foundation Training and Linux Foundation Kubernetes Training And Certifications, and a lot more.
The Linux Foundation isn't simply some organization that sits around and twiddles its bash shell all day. To fulfill their purpose of community building, they provide Linux classes as well as various sorts of Linux and Linux-related training.

The training is well-planned and simple to follow. The option to start and stop was really useful. The amount of time given between halted studies was quite beneficial.

Linux Foundation Training will help you gain a good working knowledge of Linux and teach you how to navigate major Linux distributions, system configurations, and the graphical interface of Linux, as well as basic command-line operations.

It will also increase your capacity to work smoothly in a Linux environment. Over millions of open source, professionals have registered in Linux Foundation Training courses and have been certified by the experts who are producing the world's most significant open-source projects.
TLDR: The Linux Foundation Training Review In 2022: How can I get free Linux Foundation courses?
Linux Foundation Certification Coupon Code 2022 Linux Foundation Training Discount Upto 30% Off

Well, we have some good news for all the Linux enthusiasts who are very keen on learning these amazing courses provided by Linux Foundation Training. On the occasion of the Linux Foundation's 30th anniversary, Linux Foundation is providing a 30% discount on any course you want to get enrolled in, Use linux foundation coupon Now
You can use Coupon code LINUX30 to get a discount on any one course of your choice.
So, go ahead and use this Golden Opportunity to learn and increase your skillset and get ready for the future!
In conclusion, the Linux Foundation arguably holds the weightage of being the best in offering courses. With the help of Linux Foundation Training, you can make your add uncountable skills with excellence in all certs but, the Linux Academy comes with zero oversight as they focus on courses only.
Linux Foundation Training Review: Pros & Cons
What Is The Linux Foundation?
Linux Foundation is a non-profit technology consortium founded in the year 2000 as a merger between Open source Development labs and free standards group. Linux supports, hosts, and promotes open-source software projects.
Linux Foundation carries out many initiatives in the field of software, climate finance, open-source technologies, etc. and amongst its many initiatives, it provides training and certification on various topics and software. In March 2014, Linux Foundation partnered with EdX to provide Massive Online Open Class (MOOCs).
The first course started by Linux was Introduction to Linux which was later on followed by many other courses related to DevOps, Cloud Foundry and Cloud-Native Software Architecture, Apache Hadoop, Cloud Infrastructure Technologies, and OpenStack. Throughout these years Linux has been at the forefront to democratize the technology space.
Additionally, the Linux Foundation provides a neutral home for Linus Torvalds (founder of Linux) and Greg Kroah-Hartman (lead maintainer) to preserve and accelerate Linux kernel development.
More over half of the world's largest software and telecommunications businesses are members of the Linux Foundation and its projects.
Here is the Linux Foundation Course review. I would review a few free and paid Linux Foundation Courses which can help you to explore more.
Linux Foundation Training Review: Linux Foundation Kubernetes Training And Certifications
Kubernetes is an open-source Container-Orchestration system that helps to automate computer application deployment, management, and scaling.
Kubernetes was originally developed by Google; however, it is now maintained by Linux's Cloud Native Computing Foundation.
Because of its broad uses and application, there has been a huge demand for Kubernetes experts and professionals and Linux Kubernetes Training Programs are the best place to learn Kubernetes in-depth and gain hands-on training as well. Let us see some of the best Kubernetes certifications offered by Linux Foundation Training.
Certified Kubernetes Administrator (CKA)
This Certification by Linux Foundation on Kubernetes is a gold-standard certification that can make you a complete Kubernetes Administrator and take your career to new heights.
The cost of this certification is $499 that includes the course as well as the exam however if you just want to appear for the exam and get certified, this certification can cost $300.
Certified Kubernetes Administrator is suitable for people who aspire to be Kubernetes professionals, administrators, Cloud administrators. This certification can also benefit other IT professionals as well as fresh IT graduates.
With this certification in Kubernetes, you will be able to install, configure and manage production-grade Kubernetes clusters.
You will also have an in-depth understanding of key Kubernetes concepts such as Kubernetes networking, storage, security, maintenance, logging and monitoring, application lifecycle, troubleshooting, API object primitives, and lastly the ability to establish basic use-case for end users.
Kubernetes Fundamentals (LFS258)
You can buy Kubernetes Fundamentals for $299 and if you want to appear for the exam and get certified, you need to pay $499
The course is ideal for those professionals or students who wish to manage containerized application infrastructure.
The course will teach you how to manage and use the container management platform used by leading companies like Google to manage their application infrastructure. The course also touches upon key principles such as pods, deployments, replica sets, and services.
Kubernetes For Developers (LFD259)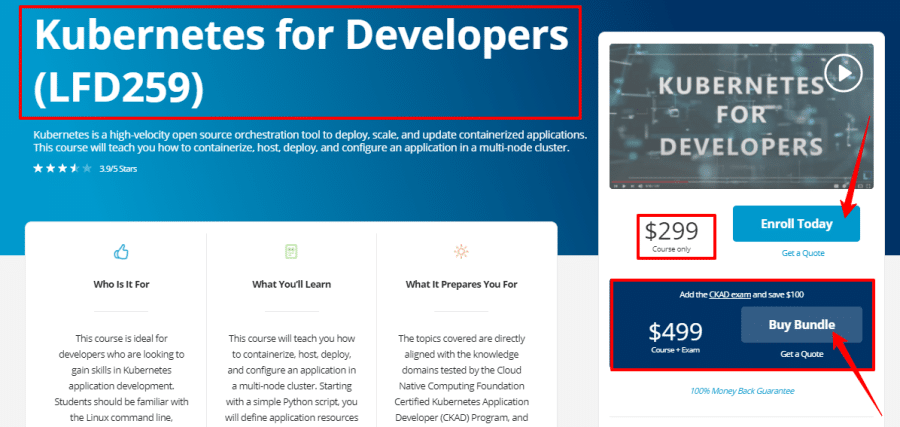 You can do Kubernetes for Developers certification for $299 and if you want to appear for the exam and get certified, you need to pay $499
The course is ideal for developers who wish to gain in-depth skills and knowledge in Kubernetes application development. Before beginning the course, the student should be familiar with the Linux command line, Python, Node.js or Go.
The course will teach you to containerize, host, deploy and configure an application in a multi-node cluster. After the completion of the course, you will be able to define application resources and use core primitives to build, monitor and troubleshoot scalable applications in Kubernetes.
This program will help you to create strong application knowledge in Kubernetes and prepare you for advanced Kubernetes certifications like Cloud Native Computing Foundation Certified Kubernetes Application Developer (CKAD).
Kubernetes Security Essentials (LFS260)
Kubernetes Security Essentials is quite an advanced course offered by Linux Foundation Training. This course is ideal for anyone who already has CKA Certification and is looking forward to advancing his/her skillset in cloud security mechanisms.
You can do Kubernetes Security Essentials for $299 and if you want to appear for the exam and get certified, you need to pay $499.
The course trains you to maintain security in dynamic, multi-project environments. This course specifically addresses security concerns for cloud production environments and covers topics related to the security container supply chain. The course includes hands-on labs to build and secure a Kubernetes cluster and monitor and log security events.
This course is the base for the Kubernetes Security Specialist (CKS) Certification exam.
Certified Kubernetes Application Developer (CKAD)
The certification in Kubernetes Developer is ideal for Kubernetes Engineers, cloud engineers, IT professionals, and all those professionals who are responsible for building, deploying, and configuring cloud-native applications with Kubernetes.
CKAD certification is made to provide standardized training and certification across all the Kubernetes Developers. The certification will equip you with the necessary Kubernetes skillset to design-build, configure and expose cloud-native applications for Kubernetes.
The certification can cost $499 that includes the exam plus course however if you just want to appear for the exam to get certified, it can cost you $300.
Certified Kubernetes Security Specialist (CKS)
You can get Certified for Kubernetes Security Specialist for $499 that includes course as well as certification however if you just want to appear for the exam and get CKS certified, you just need to pay $300
This certification in Kubernetes Security is an ideal certification for accomplished Kubernetes practitioners (must be CKA certified).
The CKS exam tests the candidates' ability and knowledge of Kubernetes and cloud security in a simulated, real-world environment. Having CKS certification is proof that the candidate possesses the required abilities to secure container-based applications and Kubernetes platforms.
Linux Foundation Training Review: Free Courses Available on Linux Foundation
Here are a few Free Linux Foundation Course Reviews to help you make the best decision for yourself.
Introduction to Kubernetes (LFS158x)

The course on Introduction to Kubernetes is an ideal course for the candidates looking forward, to beginning with Kubernetes and want to explore careers in the Kubernetes domain and related technologies.
The course is available for free on Linux Foundation Training however you need to pay to get certification after completing the course.
The course will give you an overview of Kubernetes and teach you about the origin, architecture, primary components, and building blocks of Kubernetes. This course will form a beginning strong base for you to pursue higher-level Kubernetes certification and get specialized.
Fundamentals of Professional Open Source Management: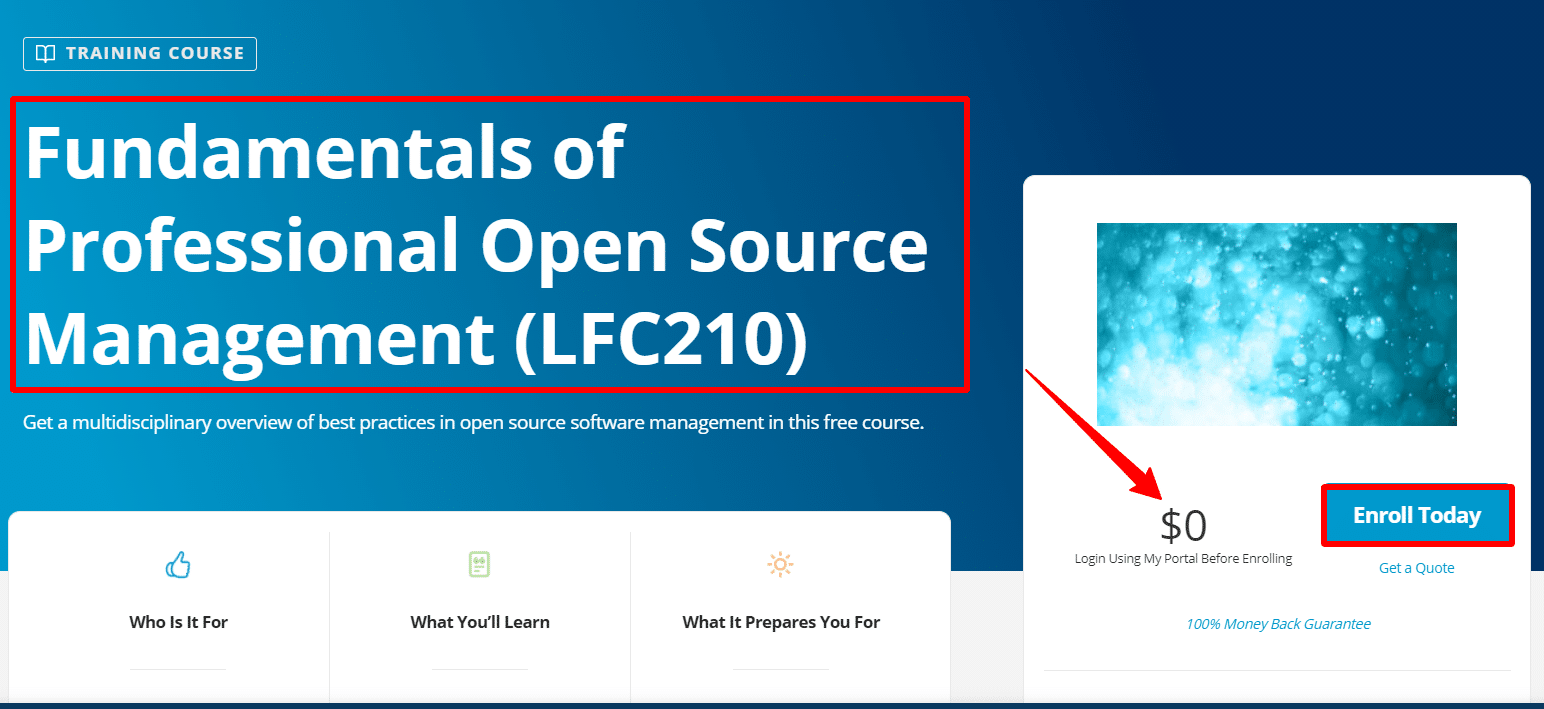 The course aims to teach you the phases of developing an open-source management program. The certification includes topics like open-source software and open-source management basics, open-source management strategy, open-source policy, open-source processes, and open source management program implementation.
The course description says that it is suitable for anyone concerned with or involved in open source management. It is also suitable for people who work in domains like software development managers, open-source program managers, software architects, developers and architects, and product managers of open source products.
The course is 20 hours and it is self-paced. The course contains five chapters and you get access to the course for 12 months.
A Beginner's Guide to Open Source Software Development: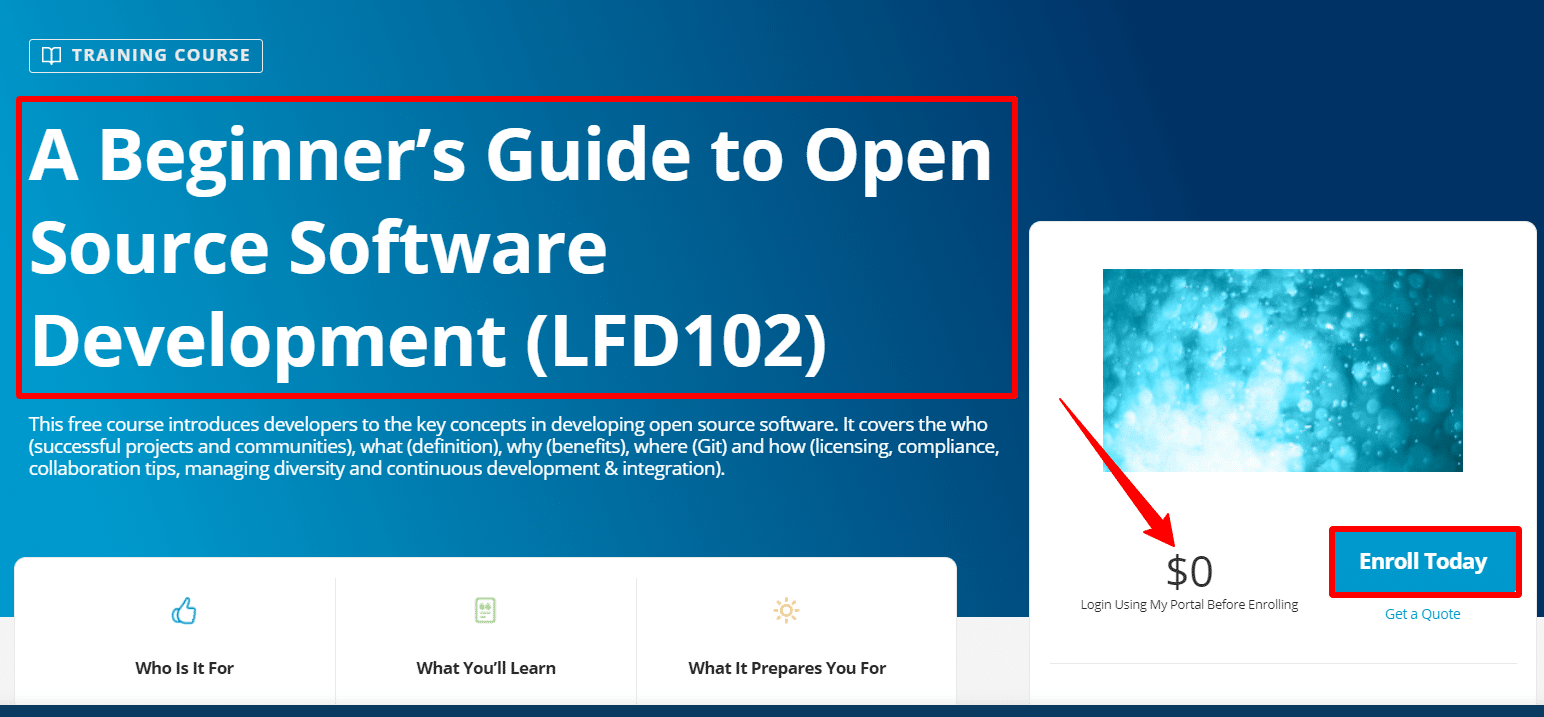 This course is made to train students in key concepts involved in developing open-source software, the benefits of OSS, tells you which open source projects form the foundations of today's technology worldwide,
OSS Licensing issues, how to use projects such as FOSSology and SPDX, best practices for the long-term sustainability of projects, and a lot of other fundamentals of Open source software development.
The course is suitable for software developers who want to understand the rules of creating open-source software. It is suitable for both a beginner and an experienced professional.
The course contains 15 chapters on every aspect of Open Source Software Development.
Inclusive Speaker Orientation:
This course was created in collaboration with the National Center for Women & IT, this course is designed to provide students with essential knowledge and practical skills to promote diversity in the organization and in presentation, messaging, and other aspects of communication in professional life.
It also teaches you how to deal with unconscious bias in the technological field and become an effective communicator.
The course is suitable for everyone who wants to become an effective communicator, it is also a good course for anyone who communicates with people in the technology field on a day to day basis.
The course is just 2 hours long and has three modules. You get unlimited access to this course and it is a self-paced course.
Blockchain: Understanding its Uses and Implications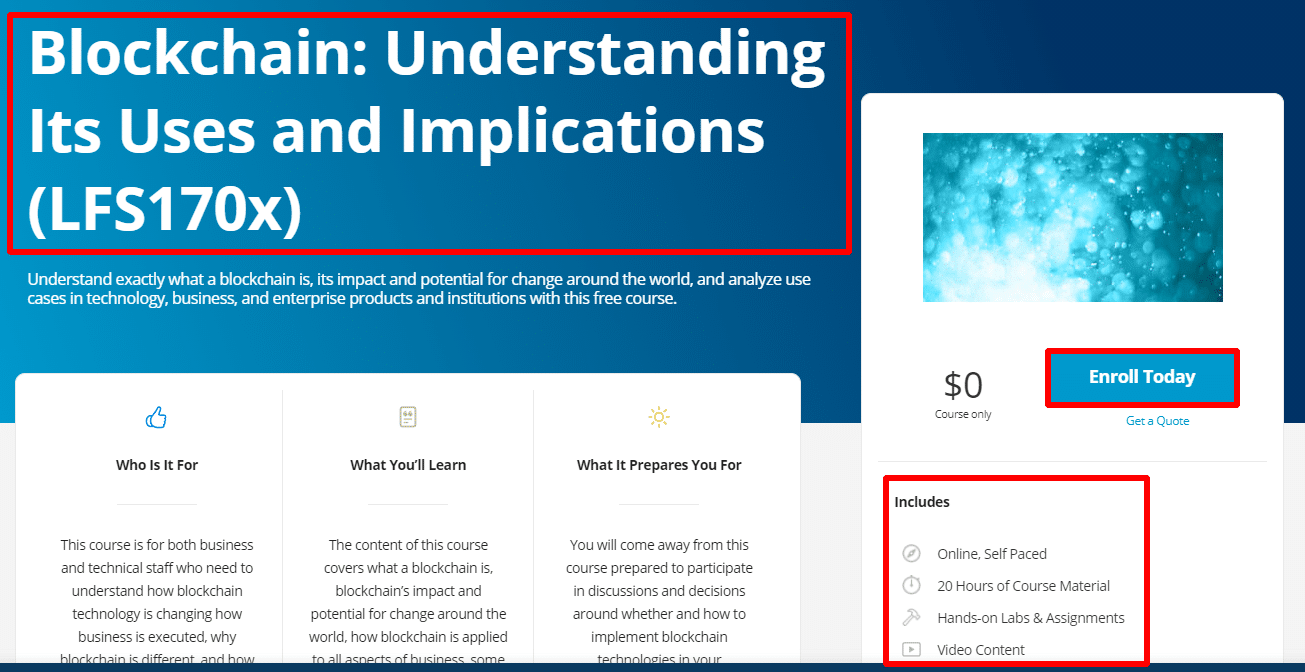 For every beginner who wants to understand blockchain technology, this course has it all covered for you. The course broadly discusses what is blockchain, blockchain's potential for change, how blockchain is used across various business domains, and some case studies on the usage of blockchain in the real world.
As there is a lot of buzz around Blockchain technology and its uses in many areas, understanding bitcoin has become more and more important and this course by the Linux Foundation has done a great job in creating this course.
The course is suitable for both the business people and the people in the technology domain who want to understand Blockchain, how it is changing the whole business and technology scenario, what are the implications of this technology and a lot more. This Linux Foundation Blockchain course is about everything you must know about Blockchain technology.
The course consists of four chapters and a final exam at the end. It can take 20 hours for you to complete the course. One drawback is you have to pay for the certification while the course material is free and you have access to this course for 14 weeks.
Introduction to Open Source Networking Technologies:

This is one of the most detailed courses by the Linux Foundation which covers so many aspects of Open Source Networking. In this course, you will learn about the software-defined and open source networking landscape.
You will further learn more about networking hardware is being disaggregated, what open network operating systems (NOS) are and how they run on different networking hardware, ways to automate networking tasks, how SDN controllers manage to underlay networks, what NFV is, and how it can help reduce the complexity of today's data center environments, orchestration tools that can build a bridge between applications and networking, and more.
The course will make you familiar with major open-source networking projects and their case studies including Open Compute Project, ONIE, FD.io, OVS, IO Visor, DPDK, Open Dataplane, P4, OpenSwitch, Open Network, Linux, FRR, DANOS, FBOSS, ONOS, CORD, Open Security Controller, ONAP, OPNFV, PNDA, SNAS, etc.
It is specifically designed for people who are interested in Open Source including university students, engineers, network architects, security architects, systems engineers, etc.
It can take 40 hours to complete this course and you get 14 weeks of access to the course. However, to get a certification you need to pay otherwise the course content is free which includes 12 chapters and a final exam.
Introduction to Cloud Infrastructure Technologies:
This course is best suitable if you want to get an overview of Cloud Technologies. This course provides an introduction to common cloud technologies like laaS, PaaS, CaaS.
You will also learn the fundamentals of operations with containers and images using Docker command, software-defined networking, and software-defined storage solutions, you will also get to know more about the skill sets needed to deliver next-generation cloud, and the challenges of cloud technologies.
After completion of the course, you will have a better understanding of cloud computing technologies and the use of open-source software.
The course is made for people who have little or no prior experience of cloud computing and related technologies. The people who can benefit from this course can come from backgrounds such as system administrators, developers, architects and everyone who is new to this field.
The course may take around 50 hours to complete and you get access to the course for 14 weeks. If you want a certification then you may require to pay for it otherwise the course content is completely free. There are 21 chapters to this course and 1 final exam
Introduction to Cloud Foundry and Cloud-Native Software Architecture: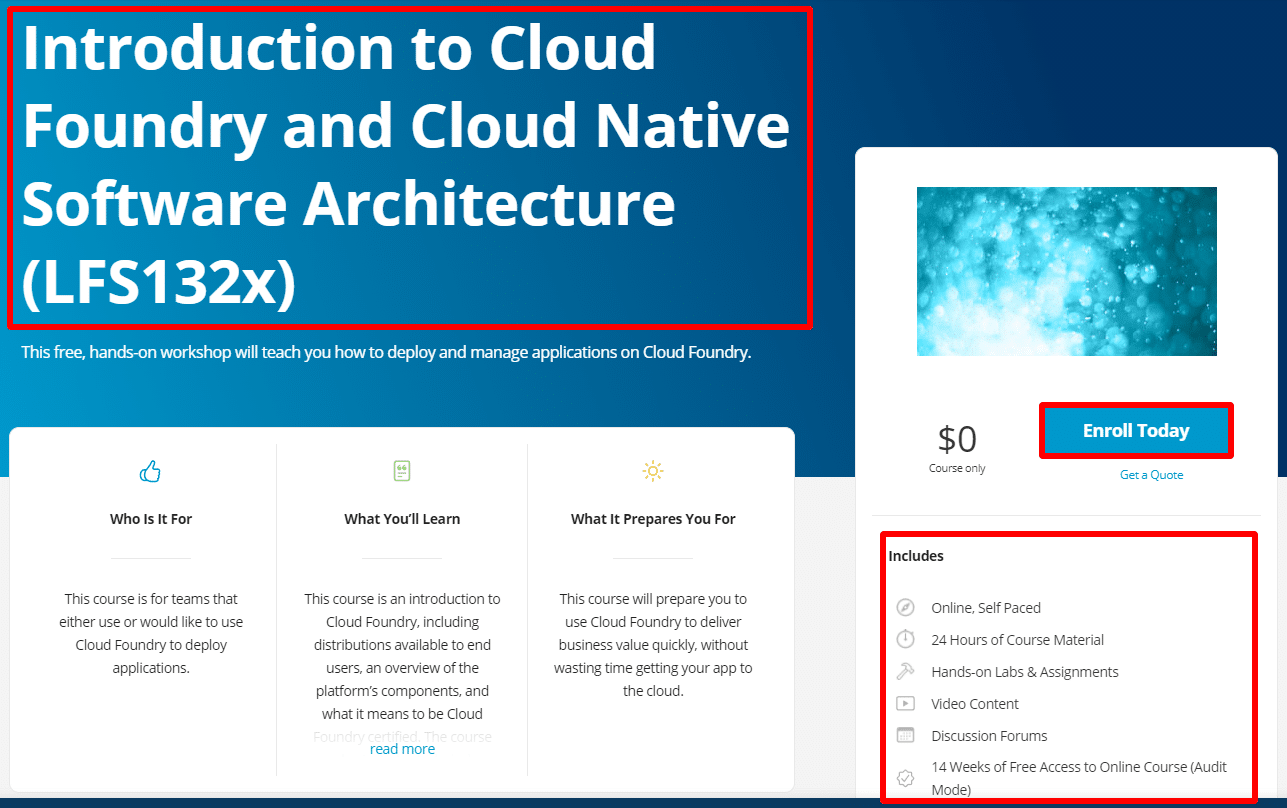 This course is a great introduction to Cloud Foundry. The course also includes distributions available to end-users, an overview of the platform's components, and how a certification in cloud foundry can help you.
The course also covers technical instruction on how to use the command-line interface, how applications are deployed, and basic debugging practices. The course has a workshop that will take you through how cloud-native applications are built architecturally, and a lot more. The course is very well structured and it is up to date with current practices.
The course is best suited for the teams that use or are about to use cloud foundry to deploy applications. The course will equip you and give you enough skill set that is required to use Cloud Foundry to deliver business value quickly and efficiently.
The course may take 24 hours to complete and you get access to 14 weeks. The certification for the course is paid; however, the whole course content is available for free. The course contains 6 modules.
Paid Courses Available on Linux Foundation: How Much Does Linux Certification Cost?
Now let us move ahead with discussing paid courses on Linux Foundation course reviews.
Introduction to Linux, Open Source Development, and GIT (LFD301):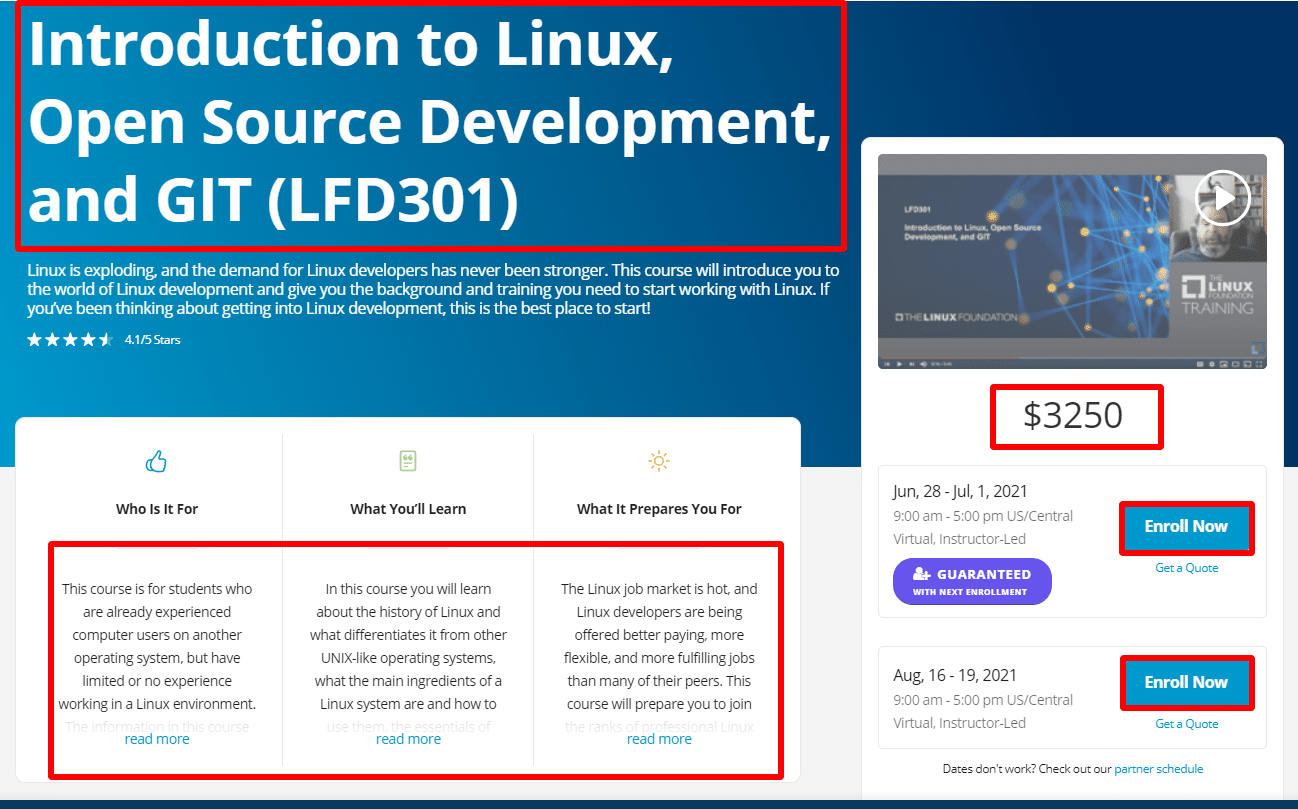 This course is delivered by 4 days of online live virtual classes or you can even opt for classroom training. So, make sure that you book your 4-day slot for the course before it gets filled.
In this course, you will learn in detail about the history of Linux and what differentiates Linux from other UNIX-like operating systems, what are the main components of a Linux system, how to use these components, and what are the essentials of the system administration.
You will also learn more about networking and threading models, aspects of compiling and using libraries, working with JAVA under Linux, and a lot more. After completion of this course, you may apply for many job opportunities which require Linux professionals and developers.
The course is best suitable for students as well as working professionals who are experienced in different operating systems but have limited exposure to Linux operating systems.
The course has a plethora of hands-on lab assignments, course manuals, and materials for a stronger theoretical base. This course is pretty expensive but it is worth the investment because it covers many topics and gives you a strong foundation in Linux. You can enroll in this course for $3250.
Kubernetes Fundamentals (LFS258):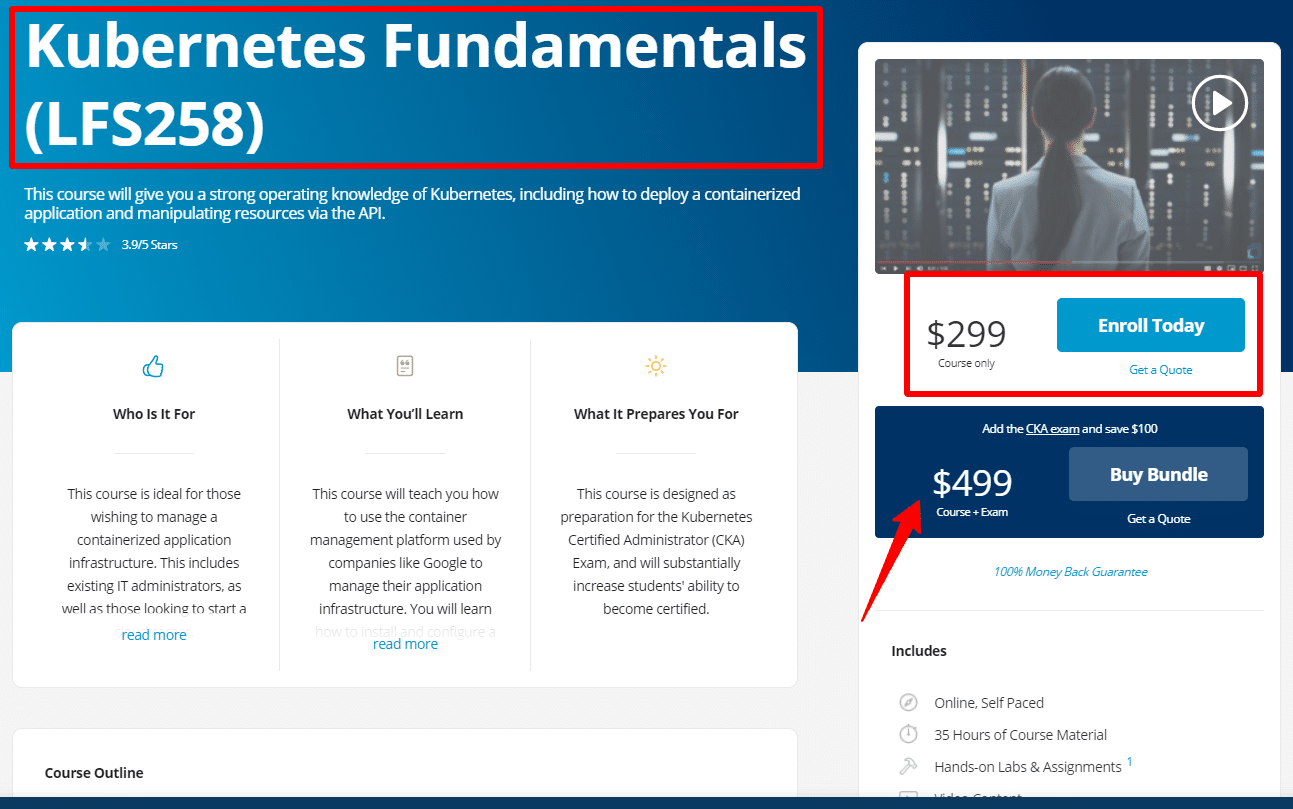 The course costs you $299 however if you want to take an exam and get certified you need to pay $499. The course is delivered through pre-recorded video lessons and can take 35 hours to complete. After payment, you get 12 months of access to the course. The course contains 17 lessons and one exam.
Coming to the course, this course is made for someone who wishes to make a career in managing containerized application infrastructure. The course is ideal for existing IT administrators, as well as for the people who are looking forward to making a career in Cloud Computing.
The course will teach you how to use the container management platform used by companies like Google to manage their application infrastructure. You will further learn about how to install and configure a production-grade Kubernetes Cluster, from network configuration to upgrades to making deployment available via services.
The course will equip you with a sufficient skillset to start using Kubernetes on your own. The course is designed as a base for students preparing for the Kubernetes Certified Administrator (CKA) exam.
you can also check out The Top 10 Best Free And paid Kubernetes Courses For Developers In 2021
Essentials of Linux System Administration (LFS201):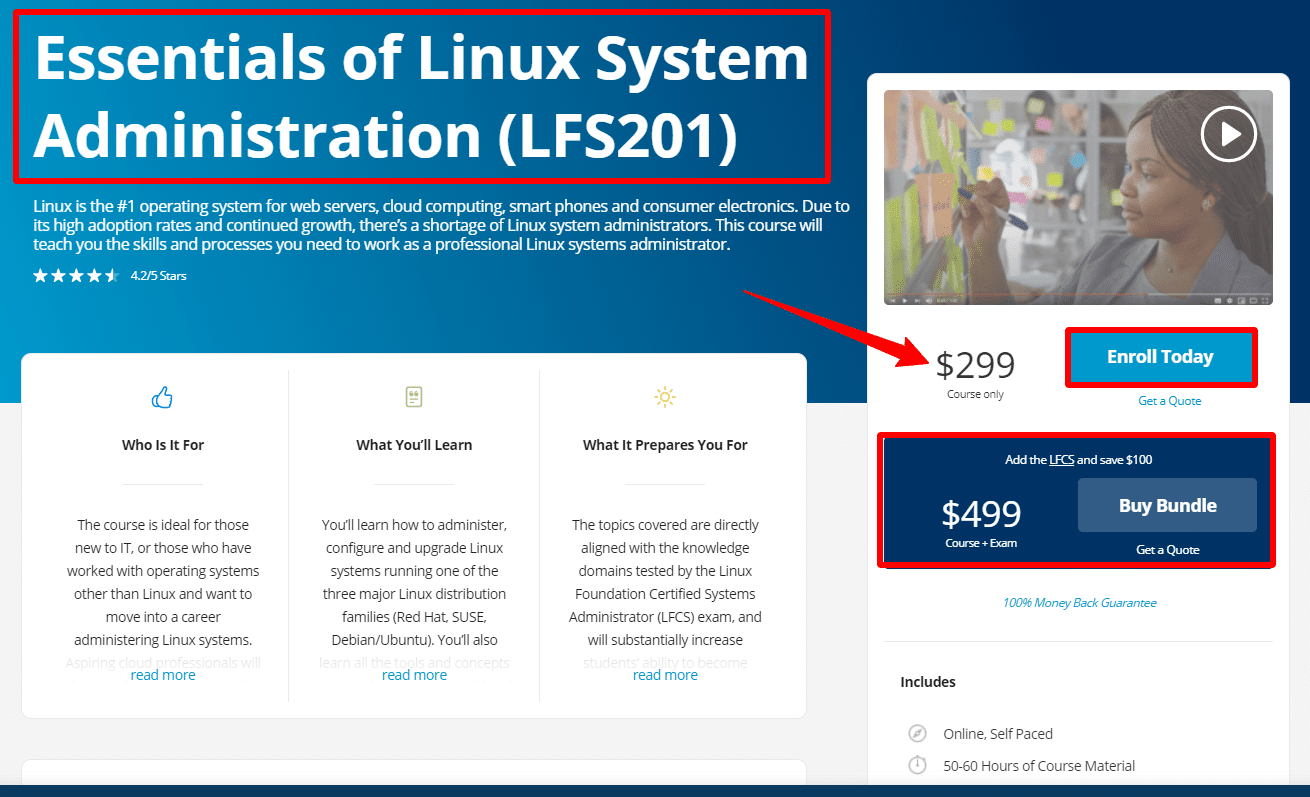 The course costs you $299 however if you want to take an exam and get certified you need to pay $499. The course is delivered through pre-recorded video lessons and can take 50 to 60 hours to complete. After payment, you get 12 months of access to the course. The course contains 44 lessons and one exam.
The course is ideal for those who are new to the field of Information Technology or those who want to learn more about Linux and make a career in administering Linux Systems. The people who aspire to make a career in Cloud Computing will also benefit from this course as it also introduces you to basic cloud computing and cloud technologies.
The course will teach you in detail about administering, configure and upgrade the Linux systems which run on one of the three major Linux distribution families i.e. RedHat, SUSE, Ubuntu/Debian.
The course will increase the student's ability to clear the Linux Foundation Certified Systems Administrator (LCFS) exam and give a boost to their Career.
Linux Foundation Certified System Administrator (LFCS):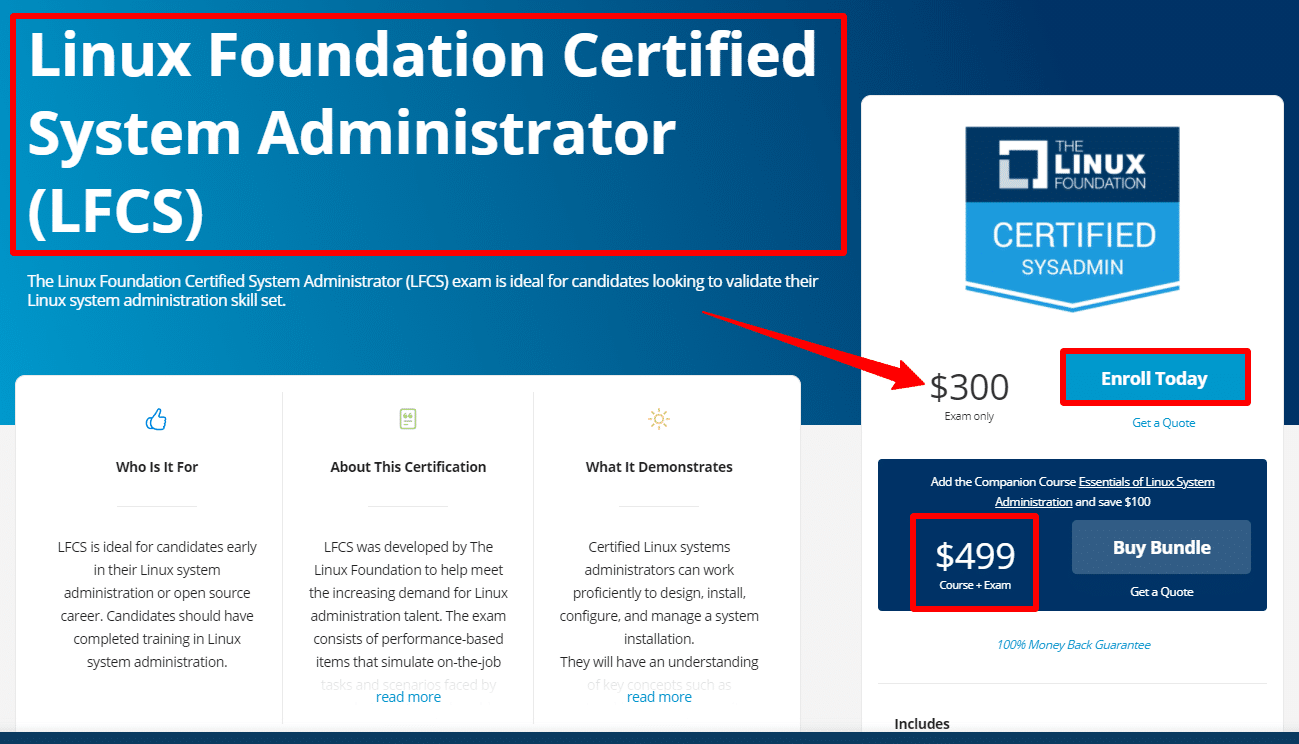 This is one of the most prestigious certifications offered by the Linux Foundation. The course is a great opportunity for people who are fresh university pass-outs and candidates who are just beginning with Linux System administration.
The course takes you through many aspects of the Linux System that include essential commands, Operation of running systems, user and group management, networking, service configuration, and storage management. Certified Linux system administrators can work proficiently in areas like design, install, configure, and manage a system installation.
The certified candidates will also have an in-depth understanding of key concepts like networking, storage, security, maintenance, logging and monitoring, application lifecycle, troubleshooting, API object primitives, and a lot more.
The course also gives you access to the Linux Foundation Certified System Administrator study guide. The course plus exam can cost you $499 and if you can prepare yourself and just want to give the exam then the cost of the exam is $300. I recommend you to take a course plus exam for a better understanding of the key concepts. Certification is valid for 3 years and the exam duration is 2 hours.
The Linux Foundation Certified System Administrator salary expectations can range from $76000 to $1,20,000
Linux Foundation Certified Engineer (LFCE):
Another prestigious program by the Linux Foundation is Linux Foundation Certified Engineer. It is great for people who want to become or start off as Linux Engineers.
The course is suitable for an engineer with three to five years of Linux experience. It is an ideal certification for developing your skillset. This certification can help you qualify for higher ranks in your organisation and promotion.
The LFCE certification is valid for 3 years and the exam duration is 2 hours. The course plus exam (certification) can cost you $499. However, if you can do self-study and just want to give the exam, you can appear for the LFCE exam for $300.
Other Courses And Areas Available On Linux Foundation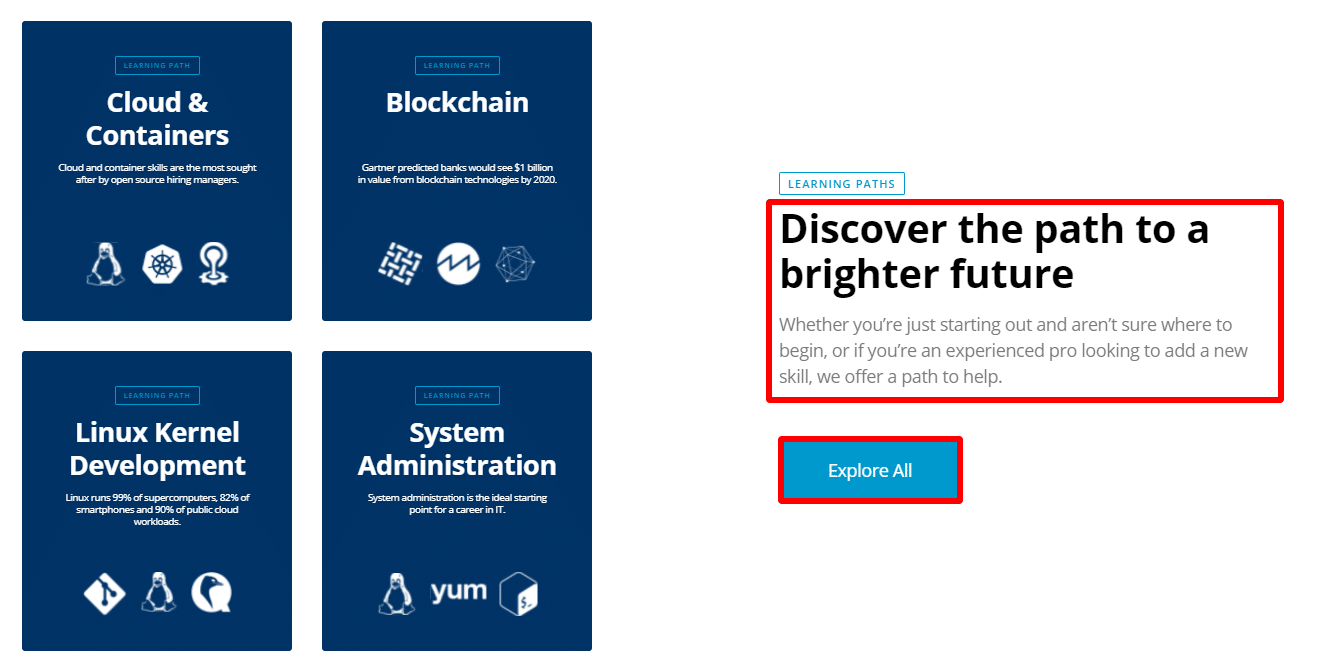 Linux' catalog includes 21 certification programs and 102 training programs in the domains like System administration, Cloud & containers, Networking, Blockchain, Linux Kernel Development, IoT & embedded development, web & application development, systems engineering, DevOps & Site reliability, open-source best practice, and AI/Machine learning.
You can also learn a lot about technologies such as 5G, AI, Cloud Foundry, Docker, Edge Computing, EDgex foundry, embedded Linux, envoy proxy, Fin Ops, Fluentd, GraphQl, Helm, Hyperledger, Jenkins, Kubernetes, Linkerd, Magma, ONAP, OpenDaylight, OpenJS/Node.js, OPNFV, Prometheus, RISC-V, TARS, web assembly, etc.
You can take any courses from their catalog and Linux Foundation Training and Certification will ensure that you get quality education, and course content and equip yourself with skills of the next generation.
The Linux Foundation Offers Suite Classes
Many open-source and Linux programming classes are available. Open-source and Linux classes are plentiful at the Foundation.
So the Linux Foundation's new Open Source Management and Strategy courses on best practices for managing open-source projects and technical employees are quite welcome.
Previously, companies had to collaborate with OASIS Open or the TODO Group to learn how to manage open-source well. Both are non-profits promoting open source and open standards. Working with any group required extensive knowledge of open source.
There Is Also Books On the Linux foundation suite classes
Heather Meeker's Open (Source) for Business: A Practical Guide to Open Source Software Licensing – Amazon
V.Understanding Open Source and Free Software Licensing Andrew M. St. Laurent – Amazon
This isn't a complete guide to creating strong open-source practices within your company. That's where these courses come in.
An executive, manager, software developer, or engineer can benefit from this seven-module course series. It also explains how to build up an Open Source Program Office, which is useful for C-suite managers (OSPO).
With new and updated content, the curriculum explains all of the important parts of working effectively with open source in organizations. The courses are self-paced and detailed enough to get new open-source practitioners up and running quickly.
Types Of Projects (Start Project With Linux Foundation Review Now)
You can work on a variety of projects with the Linux Foundation, including:
1. Community Projects
Projects hosted by the Linux Foundation benefit from its governance structure and back-end resources. SPDX, FOSSology, CHAOSS, Linuxboot, and OpenBMC are all hosted projects.
2. Community Projects & Funding
These Projects raise funds from the public to provide resources and infrastructure, such as code repositories, continuous integration systems, testing resources, conformance program resources, and developer events.
These projects do not have to contribute technical or financial support from their membership. Node.js, OpenAPI Initiative, Open Container Initiative, Open Mainframe, Xen Project, and Zephyr are among these projects.
3. Umbrella Community + Funding
Various projects are funded through the same mechanism and center on technology. This will enable the community to pursue a strategic vision across a variety of opportunities while also balancing resource demands.
Linux, Automatic Grade, Cloud Native Computing, Foundation, Hyperledger, LF Networking, and LF Deep Learning Foundation are these projects.
Linux Foundation Training Review: Case studies of Linux Foundation
Linux has always been devoted to the creation of open-source technologies. Let us quickly discuss some of the cutting edge technologies developed by Linux:
Free OS
Hyperledger
Encryption
Automated Grade Linux
Open Network Automation Platform
Cloud-Native Computation
Node.JS
The Linux Foundation provides a neutral, trusted home for developers to collaborate on open technology projects
Free Operating System:
Linux is the most prominent example of free and open-source software collaboration. The source code of Linux may be used, modified, and distributed commercially or non-commercially by anyone under the terms of its respective licenses. 90% of all cloud infrastructure is powered by Linux including super-computers and cloud providers. 74% of all the smartphones in the world are Linux-based.
Linux Foundation Hyperledger

Hyperledger is an open-source community that is focused on developing a group of stable frameworks, tools, and libraries for enterprise-grade blockchain. Linux foundation hyperledger was started in the year 2015 as an umbrella project of open-source blockchain and related tools.
Hyperledger received support from companies like IBM, Intel, and SAP. In January 2018, Hyperledger launched production-ready Sawtooth 1.0, and later in 2019, the first Hyperledger Fabric v1.4 was announced.
The objective of the Hyperledger project is to advance cross-industry collaboration by developing blockchains and distributed ledgers, with a major focus on improvising the efficiency, reliability, and capacity of these blockchain systems so that they are capable of supporting global business transactions by major technological, financial and supply chain companies.
Let's Encrypt:
Let's Encrypt is a free and automated open certificate authority. It gives people the digital certificates they require to enable HTTPS for websites, for free. The main motto of Let's Encrypt is to create a more secure and privacy-respecting web.
Let's Encrypt is the world's largest open certificate authority to enable HTTPS for websites and more than 265 million websites across the globe use this certificate. Certificates issued by Let's Encrypt are valid for 90 days
and during that period renewal can take place any day and it is done by an automated process created by Let's Encrypt. Let's Encrypt is meant to decrease the complexity of setting up and maintaining a TLS server.
Let's Encrypt is one of the most transparent organizations which increases its trustworthiness and for this purpose, they publish transparency reports as well.
Automotive Grade Linux:
Automotive-grade Linux is a collaborative open-source project that brings together automakers, suppliers, and other technology companies to develop and accelerate the adoption of a fully open software stack for the connected car.
AGL is developing a platform from scratch that can form an industry standard to enable the rapid development of new technologies.
Automotive Grade Linux was launched in 2012 with the support of founding members which included big names such as Jaguar Land Rover, Nissan, Toyota, DENSO corporation, Fujitsu, HARMAN, NVIDIA, Renesas, Samsung, and Texas instruments. Today AGL has more than 146 members.
Cloud-Native Computing Foundation:
CNCF hosts critical and important components of the global technology infrastructure. It brings together the finest developers, end-users, and vendors and hosts the largest Open Source developer conferences to exchange ideas and initiate discussion.
Cloud-native technologies enable organizations to build and run scalable applications in modern and dynamic environments including public, private, and hybrid clouds.
Founding members include Google, CoreOS, Mesosphere, Red Hat, Twitter, Huawei, Intel, Cisco, IBM, Docker, Univa, and VMware. At present, CNCF is supported by more than 450 members.
My Experience of the Linux Foundation Courses: Are Linux Foundation courses worth it?
Yes, Linux Foundation training is worth it. The courses are intended to assist you in passing your certification tests.
Although Linux Foundation training does not ensure that you will pass, it does provide interactive learning so that you will be better prepared for the exam and will be able to achieve your certification.
Below, I summarize my experience with the Linux Foundation Courses to help you determine if it's appropriate for you.
What I liked about courses provided by Linux Foundation?
Which Are The Areas Where Linux Foundation Training Can Improve?
My Personal Journey with Linux Foundation Training Programs
Initially, I was fretted up as you're now. However, I took advice from my seniors and got into it without any doubt later. Later, I came to know that the trust factor with their entire course is commendable.
As I keep reading and learning, I start feeling the progress in the curriculum. However, there are certain things that I did not like was some outdated curriculum.
But, they also provide a paid course that helps to feel more comfortable. Apart from these things, the categories and quantities of the course were great.
Linux Foundation Training Review: Who Should Take These Courses?
The Courses provided by Linux Foundation Training & Certification are ideal for people belonging to these categories:
Entry-level IT and Computer Engineering/Science students who want professional training in various technology domains and especially wish to work in the Linux Environment.
Enterprise Teams: for every organisation, it is difficult to keep the whole team on the same page. To make it easier for the organisation, organisations can get their teams to take these courses and establish knowledge symmetry. Organisations can also invite Linux for various live sessions and workshops to train their employees.
Those who wish to Hone their skills or improve their skillset
These courses can also help students and aspirants who want to make a career in fields like cloud computing, open-source development, Linux systems, IT, etc.
What Is The Cost Of Linux Foundation Courses?
The price of every course available on Linux Foundation Training & Certification differs from course to course. Linux Foundation prices their courses individually and does not offer any monthly or annual subscription on membership hence, you have to buy each course separately and complete it within the access period.
How Much Is The Linux Exam? Linux Foundation Training Foundation Review: Pricing Plans
The price of every course can range from free courses to courses that can cost you around $3200. However, most courses fall in the bracket of $300 -$400 and you can take those and increase your skillset.
There are a plethora of free courses which can give you beginner-level knowledge in a particular domain. When it comes to quality training, course content, boot camps, practical know-how, Linux has made sure that courses provide all these to the learner.
However, Linux isn't an accredited education body so you won't get any continuing education credit but the certification from Linux is respected in the industry and it increases your brand value.
Linux over the years has gained a lot of goodwill from the industry and is known for its quality be it in the technology field or training and certification.
So if you are serious and have a relevant interest in the fields where Linux has its footprints, you must get these certifications and improve your career prospects.
Linux Foundation Career Opportunities: What careers use Linux?
The Linux Foundation, in collaboration with the rest of the open-source community, plans to address difficult challenges by investing a large amount in shared technology.
The Linux Foundation collaborates to help create environments for open-source ventures to grow for the long term.
Collaborate with world-leading designers and organizations, provide the necessary devices, training, and opportunities to scale any open source venture.
A Virtual Workforce
The Linux Foundation is powered virtually, with employees in 36 states and four countries. Employees are given a stipend to buy their own computers, rent co-working spaces, and equip their home offices. Communication tools include Slack, Skype, and Google Hangouts.
Supporting Employees
The Linux Foundation has a culture of supporting employees, with a mission-driven focus on how it can have an impact on society. The company provides health care for families and individuals, unlimited Paid time off, 12 weeks of parental leave for primary and secondary caregivers.
Some People Also Ask Questions Related To Linux Foundation
Below I have shared some questions that people ask on Google, you can find all the questions related to Linux foundation training, certificates, membership program, job opportunities, and much more, I personally pick all these questions, and wrote the answers with my personal experience.
Is Linux Foundation Training Good?
The Linux Foundation is a viable alternative to Netflix-style Linux video training. The Linux Foundation's cloud engineer Bootcamp provides an accelerated learning environment while covering the needed topics for entry-level cloud engineering.
Can I cancel CKA exam?
You can cancel or reschedule your exam reservation 24 hours before the anticipated start time. You forfeit it if you wait less than 24 hours, and adjustments are not allowed.
What is Linux Foundation Certification?
Candidates who want to confirm their Linux system administration skills should take the Linux Foundation Certified System Administrator (LFCS) exam. The test is made up of performance-based questions that reflect real-world tasks and scenarios faced by system administrators.
How can I get free Linux Foundation courses?
The Linux Foundation teamed up with edX.org to offer free online courses on a variety of open source topics, including Linux, blockchain, networking, and cloud computing.
FAQs Realted To Linux Foundation Courses Review
Linux Foundation Training Alternatives:
Pluralsight: it is a good alternative for people who want to enter web development and front-end development. It is the largest ITAdmin, developer, and creative training library in the world
Linux Academy: You can find all the Linux Foundation courses on Linux Academy as well, with a better UI/UX feel as compared to Linux Foundation Training. However, the free courses are very limited on Linux Academy.
EdX.org: EdX is one of the leading E-learning platforms in the world. Here, you can find courses from every field like technology, business, finance, arts, sociology, etc.
Whizlabs: On Whizlabs, you can learn every software which is used in almost every organisation. You can learn AWS, Azure, Java, PMP, Agile, Big Data and of course Linux too.
Quickstart: Quickstart provides many courses in partnership with leading business and IT organisations like Cisco, Microsoft, Citrix, etc. it is a good platform if you need specialised learning.
Other alternatives to Linux Foundation training are, Coursera, Udemy, Udacity, etc. However, the courses found on these websites and platforms are not as technical or in-depth when compared to detailed and professional courses provided by Linux Foundation Training.
Linux Academy VS Linux Foundation: What's the Difference?
Before you start epitomizing something inside your brain, let's just read a few differences between them.
1. Linux Foundation offers numerous things besides training but Linux Academy focuses on courses only.
2. The courses are individually pricey but Linux Academy pricing is done on a monthly or yearly basis.
3. The Foundation course will give a feeling of a little traditional with its curriculum & intuitive design. Well, Linux Academy feels like an Uber-modern UX/UI type.
Linux Foundation Training Review: What Others Have Said?
To assess the opinions of others who had attended the Linux Foundation Training course, I looked at the comments on Reddit, youtube, Trustpilot, And Facebook. The majority of the responses were supportive, and this one sums it up best:
TLDR; Highly recommend. Hope the detail is helpful to someone on the fence.

Wanted to write up my experience with Linux Foundation's training since there is literally zero third-party information out there about their development training courses (lots of info on sysadmin oriented certs/courses). I work in the IoT field and we use embedded Linux in our products, so I was looking to expand my knowledge in that area. There aren't many options out there, a lot of this field is simply on-the-job experience but I did come across several interesting courses provided by the Linux Foundation. I've had no prior interaction w/ the Linux Foundation, they weren't recommended to me, I just stumbled across it and took a chance.

Enrollment
Their website is fine, the course syllabus looked great, but other than some basic details about location city and date, I wasn't really sure what to expect. I believe there's 2 things LF can do to improve this process: 1) An instructor profile (who turned out to be really top notch) would have boosted my confidence to sign up, but you're basically left to assume LF isn't going to steer you wrong. 2) Once you actually do sign up, there was very little communication. I received an invoice w/ an address on it and that was it. So I booked flights, hotel, rental car, etc. and showed up to a building with no idea what to expect.

Course
I specifically took "Developing Embedded Linux Device Drivers" (LFD435) but there are numerous other courses offered that also look very interesting. For this course, and likely any involving embedded/kernel/device drivers, you will need to be proficient in C to really get the most out of the class. I'd recommend having C experience on a POSIX system and be familiar with compiling, makefiles, and syscalls like select()/poll() because it'll only make it more challenging to write a driver that supports those interfaces if you're not familiar. It's also necessary to have some understanding of low-level hardware and devices in general, but you don't need to be an EE (I'm not) to take this course.

You'll receive a quality book on day one that covers all the material and lab exercises in the course, plus some additional material. You'll also receive a kit for performing the labs, which in my case, included a BeagleBone Black single board computer, a USB hub that also includes built-in ethernet/SD card reader, and a real FTDI USB-to-serial cable (not a cheap clone). They also provided scripts and other resources to install all necessary dependencies on your machine (you will need a native Linux laptop) and get everyone up an running without worrying about setup minutiae.

My class was small, which turned out to be a great experience, because we could move rapidly through material and were able to go through additional chapters that were marked as optional. I'm sure part of the experience depends on the other students, but this group was dedicated and willing to push through lunch each day. I knew from the syllabus that the course was going to cover subjects that I wanted, but what I didn't know was that the instructor had been involved in the development of some of those subjects and had both deep knowledge of how they work and why they were designed in the fashion they were. I really have to give a shout out to Instructor John Bonesio, because it was great to pick his brain. You can tell he is passionate about his craft as a teacher, cares about his students, and doesn't just read off some powerpoint slides, but enforces concepts with real world project examples from his own career in the industry.

Summary
The course was overall a great experience, and would recommend it highly. I honestly hope to attend more trainings with the Linux Foundation. I do wish they would offer price breaks on groups of 2-3 because once you add up course cost + travel expenses for a week, it gets costly, even for a medium sized business.

– Comment from Reddit
Linux Foundation Training Reviews On Facebook
Moving from Microsoft Windows to Linux was one of the best decisions that I have ever made. Linux allows the user to be in control of their own system.

– Comment Form Facebook
The LF and its member project participants not only share code, they share best practices across the industry.

– Comment Form Facebook
Easy to use with a reasonable learning curve and offers highly extended capabilities. Super efficient models for startups and established businesses alike

– Comment Form Facebook
I left Windows back in 2014 and haven't looked back. There's something for every type of user. Want to build your own operating system? Linux. You want an OS that "just works" out of the box? Linux. Security conscious? Linux. Global help and support? Linux. Support free and open-source software? Linux. Why isn't everyone using Linux?

– Comment Form Facebook
I truly believe that this initiative will open many borders to all enthusiasts in Open Source software.

– Comment Form Facebook
great information wow! Great to know that theirs a better system and find out its be in a great all running system all the time thank u Linux i love penguins too

– Comment Form Facebook
Linux is Amazing. It's the game changer I've been looking for. When compared to Apple and Windows. Thank you Linus Torvalds

– Comment Form Facebook
Conclusion: Linux Foundation Training Review– How do I get certificates in Linux?
For anyone who aspires to make a career in technologies like Open source networks, AI, ML, Cloud Computing, SaaS, PaaS, blockchain, and a lot more, Linux covers almost everything for you by providing you with high-quality courses, live boot camps, and training sessions, case studies, workshops, etc.
Linux has a large enough catalog that keeps getting updated to meet the needs of the learners. Linux courses can act as a foundation for your career and provide you with strong fundamental knowledge and expertise to handle and operate different technologies and contribute to your organization or innovate for yourself and the future.
Over the years Linux has earned enough respect and recognition from the top industry players for its contribution towards the field of technology and democratization of the technology.
So, I would recommend you to enroll in the courses where your interest lies and get the best out of these courses and improve your skillset.
Summary: I would recommend it to everyone who is interested in the kind of things Linux does. The courses are In-dept, the interface is good, the trainers are highly qualified and community support is amazing. That's all from my side on Linux Foundation Course Review!
Kubernetes 1.18.0 Overview with LF Training's Tim Serewicz
The Linux Foundation Cloud Engineer Bootcamp
Linux Foundation Certified System Administrator Overview
The Story of Linux