In this article, I compare and contrast two of the most effective online course platforms now available in the course development market Membervault vs Thinkific.
Sometimes it's difficult to know which platform will serve you best. Course creation tools are included in some systems, while others also include marketing as well as other tools.
In today's post, we'll compare Membervault vs Thinkific to help you choose the one that's right for you.
Lets get started…
Membervault Vs Thinkific: Overview
What Is Membervault?
Whenever it refers to selling digital material, MemberVault is among the most appealing choices available today.
Using the site's features, business owners and content producers may share and monetize their knowledge and skills with an online audience. Almost anything from a one-on-one live coaching session to a subscription may be turned into a sellable online course.
What sets MemberVault apart from other online learning management systems (LMSs) like Thinkific, for example? Well, the flexibility it provides is the most obvious distinction and perhaps the most persuasive selling pitch MemberVault possesses.
There is no different price tier for MemberVault. Hosting, storage, and the number of students may all be increased infinitely for only $99 per month. One package gives you access to all available features. It is not possible to get access to premium features by paying more for a higher-tier plan or an add-on.
In this case, no portion of your earnings will be withheld. To put it another way, MemberVault does not add any service fees to your transactions. You may also depend on prompt assistance via chat or email should any issues arise.
If you want to share your knowledge with the world while also making money and feeling completely secure, MemberVault is the place for you.
What Is Thinkific?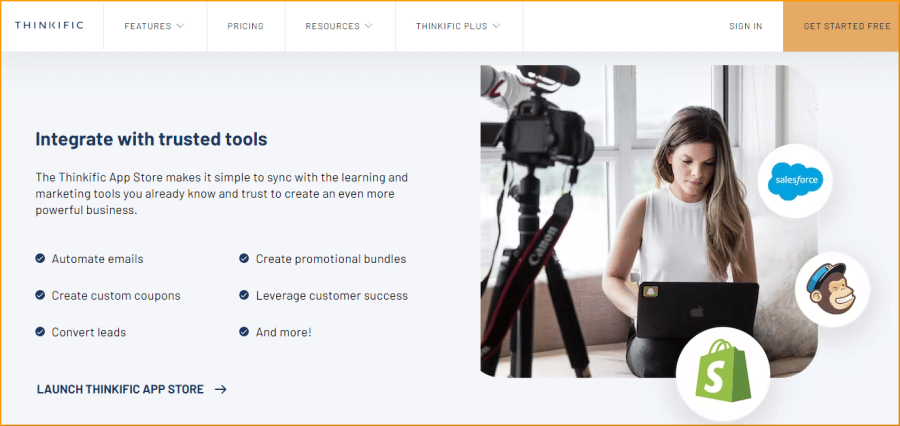 Many educators and professionals have found success with Thinkific, since it is a reliable and top-tier platform for developing online courses.
It paves the path for instructors, company owners, and organisations to market and sell digital content including online courses, memberships, coaching sessions, digital downloads, and more.
Creating and hosting a course or product on Thinkific does not need knowledge of programming or the hiring of a programmer.
The dashboard of the course builder is quite user-friendly and can be learned quickly thanks to drag-and-drop functionality. The appearance of the course player may be altered to better fit your company's identity.
The website builder is the same way. Build landing pages, homepages, thank you pages, and more with ease. As an added bonus, it's a drag-and-drop editor with gorgeous, online-school-specific themes that anybody can learn to use quickly.
Thinkific offers a number of different price tiers, so you can choose the one that best fits your company's budget and demands. This pertains to both the sophistication of its functions and the size of your wallet.
In a nutshell, if you're serious about opening an online school, Thinkific is the platform you should turn to. It has the tools you need to grow your company while also giving your students a top-notch online education.
Membervault vs Thinkific: Pros & Cons
Membervault
We know you've heard of Membervault, but can you explain it to us?
While Membervault serves several purposes, its primary function is as a content storage platform where you may make both free and premium material available to your members.
As you can see, this is the perfect option for individuals who are eager to teach others. First of all, anybody may join! This is for you if you want to start a course development and membership site business without dealing with complicated technologies.
Those familiar with Thinkific, Kajiba, or Teachable, for example, may recognise some similarities between this service and those sites. Perhaps Membervault is a better fit for you and your target demographic.
Pros:
Easy set-up
Plenty of Study Units
A ranked list of quiz takers
Simply said, it's quite user-friendly.
Supplemental features included
A flexible layout that may be adjusted to suit any user (allows CSS)
Cons
Doesn't have enough integrations
It is not the user's platform owner
Thinkific
Where do you stand as an entrepreneur who hopes to save time and money by offering students access to a high-quality online education? In order to achieve your goals, you should consider using Thinkific.
Thinkific gives a venue for publishing your course, blog post, website, and other possibilities for your type, much as Membervault, Teachable, and Kajabi!
Thinkific is more than just a basic system; it also serves as a powerful class creation hub. So, if you're a business professional with expertise in the industry, Thinkific has something for you!
Designed for educators who want to try their hand at creating comprehensive, high-quality courses for their audience, as well as students who want to take advantage of Thinkific's suite of educational resources.
Pros
Easy to use.
All-in-one course platform.
You can upload videos directly to Thinkific.
Thinkific's interactive tools, like the quiz creator, help enhance interest and course completion.
Robust customer support.
Free trial available.
Cons
Challenging navigation environment
Poor marketplace
Membervault vs Thinkific: Price Comparison
Membervault Pricing & Plans
There is a significant pricing gap between Membervault and Thinkific in the market for course builders when it comes to the cost of software of this kind.
MemberVault offers a free account (not a trial, an actual account!) to the first fifty customers of each paid plan. This implies that you won't have to start making payments until you have a total of 51 students, at which point the price will be a starting point of $39 a month. This one applies to a thousand different kids as well.
Last but not least, Membervault offers a Pro membership for a starting fee of $69, which has the potential to connect with up to 25,000 pupils.
Thinkific Pricing & Plans
However, Thinkific's upsell strategy might make the platform expensive (even when compared to Kajabi and Teachable).
Thinkific's standard plan costs $39 per month, the same as Membervault's basic plan.
There are two tiers of Thinkific pricing: the $79/month Pro plan and the $399/month Premier plan. The outrageous price tag and added cost are really reasonable.
Especially if you're the kind of professor who thinks upselling is the key to successfully managing many corporations.
Winner
Membervault is a clear winner when it comes to cost, despite the fact that Thinkific offers a greater number of features and a more granular level of customization. Free plans are offered by both sites, however the subscription plans offered by Membervault are more affordable.
Comparatively, the monthly cost of the beginner plan on Thinkific is $49, whereas the monthly cost of the starter plan on Membervault is just $19. In terms of cost, MemberVault comes out on top.
Membervault vs Thinkific: Features Comparison
Membervault Key Features
Here is a list of the functionality that may be purchased with additional funds while utilising MemberVault.
1. Accessibility & Customization
You may expect a conventional dashboard and user experience on Membervault. Though not the most user-friendly or aesthetically pleasing option, it does its purpose. You may "add items" to your Membervault dashboard to begin developing your own online courses.
The available customisation possibilities definitely fall short of those offered by more costly businesses in the online course selling sector. There is no visual editor to drag and drop things into place, just menus from which to choose the components you need for your lesson.
That means your course delivery options are restricted to Membervault's structure and you have very little room to use your own branding.
However, everything you need to teach elementary classes is here. Your own films, together with any accompanying text and assigned reading, may be uploaded to the site for viewing and sharing.
If you want your pupils to be more actively involved, you may add downloading files for them to handle on their own and even put up simple quizzes.
2. Options for Monetization
Your students may pay for your courses in a variety of ways using Membervault, including with PayPal, Stripe, and their credit cards. This is the norm, thus no complaints should be made. Your rates are entirely in your control, and Membervault facilitates secure online payments from your students.
Membervault allows you to provide a variety of payment options to your consumers, including one-time purchases, monthly subscriptions, payment plans, coupons, and free trials.
3. Marketing Features
You can connect Membervault with eight other apps, including email marketing platforms like MailChimp, ActiveCampaign, and Drip. Actually, they aren't exactly the most convincing advertisements.
Having the option to provide loyalty rewards would be great, however unfortunately Membervault only allows the use of discount coupons at this time.
Thinkific Key Features
1. Content Quizzes
Thinkific gives you the ability to make some of the most engaging and high-quality quizzes that are accessible on any course-building platform. Simply put, there is a huge variety of alternatives.
Be sure to make use of their capabilities not only with regard to text but also images and videos. You may also construct your own quiz bank to make your classes even more organized.
2. Customize and flexibility
Thinkific, in comparison to any other platform, offers a significantly greater number of customization choices.
You may give your classes and storefront the same look and feel as your website, provide students with exams, surveys, student conversations, required lessons, and achievement certificates, as well as the list could go on indefinitely.
If you are more technically inclined, Thinkific also provides you with complete access to edit HTML and CSS in addition to its user-friendly customization capabilities for everyday users.
3. Student Experience
If your customers, workers, or clients do poorly, your business will fail. This is why the needs of students were prioritized during the development of Thinkific.
Our intuitive course player, beautiful design themes, flexible settings, and intuitive student control panel are all examples of this. Rather than focusing on providing a pleasant learning experience, TalentLMS prioritizes speed in distributing course content.
TalentLMS's user evaluations complain that the platform's student interface is clunky and outdated. Thinkific goes above and beyond the competition in its efforts to provide a unified brand experience for its students.
Winner
Thinkific provides users with a greater number of features and a more in-depth level of customization. As a result, Thinkific is unquestionably the best option available in terms of its features.
Membervault vs Thinkific: Alternatives
1. Udemy

The process of selling online courses on Udemy is straightforward. The trade-off is a lack of flexibility in personalization. To make money off of your material and online courses, all you have to do is fill in the gaps in Udemy's basic format.
Your material will seem polished and consistent before being offered on the software's marketplace, thanks to this service. An ideal choice for first-timers practising in private.
However, the service retains 50% of all profits, making it an untenable long-term option. In addition, you'll need to pay a monthly membership fee (though you may try it risk-free for a month).
2. Skillshare
Selling your lectures and digital courses online with Skillshare is a fantastic way to help individuals acquire new skills without breaking the bank. Due to the lack of flexibility (you must adhere to Skillshare's formats), it may not be the greatest long-term solution for professional online course vendors.
Additionally, the tools for creating courses are relatively few. In any case, there is no cost to the vendor at all for this service. Put your work out there, and you'll get compensated for every view. One wonderful feature is the ability to interact with your pupils via comments.
3. Teachable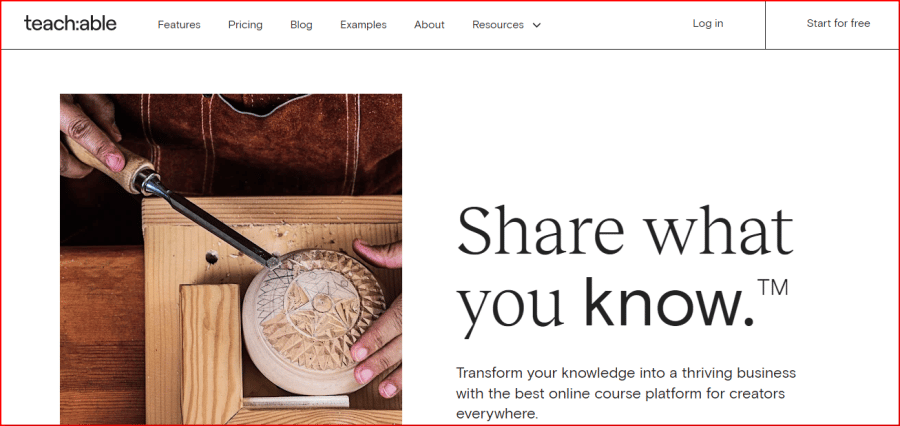 Teachable is similar to the popular platform Thinkific, however it costs far less. It's easy to use and comes with a handy drag-and-drop builder for your sales pages and courses. Providing pupils with certificates of completion gives you another tool to maintain their interest.
There are also fascinating internal marketing tools, such as one that allows you to contact a large number of students at once. Though it lacks the flexibility and depth of Thinkific, it is our recommended premium option for those just starting out.
A free trial is offered, after which paid memberships are required on a monthly basis.
Membervault vs Thinkific: Integration services
Membervault Integration
Moving on to the integrations of these first-rate platforms for sharing courses, it is well known that Membervault has 9!
These include MailChimp in addition to a few others, all of which are included in the Membervault account plan and menu! These connections make it possible to have additional post styles, menu styles, and checkout page styles!
Therefore, if you are considering signing up for any affiliate programmes, there is at least one integration that may assist you.
Thinkific Integration
Thinkific is often regarded as being superior than both Kajiba and Teachable in terms of the integrations it offers. Are there any meaningful upsells? Definitely!
In point of fact, Thinkific provides you with integrations for e-commerce, email marketing, and integrations for growth, all in one convenient place! Their upsells are well worth the additional cost.
When you join Thinkific, do you hear the ringing of the bells and the screaming of the upsells? When it comes to giving tools to help customers fill up their shopping carts, they are unquestionably on a whole different page.
Membervault vs Thinkific: Conclusion
In conclusion, Thinkific is the ideal platform to build a fully functional online learning environment or set of courses. You may build an innovative school that provides an exceptional learning environment with the help of its more sophisticated features.
Unlike MemberVault, Thinkific offers a free tier of their service. Three premium plans are available for creators to choose from, each with its own set of pricing and features.
Conversely, MemberVault has proved to be a strong competitor to Thinkific because to its infinite features. The groundbreaking and mind-blowing all-in-one approach.
Additionally, MemberVault has a simple layout and can be up and running with little to no prior experience or training. As a result, I urge any individual or business in need of a sophisticated learning platform, or even a free plan, to have a look at Thinkific.
MemberVault is the best option for independent producers because of its simple price model, which includes infinite functionality without the need for intrusive add-ons or upgrades. This essay was written with the intention of assisting you in making an informed choice.
Membervault vs Thinkific FAQs
Why should I use Thinkific?
In addition to online courses, Thinkific Communities also provides live classes, events, and mentoring for its members. For educators, it means more power over curriculum and a deeper understanding of their audience, and for students, it means a more enriching educational experience. This situation benefits both parties.
Is Thinkific com legit?
Can you trust Thinkific? As far as we can tell, Thinkific is a genuine business. Since its inception in 2012, this firm has grown to employ over a hundred people who in turn support over thirty-six thousand independent instructors.
How much does Thinkific cost per month?
No monthly fees with the free plan. The starting price for the basic plan is $49 per month or $39 per month if paid yearly. Monthly payments for the Pro plan are $99, or $79 if paid yearly. The Premier Plan costs $499 per month or $399 per month when paid yearly.
Is there a free version of Thinkific?
Thinkific offers four different pricing tiers starting at zero dollars. For first-time course creators, the free plan is an excellent alternative. The premium subscription has more options for tailoring your course and has more courses to choose from.
What does MemberVault do?
MemberVault is a (nearly) all-inclusive membership platform that can manage many aspects of your business on your behalf, including the hosting of courses, the management of memberships, the collection of payments for goods and services, and more.
Is MemberVault free?
$99/mo. If you already have an MV account and want to upgrade, you can do so from inside the app. New users may sign up for a free trial account by clicking here.
Does MemberVault have an app?
Even though MemberVault does not provide a separate mobile app, there is no need to worry since the platform has been optimised for mobile usage.
Does MemberVault have an affiliate program?
Please know how much we appreciate your desire to share MemberVault with your professional and personal circles. When you sign up to be an MV Affiliate, you'll be eligible to collect a 30% monthly recurring commission on any upgrades your referred users make to either the Starter Monthly, Base Monthly, Pro Monthly, or Pro+ Monthly Plans.
How Can you make money with Thinkific?
The use of a service like Thinkific makes it simple to develop a comprehensive online tutorial on any subject. Instead of meeting with each individual student, you may simply produce video courses, distribute them online, and collect payments on a regular basis to increase your revenue.