Are you looking for an SEO tool but aren't sure if Moz is right for you?
We'll compare the 17 finest Moz alternatives and competitors accessible this year in this post. We'll look at which Moz features they can replace, their benefits and drawbacks, pricing, and more.
Ready? Let's get this party started!
What are the best Moz alternatives?
Let's get started with the list.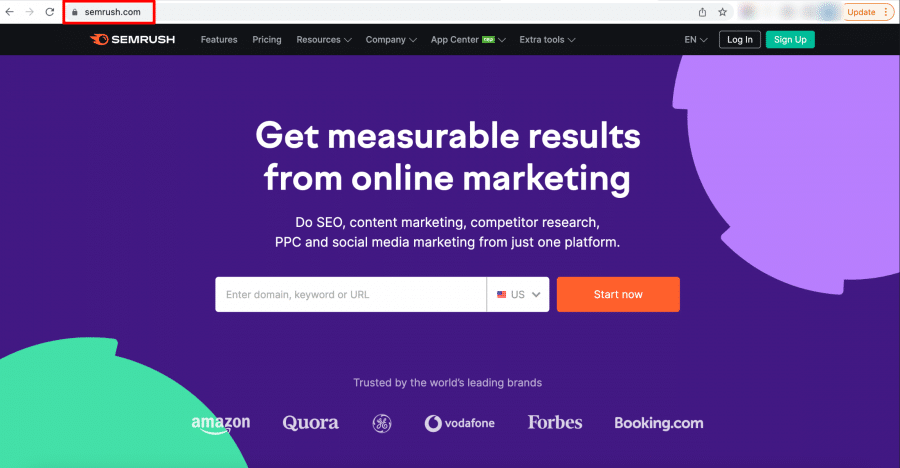 Our #1 option for the best Moz alternative is Semrush. It's a comprehensive all-in-one SEO and content marketing toolkit that does everything Moz does and more.
Semrush, like Moz, is a well-known and industry-leading SEO software suite. Over 10 million marketers use it, and it's the marketing platform of choice for over 30% of Fortune 500 firms, including household names like Apple, Amazon, and Tesla.
It includes all of the essential SEO tools, such as a sophisticated keyword research tool, a rank tracker, a link-building tool, an on-page SEO checker, and a site-auditor.
We put Semrush first in this Moz alternatives list because we found all of these SEO tools to be as good as, if not better than, those on Moz. Semrush's keyword research tool, for example, is the best on the market.
The Semrush database has around 21 billion keywords, compared to only 500 million in Moz's Keyword Explorer.
A free account allows you to try out Semrush, but it is severely limited. You won't be able to use all of the SEO tools, and you'll only be able to create 10 Analytics reports and track 10 keywords every day.
Paid plans start at $99.95 per month if paid annually. On monthly memberships, a 7-day free trial is provided.
You can also try Semrush Guru 30 day trial offer and kick start your SEO journey.
SE Ranking, like Moz, is an all-in-one SEO software solution. It has the best combination of functionality and price, with customizable pricing levels that are ideal for agencies and in-house marketing departments that want access for additional team members.
Almost all of Moz's features can be replaced by SE Ranking. It features a keyword rank tracker, on-page SEO checker, backlink analysis and tracking, keyword research, and competitor analysis, among other SEO tools.
The keyword rank tracker is amazingly precise. The on-page SEO checker, which runs a rigorous, complete study of your website pages and compares them to dozens of ranking indicators, was also a big hit.
The Marketing and SEO Plan, which you won't find on Moz, is another unique tool offered by SE Ranking. It's a great SEO tool for agencies because it gives you a full roadmap and SEO strategy for each of your clients.
You'll receive a checklist with all of the SEO chores that need to be completed in order to optimize the website.
These tasks are divided into pre-launch activities (such as tracking setup), keyword research activities, on-page optimization activities, off-page optimization activities, social media management activities, and so on.
You may also add your own tasks to your SEO to-do list based on your client's requirements.
SE Ranking can be a significantly cheaper option to Moz depending on the package you choose, with rates starting at $23.52/month.
To receive exact pricing based on your requirements, use the price calculator on SE Ranking. There is a 14-day free trial available.
Serpstat is a content marketing, SEO, and PPC growth hacking toolbox. It, like Moz, provides an all-in-one package that includes over 30 SEO tools.
One of Serpstat's most notable features is the rank tracker. It's equivalent to Moz in terms of data accuracy and advanced features such as historical data, keyword grouping, market share fluctuations, local search statistics, and so on.
Apart from that, Serpstat can be used for backlink analysis, keyword research, competitor research, site audits, and so on.
If you plan on starting paid ad campaigns to supplement your SEO approach, the PPC research tool is another useful tool to have. You can use it to spy on your competitors' advertisements, research PPC keywords, and study popular landing sites, among other things.
Serpstat has a five-star rating on TrustRadius, a 4.5 on G2, and a 4.5 on Capterra across most review platforms. It also has a long number of commercial clients, like Uber, Samsung, Shopify, and Philips, indicating that it's a reliable platform.
Serpstat is free to sign up for and use with limited access and daily credits. Paid plans start at $45 per month if you sign up for a minimum of 24 months.
Ahrefs is another long-time competitor of Moz, offering a variety of SEO tools.
On this list of Moz alternatives, Ahrefs is one of the most popular all-in-one SEO tools, with a feature set that matches Moz.
The Site Audit tool, the Site Explorer, the Keywords Explorer, the Content Explorer, and the Rank Tracker are the five basic tools that make up Ahrefs. These are pretty similar to the tools provided by Moz.
What makes Ahrefs stand out, though, is the data that fuels its tools. It has the world's largest third-party search query database and the world's largest live backlink index.
They have a content index of 10 billion pages, a keyword index of 19.8 billion keywords, and a backlink index of 26.9 trillion internal backlinks and 3.4 trillion external backlinks—numbers that dwarf those of Moz.
A large amount of clickstream data is also processed by Ahrefs. As a result, Ahrefs' monthly search volume estimates and other keyword data are more accurate than those of its competitors.
For your own confirmed projects, you can join up for Ahrefs Webmaster Tools and gain limited free access to Site Explorer and Site Audit. Paid plans start at $99 per month (or $83 per month if paid annually). However, there is no free trial for their premium service.
Even on their $999/month level, Ahrefs now charges for overages automatically and only allows for 500 reports each month.
SEO PowerSuite is a desktop SEO software package that stands out for its sophisticated keyword research, rank tracking, and competitor analysis capabilities, as well as its pro-level features.
Rank Tracker, Website Auditor, SEO SpyGlass, and Link Assistant are all included in the SEO PowerSuite package.
The Rank Tracker can also be used to conduct keyword research (with 17 different keyword research tools rolled into one). It allows you to produce thousands of keyword ideas that your competitors have overlooked, as well as track your performance across over 300 search engines.
The SEO SpyGlass tools are excellent for researching competitors and discovering fresh backlink chances. It can be used to perform detailed backlink analysis on any domain's backlink profile, with 50+ metrics.
You can use the Website Auditor to perform a comprehensive, detailed website audit with extensive crawl analytics and discover key SEO flaws that are preventing you from reaching your full potential.
The biggest difference between SEO Powersuite and Moz, which is a cloud-based platform, is that it is one of the few downloadable software solutions on this Moz alternatives list.
With limited access, you can download and utilize SEO PowerSuite for free. The cost of a paid license starts at $299 per year.
FAQ on Moz alternatives
Is Moz free?
Link Explorer, Keyword Explorer, Competitive Research, Domain Analysis, and MozBar are just a few of Moz's free SEO tools. Free accounts, on the other hand, are limited to 10 requests per day and can only pull a limited quantity of data. You'll need to get Moz Pro to get all of Moz's features.
How much does Moz Pro cost?
When you join up for the Standard plan, Moz Pro costs $99 per month (or $79 per month billed annually). Medium ($179/month), Large ($299/month), and Premium ($599/month) are the various options offered, each with distinct features and access constraints.
How do I cancel my Moz subscription?
Go to your Subscriptions page and select Terminate Plan > Continue with cancellation to cancel your Moz Pro plan or free trial. Then, to confirm, complete the survey and click Cancel my membership. Always double-check your account information to ensure that it has been effectively canceled.