Start your Nexcess Free Trial and try out managed WordPress hosting, which has a unique pricing and plan structure that makes it possible for businesses to afford managed hosting.
Plans start at $19 per month if you don't sign a contract or at $15.83 per month if you sign up for a year.
Check out our article on Nexcess coupon code to get an additional discount on your hosting plan.
With Nexcess-managed WordPress hosting, you also get the following benefits:
Free CDN
Free SSL certificate
Unlimited email accounts
iThemes Security Pro
Visual regression testing
24/7/365 phone, live chat, and email support
How to Start your Nexcess WordPress Free Trial?
Follow the steps below to start your free trial of Nexcess WordPress hosting.
Step 1: Visit Nexcess's official website.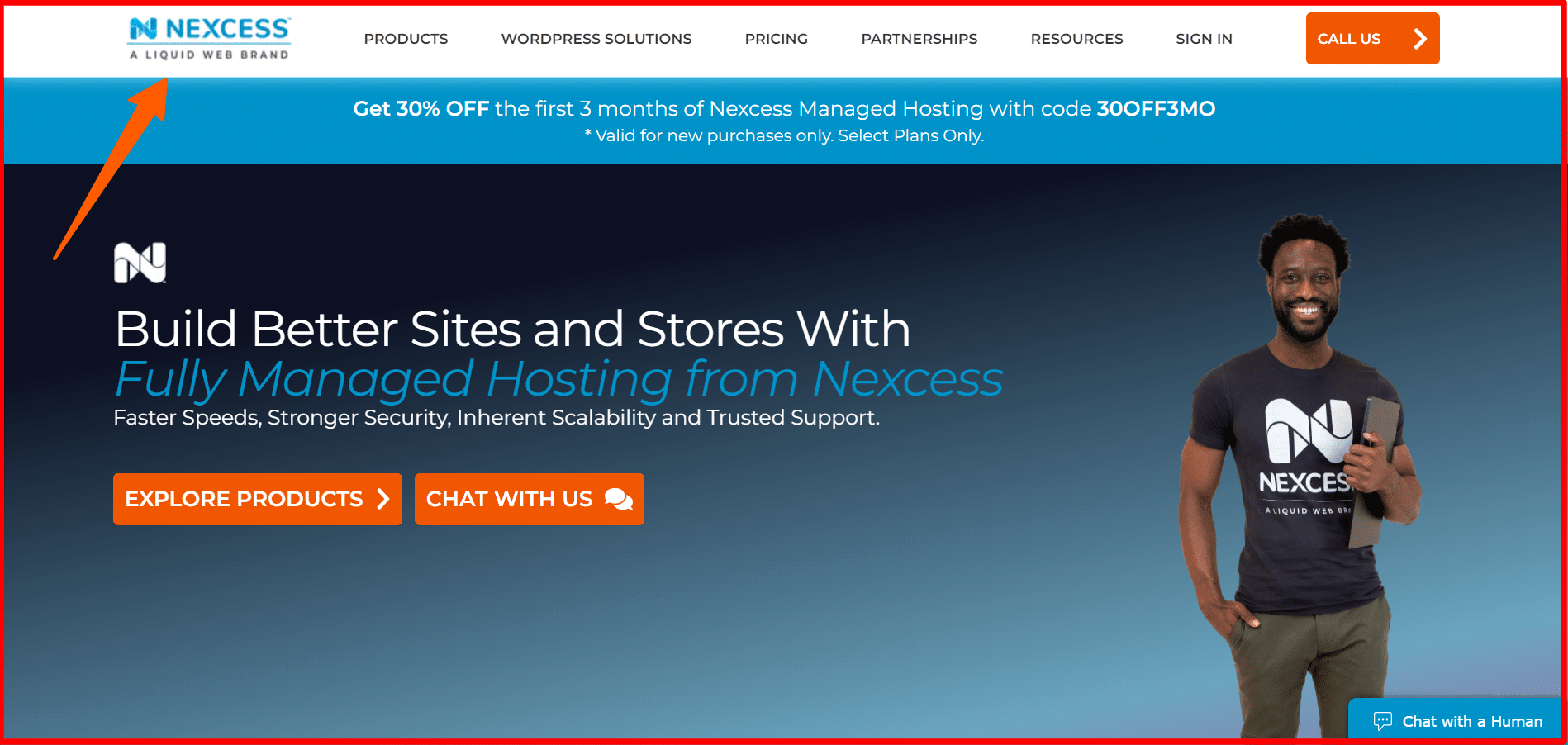 Step 2: Below "Compare all Plans," click "Try our Free 14-Day Trial."
Step 3: Under plan details, enter your email address and self-description. Click "Free Trial" then.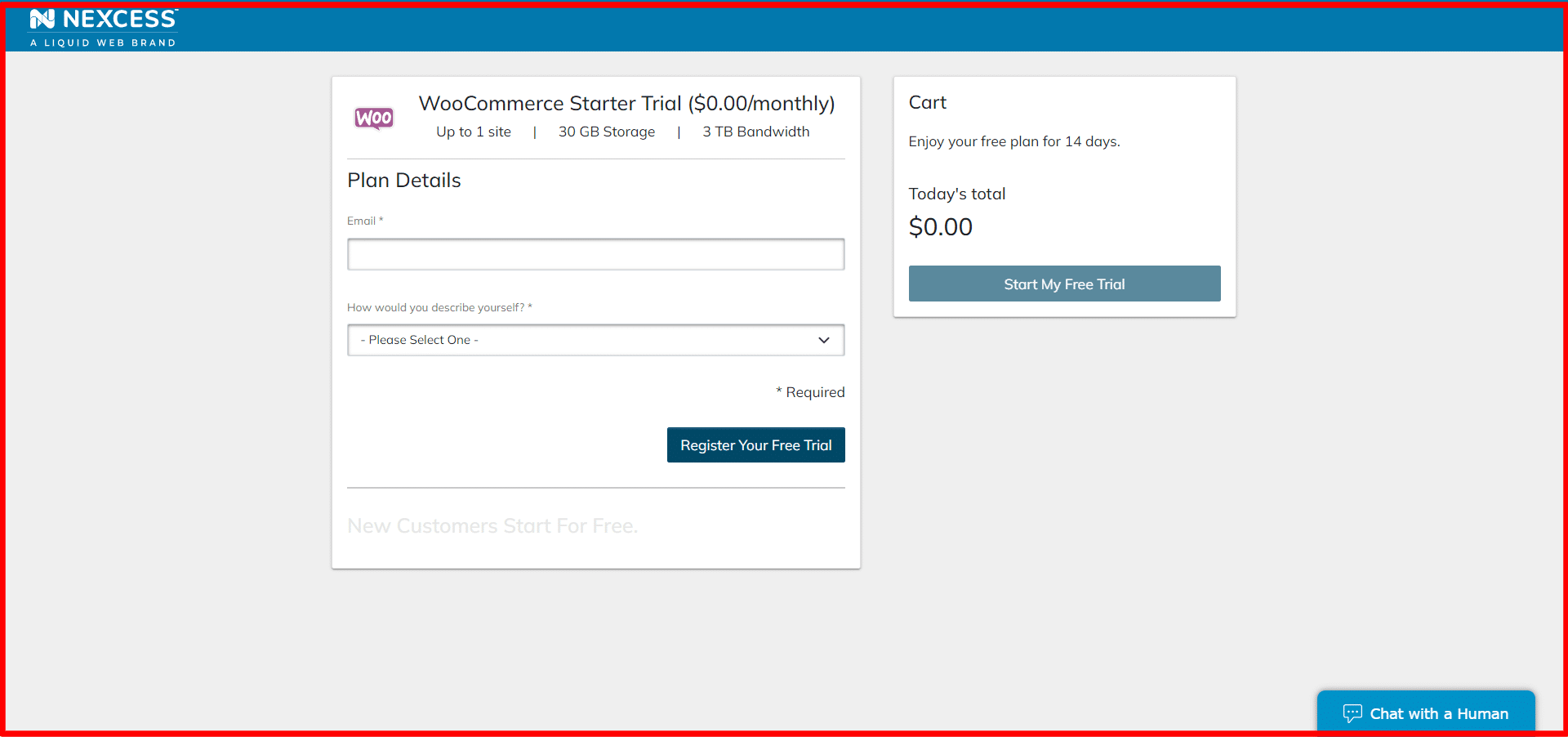 Step 4: Enter Password, First Name, Last Name, Phone Number, Country, Address, City, and Postal Code.
Step 5: Click "Start my Free Trial" after human verification.
Step 6: Your 14-day Free Trial is ready in 2-8 minutes.
Nexcess Pricing Plans
Nexcess has a wide range of pricing plans for people with different budgets.
We tested the Spark plan, which costs less than $20 per month, and there are plans for businesses that cost almost $1,000 per month.
Nexcess's plans don't have arbitrary limits on the number of visitors, like many other managed WordPress hosting services do.
Instead, the only limits you have are:
The number of websites
Storage
Bandwidth
The maximum number of orders per hour is likewise capped if you utilize managed WooCommerce hosting.
Web Hosting Nexcess
| | | | | |
| --- | --- | --- | --- | --- |
| Plan Name | Bandwidth | Number of sites | Storage | Price |
| XS | 1TB | 10 | 50GB | ₹3616 |
| S | 2TB | 15 | 75GB | ₹7306 |
| M | 3TB | 20 | 125GB | ₹13210 |
| L | 5TB | 30 | 400GB | ₹22067 |
| XL | 8TB | 40 | 600GB | ₹40517 |
| XXL | 10TB | 50 | 800GB | ₹62657 |
Cloud Hosting Plans
| | | | | | |
| --- | --- | --- | --- | --- | --- |
| Plan Name | Bandwidth | CPU | Storage | Price | RAM |
| XS | 1TB | | 50GB | ₹3616 | |
| S | 2TB | | 75GB | ₹7306 | |
| M | 3TB | | 125GB | ₹13210 | |
| L | 5TB | 20vCPU | 400GB | ₹22067 | 20GB |
| XL | 8TB | 26vCPU | 600GB | ₹40517 | 26GB |
| XXL | 10TB | 23vCPU | 800GB | ₹62657 | 32GB |
Nexcess Social Profiles
Let's find out what social platforms Nexcess use to help their customers online.
Nexcess Facebook Page
Nexcess has over 4,160 followers on its Facebook page where they share frequently about their brand and web hosting.
Nexcess Twitter Page
Nexcess has a Twitter profile with over 5,978 where they share the latest updates about their different web hosting plans and features.
Nexcess LinkedIn Profile
Nexcess also has a profile on LinkedIn with over 1,706 followers and 89 employees.
Nexcess Instagram Page
Nexcess has a profile on Instagram with 612 followers and 224 posts related to its product and business.
Conclusion On Nexcess Free Trial
Nexcess is a high-quality web host that is proud to offer everything a WordPress website owner needs for powerful web hosting.
In terms of features, it definitely beats other managed web hosts.
Nexcess is a great choice for anyone looking for a reliable web host. They offer free site migrations, CDN services, and support around the clock.
Frequently Asked Questions
Is Nexcess legit?
Nexcess boasts a 99.99% uptime, is blazing fast, and can easily handle massive amounts of traffic. You can find both free and paid options in Nexcess, such as an SSL, regular backups, the iThemes Security Pro plugin, and virus scans. Live chat help is available around the clock, every day of the year, from the friendly, knowledgeable staff at Nexcess.
How do I cancel my Nexcess subscription?
To terminate your account, please send an email to support@nexcess.net or log into the Nexcess Client Portal. In order to cancel an account, all of its associated services must first be terminated. If you have more than one hosting provider, you must submit a cancellation request for each one individually.
How do I access Cpanel in Nexcess?
1) Enter the Client Portal here. Select Services > Plans from the main menu.
2) To access the Plan Dashboard, either click the service name or pick it from the menu.
3) Choose Site Dashboard from the drop-down menu that appears when you click the three dots (hamburger menu) symbol that appears next to each site.
4) To get what you want, pick it from the main menu.
How do I delete my nexcess website?
When you are ready to remove the site from your plan, log in to your Nexcess Client Portal and navigate to the Plans section, then click on the relevant plan. Then, from the list of sites, select Delete Site as seen here: The results of this activity will vary with your specific strategy.