Oxygen and Elementor are the two most popular page builders on the market. I compared Oxygen vs Elementor to help you decide which page builder is best for you. First, let's look into what these tools exactly are.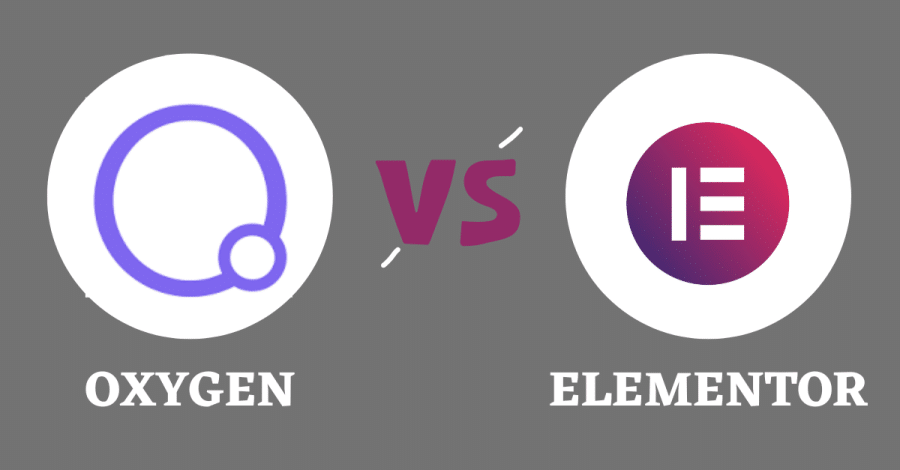 When someone starts a blog or a website it's important to have a system that works. This is where you need to find the right tool. WordPress is the most popular content management system out there and there are many ways to use it. However, with WordPress, you work at the back end of website design.
Here is where you may need a website page-building tool to better visualize your design and tweak it to perfection. But we all know choosing the right website builder is also a difficult task. You need to figure out the features you need and then pick the best one.
There are a lot of feature-rich website builders out there, but they also come with a hefty price tag.
Oxygen vs Elementor: The Ultimate Comparison
Elementor is a page builder for WordPress that lets you place items on the page by dragging and dropping. Using a visual editor provided by this plugin, you can design pages that are pleasant to the eye. It's designed to make it quick and easy to build dynamic webpages.
Oxygen is a complete site builder, not just a page builder. The code is significantly cleaner, leaner, and faster because it does not contain any needless clutter.
Oxygen is the new, easiest way to design WordPress websites.
Elementor is a drag and drop builder which is really easy to use.
Elementor cost Essential – $49/year for 1 website and email support Advanced – $99/year for 3 websites and email support Expert – $199/year for 25 websites and email support Studio – $499/year for 100 websites with email and live chat support Agency – $999/year for 1,000 websites with email and live chat support
Plans start at $129 with lifetime ownership. WooCommerce costs $169 with integration. Agency adds Gutenberg Block Builder functionality and a streamlined UI for $199. Ultimate is $229 and includes composites.
Get in touch with their team – they're happy to help, Contact the Oxygen Team.
Elementor provide 24/7 customer support, 1 day on average Their team will assist directly.
Oxygen vs Elementor: Overview
What is Oxygen Page Builder?
Oxygen is a WordPress Page Builder. It is essentially a WordPress plug-in page builder. It lets anyone make beautiful, interesting web pages without writing a single code line.
It's a drag-and-drop interface that allows anyone to create a website. This can be used by businesses, bloggers, start-ups, and individuals.
With Oxygen, you can design different pages, from landing pages to blogs to full websites, as well as make any changes to the layout, colors, fonts, and more.
You can also input any text you'd like and even add images. There is no need for the knowledge of coding with Oxygen. Oxygen makes this process a breeze.
What is Elementor?
When it comes to WordPress, Elementor is your best bet for a website builder. One way to improve WordPress's design skills is to use Elementor, a drag-and-drop page builder with a lot of power.
Elementor is being used by a huge number of WordPress users and has been rated as an excellent WordPress plugin.
Elementor is a potent plugin that allows you to construct the page you desire without any coding or design experience. This WordPress page builder makes it simple to construct responsive, aesthetically pleasing websites without any coding knowledge.
With this tool, you can make an unlimited number of layouts and build any page you can imagine. All you have to do is drag and drop the simple interface and you'll have a great website in no time.
Now that we know what these tools are, let's have a quick visit into their key differences before we dive into the details of Oxygen vs Elementor.
Oxygen vs Elementor: Key Differences
| | | |
| --- | --- | --- |
| Features | Oxygen | Elementor |
| Templates/Design Sets | Limited gallery | Unlimited gallery. |
| Elements | Limited widgets | Larger options for widgets |
| WooCommerce Integrations | Yes | Yes with dedicated widgets |
| Pop-Up builder | no | Yes |
| Form Builder | no | yes |
| SEO optimization | Yes | Yes |
| Loading Speed | Fast | Fast |
| Custom CSS, HTML coding | Yes, advanced | Yes, basic. |
| Integrations | Limited | Much easier |
| Price | Check out Oxygen. | Checkout at Elementor. |
1. Oxygen vs Elementor: Drag-and-drop interface
Oxygen
Oxygen Page Builder is a good tool for adding content to a web page. In addition to visual drag-and-drop page creation, it features a robust page editor that enables you to alter the page content and create unique styles. However, the layout begins with a fixed grid, which may feel restrictive to certain users.
Elementor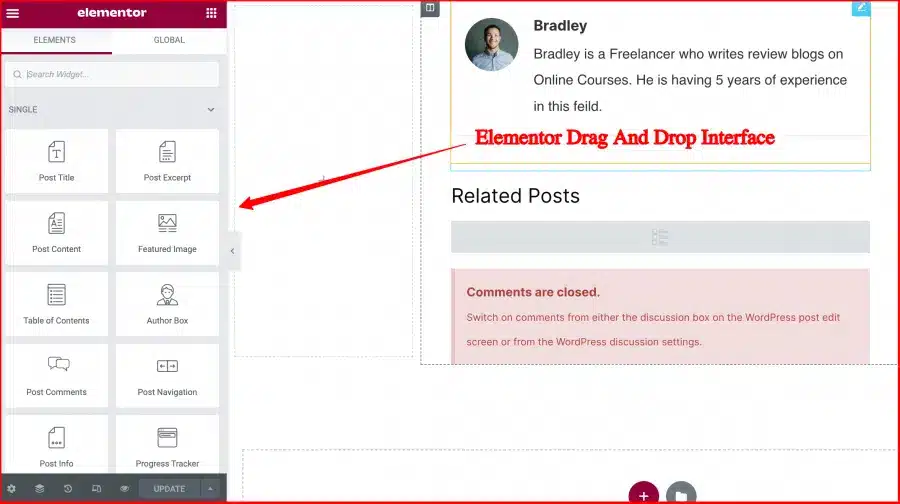 Elementor has a unique and modern interface that makes it easy to build your site by dragging and arranging the different design elements.
It has a sidebar that displays all the elements and modules and widgets that you can simply choose and drag and place in the desired place. It is also intuitive and grid-free making it more fluid and easier to use.
Which Is Better?
The grid layout in Oxygen may feel limited as they do not provide customizations beyond the scope of the grids. It might be favored by some but while using a WordPress plug-in you will expect to be able to design and customize every part of your website so in this Oxygen vs Elementor category, Elementor takes a step forward.
2. Oxygen vs Elementor: Ease of use
Oxygen
The Oxygen Page Builder by Xara is a powerful tool. While it has nearly limitless potential, it is easy to use for the majority of users.
When I say the majority, it does not however include beginners because it does have a learning curve with its advanced options however using the various modules and templates available, users can customize their website to fit any situation.
Elementor
It's a fast, simple, easy-to-use tool. There's no need to hire a developer, you can build a page on your own. It's easy to use, you can drag and drop features and customize it to fit your needs. Its simplistic design makes it easy to add content, you can drag images around, add videos, or use the text feature to add written content.
Who Is Better?
When it comes to the comparison of ease of use then Elementor wins the Oxygen vs Elementor battle because Elementor is a versatile tool meant to meet the needs of both beginners and professionals alike. Oxygen on the other hand is better for experienced hands.
3. Oxygen vs Elementor: Templates
Oxygen Templates
The template gallery of Oxygen is called the design set. You can get either page designs or website designs in their large collection of design sets that are categorized by industry type. These templates are fully customizable and come in various types, colors, styles, and themes.
Elementor Templates
Elementor has a large gallery of templates and web kits for its users. These web kits come with a range of different designs and layouts. There is something for everyone. The web kits are simple to install and the designs are compatible with all major browsers.
They have over 300 templates divided into two categories: Page Templates and Block templates. You can use either of them to create a page of your own. They also have over 100 website kits to choose from.
Who Is Better?
With an extensive library of templates, Elementor definitely wins this category of Oxygen vs Elementor battle as there are more options for their users to choose from. Oxygen does have many templates but you need to subscribe to their higher plans to get hold of them.
4. Oxygen vs Elementor: Widgets
Oxygen
Oxygen Page Builder is a popular WordPress plugin. It uses blocks and modules to create cohesive web pages.
The modules can be placed in predefined positions and then moved to other positions to adjust the layout. It has many elements that you can add to your block and customization like text, images, video, and so on.
Elementor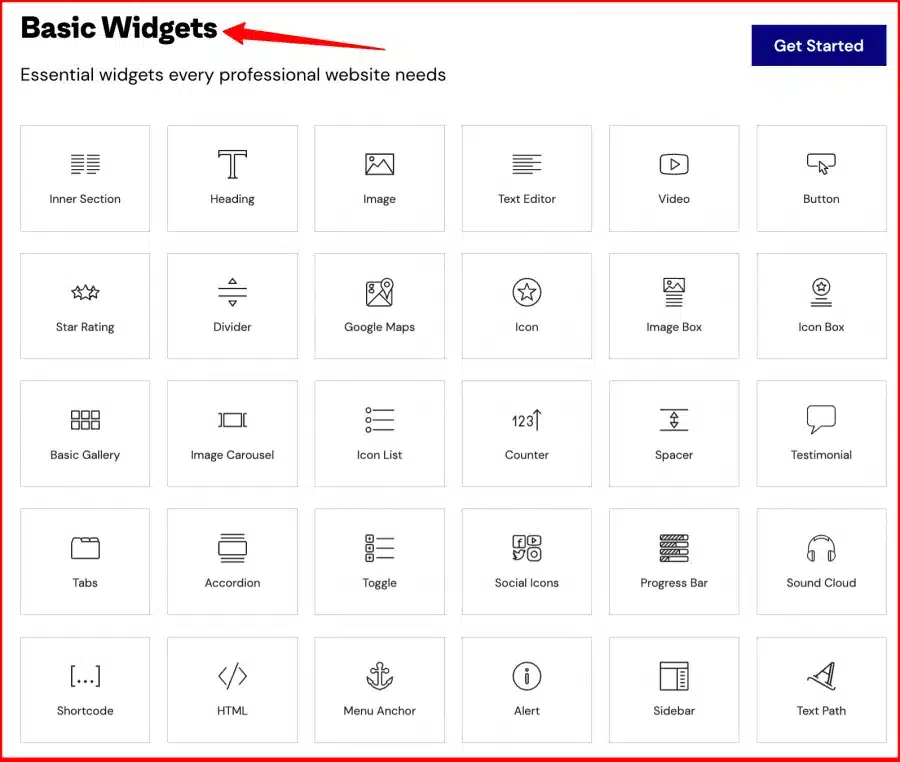 Elementor comes in a free version as well. In fact, even in its free version, it provides its users with 40+ elements to work with.
In any of its Pro plans you are provided with 100+ elements that can easily be chosen from their sidebar and pasted on the preview of the page you are working with.
They also have a separate category of 20+ WooCommerce widgets to add to your page and if you own a business website this may be of good use to you.
Who Is Better?
Elementor is known for its vast gallery of elements to work with. It surpasses most of its competitors by providing its users with unique and versatile elements to add to its pages. In this Oxygen vs Elementor category Elementor bags the award.
5. Oxygen vs Elementor: SEO optimization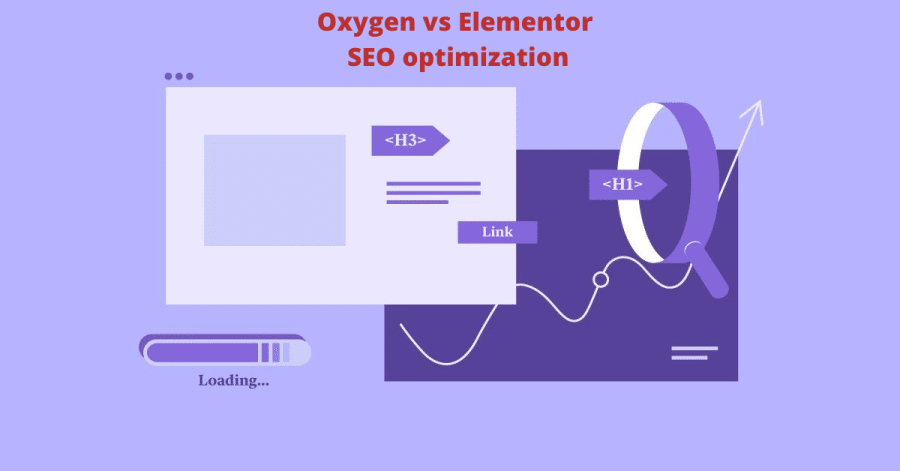 Oxygen
Oxygen Page Builder has a number of features that will help you with your SEO strategy. You can use the in-page optimizer to edit the meta title, meta description, and page title without having to re-publish your page. And you can even add meta keywords and descriptions without having to leave the editor.
Elementor
Elementor, a page builder and page creator, has SEO optimization capabilities right out of the box, including SEO-friendly WordPress templates and SEO title and alt HTML tags.
With SEO-optimised templates, you can get your blog and website to rank higher in search engines, as they are crafted to give search engines exactly what they need to index pages correctly.
Who Is Better?
Now, this is the Oxygen vs Elementor category in which these tools are hard to segregate. They both provide their users with SEO optimization paired with responsive UI that makes their website more functional in both the computer and mobile internet walls. Therefore, this will be a tie.
6. Oxygen vs Elementor: Unique Features
Oxygen Features
Unique features of Oxygen Page Builder are:
Layouts can be changed from horizontal to vertical.
You reveal or hide components dependent on the viewer's screen size.
Works without a theme as well.
Style options let you change the layout and spacing of the columns.
Elementor Features
Unique features of Elementor are: You may also take advantage of Elementor's premade 'Forms' template to encourage audience participation on your site.
Elementor has an inbuilt pop-up builder that allows you to create different types of pop-ups from a given pop-up.
Form Builder: You may also take advantage of Elementor's premade 'Forms' template to encourage audience participation on your site.
You have the styling option Navigator, which allows you to navigate between all of its elements without leaving the page.
It comes with a Safe Mode that helps in diagnosing the breaks and imperfections in your website and correcting them with Elementor itself.
It is a multilingual plugin which means you can adjust the language just as you want.
It can integrate with a larger number of third-party tools like ESPs, social media sites, CRMs, and so on compared to Oxygen.
it is compatible with WordPress themes.
Who Is Better?
When it comes to unique features it's hard to point out the tiny features that differ in these two tools but this is where it makes all the difference.
In this Oxygen vs Elementor comparison, we have seen that Elementor provides its users with more features that allow a greater degree of customization and control over your website so we will let Elementor win in this category.
7. Oxygen vs Elementor: Theme Building
Oxygen Theme Building
Oxygen does not work with any existing themes of your WordPress; this means you have to build the headers and footers by yourself from scratch.
Now, this may turn out to be an advantage as without any existing theme elements the page will load faster but if you are a beginner or someone who wants to work and extend your existing theme then Oxygen is not for you.
Elementor Theme Building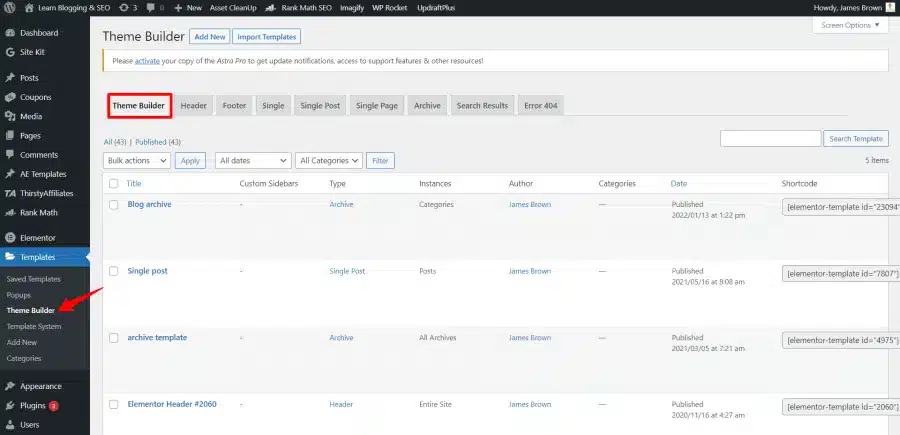 Elementor comes with an inbuilt Theme Builder. This option allows you to not only create themes of your own on your WordPress website but also tweak your existing ones.
You can easily use the drag-and-drop functionality to make the headers and footers of your page attractive and appealing to your viewers' eyes.
Elementor is also compatible with all WordPress themes and also comes with the Hello Theme that you can personally customize as well.
Who Is Better?
This comparison criteria of Oxygen vs Elementor cannot be marked as it depends on the user as to what they want to do with their WordPress Theme.
The fact that most of the things that are not immediately required are deleted by Oxygen may be both a boon or a curse for someone who relied on existing information. Elementor however lets you build your theme into what you already had. It is much more beginner-friendly.
8. Oxygen vs Elementor: Customer Support
Oxygen Customer Support
Oxygen provides customer support through emails, calls, YouTube videos, and documentation like blogs and tutorials on their website.
They have a large user community as well that is very active, supportive, and reliable. When it comes to customer support, I think Oxygen has done its best.
Elementor Customer Support
At its free level Elementor does not provide live support but you can always refer to their YouTube videos and documentation which are really elaborate and helpful.
They provide support in the Pro versions where you get emails, chat support, or even video-call support. They also have a large community of users and a Facebook community as well that is very responsive and helpful.
Who Is Better?
When it comes to providing help and support to their customers, I think both Oxygen and Elementor have outdone themselves by not only providing a library of information but also live support thus in this category of Oxygen vs Elementor there is a tie.
9. Oxygen vs Elementor: Pricing
Oxygen Pricing Plan
Oxygen users are provided with four pricing plans as such: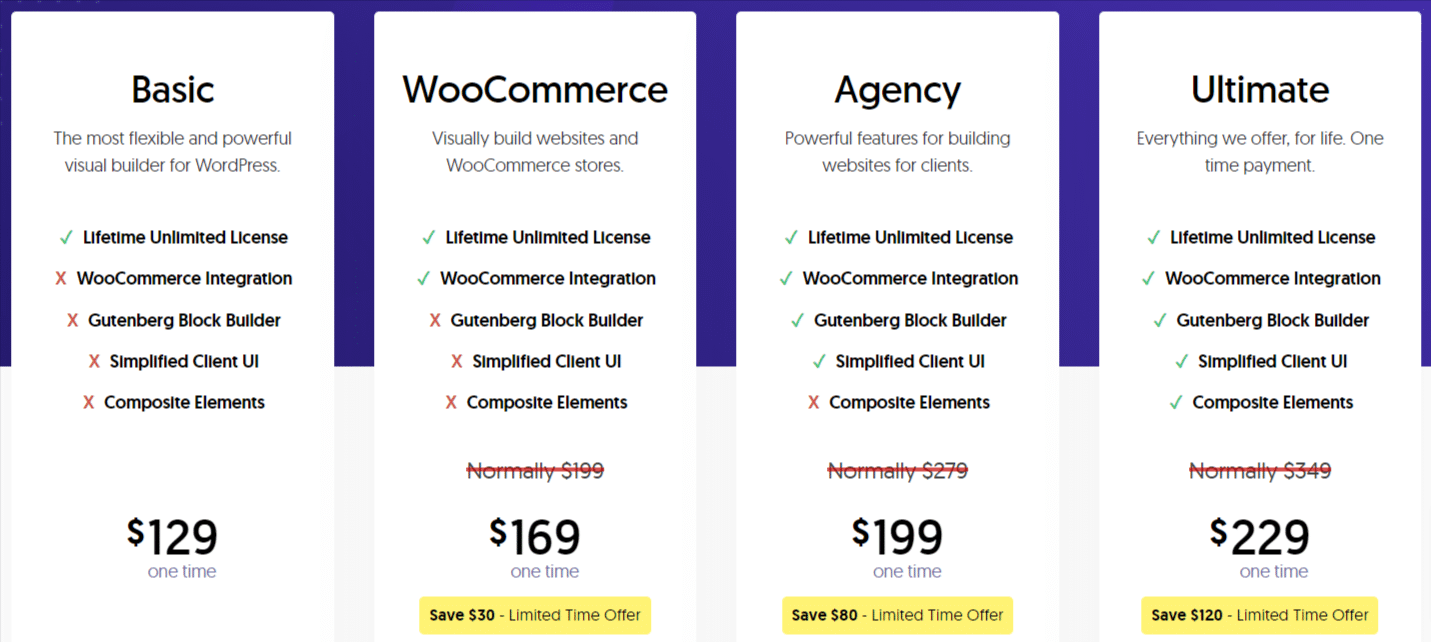 Basic Plan: This is a one-time payment plan of 129$ with lifetime access to most of Oxygen's features for an unlimited website.
WooCommerce Plan: This is also a one-time payment plan for 169$ with lifetime access to Oxygen's features with WooCommerce Integration.
Agency Plan: This is a one-time payment plan for 199$ with lifetime access to all features with Gutenberg Builder.
Ultimate Plan: This is the ultimate one-time payment for all the exclusive features given by Oxygen.
There is no free version, Oxygen but you can, however, try it out for a period of 7 days after which you have to subscribe, and also you are given a 60-day money-back guarantee.
Elementor Pricing Plan
Elementor comes in a free version that you can link to one website and use throughout life with over 40+ elements and 60+ templates, to begin with.
Other than that, you are also provided with lifetime updates even in the free version. However, it does have four pricing plans for its Pro users which you can get at discounted prices using the Elementor Pro Discount code.
Essential Plan: Essential Plan costs around $49 per year. For most of the features of Elementor for 1 website.
Expert Plan: Expert Plan costs around $199 for all the features of Elementor for 100 websites for 25 websites.
Agency Plan: Agency Plan costs around $999 for all features of Elementor for 1000 websites.
Who Is Better?
This is a question that you have to decide. It depends on what is more suitable for you.
If you are not a fan of lifetime payment and would like to try out your tool for free before subscribing then Elementor is the right tool for you but if you require otherwise then you can subscribe to Oxygen and claim the 60-day money-back guarantee if required.
That leaves this category of Oxygen vs Elementor a question for you to solve according to your needs.
Why use Oxygen?
Drag & Drop interface: Easily create optimized pages with the drag-and-drop editor of Oxygen.
Visual Composer: Included Visual Composer for even more flexibility.
Unlimited websites: Build page templates and layouts for unlimited websites.
No coding knowledge required: Hassle-free webpage building without the knowledge of coding.
Why not use Oxygen?
Steep Learning Curve: Oxygen is catered to more advanced website builders and can be hard to use for beginners.
Limited Integrations: It is not universally compatible with many plug-ins and integrations making it feel limited. It is not compatible with any theme and deletes them so you have to build one.
Marketing tools limited: Oxygen particularly lacks some important features that are market-oriented to generate leads like pop-up builder or form builder.
Why use Elementor?
Intuitive Drag-and-Drop Builder: In a matter of minutes, you can design a landing page, website, and blog using this highly adaptable page builder.
Large gallery of Elements: Elementor has over 50 pre-built blocks to help you create anything you want and over 100 elements.
Beginner Friendly: Quick and easy to set up. Launch a website in minutes.
Pop-Up and Form Builder: Conversions could not be easier with Elementor with inbuilt pop-ups and form building.
Elementor Free version: Elementor is free with no hidden costs. No monthly subscription, no lock-in, no surprises.
Why not use Elementor?
Limited Styling: There is definitely room for improvement in the styling options.
Yearly Subscriptions: Could also have a lifetime license.
Social Media: Oxygen vs elementor
The use of social media and social networks to market a company's products and services is referred to as social media marketing (SMM). Social media is an effective way to reach new audiences with engaging content. Social engagement assists you in building trust, and authority, and demonstrating your brand.
Oxygen Facebook page
Oxygen – The Ultimate Visual WordPress Site Builder… With best-in-class WooCommerce and Gutenberg integrations, this theme is versatile, powerful, and bloat-free. It has 8,716 likes and 9,665 followers on its Facebook page.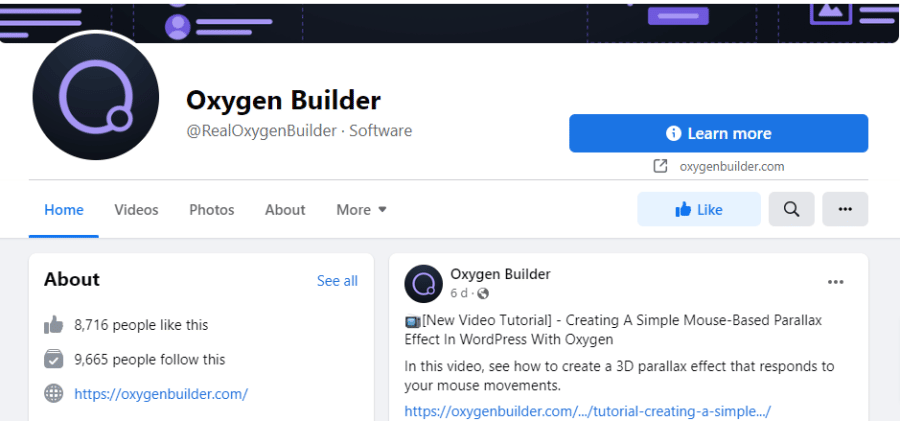 Oxygen Twitter profile
If you can build it with WordPress, you can design it with Oxygen. Oxygen has 878 Tweets and 2,241 Followers on its Twitter profile.
Elementor Facebook page
Elementor has 171,165 likes and 222,239 followers on its Facebook page. Elementor often shares new information about their platform as well as tips and tricks for web design and development.
Elementor Twitter Profile
Elementor has tweeted 6,745 tweets and 22k followers on its Twitter profile and its conveys information regarding itself, as well as on web design and development on Twitter.
Oxygen vs Elementor: Whom should you choose?
Choosing the right tool for your website may sound easy but in reality, is a big feat. We understand your dilemma and have tried to compare these two popular tools in the market in this Oxygen vs Elementor comparison article in hopes that it might help.
If you are looking for a simple easy-to-use and feature-filled page-building tool then I think Elementor does stand out in the crowd but if you do have experienced hands with minute adjustments and codes then you can give Oxygen a try.
You can try Elementor for free to see if it works out for your website or not.
All the best!
Frequently Asked Questions
Is Oxygen Builder better than Elementor?
As far as we can tell, Oxygen Builder and Elementor are pretty similar. The most noticeable difference is that Elementor has a larger selection of elements available for you to use in your designs and marketing tools as well. Overall, we'd recommend you try both. And to make your life easier, check out our Oxygen vs Elementor article to see which of the two products you prefer.
Can I Use Elementor With Genesis?
Elementor is designed to work with existing frameworks and this means that it can be used with any Genesis theme.
Is Oxygen Builder any good?
When trying to decide whether or not a product is any good, it's best to look at its track record of success. Oxygen Builder has been used by thousands of people and to get a vivid description of its features you can refer to this article in which the features of Oxygen are compared to Elementor. You can also try Oxygen out as a demo to see it works for you.
Is Elementor Pro worth getting?
Elementor Pro is an all-in-one drag-and-drop page builder for WordPress. This plugin puts a lot of power in the hands of the average user, which is great for those who don't know how to code. The page builder gives you the ability to build unique pages in an intuitive and easy-to-use manner, without having to touch any code. You also get marketing tools and arrays of integrations with Elementor Pro and it is definitely one of the best WordPress Builders in the market.