You've always wanted to learn magic. But you don't know where to start, or how to perform tricks. Penn And Teller Masterclass is just for you. Read our full Penn And Teller Masterclass Review and check if it is worthy of your time and investment or not?.
You've been searching for easy magic tricks that will wow your friends and family. You want to expand your repertoire and create miracles in a flash.
I know learning magic is hard, but this course makes it simple. Learn from two master magicians with over four decades of experience. You'll walk away with powerful tricks that can be done anywhere.
Since my childhood, I have always been fascinated by the way magicians make things disappear, bring out rabbits and pigeons from an empty hat, pull out money from their ears, etc.
Though as I grew up I came to the realization that Magic is not about any magical superpowers but about the tricks and psychology of the audience.
However, good magic tricks never fail to amaze people and I always wanted to learn them out of my personal interest. So when I first heard that the legendary magician duo Penn And Teller are going to teach the art of Magic on MasterClass, I made up my mind to enroll in this MasterClass.
The course is called Penn And Teller Teach the Art of Magic and to be honest, they really teach magic tricks as an art form and not something which requires some superpower.
In this article, I am going to give you an honest (no tricks, promise!) Penn And Teller MasterClass Review. I hope this review helps you make the right decision.
Who Are Penn And Teller?
Penn And Teller are a legendary magician duo who have been performing and entertaining their audience with their magic tricks since the 1980s.
They have performed on stages from Broadway to Las Vegas which was then followed by appearances on shows like Saturday Night Live and over twenty appearances on The Late Show with David Letterman.
Since then they have had many national tours, successful Broadway runs, and hundreds of Television appearances including their own TV Specials like Bullshit! And Fool Us! They have written three books on Magic and have a popular magic kit called "fool everybody."
All these successful years with Magic are testimony that whatever you will learn from this course is nothing short of Magic!
Learning Magic Tricks From The Masters Comes With Life Lessons Too.
One thing I can assure you that you believe in magic or not but if you enroll in this MasterClass you will definitely learn more about human nature and human psychology, how you can trick the minds of people, and of course why even after so many years we believe in magic tricks and why these tricks never fail to amaze us.
Penn And Teller have been doing magic and performing their tricks across the world for over half a century, so it is not just about magic, it is about lessons, wisdom, and a deep understanding of human nature.
What Is The MasterClass?
The MasterClass was the brainchild of David Rogier and Aaron Rasmussen which came into existence in 2015.
The idea behind MasterClass is that everyone should have access to genius people in their respective fields and learn from these experts, and that is something that differentiates MasterClass from other E-learning platforms.
On MasterClass you can learn Music from Reba McEntire, culinary art and cooking from Gordon Ramsay and Thomas Keller, Negotiation from Chriss Voss, Tennis from Serena Williams, etc. On MasterClass you will find 100+ courses in 11 different categories.
You can learn acting, cooking, film-making, writing, arts & design, sports, business skills, magic tricks, and many other skills on MasterClass and take your interest one step ahead.
What Magic Does Penn & Teller MasterClass Promise?
The course workbook on the first page says that, If you've never done magic in your life, this is a good place to start."
This means that the course is an entrance point to the world of magic where you will learn the fundamentals and gain practical insights into performing tricks and illusions in front of your friends, family, and colleagues and amaze them.
Apart from magic tricks Penn And Teller also tell you that this course will also help you understand human behavior which you will understand as you go through the course.
Penn & Teller takes you through psychology, art, and philosophy and tries to teach you their craft in the most lucid yet interesting way, it is full of wisdom and magic.
Penn And Teller are great teachers of magic, throughout the course they make you feel like they want to master the tricks and teach you with enthusiasm and energy.
What Are The Benefits Of Penn & teller magic lesson?
Learning magic has never been easier
Join forces with the world's best magicians, to learn together, step by step
Master a variety of simple tricks you can perform anytime, anywhere
The complete package of mind-blowing magic tricks
Learn how to tell a story and influence your audience
Get everything you need to hone your magic tricks and confidence
Learn how to do magic at home – with no special props, magic books, or hired assistants
And learn about the psychology of magical performance and building a personal audience
Discover how to make your magic tricks even more impressive than before!
Master an impressive collection of creative magic tricks. Each trick is a unique performance that's full of surprises and action
Understand how to get the most out of your performances in any setting. Now you can perform with confidence, even when it's challenging!
Receive the benefits of online learning as you study from a trained professional, easily on your device
What Is Included In The Penn And Teller MasterClass Lessons?
The Penn And Teller MasterClass on Magic available on the MasterClass platform is 2 hrs 53 mins long and contains 17 lessons on different types of magic, and different aspects of performing magic, and covers all the fundamentals of magic that you may require to get started.
Here is the list of all the lessons which you will find in Penn And Teller's MasterClass on the art of Magic:
Introduction
Sleight of Hand: The French Drop
Cup and Balls
What is Magic?
Misdirection
Coin Magic
Magic vs Lying
Mentalist or Crook?
Card Magic
Exploiting the Best of the Human Brain
Rope Tricks
Principles of Performing
Cause and Effect
The Joy of Magic
Bonus Chapter 1: Advanced Student Coaching
Bonus Chapter 2: Piff the Magic Dragon
Bonus Chapter 3: Penn and Teller Live
As you can clearly see in the above-mentioned list that this MasterClass covers so many different types of Magic ranging from Card tricks to Cup and balls, Misdirection, coins, sleight of hands, and a lot more.
It also comes with three Bonus chapters which will take you to the advanced level of magic tricks, tell you how to perform magic acts, how to interact with the audience, and finally become a good magician.
What I Loved About This MasterClass On Magic?
Here are the things that I like about The Penn & Teller MasterClass magic course.
1. Well Structured And Creates Value
I can say that I have learned a lot from this MasterClass of magic by Penn And Teller.
The course is very well structured and covers all the fundamentals of Magic, performing tricks, understanding the audience, handling props, and doing proper hand movements.
All these things are very important for a perfect magic trick and Penn And Teller make sure that you learn and master them.
The class is also filled with many tips to perform the trick really with conviction and confidence. The way Penn And Teller teach you different tricks, you get inspired and fascinated by the sheer enthusiasm that they portray in their videos.
2. Great Delivery And Teaching
The way Penn And Teller deliver their course content you feel really connected with them, they try to draw you towards them and make you learn everything in depth.
When they perform their tricks it looks so effortless. Penn And Teller are amazing performers and their experience of five decades has made them great communicators as well.
The magic lies in the way they communicate with you and makes you focus on the trick only and nothing else, yes, that is something that makes the course even more fascinating. They tell you the logic behind every magic.
The cherry on the cake is the amazing production by MasterClass, the quality of audio and video is superior which makes the learning process more convenient and smooth.
3. The Course Whole-Heartedly Welcomes The Newcomers
Penn And Teller Teach the Art of Magic is made for beginners who are interested in magic, who love magic, and who are fascinated by the joy that magic brings into the lives of people.
This MasterClass as I said is the pass to enter the world of magic and Penn And Teller make sure that you get the best entry.
Penn & Teller encourages people to learn magic, they try to tell the importance of magic and how it touches all walks of human existence.
On the technical part, Penn And Teller make sure that every trick they teach reaches the audience in the most simple manner possible and they try to break down every step and show how to perform a complete act.
4. The MasterClass Full Of Magic And Joy
I love MasterClass for the very reason that you get to learn from masters and experts.
I have learned a lot of practical things from different MasterClass, I enjoyed all of them more or less but, this MasterClass was different.
I enjoyed it, I learned something which I thought I would never learn, and most importantly it brought me so much joy and fun to me.
Magic has the ability to touch people's lives, it does not just entertain them like movies, music, and dance, it amazes them, and it makes them believe that anything is possible.
So, after learning tricks from Penn And Teller on this MasterClass, I performed a few small tricks at a family gathering and they were amazed, they were overjoyed, and looking at their surprised and happy faces, the money I paid for MasterClass was worth every penny!
5. A Fine Balance Between Theory, Practical, And The Magic
There are many things in this MasterClass that you can try your hands on.
Magic practice matters a lot for smooth hand movements and perfect acts and Penn And Teller make sure that you learn that and become a master.
However, Penn And Teller provide you with good theory too to improvise on your tricks and tell you what needs to be taken care of while performing an Act.
Hence there is a good balance of practice, theory, and of course, Magic is something which you will find throughout.
Things Which Can Be Improved In Penn And Teller Masterclass
Here are the things that can be improved in Penn & Teller MasterClass.
1. The Workbook Has Little To Add To Your Learning
In contrast to other MasterClass workbooks which are great, simple, and help to extend your knowledge and provide a theoretical base, however, Penn And Teller MasterClass workbook does little to extend your knowledge, it does not contain anything extra or does not leave much scope to learn more tricks.
It is just the written format of whatever you learn in the video lessons. Workbooks do not contain anything extra that you can perform or try or do hands-on by yourself.
2. Short Course
Was it a short course or do I feel that? I was hooked on the course till the end I didn't realize that it is over. The Penn And Teller's MasterClass is just 2 hrs 53 min long and when you are learning such amazing tricks, you don't want it to end, not so soon!
3. Weak Community Engagement
Communities and forums form a major part of learning and interacting with other students and like-minded people to showcase their own creations, raise the query, discuss new ideas, etc.
Unfortunately, you may not find a lively community in Penn And Teller's MasterClass which is in contrast to other courses on MasterClass where you find a lively community and like-minded people speaking their own experiences and allowing quality learning.
Is There Any Benefit Of Knowing The Magic Tricks From Penn And Teller Masterclass?
Before learning magic, I used to see it with a very narrow mind and felt like it is just another way to entertain people.
But, after learning magic tricks from Penn And Teller I have become more respectful towards the art form and have realized that magic is a very diverse branch and draws upon every walks of human life like Science, Engineering, illusions, Mathematics, acting, comedy, Dance, and Music.
It is also the best field where you can learn more about human behavior and human nature than any book will ever teach you.
The benefits of learning magic are it helps you to connect with people, makes you more observant of your surroundings, and helps you focus more on small things.
What Did I Learn From Penn And Teller MasterClass?
I would be honest, before enrolling in this MasterClass I knew nothing about this art form, knew nothing about magic, in fact, I looked at magic with a very narrow view, however, after completing this amazing MasterClass by legendary Penn And Teller, my view has broadened and I have understood that magic is more than just disappearing things into thin air.
After completing this MasterClass I have more fundamental knowledge about tricks and illusions, I am improving at the proper handling of different props and hand movements used to perform a trick, have understood that every moment of inactivity has its own importance and a lot more.
Apart from these things I have also learned many life lessons which were experienced by Penn And Teller over the last 50 years of their magical career.
Pros & Cons Of Penn & Teller MasterClass
Penn & Teller these guys are really popular magicians across the world. They have over 40 years of experience in magic so they really know what they're talking about.

it has 14 lessons but you also,have three bonus lessons which are which have a lot of value.

Also have the workbook that you can download in a PDF which is really nice.

You can literally get access to this master class on any platform you want. You can watch it on your TV on your tablet on your iPhone, iPod, Computer whatever it really works.

They provide fourteen different lessons there's included in the class with three extra bonus lessons.

The videos are really high quality as you can see like HD 1080p.

What's also really cool is the office hours so if you have any questions or comments to say about the course you can actually get in contact with Penn & Teller and they will actually answer your question throughout the Masterclass platform.

They have also a lesson discussion so you can talk with other students that took the masterclass so if you have any questions there's also other students that could help you out and you can really interact with other students throughout the course

The Video is bit Shot, but valuable.
How much is Penn and Teller MasterClass?
After reading this review and my own experience of this course, if you also feel that Magic is something that interests you, you can enroll for Penn And Teller's MasterClass, it will cost you $180 which is $15 per month.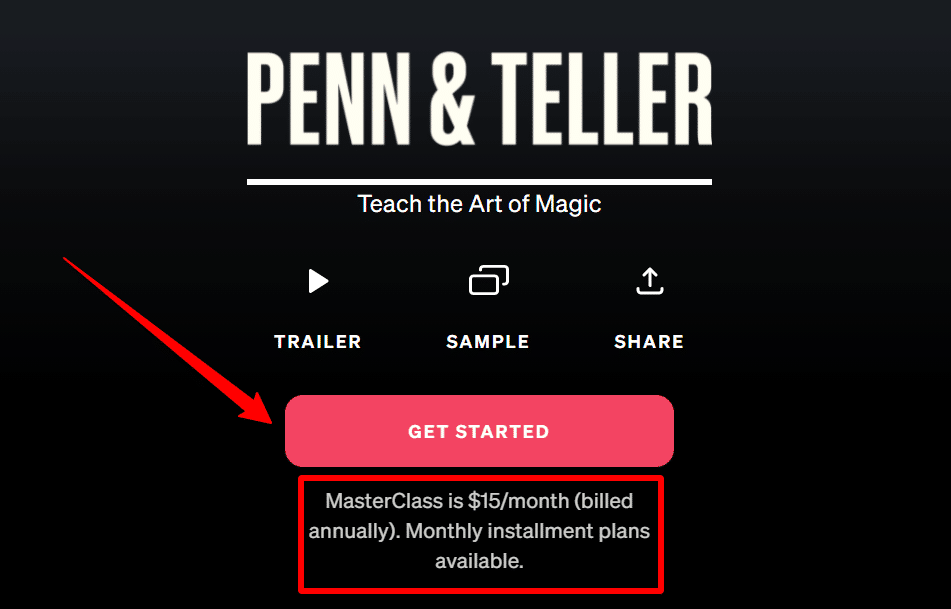 This annual subscription gives you complete access to all the MasterClass courses for one year and you can learn everything that interests you from the world's best instructors right on your mobile screen or on your TV.
If you think it is like an investment, then trust me the Return on this Investment is massive.
You get to learn whatever you want from the experts in their field, at your own pace and embark on a journey that will satisfy your urge to learn and get started with something truly MAGICAL!
Now, you can also share it with your friends as Masterclass Gift and make their life more interesting and skillful.
Are Penn & Teller MasterClass Worth It?
Yes, The Penn and Teller MasterClass is worth it if you are fascinated by magic tricks and are curious to know how that mind-blowing trick was performed. It is also worth it if you want to know more about Human Behaviour and psychology, it won't disappoint you.
Also, if you want to impress your friends and family with some crazy tricks, then it is worth every penny, and take your magic act one step ahead.
This MasterClass may not be for you who have little or no interest in magic, well to learn anything your interest in that field is an important aspect.
Also, if you expect Penn And Teller Masterclass to reveal secrets to some of their biggest and most famous magic tricks, then you might get disappointed. Also, It is not for you if you have already graduated from the Hogwarts School of Witchcraft and Wizardry.
Why did Penn & Teller reveal how magic tricks work?
Penn & Teller Masterclass, in my opinion, only disclose "secrets" to their own effects, or to blindingly basic ones, and they occasionally make the explanation so absurd and long-winded that people believe they are giving away secrets.
I believe in ironic magicians. Also, the "trick" they're performing, such as driving a truck over Teller, is usually more fascinating than the reveal.
They do cups and balls using clear cups, for example, and explain as they go. Then they do it at full speed, with no one noticing! Magicians can be a little overly sensitive at times.
The boys have been known to reveal secrets, although they are usually for illusions that are either (1) lame to begin with or (2) more interesting once the secrets are revealed.
Consider the following examples:
The boys revealed the "Blast-Off!" illusion in their Vegas act (as well as in the special "Don't Try This At Home!"), which is a pretty good stage illusion, to begin with. The dance involved in the performance was also entertaining to see.
Penn "accidentally" demonstrated his technique for escaping from a strait jacket during his Vegas act. As a result, the audience erupted in laughter, believing the escape was real.
The boys disclosed the secrets behind the illusion of driving over Teller with a huge truck in "Don't Try This At Home!" Penn discussed with his guest's numerous possible ways to pull off the illusion, including a trick truck, a fake Teller, a strengthened chest on Teller, and concealed ramps.
It was accomplished using a trick truck. (I got the unusual opportunity to touch one of the gimmicks that enabled the illusion to be executed.)
Is Penn Or Teller Better?
Teller is unquestionably a brilliant illusionist.
Penn frequently mentions this fact in their performances; he loves to play on the concept that he's the big dumb one who entertains the crowd while Teller performs all of the difficult sleights of hand.
They are both talented in separate areas, which is why they make such an excellent team.
Is Penn And Teller Masterclass Content Unique?
Penn and Teller's programs are available on Youtube, Netflix, and other streaming platforms. But keep in mind that these are designed to entertain rather than to teach magic.
On YouTube, there are also many clips (in which Teller does not talk) in which the duo does a single trick and teaches them.
However, Penn and Teller MasterClass do give unique content in terms of a comprehensive program that is expressly designed to teach the principles of literally hundreds of magic tricks, with Teller speaking for the first time.
Penn And Teller's Social Presence
Let's have a look at Penn & Teller's social presence and how active they are on various social media platforms such as Facebook, Twitter, Youtube, and Instagram.
Penn & Teller Facebook
Penn U Teller has a Facebook page with over 580k followers,
Penn & Teller Instagram
They have Instagram profile with over 134k followers.
Penn & Teller Twitter
Penn Jillette has a Twitter account with over 53k followers.
Penn & Teller Youtube
They are also on a YouTube channel with over 4.7k subscribers.
Final Thoughts On Penn & Teller Masterclass
Penn And Teller MasterClass is perhaps the best course on the art of magic which is available on the internet. It covers almost every fundamental of performing a magic trick in the most simple yet interesting manner.
Penn And Teller make sure that every trick they try to teach you, you perfect in them so that there is no margin of error when you perform them in front of your audience (which is really important).
Magic is more than tricks and it tells you more about human psychology and behavior in this MasterClass, Penn And Teller try to satisfy your curiosity by teaching you more about human psychology as well to make sure that you understand your audience well and can connect with them easily.
So, If you are convinced then what are you waiting for? Go get your pass to the world of magic from none other than Penn & Teller.
That's all from my side on Penn And Teller Masterclass Teaches the Art of Magic Review.
Frequently Asked Questions
How rich are Penn and Teller?
Penn and Teller's Net Worth: Penn and Teller are a duo of American illusionists with a combined net worth of $400 million dollars. Raymond Joseph Teller was born in February 1948 and Penn Fraser Jillette was born in March 1955.
How long have Penn and Teller been doing magic?
Penn & Teller have been performing their magic act for rapt audiences for more than 40 years, making them one of the longest-running shows in Las Vegas.
Are Penn and Teller actual magicians?
Penn & Teller is a duo of American magicians, entertainers, and skeptics who have been performing together since the late 1970s. They're known for their ongoing activities, which combine comedy and magic.
How long is the Penn and Teller MasterClass?
The Penn & Teller MasterClass on Magic covers 17 video courses and lasts 2 hours and 53 minutes.
Are Penn and Teller actually friends?
Penn confessed this in an interview with CBS. Although they look to be close onstage, they do not appear to be in their personal lives. "Teller and I never got along," says the author.