If you're looking for the best platform for online courses, you're on the right page. In this post, I have done a comprehensive comparison of Pluralsight vs Coursera such as pricing, features, pros & cons, and more.
Pluralsight and Coursera are available to anyone who is interested in learning about, data engineering, computer science information technology, and other technology-related topics.
Let's get started!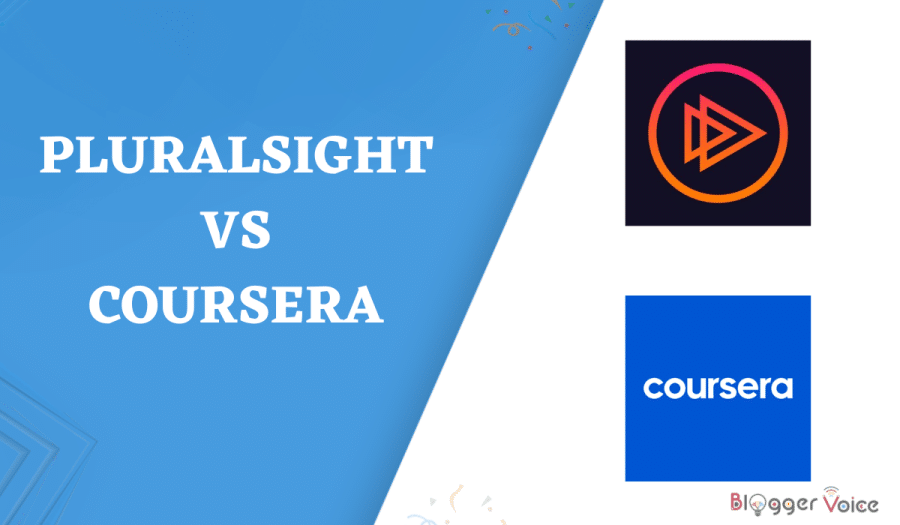 Pluralsight Overview
Pluralsight was founded in 2004, making it one of the latest online learning systems available today. Initially, Pluralsight was indeed a school training company that sent its teachers to conferences and workplaces around the United States.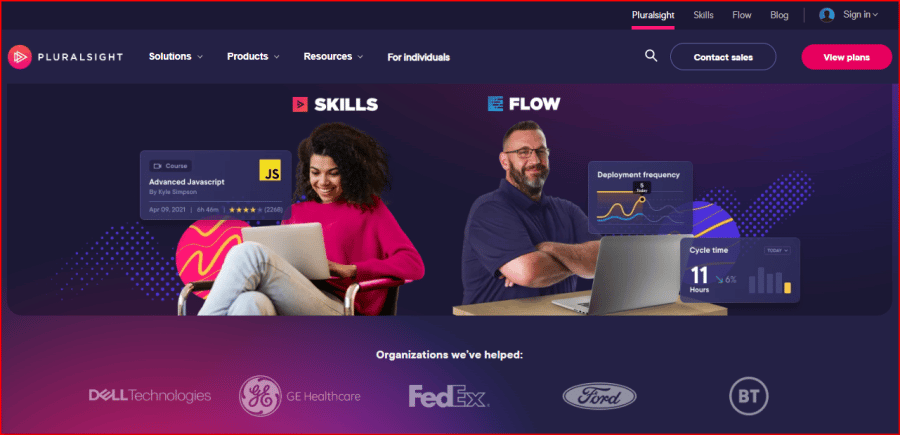 This site is now nearly universally recognized as an educational resource available online. There are less than a million users, but more than 7,000 courses are offered in almost 50 languages.
It is also well-liked for its user-friendliness, high-quality courses and instructors, and emphasis on technological themes. The majority of course resources are videos, however, students may have access to other formats as well.
Pluralsight is the most liked online class platform, read our article Pluralsight review to get a details analysis.
Coursera Overview
Coursera is a virtual university where students can access lectures, discussions, and assignments on any topic they choose, whenever they want.
Courses are made available through the platform's collaboration with educational institutions and corporations such as Amazon Web Services, Google, and IBM.
If you're looking for an effective online learning platform that offers more than just tech-based courses, go no further than Coursera. That's dissing Pluralsight a little bit, but it's real! Learn more about my experience with Coursera by reading my in-depth review.
Coursera provides a college-led curriculum by partnering with top universities to create high-quality courses.
Coursera offers classes in a wide variety of languages, including Russian, Korean, German, Spanish, and many more, removing a major barrier to education for many people throughout the world.
Coursera does not only facilitate the acquisition of in-demand competencies through the consumption of well-structured courses but also awards completion certificates and provides access to financial help for those who qualify.
Pluralsight vs Coursera: Key Differences
Both Pluralsight and Coursera are well-known and widely used online educational platforms. The following is a list of the primary differentiations between the two:
Pluralsight provides training in fields like software development, IT operations, data professional, 3D animation, and game creation to anyone who is interested in technology and the arts. Coursera's offerings, on the other hand, go beyond technology and the arts to include the social sciences, business, and more.
Most lessons on Pluralsight are in the form of videos, but there are also hands-on lab exercises. Along with video lectures, readings, and quizzes, some Coursera courses also have interactive projects and hands-on exercises.
Pluralsight does not provide course completion certificates. Coursera, on the other hand, offers not only Specializations and Degrees but also certifications for both free and paid courses.
The iOS and Android versions of the Pluralsight mobile app make it easy to study anywhere, at any time. Coursera's courses can all be seen in a web browser, and there is also an app for mobile devices.
Pluralsight vs Coursera: Pros & Cons
Pluralsight pros & cons
| | |
| --- | --- |
| Pros | Cons |
| Beneficial for One's Profession | No Refund Policy |
| Learning Paths Provide Comprehensive Knowledge | |
| One Subscription, Unlimited Access | |
| Reliable Student Support | |
| Expert-Taught, High-Quality Courses in a Variety of Subjects | |
| Affordable pricing options | |
Coursera Pros & cons
| | |
| --- | --- |
| Pros | Cons |
| Courses and specializations that take a few months to finish | Pricey |
| Access to forums for the community | |
| Courses at the college level are taught by the best professors in the world | |
| Specializations and MasterTracks have hands-on projects | |
| You can visualize classes for free and then buy a certificate if you want one | |
Pluralsight vs Coursera: Features
Coursera is already a frontrunner in this space, offering a university-level education from some of the world's best universities and largest organizations.
Pluralsight is one of its major firms, and it has found success by focusing on providing on-demand evaluation and training for the technology industry's hottest talents.
Here I have mentioned some of the key features between Pluralsight and Coursera.
1. Course Quality
The course in Pluralsight is all taught by professionals and industry experts with years of experience in their fields.
Pluralsight made sure the modules were laid up in a way that made it simple to follow along with each portion while the instructor focused on the course's overall quality.
Since the courses on Coursera are taught by actual university professors, you may rest assured that they are of the highest possible caliber.
Courses are discussed thoroughly with applicable examples and homework to kick off the learning process. Coursera is an absolute treasure trove of information for you to explore.
2. Flexibility
Pluralsight provides an opportunity to learn at your own tempo, unlike Coursera's timed projects and quizzes.
Pluralsight still includes tasks and exams you need to pass to maximize your learning experience.
Individual courses range from 5 to 40 weeks, depending on their depth. Some courses are short.
Paths is another story. These pathways consist of numerous courses and may take months to complete if you're a beginner.
Coursera has lengthier courses and specializations than Pluralsight. A specialization takes months. MasterTracks takes months or even years to complete, which is understandable considering its university-level schooling.
If you pay for a Coursera course, you must pass tests and assessments before moving on. You can skip exams if you're merely auditing the course.
This implies you'll need to spend more time on examinations to pass them (most require a score of 80% or higher), but I think this leads to a greater level of learning.
3. Ease Of Use
Pluralsight's UI is designed with beginners in mind, so it's simple to get around and locate what you're looking for. You may look for your classes using the search bar at the top of the screen, and the platform will also provide suggestions for you based on your previous activity and stated preferences.
You may customize your learning goals to give Pluralsight a sense of your preferred learning style, and you'll receive daily reminders to study depending on the amount you've already absorbed.
Coursera offers a consistent user experience so you're not frustrated by the courses' ease of use.
Coursera's self-paced modules have capabilities that let you switch courses without losing progress.
Coursera's course quality is the best among competitors, however, it lacks hands-on learning like Pluralsight.
4. Course Catagories
Pluralsight offers the following course categories: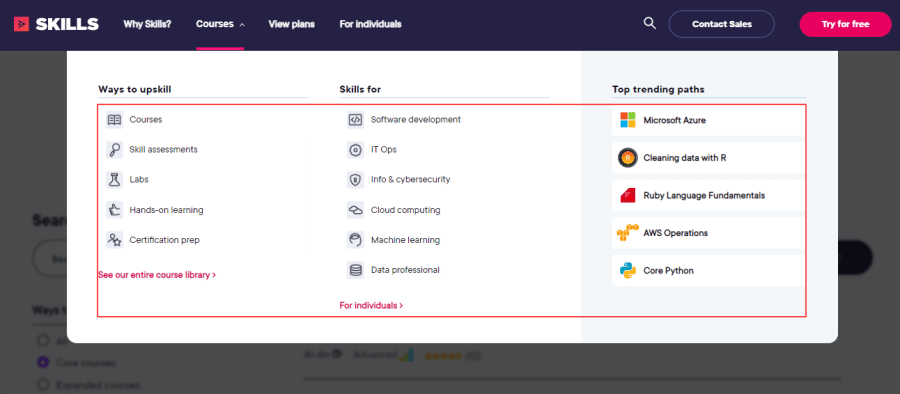 Data Professional
Software Development
I.T. Ops
Cloud Computing
Information & Cyber Security
Architecture & Construction
Manufacturing & Design
Creative Professional
Machine Learning & AI
Business Professional
Coursera offers the following course categories:
Data Science
Language Learning
Arts & Humanities
Business
Computer Science
Physical Science & Engineering
Information Technology
Health
Math & Logic
Personal Development
Social Sciences
5. Certification
Certificates are optional and can be purchased alongside a personal or premium plan if you'd like. If you complete a video course on Pluralsight and get a perfect score, you'll get a certificate to show off.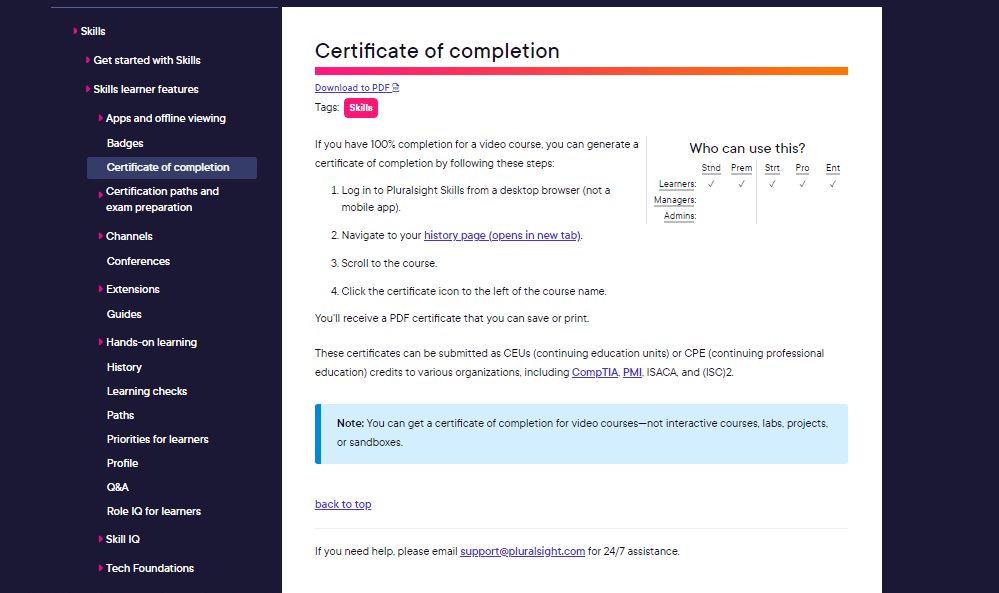 A PDF certificate will be sent to your inbox, from which you can print or download a copy.
Many courses on Coursera offer certificates upon successful completion. The cost of the certificate is also due. An individual who has been granted Financial Aid is eligible to receive a Coursera Certificate at no cost.
You can improve at any moment during or after an audit if you decide you wish to obtain a Certificate for the course.
A Coursera certificate is worth anything because it comes from a reputable institution or business. Unlike many similar resources, they provide more than just a simple completion certificate. Because of this, your time spent learning new skills through Coursera will pay dividends in the long run.
Pluralsight Vs Coursera: The For Best Suited
Pluralsight
Aspiring programmers, designers, or even techie students.
Users who desire to gain practical experience working on technology-related projects with their hands.
Anyone who has a passion for technology and is interested in acquiring a talent that is in high demand.
Coursera
Motivated learners seeking a centralized hub for training in a variety of specializations.
Whoever needs it can apply for financial aid to help pay for college.
Those who wish to pursue a degree online.
Those who learn best visually and would want to take interesting courses and pass exams to prove their knowledge will find this website ideal.
Pluralsight vs Coursera: Pricing & Plans
Pluralsight pricing
Individual learners can access Pluralsight for $29 per month for the basic plan and as much as $39 per month for the premium plan (from $299 per year for the basic plan to $499 per year for the premium plan).
If you choose Professional, it will cost you $579 per year, while Enterprise will cost you $779 annually.
Pluralsight offers exclusive discount deals for its users on a regular basis, To get check out our article Pluralsight discount.
Coursera Pricing
Since each course on Coursera has its own specific price as well as a subscription option, there is a subtle catch when it comes to the pricing structure of Coursera's classes.
You can look at more than 1000 courses for free.
You can buy courses for $25 to $99 and have access to them for life.
For $399 a year, you could get direct exposure to everything Coursera has to offer.
Pay between $10,000 and $25,000 to Coursera and you can get a virtual degree.
Conclusion
Overall, Each of the two learning systems Pluralsight and Coursera excelled in their own way. Pluralsight, for instance, excelled in a more hands-on learning environment, while Coursera provided exceptional course quality.
One potential drawback of Pluralsight is that it is limited to technical training exclusively. Coursera, on the other hand, welcomes participants from a wide variety of fields. True, Coursera offers online diplomas.
Frequently Asked Questions
Do Coursera certificates really matter?
Certificates from Coursera are well worth the work. Coursera courses are respected industry certifications made in collaboration with some of the world's best organizations.
Is Pluralsight worth beginner?
If you are just starting out, you should definitely sign up for Pluralsight. In fact, the platform's courses are organized both by the level of familiarity with the material and by the degree of difficulty. The user can choose between three different options depending on their level of comfort.
What makes Pluralsight different?
In addition to Role IQ and Skill IQ, Pluralsight gives you opportunities to practice skills in real time and get feedback on how you're doing. This can help you learn skills quickly. Some of our best technologies are now accessible as Interactive courses and Projects.