In this article, we have explained Pluralsight vs Educative.io.
After going through this article, I hope you will find out which one is best for you.
The popularity of e-learning platforms is continuously rising as each day goes by. The number of websites and the level of competition both grow as a result.
Pluralsight and Educative io are two such websites that have skyrocketed in popularity. So let's get right to it and find out who benefits from it.
You'll discover how I contrast Pluralsight and Educative io, which one I thought was better.
You ought to have a clearer idea of which platform is best for you after reading this in-depth comparison, and any uncertainties or concerns need to be cleared up.
Pluralsight Vs Educative.io Overview
Pluralsight Overview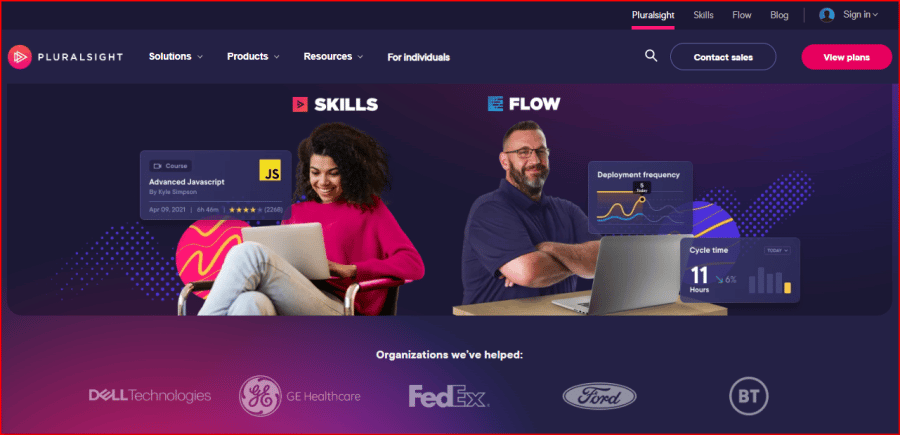 Pluralsight is educational entertainment platform made for people who want to learn about technology. There are currently more than 7,000 courses for improving technical skills, which are run by more than 1500 experts.
Like any other platform, Pluralsight gives you a set of tools that let you compare your skills to those of other people who have used their services.
Since it began, the software company has had millions of users sign up for some of the most popular courses among IT professionals and enthusiasts around the world.
After getting such a big following and a good name over the years, they made deals with big companies like Google, Microsoft, and Adobe.
Pluralsight is one of the most liked online course platforms. If you are looking to get more in-depth, check out our article Pluralsight reviews.
Eucative.io Overview
Educative.io is an all-encompassing online learning platform that combines courses for developing technical skill sets and preparing for interviews.
The site provides users with text-based interactive learning courses, many of which are considered to be among the best courses available for coding interview preparation.
In addition to this, there are a number of free tools available to develop crucial technological skills. The best way to take advantage of the platform is to sign up for a monthly Educative.io subscription,
which not only gives users access to all of the platform's available courses but also assists software engineers and programmers in remaining current on the latest advancements in their respective fields.
In addition, Educative.io comes equipped with an in-browser terminal that enables users to enter code and have it executed directly within the platform.
This sets Educative.io apart from other resources, both free and paid, in that it makes learning multiple different technologies simultaneously simpler.
It offers some of the top coding interview preparation courses, including Grokking the System Design and Grooking the Pattern of the Coding Interview. I heartily endorse them.
In addition to that, it offers a large number of free resources, such as this free JavaScript tutorial, that may be used to learn important technologies.
You don't have to pay anything to sign up for this class, but if you want to get the most out of the platform, you should.
Pluralsight has many alternatives, to know more about its alternatives, check out Pluralsight competitors.
Pluralsight vs Educative.io: Pros & Cons
Pluralsight Pros & Cons
There are many things about Pluralsight that you like.
| | |
| --- | --- |
| Pros | Cons |
| All plans come with a free trial. | 24/7 support is available only for premium users. |
| Suitable for people of all skill levels. | |
| Offline downloads are made available. | |
| Amazing help over email and the phone | |
Educative.io Pros & Cons
| | |
| --- | --- |
| Pros | Cons |
| Educative.io offers free classes and a 7-day trial. | Visual learners won't like Educative.io's lack of video lessons. |
| You don't need to set up every coding environment. Educative.io preconfigures coding environments. | Educative.io doesn't offer authorized courses, but you can get a certificate. |
| Educative.io updates weekly. Depending on your plan, you can get early access to new courses. | |
| This platform lets you highlight text, save notes, and more. | |
| You can practice what you've learned in each course's quizzes, challenges, and playgrounds. | |
Pluralsight vs Educative.io: Features Explained
Despite the fact that Pluralsight and Educative.io platforms offer a bit similar services and classes, there are some key distinctions between the two.
Pluralsight features
Even though Pluralsight has a lot of features and a lot of tech-related courses, let me quickly describe the best ones.
Cloud Lab
The cloud lab is a cloud station that is already set up and where you can put everything you've learned in a Pluralsight course to use right away.
Flow
Flow is a useful tool for seeing how your team's work is coming along.
You know everything about the projects being worked on and can fix any problems right away if there are any. I even tried it with my coworkers, and it went off without a hitch.
Skill Assessment
If you're not sure which course to take, I'd suggest taking Pluralsight's skill assessment, which is a simple quiz-based test of your basic skill interpretation.
Educative.io Features
The following sections detail the features of Educative.io.
Exciting Challenges, and a Wonderful Setting for Coding
For each course and challenge that you select, you will receive a problem set that you must solve.
As a result of having already logged in, you will have access to an integrated coding environment with a built-in tester, reducing the amount of time you spend coding.
Various programming languages
Knowing only one language is no longer sufficient for job applications at some companies. The ability to speak at least two languages is highly sought after by many employers.
So, you can choose from a wide range of programming languages to get started on your path to becoming a programmer.
Solution Review
With the pseudocode provided on this platform, you may better understand the concepts at a fundamental level.
Many top-tier recruiters don't bother to seek the proper codes.
Pluralsight vs Educative.io: Pricing
Pluralsight Pricing
Pluralsight is a service that people and businesses can sign up for to learn new skills or brush up on what they already know in certain areas.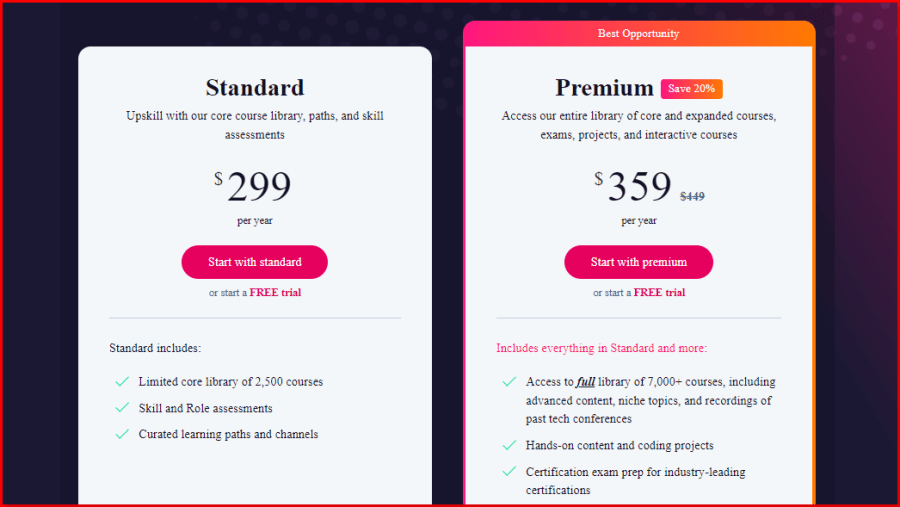 For software developers at the beginner, intermediate, and expert levels, there are also a number of training tools that can be used with a paid subscription.
In general, On Pluralsight pricing, there are three plans: Monthly, Annual, and Premium.
The monthly package costs $29.00 per month, the Annual costs $299 ($24 per month), and also you can buy Premium for $449 per year ($37 per month).
Although Pluralsight pricing plans are very competitive, you can also get great savings just go through the Pluralsight pricing discount post.
Educative.io Pricing
Text-based courses and an integrated coding environment are provided by Educative.io. As a result, you will be able to study more efficiently and avoid wasting time.
You can begin your courses at any time on educative.io and complete them to your satisfaction. Educative.io's practical knowledge can help you enhance your talents in addition to your theoretical information.
There are more than 165 courses available to help you advance your coding skills and achieve success in today's competitive environment.
Social Media Platforms
Pluralsight Social Media
Pluralsight utilizes various social media platforms to share recent updates with its users such as Facebook, Twitter, and LinkedIn.
Facebook Page
Pluralsight posts the latest e-learning courses and has 1,244,453 likes and 1,250,856 followers on its Facebook page.
Twitter Profile
Pluralsight has tweets 36.8k tweets and 254.4k followers on its Twitter profile.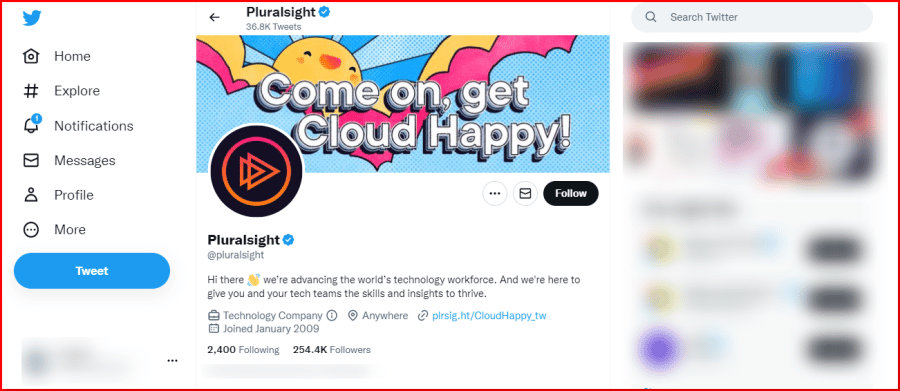 LinkedIn
Pluralsight shares ideas related to tech-based with its users. It has 164,997 followers on its LinkedIn profile.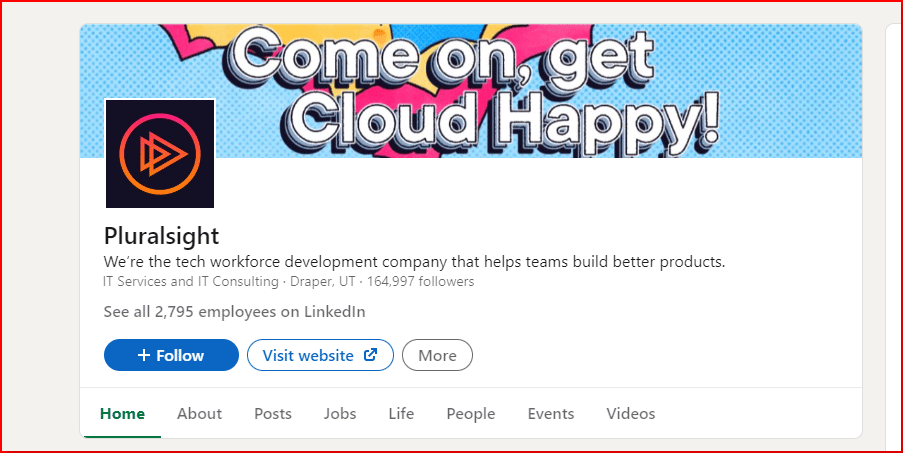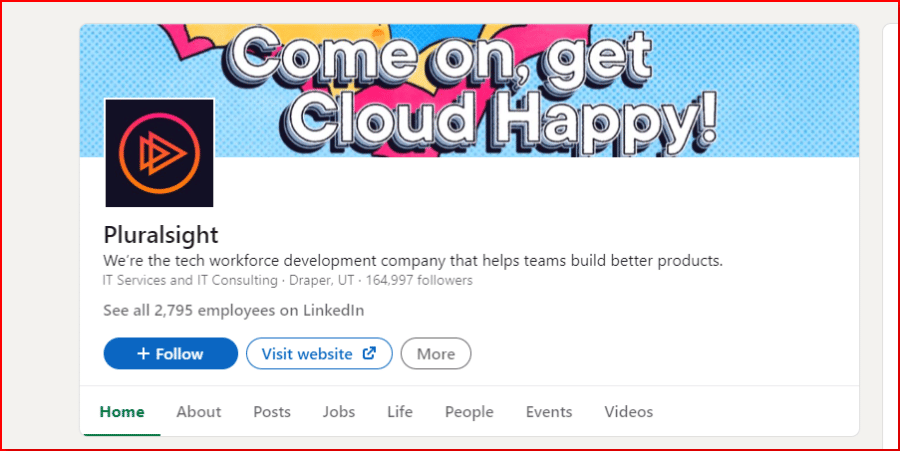 Educative.io Social Media Profiles
Educative.io uses many social media platforms. Here I have mentioned some of the most liked platforms.
Facebook
Educative.io would make updates to its courses as they become available. It has 17k likes and 19k followers on its Facebook page.
Twitter Profile
Educative.io tweets innovative ideas about online courses. It has 3,036 tweets and 7,959 on its Twitter profile.
LinkedIn
Educative.io provides the apex of interactive learning environments for computer programmers. It has 38,195 followers on its Educative.io profile.
Customer Reviews And Testimonials
Pluralsight
Here is what users say about Pluralsight: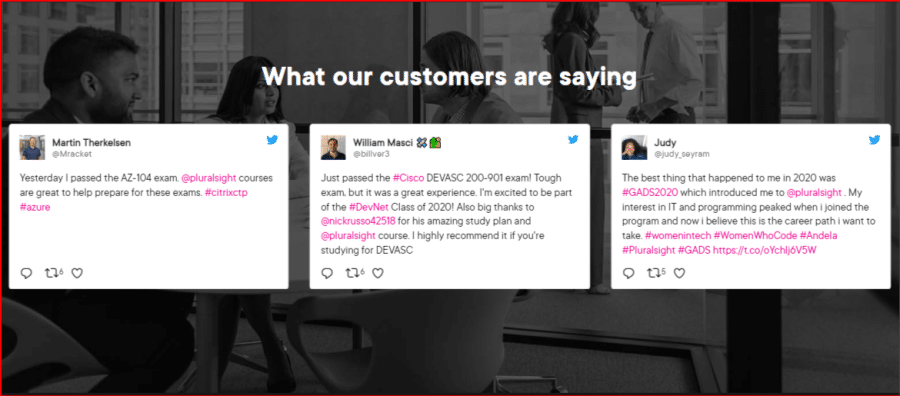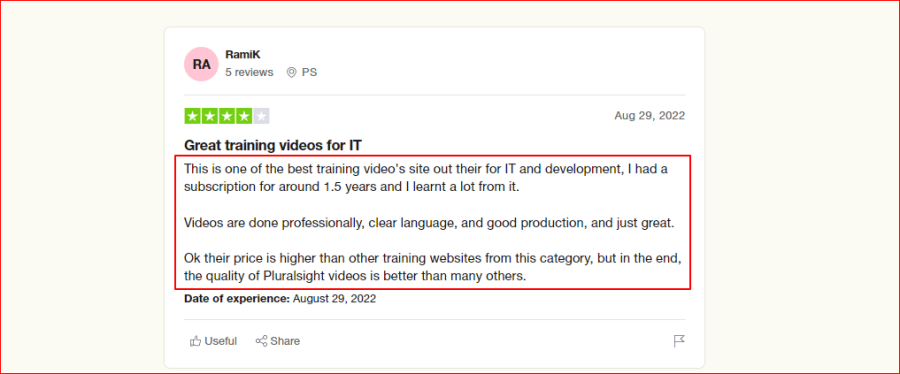 Educative.io
"Educative – Best text-based learning platform for Career Growth"

What do you like best about Educative?

Contains text-based self-paced courses, instead of video courses. Text-based courses can be read or skimmed very quickly by a user as compared to video-based courses.

Each course has an in-built coding platform, that saves time because the learner need not waste time in setting up the environment locally while learning.

Very good quality courses. All the courses that I undertook were apt. In addition, it has a Good UI and courses are well-illustrated which differentiates it from books, and hence you are not generally bored.

Source: g2
Conclusion
In this article, we have explained Pluralsight and Educative.io.
The best thing about Pluralsight was its amazing set of features, such as using Skill IQ and Role IQ to choose a course, getting hands-on training, access cloud labs, and many more. Pluralsight was the best in every way.
Educative.io allows only text-based courses. You can also buy just one course or sign up for a subscription that gives you access to many courses without having to pay for each one separately.
Educative is one of the top platforms for learning new skills
In conclusion, Pluralsight would be a wonderful option if you are looking for a self-paced learning platform focussing on technology while also providing multiple benefits under one single roof.
You also get a free trial on all the pricing plans.
Frequently Asked Question
Is educative IO good?
For text-based, interactive learning, Educative is an excellent resource, and you really like their coding interview sessions. 
Are educative IO certificates worth it?
Educative is one of the top platforms for learning new skills. Students who take courses through Lynda.com report that they find them more enjoyable than attending lectures on Udemy or slogging through monotonous Kindle volumes.
Is Educative good for beginners?
Educative.io allows you to buy a single course or get access to all of their courses via an Educative subscription which is also very affordable at $14.99 per month for 250+ courses. I highly recommend beginners join Educative to learn new tech skills.
Is Pluralsight A MOOC?
For IT professionals, Pluralsight is a training platform.
There are many MOOC platforms, but Pluralsight is the best choice if your goal is to get up and running quickly on a new skill while receiving the assurance of professional coaching.
Who started educative io?
Fahim ul Haq and Naeem Ul Haq, software engineers from Facebook and Microsoft, developed Educative, and its platform debuted in March 2016. The total capital to date, including the seed round, is $2.6 million, according to the startup.
Is educative IO helpful for coding?
Users like that a single subscription can keep them abreast of emerging technology and provide access to fresh content as it is published. Many individuals found that Educative.io was the most beneficial tool for studying coding patterns and system design interviews.
What is Pluralsight good for?
Pluralsight is an e-learning platform that offers high-quality online education on a variety of technology-related topics, including IT, Data, Information, and Cyber Security. All of Pluralsight's courses are self-paced, allowing you to learn at your own pace, and it provides the most up-to-date technical training courses available.
Is Pluralsight expensive?
Individuals and teams can choose from several Pluralsight subscription levels. Individual plans consist of Standard for $29 per month or $299 per year and Premium for $45 per month or $359 per year.
Does Educative provide a certificate?
Yes. If you have finished the required coursework and are a paying member of educative.io, you will be eligible to earn a completion certificate.