In this post, I will provide a detailed comparison of Pluralsight vs Simplilearn. Both are the most popular platforms for taking online classes.
The process of disseminating information nowadays is as simple as posting a video on the Internet.
But to delve deeply into a subject, create a community, make money, or expand your business by offering online courses? You'll need a more comprehensive infrastructure to develop course pages, construct a curriculum, and market your course.
Pluralsight Overview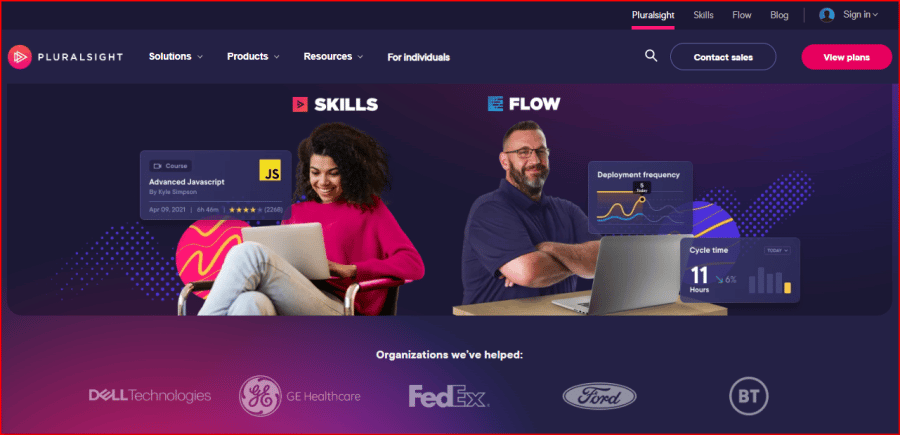 Pluralsight is a digital learning platform for people who want to take courses at their own pace that are mostly about technology.
The education platform was started in 2004 as a business, but it has since become one of the internet's fastest-growing e-learning platforms. The first e-learning courses were added to Pluralsight in 2007.
At the moment, more than 1,500 professional experts work as Pluralsight instructors and take care of more than 7,000 technology-related courses.
Pluralsight's self-assessment tool, in the form of a test, is the best feature because it allows users to immediately zero in on the training they need.
Some of the most recent courses added to Pluralsight are in business and architecture. To know more about Pluralsight, read our article Pluralsight review.
Simplilearn Overview
Simplilearn is a web-based certification organization that facilitates the acquisition of new abilities and the development of professional expertise.
It has the support of Google and Hubspot and collaborates with over 40 international organizations like Exin and IASSC. You can enroll in courses that are recognized globally by potential employers and are officially accredited.
You have 7 days from the time of purchase to request a refund if you change your mind about a course you purchased.
The Master's Programs offered by Simplilearn are intensive online bootcamps that include topics including such Full Stack Web Development, Data Science and Analytics, Artificial Intelligence and Big Data Cloud Computing, Machine Learning, Digital Marketing., Cyber Security, Project Management, Cyber Security and Digital Marketing.
Simplilearn's primary objective is to provide individuals with the knowledge and abilities necessary to succeed in the information economy.
pluralsight vs Simplilearn: Pros & Cons
Pluralsight pros & cons
| | |
| --- | --- |
| Pros | Cons |
| Provides a unique way to organize learning. | No refunds are available. |
| 6,000+ courses with 80+ monthly additions. | |
| Self-paced memory quizzes. | |
| Taught by expert instructors. | |
| 10-day free trial. | |
Simplilearn pros & cons
| | |
| --- | --- |
| Pros | Cons |
| Course content can be downloaded offline. | Simplilearn is in 176 countries but exclusively offers English courses. |
| Experts conduct high-quality courses. | |
| Most learning platforms don't offer live instructor-led lectures like Simplilearn. | |
| Android and iOS apps are available. | |
| Offers a 7-day free trial. | |
| Excellent, timely customer service. Choose phone calls or live chat. | |
Pluralsight vs Simplilearn: Features comparison
Pluralsight and Simplilearn are two of the most popular platforms for providing online courses, and both of them offer many appealing features to watch out for.
Here I have mentioned key features:
Pluralsight Key features
4,500+ courses
New courses added daily
Course discussion forums
Mobile and offline viewing
Course Learning Checks
Reports & analytics
Downloadable exercise files
Dedicated group portal
Unlimited viewing
Course completion certificates
Team organization tools
Easy member registration
License management
Learning paths
Simplilearn key features
Conversion Rate Optimization.
Account-Based Marketing.
Customer Data Platform
Demand Generation.
Digital Analytics.
Content Marketing.
Event Management.
Email Marketing.
Advantages of using Pluralsight
Pluralsight's major advantages are its extensive library of learning resources, its reliable cash stream, and its pay-as-you-go subscription model.
As a training platform, the LMS eliminates the need for a commitment of any kind. This means that you will not incur any more costs beyond the time frame of your instruction.
If you have a dedicated training budget, it should be simple to include the cost of your subscriptions. This is preferable to make your own resources, which would result in sunk expenses during the times when your library is not being used.
Get your hands on a wide variety of learning resources thanks to Pluralsight's extensive archive. The training is meant to bring your team up-to-date on industry developments and fill in any knowledge gaps they may have.
The LMS platform might be an excellent revenue channel if you are providing expertise or giving consultation. Educators from all around the world will buy your courses.
On the other side, you can utilize the site to market your expertise in a specific area and connect with customers who have questions you can answer.
Advantages Of Using Simplilearn
If you are looking for credentials that are recognized by the business world, one of the top online learning platforms to consider is Simplilearn.
It holds over 40 distinct global accreditations that are acknowledged by organizations such as PMI and AXELOS and are supported by major businesses such as Amazon and Google.
Online classes present challenges for many students, particularly because it is challenging to communicate with teachers and there is little opportunity for students to interact with one another.
You'll have the opportunity to become a part of a community of people that are there to support and assist one another when you use Simplilearn.
As you progress through the content of the course, you will have the opportunity to read and comment on the postings made by one another, as well as receive feedback. You are going to find that this useful function is one that you just adore.

Simplilearn will allow you to accomplish this goal. This online learning platform can be accessed quickly and easily through a mobile application, and users of both iOS and Android are able to utilize components of it that make it simpler to use.
You can also download content to your device so that you can watch it even when you are not connected to the internet. Because of this, utilizing it is even simpler.
Pluralsight Vs SimliLearn: Marketshare Comparision
Simplilearn has 2420 users, but Pluralsight only has 441.
When it comes to LMS providers, Simplilearn is ranked 24th and Pluralsight is ranked 53rd, with a respective 441 and 441 customers. In comparison to Pluralsight's 441 users, Simplilearn has 2420 satisfied customers.
Simplilearn has a 1.10 percent portion of the market for Learning Management Systems, whereas Pluralsight has only a 0.20 percent stake of the market.
Pluralsight vs SimpliLearn: Customer Support
At Pluralsight, the customer support team can be reached via a few different channels.
You can get assistance by calling the help hotline at +1 (801) 784-9007, or you can go to the help center to find the solutions to the questions that are most frequently asked. In addition, Microsoft provides an email address that you can use to get in touch with them.
The customer assistance is top-notch and really quick to respond. You have the option of calling in or engaging in live chat.

Chat sessions and phone help are both readily available through the Simplilearn platform. You also can request a call-back.
Conclusion
Overall, Pluralsight is a large collection of learning materials, steady revenue, and flexible pricing.
If improving your professional knowledge for the sake of your work is something you are interested in doing, then Simplilearn is most certainly the best online learning platform for you to use.
Frequently Asked Questions
Is Simplilearn legitimate?
Simplilearn is an approved training provider for more than 40 organizations throughout the world. According to LinkedIn, it is the number eighth most powerful brand in education around the globe. Put simply, you need not worry about being scammed if you decide to utilize Simplilearn.
Are Pluralsight certifications worth it?
Yes, the classes at Pluralsight are worthwhile. These online classes provide a thorough understanding of a variety of topics. These courses are also reasonably priced, which increases their value. An industry professional with extensive knowledge and expertise in the sector has selected each course.
Is Simplilearn an Indian company?
Yes, Simplilearn, a global ed-tech company headquartered in India and a market leader in the field of digital skills training, has set a revenue goal of INR 500 crore by 2021.
Do Pluralsight courses expire?
Using your bundle key, a year's worth of courses from Pluralsight can be redeemed. Check your Pluralsight account's Subscription & Billing section for any expiry dates.
Is Simplilearn completely free?
Yes, Using SkillUp, you may take advantage of Simplilearn's free classes. For the purpose of providing both newcomers and working professionals with upskilling choices to advance their careers, Simplilearn has released this online learning portal with access to more than 300 in-demand skills.
Is it good to work in Simplilearn?
76% of current employees at Simplilearn Solutions would recommend the company to a friend, and 74% had a favorable view for the company as a whole.