If you looking for the best Podcast hosting provider, then you are in the right spot.
Podbean and Buzzsprout are two of the most popular and powerful platforms for hosting podcasts. But because they are all so similar, it can be hard to choose the perfect hosting provider.
In this article, I have done a comprehensive comparison of Podbean vs Buzzsprout.
So let's get started!
Podbean Overview
Podbean is a platform for hosting and publishing podcasts that also gives users the ability to produce, disseminate, and earn money from their very own podcasts.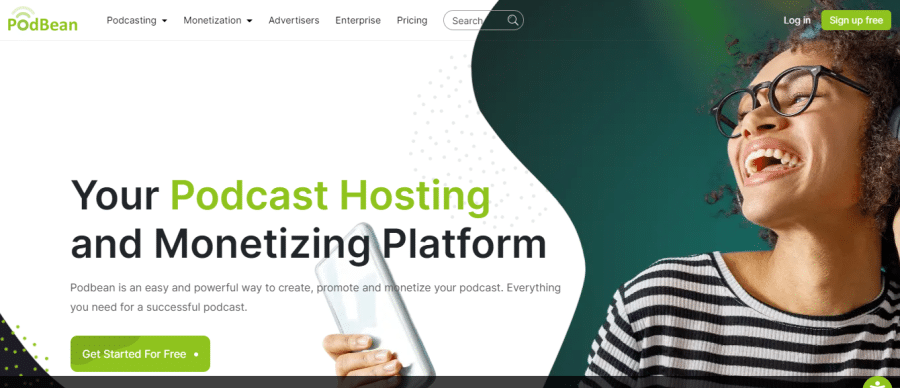 The hosting service offers users the ability to record, edit, and upload audio recordings, in addition to providing a website builder for developing podcast websites that have a polished and expert appearance.
Podbean also provides analytics that tracks listenership and interaction, as well as a range of opportunities for monetization, including advertising, sponsorships, and support from listeners.
In addition to this, Podbean offers a directory that consumers may use to find new podcasts to listen to.
Buzzsprout Overview
Buzzsprout is a platform that facilitates the distribution, hosting, and promotion of podcasts.
Automatic episode transcription, themeable podcast websites, and in-depth analytics are just a few of the tools it provides to assist customers to expand their listener bases.
In order to create a podcast, Buzzsprout is the best tool to use. This user-friendly package offers everything you need to start a podcast, including hosting space, advertising options, and analytics.
Free for new podcasters to use, Buzzsprout also offers advanced features including custom embed players and social media players.
Podbean vs Buzzsprout: Main Differences
Both Podbean and Buzzsprout are well-known platforms for hosting, advertising, and disseminating podcasts, each with its own unique set of tools and advantages. Key differences between both the two are:
Statistics: Podbean provides more in-depth analytics and data, including stats on podcast downloads, listener engagement, and website traffic. Although Buzzsprout also offers data on podcast plays and downloads, Podbean's amount of detail is greater.
Integration and Distribution: Podbean provides more distribution and integration options with other platforms, including social networking and website builders. Buzzsprout offers an integrated distribution system that automatically uploads your podcast to numerous platforms, such as Apple Podcasts, Spotify, and Google Podcasts, despite having fewer connectors.
Podcast creation tools: Tools for making and editing podcasts are available from Podbean, including a mobile app, an in-browser editor, and a transcription service. Although Buzzsprout also provides a mobile app and an in-browser editor, it does not offer transcribing services.
Pricing: Podbean offers many subscription plans with extra features and capabilities in addition to a free plan with constrained storage and bandwidth. The free plan on Buzzsprout likewise has a 90-day time limit, while pricier options come with extra storage and functionality.
Podbean Vs Buzzsprout: Key Features
Both Podbean and Buzzsprout are widely used platforms for hosting podcasts; yet, in terms of features, the two platforms are rather distinct from one another.
Podbean Key Features
Podbean is a podcast hosting service that makes podcast episodes available to listeners through a variety of podcast apps and directories.
Podbean's customizable podcast player allows hosts to provide their listeners the option of playing episodes directly from their own website or social media profile.
Podbean's podcast analytics and statistics provide hosts with a wealth of information about their show's audience and popularity.
Sponsored episodes, an online shop, and a partner program are just a few of the monetization tools available to Podbean presenters.
Podbean is a podcasting platform with a built-in database that helps listeners find and subscribe to new shows while also facilitating the submission of shows to major podcasting platforms including iPhone Podcasts, Google Podcasts, and Spotify.
Podbean now includes a mobile phone app for both iOS and Android users, so podcast fans can subscribe and listen to their favorite shows wherever they go.
Buzzsprout key features
Buzzsprout is a website that facilitates the distribution of podcasts by letting users upload and host their shows there.
Users can monitor their podcast's success by accessing in-depth metrics, like the number of downloads, the total number of listeners, and the geographic distribution of those listeners.
Buzzsprout makes it simple for users to reach a large audience by automatically submitting podcasts to platforms — such as Apple Podcasts, Spotify, and Google Podcasts.
Buzzsprout gives users a number of ways to earn money with their podcasts. These include affiliate marketing, sponsorships, and the selling of merchandise.
Buzzsprout allows users to create a podcast website, complete with a player, episode list, and other options, all with minimal effort.
Buzzsprout's built-in recording and editing functionality enables users to create, edit, and distribute their podcasts without ever leaving the platform.
Users have the option of inviting others to work with them on their podcast, enabling more individuals to be involved and the podcast as a whole to receive more exposure.
Users can choose a publication schedule for their episodes, giving them more control over when their content is made available to the public.
Podbean vs Buzzsprout: Podcast Website Creation
If you're on the lookout for a new website. One's creation is a necessity. Website creation is easy with either Podbean or Buzzsprout. Below, we'll examine the specific benefits that each option provides.
Podbean podcast website creation
Podbean's free plan means you can make a mobile-friendly, visually appealing website for your podcast with no risk. The stunning templates allow you complete control over the look and feel of your website.
There are both free and paid options available for themes. If you upgrade to the premium plan, you'll also give access to more personalization settings and a personalized domain.
Finally, you can preview how your updated website will seem to users in real-time.
Buzzsprout podcast website creation
Buzzsprout is a platform for the creation of websites that have been developed with the specific purpose of podcasting in mind.
It gives users the opportunity to construct a website for a podcast that has a professional appearance and comes equipped with themes that can be customized and the ability to integrate audio players.
The UI of the platform is straightforward and intuitive, making it simple and straightforward for users to develop and maintain their own websites.
Users have the ability to add a variety of pages and sections to their website, such as a page titled "Contact," a page titled "Episodes," and an "About" page.
Podbean vs Buzzsprout: Integrations
Podbean Integrations
MailChimp may be integrated with Podbean for email distribution. By incorporating this feature, you may have users sign up for an email list and be notified through email anytime a new podcast is published.
Podbean also works with a wide variety of third-party apps, some of which cost money. Google Analytics, Dropbox, Article Amplifier, SEO Meta Tags, Vokal Studio, and many others may all be integrated into your workflow.
Buzzsprout integrations
To put everything together, Buzzsprout integrates with several well-known podcasting tools. Although it could be pricey for certain users, turning your programs into blogs and expanding your audience is great for SEO.
In addition, you will have access to a free WordPress plugin that is specifically designed for podcasting. Hindenburg, Chartable, and Podtrac are among the many other applications that have been integrated.
Last but not least, if you have a good understanding of technology, you can use the Buzzsprout API to obtain further integration choices.
Podbean vs Buzzsprout: Podcast Publishing
Excellent podcast host platforms make publishing easy. Users should easily publish and distribute podcasts.
I have talked a little bit about the podcast publishing platforms Podbean and Buzzsprout here.
Podbean Podcast publishing
Podbean is a platform for publishing podcasts. Users can upload, promote, and share their podcasts through Podbean. It has many features, such as analytics, ways to make money, and the ability to make a podcast website that you can customize.
Convenient and time-saving publication whenever you choose. Using Podbean, you may publish your podcast episodes at any time you like, or at a set time.
Buzzsprout podcast publishing
Buzzsprout makes it easy to post and publish audio recordings in a short amount of time. It's possible that publishing will take place right after a podcast is uploaded, but it could also be planned weeks or months in advance.
It also makes it simple for you to publish and distribute your material across the most popular social media websites, such as Facebook and YouTube.
Podbean vs Buzzsprout: Mobile Application
Many services that host podcasts have apps for mobile devices that let you record, publish, and edit podcasts. Even podcasts can be played from their phones.
Podbean Mobile Application
Podbean has an application for both iOS and Android phones and tablets. Users can listen to podcasts and find new ones with this app.
They can also subscribe, download, and play episodes on the go. It also has features like the ability to make and manage playlists, change the speed of playback, and get push notifications when new episodes of podcasts to which you subscribe come out.
Buzzsprout Mobile Application
Buzzsrpout currently does not have a mobile app available for download on mobile devices. There is a chance that they will launch a mobile app quite quickly.
Buzzsprout can only be accessed via the web browser.
Podbean vs Buzzsprout: Customer Support
Email and live chat are two of the available support channels for customers on both Podbean and Buzzsprout.
I have included the customer service offered by both Podbean and Buzzsprout in the following section.
Podbean Customer Support
Podbean has top-notch customer service. Fill out the form to contact customer assistance. After you complete the form, Podbean would assign the correct individual to answer your question.
The platform also has a comprehensive help area with several video tutorials and articles. Podbean articles cover everything from monetization to setup and getting started.
Buzzsprout Customer Support
Buzzsprout offers email support if you get stuck. Customer assistance responds to emails. Blogs, articles, tutorials, and FAQs can help you answer simple questions. They offer podcasts and free video courses.
Podbean vs Buzzsprout: Pricing & Plans
It is important to have a podcast hosting solution that is within your price range. let's compare the pricing plans of Podbean and Buzzsprout.
Podbean pricing plans
Mainly Podbean has four pricing plans:
Basic Plan: $0
Unlimited Audio Plan: $9/month (if you are billed yearly).
Unlimited Plus Plan: $29/month (if you are billed yearly).
Network Plan: $79/month (if you are billed yearly).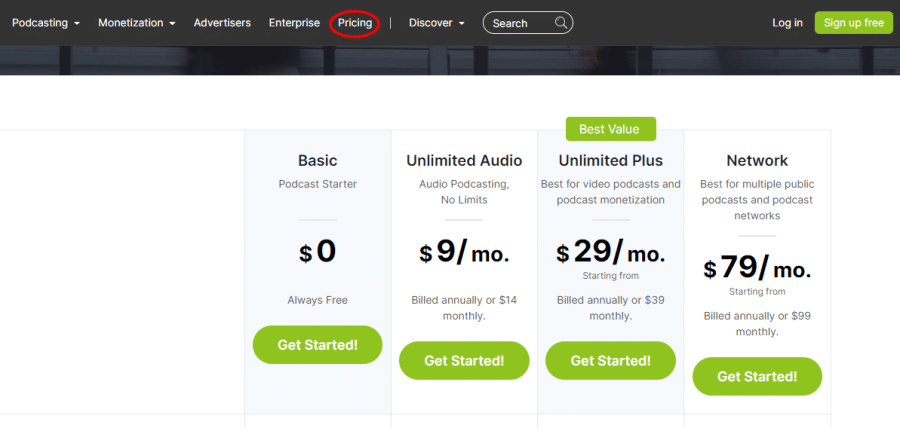 | | | |
| --- | --- | --- |
| Podbean Pricing Plans | Price(If Billed Annually) | Features |
| Basic plan | $0 | Good for beginners to try. |
| Unlimited Audio plan | $9 per month. | Audio podcasting. |
| Unlimited Plus plan | $29 per month | Video podcasts and monetization. |
| Network plan | $79 per month. | Best for multiple public podcasts and podcast monetization. |
Podbean also offers some exclusive deals to its users, looking to get more deals then check out Podbean discount code.
Buzzsprout Pricing Plans
Buzzsprout offers a total of four different bundles to choose from. It offers a free bundle in addition to three different subscription packages for a monthly subscription service.
Free plan $0:
Episodes Hosted for 90 days
Limited to 2 hours each month
No overages
Paid plan($12/month):
Episodes are Hosted Indefinitely.
Limited to 3 hours each month.
Upload more content for ($4 per hour)
Paid plan($18/month):
Episodes are Hosted Indefinitely.
Limited to 6 hours each month.
Upload more content for ($3 per hour).
Paid plan($24/month):
Episodes are Hosted Indefinitely.
Limited to 12 hours each month.
Upload more content for ($2 per hour).
Podbean vs Buzzsprout: Pros & Cons
Podbean Pros & Cons
| | |
| --- | --- |
| Pros | Cons |
| Easy to use | Non-refundable. |
| The premium version hosts limitless audio and video. | |
| Free website builder | |
| Best hosting for monetization | |
| Mobile Application for IOS & Android | |
| Affordable pricing plans | |
Buzzsprout pros & cons
| | |
| --- | --- |
| Pros | Cons |
| User-friendly interface | No free website builder |
| Best podcast service for newcomers | No mobile app |
| Buzzsprout's auto-episodes guarantee audio quality. | |
| 90-day free trial | |
| Affordable pricing plans | |
| Good customer service | |
Conclusion
To summarise, Podbean and Buzzsprout are both excellent choices for hosting and distributing podcasts.
Both platforms offer capabilities that are comparable to one another, including podcast hosting, statistics, and distribution to popular podcasting platforms such as Apple Podcasts and Spotify.
Podcast or Buzzsprout based on your needs, budget, and desired features. After determining your demands, choose the best! Any hosting provider will be easy!
I hope this comparison should clarify the differences and help you.
Frequently Asked Questions
Which is better Podbean or Buzzsprout?
Personalization of your website is also possible through the selection of a background color and image. Buzzsprout, however, falls short of Podbean when it comes to personalization. As a result, those who want to create a feature-rich podcast website should look elsewhere, specifically at Podbean, which provides a wider range of customizing choices.
Is Buzzsprout the best podcast hosting?
Buzzsprout, a popular podcast hosting service, is easy to use and reliable. It relies on an individual's demands and tastes when picking a podcast hosting provider. It's best to compare podcast hosting services' features and prices to find the right one.
Can I make money off of podcasts using Podbean?
Yes! You can collect digital gifts from the listeners through Podbean's live-streaming feature, which is available to you. Each plan comes with its own complement of monetization-related add-ons and capabilities.
Is Podbean a good podcast host?
In general, Podbean provides a fantastic experience and comes highly recommended. Podbean is a fantastic podcast hosting service. There is no complexity, and yet everything is so cheap and easy to use. One drawback of Podbean's trial edition is that it doesn't allow you to publish your podcast to Spotify.