In this ProWritingAid review, I'll give you all the insights into why ProWritingAid is the best writing app for you and need to choose it
I will also begin by providing a high-level summary of ProWritingAid, then on to describe how best to utilize it, and finally, discuss whether or not I believe it is superior to its competitors.
The purpose, functionality, and user-friendliness of ProWritingAid will all be covered here.
Let's get started!
ProWrititngAid Overview
A tool for online editing and proofreading, ProWritingAid is available to users 24/7.
Chris Banks, the current Chief Executive Officer of Orpheus Technology, started the company in 2011 with the intention of bettering his own writing.
The premium writing editor and grammar checker known as ProWritingAid was developed especially for authors of all types, including novelists, content writers, and bloggers.
It gives users the ability to automatically edit their written articles in order to improve readability, correct grammatical and punctuation issues, and erase errors.
In other words, this tool supports authors in telling well-written stories in the form of books, providing engaging content in the form of business blogs, and creating intriguing blog entries.
The editing software can currently be used on either a Mac or a computer running Microsoft Windows. In addition to that, it is compatible with various other writing applications, such as Google Docs and Scrivener.
Pros And Cons Of ProWiritingAid
file support for Scrivener.
detailed criticism of your writing.
ideal for writers of fiction.
insightful reports written.
superior to other grammar checkers.
helps with editing yourself.
The free version has limitations.
Key Features of ProWritingAid
The online editing tool includes special features that can help you become a better writer and editor. Here is the list of key ProWritingAid features:
1. Grammar
Because ProWritingAid is well-known as an online grammar expert, many people download it.
It will repair your grammar mistakes and identify hidden verbs, fragments, and erroneous subject-verb relationships using artificial intelligence.
The grammar checker online has an excellent eye. You might lose your cash if you bring all of it, for instance, if you type that. Right away, ProWritingAid will inquire, "Did you mean 'lose'?"
When you read this helpful tip, you'll instantly recall how to use the verb correctly in your upcoming writing task.
2. Cliches
ProWritingAid, in contrast to other online editors, will alert you whenever it finds cliches or superfluous terms in your sentences. You will be motivated to cease being a lazy writer who depends on outdated images as a result of reading this.
The moment you upload a Word document that contains the words "frozen ice," the program will immediately identify it as a possible instance of redundant content.
In addition to that, expressions such as "read between the lines" and "play your cards well" will be highlighted.
3. Sentence Length
ProWritingAid assists you in developing effective sentence structure. Whether you're going for a punch line or more descriptive writing, every word counts.
Get a visual depiction of the sentence lengths in your writing with ProWritingAid. You can see what sections are excessively long or in need of more variation.
On the flip side, reports will be filed against you if your writing is too choppy due to an abundance of short sentences.
4. Consistency
Correct spelling, hyphenation, punctuation, and capitalization are all assured by sticking to a consistent style. Each of these tweaks will make your writing sound more polished and professional.
For instance, if you use the term "shop-keeper" in one sentence, you shouldn't refer to a "shopkeeper" in any subsequent works.
5. Transitions
For a smooth transition, ProWritingAid suggests a score of 25%. Consequently, one in every four sentences needs to include the words "as a result," "nevertheless," and "consequently."
You can use this rule as a basis for bettering your own writing practices.
A piece of writing written by a novice will have choppy transitions because the author has no idea how to employ them. A reader will have an easier time grasping what you're saying if you use transitional devices.
6. Readability
Readability eliminates the need to resort to flowery language in order to demonstrate your prowess as a writer.
Keep in mind that your audience shouldn't need to consult a dictionary in order to comprehend what you are trying to convey.
The four tools will also conduct a style analysis and check for problematic sentence construction.
7. Repetitive Words
With ProWritingAid, you can check to see whether you've overused any words, ensuring that your writing is always polished. Although there are times when repetition is appropriate, it is not a sign of skilled writing.
The words are instances of such superfluous and weak-sounding language. The grammar checker will flag these phrases as potential weak spots in your argument.
Who can benefit from using ProWritingAid?
The usage of an online grammar checker such as ProWritingAid is recommended for anyone who wishes to cleanse their writing of spelling and grammatical problems.
It does not matter if you are a student, a hobbyist writer, or a professional writer; with the assistance of ProWritingAid, you will be able to simply avoid making the errors that have been described.
Writers, whether novelists, journalists, PR pros, or bloggers as well as ProWritingAid can be helpful for both students and teachers.
How is ProWritingAid Different From Other Grammar Checkers?
This ProWritingAid goes above and beyond the typical grammar check offered by similar products on the market. The following are some of the ways in which ProWritingAid exceeds expectations:
ProWritingAid measures your writing against the finest in your category and gives 22 detailed reports (in the free edition) for your reference. Few grammar checkers are that thorough.
It detects cliches, overused words, abstract statements, and inappropriate tenses. It helps identify writing style flaws. The software's dashboard includes a readability component. ProWritingAid is your high school writing teacher.
It can be used with Scrivener without any problems. I've looked everywhere, but I can't seem to find a grammar checker that's reliable.
There is no maximum word count when using ProWritingAid. You are free to check any number of terms at once you choose.
ProWritingAid Pricing Plans
Both free and premium versions of ProWritingAid are available to users. Additionally, a 14-day free trial of the premium version is available for you to try out. A few reports can be generated during your free trial.
And if you looking to get massive savings on your ProWritingAid pricing plans, check out our article ProWritingAid coupons.
Mainly ProWritingAid has three pricing plans:
1. Monthly subscription: $20
2. Yearly subscription: $79
3. Lifetime subscription: $399
ProWritingAid Review: ProWritingAid Alternatives
Analyze the alternatives to ProWritingAid for your company or group by using the compiled list that can be found below.
1. Ginger
Ginger is an all-in-one writing tool that contains a feature called Rephrase.
This feature gives you the ability to write better than you would be able to with typical online grammar checkers because it allows you to rephrase your sentences.
Simply type your sentence, and our artificial intelligence will offer reliable and helpful alternatives, such as ones that are somewhat shorter, somewhat longer, more formal, more direct, or more creative.
If you are looking for an alternative to professional writing assistance that is affordable and convenient. The most beneficial substance for you is ginger.
You are able to write far better English by using the Ginger Grammar Checker as opposed to proofreading, which does not improve your writing at all.
The technology that this program is based on enables you to rectify grammatical errors, spelling errors, and instances where the wrong word was used.
2. Grammarly
Grammarly is a plug-in or add-on for your web browser that does real-time checks for grammatical errors, misspellings, instances of plagiarism, and more on various platforms.
These platforms include Microsoft Word, WordPress, Facebook, and others.
Grammarly is superior to other types of proofreading and grammar checkers since it discovers and corrects more problems in writing.
It offers explanations as to the factors that led to a mistake as well as possible solutions. The free version and the premium version are both quick, accurate, and simple to operate.
It is an essential instrument for writers who want to achieve success.
ProWritingAid Social Media Platforms
ProWritingAid uses various social media platforms and it presents social media to market your critical and commercial success.
Here I have listed some of the most liked social media platforms.
Facebook
ProWritingAid guides you to improve your writing skills and it has 103,448 followers and 89,952 likes on its Facebook page.
Twitter
ProWritingAid tweets different ideas and guides on how to create the best content and It has 23.1k followers on its Twitter profile.
LinkedIn
ProWritingAid has 1,887 followers on its LinkedIn profile.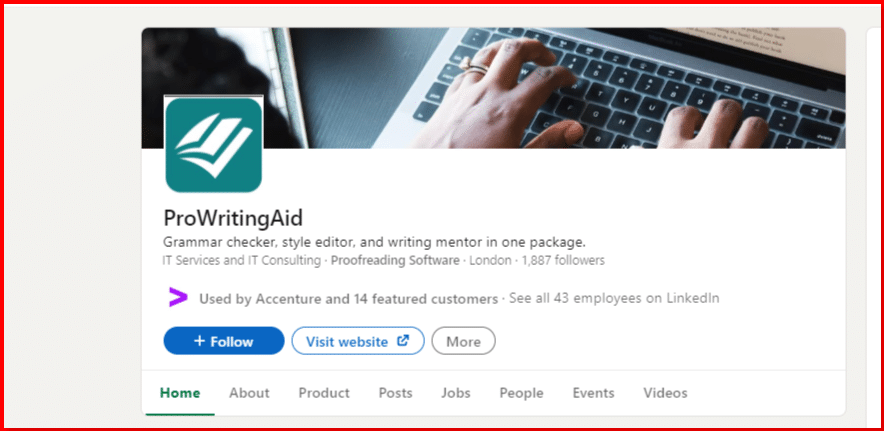 ProWritingAid Customer Reviews and Testimonials
Here is what users say about ProWritingAid:
Trustpilot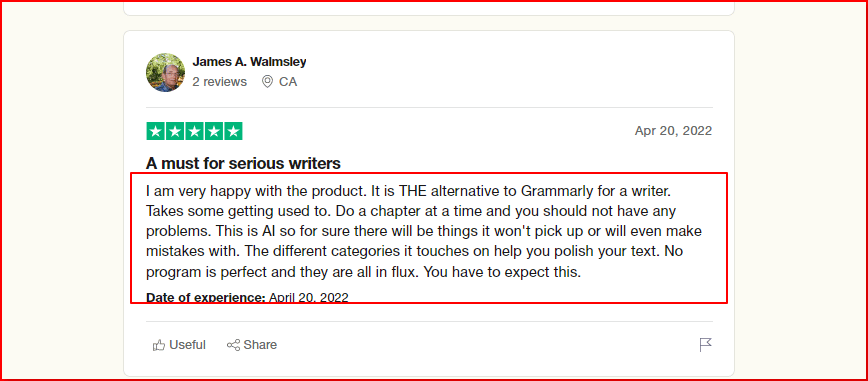 As a self-publishing author and was…


As a self-publishing author and was looking for a software programme that could help me with editing my book. I struck the jackpot when I discovered ProWritingAid.com.

I think my book will need to be rewritten a few times, but better now than publishing a flawed book.

They have lessons included that are very helpful and are easy to follow.

I highly recommend this platform for everyone that wants to improve their writing skills, not just authors.

Thank you.

Jeff Still

Date of experience: May 18, 2022
g2
"PriWritingAid Best Editing Software"


What do you like best about ProWritingAid?


ProWritingAid does far more than grammar or spelling. It allows you to choose fiction or non-fiction. It allows you to choose genres. It allows you to compare your writing to a best selling author in your genre.

It helps you fix sentence structure, find excessive adjectives and adverbs, shows your pacing, shows a graph on sentence length, shows your readability, shows your usage of glue words, and so much more. It's like having an editor in your pocket! And they keep the product updated.

Conclusion
Overall, Among its rivals, including Grammarly and Ginger, ProWritingAid is a fascinating grammar checker that can hold its own.
It seems to be more aimed at serving novelists and fiction authors, according to our research.
Its interoperability with Scrivener only serves to further solidify its position as a favorite for both established writers looking to make a name for themselves and new writers just starting out.
It is also significantly less expensive than Grammarly, with a package that costs just $299 for lifetime access to all of its features.
It works well for bloggers, but it is particularly suitable for authors who dabble in fiction and long-form writing.
Frequently Asked Questions
Is ProWritingAid free?
There is, in fact, a free version of the program known as ProWritingAid. On the other hand, it has a 500-word review limit and is significantly less powerful than the premium version.
Is ProWritingAid Safe to Use?
Off course, it is, After you have submitted an analysis, ProWritingAid will not save or save any of the work that you have done. Therefore, it is quite safe. There is no need for you to be concerned about plagiarism.
Is there a Chrome add-on for ProWritingAid?
It is possible to install a Chrome extension that will analyze your online writing for grammatical errors. This includes tweets, blog posts, and email messages.
Is ProWritingAid a more effective writing tool than Grammarly?
There is a nice alternative to Grammarly called ProWritingAid. It is also extremely helpful for fiction authors, despite the fact that it is just as accurate.
Is ProWritingAid available offline?
No, ProWritingAid is only available online. It does so by having you download and run an application on your machine, which then communicates with an online algorithm.
How do I seek a refund from ProWritingAid?
You have a full 14 days to evaluate ProWritingAid without paying any costs. If you are not satisfied with the service, the customer care team will gladly issue you a refund.
What integrations are available for proWritingAid?
ProWritingAid works with Microsoft Word and Outlook, as well as Google Docs and Final Draft. It also works well with Scrivener and can directly open and edit these files.
Can ProWritingAid take the role of a human editor?
Checking grammar, spelling, style, and more is a breeze with ProWritingAid. A human editor, however, has no equal. While it can simplify the editing process significantly, it cannot fully replace a human editor.
How to Use Google Docs with ProWritingAid?
Easily add ProWritingAid's helpful features to Google Docs by browsing to the add-ons section. Even if you don't have access to the full editor, it will show you exactly where your documents are lacking.
Is ProWritingAid's content free of plagiarism?
Using ProWritingAid is in no way dangerous in any kind. When you run your content through the Plagiarism Checker on that website, when the check is complete, it does not save any of your content in its database.
Can you use ProWritingAid on too many devices?
Off course, yes, It is possible for you to use ProWritingAid on several devices; however, you must ensure that you are the only person doing so. If there is going to be more than one person using it at once, they will need to purchase additional licenses.
How does ProWritingAid help you write better?
ProWritingAid not only finds mistakes and provides solutions, but it also details precisely what went incorrect with your report draught. In fact, this is a great way to boost your writing skills.