The people who sell on Etsy know that there is tough competition. If Etsy sellers want more people to visit their shops, they can do keyword research and optimize their listings.
Yes! Yes, I can help you out. The keyword research tool Sale Samurai is the solution. It helps more than 1,000 online stores find the long-tail keywords that their customers are actually typing into search engines.
In this Sale Samurai review, I have concluded its main features, pros and cons, support, pricing, and more.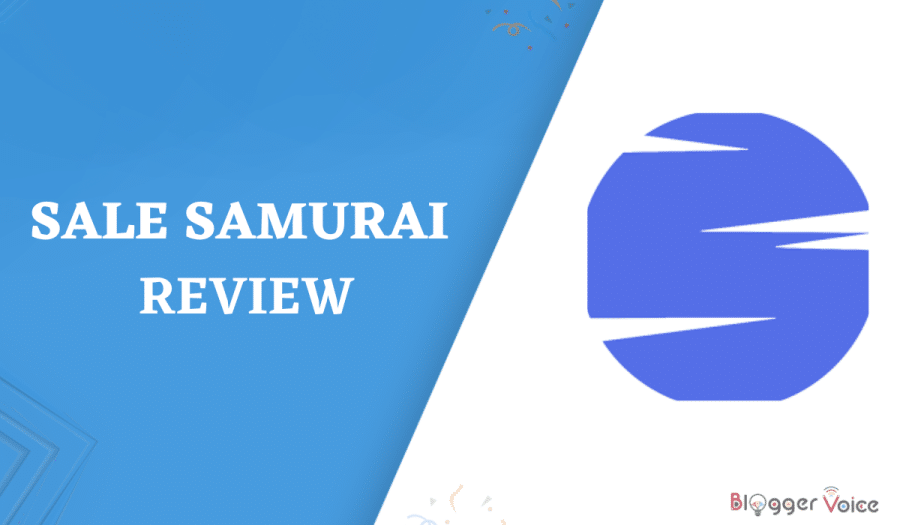 Sale Samurai Review: Is it Worth it?
Neil Lassen, who developed the tool, has extensive experience in eCommerce. He first started his own company on Amazon before transferring to Etsy.
He has been able to develop a tool that has the precise features retailers need to increase the visibility of their stores online as a result of his background and experience.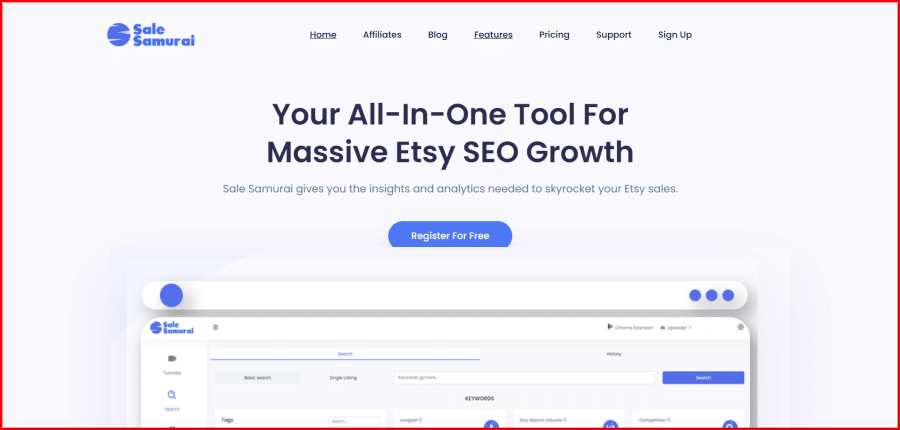 With Sale Samurai, your success on Etsy will go through the roof. This tool is an important part of your marketing arsenal because it gives you the data and analysis you need to boost your sales.
Unlike other programs like it, Sale Samurai wasn't made by people. It was made by a seller just for other sellers, and it has a lot of extra features that can save you hours of work.
One example is a Chrome add-on that shows Etsy SEO data right on the main page of the marketplace.
Sale Samurai Pros & Cons
Sale Samurai offers a number of benefits that are beneficial to your company, but it is not without a few negatives as well. Let's take a look at some of the more notable ones:
Who is Sale Samurai Good For?
Any Etsy seller looking to increase traffic and sales should look no further than Sale Samurai.
Finding valuable items to sell online will become much less of a hassle.
With Sale Samurai, you can save many hours of research with only a few clicks and get all the data you'll need to make a smart choice.
You should use this tool if:
You want a fast way to find online-selling products
You'd like to spend less time researching profitable products
You want to know the product's competition
Learn from your bestsellers to improve your products
You want a cheap, fast-paying tool
You want an easy Etsy research tool
With the help of this tool, it's simple for you to find profitable keywords quickly for your Etsy business.
Sale Samurai Features & Functionality
Anyone can easily navigate Sale Samurai's dashboard thanks to its simplicity. Both light mode and dark mode are available, and all the tabs are clearly listed on the left side of the page.
It includes:
Favorites
Listing Creator
Shops
Search
Tutorials
Competition Tracker
Calendar
Calculator
Let's look more closely at some of the Sale Samurai's important features to assist you to understand better what it's capable of.
1. Find the Long-Tail Keywords
Etsy keyword research tool will provide you with all the searches your consumers really use, rather than the longtail keywords other vendors are using, which aren't effective in attracting more customers.
You get the following from it:
Long-tail keyword
Competition scores
Keyword Suggestions
Accurate search volume
Tag counts
Because the Basic Search function gives you access to real Etsy search volume data, you can quickly access and use the most exact search data currently available with this AI-driven keyword tool.
But one of the best parts about utilizing Sale Samurai is that you can rapidly search for your opponents' Etsy tags thanks to the Single Listing feature.
2. Listing Creator
By utilizing the listing generator, one can ensure that your listing contains all of the essential details that prospective purchasers require in order to come to a conclusion.
You can use the checklist to ensure that all of the necessary components of the listing have been included by validating each item against it. For instance, the focus keyword phrase should be incorporated into the title, and the focus keyword itself should be first in the title.
While working on a Search engine listing of the highest quality, you may use this to your benefit by making the most of its benefits.
3. Real-time research with Chrome extension
If you want to move your research from Sales Samurai to Etsy, the Chrome extension can help.
This tool lets you do research while managing your Etsy shop in real time. This saves you time and keeps you from having to switch between tabs.
With this tool, you can do a broad search or a more specific one, depending on how many searches you want to do. You can also change both the length of the keyword and how hard it is to rank for.
You can get even more specific by saying that the phrase you want "must contain" a certain word.
The good news is that the plugin remembers your searches and puts them on the left side of the results page, where you can download them at any time. You can choose which ones to get, or you can get them all.
We suggest using the Chrome extension to get the most out of Sale Samurai.
4. Get Real Search Data
Sale Samurai takes all the guesswork out of selling a product to the individuals who are likely to buy it.
The program has all the features you need to:
Analyzing sales-driven searches
Find Relevant Keywords
you can learn about shipping times, price ranges, and other things
Find at a glance the high-volume keywords that your competitors are missing that you can use
You can now make changes to your business based on what you've learned, which should help your listing do better.
Using real search terms could help you optimize titles and tags for new listings.
Sale Samurai Pricing Plans
A free 3-day plan is available from Sales Samurai. You have a choice of two pricing options if you want to keep using the software, and they are as follows: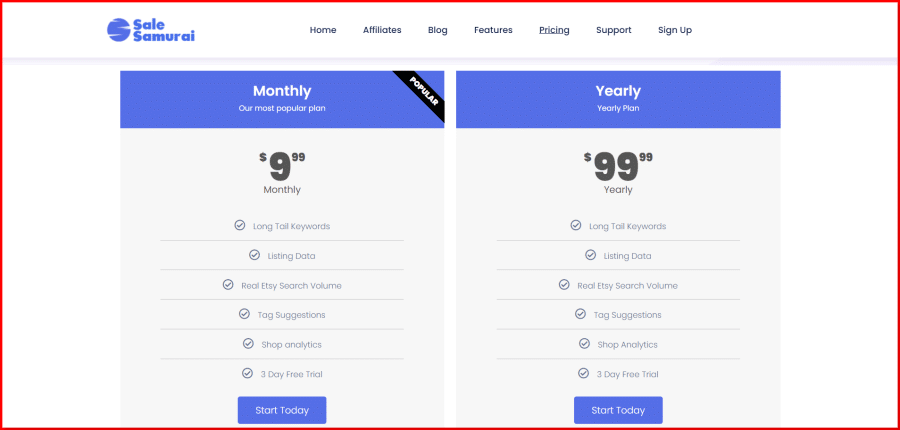 Monthly Plan: $9.99/month
3-Day Free Trial
Shop analytics
Listing data
Tag suggestions
Long-tail keywords
Real Etsy search volume
Yearly Plan: $99.99/year (Save 20%)
3-Day Free Trial
Listing Data
Long-Tail Keywords
Tag Suggestions
Shop Analytics
Real Etsy Search Volume
Sale Samurai Support
Support is available from Sales Samurai in a number of ways.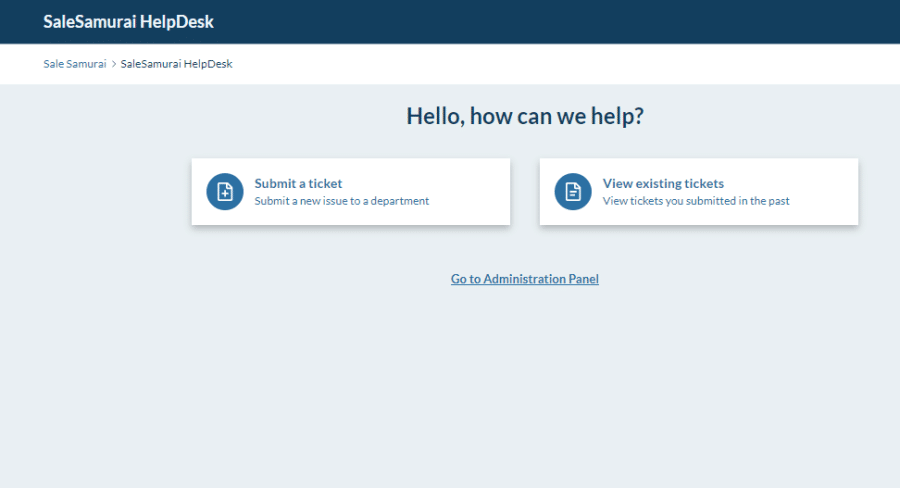 HelpDesk: Here, you can submit a ticket to the support team and wait for a response in which we hopefully resolve your issue.
Tutorials: To help you make the most of the software, the platform provides tutorials for each of its features. This includes guides for the uploader, Chrome extension, competition tracker, stores, search, and all features.
Sale Samurai Alternatives
If you want a free option that saves you time and gives you useful information like Sale Samurai does, you can choose from a number of different platforms. I'll talk about a few best alternatives you can do instead of Sale Samurai.
1. eRank
eRank is one of the top search engine optimization (SEO) tools for Etsy, and it can potentially assist with market research and listing adjustments.
Because this information is both helpful and accurate, Etsy sellers from all over the world put their faith in it. According to both Alexa and SimilarWeb, eRank is the most effective search engine optimization solution for Etsy.
Etsy vendors were the only ones to receive eRank, which was developed just for them to assist in the expansion of their handcrafted companies.
Discover the long-tail terms that serious customers are entering into Google Shopping, Pinterest, Google, and Etsy in order to find your products.
2. Marmalead
Marmalead is a good tool for major Etsy sellers because it helps with SEO and gives information about the market. It's a piece of software that helps Etsy sellers adapt to the changing e-commerce market by doing in-depth market research and SEO analysis.
It looks into the details of keywords to find out things like how many relevant search results there are, how good the keywords being used are, how long it takes to ship an order, and what the market rate is.
Now is the time to add keywords that will help your listings do well.
Focusing on things like letter grades, search engine optimization, and more can help your listings sell.
Marmalead makes simple tools that help real businesses reach real goals.
3. Keyword Tool Dominator
You are allowed to make full use of Keyword Tool Dominator's autocomplete search functions if you utilize the add-on.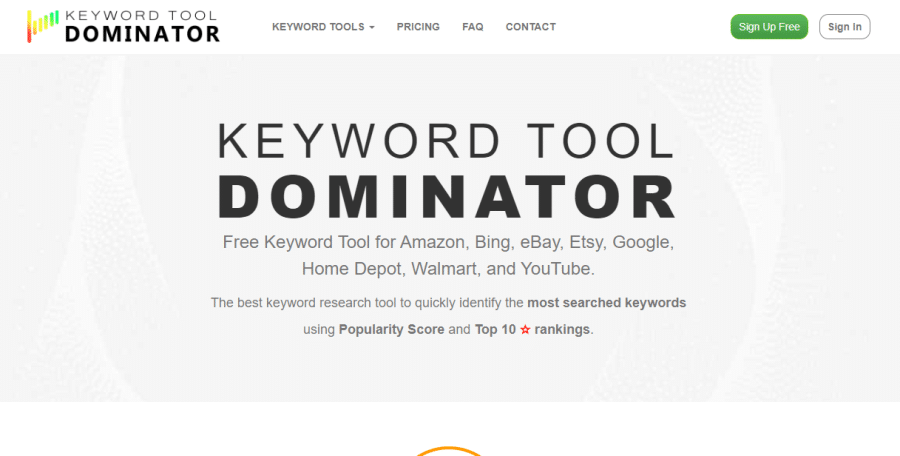 The greatest keyword research tool with Popularity Score for identifying the most popular terms quickly.
You may find hundreds of suitable SEO keywords by using the free Google tool known as Google Keyword Tool.
Use the free Amazon Keyword Tool to determine the most popular search terms among customers if you want to improve your product listings for higher search engine rankings on Amazon.
Social Media: Sale Samurai Review
Sale Samurai On Facebook
Sale Samurai is also on Facebook. This page can help you connect with customers and share important information about your business, products, services, and upcoming events. Sale Samurai has a 5-star rating, 571 likes, and 635 followers on its Facebook page.
Sale Samurai On Twitter

Sale Samurai is also on Twitter. This page can help you connect with customers and share important information about your business, products, services, and upcoming events.
Sale Samurai has a 5-star rating, 3099 tweets, and 1228 followers on its Twitter profile.
Sale Samurai On LinkedIn
Sale Samurai is also on LinkedIn. This page can help you connect with customers and share important information about your business, products, services, and upcoming events. Sale Samurai has a 5-star rating, and 406 followers on its LinkedIn profile.
Conclusion: Is It Worth The Money?
Absolutely! Its Value For Money.
It is likely that if you own a shop on Etsy, you are aware of the value of keywords in the process of selling your items to potential customers.
Using this helpful tool, which also provides information on how competitive each phrase is, it is simple to locate the keywords that are appropriate for your items because the tool provides information on how competitive each term is.
Frequently Asked Questions
Do we need access to your Etsy account?
You can use Sale Samurai without connecting it to your Etsy store to make use of some of its capabilities. Nonetheless, there are components that can only be accessed via the Etsy platform.
Can I Upgrade from monthly to yearly plans?
The answer is yes. You can switch to the annual plan from the monthly plan by visiting the subscription settings page within Sale Samurai and making the appropriate selection from the corresponding drop-down menu.
How To Cancel Sale Samurai Subscription?
When you no longer wish to receive the newsletter, simply cancel your subscription. They guarantee your satisfaction with the product or service or you can cancel at any moment.
Does Sale Samurai Provide Refunds?
They want to ensure that Sale Samurai is a good fit for your company before you pay for it, so they give everyone a chance to test it out for free. As a result, Sale Samurai does not offer money-back guarantees.
What languages does Sale Samurai support in their product?
At the moment, only English is one of the languages that can be used with Sale Samurai.
What other applications and services does Sale Samurai integrate with?
Etsy and Google Chrome are two of the platforms that Sale Samurai can interact with.
What kinds of users and organization types does Sale Samurai work with?
The use of Sale Samurai is not limited to large corporations; it is also suitable for small businesses, freelancers, non-profits, and even government agencies.
Does Sale Samurai offer a free trial?
There is a free trial available with Sale Samurai.