In this Salehoo Review, We will Cover all your doubts related to whether Is SaleHoo Good For Wholesale? Is Salehoo a scam or legit?
This query is very common among marketers.
But after reading this article, you will be able to trust Salehoo with your business.
Nowadays there is a lot of competition in the eCommerce field. Here the question arises, which dropshipping and wholesale supplier to go with?
Today we will discuss Salehoo and cover all the aspects.
This article will provide you a complete overview of Salehoo Review as Is SaleHoo a good service? So that you can determine if it is a good choice for you. Let's get started!
What Is Salehoo?
SaleHoo is a New Zealand-based company started by Simon Slade and Mark Ling in 2005.
It's a commercial directory with more than 2.5 million branded items and 8000+ companies, wholesalers, drop-shippers, and contractors.
Because SaleHoo is only a middleman and not a direct provider, no product is exchanged.
SaleHoo is basically a must-have for professional drop shippers. Particularly if you're inexperienced in dropshipping and want to get your shop up and running so you can start generating money. When it comes to finding the appropriate provider, a lot of sweat and effort will be required.
SaleHoo takes care of all the legwork and research for you. They also offer a fantastic training center and a dedicated support staff that expects you to succeed. Most significantly, it is quite inexpensive.
Key Features Offered By Salehoo
Now let's check out some of the key features provided by Salehoo:
Free Guidance
The "Free Guides" section will give you all the information you need to use the SaleHoo tool. It's a good way of looking for it if you're having trouble adjusting to this new setting.
The getting started guide covers all you need to know about Amazon and eBay sales, as well as how to choose the right goods to sell and set up an online store, and so much more!
Community Platform
You may join SaleHoo's community network and connect with other competent individuals.
The platform includes a wealth of information and guides, and you can even talk to other customers and ask them questions to make sure you obtain the most out of the program.
Customer Care Support
Furthermore, while there is a learning program to help you get through it, you have many alternatives if you need more help or are having difficulty.
Live chat feature
Once you've arrived at the SaleHoo website, you may use their online support feature. Simply go to the "Chat with SaleHoo Expert" page and hit the "Chat with SaleHoo Expert" key to access this function.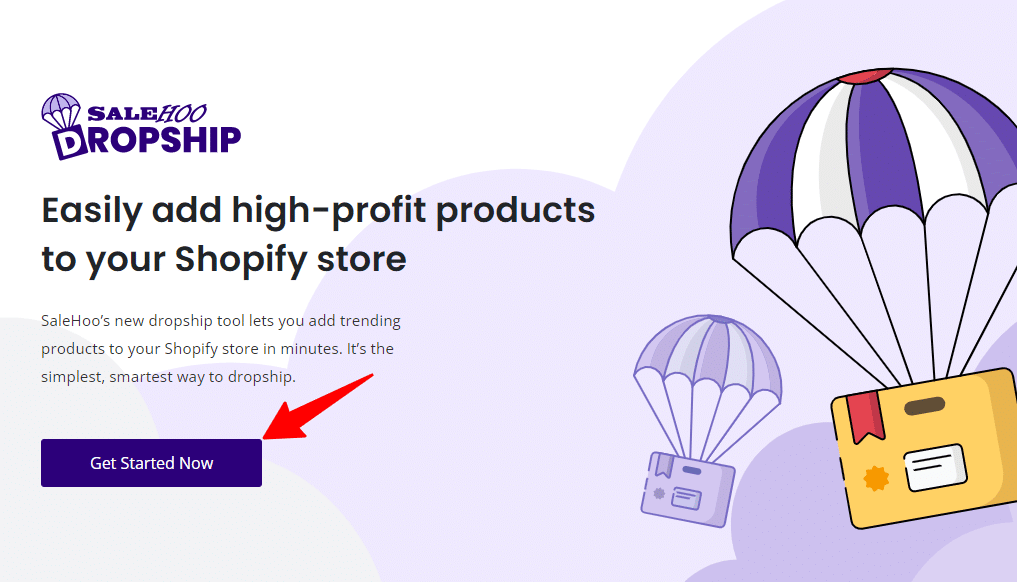 Even so, keep in mind that this function may not be available at all times.
According to the company's Contact Us website, they are open 24×7. You will only have total access to a 24-hour online chat on weekends or holidays.
Email and contact forms
This may be the most efficient method of contacting SaleHoo. You may contact them directly by email by visiting the "Contact Us" page. Furthermore, you should expect a response from them to take some time.
Salehoo Review: How does it work?
After you've signed up and made your account, you'll need to start looking for items to sell as soon as possible.
Once you've found an item you'd like to sell or a possible supplier, you may contact them directly to make a purchase.
Every supplier page contains important information such as expected shipment times, minimum purchase amounts, and more.
A crucial option is whether to drop ship your items directly to your customers, buy in bulk, or wholesale and transport them yourself. Wait, you're probably wondering what Drop-Shipping is. How is bulk different from wholesale?
In the case of drop-shipping, you place an order with your suppliers after you sell your goods. The item is delivered straight to your customer by the provider. You have no influence over the outcome using this approach.
In the Bulk or Wholesale approach, on the other hand, you buy the items in bulk from a seller upfront. The provider will then transport them to your residence or warehouse. Then you sell the items online and mail the items to your customers directly.
This choice may appear to be more difficult. However, it is more probable that you will be able to attain significantly larger profit margins.
Salehoo Pricing Review
Salehoo charges a fixed fee of $67 for a year of access.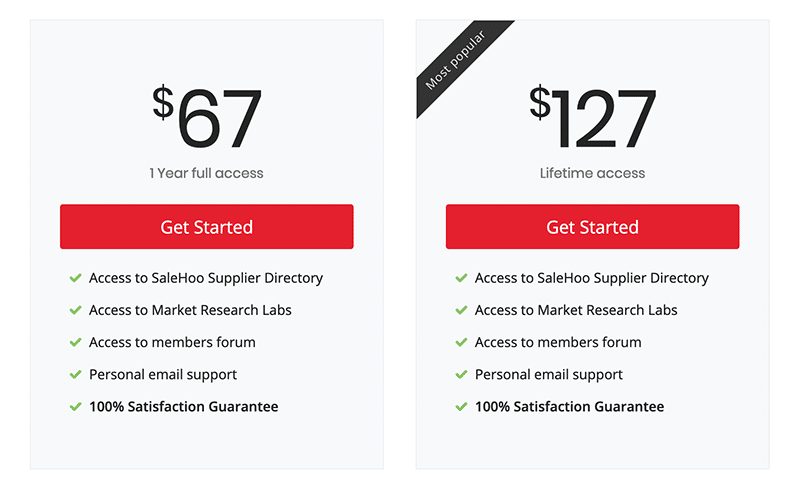 For $127, you can have lifelong access. Inside its market, Salehoo's pricing and features are considered to be extremely competitive. One of Salehoo's main competitors, Worldwide Brands, has a massive inventory of wholesale goods with over 16 million items.
Membership in Worldwide Brands, on the other hand, costs $299.
Furthermore, Salehoo offers a 60-day money-back policy with no questions asked. Simply submit a message with your invoice number to support@salehoo.com for up to 60 days (including the 60th) and they'll refund your money.
What does Salehoo provide?
Salehoo Products
With a $67 yearly outflow for SaleHoo, you'll get the following five major products:
Dropship Suppliers On SaleHoo
Salehoo offers over 1,000 dependable dropship suppliers, all of which have been vetted and analyzed by SaleHoo to assure their trustworthiness. Working directly with the provider without first going via SaleHoo might be a terrible idea. There's a good chance the provider isn't real, and you'll lose your money as a result.
When you look at each drop shipper, you'll see the following primary information:
Contact information
Product range
Quality of goods
Customer service reviews
Where do they ship to
How they ship their goods
Any dropshipping business that supplies major product categories like clothes, jewelry, shoes, and antiques would almost certainly provide specific goods that you wish to sell.
Whether you want to sell locally or internationally, SaleHoo can help you. You may utilize international dropshipping to develop your eBay business on a worldwide scale even if you live in a country with limited suppliers.
SaleHoo is fantastic for newbies since it allows you to categorize providers based on minimum orders. Some vendors offer a very low or even nil minimum order, and if you're just getting started, keeping an eye out for them is critical.
Additionally, you should avoid any vendors who need you to pay an application fee to get started.
Wholesale Suppliers On SaleHoo
You can examine all of the vital information about each wholesale supplier with SaleHoo's over 8,000 trustworthy wholesale suppliers. More precisely, the pricing from the businesses is actual wholesale rates, allowing you to profit from reselling them.
SaleHoo users want to sell their branded items on their own webpage as well as on other marketplaces like Amazon, eBay, and Etsy.
You should be more thorough and comprehensive with wholesalers than with drop shippers since they may bring the item to you. In only a few clicks, you may search for suppliers in your nation and businesses that deliver to your location.
You may also look at their order minimums and goods. This method is significantly faster than using Google to conduct a thorough search.
SaleHoo Helps In Market Research
SaleHoo analyses the 1.6 million goods in its database to help you identify a popular and potentially lucrative niche market. While this depends on where you're selling and what currency you're selling in, their estimates are very accurate.
If you've recently discovered a popular product, you might be upset to realize that it's already being sold in a number of other places. SaleHoo addresses this by detecting low-competition products based on their "sell rate" and competition statistics.
As a result, you can ensure that you stand out from the pack and distinguish yourself in a crowded market. Furthermore, you may have access to monthly sales data ahead of your competitors in order to spot seasonal trends and avoid wasting resources on unsold stock.
Not only that, but you may bookmark any goods that interest you and research them using data such as competition, sales rate, listing recurrence, price, and demand.
Training and Support Provided By SaleHoo
SaleHoo must give excellent training and assistance if they want to assist eCommerce merchants in the early stages of their careers.
Based on online conversations with sellers, we can infer that SaleHoo provides excellent customer service.
You may contact their customer service staff by live chat, phone, or mail any working day from 5:30 PM to 1:30 AM Eastern Standard Time, Monday through Friday. They also offer immediate assistance through their Facebook and Twitter pages. They may also be able to locate unlisted items for you, similar to Worldwide Brands.
Not only that, but SaleHoo's support area is amazing, with 50 step-by-step tutorials and videos. Because SaleHoo understands that the bulk of its clients would want to sell on eBay and Amazon, they've included some instructions on how to do so.
Furthermore, SaleHoo has a fantastic online forum of vendors that are ready to help. More than 60,000 postings on selling strategies, trends, and supplier recommendations may be found on the site.
SaleHoo Dashboard Overview: It's Really Easy to Use
It's fun to look at SaleHoo's dashboard. Suppliers, goods, and training—all of the things that matter to every seller—are all linked and accessible through the dashboard.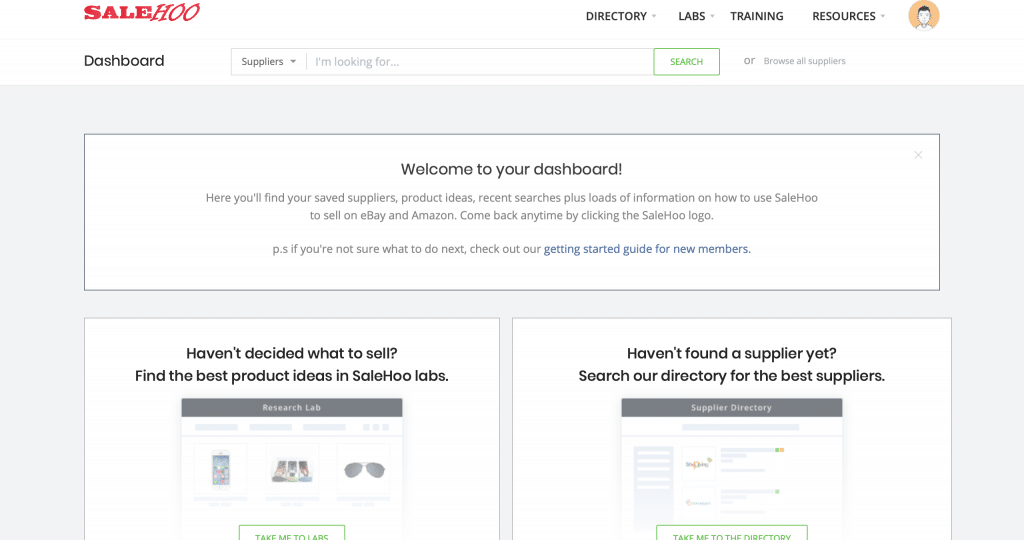 You may start by storing and saving all of your sources for later use. It's probably not a good idea to look at these companies' information if your objective is to establish connections with them.
You can handle all of your contacts with your partners from your dashboard. You will be notified if you receive a message or a client places an order for your goods. In addition, you may search your chat history and send messages immediately.
SaleHoo also offers advice and training on marketing on platforms like eBay and Amazon, as described in the previous section. You can track your performance and hop in and out of components with a push of a button from your dashboard.
More intriguingly, the dashboard forum area allows you to keep track of your interactions with your competition. SaleHoo strives for long-term success by enlisting the help of a passionate community that is always willing to give and receive guidance.
SaleHoo Dropshipping Suppliers Directory
The Suppliers Directory for dropshipping is a standout feature of SaleHoo. SaleHoo is a time saver since it allows you to browse a verified list of drop-shipping providers without wasting time investigating.
All of SaleHoo's vendors are vetted to guarantee that they deliver on schedule. Contact information, product ranges and quality, customer service ratings, shipping regulations, and other important characteristics are all included in the directory.
Keep in mind that SaleHoo does not drop-ship; instead, it displays the drop-shipping providers. You may also find vendors who specialize in specialty items such as gardening, jewelry, and so on.
Furthermore, SaleHoo evaluates a supplier's worldwide shipping in order to offer to a larger international audience and filter the providers' list. Because suppliers do not demand you to pay service charges, selling your items through suppliers is possible even for online store managers with little or no revenue.
Outstanding features include the ability to contact suppliers, make notes, browse websites, create supplier lists, and more. The directory also has a section dedicated to success stories, which can inspire you to improve your online company management.
You may also enroll in educational classes to have a better understanding of the business and provide a more convincing performance.
Wholesale Supplier Directory on SaleHoo
As previously stated, SaleHoo offers a verified list of over 8000 wholesalers, complete with contact details, product lines, customer reviews, terms of delivery, and shipping details. You may use this directory to look for branded items in common categories like consumer electronics and apparel.
Furthermore, the SaleHoo interface is SUPER easy and user-friendly, with its restricted search comprising country, worldwide shipping, minimal level orders, and product lines.
The system saves you a lot of time and connects you with the top vendors. SaleHoo's directory also allows you to reach suppliers that are presently not active or do not have web pages via Google as well as other eCommerce platforms.
SaleHoo Marketing Research Tool
The SaleHoo Marketing Research tool, known as LABS, is one of the greatest research methods for eCommerce experts. It can monitor over a million goods and find stuff that is inexpensive, lucrative, trendy, and has minimal competition.
The research console displays critical information such as sales pricing and market statistics to aid in product selection. You can use the average selling price bar to find low-cost or high-cost goods.
LABS Market Research also provides amazing monthly product trends at a single glance. As a result, by leveraging this data for holiday times and staying current with industry trends, you may get a competitive advantage.
You may also store products you're interested in, compare them, and examine their listings, average pricing, and market trends.
The system's one-click source search is another significant feature. Furthermore, you may filter the vendors in the SaleHoo directory relying on important parameters.
What value does SaleHoo add To Your Dropshipping Business?
SaleHoo will provide you the perfect opportunity to boost your sales and earnings by giving you transparency into all of the influence they have as the primary actor in the wholesale society.
Every industry, including luxury products and gadgets, requires interaction with suppliers. To put it another way, you should always have access to hot products and best-selling things for which buyers may be willing to pay a premium.
Furthermore, Salehoo can relieve the burden of conducting all of the necessary research to locate and evaluate all of the major retailers and merchants from which to pick. Before allowing a supplier or organization into the system, their support team will extensively research and assess them. As a result, you won't have to be concerned about any potential issues.
You can also opt to use all of SaleHoo's products and services to help you develop your online company. SaleHoo's technology and strategies can help you locate and sell the greatest goods at any given time. You can discover a suitable approach that can lead to a high profit using the analytics offered by all of their partners.
SaleHoo Customer reviews: Reasons Why People Love SaleHoo
Their customer service staff may be reached by phone, email, Twitter, and live chat. Monday – Saturday, from 9 AM to 1:30 AM, live chat assistance is available. You may also phone them at 1-888.881-8703 to speak with them directly.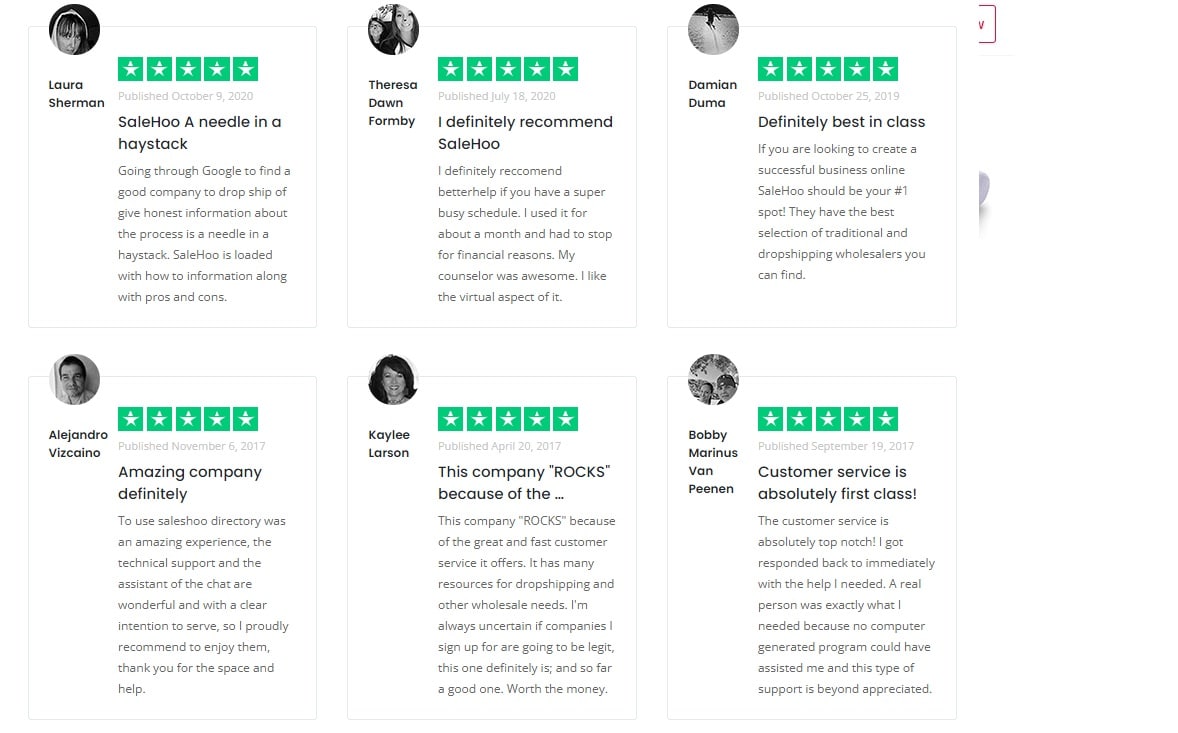 Aside from the popular market analysis lab, seller training center, community forum, and eCommerce blog, SaleHoo also provides valuable tools to help you sell online.
Is Salehoo legit or a scam?
From the standpoint of the user, SaleHoo provides a useful directory. Salehoo eliminates your concern about dealing with illicit suppliers by providing easy-to-use tools for finding verified and reputable dropshipping and wholesale suppliers.
Users may benefit from their Commerce training resources in addition to having simple access to SaleHoo's directory of safe, reputable, and trusted wholesale suppliers. Furthermore, customers may join SaleHoo for only $67 per year, making it a highly cost-effective option.
Also, keep in mind that SaleHoo is a product-sourcing platform for online retailers, not a retailer. You may find a lot of SaleHoo reviews on the internet thanks to a fun referral scheme. There are differing perspectives about this directory.
It is, nevertheless, the most effective method for locating items.
It's also a legitimate service that you may use to come up with things to sell. SaleHoo, in particular, helps you to efficiently manage your operations.
Irrespective of the continual changes in the dropshipping business strategy over the years, if you can get something out of this method, you may still make a lot of money. SaleHoo has also been named on CNBC, MSN, Forbes, and Inc.
As a result, it is safe to conclude that SaleHoo is a reputable business. If you're still undecided, you can always join up for the service and see whether it's worth the money. You will also never regret it.
Salehoo pros and cons
SaleHoo allows for low-minimum purchases

The business research done by Salehoo is amazing.

Salehoo has a number of prominent brands accessible.

SaleHoo has 8,000+ Pre-Approved Vendors

It's possible that the profit margin will be low.

The Seller Database Isn't Extensive
Advantages of Salehoo
Customer Service: Look for 'Salehoo Customer Support' quickly. There are several methods to contact us. The opening hours are convenient, which is crucial for new vendors.
Brands Authorization: Lego, Disney, and Sony are among the famous brands accessible on Salehoo.
Vendor Verification: Vendors have been thoroughly verified, so you can be confident that you will not be taken advantage of. It's possible that finding your own suppliers will get you into problems.
Training: Salehoo has spent time getting to know its customers, tracking issues through feedback, and creating thorough instructions and videos to help them.
No Hidden Fees: There are no hidden charges and you only pay a one-time fee of $67 each year. A manufacturer may charge an application fee, that you should be aware of ahead of time.
Low Minimum Orders: This is a huge advantage for those who want to buy from wholesalers. Because you don't have to acquire enough to store, you might not need to purchase storage capacity. Salehoo makes this easier by requiring minimal minimum orders.
Market Research: The business study done by Salehoo is outstanding. They recognize customer trends and provide you with the best possible user experience.
Disadvantages Of Salehoo
Marketplace Fees: Third-Party Platforms collect commissions on sales, which will eat into your profits. Unless you already have a marketplace, wherein case you may be able to save money on these additional memberships.
Non-Branding: Because you're promoting other people's products, it's difficult to build your company's brand image and reputation. Many Salehoo users sell on third-party marketplaces rather than their own websites.
Products Amount: While 1.6 million items may appear to be a large number, it pales in comparison to the 16 million brands available worldwide.
SaleHoo Social Profiles
Youtube Channel
SaleHoo has a Youtube channel with over 7.06k subscribers where they share tutorials and tips related to their platform.
Facebook Page
SaleHoo's Facebook page has over 22,264 active followers.
Instagram Profile
SaleHoo has over 295 posts and 5,676 followers on its Instagram profile.
LinkedIn Profile
SaleHoo LinkedIn profile has over 1,758 followers.
Twitter Profile
SaleHoo's Twitter profile has over 3,423 followers. They have joined the platform in March 2008.
Final Thoughts: Should You Invest in SaleHoo In 2023
For ambitious eCommerce businesses who want to get started with drop-shipping, Salehoo is a fantastic platform. Salehoo can help you if you don't have your own storage facility and want to take your business to the next level.
We hope this Salehoo review has provided you with useful information about the platform and may assist you in starting your dropshipping business! Please feel free to add your thoughts in the comments section below for further discussion.
Frequently Asked Questions
Where does SaleHoo ship from?
SaleHoo, founded in 2005 in New Zealand, is an online directory of dropship manufacturers and suppliers. What distinguishes us as one of the greatest drop shipping businesses?
What is the process for unsubscribing from SaleHoo?
At the top of the screen, select the "View Information" button and sign in if prompted. On the following screen, scroll down until you reach the "Subscriptions" tab, now click "Manage." Select "Edit" next to the SaleHoo application, then "Cancel Subscription."
What type of business is SaleHoo?
SaleHoo Group Limited is an e-commerce company.
Does SaleHoo work with Shopify?
SaleHoo Directory is a vendor directory, but Shopify is an eCommerce platform with a lot more! Both sites, when used together, will assist you in creating a very lucrative and professional online store. To address your question, SaleHoo is compatible with Shopify.
Is SaleHoo a good service?
Salehoo is ideal if you're looking to start a dropshipping side business to supplement your income. The money you make from dropshipping might be used to create your own eCommerce business with your own original products.
Salehoo is an excellent platform for those who are just getting started in the world of eCommerce. You won't have a lot of overhead costs thanks to low minimum orders and a variety of drop shippers. Salehoo's instruction is an added bonus that is readily available.
Why Is Salehoo Bad For You?
If you're looking to become serious about eCommerce and build your own empire, Salehoo isn't for you, just like its competitors.
Although there are some positive outcomes on Salehoo's "Customer X who earned $100,000 a month" website, the fact is that generating substantial money might take quite some time.
Does SaleHoo work with Amazon?
SaleHoo works by assisting you in locating reliable and certified suppliers of any product you wish to sell on eBay, Amazon, Shopify, or local auction sites.