If you write a lot about digital marketing, eCommerce, and other related topics on your blog, a Samcart affiliate program could be a great way to add to your passive income.
If you have an online store, you can use this tool to build sales funnels and other useful features for your customers.
SamCart's 40% upgrade/renewal commission is a standout feature. PayPal is used for all payments made through SamCart. 45 days following the signup of the customer you referred
In this article, we'll look at everything there is to know about the Samcart affiliate program, from the commissions available to how hard it is to sign up.
What is Samcart?
We've seen a similar idea in a few other tools we've seen before, but what sets Samcart apart is that it was made from the ground up to help users create and sell from eCommerce websites. The platform is useful since it simplifies the process of selling a wide range of items and services, from consulting to eBooks to online courses.
Besides allowing you to construct product pages and landing pages, Samcart also allows you to integrate a wide range of shopping cart features into your site.
The 14-day trial period gives customers a chance to try out the tool before committing to a monthly membership, and the drag-and-drop page builder eliminates a lot of the headaches associated with creating a website. Pricing is variable based on the specifics of the plan selected.
In other words, the monthly plan is slightly more expensive than the annual plan. In fact, customers who want to be invoiced annually rather than monthly save 20% off the regular price of Samcart. The three primary options each have their own unique set of benefits. The Launch version is the cheapest at $49.
Compared to the first, the second is significantly more generous, and although it does set customers back by $99 per month, it includes a wide variety of capabilities, like UTM monitoring and an integrated SEO engine, as well as several payment methods, checkout fields, and other product page additions.
The most expensive plan, at $199 per month, is clearly necessary for shops processing hundreds of orders every month. This package contains everything found in the Grow tier, plus A/B testing and more. Based on our research, we've concluded that Samcart's prices are a tad more than those of some of its rivals.
SamCart Affiliate Program Overview
Why not tell others about how happy you are with SamCart, and get paid for doing so? If you're delighted with SamCart as a means of supporting your goods and services and utilize it, there is no reason not to spread the word about it.
Affiliate marketing is a terrific method to increase sources of passive income, and it's easy to get started.
This post will provide an evaluation and rating of the SamCart product, focusing on the most critical qualities we search for in a reputable affiliate marketing program and how well it fulfills those requirements.
Product Quality
If you are going to recommend an affiliate product to your most valuable customers, you need to be confident in the quality of the item yourself.
Because customers may use SamCart for such a wide variety of business subfields, it is a product that is simple to market and sells.
It is straightforward to use, and it is not difficult to set up. It offers a powerful set of capabilities, as well as ingenious integrations, and it is inexpensive enough to fit any budget.
Commissions
Because we were so blown away by the 40% recurring commission rate, we rated the commission structure as outstanding and awarded it a perfect score.
If you think about it in terms of numbers, this means that you have the potential to earn a commission ranging from $118 to $935 for the duration of your referral's active SamCart subscription if they upgrade or renew their subscription.
The Payout Period
SamCart will initiate payments to associate partners through PayPal forty-five days after a new customer begins their paid plan. During this waiting period, we verify that the new customer has been with us for the entirety of the 30-day period during which we guarantee their money back.
Marketing Material
Because there was not much in the way of promotional materials that were only available to affiliates, we rated SamCart's performance in this area as less than excellent.
The fact that SamCart provides a multitude of free trial choices, demos, and knowledge-base articles, all of which are excellent resources for affiliate marketers, is something that we found to be quite appealing.
Videos, banners, and email copies are pretty much all there is to offer in terms of advertising resources; it isn't much else.
How can you join the program?
Because there is currently no affiliate network that manages the affiliate program, you will be required to create an application on the firm's website in order to participate in the program.
You will be required to respond to the best of your ability to a number of requests and fundamental inquiries, as it is to be anticipated that this will be the case.
In most cases, the response to your question will be provided to you in less than a week; however, if things become really hectic, you may be required to wait a little bit longer.
What can you promote as an affiliate?
Obviously, as a Samcart associate, you can promote the packages we've already discussed and briefly described.
It's also worth noting that the company offers a masterclass designed to show participants how to construct effective sales channels. This feature includes a year of access to Samcart, so customers are paying for both the training and the software.
The lack of any sort of promotional materials is something we noticed right away and didn't enjoy. Some of Samcart's rivals make it easy for affiliates with less-than-stellar technical skills to sell their services, but Samcart does not.
As an affiliate, all you receive is a link to the webinars or premium packages. You may then disseminate this information to your target market via your personal website, your social media channels, YouTube, or any other content you produce.
How much does Samcart pay its affiliates?
That you want to make money by referring people to items is probably one of the key reasons you're utilizing affiliate marketing. Fortunately, the commission rate you may anticipate from the Samcart affiliate program is something to brag about.
That's because we're offering a whopping 40% commission on all orders that meet certain criteria. The fact that this is not a one-off order is icing on the cake. With each renewal, you'll receive an additional 40% of the subscription value.
Although we have observed repeating commission structures in other affiliate programs we have studied, maintaining the same rate as the initial one is extremely unusual.
There are a plethora of different programs out there that offer a larger initial share but then reduce your ongoing part to 10% or 20% of the ongoing monthly payments after a while.
If you do the math, the Grow plan in the centre will cost you about $100 each month. As so, you'll get a one-time fee of $39.60 for bringing in a new customer, and the same amount for each subsequent monthly payment.
In your Samcart affiliate dashboard, you'll find tracking for things like conversion rates, as well as any other relevant data you might need. You can use this information to boost your performance.
SamCart Affiliate Program Pros And Cons
Pros
When it comes to utilizing Samcart for affiliate marketing, there are a variety of benefits as well as drawbacks to consider. To begin, if you sign up to be an affiliate for Samcart, you will be able to create recurring income, regardless of how much they are worth.
This is something that may provide you with a great deal of peace of mind if your site is quite successful. Simply having 10 people subscribe to the Grow monthly plan can bring in around $400 in passive money for you every month.
And this is the case even if you don't put in any additional effort.
There is also the obvious benefit of marketing a product that is truly valuable for the price that it is being asked. If you conduct a little bit of research on your own, you'll see that the number of negative comments posted about Samcart on the internet is relatively low.
The builder is really easy to work with, almost to the point where it can't even be considered an effort because of how easy it is.
In addition to everything else, individuals can take advantage of a risk-free trial before committing to a recurring monthly cost. This is undoubtedly an advantage because it makes it less difficult for you to recommend the goods to other people.
Cons
Regrettably, in addition to the pros, there are also some drawbacks that need to be discussed. One of the most important ones is probably the fact that Samcart does not have a very large number of imaginative marketing materials.
In point of fact, the only one that is beneficial to you is the affiliate link; therefore, you will be responsible for developing your own banners and any other supplementary materials that you might want to make use of.
People who are not very experienced with using image editing tools, even Canva, may find this to be a little bit intimidating. It's merely an additional amount of labor that can be handled by an affiliate network, and since Samcart doesn't appear to have affiliate managers, there's another possible con.
It's not clear whether or not Samcart even has affiliate managers.
It would appear that the fact that Samcart withholds earnings for a period of one and a half months causes annoyance on the part of some affiliates. We've already explained why that occurs; the 30-day money-back guarantee is at the heart of the problem.
Having said that, you also need to be aware that this is one of Samcart's selling points. People are more inclined to try out the product and even pay for it if they know they can receive a complete refund if they decide that they don't like it. This is why Samcart offers its customers a money-back guarantee.
What I Figured About the SamCart Affiliate Program
I was blown away by how high-quality everything about SamCart's affiliate program was.
I would definitely suggest it as a source of passive income for sellers who are selling to other companies or even for those who aren't selling to businesses at all.
Even if you aren't selling to businesses, you might still make money with it.
In this section, I will discuss the benefits and drawbacks of participating in the affiliate program.
What I Like About SamCart Affiliate Program
40% of the commission for each new customer recommended.
Commissions are paid on a recurring basis for as long as the customer that was recommended continues to utilize the SamCart product.
You may put your full faith and support behind SamCart because it is a reliable and high-quality product.
The sign-up and approval process can be completed in a short amount of time.
An affiliate dashboard is a helpful tool that is simple to operate.
What I Don't Like About SamCart Affiliate Program
The amount of advertising material that is made available is noticeably inadequate.
When compared to other affiliate programmes, the 45-day commission term is considered to be very lengthy.
It's possible that vendors whose clients are business owners themselves would benefit more from participating in this programme.
Samcart affiliate program alternatives
1. ClickFunnels
If you have some spare time on your hands, we strongly urge that you read the review that we wrote specifically on the ClickFunnels affiliate programme.
You can find it here. However, for the sake of making a comparison between the two, we will acknowledge that the commission rate offered by Samcart is superior.
Affiliates of ClickFunnels are eligible for a commission of 20% on normal subscription plans. This commission could potentially climb to 40%, but it is not something that affiliates can earn right now, unlike the situation with Samcart.
If you want to choose between the two, one further reason you may want to steer clear of ClickFunnels is the fact that ClickFunnels doesn't really pay its affiliates until after a waiting period of 60 days, whilst the other choice just requires 45 days (like Samcart).
On the other hand, ClickFunnels accepts a significant number of additional payment options at this time, including local transfers and checks.
2. OptimizePress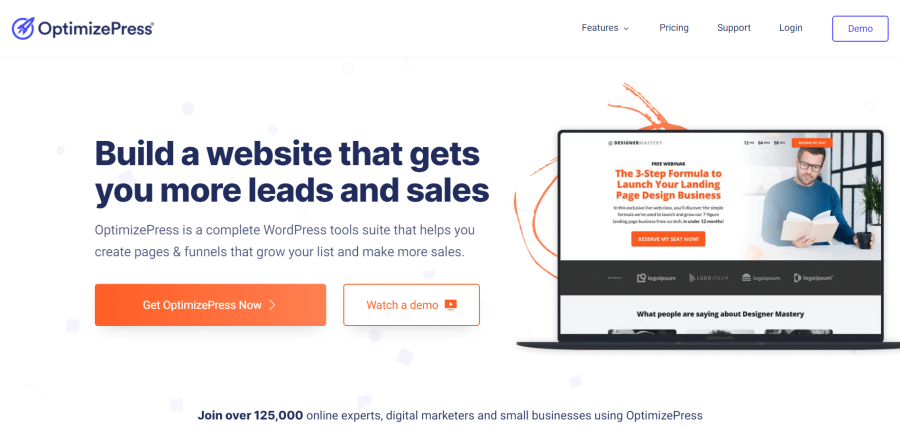 When compared to ClickFunnels, this one is a little bit better because it offers its affiliates a commission of thirty percent on any orders that are eligible for it. There is also a recurring rate, which indicates that you can continue to make 20% of the continuous subscriptions even after the initial period has passed.
If someone decides to cancel their plan, it is only natural that you will no longer receive commissions from that person. Even when compared to OptimizePress, Samcart appears to be superior, at least in terms of the worth of the predicted revenue it generates for its users.
If you are unable to use PayPal to handle payments, there is no purpose in becoming an affiliate of either Samcart or OptimizePress because both of these services require PayPal as their primary payment processing mechanism.
3. Systeme.io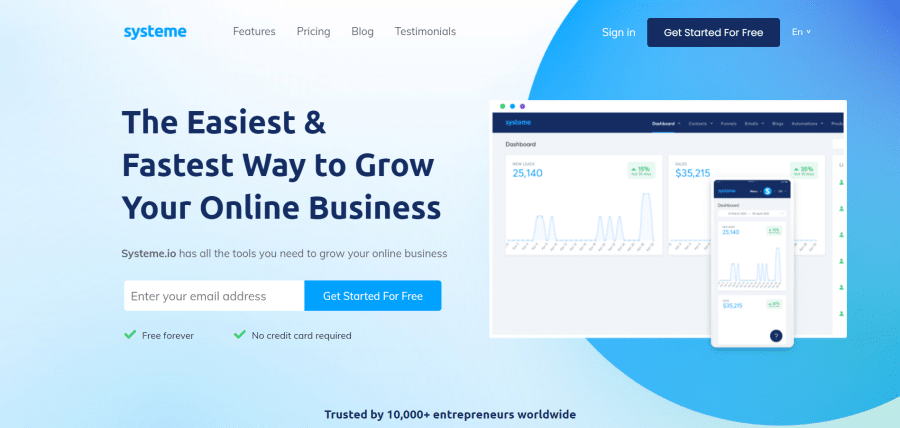 When it comes to the functionality offered, we'd say that this one is most comparable to ClickFunnels. Systeme.io, on the other hand, includes a large number of other functionalities, such as the capacity to develop opt-in forms and the ability to conduct email marketing.
It is possibly the only affiliate programme that actually resembles Samcart in terms of the compensation rate, as it can make you 40% out of every qualified order.
This makes it the most comparable affiliate programme to Samcart. Because the items have varying potential earnings for you, a commission rate of forty percent is not necessarily applicable to all of them.
However, the fact that the commissions are also recurring is the most important reason to at the very least take into consideration integrating Systeme.io into your strategy for affiliate marketing.
You have the option of getting paid through PayPal, as well as through direct bank transfers, when it comes to obtaining your money. The tenth of every month is the day that your earnings will be deposited into your account.
Conclusion
Is the affiliate programme offered by Samcart the one that best suits your needs? You are the only one who can provide an answer to that question.
Bear in mind that it could not be the best answer for someone who isn't in the correct niche, so keep that in mind at all times.
Becoming an affiliate for this product is probably not going to be of much use to you if you do not have a website or blog in the digital marketing or eCommerce area.
However, we will concede that the 40% recurring income is highly enticing, as is the fact that the product itself is pretty decent. Both of these factors together make the opportunity very appealing.
SamCart Affiliate Program: Frequently Asked Questions
Can I use SamCart for affiliate marketing?
Your own personal Affiliate Signup Page, where interested parties can apply to become your affiliates, is created for you automatically by SamCart. Open the Affiliates tab in your top navigation bar, and then scroll down until you see the box depicted in the images below.
Can you make money with SamCart?
SamCart can be used to sell tangible goods. In addition to simplifying the process of selling digital goods online, SamCart also facilitates the sale of physical goods with its user-friendly single-page sales funnel and selling tools. In addition to recovering abandoned shopping carts, upselling and cross-selling can significantly increase your earnings.
Is SamCart good for beginners?
SamCart is easy to use, therefore it's great for newcomers. It's the best tool out there for newcomers because setting it up is a breeze, and the upsell options will have you making money in no time. Since "one-page" funnels are SamCart's specialty, setting up shop is quick and easy. An elementary funnel can be created in a week or less.
How much does SamCart cost per month?
There are three distinct pricing tiers available for SamCart: One-click upsells and order increases are included in the more expensive Pro edition of the Launch Plan, which costs $119 per month. Upgrade to the Premium plan for $299 a month to gain access to cart abandonment features and affiliate software to have people advertise your business for you.
Can I use my own domain with SamCart?
One, several, or all of your pages can make use of a Custom Domain. Different checkout pages can be set up with different custom domains within the same SamCart storefront.
Can I sell multiple products on SamCart?
You may effortlessly deliver several products with a single purchase when you use the Bundled Product option that SamCart provides.
Is SamCart better than ClickFunnels?
SamCart's abandoned cart and management features are more refined than those of ClickFunnels'. In comparison to ClickFunnels, SamCart is more cost-effective throughout the board. Drag-and-drop feature makes creating funnels with ClickFunnels a breeze, especially for newcomers.
What is SamCart best for?
SamCart streamlines and accelerates the sales process with over 50 conversion-optimized layouts that adapt to any screen size. With our simple drag-and-drop page builder, you can quickly and easily design stunning landing pages for your business.
Is SamCart a sales funnel?
ClickFunnels is a tool for creating sales funnels, while SamCart is a shopping cart software for internet stores.
Can you use PayPal with SamCart?
SamCart's "unique" interface with PayPal enables a wide range of new capabilities. Customers may browse 1-Click Upsell Funnels, buy subscriptions, try free and paid trials, and more, all while using PayPal as their payment method.
What sells SamCart?
When it comes to selling their creations online, many people turn to SamCart. Digital products like as online courses, membership sites, eBooks, consulting, and more may be conveniently managed and sold with SamCart.
Does SamCart charge a transaction fee?
None of the plans have any hidden costs associated with making a purchase.
Does SamCart have membership?
If you use SamCart, your customers will have access to a streamlined membership management interface that is created for them automatically.
What is an upsell in SamCart?
Upselling, then, is the practise of suggesting additional purchases to a newly acquired clientele. You're probably being upsold even if you don't realise it.
Can you cancel SamCart subscription?
Cancelling your Service can be done in a few different ways: through the Billing page in your SamCart dashboard, by emailing billing@samcart.com, or using the support widget in your SamCart dashboard.
Does SamCart courses have an app?
The newest app from SamCart has been released. With the newest feature in your SamCart account, Courses, you may offer your own digital downloads, video courses, and subscriptions. Intriguing, right? The SamCart Courses add-on comes at no additional cost to you.
Are SamCart courses good?
SamCart Courses provides a job that is about as well as average when it comes to the creation of courses due to the absence of three important features: video hosting, cloud importing, and bulk importing.