I know there a ton of SamCart Reviews out there, but what makes this one stands out is my aim is to not only inform you what are the features available in the app, what are the cons you should look out for, and its pricing.
But I will also give you a comprehensive detail of exactly how you can use Samcart to earn money and how much money you will save using SamCart as your ultimate eCommerce platform.
Without further delay, let us get straight into the Samcart Review.
SamCart Review: Why do you need SamCart in the First Place?
To start and establish an online business you need to things
Products that will appeal to the customers.
Sell the Product to your target customers.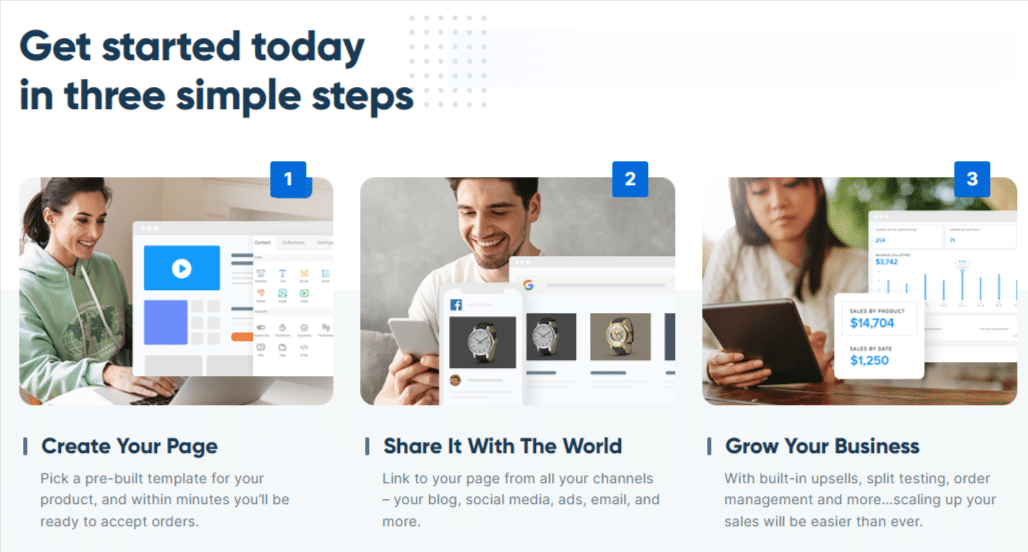 While the idea of a product is entirely yours, meaning you could start an online business for anything including physical products like books, groceries, appliances, furniture, and so on, or digital products like online courses and media that you see fit, but you definitely will require help to sell the product at scale online.
SamCart is here just to help you do that, and in this Samcart Review, I will focus on how you can use SamCart to just do that. Here are a few scenarios where SamCart will be useful for you.
If you're looking to sell something then you need a checkout page. Why go through the trouble of creating one when you could just use SamCart?
If you set up a shopping website that offers your product to the masses then chances are you will also need a shopping cart where customers can temporarily store your products before checkout. SamCart again provides you with easy-to-use templates to create such pages.
Now you want to settle bulk orders or start an occasional discount sale to keep your customers on their feet. Once you have received it you also need to fulfill and ship these orders. I'm sure you will not in person deliver products across the country but will need a fulfillment service. SamCart has got your back.
Again, it is also important to stay connected to your customers for which you need to collect leads and maintain leads which can be tedious. With SamCart you can rest assured that all the functions of a CRM are performed.
Last but not the least, one of the most important factors is managing payments, and payment processors, providing secure payment pathways & making sure that your customers understand your CTA and pay. SamCart is also the tool you need to achieve this crucial function.
These are some of the few functions amongst an extensive list of things that SamCart can help you achieve. As you can see SamCart is an all-rounder tool to manage your online business and helps boost it as well.
Now we can easily understand what SamCart is.
What is SamCart?
SamCart is an online shopping cart software that helps you create and sell products and services over the internet. It has all the features you need to create a professional and reliable Store.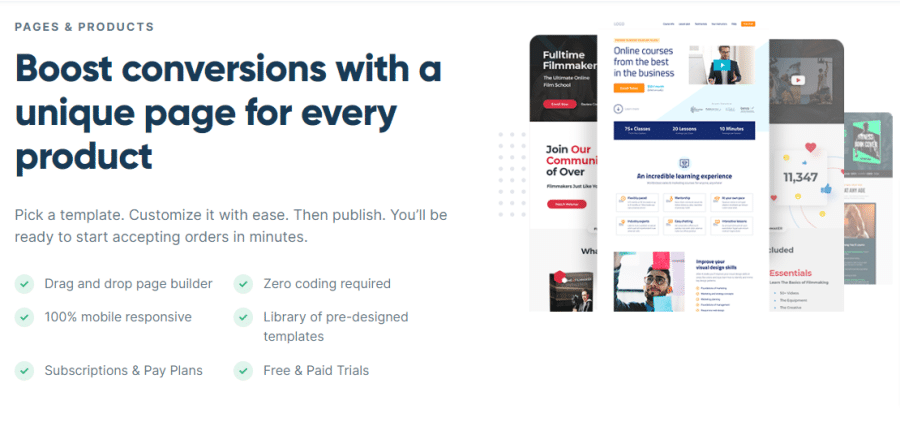 From a complete multi-vendor and multi-currency system to an advanced mobile platform, it's got you covered. It's simple to set up and easy to learn, so you'll be up and running in no time at all.
It allows users to set up and run an online store in minutes and comes with tons of advanced features. Users can customize the design, feature products, customize checkout options, and even embed their cart on their site.
It also has advanced features including SEO, email marketing, inventory management, A/B testing, upsells, offers, and so on.
It's a complete set of features that will help anyone get their business off the ground and sell. SamCart takes care of all the technical stuff and gives users the tools they need for success.
Now here is the interesting thing, usually, to achieve the above-said functions you require a list of different tools and plug-ins to get your online business up and running. Each of the tools will cost you money.
So how much do you save using just one tool instead? This is exactly what this next section of this Samcart Review is all about.
SamCart Review: How much money do you save using SamCart?
Here is a rough estimate of how much money you will have to spend if you do not use Samcart.
| | | |
| --- | --- | --- |
| Tools and Plug-in | Function | Price |
| ClickFunnels, Leadpages | Create Page Templates | 100$ per month |
| Shopify, Thrivecart | Shopping Cart | 30-300$ per month |
| WooCommerce, Stripe, PayPal | Payment Processor | 2-5% per transaction |
| HubSpot, Mail Chimp | Email Marketing | $1500-$3000 per month |
| Google Analytics | Analytics and Reporting | 0-$100 per month |
| Fiver, BrandBurp | Affiliate Marketing | 2-5% per subscription |
| ShipBob, Easyship | Fulfillment Services | $2-$5 per shipment |
| Udemy, LearnDash | Course Developer | 150-500% per month |
| +many more | | |
| Total | | $2500-$4000 per month |
SamCart singlehandedly replaces many tools that would collectively be required to successfully run an online business and lets you save up to a minimum of $1000 per year. Instead, you get to choose from one of the pocket-friendly subscription plans of SamCart.
Let us see how much SamCart actually costs in this next Samcart Review section.
How Much Does SamCart Cost?
SamCart is a tool that comes in three pocket-friendly plans depending on how many admin users you want for your SamCart account and what you are using SamCart for.
The pricing plans for Samcart are as follows:
1. Launch Plan
The features included in their launch plan are perfect for you if you are looking to start a business. It is best for entrepreneurs starting a new online business. It is priced at $39 per month if billed annually. The features included in SamCart's launch plan are:
All core features include drag-and-drop functionality, unlimited products, and pages, a large template gallery, unlimited memberships, unlimited courses, and 0 transaction fees for every purchase.
1 admin user for your Samcart account·
Free preview of CreatorU.
Multiple Billing Options.
Standard integrations and Customer Support.
Onboarding webinar.
Detailed Analytics and Reporting.
2. Grow Plan
This is by far the most popular plan in SamCart. It is best for people who have launched their online business and now want to grow it into a successful one by selling multiple products and having advanced customer management and profits. This plan is priced at $79 per month, billed annually, and includes the following features:
All features included in the Launch Plan·
5 admin user access.
Advanced Integrations and Customer support including 1-day email support.
The profit Accelerator Package includes the ability to create upsells, down sells, and bump orders.
Conversion Accelerator Package that includes Multiple payment options.
Advanced and on-demand executive insight reports.
3. Scale Plan
This is the high-tier plan of SamCart, priced at $159 per month, and billed annually. This is the plan for an established business that is looking to now extend its business to new heights. Everything that a business may require to sell products on demand and in large quantities and manage them is found in this plan. It includes:
All features are included in the Grow Plan.
10 admin user permission.
Custom Integrations and Priority Email Support.
A dedicated Onboarding Expert (for annual plan users).
Advanced Growth Package that includes essential features such as cart abandonment recalls, A/B split testing facility, Affiliate Centre, and so on.
As you can see, SamCart has managed to provide its users with plans that are reasonable. In fact, you can even try SamCart for free for 14 days as a part of their 14-day free trial period for which you can sign up at any time, anywhere.
In case you need more out of SamCart, you can also contact their sales team to set up a custom enterprise package for yourself. Also, you need not worry about investing your hard-earned bucks in SamCart; they also have a 30-day money-back guarantee in case you want to opt-out.
Now let's take a closer look at what are the features you will find in SamCart.
| | | |
| --- | --- | --- |
| Launch Plan | Grow Plan | Scale Plan |
| $59/month or $39/month when Billed Annually | $119/month or $79/month when Billed Annually | $199/month or $159/month when Billed Annually |
| ✅ 1 User license | ✅ 3-user license | ✅ 10-user license |
| ✅ Basic Integrations | ✅ Refined Integration | ✅ CR management |
| ✅ Sales Report | ✅ Bump Orders | ✅ Dedicated expert |
| ✅ Samcart dashboard | ✅ Launch Support | ✅ Priority support |
| ✅ Standard email | ✅ 1-day email support | ✅ API integration |
| ✅ CreatorU preview | ✅ Payment options | ✅ Affiliate center |
| ✅ All core features | ✅ Custom checkout | ✅ A/B split testing |
| ✅ Weekly webinars | ✅ SEO engine | ✅ Dunning feature |
| ✅ Customer Billing | ✅ Upsells | ✅ cart abandonment |
SamCart Review: Top Features of SamCart
1. Drag-and-Drop Visual Builder
When you're setting up an e-commerce store, you don't want to worry about complicated interfaces and getting a lot of coding done. You need a solution that is easy to use and achieves your business goals. This is why we have an intuitive and easy-to-use drag-and-drop editor.
You can use it to customize all the details on your page including theme, fonts, color, heading, CTAs, and so on. Whether you're after a simple shop page or want to build an advanced store, SamCart can handle anything you throw at it.
2. Template Gallery
SamCart has a large gallery of pre-designed conversion-tested templates that will fit your brand and business. It's very easy to configure and start using because it's dragging and dropping. You can even use their logo design tool to create a professional logo for your site.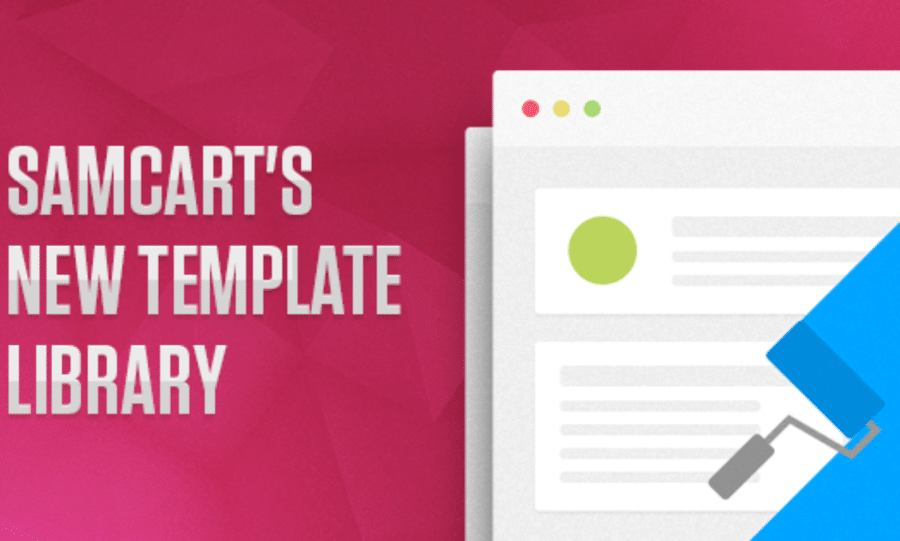 You need to just add your product to the templates and can start selling in a matter of minutes with these templates at SamCart. They are all completely free to use although paid ones are also available if you want.
3. One-Click Upsells and Bump Orders
One of the best things that will help you earn from SamCart itself is its bump offers and upsells. You can use SamCart to customize your site and create upsells with a single click. All you have to do is enter your site's URL and click "Create."
If you want to increase the average order value on your store, you can use SamCart's upsell and bumping features to do it with ease. By using SamCart's upsells, you can attract more customers to spend more money on your store in a way that feels natural rather than forced.
SamCart's bumping feature allows you to set a threshold where if a user has added a product but not yet paid, you can prompt them to add products to their shopping cart. This allows you to increase the number of products that people buy at once, which in turn increases the total value of their order.
4. A/B Split Testing
The A/B Split testing feature on SamCart allows you to measure the effectiveness of different email subject lines, product images, offers, and more.
While it is primarily used to improve email marketing campaigns, it can be used to analyze any kind of marketing that involves split testing.
This feature is especially helpful for marketing campaigns and user engagement. This advanced feature also allows users to run two different versions of an email to their list and have an analysis of which version is more effective.
5. Advanced Analytics and Reporting
SamCart has advanced analytics and insights. As soon as you create your business, you can track each stage of your sales funnel.
Every time a customer makes a purchase, the system updates your analytics and presents the newest data. This data is essential for you to know how well your business is doing and make improvements. You can view data for each purchase, each transaction, and overall earnings.
You can see how long your users are staying on your site, where on the site they visit (Pixel Tracking), how many times they visit your site, how frequently they visit, and much more. The insights you get from this can help you improve your site and give you an edge over your competitors.
Also, if you are an annual Scale plan user get on-demand insights reports from the SamCart Expert team.
6. Unlimited Integrations
SamCart is unique in the fact that it focuses on providing tips for a business to succeed rather than just making a sale. The core of this is the ability to easily integrate it with any third-party tools, such as Stripe, Dropbox, PayPal, and Mailchimp. Ranging from payment partners to APIs and CRMs, you can integrate almost any tool with SamCart.
Some of the tools that integrate with SamCart are
Fiverr
Name.com
Braintree
Pro Affiliate Pro
Thinkific
Zapier
PayPal
OptimizePress
GetResponse
Aweber
HubSpot
7. Multiple Payment Methods
SamCart has a "Pay What You Want" policy. One of the greatest things about this platform is its ability to accept online payments, and since SamCart's launch, the number of online stores that have adopted the platform has skyrocketed. This is because of the payment options that SamCart offers, from PayPal to credit cards to gift cards.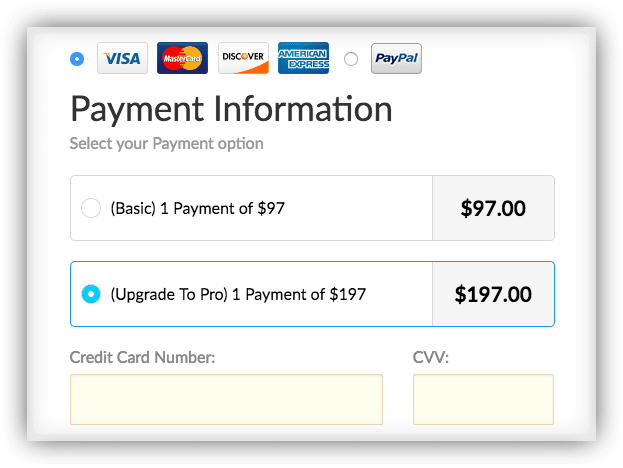 This gives you the freedom to decide what payment method is best for your business and your clients. No matter which way you and your clients prefer to pay, SamCart makes it easy to process payments.
8. Customer Service
SamCart has incredible customer service. Whether you need to ask a question, have a problem, or have a suggestion, you can always rely on the SamCart team to be there for you. You have email support and priority email support (for Scale users) for instant support.
Also, when you get started with Samcart, you have an 8-minute demo of how to set up the tool, and you will have a video conference during onboarding for instant queries and answers. Apart from all this, they also have an inventory of blogs and articles, and customer services that you can refer to for support.
9. Affiliate Centre
This is another of the SamCart in-built features that you can use to earn money with SamCart. SamCart has a robust affiliate center. It has a plethora of professionally-made banners, buttons, and text links that you can add to your site.
This makes it very easy for you to make a commission on your recommendations. It also has a robust affiliate program that has a unique twist. You can get a commission for the other people who you refer to SamCart. This will help you out if you ever want to grow your sales team. And for the affiliates, it's an excellent way to monetize their site.
10. SamCart Courses
If you are an online content creator and want to monetize it then this feature is for you. SamCart is simply one of the best pieces of software that can be used for creating online courses and applications. You will be guided through the whole process from start to finish, and with the help of the application, you can easily create the best product for your audience that too for free.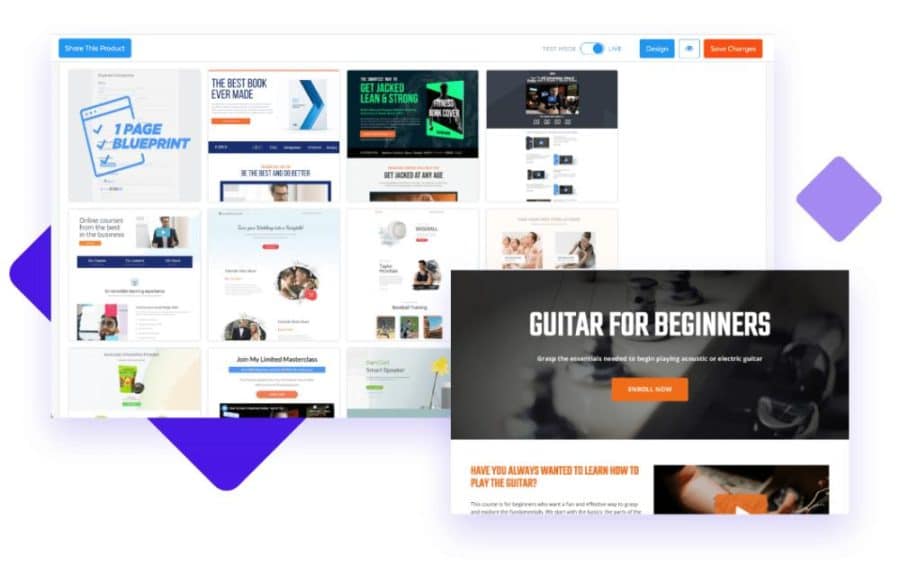 This feature also includes a free mobile application that you use to make and monitor your online courses. The unique features of this course app are
Unlimited Text, Audio, and Video Courses.
Content Dripping.
Interactive Quizzes.
Worksheets.
Content and Student Tiers.
Sales pages for advertisement and email updates.
Student Auto-Enrol Technology.
Testimonials
SamCart Pros & Cons
Full control over your cart: SamCart is built to be flexible and fully customizable to your unique needs.
Simple to set up: No installation or development is required. Just upload and go live in minutes with SamCart.
Features to fit your needs: SamCart comes with a number of features and integrations so you can collect exactly what you need. From integrating other plug-ins to even making custom changes Samcart allows it all.
Elegant Design and Effective CTAs: Make your business look professional with a clean, beautiful and modern cart that will make your customers happy with the ease of checkout, a wide range of options, and a pleasant shopping experience.
Secure Commerce Platform: SamCart provides you with one of the most important aspects of online shopping with ease, which is security. SamCart builds trust with an SSL certificate and a strict privacy policy that protects customer data.
Multiple Payment Options: Samcart offers a variety of payment methods and currencies to enhance customer experience and provide convenience.
Sell Anything: SamCart supports all types of products, including variable and downloadable products.
Advanced Features: Have all the advanced features including A/b Split testing, subscription saver, affiliate centre, etc that will get your online store up and running in minutes and all of it can be used without any prior technical knowledge.
Limited Customization Options: Although Samcart has a drag-and-drop editor which is very helpful while you tweak any template or try to build one, the amount of work you can do with it is limited.
It partners with only two payment integrations which are PayPal and Stripe. This can be extended to reach a larger audience.
So now we come to the end of this SamCart Review and I'm sure you have by now found the details you have been looking for.
SamCart Customer Review & Testimonials
Here is what users say about Samcart:




I had a completely positive experience…


I had a completely positive experience with these people! Easy and fast in their communication. As I was t ready to launch my product yet, I asked for a refund which came to me after I messaged them one day after. At first, I was skeptical and needed more info as I am new at this. In the future, I might cooperate with them and I am willing to learn more about how their platform works.

Date of experience: August 07, 2022

Source: Trustpilot
SamCart on Social Media
Samcart is highly active on social media and conducts various webinars, and groups. SamCart hosts weekly live-streaming events on YouTube and Facebook where you can ask us any questions you have regarding their tools.
SamCart on Facebook
SamCart has a 4.5-star rating and various positive reviews. It has 42,688 likes and 66,029 followers on its Facebook page.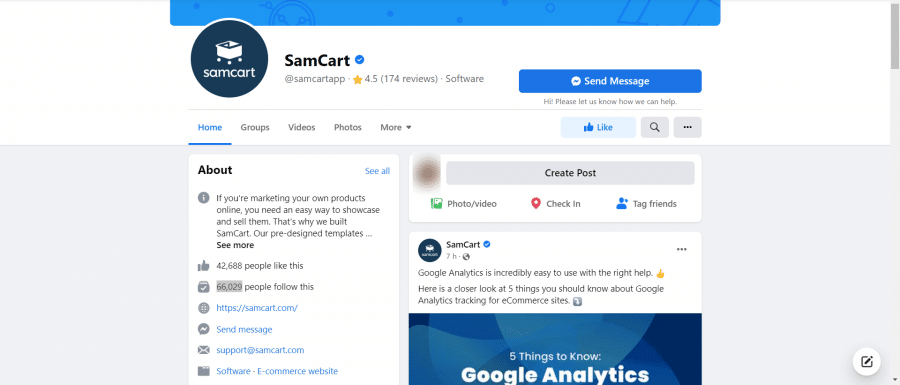 SamCart on Twitter
SamCart has 811 tweets and 640 followers on Twitter. They share various resources from time to time.
SamCart On Linkedin

SamCart has 8,252 followers on LinkedIn. They occasionally put their resources together and share a variety of information.
Conclusion On SamCart Review
SamCart is, in my opinion, one of the most resourceful shopping carts and eCommerce platforms available at its given price range. It is a platform that you can use to run your entire organization, whatever your online business may be.
SamCart is used by everyone today, from small businesses to huge corporations such as Deloitte, AT&T, and many others.
What makes it stand out for beginners and professionals alike, is how easy it is to use, it is available in several different languages and includes several different features that will help your organization grow, which is why it is highly recommended.
It's important to bring up Thrivecart as a good alternative to Samcart when talking about other checkout software. Even though Thrivecart is a relatively new platform, it has a lot of features and functions that make it a good choice.
One of the most important things that ThriveCart has to offer is better-split testing. This makes it possible to test headlines, button placement, and other parts of a checkout page in a more precise and detailed way, which can help improve conversions.
All of these features are available for a one-time price of $495, which can be a better deal for businesses looking for a long-term solution.
SamCart Review: Frequently Asked Questions (FAQs)
Is SamCart Good For Beginners?
If you're a beginner, you should use SamCart. The drag-and-drop editor makes it easy to create a professional-looking e-commerce website. It saves a ton of time and you can get started right away. It's really simple to add products to your store, add shipping information and payment options, and get to work on your marketing strategy.
What Is SamCart Used For? 
SamCart is a simple and beautiful e-commerce system that helps you create an online store in minutes. It is easy to use and has an intuitive interface that can be customized to fit your needs. SamCart is a solution that provides merchants with a better payment gateway, shopping carts, and payment solutions. They accept a range of payment methods, including credit cards, debit cards, e-wallet solutions, and more.
How Do I Cancel My Subscription?
If you would like to cancel your subscription, you can do so by logging into your account and clicking on the Account tab. After that, you can see a dashboard of your current account and see your subscription listed. Simply click on it and you'll have the option to cancel it. After you do, you'll no longer be charged.
Is SamCart a sales funnel?
SamCart is a shopping cart platform that has built-in 1-click up-sell and down-sell functionality. This functionality makes it a great tool for building Micro Sales Funnels.
Does SamCart have an app?
While it does not have a native mobile app for iOS or Android, SamCart does have a very user-friendly layout that is especially mobile-friendly. As a result, SamCart remains a great platform for selling your items and services.
Is SamCart better than ClickFunnels?
ClickFunnels is a more versatile online business development tool with more features and integrations. SamCart is ideal if you want to improve your online purchasing experience but aren't concerned with creating high-converting sales funnels, follow-up funnels, or subscription sites.
Does SamCart Integrate with kajabi?
Yes, With Zapier, info can be sent automatically between SamCart and Kajabi without the need for any coding. This is done through triggers, which are activated when a new order is placed in SamCart.
Is SamCart secure?
In short, the SamCart checkout procedure is safe and PCI (Payment Card Industry) compliant. Customers' personal information is safer when they shop with you because of the SSL certificate you will receive for your website.
Does SamCart offer a free trial?
Yes, SamCart gives you a free 30-day trial with no extra costs. Unlike some other e-commerce platforms, the free trial doesn't come with any hidden costs or fees, like processing fees.
Does SamCart Integrate with Zapier?
By connecting SamCart with Zapier, you'll have access to more than 3,000 marketing automation tools and apps, allowing you to streamline your processes, and increase your output, and ultimately, your revenue.