Want a detailed comparison of SamCart vs ClickFunnels? Look no further. This is the ultimate SamCart vs ClickFunnels comparison article you'll find over the internet.
Having an online business is no longer a unique thing. In today's world, I would be surprised if you have a business and have not yet established an online shopping website.
And no, you do not need to be a techie or a coder to set up an online business website or start captivating marketing strategies online.
There are tons of tools available online to simplify and do the task for you. SamCart and ClickFunnels are two such popular tools that you can use to design and promote your business online.
In this SamCart vs ClickFunnels article, I will discuss the similarities and differences between the two tools so that you can decide which one is best for your business.
But first, let us take a look at what these tools are.
Samcart is an online shopping cart that may be used to sell digital products, online services, and even physical products. It enables you to develop sales pages, marketing funnels, an affiliate programme, ecommerce, and other features.
ClickFunnels is a website and sales funnel builder. In summary, this tool allows you to construct landing pages, sales pages, receive payments, and manage whole sales funnels with a few clicks of a button and no coding knowledge required.
Create an eCommerce storefront with SamCart, a simple shopping cart software and 1-page funnel system that makes selling online simple.
Clickfunnels is popular online sales funnel solutions, allowing users to design beautiful sales pages that turn visitors into leads and paying customers fast and easily. No prior knowledge of technology, design, or coding is required.
SamCart provides monthly and yearly subscriptions. It has far fewer subscription plans than its competitors.
Monthly/yearly subscriptions are available on ClickFunnels. Subscription plans are nice, but not as good as those offered by Samcart.
SamCart's world-class support team is accessible 24 hours a day, 7 days a week to assist you with any queries or concerns you may have.
From 8 a.m. to 8 p.m. Eastern Time, live chat is available. You can get to it by going to your ClickFunnels account and clicking on the "Help" page.
What is SamCart?
SamCart is an e-commerce shopping cart platform that makes it easy to sell digital and physical products online, without requiring any technical knowledge or investment. SamCart will allow you to easily manage your orders, inventory, and payment options.
It is a highly flexible, user-friendly platform that encourages business owners to have an unlimited number of products and payment options, unrestricted shipping rates, and a custom domain name for their store.
The software is built to fulfil your needs for Payment Gateway Integration and Cart Abandonment. In addition, it's designed for Marketing Automation, Social Media Integration, and Inventory Management.
In short, it is a shopping cart builder that can perform all the functions a website funnel builder and payment processor can do.
What is ClickFunnels?
It's an all-in-one tool that truly makes life easier for an entrepreneur, especially when you're starting, don't have a large budget, and are looking to build your brand, grow your sales, and take your business to the next level.
ClickFunnels is a platform that's designed to help businesses market and sell their products by providing them with a powerful platform that features funnel creation, the ability to create automated follow-up emails and purchase pages, and much more.
Sales funnels allow users to direct customers toward a product or service with ease. ClickFunnels has many different templates and designs to choose from to streamline the process and is guaranteed to help your business succeed.
In short, ClickFunnels is a funnel builder that allows you to boost your sales by capturing leads and converting them to customers.
Now that we know what these tools are intended for, let's compare the two.
SamCart vs ClickFunnels: What Makes Them Different?
1. Drag-and-Drop Editor and Customization
SamCart
With the right tools and experience, you can create any kind of shopping cart and sales funnel you want. SamCart lets you do this easily with their drag and drop editor. With no coding knowledge necessary, you can set up your store in minutes and start selling your wares to customers all over the world.
You can also customise every aspect of your sales pages including text, video, image, font, and so on. This also allows you to tweak and adjust the theme of your page to match your brand. The editor has three major sections you can customise:
a. Content: This section includes all elements and widgets that you can customise.
b. Collection: This section includes all the elements that help you to tweak the Theme of your page.
c. Settings: This section has additional features like font, and colour that you can personally customise.
ClickFunnels
If you're new to e-commerce, or you just need a quick solution for your store, then ClickFunnels can do the work for you. ClickFunnels' drag-and-drop editor allows complete customization, so you can ensure that your shopping cart is exactly what you want it to be.
Although the drag-and-editor performs the same functions as that of SamCart's Drag-and-drop editor.
Verdict
As both the tools have the drag-and-drop functionality, they have a very short learning curve, meaning you can learn to use the tools in no time and create not only appealing but also converting sales pages in no time. Therefore, this SamCart vs ClickFunnels comparison is a tie.
2. Templates
SamCart
SamCart has a large library of page templates especially those for checkout and shopping carts to help you create a sales page that's specific to your product.
We have over 100 pre-made templates that include a variety of page designs, call-to-action buttons, and easy-to-use shopping cart templates that are guaranteed to convert. You can also use our drag-and-drop editor to create a completely custom page design that's designed to sell.
They also have four funnel templates to set up sales funnels. You can use these templates and customise them according to your marketing needs and use them easily.
ClickFunnels
The thing about ClickFunnels is that it focuses on the funnel-creating process, this is why it has a large gallery of funnel templates for various functions like launch funnels, webinar funnels, two-step funnels, tripwire funnels, and so on.
These templates are multi-step and fully customizable as well. There are both free and paid sales-funnel templates for you to choose from in ClickFunnels.
Verdict
ClickFunnels has a much larger gallery of sales funnels but when it comes to only checkout pages and sales pages SamCart shines. Also, since the funnel steps are not limited to ClickFunnels I prefer ClickFunnels as the winner in this category of SamCart vs ClickFunnels.
The interesting thing is that both the tools allow A/B split testing of the templates you create so that you can check beforehand which of your pages will be more converting.
3. Sales Booster
SamCart
This is what SamCart excels at. SamCart is the ultimate tool to boost your sales with upsells, down sells, and bump offers. With the drag-and-drop editor, adding extra products and offers to your cart and checkout process is easy and it only takes a couple of steps to get started and get results.
SamCart focuses on the templates and funnels that will help you increase your sales.
a. 1 click upsells: Add products on the checkout pages related to the products in your customer's cart with a slightly higher price to increase the chances of them being sold.
b. Down sells: Add products to the checkout pages with a lower price to increase their sales.
c. Bump Offers: Create impressive bundles of products searched and liked by your
d. Design competitive and attractive discounts and coupons and offers for targeted audiences.
After all, a business's ultimate motive is to sell and SamCart has understood this assignment and focused to increase your profits and conversions.
ClickFunnels
When you need to push a customer over the edge, you can give them a little extra offer to sweeten the deal. That's where ClickFunnels' upsells and bump offers are deployed to do just that.
ClickFunnels in essence is a funnel builder but it does include templates for pages that lets you create upsell pages, bump offers, and checkout pages. You can use their drag-and-drop editor to create and customise these pages but this feature is not as strong as that of SamCart.
Verdict
In my opinion, as a sales booster, SamCart remains undefeated as it specialises in this category and has an entire section dedicated to it while ClickFunnels tries to reach every side at once, Also SamCart has unique templates like embed anywhere pop-ups or exit intent pop-up templates and so on that is missing in ClickFunnels.
4. Email Marketing
SamCart
SamCart offers many tools to help you manage your business. From E-Commerce to invoicing and marketing automation, SamCart has you covered. SamCart's marketing automation is a useful tool for those looking to grow their business. This feature allows you to automatically send out emails for actions your leads take on your website.
Many tools natively integrate with SamCart like MailChimp, Drip, iContact and so on that can also help you perform the same function.
ClickFunnels
There are many automation tools available to help you better your marketing and business. One of these is ClickFunnels, which has a dedicated email marketing tool called Actionetics. Actionetics will help you build better relationships, and therefore increase sales, through your email marketing efforts.
However, there is a downside to it. It is available only in the highest tier plan of ClickFunnels which can be very expensive for small businesses. In the lower plans, you need to integrate automation tools with ClickFunnels to do the job.
Verdict
Both tools support email automation. It is only that ClickFunnels has a built-in tool at its highest level to help you do so but otherwise you can use any tool to achieve the function at a lower cost. This is why I think this category of SamCart vs ClickFunnels is a tie.
5. Payments and Checkouts
SamCart
Not only does SamCart allow you to create checkout pages but also gives you multiple payment options and integrates with various payment processors. As your customer base increases it becomes more and more important to have this feature.
SamCart by default integrates with multiple payment processors like Stripe and PayPal. Stripe is a payment processor that allows you to accept payments directly from your customers.
PayPal is a similar service that allows people to pay for anything online with their PayPal account.
Some of their payment methods include PayPal Credit and their online banking. They also support Apple Pay, cart abandonment protection, and more.
It also supports multiple payment methods like subscription-based payments, one time-payments, donations, and even discounted payments. Currencies from all over the world are accepted and advanced security and fraud prevention is included in their program.
ClickFunnels
ClickFunnels has the capabilities to create sales pages, checkout pages and integrate with many payment processors. However, they do not support multiple payment options or do not have native integrations with payment processors.
ClickFunnels as I have already mentioned focus on the funnel-creating process rather than the selling or payments which is why these are the places that SamCart shines through.
Verdict
As you can already guess, SamCart is the winner in this SamCart vs ClickFunnels category as it allows the creation of multiple payment models and options for a large customer base so that they do not select products but abandon the cart when faced with difficult payment methods.
6. Affiliate Management
SamCart
SamCart allows you to do two things
a. Join their affiliate program at a good percentage of commission.
b. Create your affiliate program to expand your business with the correct affiliate management.
For this, they have a dedicated Affiliate Centre. SamCart has a great affiliate center that provides all the tools that affiliates need. The affiliate center has a wide variety of banner ads that are high quality, mobile responsive, and easy to use. You can track each affiliate, decide which affiliate link to activate and when, and so on. The default monetization option is a 50/50 revenue split with affiliates.
SamCart also has a custom tracking pixel that makes it easy to see just how much money you've made for yourself and SamCart. This is a feature of SamCart that I highly recommend to people looking for an affiliate centre.
ClickFunnels
ClickFunnels has a dedicated center for affiliates, called Backpack. However, this is available only in the high-tier plan of ClickFunnels. The backpack is a one-stop-shop resource for affiliates.
The Backpack area has everything an affiliate will ever need: sales and promo materials, banners, and scripts for promoting ClickFunnels. They have a fixed 40% revenue split for affiliates. Everything is organized so it's easy to use, even for someone unfamiliar with affiliate marketing.
Verdict
Both tools offer us as the user to set up our affiliate program but SamCart does it at a lower price, also as affiliates we have a larger commission rate from SamCart which is why I choose SamCart as the winner in this category of SamCart vs ClickFunnels comparison.
7. Online Courses
SamCart
SamCart also has an interesting addition to its list of features which is an online course creator. The online course creator makes it simple for you to add interactive content to your website. There are a variety of formats for you to use in this course like video, images, text, and so on.
You can create a course in just a few simple steps: First, pick the type, of course, you want to create. There is the quick tip course, the checklist course, the quiz course, the presentation, and more. Next, pick the topic. Then, add your content.
The course creator allows the user to start with a blank canvas and add all of the components (courses, marketing pages, payment pages, redirect pages, thank you pages, and any other type of page) which are necessary for the customer to go through to make a purchase. This makes it a lot easier for the business owner and allows for optimal flexibility.
ClickFunnels
ClickFunnels is yet to add a course creating funnel or template to their extensive list of sales funnel templates.
Verdict
SamCart wins in this category of SamCart vs ClickFunnels as they have extended their functionality to online teachers, bloggers, and content creators as well who deal with selling content online. This is also a great way to make online and if you are an educator then SamCart may be the tool for you.
8. Integrations
SamCart
SamCart integrates with a large number of tools to extend its functionality and integrate with tools that you already use. These include:
Gravy
Fiverr
Name.com
Arrow
WordPress
Pro Affiliate Pro
MemberPress
Zapier
And many more.
ClickFunnels
ClickFunnels excels in integrations; they have an extensive list of ESPs, CRMs, social media networks, automation tools, and the like that it integrates with. These include all major tools like:
WordPress
PayPal
Authorize.net
ShipStation
Zapier
Kajabi
Drip
MailChimp
Ontraport
And many more.
Verdict
Because ClickFunnels integrates with a larger number of tools and plug-ins, it extends its functionality and likeliness of being useful to a larger number of businesses therefore ClickFunnels wins in this SamCart vs ClickFunnels comparison criteria.
9. Pricing
As of April 2022, SamCart off the hooks gives its customers three pocket-friendly plans to choose from along with free trial periods of 14 days with a 30-day money-back guarantee. The plans are as follows:
| | | |
| --- | --- | --- |
| Launch Plan | Grow Plan | Scale Plan |
| 39$/month billed annually. | 79$/month billed annually. | 159$/month billed annually. |
| 1 admin User | 5 admin users | 10 admin users |
| Includes all core features | Includes all core features | Includes all core features |
| Standard integrations and payments | Advanced integrations and Payments | Custom Integrations and payments |
| | Priority Support | Dedicated Support |
| | Advanced features like upsells, bump offers, and reporting. | Advanced features included in the Grow plan and dunning, affiliate centre, and split testing. |
ClickFunnels also has three pricing plans including a 14-day free trial period that you can sign up without any credit card details. The plans are:
| | | |
| --- | --- | --- |
| Standard Plan | Platinum Plan | Two Comma Club X |
| 97$/ month billed annually | 297$/ month billed annually | 2947$/month billed annually |
| 10 funnels | Unlimited funnels | Unlimited funnels |
| 100 Page templates | Unlimited templates | Unlimited templates |
| Standard integrations and support | Advanced integrations and support. | Advanced integrations and support. |
| | | Actionetics and Backpack |
Verdict
As you can see ClickFunnels is the pricier option among these two tools. SamCart's highest tier plan is more likely to be chosen by people with all their premium features rather than the most popular Platinum Plan of ClickFunnels. I pick SamCart as the cheaper alternative to your online marketing solution over ClickFunnels.
Now that we know exactly how they differ, let's take a quick revision of their advantages and disadvantages.
Customers reviews and testimonials
Samcart
ClickFunnels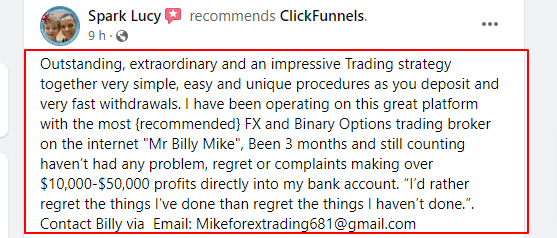 SamCart vs ClickFunnels: Frequently Asked Questions (FAQs)
Does SamCart Integrate With ClickFunnels?
Yes, it does. SamCart is a ClickFunnels-approved payment platform and integrates with the software to allow users to accept payments by credit card, process orders and sales, and sync to the email marketing software. You can use SamCart with WordPress, Shopify, Squarespace, and so much more.
Can You Make Money With SamCart?
SamCart is a great way to make money from your business, help spread your brand, and make an easy money-generating machine. You can do that by boosting your sales with the tools advanced selling features of having your affiliate programs set up. Learn more by trying the tool for free.
What Is A Cheaper Alternative To ClickFunnels?
There are many tools that you can use instead of ClickFunnels like
• SamCart
• Leadpages
• OptimizePress
• Thrive Themes
• System.io
• HubSpot
• And much more.
Does SamCart Offer An Affiliate Program?
Yes, SamCart does offer an affiliate program. Affiliates can earn a percentage of the revenue from each sale they refer. Also, as a creator of the affiliate program, you can control every tiny detail of your affiliate program, each affiliate, links, and much more.
Is ClickFunnels Worth The Money?
ClickFunnels has a simple subscription program and you can create pages with the best components and the best features, allowing you to create the best pages for your company. So yes, ClickFunnels is definitely worth your bucks. 
Is SamCart better than ClickFunnels?
ClickFunnels is a more versatile online business development platform with more features and integrations. SamCart is ideal if you want to improve your online purchasing experience but aren't concerned with creating high-converting sales funnels, follow-up funnels, or subscription sites.
Is SamCart A Sales Funnel?
SamCart is a shopping cart platform with 1-click up-sell and down-sell capability. This feature makes it an excellent tool for creating Micro Sales Funnel.
Is SamCart the same as Shopify?
SamCart is a specialized shopping cart and checkout solution, whereas Shopify offers much more. Here are the main distinctions between the two platforms. SamCart: The base plan starts at $49 per month.
Does SamCart integrate with WordPress?
Integrations between SamCart and WordPress Zapier automates the transfer of data between SamCart and WordPress—no coding necessary. When a new order is placed in SamCart, this event is triggered. This should be done automatically! Makes a new post.
Does SamCart integrate with Kajabi?
Please keep in mind that SamCart is not a native Kajabi integration.
SamCart vs ClickFunnels: Who is Better? (My Opinion)
There is no easy way to answer this question because they are two all-in-one tools but focus on different aspects of the same function.
SamCart focuses on sales. It will help you design and create pages that are meant to attract and sell products. Anything you need to sell products from product listing, offers, checkout pages, carts to payment integrations has it all.
ClickFunnels on the other hand focuses on converting your leads to customers by creating highly targeted and specialised sales funnels and automating the functions of the sales funnels.
As you can see both the tools will help you boost your sales but what you exactly want depends on your business. Either way, you have free trial periods in both the tools and also have a money-back guarantee with SamCart that you can use to your advantage and try the tool out for yourself and decide better.
Until Next Time….
Happy Creating!
Social Media
SamCart on Social Media
Scott created SamCart, an online shopping cart software, in 2013. You may also market your products on social media using Shift4Shop.
Facebook
The most popular social media network is Facebook. On Facebook, SamCart has 43,303 likes and 79,907 followers.
Twitter
Twitter is another popular social media network. On Twitter, SamCart has 782 tweets and 753 followers.
Linkedin
SamCart is a creator-focused e-commerce platform. On Linkedin, it has 7,798 followers.