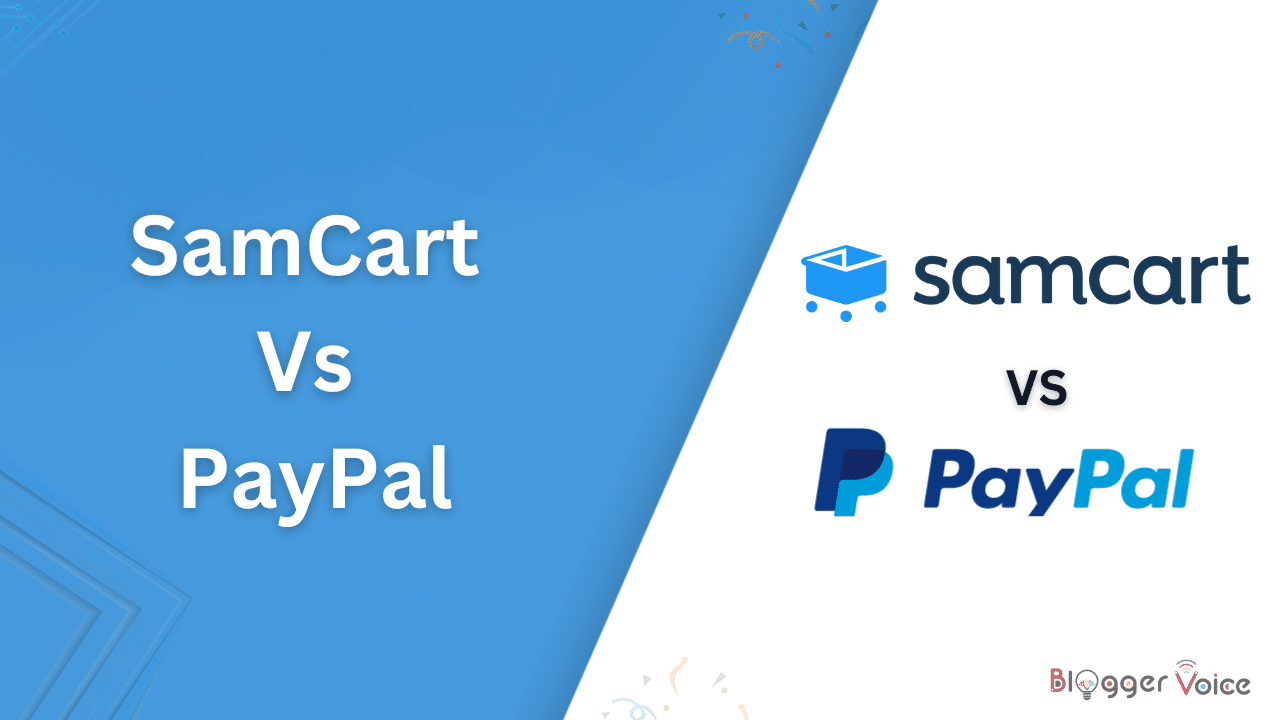 Are you still confused as to which tool you should use as your payment integration partner? You have come to the right place. This is exactly what this SamCart vs PayPal article is all about.
If you're running a business, then I would not be surprised if you already know about or use PayPal. PayPal is one of the biggest and most trusted payment gateways on the planet, but it's still not the only game in town.
SamCart is a relatively new payment gateway but is quickly gaining ground on PayPal.
Let us see what these tools are before we get into comparing them.
Samcart is an online shopping cart that may be used to sell digital products, online services, and even physical products. It enables you to develop sales pages, marketing funnels, an affiliate program, e-commerce, and other features.
PayPal is an online payment system that enables it safe and secure to pay for products online as well as send and receive money. You can use PayPal to make online purchases with participating stores after linking your bank account, credit card, or debit card to your PayPal account.
Create an eCommerce storefront with SamCart, a simple shopping cart software and 1-page funnel system that makes selling online simple.
PayPal is incredibly user-friendly and simple to operate. Whether you're buying something online or adding PayPal as a payment option.
SamCart provides monthly and yearly subscriptions. It has far fewer subscription plans than its competitors.
PayPal is entirely free to use for an individual account. There are no transaction fees or other charges. However, if you have a business account, PayPal's costs as your payment processor will be a fixed percentage of the total transaction plus fixed fees.
SamCart's world-class support team is accessible 24 hours a day, 7 days a week to assist you with any queries or concerns you may have.
Contact PayPal if you have any queries about online payments or to sign up.
What is SamCart?
SamCart is an all-in-one solution for online shopping carts and payments. It is a subscription-based, customizable e-commerce solution.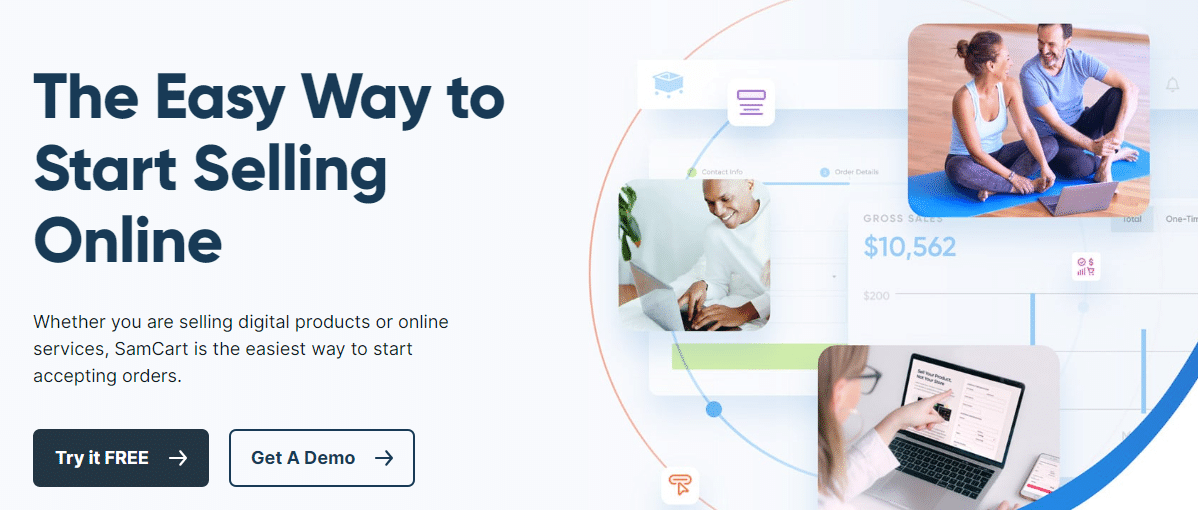 SamCart allows merchants to set up and take online payments, create a membership site, build an affiliate program, send automated email campaigns, and much more using only a single platform that also integrates with the most popular payment gateways, such as PayPal, Stripe, and Authorize.net.
Any online business can use SamCart's built-in storefront to display its products and manage inventory from one central place. It is a single software platform to manage the full order lifecycle of your business's e-commerce store.
With SamCart, you can start selling online with just a few clicks of your mouse. No coding, IT, or design experience is required.
What is PayPal?
PayPal is a secure online payment solution that allows people to pay without sharing their personal information. In essence, it is a payment processor that accepts multiple payment methods.
This means users can shop without giving out their credit card numbers to sellers, pay without entering their cardholder information, and make purchases without signing up for a PayPal account.
PayPal is a secure and simple way to pay online, whether you're shopping or sending money to friends and family. You don't need to deal with complicated payment gateways if you have PayPal.
Now let's see how these two tools differ.
SamCart vs PayPal: 9 Major Differences Between the Two
1. Online Store
SamCart allows you to build, design, and launch an entire e-commerce website on a single platform. Its interface is simple, clean, and easy to use. It has everything a business needs to create a complete online shop. From creating a backend system to creating a stylish website, SamCart has every tool you need to do both of those tasks.
One of the most useful tools for doing it is the drag-and-drop builder which you can use to make conversion-targeted sales pages and product descriptions using their pre-designed templates.
You'll also be able to make your store look exactly how you want it to look by customizing the themes, widgets, and layout with the theme builder.
PayPal, on the other hand, does not have any page-building tools or options. You cannot use it to design and publish sales pages or shopping carts; you can only use it to process payments securely.
Who's Better?
Since SamCart gives us the option to not only process payments but also create our own customized online storefronts with attractive layouts and themes, it is only natural that SamCart is the better option in this SamCart vs PayPal category.
2. Funnel Templates
SamCart offers pre-designed, conversion-tested funnel templates for your business needs. You can use these templates to create your own sales funnels without the need for code or design work. With each template, you can easily drag and drop elements that you can use to create your own unique sales funnel.
There are about 22 different types of funnel templates that include web pages, email templates, and sales scripts that you can customize to fit your company's needs.
As PayPal is not built to create sales funnels, it also does not have any templates to do so.
Who's Better?
As you can already guess, SamCart again wins this comparison, as not only can you make a website with it but also promote and sell your products through efficient lead capture and sales funnels within a few minutes by just using a template that best suits your business needs.
3. Upsells, Down sells, and Bump Offers
If you want to boost your sales and get more customers buying from your store, you need a shopping cart that can help you manage your inventory better without a lot of extra hassle. SamCart is perfect for that.
From creating stunning and converting advertisements to 1-click upsells, 1-click down sells, and bump offers, SamCart has everything you need to help you build your business from the ground up.
But again, PayPal doesn't have any such feature.
Who's better?
I personally choose SamCart as the ultimate sales booster over PayPal which is good in what it does but has limited functionality. Therefore, SamCart wins this SamCart vs PayPal comparison again.
4. Invoice
PayPal is a secure way to transfer money to clients, employees, and business partners. As a payment processor, PayPal has continually advanced its platform with the latest invoicing system.
They can offer downloadable reports, advanced invoicing, as well as exporting capabilities. This not only allows you to keep track of all transactions easily and quickly but also allows for easy export.
This is a feature unique to PayPal and is not available in SamCart even though you can use SamCart as your payment processor powered by Stripe.
Who's Better?
Invoices are very important both for customers as well as sellers to keep track of their sales or purchases. PayPal provides us with this feature and thus, is the winner of this SamCart vs PayPal category.
5. Integrations
While SamCart's default features are fantastic, the best part about SamCart is that it allows you to integrate with other programs on the market. This means you don't have to use multiple programs to get everything set up – you can use SamCart to handle it all. SamCart integrates with tools like:
Fiverr
Gravy
Name.com
ShipStation
Intercom
Pro Affiliate Pro
Zapier
Wishlist
Optimizepress
Google Analytics
MailChimp
IContact
GetResponse
Drip
Aweber
Hubspot
And many more.
PayPal, on the other hand, does not integrate with any such tools but you can integrate PayPal with all major shopping websites be it WordPress-based or hosted on any other platform.
Who's Better?
Definitely SamCart. With a wide range of ESPs, CRMs, Analytics, and partners SamCart makes its platform accessible and useful to a versatile range of the public. They extend their functionality beyond just a payment processor and win this SamCart vs PayPal comparison.
6. CreatorU
The best thing about SamCart is that SamCart takes the time to show you how to build your own e-commerce store. CreatorU is a big part of what makes SamCart so special. CreatorU takes you through the process of making a store step-by-step.
It has a host of awesome features, such as a drag-and-drop editor, front-end templates, product import, and much more. You'll never have to worry about having a mediocre store. You can customize your store to your heart's content.
Also, it has important features such as affiliate programs and email integrations, and autoresponder facilities that are absent in PayPal.
Who's Better?
While using a new tool there is a high chance that you need to learn how to use the platform before starting to use it professionally. SamCart has done a good job of making it simple for their new users to familiarise themselves with the tool. That is why SamCart wins in this SamCart vs PayPal comparison.
7. Payment and Processing
This is the one category where you can fairly compare SamCart vs PayPal as both tools let you make multiple payments.
Let's start with SamCart. Before I begin telling what are the features available in SamCart it is important to mention that when you open your SamCart account you need to mandatorily connect it to a Stripe Account as well, as payments in SamCart are powered by Stripe.
But that does not mean you need to use Stripe as your only payment processor, as it also integrates with PayPal, Google Pay, Microsoft Pay, Apple Pay, and cryptocurrencies as well.
SamCart also allows the user to devise various payment methods and schemes, such as subscription payments, one-time payments, donations, and so on. They also provide SSL certificates, and each of their payment gateways is fully secure. They have fraud prevention as well.
Further, they also have advanced tax calculations, refunds, and discount and coupon offers that any business can take full advantage of.
PayPal, on the other hand, is a secure and reliable payment processor that accepts payments, makes payments, sets subscriptions, and even has high-level fraud prevention and security. They also support refunds and identity verification systems for a safe and reliable shopping experience.
The best thing about payments with PayPal is that they can happen in one click as well without the need to log in every time or enter tedious details. They accept payments via
Credit or Debit Cards.
PayPal Credit.
Online transactions.
Local payment methods.
Digital wallets.
PayPal one Touch and so on.
You can integrate PayPal with Samcart to make these features available.
Who's Better?
Although PayPal has more payment methods, I will still choose SamCart over PayPal as it not only integrates with more than one payment processor but also gives us multiple payment options that might be preferred by different customers.
The only hiccup I can think of is that to set up your SamCart account, you will also need a Stripe account. Now, this can be a lengthy process for some. PayPal is an independent platform. Therefore, this is a SamCart vs. PayPal category where you can't say who is better as both have equally good options.
8. Mobile Application
By creating a PayPal account, you're creating a bank account that doesn't have any fees, charges you high interest, and doesn't require you to maintain a minimum balance.
The best thing about having a PayPal account is that you can log in to your account in their mobile application as well. This means you have easy payments right at your fingertips.
It's so much easier than ever before to send money to your friends or businesses. Or even receive money. Not only can you send and request money quickly, but it's also safer than ever before. Even the mobile app has access to all transaction histories, invoices, and reporting. You also get mobile notifications with their PayPal mobile app.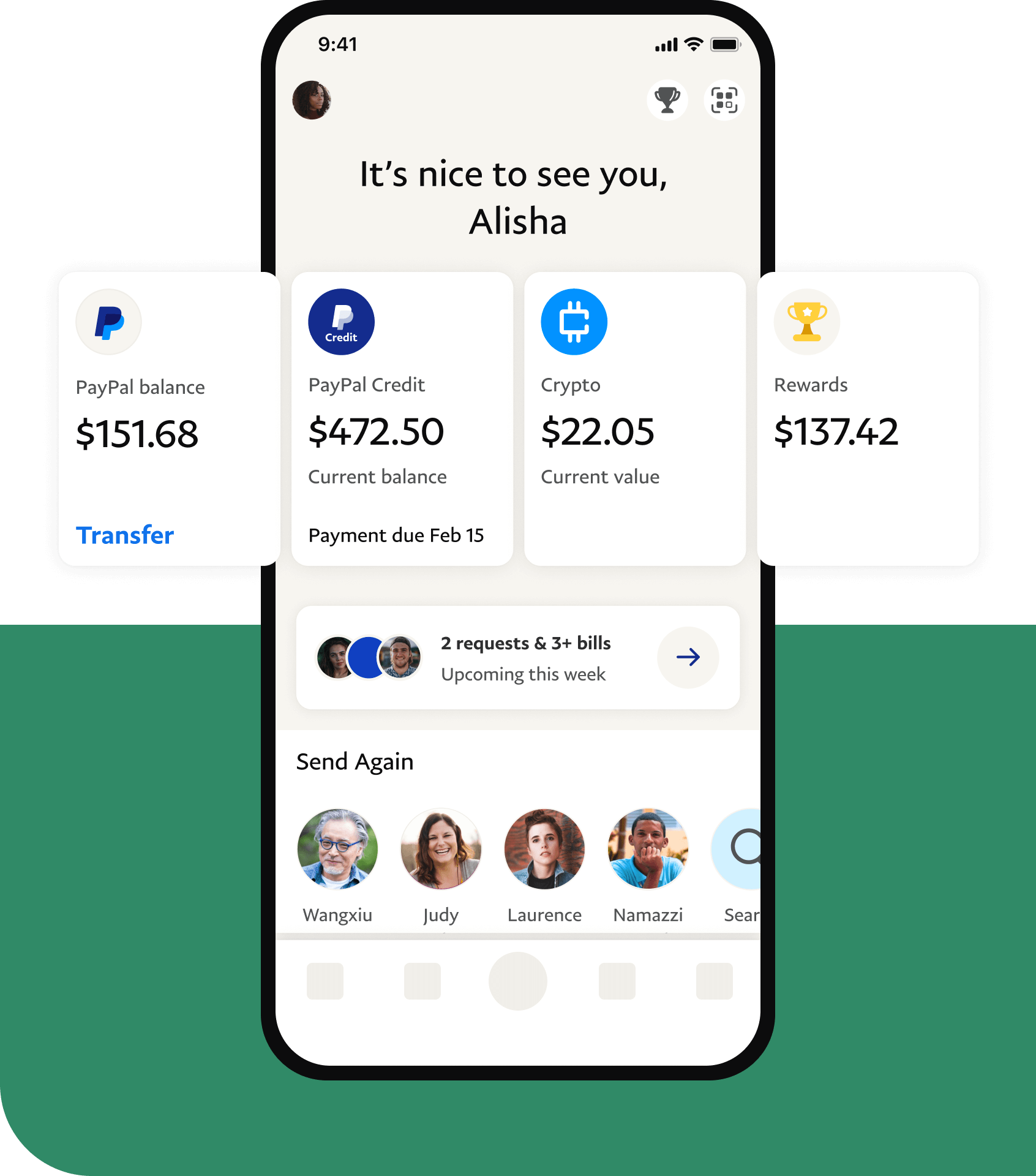 SamCart is yet to release any mobile application for its users.
Who's Better?
Yes, PayPal wins in this SamCart vs PayPal comparison by allowing you to easily communicate with your customers or vendors with the help of a native app that is compatible with all android and iOS devices.
9. Pricing Plans
SamCart Pricing Plans
If you are considering using SamCart, I'm sure you will be interested in knowing their pricing plans as well. Samcart comes in three different pricing plans for their users with the same core features but added functionality in each. The plans are as follows:
| | | | |
| --- | --- | --- | --- |
| Features | Launch Plan | Grow Plan | Scale Plan |
| Price | 39$ monthly, billed annually. | 79$ monthly, billed annually. | 159$ monthly billed annually. |
| Drag-and-drop builder | Yes | Yes | Yes |
| Unlimited Pages | Yes | Yes | Yes |
| Unlimited Funnels | Yes | Yes | Yes |
| Templates | Yes | Yes | Yes |
| Upsell, Down Sells, and Bump Offers | No | No | No |
| Label Branding | No | Yes | Yes |
| Multiple Payment Option | No | Yes | Yes |
| 0% Transaction Fees | Yes | Yes | Yes |
| Payment Processor Integrations | Yes | Yes | Yes |
| Tax Support | Yes | Yes | Yes |
| Subscription Saver | No | No | Yes |
| Backpack | No | No | Yes |
| SamCart Courses | Yes | Yes | Yes |
| Advanced Integrations | No | Yes | Yes |
| Custom API integrations | No | No | Yes |
| Dashboard Analytics | Yes | Yes | Yes |
| A/B split test | No | No | Yes |
| Priority Email Support | No | Yes | Yes |
As you can see SamCart offers you three plans to choose from whether you are a complete beginner or want to scale your business. In case you want more from the tool you can contact their Sales and even arrange for yourself an Enterprise Plan with a dedicated account manager.
And yes, you do have a 14-day free trial period and a 30-day money-back guarantee as well.
PayPal Pricing Plans
Here is the best part. For an individual account, PayPal is completely free to use. No transaction fees or added costs. But if have a business account then the fees of PayPal as your payment processor will be a fixed percentage of the total transaction + fixed fees. Here are some of the fixed rates:
| | | |
| --- | --- | --- |
| Type of Transaction | Rate | Fees |
| For Digital Payments | 3.49% | 0.49$ |
| Debit/Credit Card Payments | 2.99% | 0.49$ |
| Goods and Service Charges | 2.89% | 0.49$ |
| Other Payment Methods | 2.59% | 0.49$ |
| QR code transactions | 1.9-2.4% | 0.1-0.05$ |
| Payments Pro | 2.89% | 30$ monthly |
As you can see that although the app or tool is free to use, you will have additional charges per transaction made by your customers with PayPal.
Who's Better?
PayPal is free for individual money transfers and receiving, but to manage businesses, you need more. It does come at a cheaper rate compared to SamCart, but it must be kept in mind that PayPal has only one function while SamCart provides us with a whole lot more.
As it partners natively with Stripe, you do not need to pay transaction fees with SamCart. SamCart stands out in this category of SamCart vs. PayPal as well.
SamCart vs PayPal: How to Integrate PayPal with SamCart?
If you are already a user of PayPal and want to continue using it with SamCart then this section of the SamCart vs PayPal article is for you.
Also, if you are a new user, it is completely understandable if you want to use both tools and experience the best of both worlds. This is how you can do it in these few simple steps:
First, head to your PayPal account and create a new business account. Log In to your PayPal account and click on "Click here to get your PayPal credentials" to find your API details.
Next, open up your SamCart account and click on "My Account."
From there, go to "Processors" which appears on the left sidebar. Here click on the ''Add New'' button.
Select the PayPal logo on the pop-up on your screen.
Fill out the fields (API DETAILS) and click "Submit".
Once you've done this, you're all set.
SamCart vs PayPal: Which One Should You Choose?
This is entirely a question of your needs. If you are looking for a payment processor only then PayPal is a popular and safe choice, but if you are looking for a tool that not only handles payments but manages all aspects of your online business under one roof, then I highly recommend Samcart as the obvious choice.
And yes, you can integrate them and use them together as well. With the 14-day free trial period, you can try SamCart out for yourself and see how it helps you start and grow your online presence and get you selling like a boss. Hope you enjoyed this SamCart vs PayPal comparison.
Until Next Time….
Happy Creating!
Customers Reviews and Testimonials
SamCart

I had a completely positive experience…


I had a completely positive experience with these people! Easy and fast in their communication. As I was t ready to launch my product yet, I asked for a refund which came to me after I messaged them one day after. At first, I was skeptical and needed more info as I am new at this. In the future, I might cooperate with them and I am willing to learn more about how their platform works.

Date of experience: August 07, 2022

Source: Trustpilot
PayPal



20+ Years w/ PayPal and still going strong!


I've been with PayPal for more than 20 years and we've had our ups and downs. I haven't always agreed with their decisions but I've got a solid relationship with PayPal every relationship has its negative and positive aspects but overall I've been very pleased with their high level of respect, honesty, and integrity and their treatment of the buyer and seller. Nothing is perfect and I can always call them on the phone and get anything resolved. I just find a lot of people that have had a tough time with PayPal unfortunately have been unreasonable and unrealistic. I will continue to work with PayPal because regardless PayPal is the largest and best.

Date of experience: October 24, 2022

Source: Trustpilot
Social Media: SamCart vs PayPal
SamCart on Social Media
Scott created SamCart, an online shopping cart software, in 2013. You may also market your products on social media using Shift4Shop.
SamCart Facebook Page
Facebook is the most liked popular social media platform. SamCart has 43,303 likes and 79,907 followers on its Facebook page.
Twitter SamCartTwitter Page
Twitter is also liked social media platform. SamCart has 782 tweets and 753 followers on its Twitter page.
SamCart Linkedin Page
SamCart is an e-commerce platform for creators. It has 7,798 followers on its Linkedin page.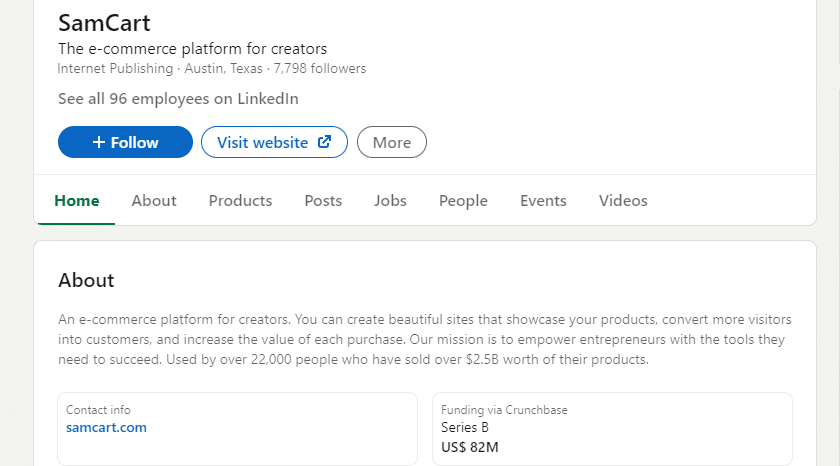 PayPal on Social Media
PayPal makes it faster and easier to close deals on social media platforms like Facebook, Twitter, and Linkedin. Sign up and get started with social selling!
PayPal Facebook Page
Facebook is the most liked popular social media platform. SamCart has 43,303 likes and 79,907 followers on its Facebook page.
PayPal Twitter Page
Paypal is a payment system that allows users to pay for webshops and other online services. It has 11.8k tweets and 863.9k followers on its Twitter page.
PayPal Linkedin Page
Sync LinkedIn Matched Audiences with PayPal in real-time. The most secure, enterprise-friendly tool for integrating LinkedIn Matched Audiences. PayPal has 1,035,572 followers on its Linkedin page.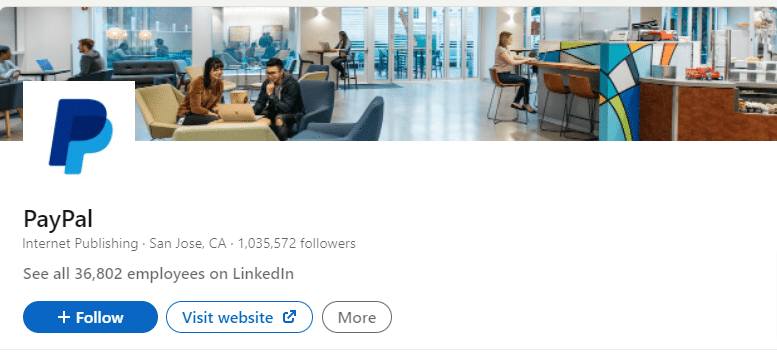 Conclusion On SamCart vs PayPal
Both of these systems are excellent and will reduce the amount of time you spend dealing with the pavement. They have a user-friendly design, are simple to install, and offer a smooth experience overall.
If you're going to use a certain system, make sure it can handle everything you need it to.
These sites hope to alter traditional payment methods so that their users can make purchases quickly and easily without encountering any hiccups.
They have made the process of doing financial transactions online simple and reliable. Use whichever medium you like; you won't be let down.
Both are fantastic, with many outstanding characteristics. PayPal's mobile app in particular streamlines the payment process and is a terrific asset for those who are frequently on the road.
Frequently Asked Questions
Does SamCart Work With PayPal?
Yes, SamCart accepts multiple payments, including PayPal and Stripe. SamCart accepts all major credit cards. Also, you can use Google Checkout and Apple Pay on your mobile device with SamCart. SamCart also supports digital currencies, like Bitcoin.
Is It Safer To Pay With PayPal?
PayPal is very secure. They are completely compliant with all security laws as well as have fraud prevention options. They also have a program that will reimburse you for any purchases made with the card if your card information is ever stolen. PayPal also protects you in other ways. For instance, you can get assistance if you forget your password and you can also set up a backup email address.
How Do I Add PayPal To SamCart?
First, go to your SamCart dashboard and click on the "payment gateways" tab. This will load a page where you can add a new payment gateway. Choose PayPal. Sign in to your account and give SamCart permission to use it. This can be done by clicking on the "authorize" button. After the authorization process is complete, go to the top of the page and click on the "save" button.
Does SamCart Integrate With WordPress?
The advantage of SamCart is that it integrates with WordPress natively. It is important to know how to integrate SamCart with WordPress. One possibility is to use a WordPress hub plugin. Another option is to use an app like Zapier that will integrate SamCart for WordPress.
Is a PayPal Business account free?
The initial step is to create a PayPal Business account and link it to your bank account. You don't have to pay anything to open an account; you just pay transaction fees when your clients pay you.
Is SamCart a payment processor?
SamCart is not a payment processor in and of itself. Consider it a conversion-boosting bridge that connects your clients to Stripe and/or PayPal, the two main payment processors with which SamCart interfaces.
What is SamCart used for?
SamCart checkout templates perform an excellent job of displaying your physical products and accepting orders on a single sales page. In addition, SamCart allows you to perform split testing on your checkout designs in just a few clicks, ensuring that you are getting the most value from every visitor to your checkout pages.
is PayPal better than stripe?
While both companies concentrate on online payment processing (rather than in-person transactions), PayPal is better suited for small or new businesses just starting started, whereas Stripe is better suited for larger enterprises because it offers more payment customization possibilities.
How does samCart work?
SamCart checkout templates perform an excellent job of displaying your physical products and accepting orders on a single sales page. In addition, SamCart allows you to perform split testing on your checkout designs in just a few clicks, ensuring that you are getting the most value from every visitor to your checkout pages.
What's the difference between PayPal vs PayPal Business?
A PayPal Business account includes all of the same options as a Personal account, but it also includes additional capabilities for small to medium-sized business owners. PayPal Business accounts, for example, allow you to send and receive invoices as well as set up subscription services.
Is SamCart compatible with mobiles?
No, SamCart is not compatible with any mobile processor, not just Android and iOS but also regular websites itself; PayPal is the only company that provides a dedicated mobile app.
Which of the following will be a cheaper option between Samcart vs Paypal?
With PayPal charging a cost for each individual purchase, SamCart's once-a-month blended fee can be significant savings. However, if your transaction volume is low, PayPal will be the more cost-effective option than SamCart because of the additional 1 percent price for using Stripe.
Which platform is more formal Samcart vs Paypal?
Sending a customer a PayPal invoice is a formal and professional way to do business that also makes it simple to keep track of relevant financial information.