In this article, we have compared two big brands: Samcart and Shopify. We have covered some popular questions like, "Does SamCart work with Shopify?" Is SamCart a good e-commerce platform? and much more.
Let's now get to know about the two best eCommerce platforms, Samcart Vs Shopify and I will be comparing them based on their features.
So, let's get started…
SamCart is a simple shopping cart software that allows you to create an eCommerce storefront, drag, and drop page builder, and is fully mobile responsive. There is no coding required, and there is a demo and a free trial available. A one-page funnel system that makes it simple to sell online.
Shopify is the leading eCommerce platform for all businesses, allowing you to sell online, on Facebook, or in person. With Shopify, you can start, run, and grow your business. Shopify is trusted by millions of businesses because of its Website Builder, which allows you to customize your store. It has an average uptime of 99.99 percent.
Samcart is easy to use. They include everything you need to quickly create sales pages. Even inexperienced technologists can use Excel to create sales-generating pages.
Shopify is extremely easy to use; you do not need to be a Shopify expert to set up shop, and anyone can easily launch an online retail store within minutes.
Samcart offers three pricing plans: The basic Launch Plan costs $49 per month, while the Pro version costs $99 per month and includes one-click upsells and order bumps. The more expensive Premium plan costs $199 per month and includes cart abandonment functionality as well as affiliate software so that others can promote your business.
Shopify Basic costs $29 per month and charges 2.9 percent plus 30 cents per online transaction. The standard Shopify plan is $79 per month, with a 2.6 percent + 30 per transaction fee. Advanced Shopify costs $299 per month, with a transaction fee of 2.4 percent + 30 cents.
Do you want to know more about SamCart? Contact their sales and support teams, or share your thoughts with other SamCart users in our Facebook group.
Send them an email or chat with them at any time; they make every effort to respond to all inquiries within 24 hours on business days. Please contact them at support@samcart.com.
The Shopify Help Center will assist you in learning about and using Shopify. They have documentation and videos to help you with your inquiries. The Shopify support team is available by email, live chat, and phone 24 hours a day, seven days a week.
Overview Of Samcart Vs Shopify
Samcart
SamCart is a platform where you can sell almost anything that comes to mind. Although Shopify is new in the game, with its extraordinary benefits and qualities, it has reached a high growth rate in performance.
According to the reports, more than 22,000 business ideas were powered, 9.7 million products were sold, and 2.2 billion dollars were processed.
This digital eCommerce platform provides you with almost everything when it comes to selling.
You simply need to select one of the pre-designed templates for your product, and you'll be ready to sell your goods in minutes. The next step is to share it with the world and grow your business.
SamCart makes it simple to generate leads, enhance customer satisfaction, and make money without having to worry about technology.
It is built with lots of features, which we will be discussing below. You may use SamCart to not only sell products and services, but also to run and manage affiliate programs, sell memberships, and accept donations.
Shopify
Shopify remains one of the best digital eCommerce platforms ever created, having been founded in 2006. Shopify is a highly popular eCommerce platform that allows anyone to set up an online store without too much effort.
This can be a big advantage for anyone new to the eCommerce industry, as it has a very low learning curve.
Shopify's hosting, building tools, and security software are among its best features, which allow users to start selling their products in minutes.
You may build your own eCommerce website with sophisticated features to help you locate consumers, increase sales, and manage your day-to-day operations.
Shopify allows you to experiment with different selling methods thus giving you the flexibility to sell anything from anywhere.
The highly powered tools with tons of features will be there to help you out in your growing business.
When it comes to management, trust me you can control everything, every chart, every data, and every upgrade with the help of its simple built-in design.
It caters to a wide range of enterprises and is versatile enough to support almost any eCommerce activity or system, including sales funnels.
Now having to know things about both Samcart and Shopify we will now compare various features between them so that it becomes easy for you to choose between the two.
We have also, compared Thrivecart Vs Samcart check out the detailed comparison now
Features Comparison
1. Ease Of Use
Samcart
This e-commerce platform is pretty straightforward, even if you have zero experience in selling or technical skills, Samcart has got your back.
The user interference is simple for beginners. You can quite easily set up your account and get into business.
Unlike other platforms which can be confusing and have lots of things to go through, here you can say goodbye to all your worries.
Everything is pre-built which will save you time but if you want you can also tweak the designs.
One of the most interesting features of this platform is that it has a free demo to help you get started.
It has an easy drag-and-drop option to help create and customize pages to promote your products.
You have no limitations when it comes to selling. It also offers you the flexibility to sell in any language with no barriers.
The checkout page is quite simple to design with not even a single code required for you to learn and you link it with a stripe or PayPal account. Sellers can use SamCart for a variety of sales funnels.
If you need help, SamCart includes a wealth of manuals and tutorials, as well as an excellent customer care team to support you 24×7.
Shopify
As this platform is an old name in this game it comes with lots of experiences and features. If you want your online store to be successful and flourish, this platform is the right place to visit.
It offers you a variety of free tools like a logo maker, a QR code generator, a business card maker, a domain name generator, an online video maker, and a lot more to help you run your business smoothly.
You get pre-designed templates to save you time, and you can easily create pages and beautifully design them according to your products for the audience.
Though Shopify has been considered user-friendly for many, at times it can be a bit complex for beginners.
The issue with Shopify is that the processes for building and managing sales funnels aren't as straightforward as they are with SamCart.
As I mentioned earlier about creating a page sales funnel, this platform does not provide lots of default sales-to-funnel functionalities.
Winner: Samcart
2. Setup and Hosting
Samcart
When it comes to Samcart setup and hosting, this platform will provide hosting for the online store of your desired products on Samcart's official platform.
Unlike others, you won't have to search for other third-party hosting or buy it. These features of SamCart make it more friendly for beginners.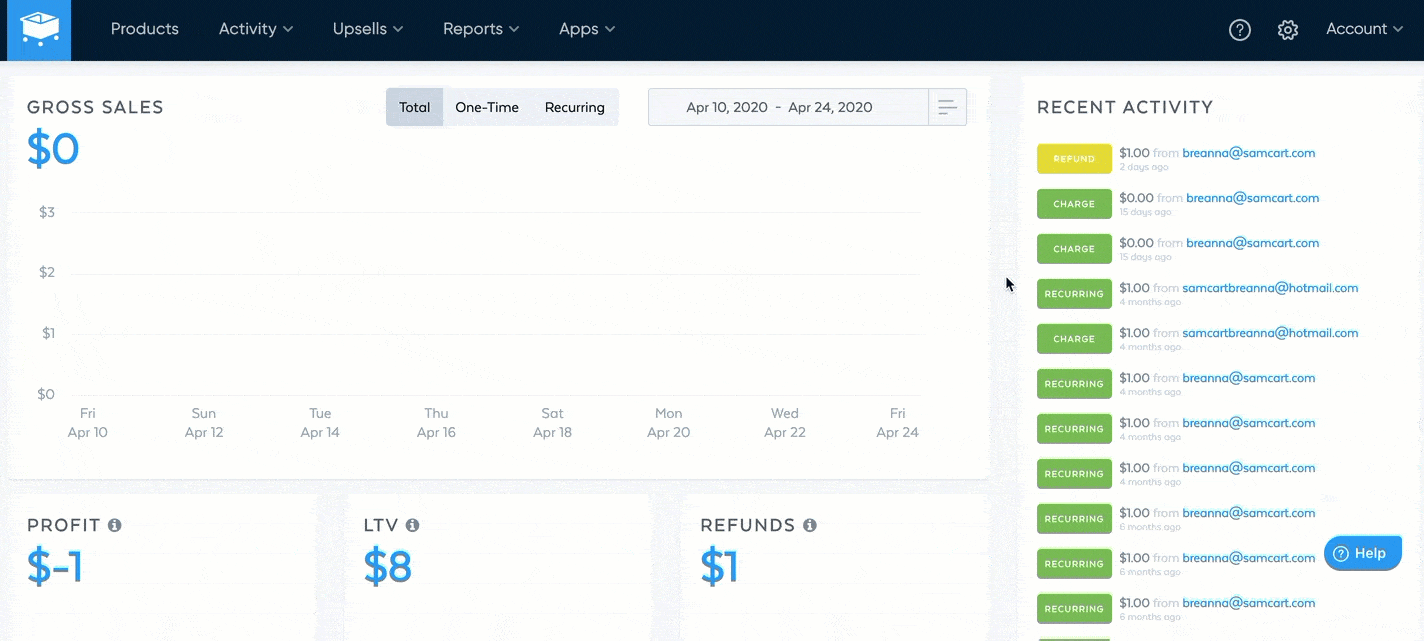 When it comes to a domain name, you won't be getting the 'Samcart' domain in the URL itself; rather, you will get the "Samcart" subdomain. If you want, you can purchase your own domain from other third-party applications and link the domain to Samcart's server.
Shopify
This digital platform also offers you its own self-hosted solution, and by default, you will have their subdomain name. Like Samcart, Shopify will let you use a custom domain that you can easily get from third-party domain dealers.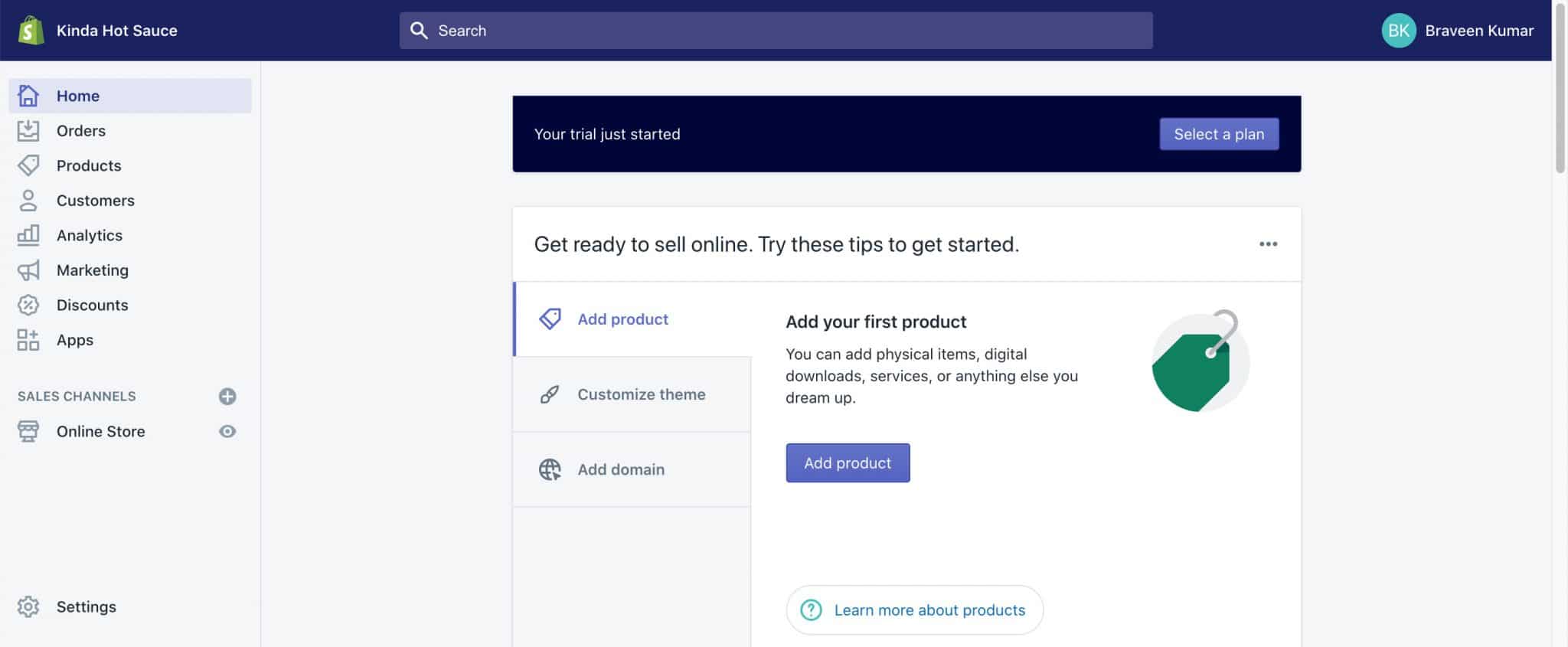 But unlike Samcart you can even purchase a domain from Shopify and buying will get you lots of privileges.
You will get unlimited email forwarding for that domain, and not only that, with the help of your own domain, you can create your own mail address that will be directly routed to your Gmail account.
Winner: Shopify
3. Template and Web-design
Samcart
This eCommerce platform provides beautifully designed templates by professionals that have been tested on various businesses, and every single one of them has proven successful.
The sales funnel builder provides 18 professional templates to make your product page look amazing and they all come at zero price.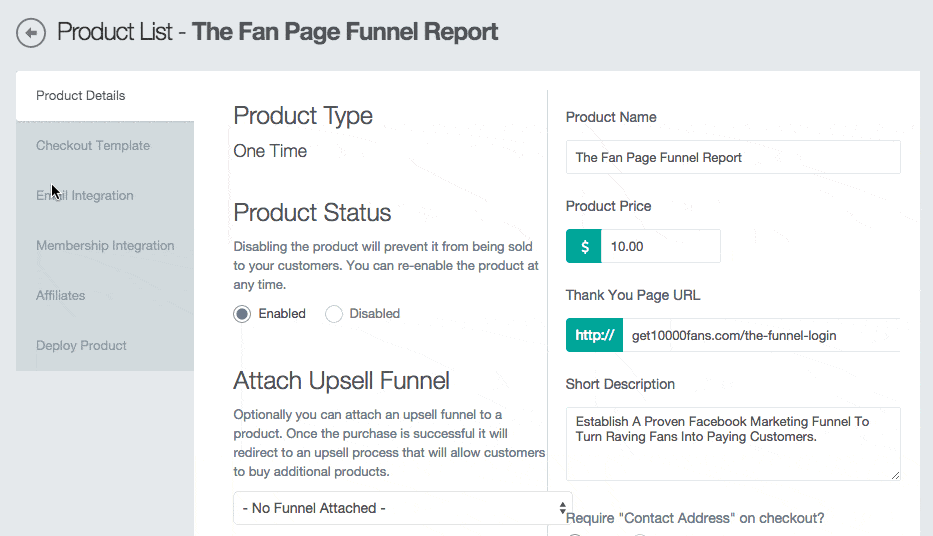 These templates come with additional features that include security, assurance, etc. Moreover, Samcart offers customization in templates that are available. The colors, texts, and lots of other elements and settings can be changed at your own will.
The templates are not only restricted to PCs but are now compatible with mobile devices as well, which means you can tweak them around anywhere while building your funnel.
Shopify
Shopify also provides free and skillfully designed templates, which you can use to build your product display page. Just like Samcart, each template is professionally tested by marketers and proven to be effective.
There is no template available when it comes to the checkout page. Sadly Shopify does not offer any template for the checkout pages however they have their own online theme store and they
will be offering you 70 of their themes of which 10 themes are completely free and the rest can be bought at a reasonable price of $140 to $180.
Shopify even offers you their own set of developers who are waiting just for you to build your ideal theme the way you want it to be, but yeah, obviously, you need to pay them.
Winner: Shopify
4. E-commerce Features
Samcart
Samcart is a cloud-based eCommerce system that is used by thousands of developers and small to large businesses around the world.
A few of the features of this powerful eCommerce software include inventory management, order management, sales reports and analytics, email marketing, multiple payment gateways, and more.
Samcart is very customizable, so your eCommerce needs can be met. Samcart also provides you with the best tool for rapid and easy selling through checkout pages.
From my point of view, the best feature that I found is the one-click upsell. One-Click Upsells operate by delivering an additional offer to your customer just after they make their first transaction with you. With only one click, they can add that promotion to their first purchase.
According to SamCart's database, this can improve sales by about 70%.
They also provide smart pixel tracking which helps you track the route of your sales that is gathering information about the visitor on your website thus helping you to get to know your audience.
Shopify
Shopify comes with all the features you want without any trouble. As mentioned earlier the tools that Shopify offers support more robust eCommerce.
This platform offers you a tool that will help you to set automatic discount coupons for the audience and also ads pop up to the returning customers.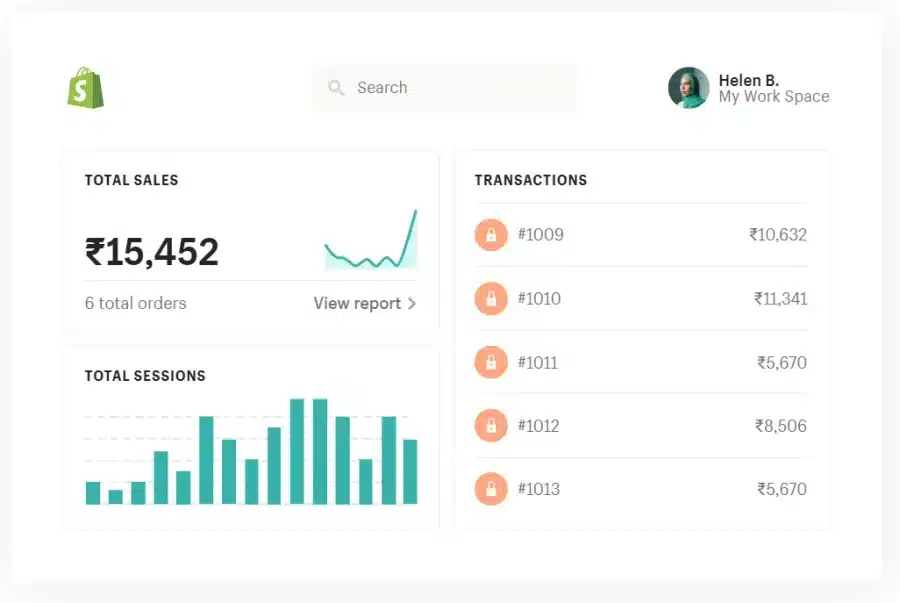 It comes with a fraud filter that will warn you about high-risk orders and may even cancel it at your will based on the rules applied.
The geolocation application based on your customer's location or device language offers you recommendations
Winner: Shopify
5. Email Marketing
Samcart
Email marketing is an important aspect when it comes to creating a healthy relationship between you and the consumers.
If you are up for the main section then the audience can receive information about product updates or sales.
Sending marketing emails to your consumers is a terrific approach to getting more people to visit your store. Increasing the number of people that visit your store can help you make more sales.
ConvertKit, Ontraport, InfusionSoft, AWeber, ActiveCampaign, Hubspot, MailChimp, and GetResponse are the few marketing tools Samcart integrates with.
Shopify
This platform also allows email marketing to a great extent. Shopify Email allows you to develop and send email marketing campaigns directly from the platform.
You may customize your emails to match your brand and include direct links to products so that customers can learn more about them.
You can send up to five campaign activities every week using Shopify Email, which resets every seven days at midnight UTC. You can email up to 40,000 subscribers to each campaign with each action.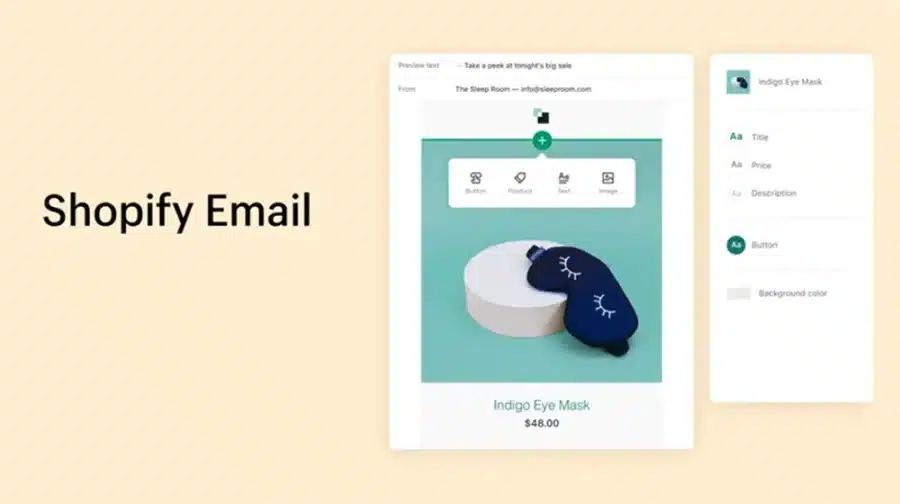 At the beginning of each month, all merchants with a paid Shopify subscription receive 2,500 free emails to send.
Emails are counted for each unique email address that receives an email activity. Sending one promotional email to 800 subscribers, for example, counts as 800 emails. They also integrate with various platforms like Mailchimp, GetResponse, etc.
Winner: Samcart
6. Customer Support
Samcart
The customer support of Samcart is truly incredible. All your doubts and queries can be solved here at any time of day.
All clients have access to award-winning customer service via chat and email. Help is always free, and you'll always get a real, live human, unlike other sites.
The support center of Samcart provides you with tons of knowledge about each and little stuff.
There is an FAQ section where you look around for your answers.
Not only with a knowledge base they also have proper documentation of each and every feature.
You can email them your query and get them cleared.
Shopify
Shopify also has strong customer service to meet the doubts of the customers.
You can chat with a bot and it will try to help you find out the solution. You can even chat with the community where you just have to connect and learn things from the Shopify merchants.
They too provide you with the proper documentation of every resource available.
But like Samcart they do not offer you free demo sessions which will help you to clear your doubts and will give you a basic idea about how things work.
Winner: Samcart
7. Pricing Battle
Pricing is a deciding factor for you to choose from the available platforms. So, let us look at the pricing details of both the platform and find the best for you
Samcart offers you 20% off on the annual plan and monthly plans. Let us look at them :
Launch – You can avail of this at $39 when billed annually or else you have to pay $49. This feature gives you standard benefits which include only 1 admin per account, standard integrations, standard email support, virtual onboarding webinars and you can attend weekly webinars.
Grow – You can avail of this at $79 when billed annually or $99 when billed monthly. The core features include 3 admins and enhanced integrations and you get to launch a support call to a smart expert and resolve your queries. You get the profit accelerator package, marketing accelerator package, Conversion accelerator package, and on-demand executive reports.
Scale – Well this will get you the most advanced features and all tools are available to take your business to a whole new level. You can avail of this for $159 when billed annually or $199 when billed monthly. This package will give most core features which include 10 admin privileges and you get the advanced accelerator package.

Samcart offers you a free demo and a 14-day free trial that will help you analyze every aspect carefully and understand the basics.
Shopify Pricing Plans
Shopify does not offer you any discount when it comes to its pricing section.
The packages available are as follows:
Basic Shopify – This is best for new eCommerce businesses. You can avail of this package at $29.
Shopify – Well this is the medium mode where you can grow your business, learn new things, and get to know about the markets of the outside world. You can avail this feature for $79.
Advanced Shopify – Take your business to great limits with no boundaries in this package. You can avail of this package for $299 which is a great bulk of money.
Shopify also offers a 14-day free trial during which no payment information is required, but they do not offer the free demo.
Shopify also has a lite version which costs $14 per month, you can also try it free for 14 days.
Winner: Samcart
Pros And Cons
Samcart Pros
They have a very user-friendly platform wherein digital or physical goods can be sold online. I've used different online platforms but nothing comes close to their wallet-friendly rates.
They have very transparent and concise policies and regulations, making it easy for new merchants to get started.
Coupon codes are an easy way to give a discount to your customers. You can easily both create and distribute them.
Choosing the right payment model can be one of the most difficult aspects of app development. There are a variety of ways to monetize your application, and deciding on the right one will depend on your goals and target audience.
It uses great features like Split testing, smart pixel trackers, etc.
The annual plan comes with a handy price and one can avail of every feature from his plan.
Support services are great and functional.
Samcart Cons
A tracking ID allows affiliates to show how effective they are at marketing their product or brand. Without one, they can't know how much they've made in sales.
The starting plan is a bit costly for beginners.
Shopify Pros
Shopify is a very friendly platform wherein digital or physical goods can be sold online.
It is ideal for startups or small businesses or even for individuals who are just starting to sell goods online. You don't have to have a programming background to use Shopify, which is one of its strongest points.
It also has powerful features that are available in other e-commerce software, but it's very user-friendly.
You get lots of varieties to choose from when it comes to templates.
It comes with a lite version which comes at a very low price of $14 and it is very useful for beginners.
Shopify Cons
Shopify is expensive in the long run because when it comes to basic plans they don't provide a lot of features to start with.
The templates are very costly to purchase.
Winner: Samcart
Customer Reviews & Testimonials
Samcart
I had a completely positive experience…

I had a completely positive experience with these people! Easy and fast in their communication. As I wasn t ready to launch my product yet, I asked for a refund which came to me after I messaged them one day after. At first I was sceptical and needed more info as I am new at this. In the future I might cooperate with them and I am willing to learn more about how their platform works.

Date of experience: August 07, 2022

Source: Trustpilot
Shopify
Shopify is an excellent ecommerce…

Shopify is an excellent ecommerce platform that is easy to use and very user-friendly. The platform has everything you need to set up and run a successful online store, and the support is excellent. Overall, I highly recommend Shopify to anyone looking for a reliable, user-friendly ecommerce platform.

Date of experience: November 02, 2022

Source: Trustpilot
Game changer for my business

Shopify has been a game changer for my online shop, the marketing tools are brilliant, the follow up emails from within the system etc help keep that constant contact. Love it, and my sales are higher than they were when I was using WooCommerce.

Date of experience: September 15, 2022

Source: Trustpilot

Social Media: Samcart Vs Shopify
Samcart On Facebook

A Facebook page can help you connect with customers and provide important information about your company, products, services, and upcoming events. Samcart has a 5-star rating, 51,145 likes, and 106,659 followers on its Facebook page.
Samcart On Linkedin
Samcart is also on Linkedin. This page can help you connect with customers and share important information about your business, products, services, and upcoming events.. Samcart has 8,251 followers on its Linkedin page.
Samcart On Instagram

Samcart is also on Instagram. This page can help you connect with customers and share important information about your business, products, services, and upcoming events. It has 128k followers on its Instagram page.
YouTube Videos
Shopify On Facebook

A Facebook page can help you connect with customers and provide important information about your company, products, services, and upcoming events. Shopify has a 5-star rating, 51,145 likes, and 106,659 followers on its Facebook page.
Shopify On Twitter

By integrating the Twitter sales channel, Shopify merchants are able to begin selling their products on Twitter. This ensures that any product tweeted from a merchant's store will be eligible for sale on Twitter. Shopify has a 35k tweets, and 397k followers on its Twitter page.
Shopify On Linkedin
Shopify is also on Linkedin. This page can help you connect with customers and share important information about your business, products, services, and upcoming events. Shopify has 662,627 followers on its Linkedin page.
YouTube Videos
Conclusion on Samcart vs Shopify – Who Is The Winner?
In this comparison article between Samcart and Shopify, I have given all the details about each one of them, including their features and also why Samcart is the best digital e-commerce platform.
In the Samcart vs Shopify, comparison, both are turn-key e-commerce solutions that provide a platform for sellers to create their own unique online stores.
Shopify offers sellers a variety of e-commerce tools and services to build their online store. It uses cutting-edge technology that helps its clients easily customize their online store. It's very easy to build a store using this tool, and it's also very easy to manage.
In the case of Samcart, it's easy to use, it's reliable and it's fast. Whether you're just getting started selling products or you're a seasoned seller with staff and a huge clientele, Samcart is the platform you should use.
While there are other great platforms out there, none of them are as integrated with different payment processors and shipping companies as Samcart.
They've also perfected the security of their platform, which is vital for any online business.
Samcart Vs Shopify: Frequently Asked Questions (FAQs)
Will SamCart be helpful to trade physical products?
SamCart shines when it comes to digital product sales, but it also provides the tools necessary to sell physical goods, like the ability to set shipping rates, specify delivery addresses, and so on. However, it lacks Shopify's sophisticated features. SamCart, however, can be used for anything from digital to service to physical.
Can SamCart and Shopify be integrated?
Unfortunately, integrating SamCart with Shopify as a checkout page is not possible at this time. Shopify serves as the payment processing and order fulfillment platform. There are, however, alternative approaches, such as employing Zapier as a go-between, that can facilitate the integration and cooperative data flow between the two applications.
Do SamCart and Shopify require any pro-coders to work on?
SamCart and Shopify don't need coders. These tools are the most user-friendly. They offer customized pre-built designs and templates so beginners can establish a business. Their online store builder will simplify your task.
Can my domain name be used with Shopify?
Yes. If you already own a domain name, you can easily link it to your Shopify store from within the Shopify admin. If you don't already have a domain, you can get one through Shopify or another service.
Should I be a developer or designer to use this platform?
No. You don't have to have any sort of coding or design background. Your online shop's layout, colors, and other aesthetic details can all be modified with relative ease. Contact the support staff if you require any more assistance.