In this article, I will provide an in-depth comparison of two of the most prominent search engine optimization (SEO) tools: Semrush vs Ahrefs.
Semrush and Ahrefs dominate SEO and are my two favorite SEO tools.
If you have the budget, I recommend using both technologies in your digital marketing business.
What if you could only afford one SEO tool?
These tools are expensive. Both tools cost over $200 each month. Assuming the most basic plan.
What if you only had one? What SEO tool is better?
This post answers that question.
Semrush vs Ahrefs: Key Differences
Semrush is an all-in-one marketing tool with many features, such as keyword research, site auditing, backlink analysis, and more. Ahrefs, on the other hand, is mostly about looking at backlinks and researching keywords.
Semrush has a built-in platform for content marketing that lets you create and manage content, track the content of your competitors, and do other things. This is not something that Ahrefs has.
Ahrefs has a bigger database of backlinks, which makes it a better choice for analyzing backlinks and researching competitors. In this area, Semrush is still a good choice, but Ahrefs is thought to be more complete.
Semrush currently offers a 30-day free trial, while Ahrefs no longer has the 7-day trial option for $1.
Semrush has a feature called "Position Tracking" that lets you see how your website ranks in different search engines for certain keywords. This is not a feature of Ahrefs.
Ahrefs has a feature called "Site Explorer" that lets you look at the structure of a website and see the most linked pages and top keywords. This is not something that Semrush has.
Semrush: Overview
Semrush was started in 2008 by a small group of experts in search engine optimization (SEO) and information technology (IT) as a competitive research survey for online marketing.
After a decade of development and testing, Semrush is now the digital marketing toolbox of choice for professionals all over the world.
Semrush is a set of tools that can help you get more exposure online and learn important marketing information.
Our tools and reports can help any marketer who works in the following areas: Search engine optimization including PR, content marketing, marketing insights, and campaign management (SEO).
It is a platform for managing and selling online content that uses SaaS (software as a service).
Semrush is a powerful SEO tool for any website because it has powerful SEO features.
With their web-based SEO software, you can do more than just manage your SEO. It has tools like keyword research, visibility management, backlink tools, market research, rank tracking, and even tools for social networking.
Ahrefs: Overview
Ahrefs is a service that analyses backlinks. It first showed up in 2010. But the platform has changed into an SEO analysis tool that can help you with site audits, content marketing, keyword research, and other tasks.
Ahrefs is the best tool out there for finding keyword opportunities, evaluating existing links, and finding new ones.
Compared to other similar technologies, it takes a lot less time to make a report with this one. They offer a completely new and complete index for keyword search data and other useful reporting tools.
If you didn't have crawl data, you wouldn't know as much about how to make your site better. Backlinks to the site are listed in this section, and you can use filters to show only the ones you're interested in, like those that were added in the last few hours.
This application not only does the important job of auditing your website, but it also tells you how to improve the content of your site.
I use the Backlink Checker, one of Ahref's many SEO tools, a lot to look at the backlink profiles of both my own website and those of my competitors.
Semrush vs Ahrefs: Keyword Research
The most crucial component of SEO is likely keyword research.
It aids in your deeper understanding of your target market and the manner in which they look for your content or services.
If you master the SEO component of keyword research, you can create content for your website that appeals to visitors and search engines alike.
Semrush Keyword Research
Semrush's keyword research tools are its main selling point. Along with providing a complete toolkit for keyword research, Semrush is known for giving the most accurate information on search volume, a crucial measure for both SEO and PPC operations.
The keyword research features of Semrush are not immediately apparent until a search term has been entered.
Monthly search traffic, top-ranking pages, keyword difficulty, CPC, PPC competition, ad content, keyword ad history, and more can all be swiftly reviewed in the Keyword Report.
Ahrefs Keyword Research
You'll conduct keyword research using Ahrefs' Keywords Explorer tool.
With the help of this tool, you can come up with a huge number of keyword ideas for your main subject, view crucial keyword metrics like search volume, keyword difficulty, CPC, etc., and discover information on subtopics like questions, related keywords, and recently discovered keywords.
I'll give you a brief overview of Ahrefs' Keywords Explorer now.
In the Keyword search Navigator button of your Ahrefs dashboard, type your keyword(s) into to the search box, choose the region you want to target, and then click the search icon.
Following that, you'll see important information for your seed keyword(s), a list of suggestions for related keywords, and the search volume for each of the suggested terms.
Ahrefs vs Semrush: Backlink Analysis
Link building is a difficult yet lucrative SEO task. Backlink analysis of your domain and competition helps you rank higher in SERPs.
Ahrefs would have won the backlink analyzing battle two years ago. Semrush has improved its backlink analysis tools in recent years, including an extended link index.
Have they done enough to compete with Ahrefs? Discover.
Semrush Backlink Analysis
Backlink Analytics has often been Semrush's weakest link in its SEO toolbox. That changed in 2019 when Semrush conducted a comprehensive revamp that dramatically improved the quality of its backlink data.
The Backlink Analytics tool from Semrush has advanced significantly in its ability to give you crucial information about your backlink profile and the backlink profiles of your competitors.
Enter your domain in the Semrush search box, choose "Backlinks" from the drop-down menu, then press "Enter" to evaluate your backlinks.
In a flash, Semrush can give you a snapshot of your backlink profile, complete with details like the overall backlinks and the domains that are sending traffic your way.
To gain more specifics about your link profile, you can click on the total number of backlinks to access the Backlinks report, or on the number of referring domains to open the Referring Domains report.
Additional information about your website's backlinks, such as the types of sites that link to it, the most popular anchor texts, the link quality (DoFollow, NoFollow), the link type (text, image, etc.), and more, is available for review.
Similarly to that, you can also learn vital information about the websites and link-building techniques of any of your rivals.
A Backlink Analysis report may be generated by searching for a competitor's domain name and then clicking "Get Report." This will show you the total number of links to that site as well as other useful metrics for evaluating its overall link profile.
Ahrefs Backlink Analysis
If you utilize Ahrefs, you'll probably spend a lot of time using the Site Explorer tool. The Site Explorer tool provides you with a wealth of helpful search data, but its most valuable feature allows you to get a thorough study of the link profiles of both your website and those of your competitors.
Simply enter the domain you're interested in studying into Site Explorer on your Ahrefs dashboard, and you'll be presented with an in-depth analysis of your site's backlink profile.
A high-level perspective of the website you are investigating is provided via the Overview report. The two metrics we'll be concentrating on are Referring Domains and Backlinks because we're just examining Ahrefs' backlink analysis tools.
Click the number there in Referring domains section below to see a complete list of the websites that connect to yours.
It is the Referring domains statistic that has the most weight, as it details not only which sites link to your domain but also how often.
Select "do follow" from the link type drop-down menu, and then sort the results by domain authority, to see which sites of high authority are referring to your domain.
Semrush vs Ahrefs: The Best Technical SEO Site Audit Feature
semrush Technical SEO Site Audit Feature
The Semrush site audit feature is incredibly reliable and thorough.
You will, in fact, receive an overall score that provides you with a broad perspective on how well-optimized your website is for search engines.
In addition, Semrush alerts you to any problems with your site in the areas of:
Issues with robots.txt
HTTP status code errors
Crawl errors
Broken links
Ahrefs Technical SEO Site Audit Feature
The Site Audit feature is relatively new to the Ahrefs suite of tools. All of your site's pages will be crawled and analyzed for 100+ common SEO problems.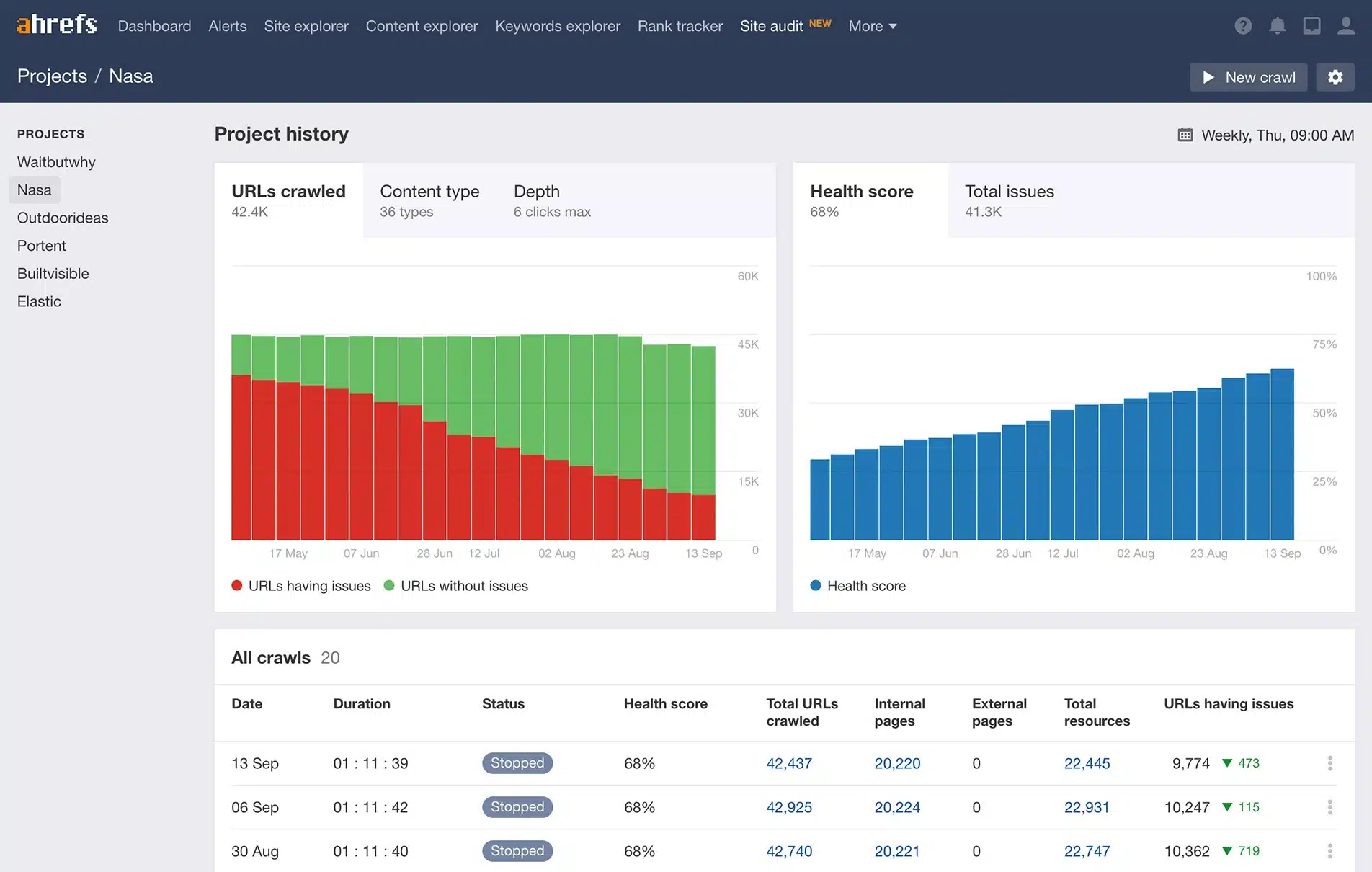 As soon as the audit is over, Ahrefs gives you an SEO health score, displays valuable data in graphs, and reveals all potential Segments with your site along with advice for fixing them.
Semrush vs Ahrefs: Position Tracking
Semrush Position tracking
Using the Position Tracking feature of Semrush, you can keep tabs on the rankings of your preferred keywords. As far as location tracking devices go, it ranks among the best available.
In addition to providing a comprehensive view of your site's exposure in search engine results pages (SERPs), it also displays mobile and local rankings.
You can track your rankings for any given set of keywords across numerous devices and locations with this handy tool.
Ahrefs Position tracking
By using Ahrefs' Rank Tracker, you may monitor a set of target keywords across regions (desktop and mobile) Using a chart of a keyword's position history, you can observe its rise and fall in popularity over time.
It is possible to include keyword monitoring while creating a new project in Ahrefs. You have the option of adding 5 rivals whose organic search rankings you would like to examine.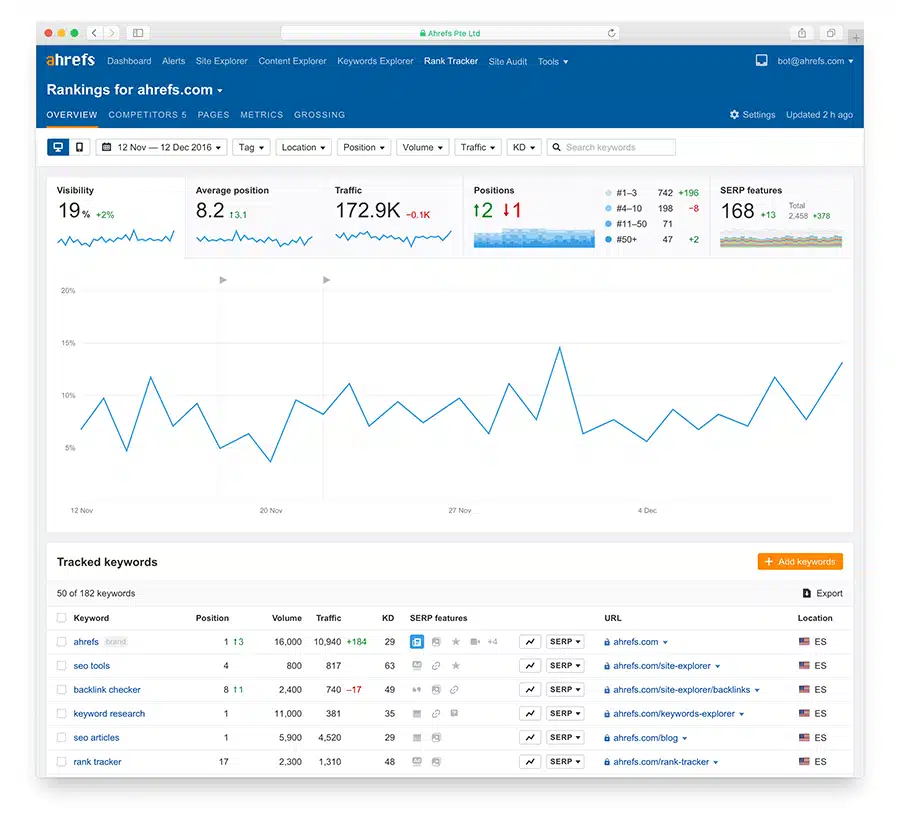 In the end, it's up to you to decide which SEO tool — Semrush or Ahrefs — is the best for you.
After entering this data, users would be able to track the success of your SEO strategies and individual keywords. You can also adjust your advertising based on how they perform in search engines relative to your competitors.
Conclusion: Semrush vs Ahrefs (2023)
In the end, it's up to you to decide which SEO tool — Semrush or Ahrefs — is the best for you.
If analyzing your backlink profile and constructing useful links are your top objectives, then you should use Ahrefs. If you value keyword research, content marketing, technical SEO, and more link building, however, Semrush is the better alternative.
Despite this, I would still advise you to get both of these products if you can afford to do so because each of them has a variety of special features.
Semrush beats Ahrefs in terms of value for money, however, if you only have money for one. Semrush stands out as the best SEO tool, according to the thorough examination of the above comparisons.
Faqs Related To Semrush vs Ahrefs
Is Semrush the best SEO tool?
With a 9.02% market share, Semrush is the clear frontrunner among SEM and SEO tools. In 2022, more than 11,000 businesses throughout the globe have chosen Semrush as their primary search engine optimization and paid advertising platform. The digital advertising,  marketing, and search engine optimization (SEO) service sectors are the most common users of Semrush.
Which is better Semrush or Ahrefs?
Semrush and Ahrefs are both different and the same in some ways. In terms of the features they both have, Ahrefs is better than Semrush. Semrush, on the other hand, has a wider range of unique features because it is a more complete marketing tool.
What is Ahrefs best for?
Ahrefs is best at looking at a site's link profile, SEO health, and keyword ranking. Ahrefs can also be used to look into possible keywords for use in Google, YouTube, and Amazon, which are all online marketplaces. Also, many people use Ahrefs to find out what has been published about a certain topic that has gotten a lot of positive attention.
How accurate is Ahrefs?
Most of the time, Ahrefs will overestimate a site's U.S. traffic by up to 50%. You might think this is a lot. But in reality, our margin of error depends a lot on what kind of website it is and what business it is in. 
Is Semrush data accurate?
SEMrush is a great resource for people who don't know much about SEO. It looks at how people use your site and what they search for. Despite the fact that it may be completely effective, it is a great place to start learning about a subject. In the same way, Keyword Hero shows you which keyword trends are good or bad for your site's traffic.
Is SEMrush worth it?
Semrush includes all the capabilities you need in a powerful SEO tool, including backlinks analysis, competitor analysis, keyword research, and site audits. It even includes a robust suite of PPC and paid advertising tools.
Can I use Semrush and Ahrefs for free?
Semrush offers a free 30-day trial for new users. It's important to note that Ahrefs no longer offers a $1 trial period during which you can utilize the service for seven days.