Semrush vs Similarweb is currently popular among people working in SEO.
It is interesting that Similarweb appears to be giving Semrush such strong competition considering that Semrush has been a leader in this area for such a long time.
However, what advantages does each tool provide, and which one is more suitable for your needs?
I will respond to that in the following post. You will also be provided with all of the information that you require regarding Semrush and Similarweb.
Are you prepared to get things going?
Semrush vs Similarweb: An Overview
Semrush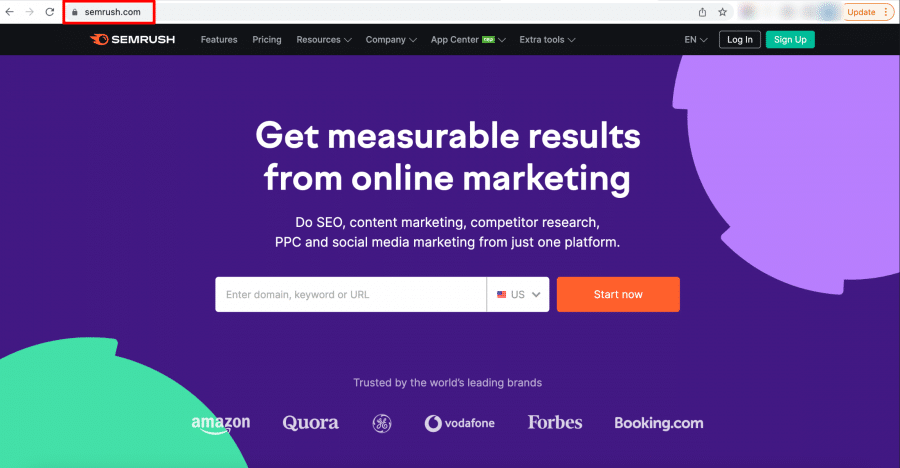 Semrush is an all-in-one digital marketing and SEO tool (50+ Amazing Features) that helps organizations enhance online exposure and do extensive market analyses. This feature is free with your Semrush subscription.
Our tools and reports help marketers in these service industries: SEO, SMM, keyword research, competitor research, PR, marketing insights, SMM, and campaign management are some of the services offered.
Semrush strives to give additional tools that ease your life and help you grow your business.
Semrush costs $200 annually. There's Semrush.
Trends provide strategic intelligence. Traffic Analytics and Market Explorer are included.
You can find untapped consumer markets, gain a larger market share, identify cutting-edge platforms for higher business effect, and develop your own data-driven marketing plan to improve investment with reliable and accurate data.
The main features of Semrush and Semrush.Trends:
Semrush tracks app and desktop traffic.
Users can check a website's rank.
It offers organic and PPC keyword research tools.
Semrush analyzes backlinks.
It provides the best long-tail keywords.
Semrush tracks traffic by marketing channel.
It compares multiple websites simultaneously.
Semrush provides domain-specific keyword rankings.
It audits SEO.
Semrush offers Social Media Tracking, Advertising Research, and Ad-sense Assessment.
Similarweb
Similarweb is a service that computes the total amount of traffic that is received by a number of different websites.
You will be able to observe the top traffic channels utilized by your competitors, which are broken down into several categories, including referring sites, social traffic, and top trending keywords.
In addition to this, Similarweb does not offer many of the products that are offered by Semrush. Some of these tools include Content Marketing, Social Media Monitoring, Bulk Domain Analysis, and Google Data Studio Integration, among others.
One of the most significant drawbacks associated with using Similarweb is that it does not offer any data for websites that have a monthly traffic of fewer than 5000 users.
That enables you to limit your research to the websites of those competitors who get more than 5,000 unique visitors every month.
The main features of Similarweb:
Similarweb generates app traffic.
Similarweb lets users study 5 web pages at once.
Researches organic keywords for users.
Similarweb offers a PPC keyword tool.
It tracks marketing channel traffic.
Allows KPI graphs and tools.
Similarweb offers in-depth competition analysis.
Metrics like popular page, time spent, bounce rate, etc. help understand engagement.
Similarweb compares organic and PPC keyword effectiveness.
It provides referral, keyword, and visit data.
Semrush vs Similarweb: Features Compared
Semrush's SEO tools and resources are included in every plan. These tools and resources allow you to scale your firm and analyze your competitors in detail, accelerating its growth.
Similarweb charges more for the same features, therefore you must buy each item separately.
1. Marketing Insights
Semrush enables the marketing division to manage all of their crucial tasks, including as SEO, social media marketing, competitive analysis, and content marketing, in one location.
Additionally, it provides useful guidance to help you develop your website, articles, and marketing tactics even more swiftly.
On the other side, Similarweb isn't exactly a marketing tool. It's merely a data analytics company that offers you statistical data on website traffic.
All there is to it is that. No specific SEO software is offered. SMM tools and content promotion are not available. There are no recommendations for applying the results of recent investigations.
2. Sophisticated SEO
Semrush provides extensive SEO features that can put you well ahead of your competitors, including definitional keyword sorting, keyword manager, keyword gap, rank monitoring, backlink analysis, on-page SEO, and much more.
When compared to Similarweb, which just offers basic SEO tools for website traffic research, Resources for thorough keyword research, rank tracking, and backlink indexing have not been available.
3. Data Collection
You'll need a strong web crawler to collect web data. Similarweb has one that monitors and scans search engine pages and sites we visit regularly, helping its web crawlers collect more data when we install its extension, add-ons, or apps.
Semrush's foundations are keyword and clickstream data. Semrush chose data collection because of the particular information settings.
It designed crawling programs (AI algorithms) to scan all local search engine versions to create data sets.
Semrush has accumulated 20 billion keywords in 142 databases, 40T backlinks, and 500TB of clickstream data from 200 million panelists. I trust Semrush's keyword data.
4. Content Marketing
When it comes to blogging for profit, you need to have original, excellent material that draws visitors to your site and compels them to take action.
Therefore, Semrush's content marketing tools play a role in this situation. It increases your opportunities and gives you the ability to create conversion-optimized content while on the go.
Utilizing content marketing tools allows you to research fresh ideas for high-quality content.
You can use their SEO writing assistant/template to optimize your blog post in order to outrank your rivals and improve your chances of appearing higher in search results.
In addition, you can easily track the effectiveness of your posts and conduct a content audit. Similarweb, in contrast, does not provide the same tools that enable you to produce high-converting articles for your business. There is only one thing you can do: keyword research.
5. Accuracy and Reliability
Semrush is a potent collection of all-inclusive SEO tools that you need in order to be successful in the company. Many businesses and digital entrepreneurs are utilizing it in full flare. Seven million marketers currently use Semrush, which won 14 worldwide awards for the finest SEO Suite.
They have a big database of keywords and backlinks that allows you to quickly assess any competitor's website so you can act appropriately when the moment is perfect.
To strengthen your plan and advance your company, you can get a more precise and succinct report on any website that is accessible online.
While Similarweb only provides traffic analytics statistics based on arbitrary click streams, which might occasionally be erroneous. Additionally, these data are classified (geographically), and obtaining certain location data requires payment.
They don't have a database for keywords or backlinks aside from that. Semrush is, therefore, more trustworthy than Similarweb in such a situation.
Semrush Vs Similarweb: Pricing Plans
Semrush offers four transparent pack options. For a set of benefits that are clearly defined and arranged into toolkits according to your needs, you can pay a monthly fee.
Semrush doesn't appear to have any unstated costs. Additionally, it allows consumers to cancel at any moment.
Semrush Pricing:
Semrush does not provide a free plan, but they do offer free trials to try out their trustworthy and well-organized features. The pricing for Semrush is as follows:
1) Pro Plan ($119.95 per month):
Reports per day: 3,000
Results per report: 10,000
Keyword metrics updates per month: 250
2) Guru Plan ($229.95/mo):
Reports per day: 5,000
Results per report: 30,000
Keyword metrics updates per month: 1000
3) Business Plan ($449.95/mo):
Reports per day: 10,000
Results per report: 50,000
Keyword metrics updates per month: 5,000
Semrush.Trends (Traffic Analytics and Market Explorer) data is $200 per month with paid subscription. Business, Guru, or Pro subscriptions cost:
Pro: $319.95/month
Guru: $429.95/month
Business: $649.95/month
You can more effectively evaluate the performance of different analyzed websites on the basis of their organic traffic, user interaction, presale research, and much more by acquiring Semrush.Trends market explorer and traffic analytics.
Similarweb Pricing:
SimilarWeb's price is flexible. A Product Consultant will match your needs to the best features and calculate the cost.
SimilarWeb offers a free starter plan. It's safe. This is a much-needed answer, since we've seen many 2-to-4-week free trials.
Free package only lasts three months. It's pointless otherwise. 90 days is enough time to evaluate a service's ability.
If you find SimilarWeb beneficial after the free trial, you can upgrade to an enterprise plan, which has a variable pricing.
Free package includes 3 months of web traffic data, 30 days of mobile app data, and 5 results per measure. Enterprise-(Custom Plans) includes market and keyword review, mobile app engagement, and more. Web traffic reports for up to three years and mobile app data for up to 28 months are accessible.
Final Thoughts
Semrush outperforms Similarweb in keyword research with its site audit, Keyword Magic Tool, and PPC Keyword Tool. Its auditing service highlights SEO faults and recommends solutions.
Similarweb beats Semrush for homepage and session research. Semrush compensates by revealing competitors' ad budget and social media techniques.
Next? You decide which SEO tools best serve your company's goals.
Trends can help you save money and time. This is one of the best data-driven decisions you'll make.
Frequently Asked Question
What is Semrush?
Semrush is one of the best and most effective SEO tools, which provides a ton of features and resources including Keyword Research, Content Marketing Tools, Advertising, Social Media, and Much More to help you research your competitors and develop a winning plan.
What is Similarweb?
Similarweb is a service that computes the total amount of traffic that is received by a number of different websites. It gives you the ability to view the main traffic channels utilized by your competitors, broken down into a variety of areas such as referring sites, social traffic, and top trending keywords.
Is Semrush Good?
Yes! Semrush is, in point of fact, a comprehensive SEO package for all digital businesses. It offers the data that is both accurate and practical, allowing users to achieve greater success and improve their search ranking. If you are searching for an all-in-one solution for your SEO needs, then Semrush is the tool that you should be using.
What is Semrush .Trends?
Semrush .Trends is a freshly announced suite of in-depth traffic analytics and market explorer tools that can assist you in conducting a more in-depth analysis of your competition. But remember. Only paying subscribers to Semrush, which cost an additional $200 per year, have access to the Trends feature.