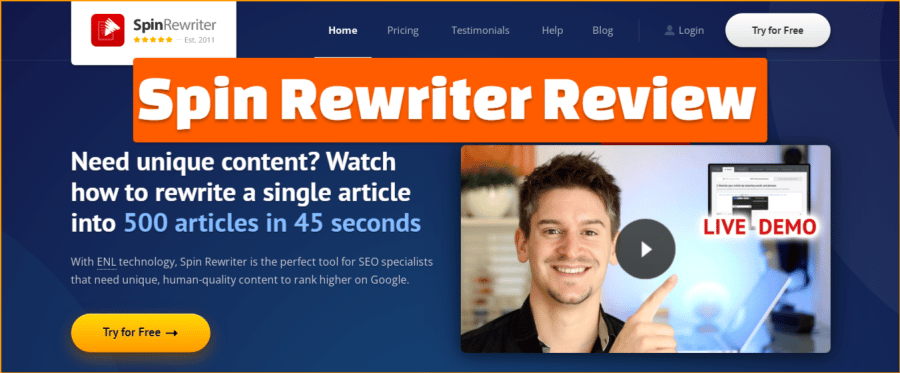 In this post, I'll give you an in-depth Spin Rewriter review. The program has everything you need to improve your writing skills.
Spin Rewriter is without a doubt one of the most effective article spinners currently available. It has an advantage over quite a few other spinners on the market.
If you are serious about spinning articles, you will need the assistance of a rewriter who is well-versed in the intricacies of the English language. To put it another way, here is where Spin Rewriter shines.
Continue reading to discover more.
Spin Rewriter Overview
Even though it's obvious from the name, Spin Rewriter is really an article rewrite. While older article spinners often made egregious errors (such as mistaking "dark" for "black"), the newest versions are far superior.
The year 2011 saw the debut of Spin Rewriter. The program that rewrites articles has improved over time to the point where it can grasp English better than most article spinners.
The core of Spin Rewriter is its own ENL (Emulated Natural Language) technology. It does more than only replace words and rearrange sentences to produce fresh content; it also:
Produces bullet points based on the material that was originally provided.
Alters the order of the paragraphs
Allows you to spin several articles with a single click.
Archived blog articles are republished (this feature is blocked behind a paywall)
The program may alter the whole article, including the words, phrases, and sentences. You just need to provide the actual content. After that, the program starts running.
It's a spinner, not a generator, however, so keep that in mind. Top-tier article generators may write text based on provided keywords or a brief. Spin Rewriter is perfect for you if you wish to repurpose existing material.
Well, I'll demonstrate how it works.
How Does Spin Rewriter Work: Step-By-Step Guide
In Spin Rewriter's main interface, you'll see a total of eight buttons; just two of them will be active throughout the spinning process. I'll explain everything steps by step. The initial part of the process is basic if you use the default options.
Note: It takes some practice to master the "Rewrite Multiple Articles" function. Therefore, one article rewrite is necessary prior to attempt several.
1. Rewriting a single article
When you do, a blank text area will appear where you may enter your text. To utilize a URL rather than a text file, choose "Fetch a New Article" from the menu.
Step 2 can't begin until you've familiarised yourself with all the available controls. A far higher quality result is possible with optimal settings.
From the menu that appears when you click the cog in the lower left, choose "settings," and you'll see three choices. You have a lot of leeway in choosing from the available options.
Sentences & Paragraphs
Changes to the article's syntax may be made under the "Sentences and Paragraphs" section. Compared to the other two parts, this one is far more intricate and subtle. Choices might involve:
Sentence restructuring
The complete rewriting of paragraphs
Updated paragraphing and summary
Modifying existing sentence and phrase structures
Right now, we're going to go into specifics about each of the following scenarios.
Automatically Rewriting Sentences
The syntactic level is where any effective article spinner shines. In other words, the machine will analyze the phrases themselves instead of coming up with synonyms. Both the original sentence and the rephrased version will be shown side by side in the created Spintax. You have options there.
Automatically Rewrite Entire Paragraph
Spin Rewriter investigates the whole piece rather than just one paragraph. This entails checking the coherence of the whole piece, as well as the sentence and paragraph flow individually. The article rewriter will then recommend any missing details (if any) it detects. These suggestions are located at the conclusion of the newly created spintax.
Words & Phrases
The structure here is straightforward. These three possibilities are:
Most Unique (The Spin Rewriter will replace key phrases with synonyms.)
Recommended (Only use synonyms that are acceptable) (Only use synonyms that are appropriate)
Most Readable (only the most precise synonyms would be used).
The "Recommended" option is a good compromise, so I suggest using it. Moreover, there is a handy "Protected Keywords" area. You may just insert the keyword you want to preserve, and the rewriter will leave it alone.
Advanced Settings
The "Advanced Settings" section is really easier to use than the "Sentence and Paragraph" section. Auto One-Click rewriting, HyperSpeed, and single- or multi-level nested spinning are just a few of the available options.
Auto One-Click Rewrite
Both the original text and the text that has been spun will be shown once you reach Step 2 (Select Words or Phrases) of Spin Rewriter. If you choose this option, the spintax will allow you to produce a spun article with only one click of the mouse.
Enable Hyperspeed
This choice cuts the amount of time required to produce a one-of-a-kind piece by a considerable amount; but, it places a strain on your computer system. To get the most out of HyperSpeed, you'll need a system that's up to par.
2. Select Words And Phrases
A human hand must be used in the next phase. Many individuals are wary about putting all their faith in AI. Despite all their improvements, they still don't grasp all the nuances of human language.
This is why you need to grab the reins and direct our Spin Rewriter evaluation right now! The interface and features seem to put you, the user, in charge of Spin Rewriter.
The text you copied and pasted into the textbox will remain intact, but you'll see blue-highlighted additions to the text immediately to the right. Spin Rewriter will not only offer new words, but also new sentences.
Selecting a blue word brings up a menu with four further choices:
Custom: Gives you the option to replace the suggested term with another
Top: Gives you the best possible alternatives to the chosen term.
All: provides the same language independent of context or readability
Apply to All: Whenever you replace a blue term in the text with a synonym, that replacement will be used for every occurrence of that word.
Following the selection of appropriate antonyms, phrases, and sentences, you will be given the option to "Save for Later" or "Finalize Article."
3. Get Unique Content
As soon as you click "Finalize Article," you'll be at the finish line. The piece will appear in spintax. Both the original and updated material will be accessible. You may do things like import media and export articles from this screen.
Check Settings
I'm aware that we've already discussed preferences. However, the ultimate choice is up to you:
The first choice causes Spin Rewriter to always utilize a synonym if one is available.
Spin Rewriter may improve your content by adding bullet points and lists.
The paragraphs and lists you've created may be rearranged with the help of Spin Rewriter.
Finally, there's an alternative for those who want to use HTML code rather than WordPress for posting material. If you choose this option, the whole article will be converted to HTML (that includes line breaks as well).
Add Pictures Or Videos
Spin Rewriter allows you the freedom to include videos as well as photographs to your articles. You have the option of embedding films from YouTube or adding photos from Pixabay.
Export Articles
A number of different export formats are available for your convenience. It is conceivable that it might be in:
Spintax syntax
Multiple articles' worth of text files
Combined text file with a delimiter
In Step 3, you may do something very amazing, which is to compare your original content with the spinning version. Moreover, variants may be exported.
When you're ready, choose "Generate a Unique Article," and your original writing will be created immediately.
Note: The grammar-checking API included in Spin Rewriter is called Perfect Tense. It's only available for download on their main website. You might also use reliable Grammarly. If you connect Copyscape with Spin Rewriter through API, you may check the spun content for plagiarism.
Spin Rewriter Review: Key Features
Spin Rewriter's many useful functions are undeniable. I assured you it was the greatest spinner out there, and I was correct. Let's check out what features this article spinner has to offer.
Easy Dashboard
It is crucial to have a UI that is clear and devoid of clutter. Having said that, the control panel for Spin Rewriter is quite easy to use. There are just eight different settings available on the dashboard, and each one is quite easy to understand on its own.
You may quickly begin rewriting an article by clicking the option labeled "Rewrite a Single Article," or you can retrieve your previous articles by clicking the item labeled "My Archive."
Single/Multiple Article Rewrites
Spin Rewriter makes it possible for you to effortlessly generate one or more unique works of content in a short amount of time. One goes ahead and selects "Rewrite Several Articles" before continuing.
Please copy and paste the various articles into the provided text box or submit them as a text/zip file. You'll have success quickly if you just follow the steps I outlined. For publishers looking to quickly spin large amounts of content, this is a game changer.
WordPress Plugin & Copyscape Integration
The dashboard now incorporates Copyscape, so you can immediately see whether the content has been plagiarised. You may also choose to publish the rewritten content on your website. The WordPress plugin is available, but it will cost you $47. The plugin integrates Spin Rewriter directly into the WordPress administration panel.
Adding Images & Videos
This is a wonderful addition, in my opinion. Pictures may be downloaded from the Pixabay database, and videos can be embedded from YouTube with a single click.
However, there is a caveat. When it comes to Google page rank, stock photographs aren't the ideal choice. However, if you have a good content strategy and use Spin Rewriters for mass spinning, you can make it work.
Emulated Natural Language
Spin Rewriter's ENL technology is its one defining move, analogous to Michael Jordan's Fadeaway. In 2014, they began experimenting with it. More so now that it has had time to develop.
The most significant issue with word spinners is that they often incorrectly determine the context in which a given word is used. You might describe "the extraordinary agony of black people" in your writing. A phrase generator may provide something closer to "the special suffering of the dark people."
In this example, it is easy to see how the article-spinning program failed miserably and produced useless junk. The ENL semantic spinning platform is unique in this regard. Don't get me wrong — there's certainly space for development, but the results (facilitated by ENL) are far more promising.
Note: Article spinning software is greatly aided by ENL since it can then consider the whole context of a phrase rather than just the literal meaning of individual words. That's what makes it possible for it to produce interesting material.
Spin Rewriter Lifetime Plans
Its lifelong subscription option is what sets Spin Rewriter apart from other spinners. This article rewriter tool is yours permanently for only $497. Besides a few deluxe options, you get everything.
The lifetime membership is the best value if you want to spin large amounts of yarn, but the yearly membership is fine for a trial run.
Spin Rewriter Mobile App
This feature can only be accessed by paying the $47 fee. For access to their native mobile application, you will need to upgrade to the Gold Membership (available for both Android and iOS).
In spite of the barrier, though, it is an incredible feature. The majority of alternative article spinners do not come with mobile applications.
Flexibility
Back in the day, article spinners and content generators were quite limiting. However, the situation has evolved recently. See for yourself how much flexibility Spin Rewriter provides in our detailed review.
The software's settings allow for a wide range of customization. Additional features include the ability to lock down certain keywords, find several synonyms for any given term, rearrange paragraphs, and make bulleted lists.
Spin Rewriter gives you the option of handing over the reins and letting it go wild, or taking charge and having it do most of the legwork for you. It is up to you, as Captain Planet would say.
Spin Rewriter Review: Pricing & Plans
Spin Rewriter provides customers with the following three payment plans:
This one costs $47 per month, making it the most costly option by far.
The most common price point for subscriptions is $197 per year.
The lifetime payment is $497, which is the most costly option, but in the end, you will have a license to use the program for your whole life.
The price structure of Spin Rewriter is rather simple. You have the option of paying with either PayPal or a card. When compared to the other three possibilities, the monthly bundle for $47 has the most competitive pricing.
Think about purchasing it on a yearly basis for $197 to get the best value for your money. If you can get the 60% discount and purchase it for $77, it will taste even better in your mouth.
If after the first year you realize how much you value the Spin Rewriter service, purchasing the lifetime subscription is the best option for you.
Spin Rewriter WordPress Plugin
Spin Rewriter also provides a WordPress plugin, although it is sold separately. The regular price is $47, but if you buy it immediately after signing up for Spin Rewriter, the upsell price drops to $37.
After the first purchase, it may be used on as many other websites as you choose. There are four features included in the plugin that may help you make your own material stand out:
Automatically rewrite and publish previous posts: After a specified amount of time has passed (say, 8 days, 4 weeks, or 3 months), the plugin will automatically spin and republish the article using Spin Rewriter's ENL Semantic Spinning technology.
Automatic retrieval of fresh, original posts: All you have to do is install the plugin on your site, and it will automatically start searching for articles that are related to your niche. After that, it'll rewrite the articles that are most relevant and submit the results as new content. You have control over the frequency of automated post updates.
Spin articles directly in WordPress: This allows you to edit articles and pages in WordPress without leaving the administration dashboard.
Link websites: Your domains will be shown on your Spin Rewriter dashboard immediately. With the ability to remotely publish with a single click from inside your Spin Rewriter dashboard. With the remote-posting tool, you can set a time and date for new content to go live on your sites with just a click.
Spin Rewriter Review: Pros & Cons
The following is a list of the benefits and drawbacks associated with utilizing Spin Rewriter.
Extensive lessons & tutorials.

Bulk spinning of articles

Spell- and grammar-checking

Comparison of the original and spun texts side by side

Image Retrieval and adding in rewritten articles

Download videos and add them to articles that have been edited.

Ability to use APIs to interface with many other programmes

Users can have no more than 4,000 words per rewrite

The only language it works with is English

For the WordPress plugin, you have to pay extra
Who Is Spin Rewriter for?
In case you are unsure whether or not you might benefit from using this program, the following is a list of user types and potential uses for the product:
SEO Experts: In order to publish on PBNs, article directories, forums, niche sites, affiliate sites, and more, they often need vast quantities of original search engine-optimized material.
Article Writers: Hire a writer on Fiverr or Upwork and make money off of your content (check the best Fiver alternatives).
Ebook Authors: Producing an ebook is a breeze when you use PLR or recycled material.
Bloggers: Spin Rewriter allows you to rapidly generate fresh material for your weblog.
Small Business Owners: Startups and SMBs, since they can't afford to hire a full team of writers to cultivate their brand.
Non-English speakers: Non-native English speakers may greatly benefit from the use of article rewriting software and a free grammar and spellcheck tool like Grammarly.
PLR Content Resellers: Rewriting and improving previously published PLR to create new, more valuable content.
Conclusion: Spin Rewriter Review
As long as you maintain control over Spin Rewriter, it will function as an effective article spinner. You may receive articles that seem natural while saving hours of your effort by using spun content.
In addition, Spin Rewriter offers a wide variety of attractive discounts. It's not too pricey, the tool is easy to use, and there is a tonne of instructional videos available to guide you along the way.
If, on the other hand, you want a rewriter tool that will take control and get it correctly eight times out of ten, I would recommend that you invest your money in Word AI.
I really hope that my Spin Rewriter review has been helpful to you in understanding how this tool works and what kinds of results you may anticipate getting from using it.
Spin Rewriter Review FAQs
Is spin rewriter free?
Join the 181,394 satisfied customers that use Spin Rewriter on a daily basis to generate an infinite supply of material that reads like it was written by a human being on any subject. There will be no more charges once your trial has been terminated. Nothing is required.
How does spin rewriter work?
Algorithms are used to rewrite the articles such that they are unique and have never been published before. Paragraph, word, and phrase-level content rewriting are all possible using Spin Rewriter. It reverses the sense of a statement and checks for proper synonym use.
How do I use spin rewriter for free?
1) To submit your article, just copy and paste it into the editor.
2) Just one click on "One Click Rewrite" and your whole content will be rewritten from scratch.
3) You may make as many copies of your original article as you want by clicking the "Export" button.
How do I cancel my spin rewriter free trial?
Canceling your subscription is a simple process that does not need any interaction on your part. Here are the easy steps you need to do to cancel your existing plan with Spin Rewriter: Visit the "My Account" tab within your Spin Rewriter account or log into your PayPal account. Do I have to go through the Free Trial or can I pay immediately? Obviously, that is the case.
What Is Spin rewriter affiliate program?
"Spin Rewriter is most likely the greatest product that is currently available… The fact that my consumers really like the product is of the utmost significance to me, despite the fact that advertising it brings in excellent EPCs. Extremely low cancellation rates and almost nonexistent rates of receiving refunds.
Spin Rewriter vs WordAi review
A Look at WordAi and the Spin Rewriter The cost of WordAi exceeds that of the Spin Rewriter. Spin Rewriter is cheaper than WordAi, even with a WordAi coupon, and it offers many of the same features. Both tools allow you to include relevant, free films and photos in the created content.