Teachable Affiliate Program is a great place to start if you're a newbie.
It's an online course platform that makes it simple to start an online course or coaching business using their all-in-one platform.
Entrepreneurs trust them to help them establish and expand their knowledge enterprises, from passion projects to multi-million dollar businesses.
More than 100,000 instructors had joined Teachable by 2020, and their knowledge had been translated into world-class courses that had earned more than $500 million to far.
Teachable Affiliate Program Review (in a nutshell)
| | |
| --- | --- |
| | Description |
| Program Type | CPS (Cost Per Sale) — When a merchant makes a sale, you get paid a commission. |
| Tiers | Teachable offers a single-tier affiliate program. |
| Earnings / Commission | Commissions are 30% of each sale and are paid out on a monthly basis as long as the person you referred stays a Teachable subscriber. |
| Payment Schedule | The commissions are given out on a monthly basis. |
| Cookie Life | The Teachable Cookie has a 90-day lifespan. |
| Payment Method | Teachable uses PayPal to pay commissions. |
| Training | Teachable offers affiliate links for a variety of campaigns that they conduct on a regular basis. |
| Investment | None. There are no hidden prices or expenses when you join the Teachable Affiliate Program. |
How to Sign Up for the Teachable Affiliate Program?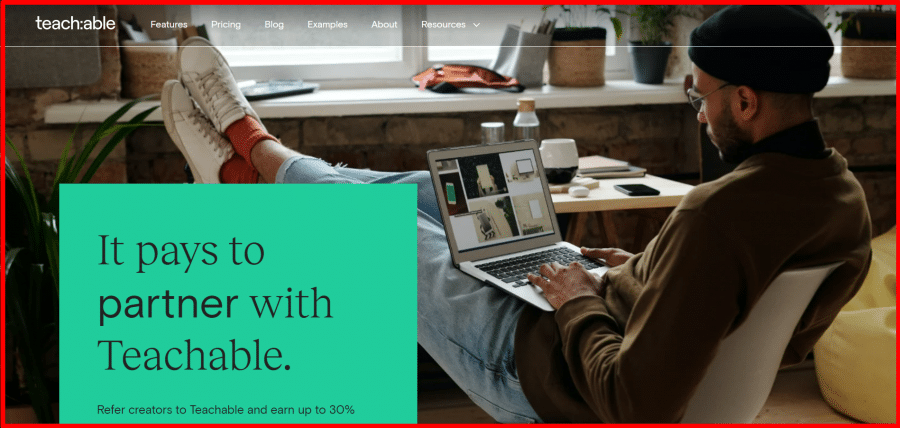 Here are the steps to follow if you want to join the Teachable affiliate program.
Visit Teachable's affiliate page. Review the page's benefits, how to attract subscribers, and other facts. This information will prepare you for program enrollment. It tells you if you can join.
Name, email, PayPal (or another payment method), and other basic info. Since you're working for them, you'll need to give tax info. This applies to all online affiliate programs.
Describe your website and how you plan to market your coursework. Teachable is a great platform for selling courses, but you must build an audience elsewhere. Without an audience, approval may be difficult.
24-48 hours for approval. Depending on the day and traffic, it may take longer. Busy times could take a week or more. Applying multiple times will make you look like a bot and get your application denied.
When authorized, read on for ideas on selling your course. Approval doesn't guarantee money; you must inspire your audience.
How Does Teachable Affiliate Program Work?
Anyone can join up to become an affiliate with Teachable, including webmasters, bloggers, social media influencers, Vloggers, and marketers.
The evaluation procedure could take as long as seven days to complete. You will be able to begin advertising using your referral link as soon as your account has been approved.
To attract clients, you can either publish a post on your blog, produce a video, or promote content on your social accounts.
The cookie is kept for a total of ninety days after the user has clicked on the referral link. Your commission will be credited if the same user signs up for an account during the next ninety days.
Read our Teachable Review to learn more about the features and benefits of joining the platform.
Teachable Affiliate Commission Structure
Affiliates have the potential to make a lifetime commission of thirty percent. You are free to recommend an unlimited number of potential consumers.
As soon as you refer someone, you will begin getting commissions for that referral until the customer renews their subscription.
Teachable Affiliate Payment
On a Net 30 basis, payments would be made to the affiliates.
PayPal is an alternative for making the payment. The least amount that can be won is $50. You can also use the Teachable discount coupon to save more on your subscription.
If you haven't met the payout threshold at the end of the month, your earnings will be carried over to the following month.
Final Thoughts
Teachable is a great place for people who want to take courses or join as affiliates. Both ways can make you a good living, but it's safe to say that making a course is the best way.
Try the Teachable affiliate program if you want to make money that keeps coming in. Affiliates who have worked with this affiliate program in the past or who are still working with it can share their thoughts below. We hope that this review of Teachable will help people get started.