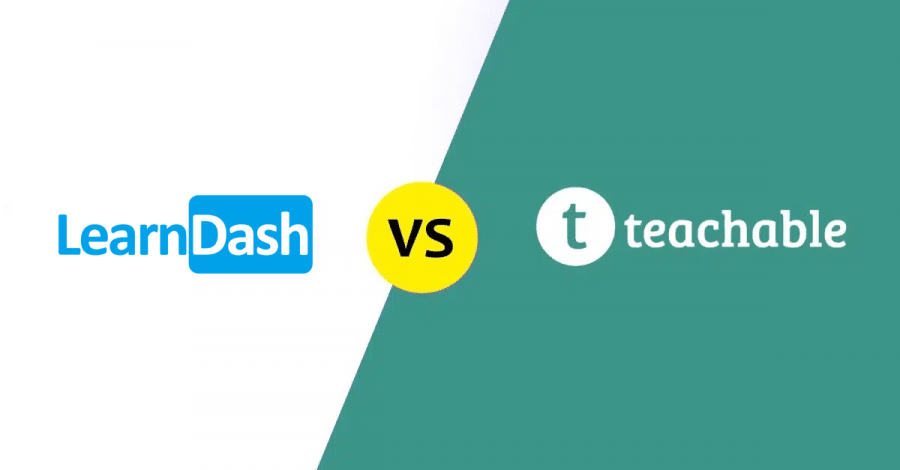 In this article, we will take a deep insight into the working of these two platforms in our comprehensive Teachable vs LearnDash article.
LearnDash and Teachable were both launched in 2013 and offer a straightforward and powerful eLearning platform for businesses to create, market, and sell their content.
The platform allows you to create, upload and sell your own online courses.
So, let's get started.
Teachable Vs LearnDash: Overview
LearnDash
LearnDash is an easy-to-use LMS created for beginners who are just starting out on the world wide web. It helps make your website better with interactive graphics, online courses, and fun quizzes.
Players will be able to create a course, add quiz questions, and then track their progress on their dashboard. This free course training software is a great way to engage your customers and hold them accountable.
However, it is essentially a WordPress plugin which means you need to have a WordPress website or create one to use it and it has a WYSIWYG editor that is compatible with WordPress, Moodle, and Drupal helps to create many interactive features like forums, polls, quizzes, and surveys.
In the forum, you can add links, images, videos, and links to other pages. You can even do selective registration so that some members can post and others can't.
The polls, quizzes, and surveys are great ways to show students the information. Quizzes are interactive learning games that help students retain information after they have taken the quiz. You can also mess around with the theme to customize it to your website.
Teachable
Teachable is an online platform that enables anyone to create, share, and sell the best content in the world. To help teachers and entrepreneurs build and grow their businesses and content.
Teachable is a course platform that allows anyone to create and share a course. It's used by professionals and beginners alike to create a variety of courses including classes, videos, interviews, webinars, and more.
Teachable help to create courses that are beautiful and engaging. It gives the creator the tools to share those courses with the world, regardless of whether the course is free or paid. It allows students to engage with the content in their own time and effectively learn what they need to learn.
Teachable provides you a domain that you can easily customize using their robust Power Editor where you create lessons for your viewers, quizzes for engagement, and also schedule coaching courses if the need be.
In general, they make the creation and selling of your created content very easy with their built-in integrations and customization options.
Read our in-depth Teachable Review to find out why is it the best online course-creating platform.
Teachable Vs LearnDash: Ease Of Use
LearnDash
This section caters to the needs of the people getting started with LMSs. To start using LearnDash you need to:
First, own a WordPress website or maybe create one and install the plug-in on the website. After you do so you need to pay a minimum subscription price to download your plugin.
Once this is done you have to access the plug-in via the Plug-in area of WordPress to activate it. Once you activate the plug-in you can get started on creating your course content.
You can then use the Create option in the LearnDash dashboard to create and customize your lesson content or set up quizzes, mark their answers, or even set up question-answer forums as you wish.
Once you finish making all the lessons and quizzes that you wish you can then make use of their Builder option which is a drag-and-drop builder that allows you to choose the lessons and quizzes you want to include in your course and place it on the screen wherever you deem suitable.
You can also choose their Integration options to integrate with third-party add-ons or community add-ons and even set up payment options via PayPal in their PayPal settings and add in your payment details and course fees.
Teachable
Teachable is a fairly easy-to-use platform to create high-quality lessons and courses. To get started with LearnDash you have to:
Go to the Teachable website and simply press on the Get Started option and sign up.
Here you land directly in their Professional Dashboard where you have to choose the Create New School option to set up your school dashboard where you can simply press on the + option to start making a new course.
You can create and publish courses on Teachable for free and this is their best feature. However, to earn from the same you need to purchase any plan.
You can create course materials or coaching materials with Teachable by choosing any template and adding the lessons, quizzes, MCQs, and so on with the help of their Builder accessible from their side toolbar in their Curriculum section.
You can easily set up your payment options in their Pricing section and integrate any third-party add-on you want with Teachable.
My Personal Building Experience
As a content creator, I have tried both these tools out myself, and in my personal experience using these LMSs did make the content creation of large courses fairly easy.
With LearnDash it was important to set up a WordPress website before I could start using it. The integration with WordPress and its dashboard analytics was a little tough to catch hold of in the beginning but with the drag-and-drop functionality, it was pretty easy to set up a course with multiple texts, videos,
and tests. Payment integrations were easy although the plug-in did slow my website slightly.
With Teachable, I had a more guided experience. Setting up and creating a new school is as easy as breathing. By letting me build on a premade template it became easier to build and publish my course.
The user interface of the platform is interactive and intuitive making it fun to create for my viewers. I will highly recommend Teachable to users who are beginning their journey as online educators as it is very beginner-friendly.
Now with my experience of creating these two popular LMSs, I have jotted down their differences in the following section that make up their core functionality.
Teachable Vs LearnDash: Key Differences
1. Hosting
LearnDash does not trouble itself with hosting. This means you already have a website of your own. Now LearnDash is compatible with WordPress only.
So, if you already own a WordPress website you can get started immediately, or else you need to set up one for LearnDash. Yes, it's kind of a bummer but that's not the end of the world. WordPress is open-source which means you can make good use of it if you know how to handle it.
Teachable on the other hand, lets you host on their website. Yes, we also know how difficult it can be to host websites, especially now with multi-media products however Teachable handles all the hassle.
Our Opinion
In this category of LearnDash vs Teachable, Teachable makes themselves stand out by making their product not only worthy of professional content creation but also useful to complete beginners to start with an online education business making them suitable for beginners and professionals alike and in my opinion this is where you should start.
2. Content Creation
LearnDash lets you create content on your WordPress website with the use of their drag-and-drop editor. You have to first create your course which can be text, audio, or video files, and paste it on WordPress.
You can then use the different options like font size, font type, page arrangement, or even set up quizzes with almost eight types of questionnaires. It is also compatible with almost all WordPress Themes and you do not have any special theme editor.
Also, you are not provided any templates to work with. Maybe that is suitable for an advanced builder who knows what to do but for a beginner, it can be chaos.
Teachable on the other hand provides you with an array of free and paid templates to work on. They also let you build your course based on three-course templates: Blank, Small Course, and Large Course.
Also, you need not worry about the theme as it comes with the chosen template as well. You can also customize these templates as you wish with their editor and create your lessons and quizzes.
Our Opinion
Teachable really stands out to be more user-friendly and handles a lot of the complicated work by itself. Also, it has larger types of quiz questionnaires like MCQs and so on. Teachable readily wins in this category of LearnDash vs Teachable.
Another additional feature of customization in Teachable is that they allow custom CSS coding and this can be very useful for advanced creators as well.
3. Progress Reports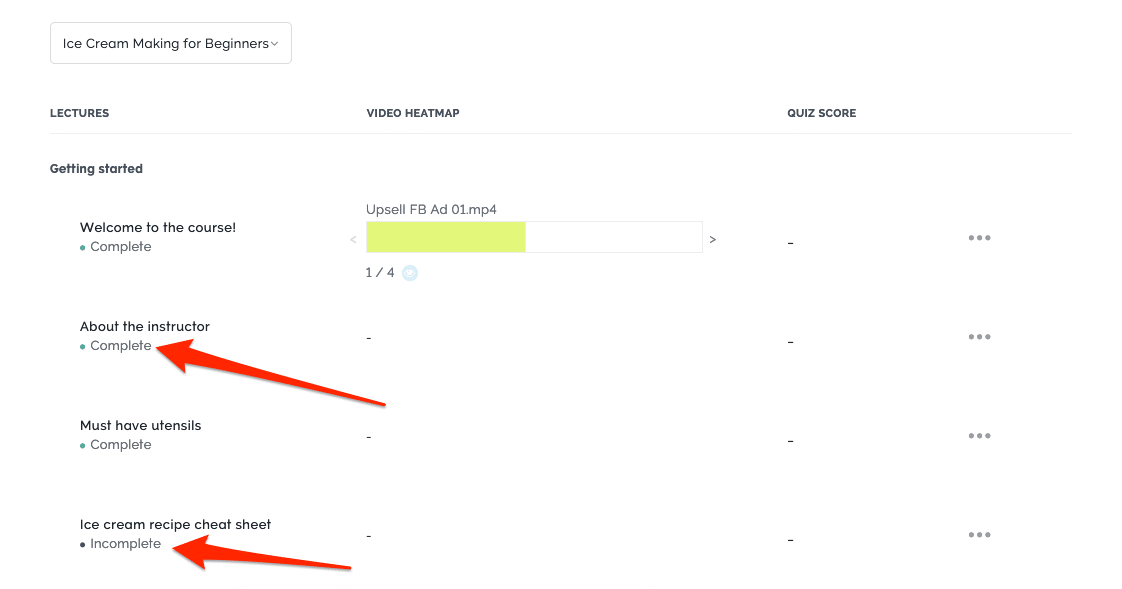 Both LearnDash and Teachable offer a large number of options to track the progress of your engaging audience. This is essentially an important method to check if your course is understandable and is able to trigger an action.
They both provide different types of questions set as quizzes which can be both graded and non-graded, badges, set-up feedback forms, and so on. In general, you can also integrate third-party add-ons in these tools to add study tools like notes and other gamification.
Our Opinion
We believe that in this category of LearnDash vs Teachable there is a strong tie. There are additional quizzing options in Teachable and there are additional gamification options in LearnDash. Overall, they provide solid progress tracking and I think you should try them out to see what world for you better.
4. Monetization of your Courses
LearnDash and Teachable are both LMSs made to not only create an online course but also facilitate you to sell them. LearnDash and Teachable both allow you to sell your courses in the following methods:
One-time full payment for the entire course.
Monthly subscriptions
Purchasing of course bundles.
Memberships
However, Teachable also offers free courses to their students and with the help of discount coupons also reduces prices for members. They both integrate with third-party add-ons to handle their payments which we will discuss in the next point.
Teachable also has affiliate programs that make their marketing game even stronger than their competitors.
Our Opinion
With slightly better payment options and free courses being made available for students and viewers, Teachable stands out in this LearnDash and Teachable comparison category. Teachable also has a very detailed School Dashboard that lets you track your student's progress and sales individually.
5. Integrations and Payments
Both tools integrate with a large number of tools like Zapier, Calendly, gamification tools, study-oriented tools, and so on. LearnDash being a part of WordPress has extensive integrations as WordPress is open source.
Teachable however has slightly lesser integrations available with Zapier integration you can integrate almost any app you want to help you create, manage, sell and display your content.
LearnDash integrates with major ESPs as well like MailChimp and can schedule drip content with their students but Teachable has inbuilt email automation as well.
Another unique feature of Teachable is its ability to integrate with the Zoom app which allows you to schedule live video sessions as part of their coaching feature.
When it comes to payments it has to be noted that LearnDash itself does not handle payment; you have to use payment add-ons. Teachable on the other hand handles payments supported by online payments and PayPal directly on their website.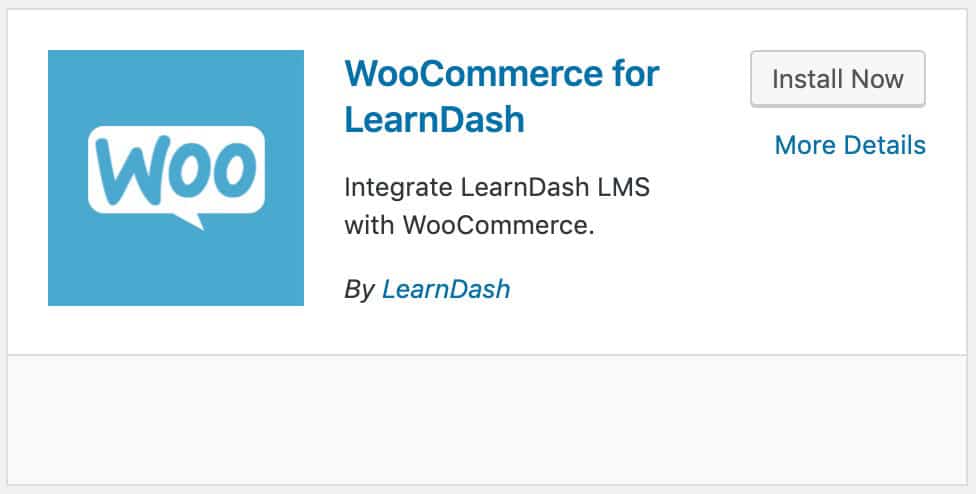 This means they handle taxing, payment gateway, shopping carts, and so on. Now the question may arise that how do they earn themselves? They charge a small percentage as transaction fees (10% in basic plans and 5% in their advanced plans)
Our Opinion
When it comes to integrations LearnDash has more features but we have to keep in mind that this is because they do not perform a large number of essential functions by themselves and thus have to rely on external add-ons.
This is essentially what happens with their payments as well. Teachable has a completely built-in payment functionality and this is why they win in this LearnDash vs Teachable category.
6. Customer Support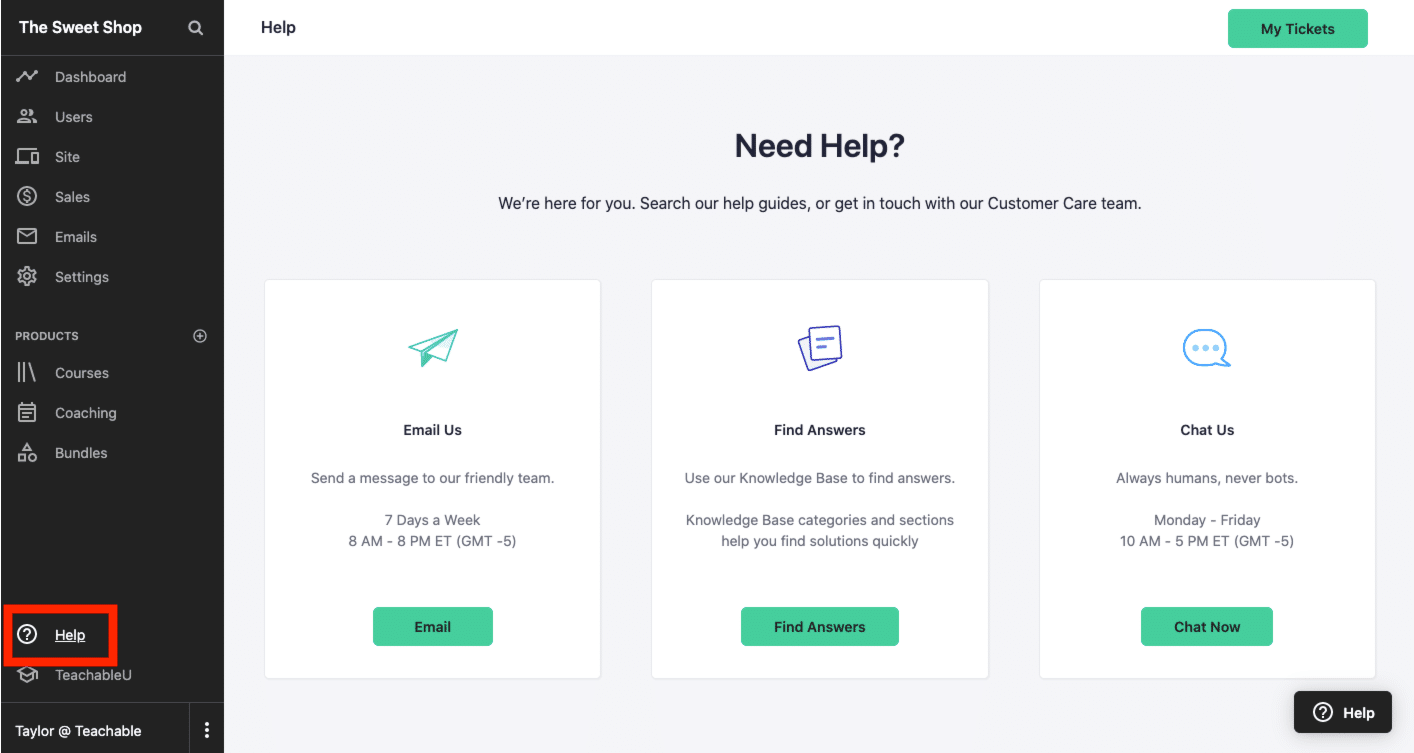 When it comes to a new tool there is always a chance that you will require a little help with something. This is where customer support is important. LearnDash offers somewhat limited customer support.
They have a YouTube channel with videos, a large gallery of blogs, and email support available on weekdays only from 7-4 pm. This is available in all their plans.
Teachable has more extensive customer support ranging from articles, videos, FAQs, and 10-5 pm email support on weekdays. Paying customers also have live chat and TeachableU online library access which is an extensive library of know-how-to questions and answers.
Our Opinion
It is evident just by the versatility of support options that Teachable wings in this category of LearnDash vs Teachable comparison as they do not offer written support but have also added a live chat option for you who are stuck in real-time with a problem.
7. Pricing

LearnDash has the following pricing plans each with a 15-day money-back guarantee:
| | |
| --- | --- |
| Basic Plan | At 159$ for 1 site licence. |
| Plus Plan | At 189$ for 10 site licences |
| Pro Plan | At 329$ for 25 site licences. |
Teachable has the following pricing plans that can be billed monthly or annually:
| | |
| --- | --- |
| Free Plan | With 10% transaction charges |
| Basic Plan | 29$ monthly, With 5% transaction charges |
| Pro Plan | 99$ monthly with no charges and advanced features |
| Business Plan | 249$ monthly with all features. |
Our Opinion
LearnDash wins our hearts by providing all advanced features in all their plans and only differing in the site licensing whereas Teachable offers a free plan as well as a more varied payment option.
In this category of LearnDash vs Teachable, we will let you decide which is best for you. I would highly recommend you to try Teachable for free to see how it can help you build your ideal online school and also earn from it.
LearnDash Pros & Cons
| | |
| --- | --- |
| Pros | Cons |
| Drag and Drop Editor | No professional technical support team |
| Good LMS | Limited customizations and no custom CSS coding |
| Open Source | |
| Easy Progress Tracking | |
| Email Automation | |
| A Large number of Integrations | |
Teachable Pros & Cons
| | |
| --- | --- |
| Pros | Cons |
| Personalized learning | Payments could be accepted in other forms of currency |
| Learn from the best | The builder could have drag-and-drop functionality |
| Easy and Affordable | Fewer integrations allowed |
| Superb teaching tools | |
| Easy Progress Tracking | |
| Easy course creation | |
Final Comparison Chart
Teachable and LearnDash have a lot in common but differ from each other in multiple features. They are both great for creating online courses for your business, and you can use them for many different purposes.
If you are trying to decide between them then you can refer to this Teachable vs LearnDash comparison chart:
| | | |
| --- | --- | --- |
| Features | LearnDash | Teachable |
| Ease of Use | Has a learning curve | Very easy to use |
| Course Templates | No | Available |
| Email Automation | Yes | Yes |
| Payments | With third-party Add-ons | In-Built |
| Hosting | No, you require your own WordPress website. | Provide custom hosting |
| Selling of Course | Yes | Yes |
| Free Courses | No | Yes |
| Custom CSS coding | No | Yes |
| Pricing | Check out at LearnDash | Check out at Teachable |
LMS or Learning Management System Explained
Learning Management Systems (LMS) are platforms used for administering training and education. An LMS has tools that enable portfolio management, course delivery, tracking, assignment submission, and more.
In simple words, Learning Management Systems are a combination of technologies and processes that help with the effective delivery of training and education through the use of the internet. Online Learning platform to be very precise.
They can deliver training and education to individuals, groups, or an organization at a pace that's right for you as a creator or educator.
These systems are built on pre-defined learning modules (tracks) and can be made available online through websites or apps or whatever seems suitable.
LearnDash and Teachable are two such LMS platforms and we compare each one of them in detail for you. So, sit back and read on.
Teachable Customer Reviews
Here are the customer reviews and testimonials of Teachable:
Capterra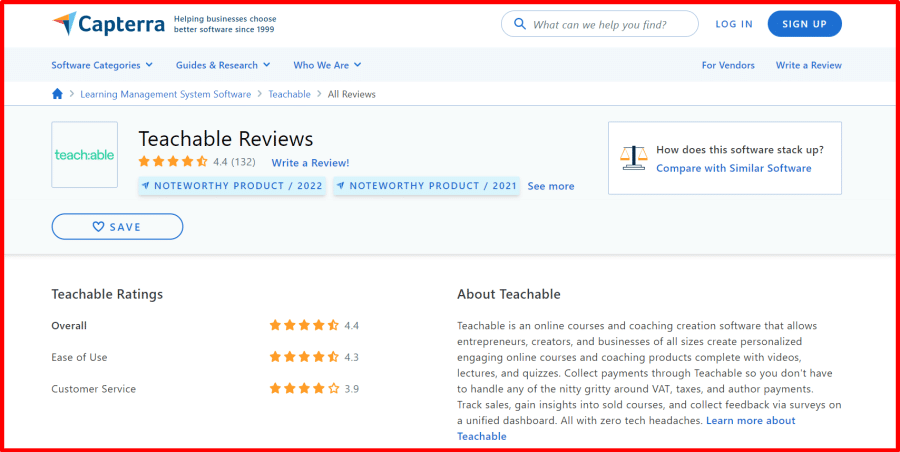 Teachable is rated 4.4 out of 5 by 132 users on Capterra. The overall rating of Teachable is 4.4, Ease of use is 4.3, and Customer service is 3.9
G2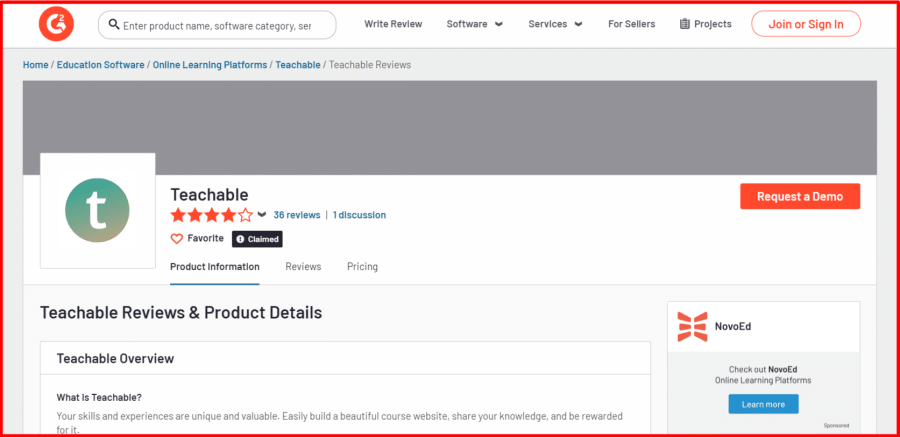 Teachable has received 4.0 ratings out of 5 from 36 users on G2.
LearnDash customer testimonials
Here are the customer reviews and testimonials of LearnDash.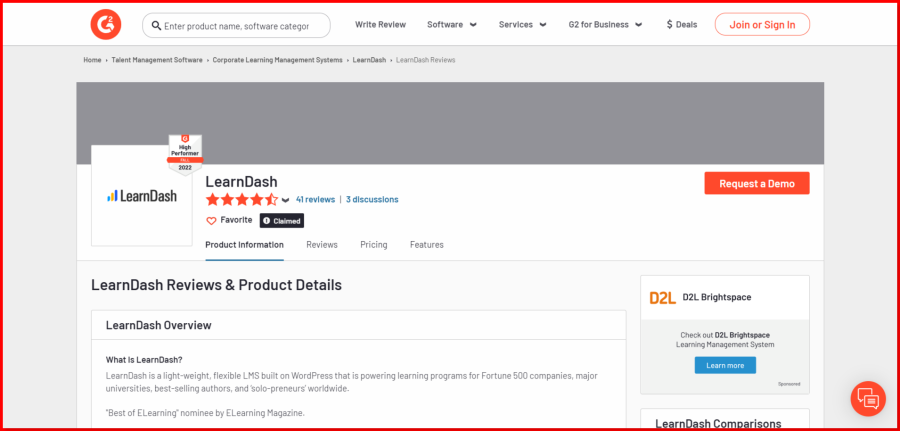 LearnDash has received 4.3 star ratings on G2 from 41 users.
Teachable Social Profiles
Let's check out how social they are and how active they are on different social media accounts like Facebook, Twitter, and Instagram to see how well they use them.
Facebook Page
Good things about online learning and Teachable's podcast are shared on Facebook by the company with more than 52,000 fans.
Instagram Profile
Teachable is also on Instagram, and it has a lot of followers. It's full of great information about their platform and online class that they post here.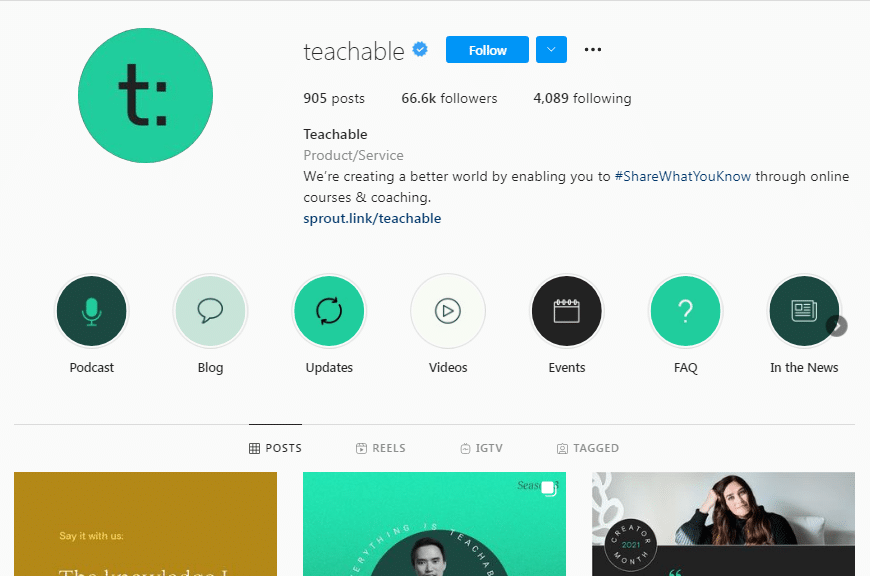 Twitter Profile
There are more than 33,000 people who follow Teachable on Twitter. Teachable has joined Twitter in 2013, and now they share information about online courses and coaching.
Pinterest Profile
Teachable has more than 61,000 followers on Pinterest, where they post interesting infographics and tips about how to make and sell online lessons.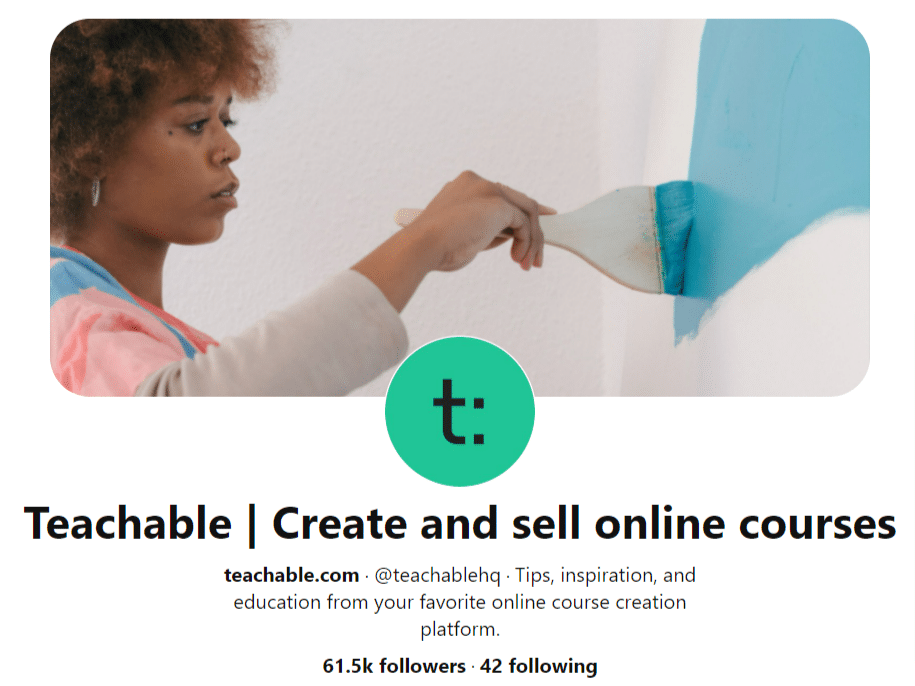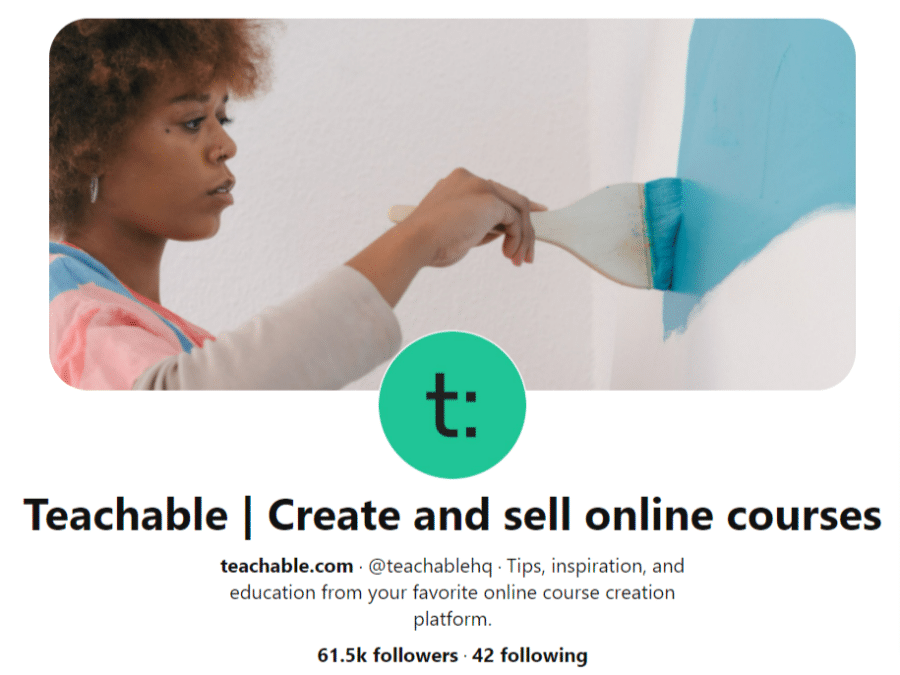 LinkedIn Profile
The teachable LinkedIn profile has a 14k active following. They share knowledge related to online courses and coaching.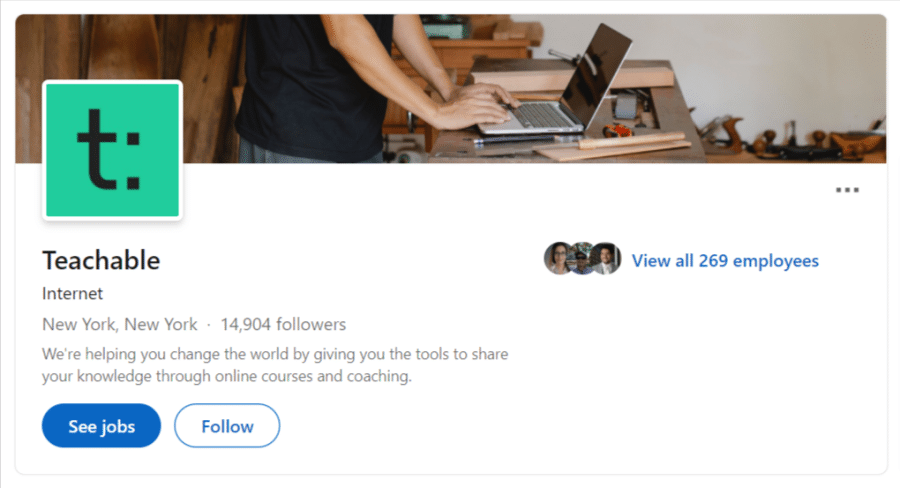 YouTube Channel
Teachable has a YouTube channel where they post great tutorials about how to use their platform and make online courses.
LearnDash Social Profiles
Let's find out the social profiles of LearnDash.
Facebook Page
LearnDash's Facebook page has over 6,280 followers.
Twitter Profile
Learndash has over4,327 followers on its Twitter profile.
Youtube Channel
Learndash has a Youtube channel with over 14.7k subscribers.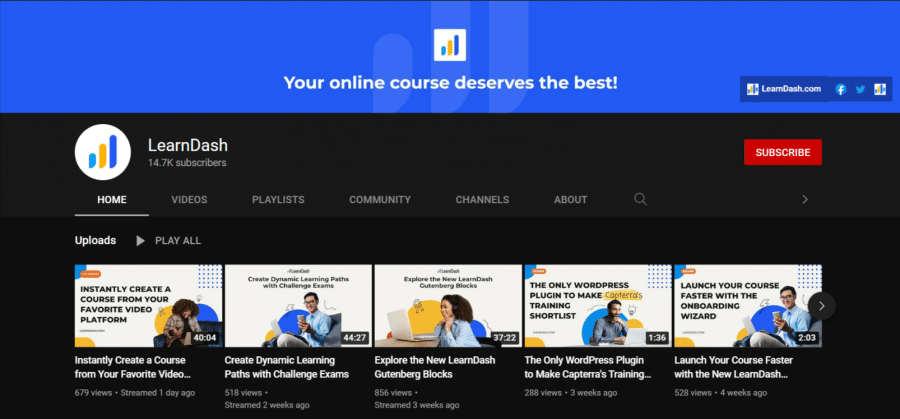 Instagram Profile
Learndash has an Instagram profile with over 869 followers and 192 posts.
Final Thoughts: Who is Worth the Hustle?
LearnDash and Teachable are two of the most popular platforms for creating and marketing your online courses. Both of these platforms have their pros and cons.
Teachable is a better fit for your needs if you need more flexibility in what you can teach, as well as a more intuitive interface. Their pricing structure also allows for a great deal of flexibility.
In short, both WordPress learning management systems are easy to use and have a massive community of people already using them.
So, it comes down to personal preference as well as what you are willing to spend on it and is best to first try them out.
Happy Creating!
Frequently Asked Questions
Is LearnDash any good?
LearnDash has a ton of features and functionality right out of the box. Whether you use it for managing your site, or as a private school/university, it's a great tool. It's got a bit of a learning curve though and can be overwhelming to new users, so I would recommend giving it a few days before jumping into using it. If you're looking for a straightforward CMS that can also be used as a learning management system, then you could also give Teachable a try.
Is teachable Compatible with WordPress?
Yes, Teachable Integrates with WordPress using Zapier which does not require any code to send data between Teachable and WordPress.
Does LearnDash work with Zoom?
With Zapier, you can easily send data between LearnDash and Zoom without writing any code. when a course is finished, it starts. automatic execution of this establishes a fresh Zoom Meeting.