This article will be a complete breakdown of both that will help you determine which one will suit your needs best. We'll compare and contrast Teachable vs Skillshare. What is the difference between Teachable and Skillshare?
What are the benefits of Teachable over Skillshare? We're going to answer that question for you today. We'll start by looking at their core features and then dig deeper into their pros and cons. We'll finish an overall recommendation as well. Ready to learn more?
Let's dive right in.
Teachable Vs Skillshare: Overview
What is Teachable?
If you're looking for a better way to teach your students, then look no further. Teachable is a cloud-based software that makes it easy to create your online classroom. This tool will help you manage your online courses and help you engage with your audience. It will also allow you to make money from your content.
Teachable is an LMS software for creating and managing courses, as well as an educational resource for you to use with your students. It features a simple, streamlined process that makes it easy to create your course and ensures that you're getting the most out of your business. This platform is a great solution for the modern educator.
Skillshare: What is it?

In the simplest of words, Skillshare is an online learning community where 10,000+ members teach and learn from each other. Students can take courses, watch videos, read articles, and ask questions.
Skillshare is a popular e-learning platform that simplifies course production technology. The platform can put together a class and upload it to the cloud in just a few minutes. The best thing about Skillshare is that it provides various tracks catering to different groups of people.
However, Skillshare generally focuses on creative courses like Photoshop, Cooking, sculpting, painting, and the like. As a student, you easily find videos to learn, and as an educator, you can upload almost any video as a course on Skillshare and also make money from it.
Teachable vs Skillshare: What is Similar?
Teachable vs Skillshare is a raging topic however the essence of any LMS platform is to provide quality courses to its users and improve the learning experience of those interested. Teachable and Skillshare do share some basic similarities as an eLearning platforms as follows:
Course Creation: They are both platforms for teachers to create courses and for students to follow them.
Course Selling: With Teachable and Skillshare you can also sell your courses online. They both have come up with monthly plans and no minimum number of users.
Course Editing: They both offer a similar number of features, like tracking students' progress, adding and editing videos and PDFs in the course, and the ability to launch and promote the course.
Large Community: They are both operated by companies that have an impressive team and a proven track record in entrepreneurship.
Potential to grow: Both the platforms give you access to a large pool of potential users who may be interested to learn from you and subscribing to your online course.
Teachable vs Skillshare: What is Different?
Although Teachable and Skillshare perform the same function they differ in their basic course creation and marketing features and I am going to discuss these in this section of our Teachable vs Skillshare article in detail under the following heads.
1. User Interface
Teachable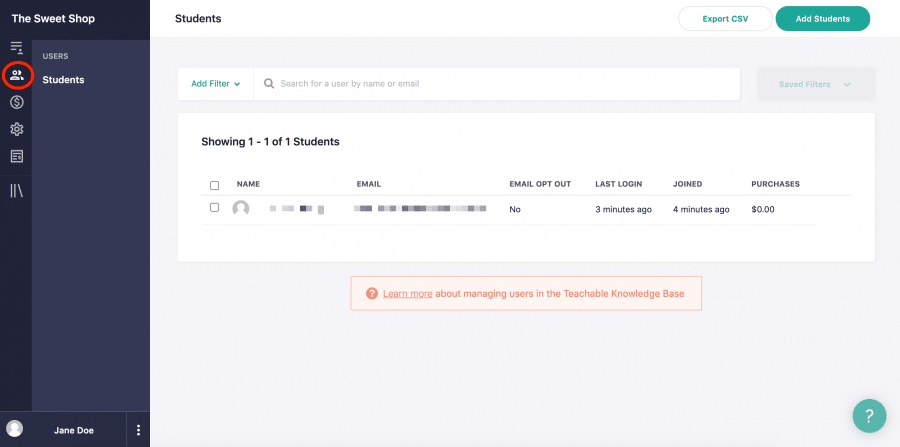 The user interface on the Teachable platform is very intuitive and simple. The dashboard is non-cluttered, which makes it easy to navigate. It also comes with a clean, streamlined look that allows you to focus on what you need to get done.
The platform is very easy to set up, so you can get started with your online course quickly. The platform also allows you to share your course with colleagues and friends so they can benefit from your knowledge.
Skillshare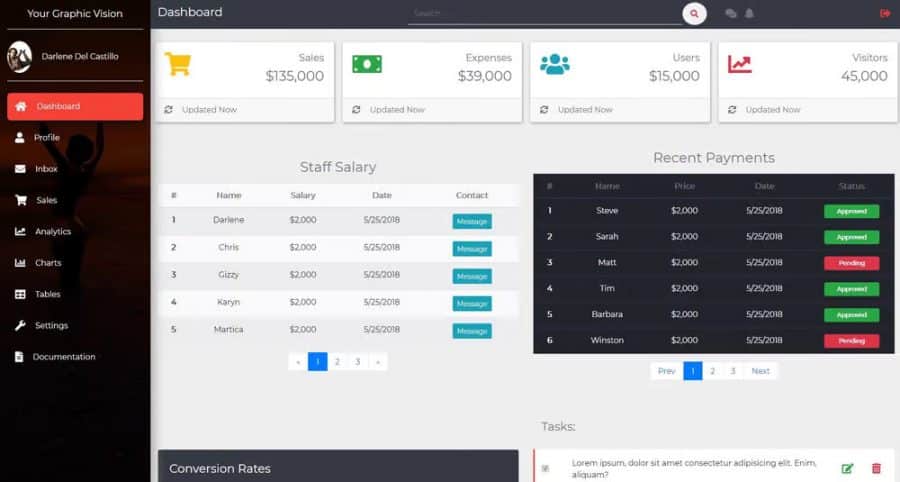 Skillshare is also a user-friendly platform. As a course creator, you can easily access the dashboard, create a new course and upload content with a couple of simple clicks.
All you have to do is create a free Skillshare account, and then you're ready to start creating. The dashboard is also great for students, who can browse and find thousands of classes on a wide range of topics.
Verdict
Teachable and Skillshare both have clutter-free course-creating platforms with dashboard analytics to look after your course.
However, in this category of Teachable vs Skillshare Teachable takes the lead as its dashboard takes into account student progress, course progress, and course performance as well which are absent in Skillshare.
2. Course Creation
Teachable
One of the nicest things about Teachable is that it's very easy to use. Teachable is a drag-and-drop and point-and-click platform that requires no coding skills.
It has a dedicated course builder that makes use of premade templates namely the blank, small and large course templates that you can tweak to customize to be your own. You can also play with the themes of the website and make the course exactly as you want.
Teachable allows you to create audio, video, or even pdf courses. With the drag and drop editor, you can place the video or text anywhere on the page as you want and also customize the color, font, size, and so on. In short, creating and posting a course in Teachable is as simple as breathing.
Also, read our in-depth Teachable Review to find out why is it the best online course-creating platform.
Skillshare
To teach on Skillshare first, you'll need to go here to start your class. Then, you'll need to create a class title and add a course description. Next, you'll need to select your course's format, which can be video, live, or a portfolio.
Next, you'll need to select how long your class should be. After that, you can select the dates you're available to teach. Finally, you can edit your class bio and add a photo or video to the class description.
There is no drag-and-drop facility or any pre-made templates on Skillshare but uploading a class is pretty basic.
Verdict
Although creating a course on Skillshare may seem to be easy, it is seen that it is almost too basic and does not give you ample options to make your course innovative and different from the others.
Teachable provides templates to work with and also provides a WYSIWYG editor that also makes customizations feel free and easy that is why Teachable wins in this Teachable vs Skillshare category
3. Progress Tracking
Teachable
Teachable has a wide range of new features that make tracking your progress even easier. You can use the new progress bar to track your progress from start to finish. The table format allows you to see your progress in an easy-to-read format.
In addition to this, you can view your progress by the day, week, or month to see how your progress fluctuates over time.
In addition to course progress, you can also see how your students are performing by making custom quizzes and tests that are provided to your students along with the online course. This helps the course be interactive and set clear goals with your students.
Skillshare
Skillshare has one major downside that sets it apart from most of its competitors. It allows you to upload video courses but does let you upload quizzes and forms that can check the progress of your students taking your course.
This can be off-putting for educators who want to use the platform as a serious tutoring platform.
Verdict
It is evident that Teachable wins in this Teachable vs Skillshare category for being more focused on not only providing the source of study material but also allowing students to check their progress and also in turn help you understand how effective your course is.
4. Email Automation
Teachable
Teachable has a built-in feature that allows you to create an automated email course. Once you have completed your course and published it, you can begin setting up your email automation campaign.
The first step to creating an email automation campaign is to click on your course. Once you've clicked on your course, you will want to click on the 'Settings' tab located at the top of your page.
Once this page loads, you will want to scroll to the bottom and click on 'Automation'. You will now be taken to your automation dashboard. This is where you can create a campaign and set up the rules that will be used to send out your emails. It's that simple.
Skillshare
Skillshare has a large community of users and heavily depends on email automation they have many types of email automation like-
Welcome emails
Autoresponders
Slack emails and so on
Every time a new course is added, an email is sent out to all users. The email also includes a link to the course and a picture of the instructor.
Verdict
In terms of email automation for effective information conveying and attracting users from emails as well both the platforms support email automation and also allow you to integrate email service providers with the platform itself to perform the function. In this category of Teachable vs Skillshare, there is a tie.
5. Marketing
Teachable
To market your courses on Teachable you have to do the work yourself; the site itself does not market your courses on the website. It is up to you. Your audience is built from learning from existing customers and how you market your courses.
To do so you can also integrate ESPs or social media sites easily on Teachable. You can also integrate YouTube or Vimeo to perform the same function and use promotional videos to attract your audience.
Skillshare
Skillshare probably shines through in this category. They have an entire section on the online course marketplace.
This is a part of their website where students can go through all the uploaded courses related to their criteria of search and find your uploaded course. In general, Skillshare does a commendable job to promote your content online on their website.
Verdict
Skillshare wins our hearts in this category of Teachable vs Skillshare comparison as the marketing of an online course is necessary as a coarse seller to generate revenue and earn from your courses being published online. Teachable can work on these criteria.
6. Sales Pages
Teachable
Whether you're teaching a class on yourself or you're selling a product, creating a sales page is important in marketing. You can create sales pages on Teachable using pre-made sales pages blocks available on the website.
In case you do want to introduce changes to these templates you can also add custom HTML codes and customize the page using the drag-and-drop editor as well.
Skillshare
There are no specific sales pages on Skillshare. You can only define your course and use a referral code to promote your course but there are no dedicated sales pages on Skillshare.
This is another reason why although the users on Skillshare are much higher, people fail to establish a business on Skillshare as the promotion using sales pages is missing.
Verdict
Teachable is winning the race in this Teachable vs Skillshare category. Although it does not market your course, it has dedicated sales pages to help convert people who have found your course into potential course subscribers.
7. Pricing Plans
Teachable Pricing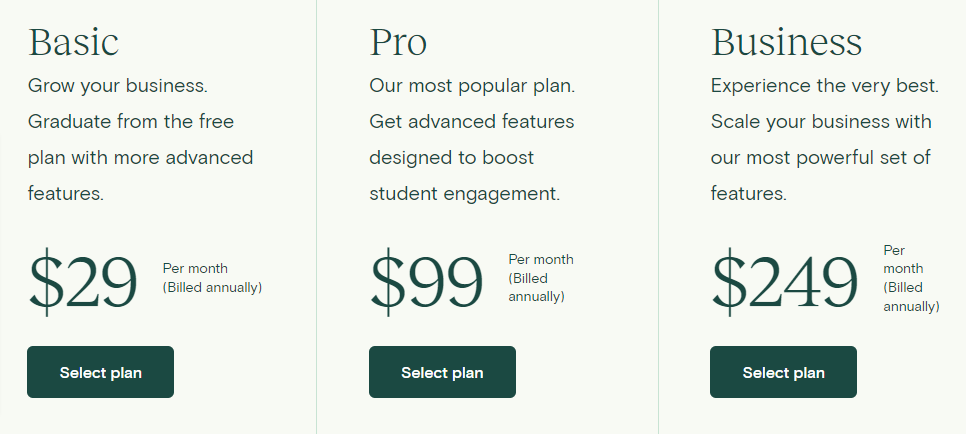 Teachable in its most basic form is free to use. In this free plan, you just have to create a free account on Teachable and you can just use this account to teach and sell your courses at a 1$ + 5% transaction fee used as handling fees.
You have unlimited courses and students and integrations are made available. This in itself is enough for beginners as Teachable also gives you custom domain hosting for free.
There are three pricing plans for those y=who wish for more:
Basic Plan at 29$ per month for 5 % transaction fees and email automation and marketing included.
Pro Plan at 99$ per month for no transaction fees, group coaching, and also content dripping and progress reporting and certifications.
Enterprise Plan for 249$ per month for all the advanced features and support on Teachable.
You are paid through PayPal in US dollars only.
Skillshare Pricing
Skillshare is comparatively cheaper but there is a catch. Let me explain.
There are three plans in Skillshare
Free plan: this plan allows you to only view courses.
Premium Plan: that allows you to create courses at 15$ per month.
Team Plans: that allow groups of people to handle the Skillshare account to do what they want.
However, you are not paid exactly when a student subscribes but you are paid based on the amount of time a student spends watching your courses. This means if I tool at an hour to watch your course on Skillshare then you will be paid for an hour by Skillshare.
However, you are paid through PayPal.
Verdict
Teachable may seem to be costly on the face but it has to be noted that Teachable caters much to creating a course whereas Skillshare remains a basic website to view online courses not create one.
It has basic uploading functions, not editing ones. Therefore, despite being cheaper Teachable wins in this final Teachable vs Skillshare community.
Pros and Cons
Teachable Pros
Teachable is an intuitive platform with many features that make creating and marketing courses easy. Here I will summarize why you should Teachable as the ideal course-creating tool for your online learning business.
Very Easy to use: Teachable is not only popular for learning but has a great UX and stunning user interface as a creator as well.
Course Builder: Teachable proves to be a powerful online course creator as it provides a dedicated editor to make the courses.
Premade Templates: Teachable provides its beginner users with course templates for easy creation; however, you can also build your own curriculum and syllabus without being limited by pre-defined course templates.
Mobile Responsiveness and App: Teachable also has a good-looking mobile app.
Smooth customer service: Teachable also provides its users with efficient and sturdy customer service.
Easy Integrations: Teachable supports a wide range of integrations for popular services like PayPal, Stripe, Zapier, or Slack.
Regular Updates: Teachable has a team of highly qualified and experienced developers who are always working to improve the platform.
Free plans
Teachable Cons
Branding: in the basic plans you have customary Teachable branding on your website.
Limited Free Plan: Free plans do not allow you to sell courses but it at least has a free plan.
Teachable does not offer any downloadable content after the course has ended. This can be a problem if you want to offer the course to your students again in the future.
Skillshare Pros
In case you are still wondering whether to use Skillshare or not here are the reasons why it might be a good choice for you.
Easy to use: Skillshare's online learning platform is fun and easy to use, making it perfect for both students and teachers.
Courses for all levels: Skillshare provides courses for all levels, from beginners to advanced.
One-on-one coaching: Gives one-on-one access to instructors and mentors who are creating the courses as well.
Collaborative learning: Gives the option to collaborate with other students, create group projects, and more.
Career advancement: Provides the opportunity to advance one's career with industry-leading certifications and get a large audience.
Skillshare Cons
Skillshare is a great way to learn something new, but there are some disadvantages.it must be noted that Skillshare is not a comprehensive learning solution, or in that matter, not even a course creating solution, it is only a marketplace for online courses.
Not as popular among creators: Although it provides many courses for students it is not as popular as other online training platforms for creators due to a lack of editing options. Not as well known, especially among the younger generations.
Exclusive to Creative Learning ONLY: Lacks in-depth content on certain topics.
Not Mobile Responsive: Lacks a feature to be used from a mobile device.
Lack of Integrations: Skillshare is not suitable for corporate training and LMS integration, as it lacks the necessary features.
Limitations: Not all features are free, premium features are expensive.
No customization: It's not possible to change the look and feel of the website.
What You Should Know Before Choosing Teaching Platform
Make sure you pick the right platform the first time you move courses from one to another. They have a lot of different features and ways to pay, so pay close attention.
The Course Builder
This is the most important thing to think about. When you start making a course, you want something that is easy to use. You also want to be able to make changes later on. Another thing you might want to do is look for a platform that can handle multimedia lessons, not just video lessons.
Finally, you need to think about any extra course materials. A lot of platforms let you make quizzes and other types of course content.
The Way Courses Are Sold
To make money, you must know how sales work on the platform you want to use. Are you the only one who has to market courses, or does the platform help with some of the marketing?
In-person, or through membership on the site. They can read your content, but they pay for it. Are payments made once, every month, or a mix of both?
You should also think about how the platform makes money. Take all the money from courses, then divide it up based on how popular each one is. Others charge you a fee when you sell a course to someone else. Another way to make money is to charge you a monthly fee, which lets you keep all the money you earn from course fees.
Teachable vs Skillshare: Our Pick
When comparing Teachable vs Skillshare, it is important to consider what each learning management system has to offer. Both platforms offer several features for teachers to manage their content, engage their students, and create a positive learning environment.
You're probably wondering when you should use Teachable vs Skillshare, and the answer is pretty simple: Teachable is better. While Skillshare offers some useful features, it just can't compete with the comprehensive list of features offered by Teachable.
Teachable has been made as an LMS that allows creators to create the best online course on the internet and provide a learning experience to their users while Skillshare is almost like a large library of video resources that can be uploaded easily but the editing and integrations are simply off.
You can however try each of these tools out for yourself and see what works for you. Both platforms have free trial periods and free plans that you definitely take advantage of.
Happy Creating!
Teachable Vs Skillshare: Social Profiles
Teachable
Let's see the social presence and how active they are on different social media accounts like Facebook, Twitter, and Instagram.
Facebook Page
With over 52k followers on Facebook, Teachable shares some good stuff related to online teaching and their podcast.
Twitter Profile
Teachable is on Twitter with over 33k followers. They have joined Twitter in 2013 and share knowledge about online courses and coaching.
Instagram Profile
Teachable is also on Instagram with an amazing 66k followers. They post great content here related to their platform and online course.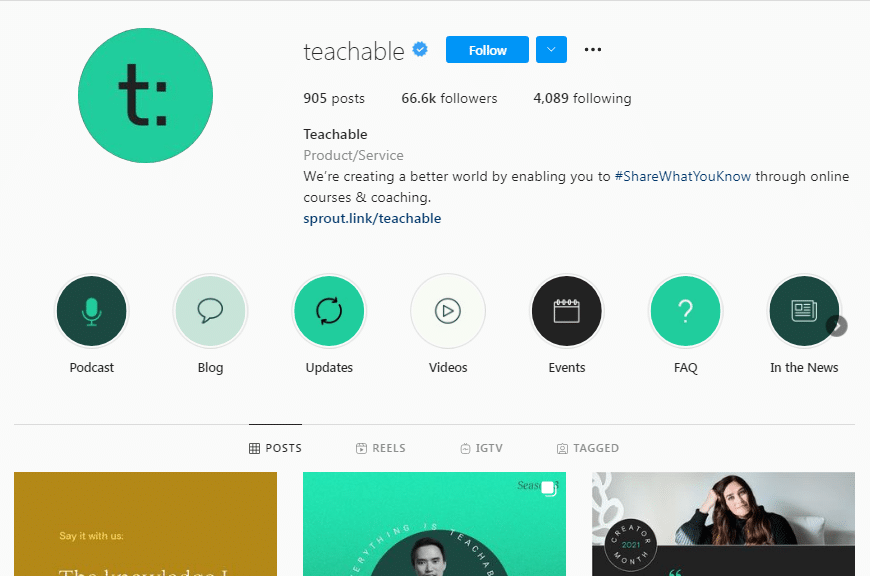 Pinterest Profile
With over 61k followers on Pinterest, Teachable shares some interesting infographics and tips related to how to create and sell online courses.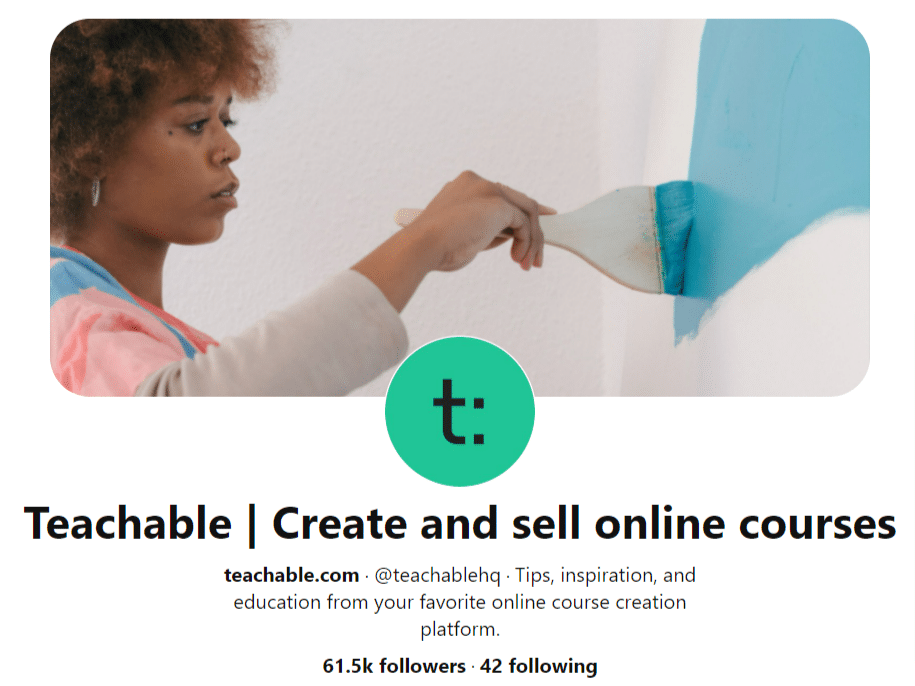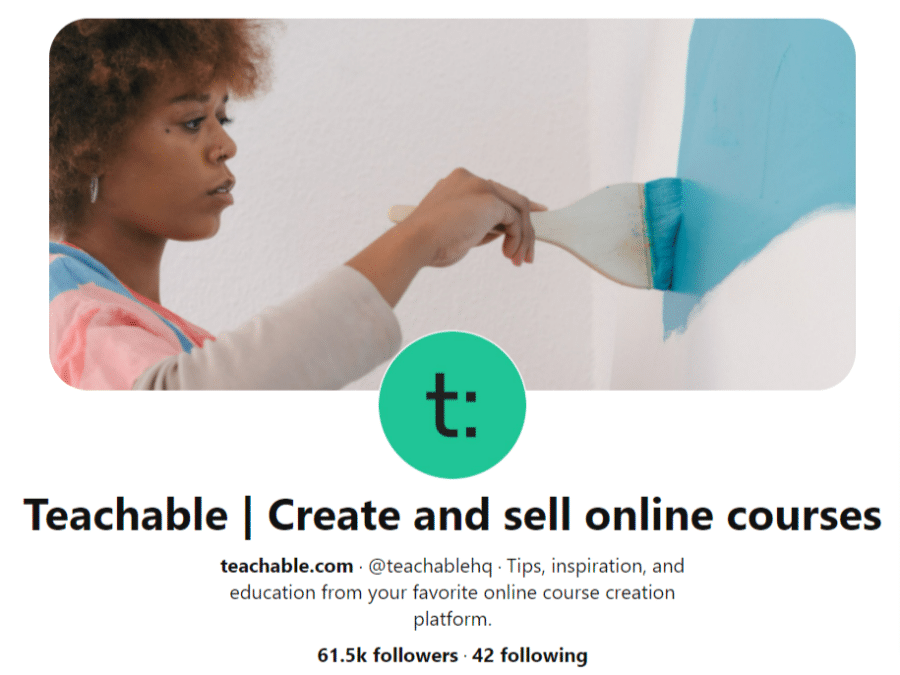 LinkedIn Profile
The teachable LinkedIn profile has a 14k active following. They share the knowledge related to online courses and coaching.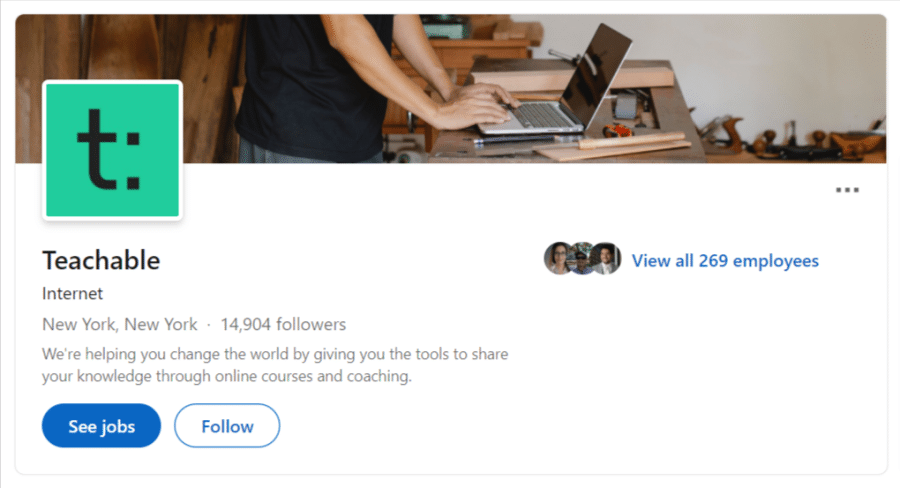 Youtube Channel
On the Youtube channel, Teachable share their awesome tutorials related to their platform and online course creation.
Skillshare
Facebook
Skillshare have over 2,686,604 followers on their Facebook page with over 2,658,415 likes.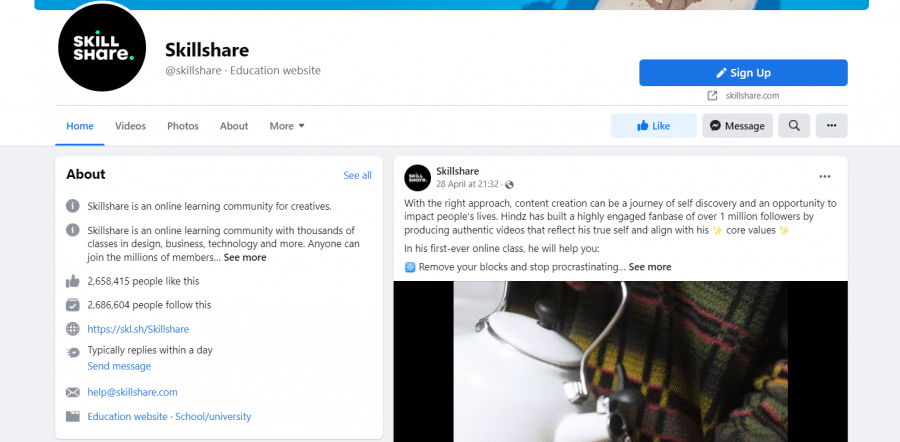 Twitter
Skillshare has over 100.8k followers on Twitter with over 17.3k tweets.
Instagram
Skillshare has over 599k followers on Instagram with over 2,798 posts.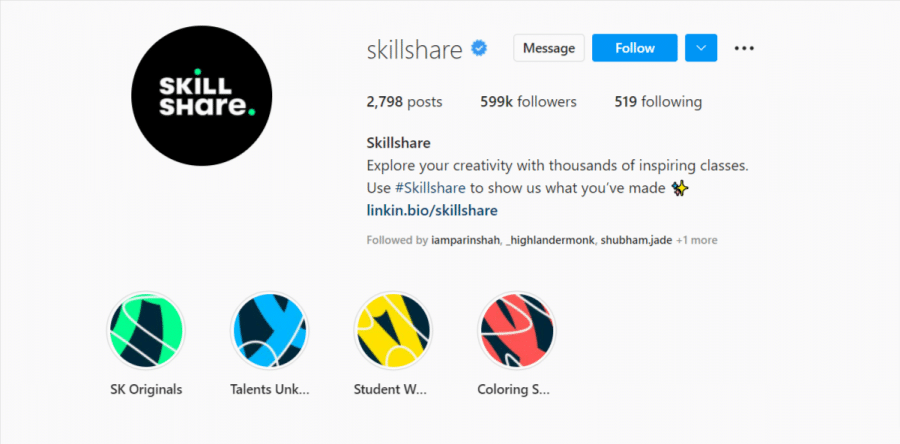 Customer reviews and testimonials
Teachable
SkillShare
Frequently Asked Questions
Is There Anything Better Than Skillshare?
Skillshare is an amazing resource for people who want to learn a new skill and have fun doing it. However, it can feel limited as a course creator on Skillshare and this is where Teachable excels. You can go through a complete breakdown of Teachable vs Skillshare as an LMS platform in the article above.
Is Skillshare Worth It As A Teacher?
The platform is easy to use and requires little to no technical skills to navigate. It lets you create courses and upload videos, audios, and PDF courses on the website for your students, however, you are limited with the progress tracking features like quizzes and so on. You can look at other platforms like Teachable or Udemy to be able to do the same.
What Is The Best Online Platform To Teach?
With so many teaching platforms out there, it can be tough to figure out which one is right for you. Teachable is the best online teaching platform because we offer a proven solution to building a successful business in the education space. You can create courses, edit them, integrate various essential platforms with Teachable and even sell your courses on Teachable.
Is Teachable Profitable?
If you're wondering whether Teachable is profitable then the simple answer to that is yes. You earn whenever a student enrols in your courses and pays the subscription fees set by you. Apart from general handling fees the rest definitely goes to your pocket. However, a successful online course is profitable, especially when the course is focused on a niche market and specific skills. Successful courses are often those that are most in-demand and which help students achieve the goals that they want to achieve.
Is it Worth paying for skillshare?
For the most part, Skillshare is worthwhile. It allows you to learn a wide range of topics from experienced lecturers online. You'll study through high-quality videos that you can watch at your leisure, and the majority of Skillshare teachers' courses are of exceptional quality.
How does teachable make money?
Selling online courses is the most obvious way to generate money using Teachable. Teachable is one of the most popular platforms for creating online courses. You may utilise the platform to create video, audio, and text-based courses that enable you commercialise your knowledge and create money-making on-demand products.
Can you teach live on Teachable?
Teachable doesn't have a built-in feature for adding livestreams. You can, however, easily embed a third-party livestream into your lecture area, such as YouTube.
Can you use zoom on Teachable?
No code is required to exchange data between Teachable and Zoom using Zapier. When a Coaching admission is disabled, this event occurs. This command starts a new Zoom Meeting.
Does teachable have an app?
Teachable currently does not have an Android app.
how is skillshar different than you tube?
Skillshare offers classes with linked lessons, whereas YouTube provides shorter, self-contained videos. A Skillshare class's lessons flow together fluidly, often adding up to hours of knowledge on a single topic, all taught by the same teacher. The emphasis on YouTube is on finding small, individual videos.
do you have to pay for teachable?
When you sign up for Teachable, you'll be asked to choose a plan that best fits your needs. The Free plan is a great option for new clients who are just getting started. You can upgrade to a premium plan with lower rates and additional features as your business grows.
can i do webinar on teachable?
Teachable isn't a webinar platform, to be clear. To use Teachable to hold webinars, you'll need to embed a third-party livestream application into your Teachable school.
Can you download videos from teachable?
You can download videos from Teachable. However, you must go through each part by hand and click the download button.
does teachable have an aPI?
To enable Segment in your Teachable classroom, check the box. You'll notice an empty text field asking for a Segment API Key after you've enabled Segment. By clicking on your Source and selecting Settings from the navigation, you can find the Segment API Key for your Segment source.
How can i cancel Teachable?
By going to Settings > Plan, you may get to your school's Plan page. Click the Cancel Plan text link under your current plan. You'll see a screen that describes the features you'll lose if you cancel.
Is Skillshare actually any good?
For the most part, Skillshare is worthwhile. It allows you to learn a wide range of topics from experienced lecturers online. You'll study through high-quality videos that you can watch at your leisure, and the majority of Skillshare teachers' courses are of exceptional quality.
Is Udemy better than teachable?
Teachable's information is far superior to that of Udemy. In addition, you can use your Google Tag or Facebook Pixel to track and capture even more data! Read our in-depth guide on Teachable vs Udemy.
Which one is better Skillshare or MasterClass?
Because the instructor quality in Skillshare varies, MasterClass comes out on top. Even yet, only world experts lead MasterClass courses. a week ago
Is Skillshare better than Udemy?
Both Skillshare and Udemy are big participants in the e-learning sector, and each platform has the potential to help you improve your skills. However, after much deliberation, we've come to the conclusion that Skillshare is the clear winner when it comes to putting what you've learned into practice, interacting with peers, and receiving instructor feedback.
Is Skillshare worth the hype?
For the vast majority of people, Skillshare is worthwhile. It offers the opportunity to study a wide range of subjects online from qualified instructors. You can watch the majority of the courses taught by Skillshare experts at your own pace while learning through high-quality videos.
Can you put Skillshare classes on your resume?
Include classes you've done on your resume if they provided you with the knowledge that can aid you at work, she advises. A "Professional Training" section under your employment history, for example, might be a good place to put the brief list of courses you've taken.
Can we use skillshare for free?
If you sign up for a free trial of Skillshare, you'll have access to free online classes that can help you take your talents to the next level, regardless of whether you're just starting out or already have years of experience under your belt.
How much is skillshare monthly?
How much does it cost to use Skillshare each month? The cost of a subscription to Skillshare on a monthly basis is $36. If, on the other hand, you decide to pay the annual subscription fee all at once, the price per month drops to $13.99 from $19.99.
Is Skillshare no longer free?
Skillshare's free membership option no longer includes free courses. Skillshare Premium members get one month free after signing up (yes, you will need a credit card to sign up).