You have arrived at the right place if you are seeking the best accounting software for small businesses. I have conducted an in-depth investigation for your convenience in this post to determine which accounting software is most suitable for use by small businesses.
Accounting software is a useful tool for business owners because it allows them to monitor the flow of money into and out of the firm and gives an overall picture of the company's financial health.
The best accounting software for small businesses will integrate with your payroll and/or point-of-sale system, as well as be easy to use, provide detailed reports, and create professional-looking invoices.
What is accounting software?
Accounting software is a software program that helps bookkeepers and accountants keep better track of a company's finances and make more accurate reports.
Accounting software may manage everything from fixed assets and expenses to revenues and payments, as well as provide sub-ledger accounting, reporting, and analytics.
Accounting is important because it keeps the organization's financial data in a systematic way. This shows how important accounting is.
When records are kept up to date, it is easier for users to compare current financial data to data from the past. Users are able to judge how well an organization has done over time because it keeps complete, consistent, and accurate records.
Why are accounting websites important for small businesses?
With the right information, a good website for small business accounting may be able to give you answers to these questions in a matter of seconds.
After putting information about your bank accounts, customers, vendors, and products or services sold on a site, you can use it to learn more about your business.
With advanced search tools and personalized reports, you can quickly find the information you need and get a sense of how your company is doing. You can check your accounts from anywhere thanks to apps for both Android and iOS.
List Of the best Accounting software for Small Businesses
There is a wide variety of top-notch accounting software available. I have provided information about the very finest accounting software available for use by small businesses.
QuickBooks
Wave
FreshBooks
Zoho Books
1. QuickBooks
QuickBooks Online is the leading company in accounting because it has the most features, can be scaled up, and can help small businesses with more complex financial needs.
This status is a direct result of how easy it is to use the software. Since it is used by millions of people all over the world, your accountant is likely to be familiar with it.
QuickBooks Key Features
The software optimizes processes to cut down on keystrokes, data entry, and human error.
Intuit's QuickBooks software comes included with over 20 distinct report kinds, and users with access to QuickBooks Enterprise can even create their own reports.
You can keep tabs on cash flow with the help of QuickBooks's spending tracking and profit analysis features as well as its inventory management capabilities.
The best way to minimize your tax bill is to take advantage of all legitimate tax deductions, and these tools can help you do just that.
Separate the payroll for independent contractors from that of regular employees by issuing and receiving 1099 forms from them.
Use the QuickBooks Online mobile app, which is compatible with both iOS and Android, to gain access to all of the service's primary features on the go.
2. Wave
Some of the things that cloud-based accounting software can do are invoicing, billing, payment tracking, payroll, financial, credit card, and receipt scanning. So, Wave Accounting was made to help businesses keep their books in more organized way.
Some of the things that the free Wave software can do are accounting, billing, and scanning receipts. Unlimited. Good. You can make it easy for your accountant to use Wave by sending them an email invitation.
Like some "freemium" apps, Wave doesn't offer a stripped-down free version to lure people in and then hit them with expensive upgrades. With this free accounting software, you can connect as many users and financial institutions as you want to the system.
Wave Key Features
Client portal for online access to invoices.
Customizable invoices.
The scheduling of invoices
Billing on a recurring basis.
Payables to third parties.
Invoice payment reminders.
Monitoring of expenditures.
3. FreshBooks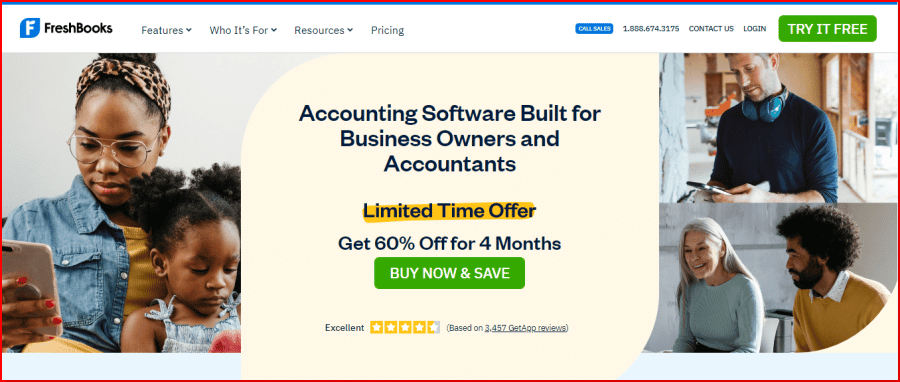 FreshBooks is the best cloud-based accounting software for small businesses since it allows for easy invoicing, efficient project management, and seamless payment processing.
A number of the services, including mobile access, double-entry bookkeeping, regular billing, and project management, are made available by it.
Accounting software like FreshBooks was made with solo entrepreneurs, freelancers, and other small businesses in consideration.
The program makes it much easier to stay organized, send invoices, and take payments while also keeping track of payments due and expenses incurred.
You should also keep an eye out for a few things that are utterly and completely delightful. Therefore, Freshbooks is most definitely one of the best choices that may be made.
In addition to this, you may also look at our page on FreshBooks coupons, which has a great number of coupons suitable for significant reductions in price.
FreshBooks Key Features
Invoice clients.
Maintain an accurate record of your expenditures.
Track time.
Manage a project.
Make client estimations.
Keep track of the payments.
Employ a method of accounting known as a double entry.
Develop some reports.
4. Zoho Books
Zoho Books is the place to go if you need a central place to keep track of and organize your finances.
It's a safe place to keep all of your company's financial paperwork, like invoices and bank statements, so you can easily track finances, keep an eye on spending, keep an eye on projects, and rest easy knowing you're following all GST rules.
With Zoho Books, you can do all of your accounting and keep track of your transactions in one place.
Zoho One's accounting features let you organize your finances, look at your cash flow, and keep an eye on the health of your business as a whole.
Keep your books in a neat and orderly way so you can keep track of your assets and debts. Set up a connection to your bank account so that purchases can be made right away.
Zoho Books Key Features
Workflows that are automated.
Timesheets and ongoing projects.
Transactions that occur repeatedly.
The balancing of the bank's books.
Personalized invoices.
Monitoring of expenditures.
Sales approval.
Conclusion
It's hard to choose the best accounting software for a small business because it depends on what your business needs.
You want the product to give your business room to grow, but you don't want to spend a lot of extra money on features you might never use.
Most of the websites we looked at have more than one version, so you can start with a basic one and then move up to a more powerful one that looks and works the same.
Frequently Asked Questions?
Is it safe to use accounting software?
Standard security features such as data encryption, safe credential tokenization, and more are available in today's leading accounting solutions. You can trust your accounting software to keep your data secure, even if the human error will always be a factor in security breaches.
What should I look for in software for accounting?
When deciding which accounting software is ideal for your business, assess which functions are most important. This helps you choose accounting software. Certain software is better for A/P, banking, and cash management, while others are best for retail companies, giving cost tracking, inventory management, and sales tax collection and submission. Other elements to consider are a mobile app, customer service, and A/R and financial reporting.
Is QuickBooks for small businesses worth it?
Our research led us to conclude that Intuit's QuickBooks Online is the best accounting software for small businesses due to its low cost and extensive set of features that streamline accounting and invoice creation.