When it comes to billing and invoicing, it is necessary to complete everything directly in a spreadsheet or even in a physical book. This is a viable option for those who prefer to avoid using electronic systems.
So Here I have come up with in-depth guidance on which one is the best billing and invoicing software for you?
Let's get started!
What Is an Invoice?
A printed invoice from a store or an electronic record from an online retailer is an example of an invoice that keeps track of transactions between a customer and a seller.
Invoices play a vital role in accounting audits and internal controls.
An invoice is a commercial document that lists the goods or services provided to the client, the total price, and the agreed-upon payment terms. The vendor has the option of providing the buyer with either a paper or digital invoice.
Invoicing and billing solutions exist, and many are low-cost or even free for light usage, not to mention offering risk-free trials. For new or small firms, this is a wonderful method to test the waters and see what works. The enterprise-level options are suitable for even the largest corporations.
Since most billing platforms are web-based, users rarely have to install any additional software on their local machine.
Instead, you can manage your billing and invoicing from your mobile device through an online site that allows you to do so from anywhere.
Not only that, but bills aren't the only things that are handed out. Even for group projects, workflow diagrams are typically provided, allowing for cost estimates, duration estimations, and cost breakdowns.
There are two main categories of invoicing software: standalone packages and integrated modules within bigger accounting software suites.
That way, you can start off with simpler programs and gradually work your way up to more advanced ones as your needs change.
The two systems can even work together, as some expense-tracking applications and programs can be integrated with billing software.
We have compiled a list of the top billing software to enable you to make a decision for your enterprise.
What is Billing and Invoicing Software?
Billing and invoicing software may be used to easily and effectively organize and automate the entire billing and invoicing process, making it much more straightforward and time-saving.
This assists sole proprietors, small firms, freelancers, and entrepreneurs in ensuring that their customers pay them promptly and reliably.
Because these invoicing programs cater to such a diverse range of business sectors, the vast majority of them are quite versatile and are able to accommodate a variety of business models, price structures, and payment methods.
One clear distinction is that which exists between a law firm and an individual attorney who practises on their own.
A law business may choose to charge clients for the whole amount of time they spend working on a project, but a freelancer may choose to charge clients for both their time and any goods or services they provide.
As a result of these factors, you should always make it a point to ensure that you are aware of which billing software offers the features and services that are most suitable for your requirements.
Don't forget that the invoicing software you select should be able to be customised to meet your specific requirements.
List Of The Best Billing and Invoicing Software
FreshBooks
QuickBooks
Xero
OneUp
PaySimple
1. FreshBooks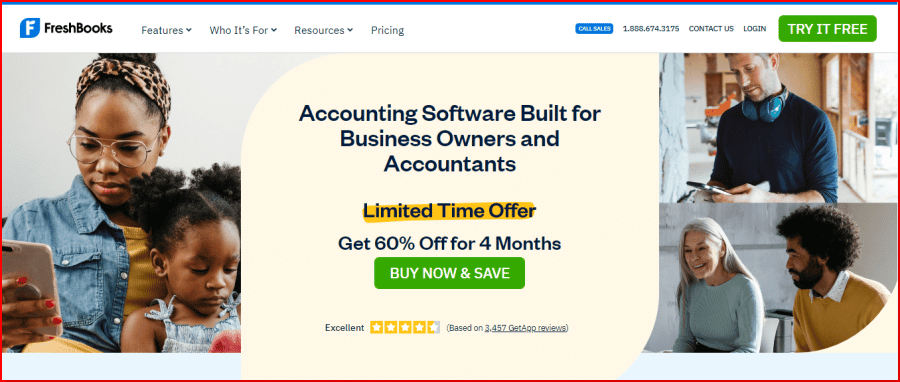 FreshBooks is the best choice for freelancers and owners of small businesses who need software to send invoices and keep track of their finances.
FreshBooks has a lot of great accounting features, such as double-entry accounting, as well as bank reconciliation. If that's more than you'll need, don't worry. The FreshBooks plan with the fewest features is just for invoicing.
You can send as many invoices and estimates as you want to your customers with FreshBooks. The software has a number of built-in automation that save time.
You'll also be able to do other important business tasks, like tracking time, managing expenses, and managing projects.
Depending on the plan you choose, you may also be able to use reports, journal entries, proposals, and bank reconciliation.
FreshBooks has great customer service, and most of its users have good things to say about it. FreshBooks also works with more than 100 other apps.
For getting exclusive offers simply you can check out our article FreshBooks discount, where you can easily get maximum FreshBooks coupon promo codes.
Freshbooks Pros & Cons
| | |
| --- | --- |
| Pros | Cons |
| The software is simple to use. | Doesn't have as many features as its competitors. |
| Support 14 different languages. | |
| You can make as many invoices and estimates as you want. | |
| FreshBooks has a free trial. | |
| Solid mobile application. | |
2. QuickBooks
QuickBooks is accounting software that stores all of your financial information in the cloud. With online invoicing and billing, you can make and send bills from anywhere and on any device.
QuickBooks Self-Employed is a good choice for freelancers and independent contractors who only need to keep financial records for tax purposes.
This program is made for people who work for themselves and file their taxes using Schedule C.
If freelancers didn't use this kind of software to keep track of their business transactions, they'd have to go through piles of bank and credit card records at the end of the year to figure out how much money they made and how much they spent.
With QuickBooks Self-Employed, the finances of your business will be added up for you.
QuickBooks Pros & Cons
| | |
| --- | --- |
| Pros | Cons |
| Simple to identify mistakes and fix them. | Unprofessionalism. |
| A reasonable price. | |
| Simple to use and understand. | |
| Easy to find information about customers. | |
| Works well with other systems and is adaptable to third-party apps. | |
3. Xero
Xero is a web-based application, so users may access it from any computer or mobile device as long as they have an internet connection.
The management of expenses and the placing of purchase orders give it the feel of a miniature accounting program.
A remarkable billing application that features a fair bit of built-in automation and a reporting dashboard that monitors payments in real-time and keeps you informed.
It is not difficult to determine which bills have not yet been paid, which have been paid, and the dates on which the bills were sent out automatically.
Xero Pros & Cons
| | |
| --- | --- |
| Pros | Cons |
| Get a 30-day free trial. | Exchange Trade Products are not supported. |
| It's in the cloud, so you don't have to download or install anything. | |
| Real-time bank feeds and bank reconciliation. | |
| Provides you with unlimited users. | |
| create quality invoices that are personalized. | |
4. OneUp
OneUp is a cloud-based billing and invoicing software that can help both medium-sized and large businesses, as well as small businesses with a good accountant in charge of the books.
Your accounting, billing, inventory, and customer relationship management can all be done from your phone or desktop computer.
OneUp is a great accounting tool for small businesses, like those run by sole proprietors or independent contractors, or those that are growing quickly.
The application's features, like lead management for keeping track of potential customers and an excellent inventory module, are surprisingly powerful for the price.
OneUp Pros & Cons
| | |
| --- | --- |
| Pros | Cons |
| Track incoming leads through built-in CRM functions. | Lacks dedicated time-tracking. |
| Great selection and pricing options. | |
| With one click, you can make, customize, and send invoices. | |
| Great inventory & affordable pricing. | |
| Great customer support. | |
5. PaySimple
PaySimple is a set of web software that enables you to accept payments, send invoices to customers, monitor billing history, and set up recurring payment systems without requiring any specialized knowledge or training.
PaySimple simplifies the billing and collection processes by enabling you to automatically charge, collect, and deposit payments. This, in turn, reduces the likelihood of human error.
Our ASP solution is both safe and secure, and it comes standard with recurring billing, electronic check processing, direct debit, and credit card processing.
Our prices for these services are among the most affordable in the industry.
PaySimpale Pros & Cons
| | |
| --- | --- |
| Pros | Cons |
| No fee for leaving early. | Prices that aren't transparent. |
| Perfect for service businesses. | |
| It's super user-friendly. | |
| Good tools for subscriptions and billing. | |
| Excellent customer support. | |
Conclusion
Accounting software may be beneficial to small businesses in a number of different ways, including making it simpler to control expenditure and better preparing them for tax time.
However, each commercial enterprise is unique.
Since every company has its own unique set of needs, even the one you believe is the perfect fit for you may not be.
None of the aforementioned choices for billing programmes should be disregarded. All of these options are very good, and they come with many useful features.
The above list should serve as a jumping-off point for further research into the various options available to you.
Accounting software has many advantages for small firms, including simplified budgeting and tax planning. On the other hand, every business is different. options.
Frequently Asked Questions
How much does small business accounting software cost?
Software costs anywhere from $0 to $150 per month or more. Basic plans cost between $0 and $40 a month and are a good place to start. cost for Small Business?
Which is the best free billing software?
 Zoho Invoice stands out as a top option among free invoicing software. When customers pay invoices, you'll be responsible for any applicable transaction fees. You may integrate with major payment processors like Authorize.net, Stripe, Braintree, and ACH Payments in Zoho Invoice.
Is QuickBooks good for billing?
In a few easy steps, you can make bills and reports. Make custom invoices with your company's logo, accent colours that match your brand, contact information, and more. Simple Start, Essentials, and Plus are all options.
How much does FreshBooks invoice cost?
If you pay with FreshBooks, debit and credit cards will cost you 2.9% of the total cost of the invoice plus 30 cents. This fee will only be 1% if you do business through bank transfers. If you use a third-party service like PayPal or Stripe, you'll pay the same 2.9% plus 30 cents fee.