Looking for the best Thinkific Alternatives? we have concluded everything that you are looking for In this post.
If you want to run a successful online course, you should find the best LMS for your online business. So, continue reading this article as I have listed down 7 of them.
Thinkific Overview
Thinkific is a platform that has received many positive reviews and can be used to design, market, and sell your own online courses or membership sites.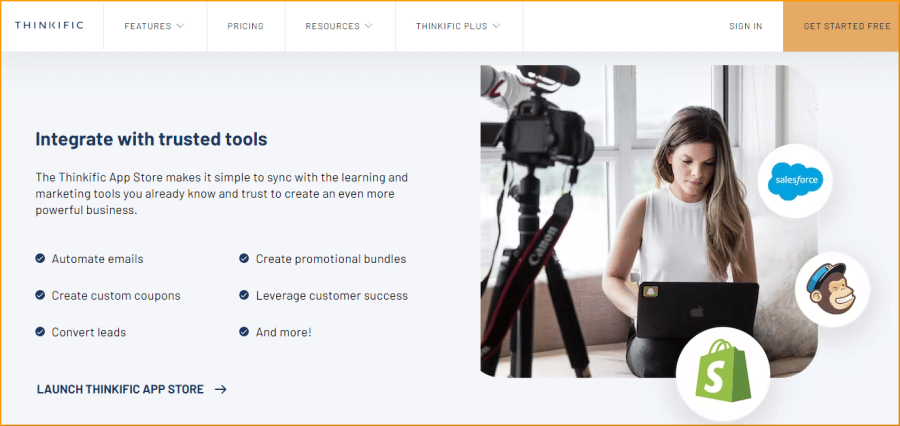 Because it is an all-in-one platform that was developed for course producers as well as their consumers, the platform has brought about a change in the manner in which individuals earn and learn online.
To get a more in-depth analysis of Thinkific, read our article Thinkific reviews.
It's a software platform that gives business owners the ability to design, advertise, and sell their very own online courses as well as deliver them.
You can teach a class on any subject you desire with the help of a platform like Thinkific. Passive revenue can be achieved through the recording of video lessons.
It costs $74/month. You may get started with the process of creating courses by using the fundamental features and tools that you need to establish your first course.
Check out our article Thinkific coupon to get additional discount codes.
What are the Best Thinkific Alternatives?
Let's start with the list.
1. LearnWorlds
First, we have LearnWorlds. LearnWorlds is SCORM-compliant, unlike Thinkific. Not many popular LMS solutions satisfy these criteria.
LearnWorld's platform provides social learning features, white labeling, and sales-oriented pages. Learnworlds is a high-end option.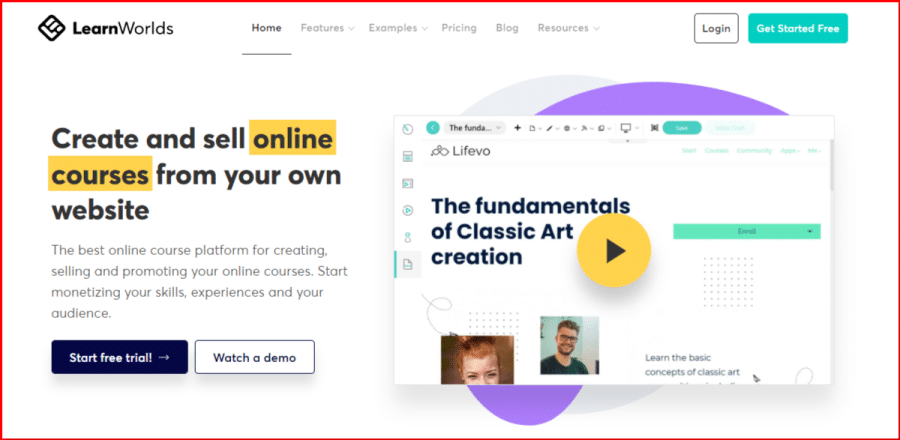 The LMS excels at teaching and eLearning. LearnWorlds offers copyright protection, eBooks, quizzes, and videos. Thinkific lacks these features.
Thinkfic offers course content templates. Thinkific now offers eCommerce capabilities to sell online courses.
LearnWorlds has extensive teaching features. Thinkific is the greatest eCommerce platform for selling online courses.
LearnWorlds Key Features
Assignments
LearnWorld assignments are free-form essays that you can grade. Students can only attach photos or URLs to assignments using this tool; they cannot upload files.
Live Classes
Live classrooms are a fantastic method of making a learning atmosphere that is interesting. Zoom webinars are used to provide live classes in LearnWorlds.
Overall, we found LearnWorlds' live classes functionality to be user-friendly; performing live lessons on other platforms requires some familiarity with basic coding.
Marketing
After creating your courses, you must choose the most effective strategy for marketing them. In addition to a site builder, Learnworlds also provides a sales tracker, coupons, course packages, and affiliate marketing.
Course Delivery
Delivering your course to your students is the next step after designing it. LearnWorlds has tools that can help you organize your course material, conduct live classes, and encourage student participation.
2. Teachable
Searches for Teachable versus Thinkific are popular. Thinkific has additional teaching features than Teachable. It improves classroom interaction.
The e-learning platform integrates student data and pricing. Interesting price from Teachable. It has a 10-student "Free" plan. Each transaction costs $1 + 10%.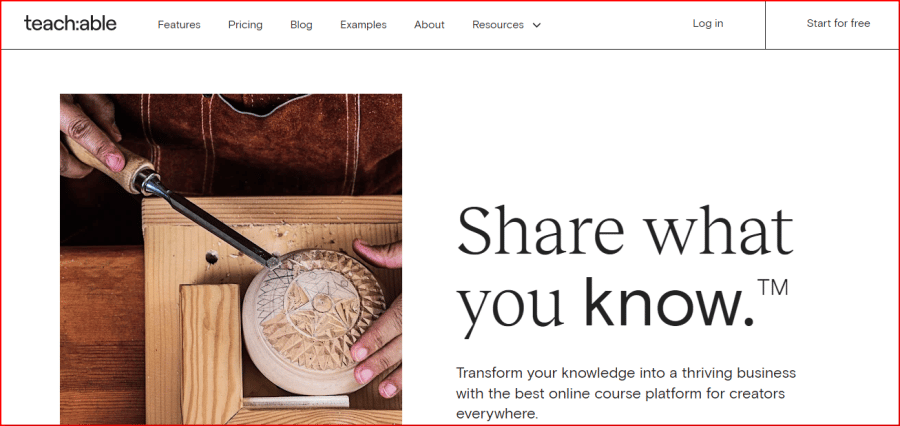 Thinkific and Teachable are both great. Thinkific has additional features, a better free plan, and can package courses with memberships (membership site functionality).
FREE to start and create UNLIMITED online courses. Here, course designers should use Teachable.
If you want to get started with this platform then you can use the Teachable coupon code 2022 to get an extra 10% discount on your pro plan.
Teachable Key Features
Custom Domain
Using Teachable, you may connect to your own domain. A custom domain makes it simple to point to an existing website.
With the power editor, you'll be able to create compelling lectures, coaching sessions, and videos for your students.
Excellent Security
In order to protect your students' personal information, Teachable uses a 2048-bit SSL certificate.
A PCI-compliant payment provider is also used, so your student's personal information will always be safe to share.
In order to keep your data safe and secure, Teachable offers some of the greatest safety and security practices.
24/7 monitoring and rapid upgrades ensure that you don't have to worry about missing out on new features – or worse, risk missing out on them entirely.
Cloud LMS Platform
Teachable is a cloud LMS (learning management system) platform, which makes it stand out.
This implies that you don't have to worry about finding a host for your course because it is a reliable solution.
To top it all off, you don't have to bother about maintaining your own website. The platform handles everything for you.
There is no need to install any software on your computer to get started with this service, either. Everything can be done entirely online.
You can work on your course at any time after signing up for a plan and logging in.
3. Podia
Thinkific's non-traditional opponent is Podia. Not in the usual sense. Podia sells digital downloads.
E-books are a common Podia product. Podia isn't like Thinkific. It is a simple solution. Podia lacks teaching tools compared to Thinkific or Teachable.
Podia's cost may offset the lack of learning tools. It combines 5+ tools into one package. Podia's course creator UX is simpler.
Thinkific is more technical and suitable for larger universities than Podia (see our comparison!).
Podia is an alternative to Thinkific for selling digital downloads, online courses, and subscriptions. Podia's intuitive nature makes it good for beginners.
Podia Key Features
Email Marketing
Selling online courses, memberships, and digital downloads via email is a terrific way to do so. Newsletters, announcements, and special offers can be sent to subscribers by email.
With Podia, you may use all of the platform's tools to build your email list.
Course Builder
With Podia's Course Builder, you can easily upload and organize all of your course materials.
For students to study on their own time and at their own speed, you can construct courses with several modules and lessons.
Digital products
Podia not only has a robust membership feature, but it also lets you sell digital downloads.
All file kinds are supported, so you may publish your course in any way your employer permits.
Membership Site
Recurring money can be generated through membership sites.
Using Podia, you can build a membership site that allows your members access to special information and resources that they can use at their convenience.
Configuring your membership entails giving your plan a name, writing an introductory description, uploading relevant photographs, and setting a price.
Specifying which items buyers may access, as well as indicating whether or not the plan is
4. Canvas LMS
Canvas LMS is a web-based application that runs in the cloud.
Canvas LMS is mainly beneficial to major corporations and educational institutions. However, its SCORM compliance is the reason why it's on our list.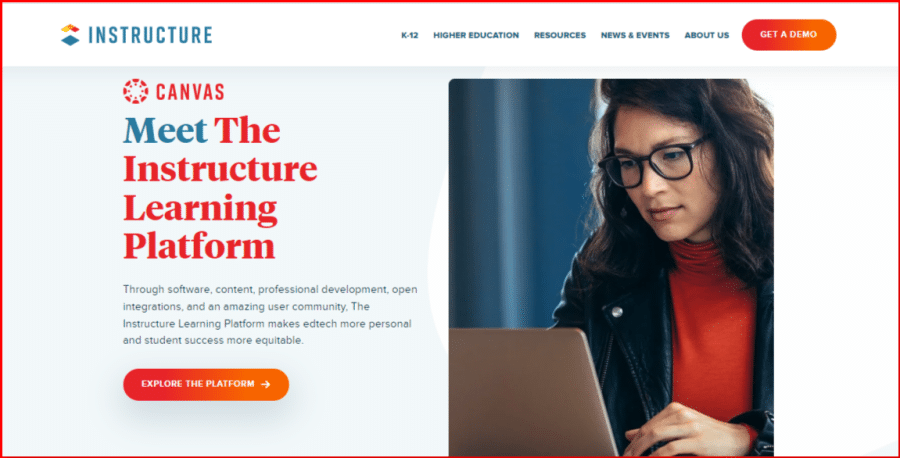 Thinkific is a better option than Canvas if you want to develop an online course quickly and cheaply. When it comes to building an eLearning course, Canvas is the only option.
For educational institutions, its teaching features are superior to Thinkific's.
Additionally, Canvas LMS gives a 99.9% uptime guarantee and the ability to import course materials and grade assignments (Service Level Agreement).
Canvas LMS Key Feature
Course Analytics
Through reports and insights on how students engage with the course materials, you can raise student engagement and learning.
To make learning more adapted to the needs of the pupils, observe and make quick adjustments.
Determine which features students prefer to use and encourage their involvement and ownership of the process.
Third-Party App Integration
Modules and lessons can easily incorporate information and content from third-party apps and curriculum vendors.
Nearpod, Google Assignments, Discovery Education, and over 6000 more well-known applications contribute to increased student engagement and deeper learning.
Multiple Media Communication
Live audio, video, and chat features improve student engagement and lesson delivery.
For later evaluation by students, you can incorporate recorded audio and video into lesson plans.
Easily exchange information with classmates and teachers within a course or over a network using email, public announcements, or assignment feedback.
5. Kajabi
As the name suggests, the Kajabi app is a "one-stop-shop for small businesses". You can see that Thinkific's tools for sales and marketing don't compare to Kajabi's.
One of Kajabi's features is a sales pipeline tool that helps marketers improve their marketing campaigns' conversion rates.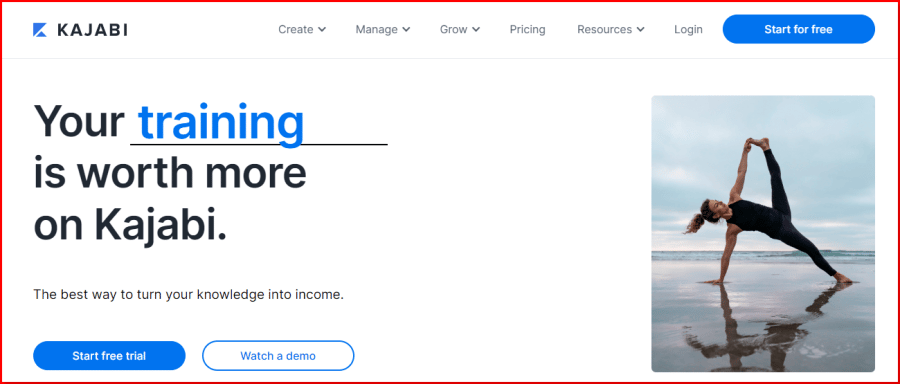 Additionally, Kajabi's marketing suite, email, and sales automation make it easier to design profitable funnels.
With regard to online education, Kajabi is a pricey choice. However, if you're an accomplished marketer wanting to market and sell your online courses on a large scale, it's worth the money.
If you're just getting started with online course production, Thinkific is a superior choice. Thinkific is a better platform for teaching online courses in general.
It has some of the best features for the classroom.
Kajabi Key Features
An essential feature these days is the ability to quickly and easily build a blog. When it comes to blogging, Kajabi has a wide range of options.
If you're looking for a blogging platform that's easy to use, this is it.
Unlimited Hosting
There is no limit to the amount of data you can store or transfer with any of our plans.
Your site can handle as many users, pages, and video and document storage as you like without limiting your storage capacity.
Even better, Kajabi makes advantage of its sophisticated auto-scaling feature to maximize performance in accordance with the volume of web traffic received.
Custom Domains
An individual top-level domain name is assigned to each Kajabi website. When someone visits your website, they will see this name in the address bar.
It is easier to direct people to your goods store when you have a personalized domain name.
Customer Support
You can import SSL certificates for site security through the 24/7 IT customer service and customer support staff and live chat available here.
Those who choose the Growth or above plans will have access to customer service at any time of day or night, including holidays.
Email Marketing
Email tools allow you to build up automatic email broadcasts, and automated email sequences for pipeline pages, and manage your email and contact lists from the dashboard.
You can send emails based on preset triggers, one-time broadcasts, or recurrent broadcasts.
You can, for example, set up an automatic to send out an email whenever a consumer makes a purchase. The automation's flexibility provides a plethora of opportunities for email marketing.
6. LearnDash
It's possible that some people interested in developing online courses already have a website built with WordPress.
Increasing the overall appeal of LearnDash as an alternative to using Thinkfic.
LearnDash is a plug-in for the WordPress platform. It will take your existing website and add features similar to that of an LMS to it.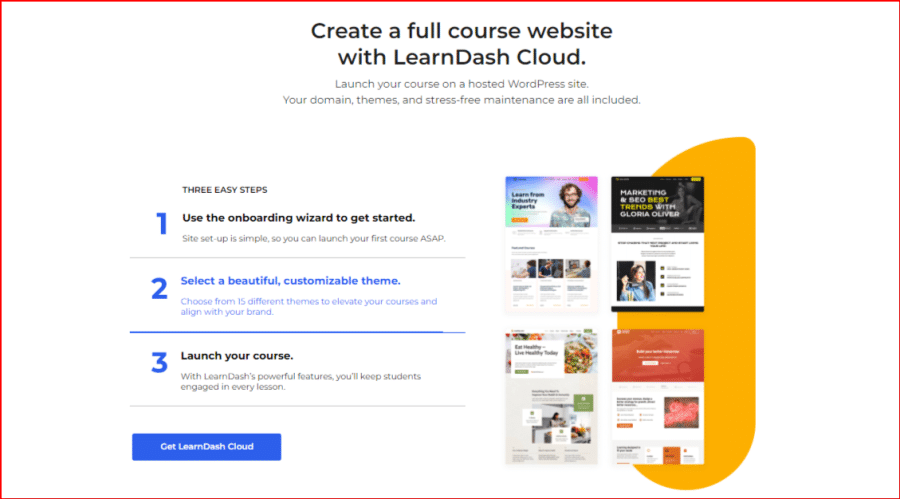 LearnDash rivals such as Thinkific offer an advantage over LearnDash in that they allow users to publish videos on their platforms.
If video loading times are too slow, then the e-learning experience provided by LearnDash will be impaired. When utilizing LearnDash, you will also need to use third-party platforms in order to obtain web hosting and file hosting.
If you want access to reporting and analytics with LearnDash, you will, once again, need to interface with a third-party tool such as Hubspot's Sales Hub.
LearnDash does not provide this functionality on its own.
In general, Thinkific is the superior choice, provided that you are not interested in teaching an online course by means of an already-established website.
Key Features of LearnDash
Ease of Use
No one wants to deal with complicated time-tracking procedures that are difficult for the user to understand. Why would anyone choose a time-consuming, difficult-to-understand LMS?
Users can construct courses for their students with LearnDash's elegant and easy-to-use dashboard.
Integration with third-party platforms is facilitated by numerous tools and functionalities.
Course Quizzes
Quizzes are an excellent approach to reinforcing e-learning even if they aren't in LearnDash. A user is forced to rethink everything they learned in their LearnDash course as a result of these tools.
While they can be placed wherever you choose, we recommend that you do it right before a user begins their first LearnDash course.
Focus Mode
The implementation of a concentrated mode is one of the most notable aspects of the LearnDash LMS plugin.
It's possible that when a LearnDash user is interacting with your courses, they want to block out the rest of the world.
LearnDash's concentrate mode makes this possible, resulting in an enhanced overall experience and significantly increased productivity.
LearnDash LMS is one of the top LMS plugins because of its various features.
Drag-and-Drop Interface
LMS plugins with difficult user interfaces should be avoided by newcomers and non-technical users alike. With this in mind, LearnDash provides a drag-and-drop page builder for its users.
Adding new lessons, quizzes, themes, and sections is as easy as dragging and dropping them into the LearnDash course builder.
If you want to perfect your page's structure, you can stay on the same page and play around with the elements.
7. Udemy
In the sense that Udemy is an online course marketplace, Thinkific is better contrasted rather than compared to Udemy.
Thinkific, on the other hand, is primarily an online course creator. Both Thinkific and Udemy have their benefits and drawbacks.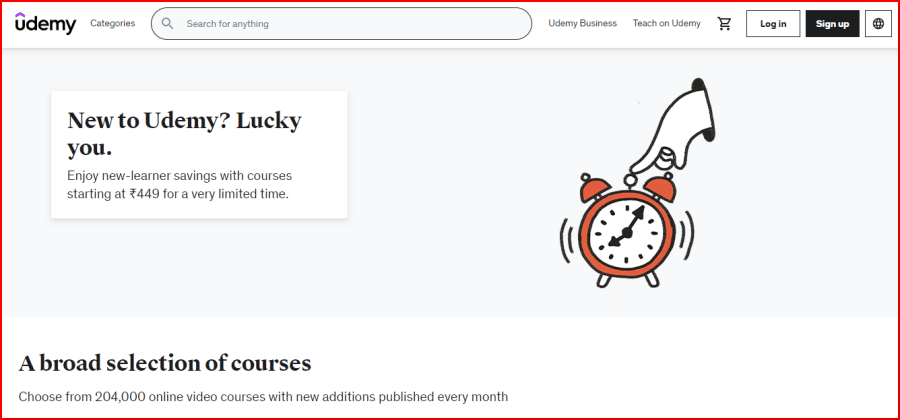 For developing a branded, scalable online course experience, Thinkific is unquestionably the best option.
Especially when online courses and memberships are combined. But, most crucially, Thinkific has superior teaching capabilities and can set up a classroom environment.
Due to the nature of its product, this is not possible with Udemy.
Udemy, on the other hand, is a very popular online course marketplace. It will drive visitors to your site while also allowing you to manage and host your courses at a low cost.
As a result, Udemy may be an excellent fit for some course creators who lack an audience or the competence to effectively express their service.
Udemy Key Features
Set up a Course
Udemy will ask you to fill out a short questionnaire after you click on Teach on Udemy.
Your teaching experience will be assessed, and the appropriate tools and resources will be provided to help you learn faster.
It also helps you design the greatest course possible in a short period of time. Learn how to create an engaging course, get started with video, and grow your audience.
Udemy App
The Udemy mobile app simplifies the process of learning. Videos and audio play seamlessly and without pauses, as you switch between courses in the app.
Using the web version of Udemy isn't bad, but I prefer the app version.
Udemy may be accessed through a web browser, but the app is far more convenient.
Both iOS and Android users can take advantage of the Udemy app. You may also use Chromecast and Airplay to watch courses on a larger screen or download them to watch them offline.
Certification
Certificates are given to students who successfully finish courses on Udemy.
If you want to show your friends and family how proud you are of your accomplishment, this is a good way to do it.
No one can verify the quality of the courses you have taken on Udemy because the professors are not required to be qualified professionals.
As far as professional certifications are concerned, Coursera is a far superior option.
8. Mighty Networks
Mighty Networks is mainly focused on communities and makes the most sense if you are marketing a membership site or subscription services as opposed to developing course material and selling online courses.
Mighty Networks was established in 2017 to cater to the rapidly expanding "creative economy."
The company's primary objective is to foster the growth of a prosperous "creator middle class," which is defined as creators who earn more than $30,000 annually via digital subscriptions and payments.
The marketing effort and the aspects of the course delivery come in second. It is a Facebook group that isn't actually on Facebook, which prevents users from becoming distracted by notifications from other groups.
Mighty Networks Key Features
Drip Schedule
Drip schedules are used by instructors to release specific sections of the course materials at specific times. Drip schedules make sure that your students don't rush through the information in your course just to get it over with.
You can pick between two methods of content dripping with Mighty Networks. The first approach enables you to make information available a certain number of days after a student enrolls in your course.
With the second approach, you can only release new material when a student has completed the prior lesson or segment.
Course Builder
When it comes to platforms for the construction of courses, the course builder is one of the most crucial elements.
The course builder that is provided by Mighty Networks is straightforward, but it does provide you with the ability to personalize the visual appearance of your courses.
We put it slightly higher than Podia's course builder, but we placed it lower than Teachable and Thinkific's.
Affiliate Management
Mighty Networks lacks an affiliate marketing tool. The "ambassadors" program is similar. This tool lets you reward members who've introduced new students. You can't pay for referrals.
Ambassadors receive bronze, silver, or gold status. You can provide course discounts, mugs, and tote bags as rewards.
This feature demands you to employ intrinsic reasons, not monetary ones, to encourage your members to recruit pupils.
Sales Tracker
You can monitor the sales of your courses and other items using Mighty Networks.
This data enables you to keep track of how your courses are doing and make the necessary adjustments to boost sales.
Sales trackers and income data provided by Mighty Networks are less thorough than those offered by other platforms.
9. FreshLearn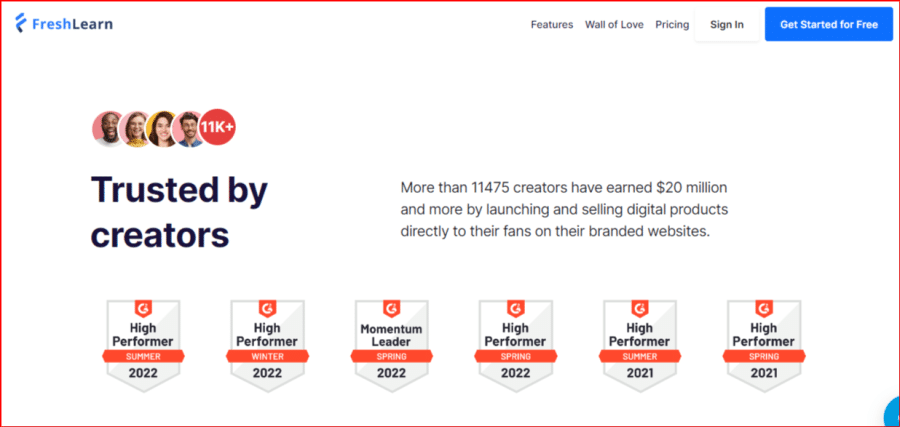 FreshLearn is a platform for the commercialization of knowledge that enables course developers to produce, market, and sell their products.
A few of the features include referrals, mass member enrollment, and customizable email communications.
It is a platform that does not require you to write any code, and it makes it simple for you to construct, market, and sell digital products on your own branded website.
Create and market your own online courses with the assistance of FreshLearn, an all-in-one platform that provides a course builder.
Additionally, it provides capabilities for measuring the progress of learners, handling payments and coupons, constructing individualized communities, and a great deal more.
In a nutshell, it is an all-in-one solution that provides everything you require to create and market online courses.
FreshLearn Key features
Drag and Drop Editor
FreshLearn is a complete course creator platform that makes it simple to create visually appealing and interactive online learning experiences for your students.
You can rapidly add new pieces to your course and rearrange existing ones using their drag-and-drop editor, which allows you to construct a game that looks and feels just the way you want it to.
In addition, their platform is loaded with potent features that will assist you in elevating the quality of your courses to a higher level.
No Coding Skill Needed
FreshLearn makes it easy for anyone to create and sell online courses.
With Its easy-to-use drag-and-drop editor, you can create beautiful courses without any coding experience.
Plus, they provide all the tools you need to market your courses and increase sales.
So, if you're looking for an easy-to-use platform that can help you create and sell online courses, FreshLearn is a great option
Sell Online Courses
If you have been looking for a way to sell online courses and digital products, FreshLearn is the best choice.
Its platform for building courses is so easy to use that you can start making courses, getting them up and running, and getting paid right away.
Plus, their market research tools will help you reach your target audience with ads for your courses and digital products.
Payment option
Developing and marketing your own online courses has never been simpler than it is with FreshLearn.
You have the ability to set up several payment choices, such as recurring payments or a one-time payment for your course, as well as modify the design and feel of your website to correspond with your company's identity.
In addition, the built-in marketing tactics will assist you in promoting your courses and reaching the people you want to learn from them.
10. Coursera
Coursera is an online marketplace. It's a Massive Open Online Course, in fact (MOOC). It is equivalent to Udemy in that way.
Coursera courses, however, frequently have higher certification levels. Or, at the very least, offer degrees, specialties, and professional courses that are more widely acknowledged. The platform works in partnership with more than 200 organizations and companies.
On Udemy, you may still find programs that satisfy these standards. Perhaps the simplest way to explain Coursera is as a more formal, traditional educational setting.
Coursera lacks the Thinkific teachers' and developers' flexibility in design. Despite said that, Coursera helps to mitigate some of the challenges that come with running an online course.
Search engine optimization is a prime illustration. Your website will receive traffic thanks to Coursera. SEO is therefore not a problem.
Coursera key features
On Coursera, you may find many endearing details. However, I will simply touch on the most important features here.
Graded Assignments with Peer Feedback.
This Course Plus the Full Specialization.
Shareable Certificates.
Self-Paced Learning Option.
Course Videos & Readings.
Graded Quizzes with Feedback.
Graded Programming Assignments.
Practice Quizzes.
Final Thoughts
I hope this article helped you find the best alternative to Thinkific.
But if you want to offer digital goods and membership sites in addition to online courses, Podia is unquestionably the way to go.
Both of the aforementioned systems offer limitless access to courses, hosting, and bandwidth. Both also integrate with Zapier.
You may quizzes, upsells, and coupons, as well as drip, feed the content.
You might want to choose LearnDash if you want more customization possibilities and marketing freedom because it integrates so well with other well-known WordPress plugins.
The drawback is that in order to host your films securely, you might need to subscribe to Wistia or Vimeo.
Frequently Asked Questions
Is Thinkific Better Than Teachable?
Yes, when it comes to Thinkific versus Teachable, I believe Thinkific is the winner. Teachable, on the other hand, is still a good alternative for creating and managing online courses. Regardless, it will never have the market share. Read our complete list of Teachable alternatives.
What is Kajabi Used For?
Kajabi is an eLearning platform that allows you to build and deliver online courses. One of the most appealing features of Kajabi is its adaptability. It may be used for A/B testing, gamification (which can make learning more enjoyable), sales funnel creation, and much more. If you want to build and market your courses on a large scale, it's definitely worth using.
Are There Opportunities to Generate Revenue Using Teachable?
The teachable course can produce money. However, it's not ideal. Competitors' interactive classroom features can't teach teachable courses. Teachable may make less money in the long run than Thinkific due to brand equity and market orientation. Especially if you're in a competitive vertical where functionality could make your course better than a competitor's.
Which is best, Kajabi or Thinkific?
In order to build online courses, Thinkific is an excellent tool for professors. Furthermore, it helps with corporate training, an area where Thinkific is lacking.
Kajabi, on the other hand, is superior to Thinkific in terms of both functionality and usability. Kajabi, on the other hand, is more expensive than Thinkific. Thinkific is the best choice if cost is a consideration.
Does Thinkific provide API?
Yes, API access is available through Thinkific.