Looking for the best Thinkific Alternatives? Read on.
If you want to run a successful online course, you should find the best LMS for your online business. So, continue reading this article as I have listed down 7 of them.
What are the Best Thinkific Alternatives?
Let's start with the list.
LearnWorlds
First, we have LearnWorlds. LearnWorlds is SCORM-compliant, unlike Thinkific. Not many popular LMS solutions (Thinkific vs. Ruzuku vs. Podia vs. Teachable) satisfy these criteria.
LearnWorld's platform provides social learning features, white labeling, and sales-oriented pages. Learnworlds is a high-end option.
The LMS excels at teaching and eLearning. LearnWorlds offers copyright protection, eBooks, quizzes, and videos. Thinkifici lacks these features.
Thinkfic offers course content templates. Thinkific now offers eCommerce capabilities to sell online courses.
LearnWorlds has extensive teaching features. Thinkific is the greatest eCommerce platform for selling online courses.
2. Teachable
Searches for Teachable versus Thinkific are popular. Thinkific has additional teaching features than Teachable. It improves classroom interaction.
The e-learning platform integrates student data and pricing. Interesting price from Teachable. It has a 10-student "Free" plan. Each transaction costs $1 + 10%.
Thinkific and Teachable are both great. Thinkific has additional features, a better free plan, and can package courses with memberships (membership site functionality).
FREE to start and create UNLIMITED online courses. Here, course designers should use Teachable.
3. Podia
Thinkific's non-traditional opponent is Podia. Not in the usual sense. Podia sells digital downloads.
E-books are a common Podia product. Podia isn't like Thinkific. It is a simple solution. Podia lacks teaching tools compared to Thinkific or Teachable.
Podia's cost may offset the lack of learning tools. It combines 5+ tools into one package. Podia's course creator UX is simpler. Thinkific is more technical and suitable for larger universities than Podia (see our comparison!).
Podia is an alternative to Thinkific for selling digital downloads, online courses, and subscriptions. Podia's intuitive nature makes it good for beginners.
4. Canvas LMS
Canvas LMS is a web-based application that runs in the cloud. Canvas LMS is mainly beneficial to major corporations and educational institutions. However, its SCORM compliance is the reason why it's on our list.
Thinkific is a better option than Canvas if you want to develop an online course quickly and cheaply. When it comes to building an eLearning course, Canvas is the only option.
For educational institutions, its teaching features are superior to Thinkific's. Additionally, Canvas LMS gives a 99.9% uptime guarantee and the ability to import course materials and grade assignments (Service Level Agreement).
5. Kajabi
As the name suggests, the Kajabi app is a "one-stop-shop for small businesses". You can see that Thinkific's tools for sales and marketing don't compare to Kajabi's.
One of Kajabi's features is a sales pipeline tool that helps marketers improve their marketing campaigns' conversion rates. Additionally, Kajabi's marketing suite, email, and sales automation make it easier to design profitable funnels.
With regards to online education, Kajabi is a pricey choice. However, if you're an accomplished marketer wanting to market and sell your online courses on a large scale, it's worth the money.
If you're just getting started with online course production, Thinkific is a superior choice. Thinkific is a better platform for teaching online courses in general. It has some of the best features for the classroom.
6. LearnDash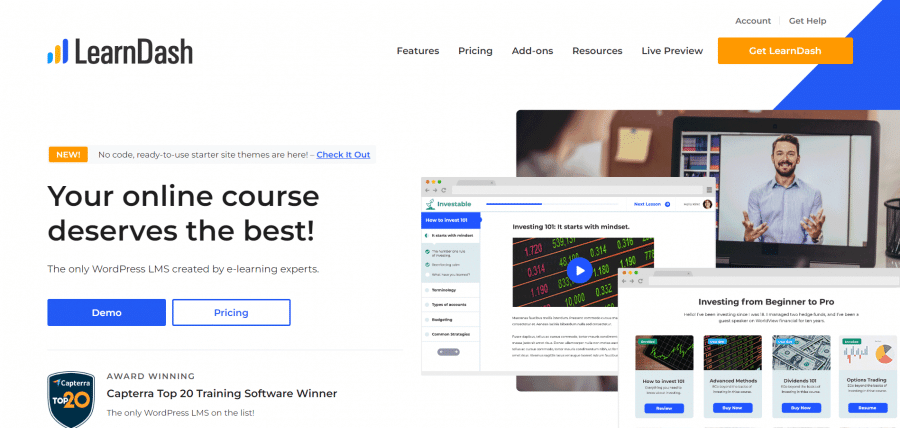 It's possible that some people interested in developing online courses already have a website built with WordPress. Increasing the overall appeal of LearnDash as an alternative to using Thinkfic.
LearnDash is a plug-in for the WordPress platform. It will take your existing website and add features similar to that of an LMS to it. LearnDash rivals such as Thinkific offer an advantage over LearnDash in that they allow users to publish videos on their platforms.
If video loading times are too slow, then the e-learning experience provided by LearnDash will be impaired. When utilizing LearnDash, you will also need to use third-party platforms in order to obtain web hosting and file hosting.
If you want access to reporting and analytics with LearnDash, you will, once again, need to interface with a third-party tool such as Hubspot's Sales Hub. LearnDash does not provide this functionality on its own.
In general, Thinkific is the superior choice, provided that you are not interested in teaching an online course by means of an already established website.
7. Udemy
In the sense that Udemy is an online course marketplace, Thinkific is better contrasted rather than compared to Udemy. Thinkific, on the other hand, is primarily an online course creator. Both Thinkific and Udemy have their benefits and drawbacks.
For developing a branded, scalable online course experience, Thinkific is unquestionably the best option.
Especially when online courses and memberships are combined. But, most crucially, Thinkific has superior teaching capabilities and can set up a classroom environment. Due to the nature of its product, this is not possible with Udemy.
Udemy, on the other hand, is a very popular online course marketplace. It will drive visitors to your site while also allowing you to manage and host your courses at a low cost. As a result, Udemy may be an excellent fit for some course creators who lack an audience or the competence to effectively express their service.
Final Thoughts
I hope this article helped you find the best alternative to Thinkific. Let me know in the comments which LMS platform are you using or planning to use.
Frequently Asked Questions
What is Thinkific?
Thinkific is a learning management system that allows people to share their expertise by creating online courses. Thinkific, of course, provides the eLearning and collaboration tools to make this process go more smoothly.
Is Thinkific Better Than Teachable?
Yes, when it comes to Thinkific versus Teachable, I believe Thinkific is the winner. Teachable, on the other hand, is still a good alternative for creating and managing online courses. Regardless, it will never have the market share. Read our complete list of Teachable alternatives.
Can You Make Money with Teachable?
Yes, you can earn money by using Teachable to create an online course. However, it isn't the most appropriate medium for this. The interactive classroom capabilities of rivals, for example, can't be used to teach teachable courses. Teachable has a lower brand equity and market orientation than Thinkific, therefore you may wind up making less money in the long run. There are times when the ability to give an improved course than your competition is all that separates you from the pack, especially in an industry where functionality is critical.
What is Kajabi Used For?
Kajabi is an eLearning platform that allows you to build and deliver online courses. One of the most appealing features of Kajabi is its adaptability. It may be used for A/B testing, gamification (which can make learning more enjoyable), sales funnel creation, and much more. If you want to build and market your courses at a large scale, it's definitely worth using.