Most likely, you've contemplated whether or not the Thinkific learning management system is right for you at some point.
Before deciding on a Thinkific pricing plan, I recommend that you conduct a thorough analysis.
Because if you don't, you run the risk of overspending or overlooking aspects that are essential to the success of your online courses.
After all, switching your courses and students to another platform after only a few months is the last thing you want to do.
In the first place, this would cause all of your links to be broken, which is bad for search engine optimization.
Furthermore, neither your students nor yourself would be pleased with such a scenario. Avoiding it at all costs is what you should do.
Thinkific Pricing Overview
As a Thinkific user, you can offer online live classes, design courses, administer an online membership site, and advertise courses all from the same platform.
As you sell online courses, you can rely on exceptional customer service to help you out. Thinkific has all the sales and marketing resources you'll need to run a successful online education business.
Thinkific has a number of different pricing tiers. Mainly Thinkific has four pricing plans. It offers a wide range of ways for you to begin selling online courses or running an online membership site.
As a result of Thinkific's pricing methodology, a yearly subscription saves you 20% off the monthly rate.
Here is the list of Thinkific pricing plans: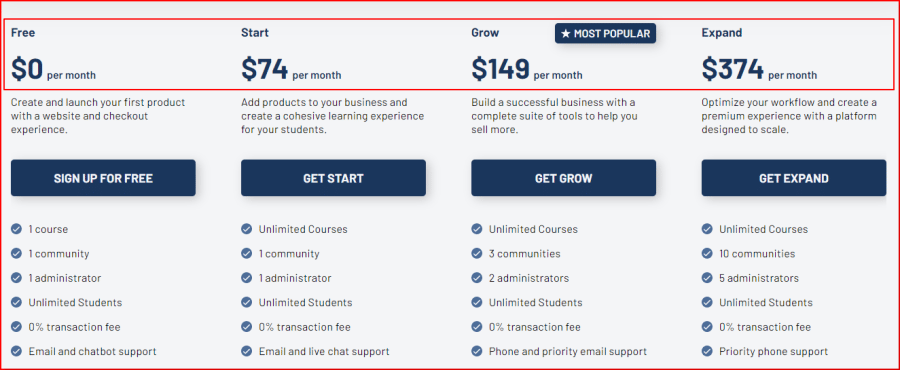 1. Free Plan
The Free plan offers only the most basic course-creation options. It is, therefore, possible to host your information, organize it as a course and deliver it professionally.
However, it lacks capabilities like content dripping, certifications, and content locking.
In the same way, except for payment processing, there are no sales and marketing tools available in the Free plan. You can't, for example, establish coupons, affiliate programs, or use any Thinkific applications.
Top features of Thinkific premier plan::
Limited courses and unlimited students.
1 site admin account.
Easy drag and drop Course Builder.
Easy-to-use website templates.
Full e-commerce.
Email and phone support.
2. Start Plan
It's possible to host your whole eLearning platform on a thinkific subdomain with the Start plan, It costs $74 per month (if you are billed yearly) and allows you to utilize your own domain name.
In addition, you'll have access to their coupons and affiliate program.
If you're on a tight budget or don't use these capabilities, Thinkific's Basic Plan is an excellent option.
Nevertheless, if you're serious about marketing automation, such as subscriptions and memberships, you'll find the Basic Plan inadequate.
Top features of Thinkific Basic plan:
Unlimited courses, students, and content.
1 site admin account.
Includes all Free features.
Coupons & Promotions.
Live Chat support.
Thinkific Academy Basic Courses.
Custom domain.
Drip content.
One-to-One Student Email.
3. Grow Plan
Thinkific's Grow Plan is the most popular paid option because it includes all the essential features as well as an unlimited number of classes and users.
The Thinkific Growth Package, available to Grow Plan subscribers, gives you access to even more functionality.
If you don't need them, you can just pay the $149 monthly charge for the normal Grow Plan(if you are billed yearly).
Top features of Thinkific grow plan:
Unlimited courses, students, and content.
2 site admin accounts.
Priority Support.
Private & hidden courses.
Live lessons.
Subscription & Flexible Pricing.
Single Communities.
Completion Certificates.
Advanced Course Building.
Thinkific Academy Pro Courses.
4. Expand Plan
If you are on the Expand Plan, you have the option to upgrade to the Thinkific Growth Package, which grants access to an even greater number of features.
If you find that you do not require them, then you will only be required to pay a $374 monthly charge for the Expand Plan(if you are billed yearly).
If you run a large company that has more business-oriented requirements, the Expand Plan from Thinkific is an excellent choice for you.
If you are looking for a discount on the Thinkific Expand plan, check out the Thinkific Coupon. You will get exclusive discount codes.
The price tag is extremely costly only to gain some capabilities that are given for much less on competing platforms, making it difficult for sole proprietors to justify the purchase.
Top features of Thinkific Expand plan:
Unlimited courses, students, and content
5 site admin accounts
Includes all Free, Basic, and Pro features
15 Group Analysts
Groups
API Access
Onboarding package
Unlimited Communities
Brillium exams integration
White labeling
| | | |
| --- | --- | --- |
| Plans | Yearly Pricing | Monthly Pricing |
| Free Plan | – | – |
| Start Plan | $74/month | $99/month |
| Grow Plan | $149/month | $199/month |
| Expand Plan | $374/month | $499/month |
Who Needs Thinkific Grow Plan?
Creators choose Thinkific's $99/month Pro package. It's popular since it has most things a "typical" creator needs.
First, you get essential membership site features like subscription pricing and bundling.
Many course developers need the Grow plan's community, credentials, content locking, assignments, randomized question banks, live lessons via Zoom, etc.
With the Gro plan, you can edit the website's HTML/CSS. Custom themes on the Grow Plan allow you to modify your website's look and feel beyond what basic themes and the page builder provide.
You can add two site admins and up to five course admins to share Thinkific account access with team members.
The Grow plan is a good bargain for most solo creators. 30-day free trial available.
Thinkific Plus Plan
With the help of the premium tool Thinkific Plus, you may create your course precisely how you want it, which will help you establish your brand.
Infinite students, courses, and affiliate marketing tools are also offered. You must get in touch with Thinkific's support staff in order to sign up for this plan.
Advantages & Disadvantages Of Thinkific Plus Plan
Advantages Of the Thinkific Plus plan
Single Sign-On.
There are no restrictions placed on the number of classes, individuals enrolled in those classes, administrators, or business partners.
Innovative and Enhanced Safety Measures
Manager Dedicated to the Success of the Customers (SSO).
Access to the APIs of the enterprise.
Disadvantages Of the Thinkific Plus Plan
Much more pricey than its competitors.
the free plan offered by Thinkific
Aside from handling payments, the Thinkific Free plan lacks any genuine sales and marketing features.
You won't be able to do things like use Thinkific apps, make a new affiliate program, or make a coupon.
The Free plan is perfect for those who are curious about taking an online course but don't want to commit just yet.
It is also useful if you are still in the process of creating your course and need to familiarise yourself with the online learning management system.
However, the Free plan is not a good fit if you want to establish a thriving online course business. You need to switch to a premium subscription immediately.
Thinkific Pros & Cons
Thinkific can host online courses on your personalised domain.

Thinkific's voice feature adds voiceovers to PowerPoint presentations.

Websites and course pages can be simply customised.

Thinkific doesn't charge transaction fees for course payments.

Online classes can include a variety of resources.

If you're a coder, Thinkific lets you alter the theme's HTML and CSS.

Premium packages let you develop infinite online courses and host unlimited students.

Thinkific's course creation is expensive for beginners.
Thinkific Overview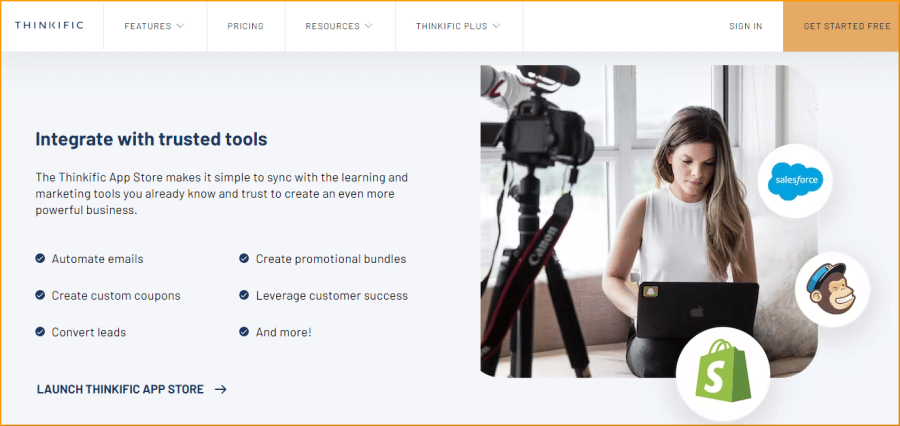 Thinkific is a tech company with a platform that lets people and businesses make online courses.
People and organizations can use the Thinkific platform to build online courses from their current expertise and then deliver or sell those courses to their users from their website under their own brand.
Create, advertise, and sell your own online courses and membership sites using Thinkific, a highly-rated platform.
Through the development of an all-in-one platform for both course authors and their viewers, the platform has completely transformed the way people earn and learn online.
If you need to know more about Thinkific, read our article Thinkific review.
Key Features of Thinkific
In the event that you're looking for a platform that allows you to complete everything in one location with ease, Thinkific is for you.
Thinkific offers a comprehensive set of tools for selling and creating online courses, as well as solutions to help students get the most out of their educational experience.
Thinkific's most important features are listed below.
1. Content Support
In order to keep your students' attention and accommodate their various learning styles, the finest online courses provide a wide range of content.
Thinkific also supports third-party content tools like Typeform and Google Docs as well as voice-over slide presentations, surveys, quizzes, and downloadable attachments.
2. Video and Content Hosting
Thinkific's video hosting services make it simple to publish, share and live-stream your videos. It's also possible to host material on Thinkific.
You don't have to worry about external hosting because of this feature. You save time and money by avoiding the requirement for external hosting, which means you can conduct your course more effectively.
3. Course Creation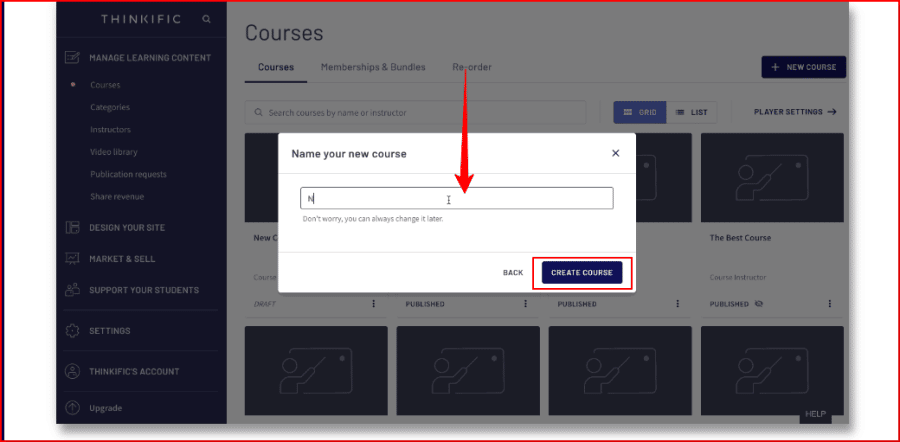 Thinkific's design is exceptionally user-friendly. Building and customizing your course website does not necessitate technical or coding expertise.
Thinkific accomplishes this by including drag-and-drop functionality, extensive multimedia capabilities, and third-party integration into its applications.
These features make it simple for anyone, regardless of their level of web design skill, to develop their own online course.
4. Content Ownership
If you place high importance on the privacy and safety of your data, you will be pleased to learn that Thinkific grants you full control of both the content you create and the data collected from your students.
Additionally, Thinkific has options that enable you to export this data to your computer or to databases that you maintain.
5. Unlimited Courses
Thinkific gives you an unlimited amount of space for developing your online courses. You are able to produce and deliver an endless number of courses with little effort.
Thinkific Pricing Comparision with Other Competitors
Thinkific vs Kajabi
Mainly Thinkific has four pricing plans.
You may test it out for free on the Thinkific free plan to see whether it's right for you. The monthly fees for the Thinkific start plan are $74, the Grow plan is $149, and the Expand plan is $374.
Kajabi has four pricing plans.

1. Build mode: $0
2. Basic plan: $119
3. Growth plan: $159
4. Pro Plan: $319
Thinkific vs Teachable
Mainly Thinkific has four pricing plans.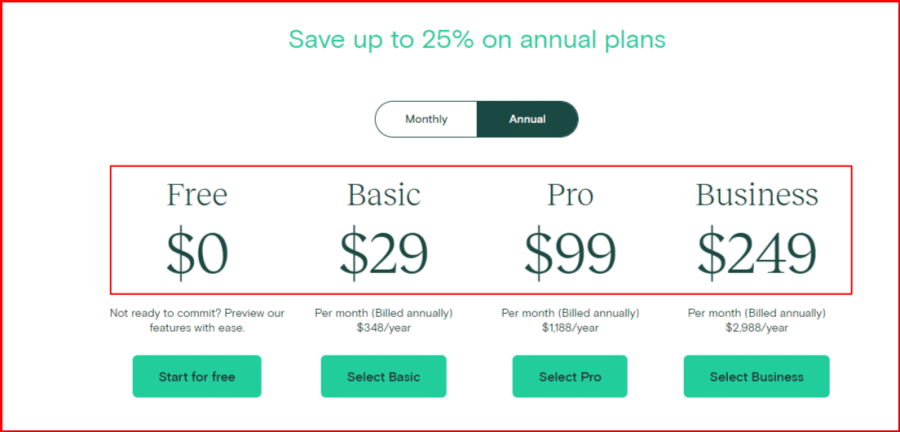 On Thinkific free plan, you can try it free and get an experience whether it is good for you or not. The Thinkific Start plan costs $74/month, the Grow plan costs $149/month, and, the Expand plan costs $374.
A more well-cloud LMS software with a very comparable pricing structure is Teachable.
The Basic plan at Teachable costs $39 per month, the Pro plan costs $119 per month, and the Business plan costs $299 per month.
Another learning management system to contrast with Thinkific is Kajabi. A Basic plan costs $149 per month, a Growth plan costs $199 per month, and a Pro plan costs $399 per month.
When compared to the Thinkific Gro plan including the Growth add-on, which costs $149 per month for unlimited members and courses.
These two platforms each have various features. Before making a choice, it definitely pays to consider the characteristics you need or anticipate needing.
Thinkific vs LearnWorlds
Thinkific has four pricing plans.
You may test it out for free on the Thinkific free plan to see whether it's right for you. The monthly fees for the Thinkific Basic plan are $39, the Pro plan is $79, and the Premier plan is $399.
All of this is included in LearnWorld's advanced plans, which start at $99 per month. You can make interactive movies and have video transcripts produced automatically with the $299/month plan.
Thinkific Social Media Platforms
In this section, we will provide you with information regarding the various social media sites on which Thinkific is active.
Facebook
Thinkific shares and posts ideas about how to market and sell online courses. It has 33,785 people who like it on its Facebook page.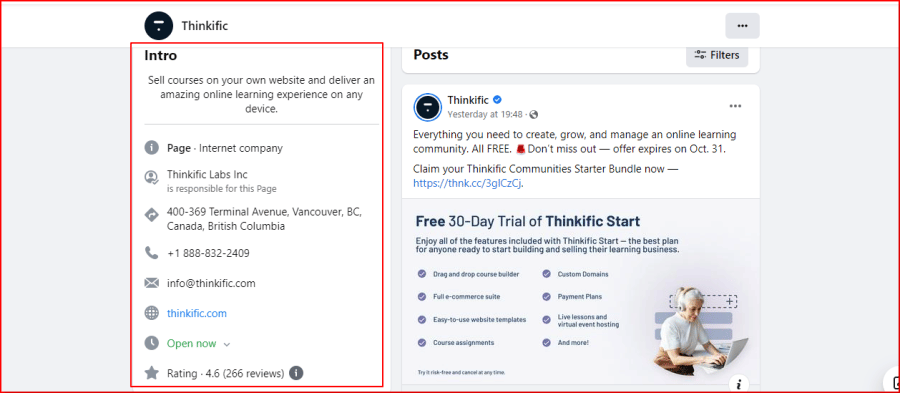 Twitter
On its Twitter profile, Thinkific displays 15.2k tweets and 11.2k followers. They tweet how simple it is to set up a market and make money off of selling online courses.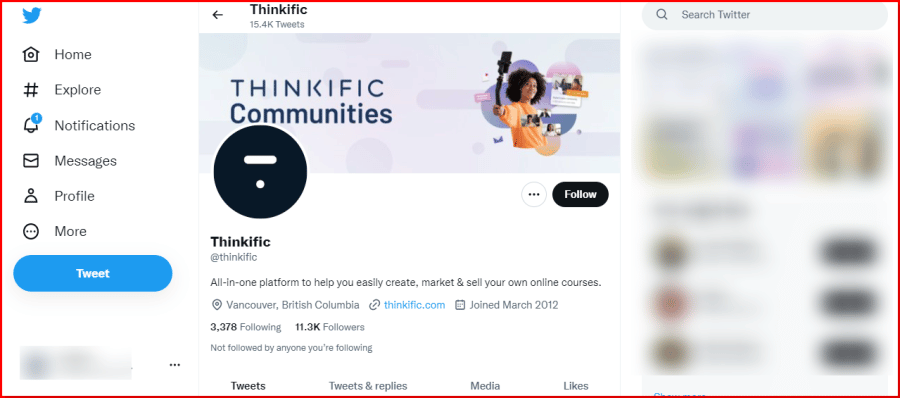 Linkedin
There are currently 32617 people following Thinkific's Linkedin profile. It discusses how to start a business selling online classes.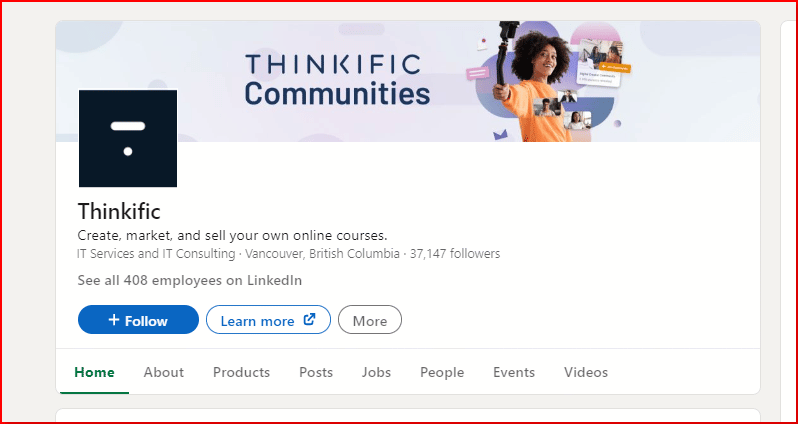 Thinkific customer reviews and testimonials
Here is what users say about Thinkific: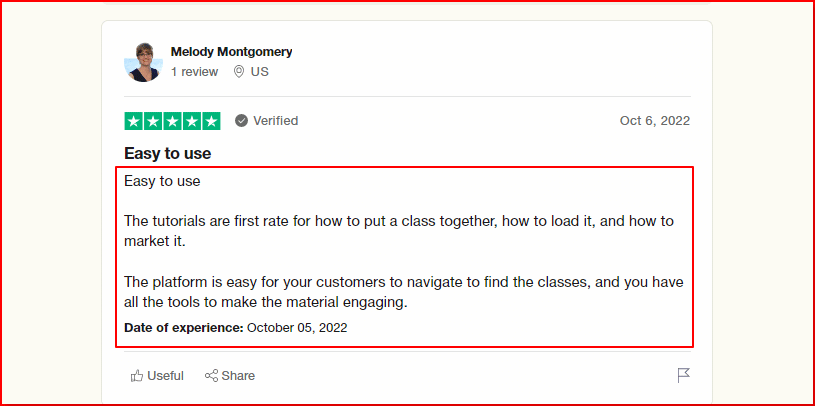 "Easy to get off the ground"


What do you like best about Thinkific Plus?


Last year when I decided to create an online course I was looking for a platform I could test before committing. Thinkific has a VERY robust free version that caught my attention. I set up my new course here so I could BETA test it before it's official launch. Because this was a new offering I wanted to have as simple as a setup process as possible, and one that was easy for my newbie students to use. THIS is exactly what Thinkific delivered.
Final Word
Thinkific's Free plan is exactly what you need if you're just getting started with the platform and want to get a sense of how things operate.
The only time you'll need an upgrade is when you're ready to start selling your course to other people and putting it out there in the market.
If you are concerned about your budget, I recommend beginning with the start plan. On the other hand, the Grow plan is the one that offers the best value for the money.
Frequently Asked Questions
Can you offer free courses on Thinkific?
Free courses are free. Your students can access the site content for free by creating a site account. Individual courses and Bundles can be made free.
Does Thinkific take a percentage of sales?
There are no fees or commissions taken from Thinkific's course sales. Their paid programs, which can be accessed here, are the only way Thinkific makes money.
Can you make money with Thinkific?
An online course on any subject is easily created with a tool like Thinkific. In order to earn more money, you don't have to meet with each student one-on-one but instead, record video courses and set your own fee.
Is Thinkific any good?
An excellent LMS with several built-in integrations is Thinkific. Integrations can be expensive, but they do a lot to improve the overall LMS. Pros: Students can post videos and gifs in the communities of a thinkific school in addition to using the platform as a learning management system.
Why should I use Thinkific?
One course can be made available to an endless number of students! I'm on the $39-a-month Basic plan. A fantastic interface, seamless performance, and good customer service are all included. Thinkific's Basic plan should be plenty for most folks, in my opinion.
Are there any transaction fees with Thinkific?
When using Thinkific, transaction fees won't apply. However, there will be charges for processing payments (for instance, with Stripe or PayPal). When conducting business online, payment processing fees cannot be avoided. However, Thinkific does not charge for any of the plans they provide.
A free trial is available from Thinkific.
Because Thinkific's price structure currently contains a free plan, it can be used as a trial period. To begin, you don't need to submit any credit card information. To access their dashboard and begin creating your course and managing your students, just complete their trial form. With the free plan, you may build a course to sell and get access to a number of features.
Is Thinkific expensive?
Thinkific has four different pricing tiers, ranging from free to $49 to $99 to $499 each month. For new course teachers, the free plan is an excellent alternative for getting started. The premium plans provide access to an unlimited number of courses and additional leeway in terms of how they can be customized.
How many courses can I create with the Thinkific free plan?
The Thinkific Free Plan is excellent for newly emerging course creators. Its liberal platform enables producers to create up to three courses—a mini-course and two paid courses—allows for limitless students, and hosts a variety of material forms, including videos.
Can you edit the Thinkific course after publishing it?
Yes, even after a course has been published, you can still make modifications to it. You can initially mark new lessons as draughts if you want to add them.
Does Thinkific Charge transaction fees?
When you use Thinkific, there are no transaction costs. However, there will be payment processing fees. Payment processing fees are unavoidable when conducting business online. However, Thinkific does not charge any fees for any of its plans.
Do I have to pay Thinkific to host my content?
No, Thinkific doesn't charge anything extra for this. Video hosting is just one type of content that is included in the unlimited storage space offered by all plans.
Does Thinkific charge extra for anything?
Thinkific does not have any hidden extra fees. There are no hidden costs, including no cancellation or transaction fees. There are no hidden fees associated with using the platform; instead, you pay a monthly membership charge based on the plan you select.
Is it easy to change my Thinkific plan?
Yes, it is simple to upgrade or downgrade your plan. Simply navigate to your account page, select the desired plan, and you will be able to alter it immediately.