You have come to the right place if you are looking to establish an online course but are having difficulty finding the optimal answer to your problem.
In this article comparing Thinkific vs Graphly, I will present a detailed study of the online course provider that has received the most positive feedback.
Both of these platforms are great for individuals as well as small organizations all the way up to large ones.
They will offer you all the tools you require to design a stunning online course, sell it online, and collect money from customers all over the world.
Thinkific Overview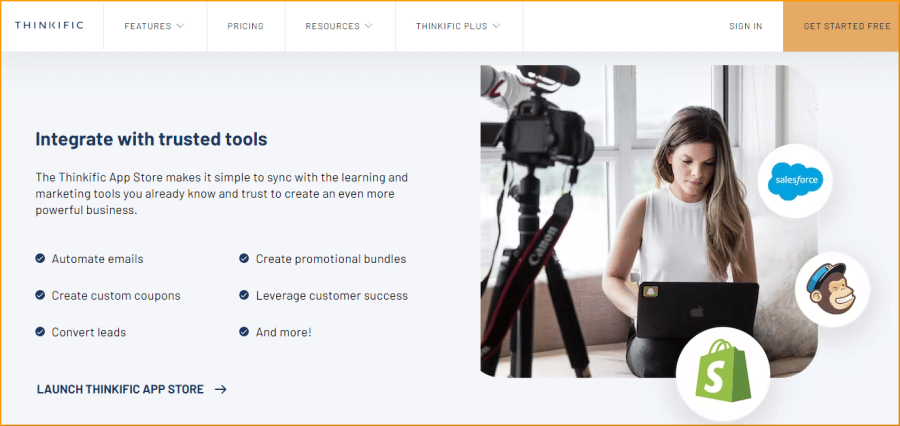 Thinkific is a dedicated online course software that gives you the ability to offer courses online from your own site, even when you have very little or no experience with coding or other technical aspects.
The platform has indeed been available to customers for close to ten years at this point. It is one of the most well-established choices available due to the fact that more than 50,000 content providers use it to manage their online education businesses.
Thinkific allows you to host your videos and other types of content, present your content in a professional manner, create quizzes and assignments, conduct live sessions, establish a community, and manage your learners, amongst many other capabilities.
So if you want to know in-depth about Thinkific, read our article Thinkific review.
Graphy Overview
The concept behind Graphy was to develop a technological tool to help advance the field of online education. After only three years in business, they now boast over 2,000-course instructors and 5,000,000 registered students.
Graphy is an integrated system for creating high-performance online education programs. It allows you to make your own apps, websites, and courses with no coding required.
Even if you've never made a course before, you can leverage this robust platform, which is used by more than 30,000 producers, to start a profitable online teaching business.
Thinkific vs Graphy: Pros & Cons
Thinkific Pros & Cons
| | |
| --- | --- |
| Pros | Cons |
| Drag-and-drop sales page builder. | No "Thinkific marketplace" to sell courses. |
| Thinkific makes selling monthly subscription courses easy. | |
| Unlimited courses are available. | |
| It allows one-time and recurring payments at checkout. | |
| Thinkific accepts Stripe and PayPal credit card payments. | |
Graphy Pros & Cons
| | |
| --- | --- |
| Pros | Cons |
| Excellent Marketing & Sales. | No In-built Emails are Available |
| Excellent Courses Available. | |
| Drip Scheduling. | |
| Affordable. | |
| Outstanding Customer Support. | |
Thinkific vs Graphy: Pricing & Plans
Being a course designer, finding a great LMS for a virtual education may be one of the more challenging selections.
Both Thinkific and Graphy have their own price structures that are tailored to the individual courses they offer.
Thinkific Pricing Plans
Mainly Thinkific has four pricing plans.
Free plan
Basic plan
Start Plan
Grow plan
There are four tiers of service available from Thinkific: free, basic, start, and grow. The first month of their basic plan is $36(if you are billed annually). You can implement this strategy in your business if you are a novice who is interested in breaking into the market for online courses.
On the other hand, if you consider yourself a professional, you cannot rely on this plan.
Because it does not offer too much value, and because you will need to upgrade it to one of their more expensive plans. Their most expensive package costs $499 per month to maintain.
Graphy Pricing Plans
Mainly Graphy has three pricing plans:
Basic plan
Business plan
Advanced plan
Graphy provides users with three subscription options: basic, business, and advanced. The first month of their basic plan is $49 dollars.
Even if you go for the most fundamental plan, you will still have access to practically all of the more complex features.
The pricing structure of Graphy and Thinkific both begin at the same point. Graphy's most expensive package, on the other hand, costs $299 per month.
Thinkific vs Graphy: Features
Both Thinkific and Graphy have several really useful features that users should look out for. I have outlined some of the most important aspects in this section.
Course Marketing
Course Customization
Student Experience
Data Analytics
1. Course Marketing
Thinkific is of the opinion that your clients' worlds and businesses can benefit greatly from your knowledge.
The platform enables it quite straightforward for you to translate your knowledge and experience into aesthetically pleasing online courses which your students will like taking.
features unique to Thinkific that are useful for promoting online schools and courses include the following:
Landing page templates that can be changed.
Growth add-ons to make it easier to market online courses.
Asdf marketing services to bring in leads.
Email marketing campaigns that are automated and work together.
Lead capture forms that were made by experts.
Offers for free trials as part of a promotion.
For more sales, use membership sites, bundles, discounted rates, etc.
Features unique to Graphy that are useful for promoting online schools and courses include the following:
Features of SEO optimization that bring in more traffic.
Landing page templates that are ready to use.
A drag-and-drop landing page editor that is easy to use.
With blog templates for a custom domain.
Use coupons, promo codes, and sales to increase sales.
SMS, email, and Notifications to advertise courses.
Tracking conversions to improve your campaigns.
2. Course Customization
On Thinkific, you can change things in a lot of great ways. For instance, the platform gives you the option of sharing all of your subject matter at once or setting up a drip schedule so that students receive lessons at set times.
Also, there are features that make it easy to connect to membership websites. This helps you get more students to use your platform and gives you a way to make money on a regular basis.
Graphy has a lot of great features that let you customize your online course. For instance, you can make a course with a lot of different types of content, like videos, webinars, digital books, Pdf files, exams, quizzes, and so on.
You can also give out certificates that can be changed in any way to fit your brand. For eg, you can add criteria for passing, and when the course is over, the credentials will be sent to you automatically.
3. Student Experience
Thinkific has a tonne of incredible capabilities that may help you design an outstanding learning environment.
You can use resources like discussion boards, tests, student evaluations, completion certifications, group training, drip-scheduled lessons, and many others to help you create the greatest possible learning environment for your students.
Gamification and several other built-in mechanisms for fostering high levels of involvement with your community will also help you achieve greater student engagement results.
Graphy includes extensive student experience, engagement, and experience elements.
You will find options for creating quizzes, assignments, private messages, Text and email notifications, notifications, private and open chats, niche-specific groups, and much more.
The platform also provides unlimited video, audio, and media file storage, allowing you to create whatever type, of course, you desire and providing your students with a consistent learning experience.
4. Data Analytics
Thinkific has tools to keep tabs on your students, your sales, and your courses.
The intuitive reporting dashboard makes it possible for even marketing noobs to extract useful information from the user data created by your course marketing strategies and digital marketing, increasing the likelihood that you will see a return on your investment.
Obtaining the proper analytic tools equips you with the data at your disposal to make educated business decisions and expand your knowledge base.
Graphy has tracking and reporting features. Limitations exist. You can also integrate third-party apps to gather information.
You could interface with Google Analytics for real-time reporting to help you expand your online knowledge business.
Conclusion
Thikific is a platform that is well-known all over the world. It has been available to consumers for some time and has garnered their continued patronage as a result.
On the other hand, Graphy is a field that is still rather young and developing. They are luring some of the most talented Indian designers.
They have created the platforms in just such an approach that even course developers working with a limited budget would be able to utilize it to market their products.
Both the desktop and the mobile platforms are fantastic. Graphy is the place to go, on the other hand, if you want to have a memorable experience without breaking the bank.
Frequently Asked Questions
Is Thinkific a good platform?
Thinkific is the best when it comes to making and promoting courses. It gives you tools to help you make a website and promote your online courses. The platform is easy to use and can be changed in many ways.
Can you make money with Thinkific?
Over the past few years, we've seen a lot of Thinkific customers create and sell online courses that changed their lives and the lives of their students. We managed to reach out to course creators whose online courses brought in more than $100,000 a year.
What is graphy by Unacademy?
With Graphy by Unacademy, businesses and course makers can easily design, publish, promote, and sell unique online courses. To assist you in building your brand and expanding your knowledge-based business, Graphy offers you a mobile app and a white-labeled course website.