Online schooling has been increasingly popular over time. As a result, more people than ever are interested in creating online courses of their own.
Platforms for online courses have allowed many people to enter the realm of online learning and share their thoughts and skills with others.
It's no surprise that Kajabi and Thinkific have attracted a large number of online course makers and entrepreneurs. When it comes to which one is best for your company, that's the obvious question.
We'll compare Thinkific vs Kajabi to find which is better for your goals as an online course creator.
Thinkific Overview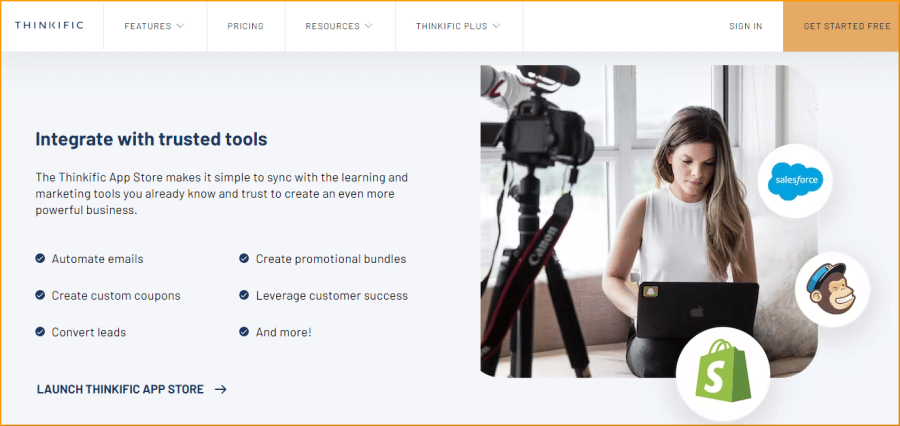 Thinkific is a popular platform for creating, marketing, and selling your own online courses or membership sites.
The platform has transformed how people earn and study online by creating an all-in-one platform for both course developers and their viewers.
You can design, promote, and sell your online courses with Thinkific, a cloud-based platform for online learning.
To help you transform your knowledge into an online business, it offers tools like a course website, sales pages, email drip series, course curriculums, and more.
Check out our post Thinkific reviews, in which we have covered everything about Thinkific.
Kajabi Overview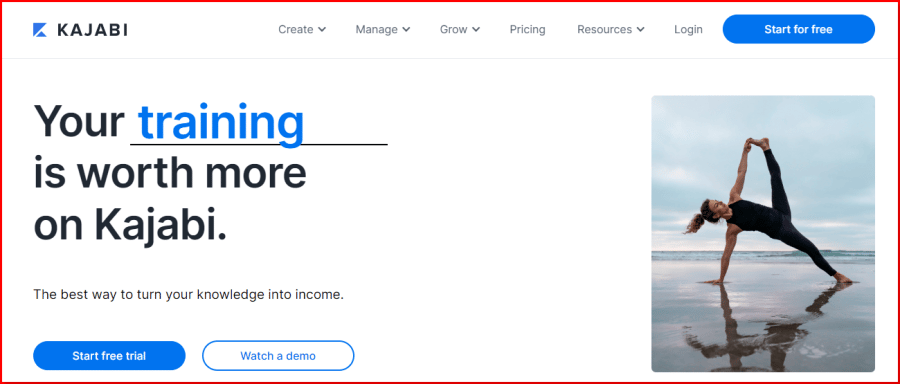 Kajabi is a knowledge entrepreneur's all-in-one business platform.
Kajabi makes it simple to create, market, and sell your online courses, membership sites, coaching programs, and other products.
Best of all, you won't have to learn to program or deal with plugins or faulty integrations.
Create, advertise, and sell an array of digital products with ease using the cloud-based platform Kajabi.
To be sure, it's pricier than Thinkific, but it provides a better user experience for firms that deal with information.
thinkific vs Kajabi: Pros & Cons
Thinkific Pros & Cons
| | |
| --- | --- |
| Pros | Cons |
| Multiple payment options. | The free plan lacks many features you need. |
| On the webpage, there is an earnings calculator. | |
| Clean, user-friendly student experience. | |
| 30-day free trial. | |
| Many third-party integration options. | |
| Price and building plans that are simple for beginners. | |
| Allows you to sell courses through your Shopify store. | |
Kajabi Pros & Cons
| | |
| --- | --- |
| Pros | Cons |
| Video hosting is unlimited. | The course builder is costly. |
| Email automation and marketing tools. | |
| Excellent onboarding. | |
| Built-in templates to create courses without coding. | |
| No transaction fees. | |
| 14-day free trial. | |
Thinkific Vs Kajabi: Key Differences
Kajabi and Thinkific are both Learning Management Systems (LMS) that provide you with tools to create and sell your own online course, including payment processing and sales funnels, among other features.
We'll compare Thinkific and Kajabi so you can pick the one that best suits your needs, as they each provide their own unique set of benefits.
We'll compare and contrast the pricing, features, benefits, and drawbacks of each marketing product that you may encounter.
Kajabi only offers a 14-day free trial, while Thinkific has a free plan you may use right away.
Kajabi is an all-inclusive marketing platform, whereas Thinkific is a superior framework for developing online courses.
Kajabi does not currently offer any kind of certification, although Thinkific does.
When comparing Kajabi with Thinkific, Thinkific lacks native email capability while Kajabi offers a built-in email service.
Thinkific vs Kajabi: Features Compared
Thinkific and Kajabi both are two of the most widely used online course platforms. And, while they have many similarities, they are also incredibly different!
Here, we talk about and contrast the features of Kajabi and Thinkific.
1. Monetization
Thinkific
Thinkific enables course developers a variety of pricing alternatives.
On their platform, you can collect subscription fees and offer premium memberships, along with coupons and discounts for new and old members.
Thinkific is cheaper than Kajabi, with a $150/month subscription. Digital downloads, course bundles, and more can be sold to members. Thinkific accepts 100+ currencies without transaction fees.
Thinkific is one of the best online course builders among its competitors. If you are looking to get exclusive discounts, check out our article Thinkific discount.
Kajabi
Kajabi vs Thinkific monetization options will also affect your decision. Kajabi gives creators and entrepreneurs various options to sell their material, but the subscription is expensive.
Kajabi's $150/month package is limited. The $200/month "Growth" package allows artists unlimited landing pages, marketing emails, and Kajabi University.
2. Ease of Use
Thinkific
Thinkific is an easy-to-use course builder with a clean user interface for newbies to utilize.
Creating your course is as simple as logging in to your dashboard and clicking "New Course".
In addition, you'll find all of your dashboard's functionality under the menu items on the left side of the screen.
Kajabi
In addition to that, Kajabi provides a slick dashboard that arranges all of the available menu options in a sidebar.
Your statistics from the last 30 days, such as opt-ins, sales, comments, and members, are shown in a concise manner on the dashboard of your Kajabi account.
3. Student Experience
Thinkific
Thinkific built its platform using a variety of studies and research, but it also prioritized the needs of students.
As an illustration, we insert progress and interstitial pages between modules of instruction because doing so has been shown to greatly improve student engagement and course completion.
These sections are designed to help students monitor their progress through the course, which is crucial for avoiding drop-offs and maintaining high completion rates.
Kajabi
You can include text, videos, photos, quizzes, and other content kinds in your online course using Kajabi. For a better learning experience, you can modify the course using one of the platform's many themes.
Another benefit is the pre-built mobile app from Kajabi. With just one click, your students may access your courses and goods from any location at any time.
The "magic link" function of the app enables students to view your content without entering a password. They can even resume where they left off in the course because it records their progress.
4. Course Builder
Thinkific
The visual editor of Thinkfic gives you the ability to create online courses either from scratch or by using pre-made themes.
You are able to customize the look of the course as well as the content of the drips depending on your membership level.
It is possible to include things like PDFs, quizzes, videos, surveys, audio, and tasks in courses.
Kajabi
With Kajabi's drag-and-and-drop functionality, you can create everything from e-learning courses to membership sites to sales funnels and landing pages.
Customizing pre-designed templates from Kajabi's easy-to-use builder allows you to construct courses without any coding knowledge.
5. Reporting and Analytics
Thinkific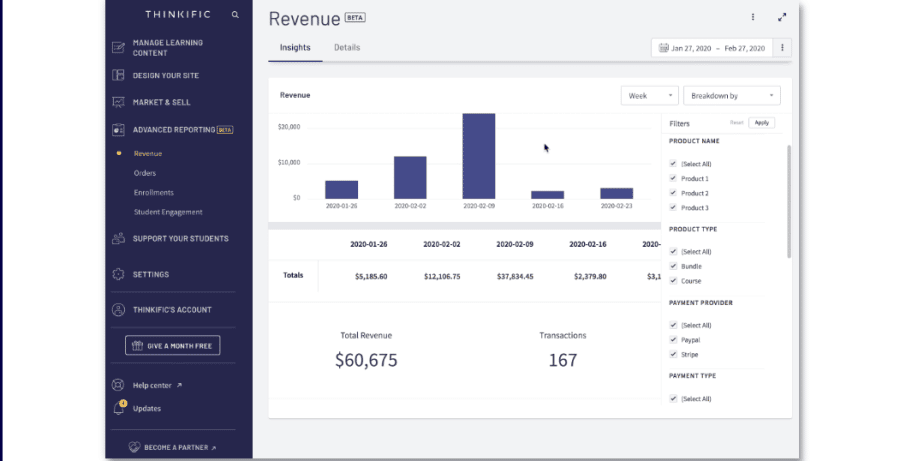 Thinkfic reports on revenue, orders, enrollments, and student involvement. Filter reports by product name, kind, time, payment provider, affiliate source, etc.
Support Your Students > Progress has a full student progress report. Select Export CSV to export this data as a CSV. The Grow+ Growth plan has this functionality.
Kajabi
Using Kajabi, you can monitor your membership rate and even get data from all of your touch points.
Aside from that, it keeps tabs on things like your revenue and the number of offers sold as well as opt-ins, page views and the percentage of subscribers.
Detailed reports and analytics on student progress, profitable areas, subscription churn rate, and areas for improvement are all included.
6. mobile application
Thinkific
Thinkific, there is no mobile app available. If you don't include this in your decision-making process, you're missing out on an important piece of information.
Kajabi
Kajabi offers a mobile application that can be used on iOS and Android. All of your students will be able to register for your online courses in a format that best suits their learning preferences as a consequence.
7. Course Marketing
Thinkific
You have access to a number of tools from Thinkific to market your course and increase sales via various platforms.
Coupons for discounts, no-cost classes, and putting your course widget on your website are all effective ways to draw clients.
Alternatively, you can increase sales by including upsells on your checkout and thank you pages.
Additionally, you can create specific landing pages for email marketing campaigns and lead generation. Though Thinkific doesn't provide native email marketing services, you can combine them with any top email marketing and automation program.
Hundreds of business apps that you may utilize to create more effective marketing campaigns are also seamlessly integrated with it.
Kajabi
The essential aspect that distinguishes Kajabi as a superior online course platform over the majority of competing products on the market is marketing.
To design fully automated email marketing campaigns for your audience, Kajabi offers native email marketing functionalities.
By using many ready-to-use pipeline templates, you may also build completely integrated sales funnels, also known as pipelines.
When a pipeline template is activated, all you need to do is add your content and modify the template's appearance to fit your brand.
8. Affiliate program
Thinkific
After being accepted into Thinkific's affiliate network, you can market your content and earn a 20% commission on all monthly or annual plans paid by your subscribers through a platform called PartnerStack.
In addition, you will have entry to special advertising materials and benefit from a 90-day cookie period during which a potential subscriber will be tracked and you will receive the referral fee only if they subscribe during that time frame.
Kajabi
The affiliate program for Kajabi is more intricate. In addition to a 30% lifetime commission, you will receive additional benefits that are directly proportional to your level of success.
Kajabi also facilitates the development of unique affiliate and signup sites.
When comparing the two, Kajabi comes out on top because of its personalized marketing tools and commission structure.
9. Integration
Thinkific
You may simply make money from your existing traffic with the Thinkific WordPress integration by adding online courses to your product line. You don't have to create an entirely new website.
You may use Zapier to send data between Wix Automations and Thinkific without having to write any code. As a trigger, it uses the automation rules you've already put up.
Do it right now! Enrolls a user on your Thinkific site in a course or bundle. This can be accomplished by either creating or finding a user.
Kajabi
Develop a one-of-a-kind experience for each of your consumers, and your company will quickly advance to the next level.
If you run your company using Kajabi, your company has the flexibility to integrate with a wide range of other tools.
10. Support
Thnkific
Thinkific gives you a few different ways to get in touch with them, regardless of whether you are a potential customer or an existing one:
please contact Thinkific at info@thinkific.com if you have any queries about migration for your business since we recognize that each case is different. You create a support ticket and submit it.
Kajabi
The team responsible for the customer experience at Kajabi is available at any moment of the day or night to respond to your inquiries.
The main difference between the two is that Kajabi provides live chat around the clock, whilst Thinkific only provides it during business hours.
You also have the option of submitting a ticket in its place.
Thinkific Vs Kajabi: Payment Processing & Payouts
Customers can use their credit cards or their PayPal accounts to make purchases in both Kajabi and Thinkific thanks to the platforms' respective integrations with Stripe and PayPal.
Access your account at any time to initiate a withdrawal.
One major distinction between Kajabi and Thinkific is that the former accepts payments via PayPal for both one-time and recurring course purchases, while the latter only accepts payments via PayPal for one-time purchases.
If you run a membership site that demands monthly payments, this can be a serious obstacle.
This makes Kajabi a better choice than Thinkific if your site will require recurring payments.
Thinkific Vs Kajabi: Pricing & Plans
Mainly Thinkific offers its users a choice between the following four pricing plans: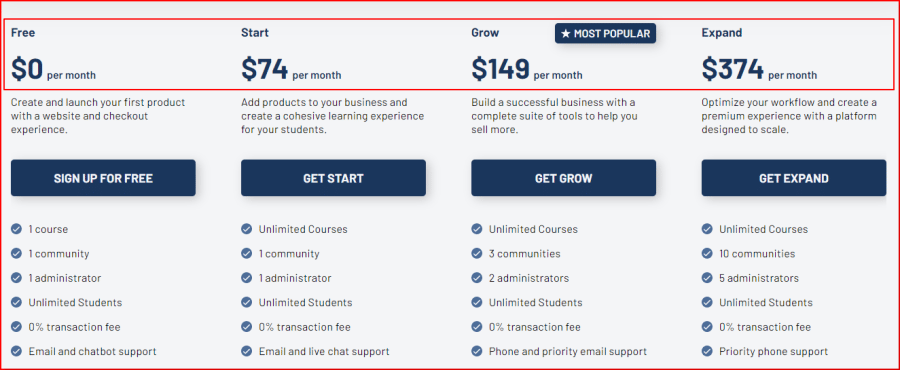 Free Plan: $0.
Start Plan: $74per month(if you are billed yearly).
Grow Plan: $149per month(if you are billed yearly).
Expand Plan: $374per month(if you are billed yearly).
In addition to these four primary plans, Thinkific now provides an add-on to its Grow plan called the Growth plan.
You will get access to more advanced features that are only available on the Premier plan by purchasing this Growth package.
Free trial and 30-day money-back guarantees are included in all plans. Click the link thinkific pricing plans, in which you get everything about Thinkific pricing plans
Kajabi
Mainly Kajabi offers its users a choice between the following three pricing plans:

Basic Plan: $149 per month(if you are billed yearly).
Growth Plan: $199 per month(if you are billed yearly).
Pro Plan: $399 per month(if you are billed yearly).
Kajabi is more expensive than Thinkific because of its wide range of features.
It's understandable, given that this is more than just a platform for creating courses.
You choose a plan, and we'll instantly start your 14-day free trial. Also, you can save 20% when you pay for the entire year upfront.
Thinkific vs Kajabi: Customer Support
Thinkific provides customer service through the following channels: their blog, expert marketplace, training site, help center, and status page.
If you're having trouble, type your issue into the Help Center search field, and a good amount of solutions will appear.
There is also a FAQ section with answers to queries like, "How do I set up a domain name?" and "Can I have live videos or webinars?" if none of these are helpful. see "How do I begin using Thinkific?"
The blog at Thinkific features a wide range of titles under headings like "Grow Your Business," "Sales and Marketing," and "Expert Interviews," to mention a few.
Through their Help Center, Thinkific's customer service department can be reached by email.
However, Thinkific has issued a number of cautions that questions may take longer to answer to as a result of COVID-19 as of the time of writing.
Customer support of Kajabi has access to a 24/7 hotline, which is something that not many other course management systems offer. An alternative is to email your inquiries; the wait time for this is typically five minutes.
Additionally, there are training webinars on how to make the most of Kajabi's features. How do you transfer an email list into Kajabi, for instance?
Social Media Platforms
Thinkific Social Media Platforms
Sharing information about your available classes on social media is a simple method to attract more students. Thinkific also uses social media platforms such as Facebook, Twitter, LinkedIn, and many more.
Facebook
Thinkific has 33,785 followers. Thinkific shares and provides ideas for marketing and selling online courses on its Facebook page.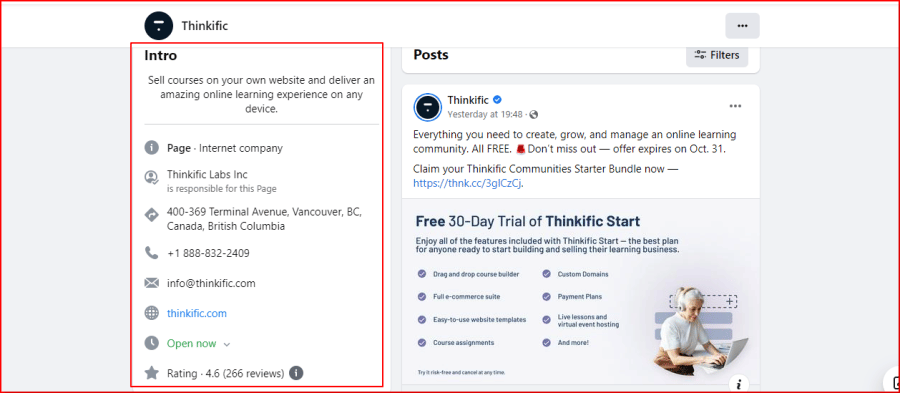 Twitter
Thinkific has 152.2k tweets and 11.2k followers and where it shares and tweets new ideas about how to make, market, and sell online courses on its Twitter profile.
Linkedin
Thinkific has a total of 33,041 people following it on its Linkedin Profile.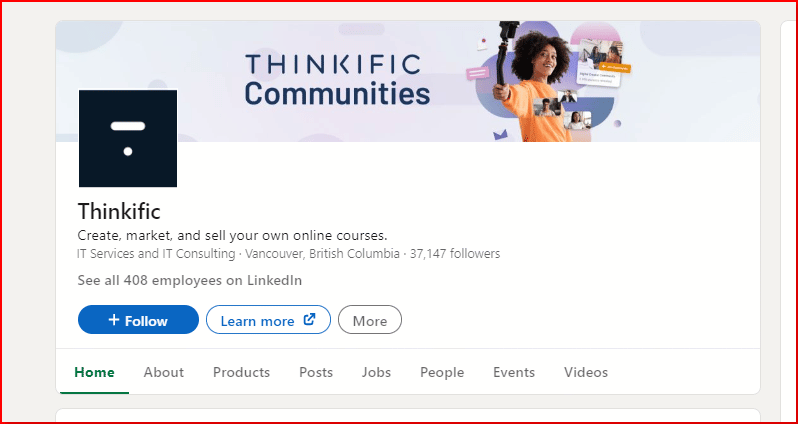 kajabi Social media profiles
Kajabi makes use of numerous social networking sites, such as Facebook, Twitter, LinkedIn, and many others.
It makes use of several forms of social media in order to communicate and present cutting-edge educational opportunities and ideas.
Facebook
It has 56,580 people likes and 61,587 followers on its Facebook page.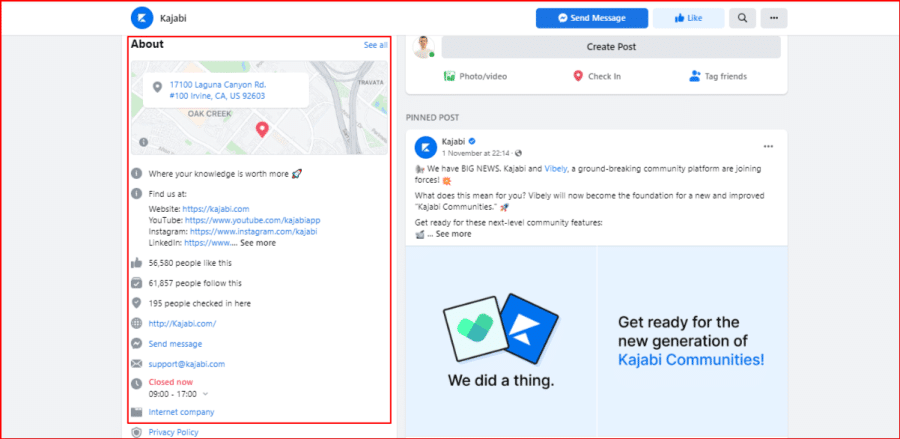 Twitter
Linkedin
Kajabi has 11,252 followers on its LinkedIn Profile.
Customer Reviews and Testimonials
Thinkfific
Here is what users say about Thinkific: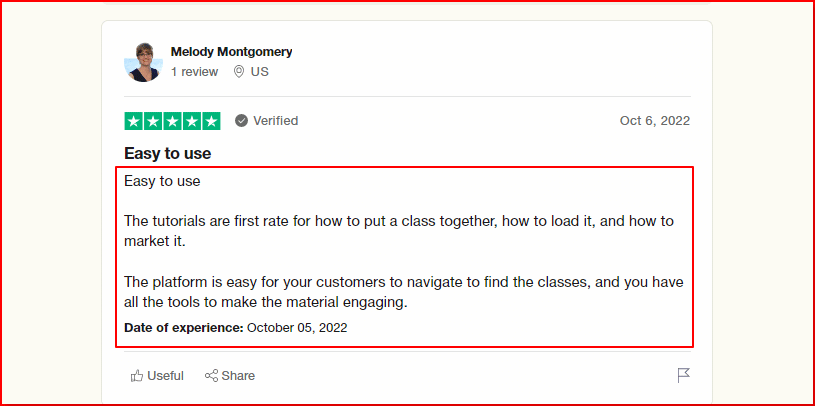 I have used Thinkific since 2020


I have used Thinkific since 2020. I think it has improved over time. They listen to customer experience and modify their services to accommodate when possible. Like any other service like this, it's not perfect but the fact that they are open to feedback and actually do something about it speaks loads to their mission of learning first. I'm using the new improved communities and for my needs it's really good. Thinkific evolves with it's customers and stays true to their brand. They used evidence-based approaches to learning and they truly want you to succeed. Their courses are better than some paid courses I've taken, too.

Date of experience: October 07, 2022

Source: Trustpilot
Date of experience: October 07, 2022


Kajabi
Here is what users say about Kajabi: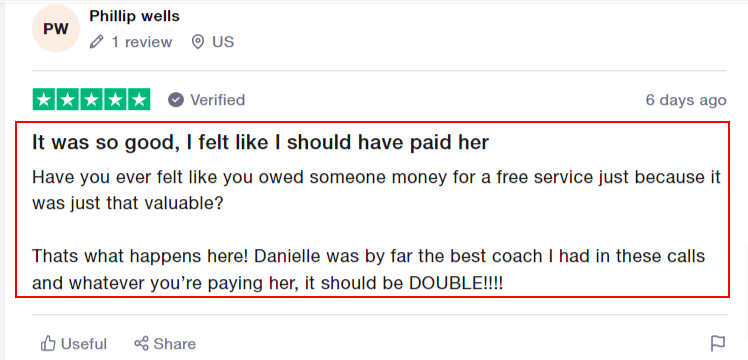 "Industry Standard All-in-One for Your Online Business"


What do you like best about Kajabi?
I like that it is reliable.

Before Kajabi, I had used many different software but many of them would have bugs, go down, stop working right, and one (Constant Contact) even froze my account after months of being a customer saying they didn't support my business type. I was mid launch!

Kajabi has never given me an issue and it helped me eliminate the need of most of the other software I was piecing together!

Source: g2
Conclusion
Kajabi is the preferable option to go with if you want to host the entirety of your website on a single platform. This is due to the fact that their page editor is more capable and versatile.
You also have the ability to create entire sales funnels consisting of multiple landing pages, with a variety of upsells and downsells, and you can connect multiple domains to the same account.
Both of these features are included free of charge.
Because it includes blogging capabilities as well, Kajabi is, without a doubt, the most comprehensive solution available for constructing an entire online business from A to Z.
But Kajabi is fairly pricey, so if you are already operating a WordPress website for your blog and other content management needs and you only need a location to store your courses.
Thinkific is probably a better option for you to go with than Kajabi.
Because of the limited capabilities of Thinkific's website builder, it is not possible to create sophisticated marketing funnels using this platform.
You can also have support for numerous domains with Thinkific, but in order to do so, you will need to upgrade to the Thinkific Plus plan from the Pro plan.
Frequently Asked Questions
Is Kajabi or Thinkific better?
Thinkific and Coursera both have course builders that are simple to use. While Thinkific offers a wide range of course templates, Kajabi stands head and shoulders above the competition in terms of functionality and ease of use. Kajabi also provides a mobile app that allows you to connect with customers wherever you are.
Does Thinkific own your content?
Yes, course creators own their content on our site. Thinkific does not claim intellectual property rights over your content, so whatever you develop and publish is yours.
Is Thinkific better than teachable?
Thinkific wins for course website functionality, bulk sales/content management, and quiz/testing. Teachable excels in student engagement and interactivity, navigation, selling/conversion, and customer service.
What is Kajabi used for?
Kajabi helps you monetize online information. Create online courses, membership sites, communities, podcasts, and coaching programs. Start selling content with our templates.
Can you sell ebooks on Thinkific?
You can integrate online courses produced on Thinkific into your Shopify store, allowing you to sell a physical copy of your book, an ebook, templates, merchandise, supplementary study guides, and more.
Can I sell digital products on Kajabi?
Kajabi digital product sales. You'll need a platform and a way to reach your audience to sell digital things online. Kajabi's all-in-one technology helps launch your internet business immediately.
Is Kajabi better than WordPress?
If you want to launch a successful online store selling digital goods and have everything you need in one location, Kajabi is the way to go. If you have a preferred suite of marketing and sales tools and don't mind slapping a little glue on them, WordPress could be the right solution for you.
Can you monetize a Kajabi blog?
Existing and new Kajabi users both now have the option to host and monetize their own podcasts. Kajabi podcasts may help you reach your objectives whether you want to provide a free podcast to build an audience or a premium podcast to monetize your following.
Can I use Thinkific as my website?
Unfortunately, hosting a Thinkific site on a third-party domain is not currently possible. Similarly, an iFrame cannot host a Thinkific embed. It is necessary to have a standalone Thinkific site in order to sell courses through the platform, but this can be done in conjunction with other sales and marketing pages.