In this article, I have done an in-depth comparison between Thinkific vs LearnDash comparison is the focus of this post.
You'll be able to make an informed decision about which e-learning platform is best for your online classes after reading this comparison.
Selecting a Learning Management System (LMS) is the first step in launching an e-learning site and selling online courses.
LearnDash LMS, a self-hosted system, and Thinkific, a service-based platform, both have a large presence in the market.
Thinkific Overview
Thinkific is one of the greatest tools for creating online courses. Online courses can be sold and maintained through this platform.
Thinkific allows you to construct both sales and course pages. Your online course can also be sold with the use of coupons and an affiliate network offered by this platform.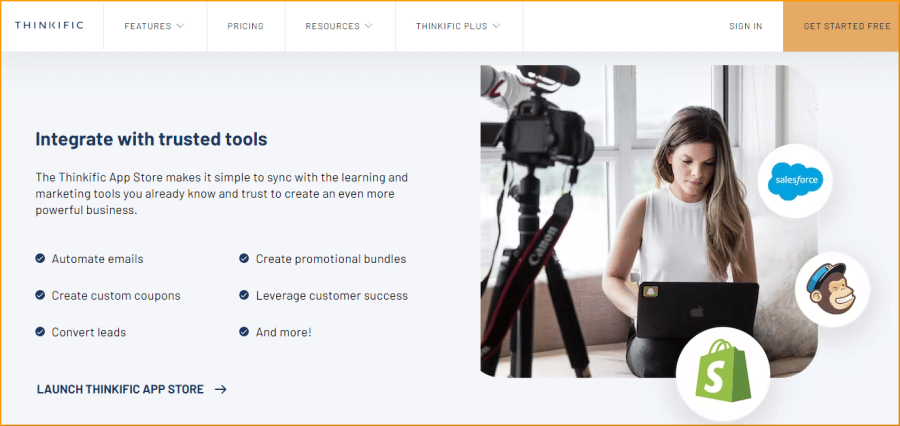 Thinkific is a web-based learning management system (LMS). This implies that Thinkific is responsible for hosting all of your web pages and other information.
Thinkific is among the best online course creator, if you want to more about it, read our post Thinkific reviews.
There is an option to redirect Thinkific pages to your domain name if you purchase a domain name or already own one.
There is no need for additional hosting if you're just getting started with your firm and your budget is limited.
LearnDash Overview
Even if you just want to add a few educational materials to an existing WordPress site, LearnDash is a great option for anyone who wants to put educational content online.
You'll be able to build courses, lessons, and quizzes for your users after installing the LearnDash plugin on your WordPress website.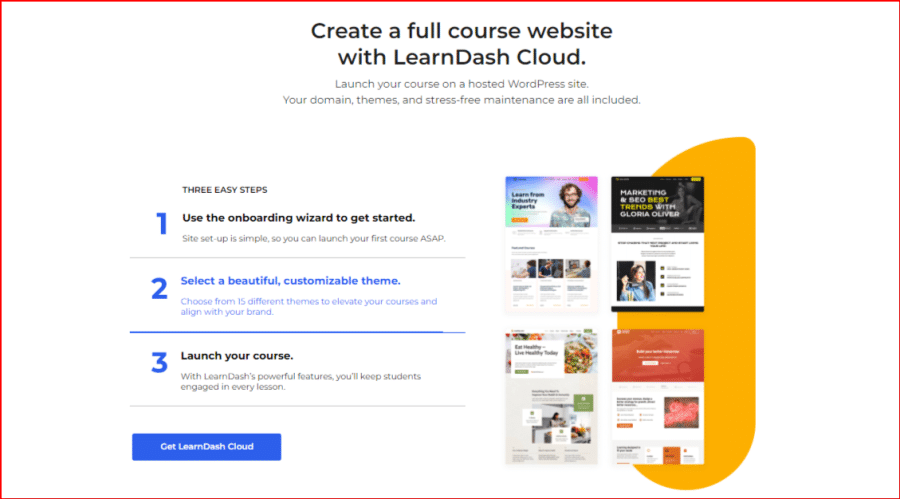 With the reporting tools, you can see how your pupils are progressing by awarding certificates to those that meet your own criteria.
Thinkific vs LearnDash: Key Differences
The primary distinctions between Thinkific and LearnDash are outlined here:
Learndash is a plugin for WordPress, but Thinkific has its own self-contained learning management system.
On the other hand, Thinkific provides you with predefined templates that you may modify to fit your needs, whereas Leardash lets you personalize and add fairly much everything you want to your offer.
Learndash interacts smoothly with WordPress and a number of other plugins, while Thinkific is only compatible with a limited number of software programs.
Learndash offers a 30-day money-back guarantee, while Thinkific provides a free trial period for new users.
Thinkific Pros & Cons
| | |
| --- | --- |
| Pros | Cons |
| Simple courses and page builder | Bit Pricey |
| There are no fees or commissions | |
| Reply to your student's comments | |
| Efficient courses and page builder | |
LearnDash Pros & Cons
| | |
| --- | --- |
| Pros | Cons |
| Affordable price plans | A difficult path to learning |
| There are a lot of ready-made templates to use | |
| Substantial customization | |
| Can build just about any kind of website accessible | |
How to Choose the Best Software for Creating Online Courses
You will need to examine various key features based on the type of digital products that you sell and the requirements that are unique to your company.
Having said that, there is a large number of common factors that you need to take into consideration if you are selling something online using a specialized platform:
Pricing Plans
You must be aware of the exact cost of this service so that you may factor it into your budget planning. Not all services have upfront expenses, and not all services employ a straightforward subscription model.
Be on the lookout for added charges and commission fees.
Features
More people seeing your items means more sales. You should think about whether the service you're considering will support you in accomplishing this. In addition to using statistics, most loyalty programs also provide rewards for repeat customers.
Some have extra advertising tools built in, such as email and social media promotion. Again, choose products that have qualities that will be most useful to your company.
Customization
At some point, you'll have to create online courses. It is important to understand how the service you choose performs in this regard and how simple it is to do so. The majority of the greatest solutions include their own classes and web page builder.
In addition to being simple to set up, your gateway of choice should make it simple for your customers to buy and use their new product. Some software suggests various features and tools for you to use based on your individual needs. Check to see if the features you're looking for are available.
Monetization options
Profitable course sales are in your near future. Knowing how the platform you choose allows you to charge your consumers and whether or not there will be other ways to earn money is crucial.
For instance, certain offerings might put you in touch with partners. For others, external advertisements are permitted. Some of them even let you link up with external platforms such As google Ads and Patreon.
Thinkific vs LearnDash: Features Compared
1. Integrations
Thinkific has a clear advantage over LearnDash on this particular criterion.
Their own App Store is run by them. as a result, you now have the ability to combine 45 various services, which will assist you in selling, tracking, and improving the overall student experience.
This is extremely neat, and it has the potential to fill in some of the holes that we pointed out earlier. However, the vast majority of these apps do not come at a cost.
Therefore, you need to take that into consideration. And just like with any other app-based ecosystem, there is no way to ensure that everything will continue to function without any problems in the future.
LearnDash, on the other hand, has fewer than 30 distinct integrations, all of which serve the same use cases as Thinkific's offerings.
2. Learning and Marketing
You can choose Thinkific because it provided a more engaging learning environment. The online learning market is split into two camps, according to our opinion:.
those who care more about marketing and those who care more about teaching. There is no denying that you need both, but you don't need all of the tools in one platform either.
Third-party solutions like Active Campaign make it easier to operate effective marketing campaigns.
However, if you choose a platform that restricts the learning experiences you can offer, the quality of what you can provide will be lowered as a result.
Lower-quality learning experiences lead to fewer completions, lower engagement, and lower value for customers, which in turn leads to less favorable ratings and fewer renewals or repeat purchases of the product.
3. Course Creations
Thinkific and LearnDash both make it incredibly easy to create the typical online course format.
The playlist on the left side of the screen is divided into sections. Video, text, and activities can all be combined in a variety of ways.
Although the LearnDash course builder has more possibilities, the Thinkific course builder is simpler to use. It's a terrific alternative if you're mostly creating video-based courses with some PDFs and quizzes.
4. Data insights
Here, you must decide what is most important to you. The more expensive subscriptions provide you with more powerful data. But at LearnDash, you get more every month for the same price as Thinkific's second tier.
It is easy to see the most critical facts for each course in LearnDash dashboards. LearnDash has a tier that allows you to schedule reports.
Clients will demand regular reports on how many of their employees are up to date and who still needs to be chased if you sell compliance training. You'll save a lot of time if you can automate that.
As an alternative to a one-time purchase for each course, recurring money can be generated through the use of subscription arrangements.
5. Subscriptions
Both LearnDash and Thinkific provide this service; however, Thinkific does so at the level of the platform, whereas LearnDash provides it at the level of the individual course.
Because of this, LearnDash is in a better position than its competitors here.
Which is exactly what they need to be doing. LearnDash is the best place to go if you are seeking a service that can be described as "Netflix for Learning."
Thinkific Pricing & Plans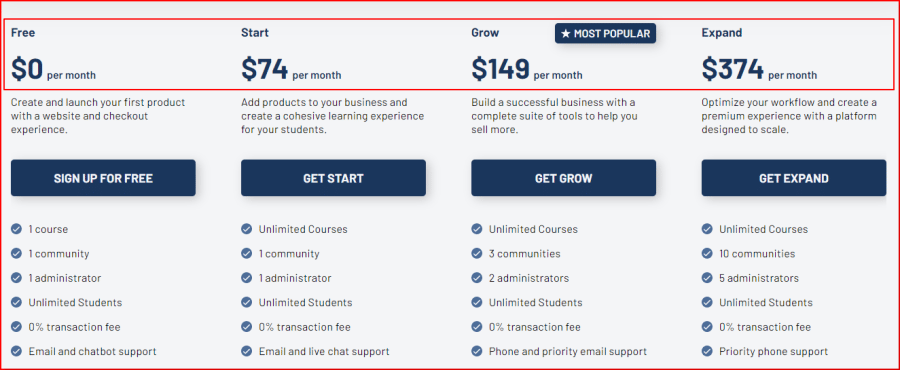 Mainly Thinkific has 4 pricing plans.
Click the link Thinkific discount to get massive savings on Thinkific online courses.
Free Plan
Free users can create up to three courses with an unlimited number of participants and have access to all basic features.
In addition, you may create quizzes and polls and have access to content hosting. You get immediate access to your money with all plans, even the free ones.
Start Plan
The next most economical choice is the "Start" plan, which costs $74 per month (if paid annually). This plan has all the features of the free one.
In addition, you may use custom domains, email connectors, affiliate reporting, coupons, drip content, and Zapier triggers. All the features of the free plan are also included in this package.
Grow Plan
The next choice is the "Grow" Plan, which is the most popular and costs $149 per month(if paid annually). Along with the free and fundamental plans.
This plan offers memberships, bundles, private and concealed courses, certificates, extra administrators and authors, and assignments. The choice with the most traction is Thinkific Grow.
Expand Plan
We have the "Expand" option for $374 per month(if paid annually).
Everything from the other plans is included in this one, along with five site admin accounts, fifteen group analysts, fifty administrators and authors of courses, single sign-on, and unlimited expansion.
It grants you access to a large amount of amazing extra features for producers, like a built-in email automation provider.
To get more about each Thinkific plan in detail, read our post Thinkific pricing.
LearnDash Pricing & Plans
A WordPress plugin with a license that renews annually is available for LearnDash LMS. The cost of the single site license is $159 USD.
The prices for the 10-site license and 25-site license respectively are $189 and $329 USD annually. Each of LearnDash's price tiers includes a free sample site template and supports an unlimited number of users and courses.
Although LearnDash does not provide a free trial, it does provide a 30-day money-back guarantee.
Thinkific And LearnDash Alternatives
Udemy
Moodle LMS
Kartra
1. Udemy
Udemy is a website where teachers can provide classes on any subject they like.
Udemy allows teachers to submit a wide variety of media resources, including videos, source code for programmers, Powerpoint, PDFs, audio, ZIP files, and more, to their courses.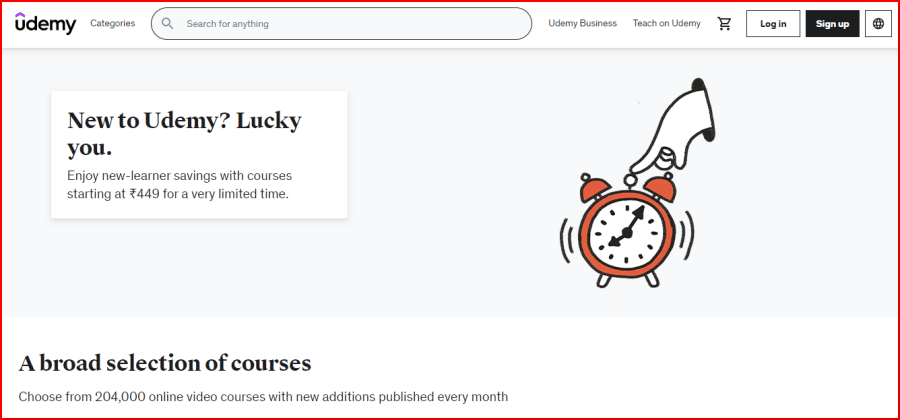 The instructor is solely responsible for the content of their own courses on Udemy. The lectures in an Udemy course are what make the course what it is.
Teachers can also supplement the curriculum with additional materials and exercises of varying types.
Moodle LMS
Moodle is a popular and free learning management system (LMS) that is used by educational institutions and businesses to improve the teaching and training that they provide for their students.
Because it is free to use and can be accessed from desktop computers as well as mobile devices, the platform is an excellent medium for facilitating communication between instructors and pupils.
Therefore, it is not perfect for promoting paid courses; nevertheless, it is fantastic for delivering training that can be done on the go, particularly for individuals who telecommute.
Moodle, in contrast to other learning management systems, enables substantial customization. Construct an educational or training platform that is both entertaining and beneficial to utilize in your organization.
Thinkific social media profiles
Thinkific promotes your lessons on social media, drawing new students. Thinkific uses Facebook, Twitter, and LinkedIn many others.
Facebook
Thinkific has 33,785 followers. Thinkific's Facebook page is frequently updated with recommendations and methods for marketing and selling online courses.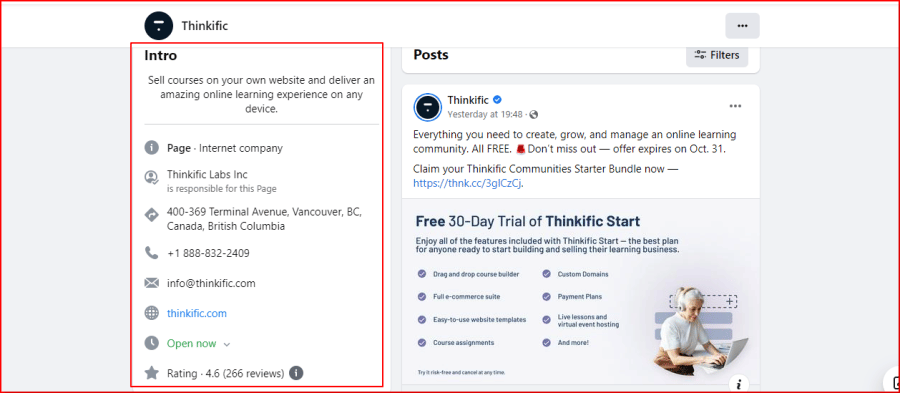 Twitter
Thinkific has 11.2k followers and has tweeted 15.4k times. Its Twitter profile is frequently updated with practical ways of designing and marketing online courses.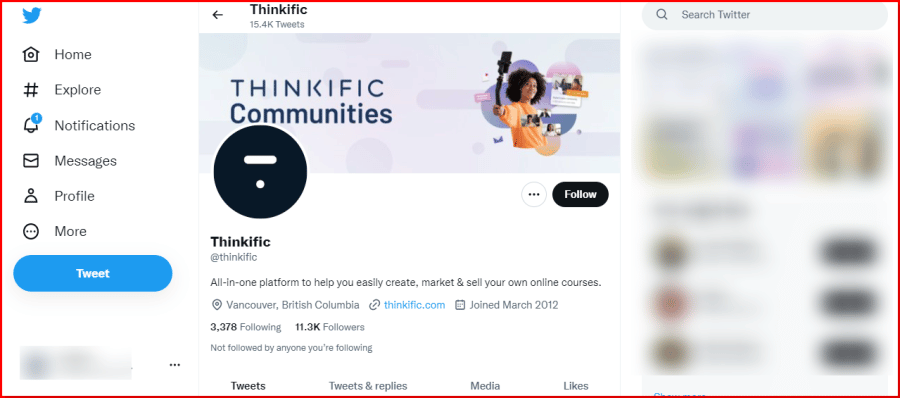 LinkedIn
There are currently 33,041 individuals following Thinkific's profile on the social networking website LinkedIn.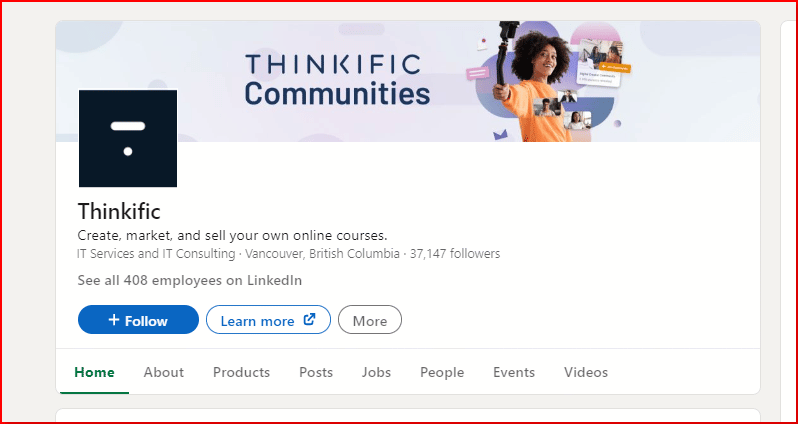 LearnDash social media platforms
LearnDash makes use of a variety of social media platforms, and social media is a source of information that is both relevant and credible.
Facebook
LearnDash has 5.8k likes and 6.4k people following its Facebook page.
Twitter
LearDash has tweeted 6,104 tweets and has 4,444 followers on its Twitter profile.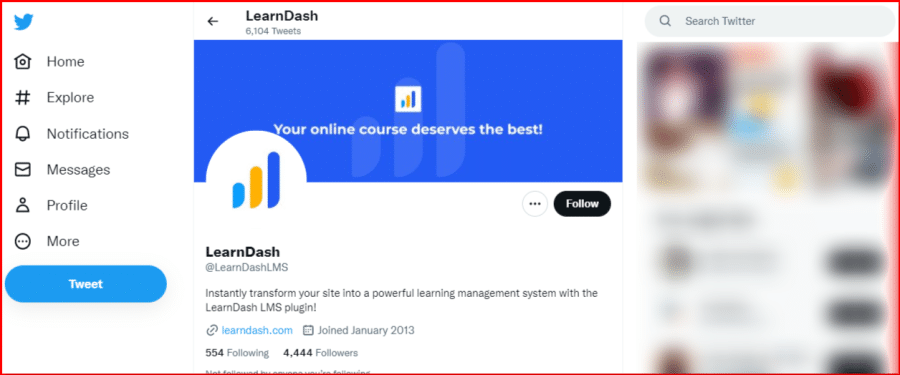 Instagram
LearnDash has posted 228 posts and 1,131 people follow its Instagram profile.
What Do Customers Say About Thinkific & LearnDash
Here are the customer reviews and testimonials on Thinkific & LearnDash.
Thinkific
Here is what users say about Thinkific:
I have used Thinkific since 2020


I have used Thinkific since 2020. I think it has improved over time. They listen to customer experience and modify their services to accommodate when possible. Like any other service like this, it's not perfect but the fact that they are open to feedback and actually do something about it speaks loads to their mission of learning first. I'm using the new improved communities and for my needs it's really good. Thinkific evolves with it's customers and stays true to their brand. They used evidence-based approaches to learning and they truly want you to succeed. Their courses are better than some paid courses I've taken, too.

Source: Trustpilot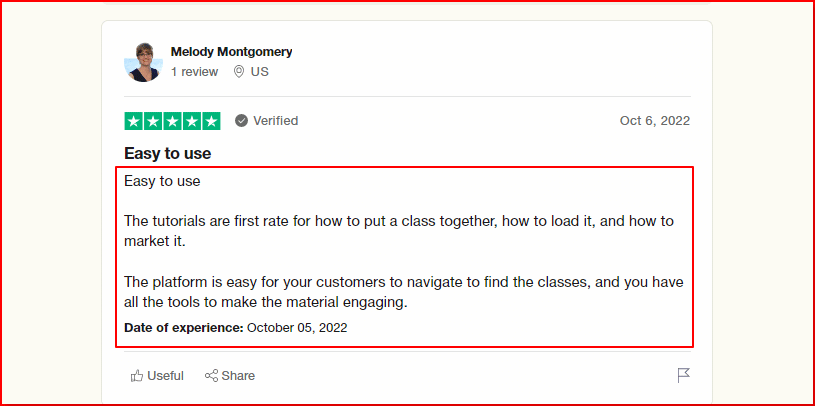 "Easy to get off the ground"


What do you like best?


Last year when I decided to create an online course I was looking for a platfor I could test before committing. Thinkific has a VERY robust free version that caught my attention. I set up my new course here so I could BETA test it before it's official launch. Because this was a new offering I wanted to have as simple as a setup process as possible, and one that was easy for my newbie students to use. THIS is exactly what Thinkific delivered.

Source: g2


LearnDash
"Extremely Powerful with Fast Results"


What do you like best about LearnDash?


Learndash has many superb features but if I was to pick a couple, I'd say firstly the speed with which you can deploy a Course complete with Lessons, Topics, Quizzes and Assignment uploads is a huge time saver. There's even a setup wizard now which streamlines the whole process even further.

The second feature I like best is the recent design upgrade that turned Learndash from being a fully functional e-learning platform into a slick learning environment that presents an extremely clear and pleasant experience for students.

I would also add that the support is excellent.

Source: g2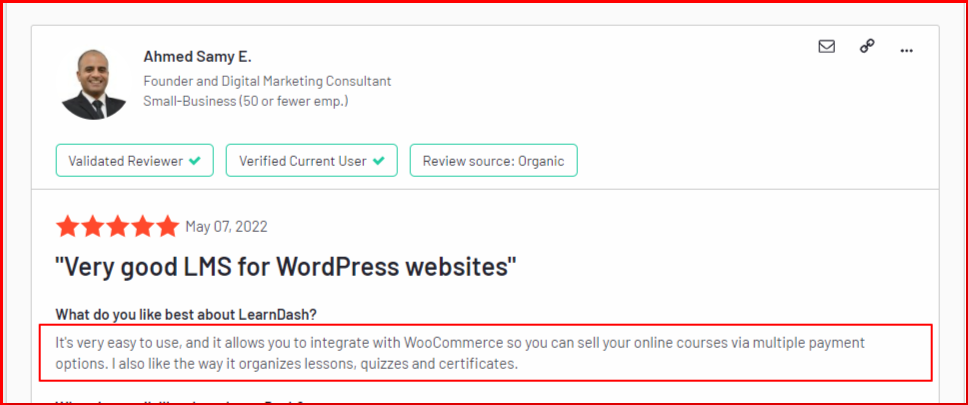 Final Thoughts On Thinkific Vs LearnDash
There may have been a point in history when an LMS would not have been able to grant you the freedoms that were available via the use of a plugin for WordPress.
Thinkific is able to bridge that gap by providing you with creative control over your product while also managing the technical components of your product on your behalf.
LearnDash is a popular plugin for WordPress's learning management system. With so many possible configurations, it's a great option for creating one-of-a-kind games.
The one issue is that some of the advanced features may be too complicated for regular users. LearnDash is a popular plugin for WordPress's learning management system.
Frequently Asked Questions
Which is better Thinkific or LearnDash?
In terms of selling your first online course, Thinkific is a great option if you don't want a lot of advanced capabilities. At a reasonable price, it provides all the essentials. Those wishing to start an online school with a larger organization may consider using LearnDash instead.
Can I use Thinkific as my website?
An external domain cannot host Thinkific sites. In addition, an iFrame cannot contain Thinkific. There must be a separate Thinkific site for course offerings, although this can coexist with other marketing or sales pages.
Is LearnDash any good?
It's an excellent choice for academic institutions, solo course producers, and small organizations searching for a cost-effective way to teach their employees.