If are you looking for the best online course and membership platform for your business, then you are right page, In this article, I have a detailed analysis of two major course providers Thinkific Vs Mighty Networks.
Both of these platforms are strong competitors with a lot in common. But what makes them different?
Thinkific's all-in-one platform gives you everything you need to start and run your own online education business. With Mighty Networks, you can build your brand's community.
Thinkific Overview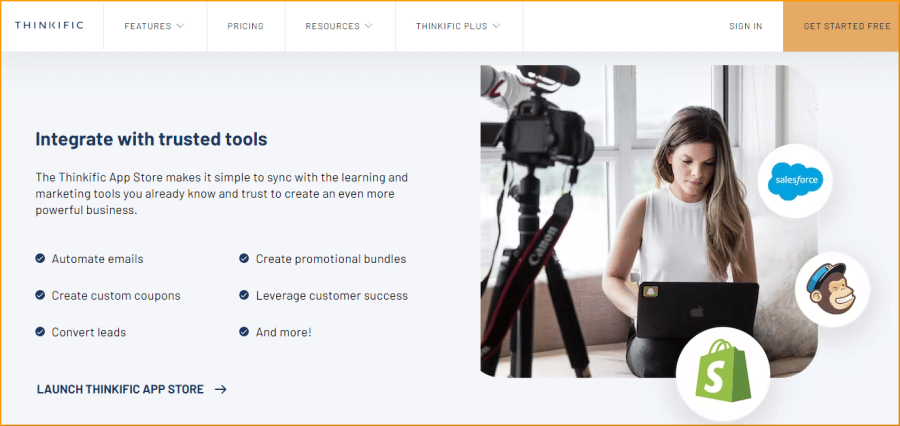 In 2012, a group of entrepreneurs created the popular online course platform Thinkific. Students and teachers alike will benefit from its ability to deliver a wide range of educational resources.
You can create, manage, market, and sell your online courses with ease with this software platform. The best aspect is that using Thinkific does not necessitate any prior technological expertise.
That means that even my 93-year-old grandmother can whip up some top-notch cooking or knitting classes in no time!
Just write decent content and Thinkific will take care of the rest. Because it's a hosted service, all of your data is kept on their servers. You don't have to worry about keeping track of all of your video and audio lessons on your phone or tablet.
In addition, it offers web hosting for your website. You can get started for free, even if you're a beginner! You don't need to do anything more than sign up on Thinkific to get started!
Thinkific has excellent features & benefits, read our Thinkific review article, where we have covered it in detail.
Mighty Networks Overview
Marketing teams can use Mighty Networks to create targeted landing pages, track prospects, and communicate with clients all from a single dashboard. By joining relevant groups, users can learn about upcoming items or courses.
Member profiles or categories; direct messaging; personal activity feeds; polling; event posting; topic-based discussions and more are some of the features of Mighty Networks.
Users can create networks with an unlimited number of members and access numerous business accounts simultaneously.
For Android and iOS mobile devices, users can send direct private messages to followers, receive real-time notifications of posts, and share photographs in communities even from distant locations.
Interaction with third-party payment and marketing platforms like Stripe, Memberful, and Mailchimp is made possible through Zapier's integration with Mighty Networks.
Customers can choose between a monthly or annual membership and receive help via phone and email.
Main Differences Between Thinkific vs Mighty Networks
In contrast to Thinkific, Mighty Network focuses on bringing tutors and students together in a supportive environment.
It's worth noting that Mighty Network does not have a free version like Thinkific.
Mighty Network has a mobile application that Thinkific does not.
Thinkific vs Mighty Networks: Pros & Cons
Thinkific Pros & Cons
| | |
| --- | --- |
| Pros | Cons |
| Personalized Web Address | Thinkific's course creation is expensive for beginners. |
| Third-party integrations. | |
| There will be no transaction fees. | |
| 30 days of a free trial. | |
| Easy registration. | |
| The free version is also capable to launch an online school. | |
| Very customizable | |
Mighty Networks Pros & Cons
| | |
| --- | --- |
| Pros | Cons |
| The expertise in creating online classes. | Course builder lacks quizzes and certifications. |
| Chat connectivity is available for community management. | Course builder doesn't have any tests or certifications. |
| Creates sub-groups for you. | |
| Apps are available for both iOS and Android platforms. | |
| A clean, modern style is evident from the start in the community space. | |
| Access to the community and courses might be charged for. | |
Thinkific vs Mighty Networks: Features Comparision
You need to know what you want to receive out of the agreement while picking between the two platforms.
A website builder with configurable features and marketing tools can be useful if you're generating and selling online educational courses.
1. Memberships
Thinkific's Pro Plan and higher plans have the ability to launch membership sites.
All of the Mighty Networks' pricing tiers feature membership site capabilities, which encourage community interaction.
Using this software, you can easily charge members for membership and there is no limit on the number of people who can sign up.
2. Online Courses
Thinkific offers a comprehensive set of tools for the creation and sale of online courses, regardless of the subscription level that you select.
It is not necessary to develop even a single line of code in order to create the ideal curriculum because it can be delivered through text, video, downloadable PDFs, and online quizzes and surveys.
In the Mighty Networks Business Plan, you have the option to add an unlimited number of online courses to your membership.
You can add as many professors as you like, and the material feed can include text, video, photographs, and links to other websites. visuals and connections to other relevant information
3. Sales And Marketing
In order to increase your earnings, Thinkific offers a variety of sales and marketing alternatives, including discounts that may be used to promote your online course.
When used in conjunction with other integrated marketing strategies, your online courses can help you raise more money.
The Mighty Networks platform offers the opportunity to be notified anytime new content or activity is added.
Zoom, Facebook Live, and Crowdcast integrations make it easy to plan and publicize live and on-demand events.
4. Page Builder
Thinkific's drag-and-and-drop page builder allows you to customize your pages. You can use HTML or CSS to your heart's content, and you can even pick your own domain name.
In addition, you may select from a wide range of instructional topics to incorporate into your design.
User-generated content and customized activity feeds are two of the many features available through the Mighty Networks platform.
In addition to standard member profiles that feature a bio and the opportunity to contact other members directly, you have the option of creating your own membership plan.
Thinkific vs Mighty Networks: Pricing Comparision
Thinkific Pricing
Thinkific has mainly four pricing plans.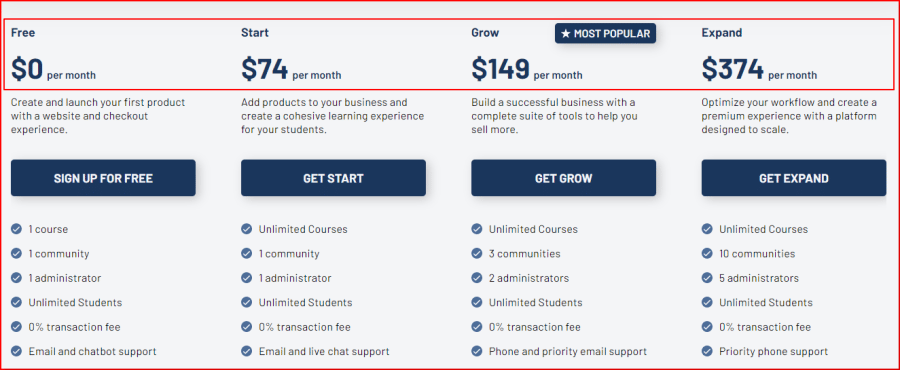 Free Plan
Start Plan
Grow Plan
Expand Plan
Free Plan
it's possible to build and host online video courses, and it gives you access to a huge market, an infinite number of students, and the potential to produce an infinite number of courses.
Free courses don't have any monetary value.
Start Plan
Monthly fee of $74for the most start plan (if paid annually). Endless courses, drip content, and unlimited courses are included in this subscription. You'll have access to a variety of marketing and sales tools.
Grow Plan
CSS/HTML editing, two site admin accounts, and five-course administrators are all included in the Pro plan.
Annually, it costs $149 per month and includes all prior capabilities as well as the ability to white label the site as well as completion certificates.
Intermediate Zapier and webhooks, as well as three-course admin accounts, advanced HTML/CSS editing, and priority assistance for instructors, are all included in this package.
To know more about the Thinkific pricing plan, read our article Thinkifc pricing deals.
Expand Plan
This is Thinkific's most expensive subscription at $374 per month (if paid annually) and includes a variety of valuable services, including bulk emailing and white-label courses.
Students can receive emails at the same time, complex marketing and sales tools can be incorporated, and even an exam for the course can be established.
Up to 50-course administrators and five site administrators are included in this plan. To get exclusive savings on Thinkific online courses, read our post Thinkific discount.
Mighty Networks Pricing
Mighty Networks has three pricing plans.
Free Plan
The Community Plan
The Business Plan
Free Plan
Personal activity feeds, direct messages, articles, membership sites, and limitless members are all included in the free plan (which costs $0 per month). Online courses are not supported by this software platform.
The Community Plan
There are no limits on the number of moderators or users you can have with the Community Plan ($39 per month). Online courses are not supported by this software platform.
The Business Plan
There are 3000+ Zapier integrations, premium analytics, unlimited hosts, unlimited users, and, online courses included in the Business Plan ($119 per month).
Thinkific And Mighty Networks Alternatives
There are other options available that can easily compete with either Thinkific or Mighty Networks in terms of service quality and more. Here I have listed some of the best alternatives.
1. LearnWorlds
2. LearnDash
3. TalentLMS
1. LearnWorlds Overview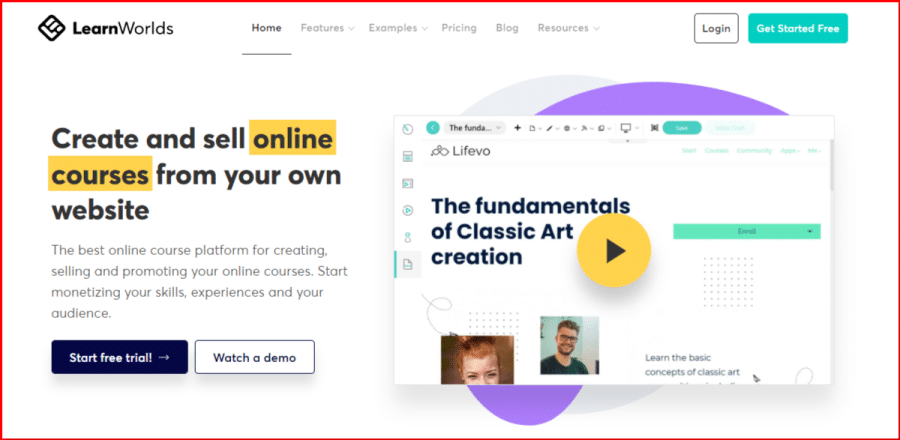 A more adaptable platform, Learnworlds can adapt to your changing requirements. It excels in providing a top-notch e-learning environment for businesses of all sizes.
In addition to facilitating online transactions, the platform also helps users connect with one another. LearnWorlds' many features may be relied upon to perform as advertised.
Even yet, this program is a credible substitute for Mighty Networks in most situations.
2. LearnDash Overview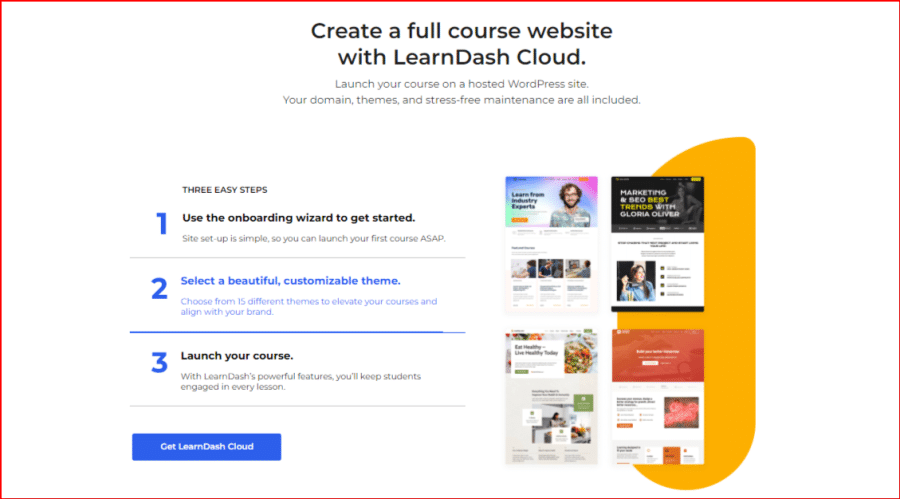 LearnDash is a learning management system (LMS) built on WordPress that is used by businesses, universities, training organizations, and entrepreneurs all over the world to make and sell online courses.
LearnDash is all about making courses with WordPress and selling them on a platform. The software makes sure that the content that is made is of good quality so that sales can be high.
3. TalentLMS
TalentLMS is a Learning Management System that was developed with achievement in mind.
Teams are more likely to embrace training when they have access to an experience that can be fully customized to their needs, is simple to administer, and is fun to use.
TalentLMS was built specifically for businesses so that they may more efficiently train their employees. The platform makes it possible to monitor the progress made by each member of the workforce. After that, it gives a report on its findings to management.
Social Media Platforms
Thinkific social media profiles
Thinkific advertising business classes on social media, attracting new students. Thinkific uses numerous social media platforms, including Facebook, Twitter, and LinkedIn.
Facebook
On its Facebook page, Thinkific has earned a rating of 4.6 and has 33,785 followers.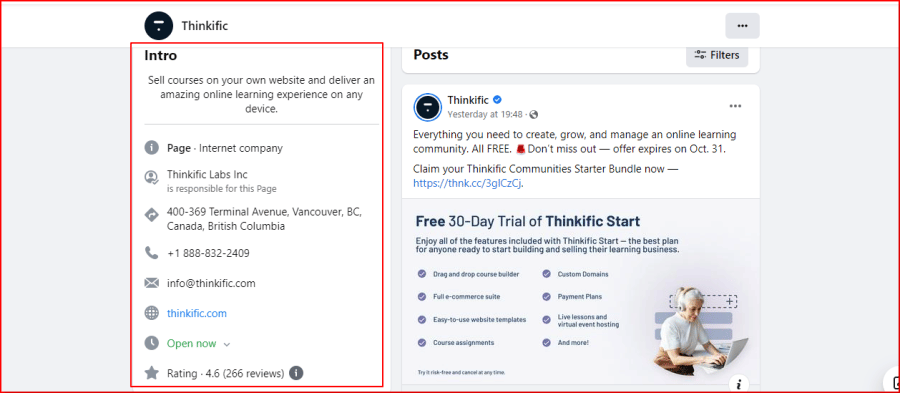 Twitter
Thinkific has 11.2k followers and 15.4k tweets. Its Twitter profile is constantly updated with useful tips for creating and promoting online courses.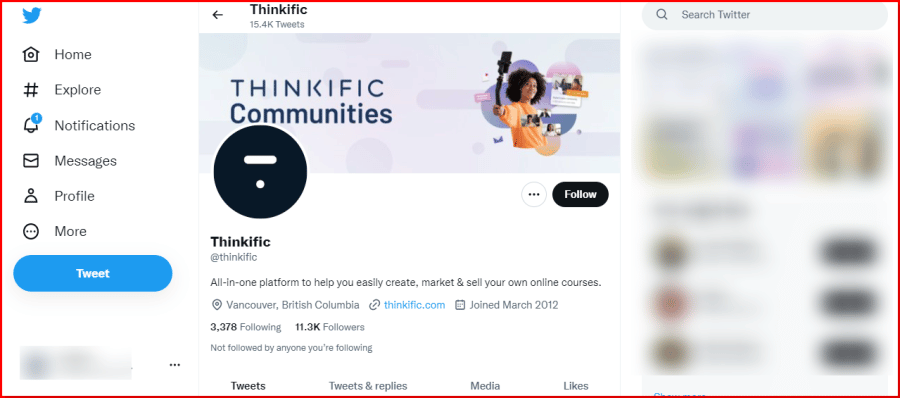 LinkedIn
Thinkific has 33,041 followers on the professional networking service LinkedIn profile.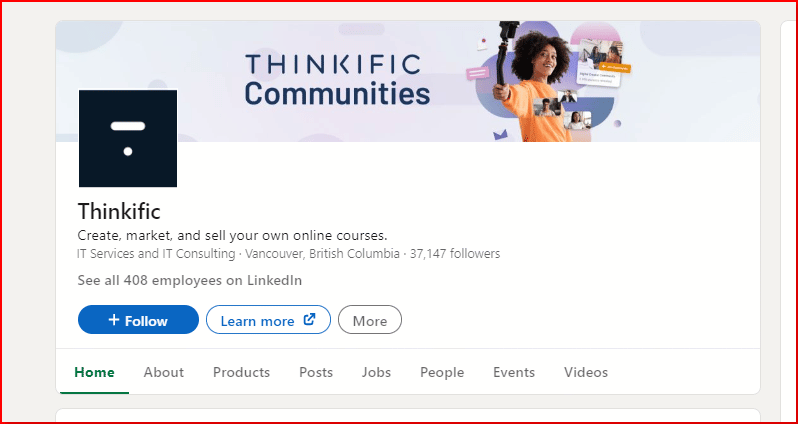 Mightly Networks' social media profiles
The influence of social media in today's environment cannot be overstated. In this manual, Mighty Networks make you understand the steps to create a social network that serves your needs.
Facebook
Mighty Networks has 94,100 likes and 94,979 people following on its Facebook page.
Twitter
Instagram
Mighty Networks has posted 324 posts and 24.7k followers on its Instagram profile.
Conclusion
Mighty Networks vs Thinkific are both highly reliable software options to use. For instance, they both offer different marketing incentives to ensure the sales of course materials and have a good interface.
I find that Mighty Networks is preferable for building reputable brands while Thinkific is great for attaining sales.
That said, in my opinion, I find that the Mighty Network software is the preferable option.
This is based on the fact that it's a community-based software, and because of that, it has lots of marketing features for its users. However, you really can't go wrong with either software!
Frequently Asked Questions
Which one is better Mighty Networks vs Thinkific?
Both platforms can be used to successfully distribute your content and support online transactions, depending on your business strategy. I'm leaning toward Thinkific, however, after comparing the two.
Are Mighty networks good?
There is no better alternative to Facebook groups than mighty networks. Like the ease of use. Using the app or online, my clients can access my content whenever they want, and it's a cinch for me to keep up with it. In addition, I appreciate how frequently new features are being added.
Is Thinkific or Kajabi better?
Both Thinkific and their course builder are user-friendly and intuitive. Kajabi's features and course delivery are superior to Thinkific's, yet both have a lot of possibilities for course templates. Kajabi also provides a mobile app that allows you to connect with customers wherever you are.
Why should I use Thinkific?
All-in-one online course platform Thinkific lets anyone instantly develop and deliver outstanding courses on their own branded site. Thinkific It doesn't matter if you want to use Thinkific to educate your clients, make money by selling courses, or just build your brand and attract new customers, it makes it simple.