There may be a wide variety of choices available to you when deciding on an e-learning system. Thinkific and SkillShare platforms are excellent options.
In this post, I have come up with an in-depth comparison of Thinkific vs SkillShare.
Everyone knows that online education is a growing market. Because there are so many people making money off of online learning, it might be hard to figure out which online course platform is right for you.
Skillshare and Thinkific are two companies that compete in this space. You might be trying to decide between these two ways to sell or host your courses. Both systems say that they can make e-learning content and promote it.
Let's get started!
Thinkific Overview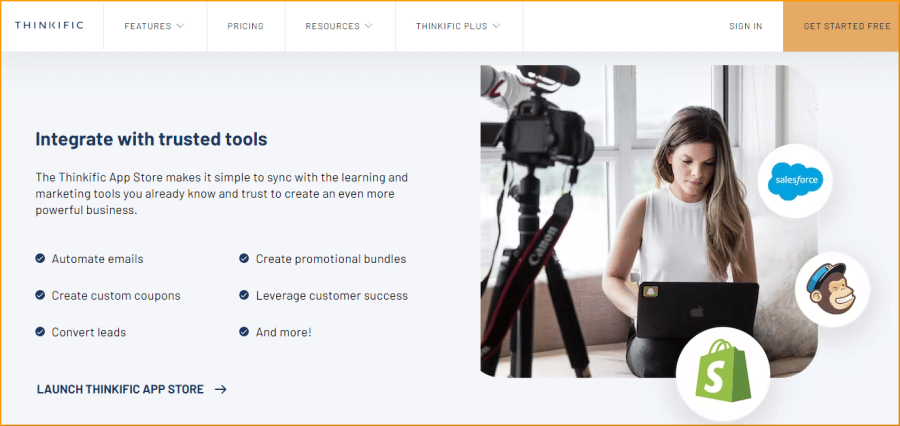 Thinkific is a cloud-based online learning management system. Everything you create on it gets synced to the cloud instantly. This streamlines the process of developing new lessons.
In addition, being an LMS, it provides a wide range of configuration possibilities for developing unique courses. Developing a course and adding supplemental content is a breeze.
Instructors who want to plan their courses away from the computer and then submit them will find Thinkific to be an ideal platform. You can use it to create a course offline and then publish it online.
Since Thinkific also acts as a web host, you have virtually unlimited space for storing the materials you generate on the platform.
Even if you don't know anything about web design, you can make a website for your online class. There is no steep learning curve associated with using Thinkific. You may put it that simply.
Your Thinkific course can be sold more quickly by taking advantage of the many available distribution and marketing strategies.
You can sell your courses and communicate with other course designers in a dedicated online community called a marketplace.
Users of Thinkific have access to exclusive discounts and offers; to take advantage of these and other bargains, check out the coupons available on the Thinkific discount.
SkillShare Overview
Skillshare is an online community for learning where anyone can find new classes, join current ones, or even teach their own.
Anyone can join Skillshare and start taking online lessons, working on projects, or even teaching other people. We decided to start Skillshare so that everyone could get access to high-quality education and close the gap in professional skills.
Skillshare is a legit platform, and the time and money it takes to keep a Premium Membership is more than worth it for the vast majority of users.
You can learn a wide range of skills online from experienced teachers and watch high-quality videos at your own pace and in the comfort of your own home.
Thinkific Vs Skillshare: Main differences
Pluralsight specializes in teaching technical skills, whereas Skillshare is more geared toward creative and personal development courses.
Pluralsight does not provide any form of financial assistance for its students, although Skillshare does.
Workshops are available on Skillshare, whereas courses can be taken on Pluralsight.
Pluralsight does not offer the ability to view student projects, although Skillshare does.
Pluralsight appears to have a steeper learning curve in comparison to Skillshare, which has a highly user-friendly interface.
Thinkific vs SkillShare: Pros & Cons
Thinkific pros and cons
| | |
| --- | --- |
| Pros | Cons |
| Adorable Customization. | No chat support is available. |
| White-labeling. | |
| Immediate access to the funds. | |
| Integrations provided by third parties. | |
| There are no transaction fees. | |
| 30-day free trial. | |
SkillShare pros and cons
| | |
| --- | --- |
| Pros | Cons |
| Notable celebrities who educate. | No Certification. |
| Great affiliate platform | |
| Courses of a good standard. | |
| Download Skillshare's mobile app to learn. | |
| Affordable. | |
| Free Classes are Available. | |
Thinkific Vs SkillShare: Features
Thinkific and SkillShare are tied for first place as the most popular online course platforms, and both offer users a variety of appealing options to choose from. I have highlighted several important aspects here.
Thinkific Key features
The people who made Thinkific, an online learning platform, are teachers, so they know what teachers need. In the same way, it thinks about what the students need.
It makes it easy for teachers to create, market, and sell courses. This set of resources includes tools for making online courses, tools for making websites, a sales and marketing suite, and tools for interacting with students.
There are all kinds of courses, from making websites to making music. It's a web-based learning management system with a curriculum that focuses a lot on promotion, making money, and improving efficiency.
1. Template
Thinkific's site builder for classes comes with a wide variety of customizable themes and layouts. You won't have to start from zero to create your website.
The platform provides you with pre-made layouts that are tailored to the specific type of Thinkific course you are developing. An outline format might be useful if you were writing a course introduction. A review format can serve as a starting point for both summative evaluations and final presentations.
There are a number of different design options and color schemes available for these templates. Thinkific provides options to change the template's colors, fonts, and layout once you've decided on something that works for you.
2. Drag-Drop Editor
Drag-and-drop works in Thinkific's editor. It organizes websites and digital products.
You can schedule classes any way you wish. No code or procedures are needed. Drag the desired element to the desired location.
Thinkific editor covers most of the essentials for making a website look professional. The site has logos, colors, and fonts.
You can input CSS and HTML codes within Thinkific to construct your website. Choose.
You can upload class materials using drag-and-drop. The editor's uploader accepts most media file kinds. Your course can be enhanced with questions, audio, and PDFs.
3. Course Builder
Despite its name, Thinkific is not just a visual editor. The use of its general-purpose site builder can indeed be helpful in establishing a solid foundation upon which to develop.
We've already established that Thinkific manages its very own web hosting. Consequently, you need not worry about hitting any sort of uploading cap. Thinkific gives you infinite space for all of your digital files online.
When contemplating Domains, Thinkific's subdomain can be used with a custom URL of your own. Your chosen URL will end in ".thinkific.com."
4. Payment Option
As for being charged, Thinkific gives you the option to connect Stripe or PayPal to your website. With any of these third-party payment processors, it's easy to obtain your money as soon as 1–2 days afterward.
This is extremely different from other online course sites that demand money every 30 days. With Thinkific, you can get your money out of your account faster.
5. Customer Support
After you have created an account with Thinkific, you will have access to the platform's Help Center. You will find information that will assist you to start starting with marketing online courses after you navigate to that location.
You can use the UI of Thinkific more easily with the help of tutorials & instructional videos that are available on their website.
Additionally, as was said previously, there are also user forums where users may voice their issues to the company. You may receive responses from users and educators who are willing to assist you.
SkillShare Key features
Skillshare's important features are its dependable features and reasonable prices. Among its many advantages are those listed below.
For students who have specific academic goals, Skillshare is invaluable.
It's a robust platform that offers classes and courses to people who want to learn new skills, people who want to brush up on the ones they already have, and people who need to rebuild their skills after facing new challenges.
Since the main focus of Skillshare is on collaborative learning, individual lessons aren't available. As a result of using this site, students can share their knowledge and insights with one another.
With the aid of the systems' administration and support, they are given the opportunity to acquire new abilities. The students can give their instructors comments on their online lessons.
The primary goal of this program is to help its users expand their imaginative capacities. Students can release their creative potential via video lectures and conceptualization.
The key features of SkillShare are listed below:
Shared Learning Experience
High-Quality Learning Materials/Courses
Publishing Classes
Compensation for Teachers
Catalog of Premium Classes
Class Creation
Promoting Class
Offline viewing-Premium Students
Building Channels
Referral
Feedback
Group Classes
Free Classes
Networking
Learning by Support
Conclusion
When comparing Thinkific vs Skillshare, one platform stands out as the clear victor due to its superior features and usability. Thinkific triumphs over its rival online platform.
Courses can be made quickly and easily, different course types may be made, different pricing structures can be used, and there are more features available to you overall.
Despite being one of the more novel online education platforms now available, Skillshare is missing a few aspects of the sales funnel.
Frequently Asked Questions
Is Thinkific a good platform?
When it comes to building and promoting online courses, Thinkific is without peers. It provides resources to help you create a website and market your courses online. Overall, the system is intuitive and very customizable.
What makes Skillshare unique?
When you sign up for Skillshare, you gain access to thousands of courses at your convenience. Skillshare is ideal because it provides both practical training and inspiration, two essential ingredients for success in real life. Skillshare is a great deal considering the inexpensive cost of the premium membership and the free 7-day trial.
Why should I use Thinkific?
Most people should be able to get by with Thinkific's free "Start" plan. It's a good deal because you don't have to pay anything to buy something. The landing page is even better now that it has been made better. I've found that Thinkific is the best platform to use for my own online classes.